Feeling bored in your home and looking for something fun to do? So many of us are succumbing to the boredom of the winter season during the COVID-19 pandemic and looking for a way to get out of the house. Unfortunately in troubling times like these, it's become difficult to find activities that are both fun and safe. Luckily, with the safety of Amtrak trains within New York state, finding your next adventure will be easy.
The colder months may be more renowned for classic snow activities, but there are so many fun ways to enjoy the winter this year. Whether you're looking for something active or a more leisurely experience to indulge in, these getaway activities are bound to create a fun experience. Take full advantage of the winter season at these locations via Amtrak.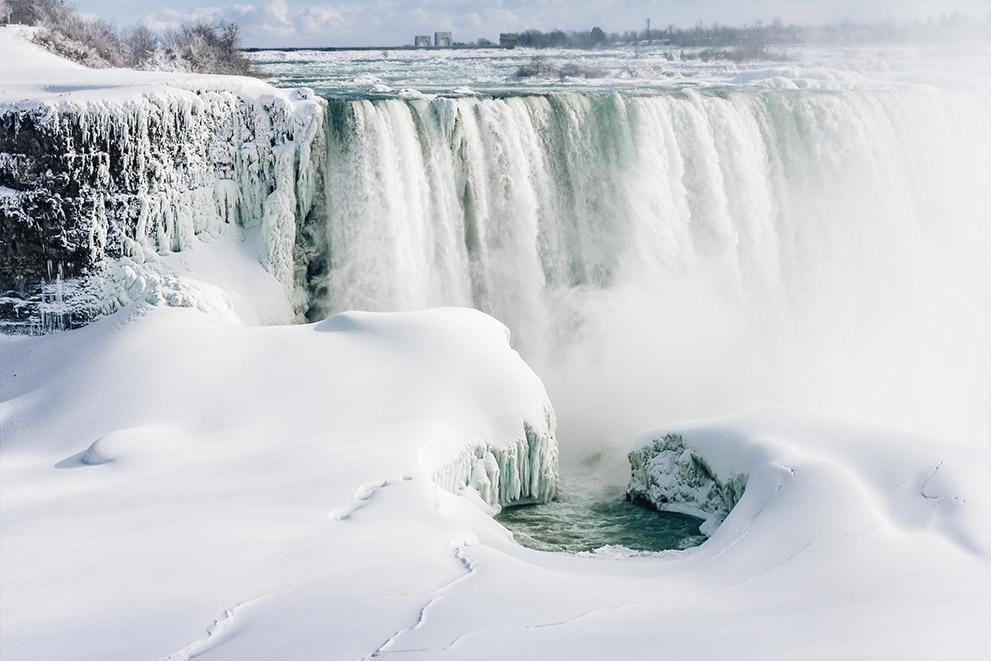 See the Frozen Falls in Niagara Falls, NY
Distance from Niagara Falls Station (NFL): 1.8 miles to Niagara Falls
As one of the world's seven wonders, you've surely heard of Niagara Falls. Luckily for us New Yorkers, we don't have to worry about passports to visit this natural beauty. The New York side of Niagara Falls is the perfect way to enjoy the winter without having to break a sweat. Here, you can take in the beauty of the falls, shop or partake in so much more. 
One new exciting activity to experience at Niagara Falls this winter is the Cave of Winds. Although this experience is typically available in the summer, it is now accessible during the winter season. Be sure to bundle up for this activity as the winter won't be the only thing creating this cold environment. At the Cave of Winds you can explore two observation decks and learn about the history of the falls and Nikola Tesla.
Getting hungry on your trip? Check out the Power City Eatery nearby. This sandwich and coffee shop serves breakfast and lunch and features cured meat, fresh bread and more. With coffee and other meals, you'll find warmth and a satisfied appetite at this Niagara Falls eatery this winter.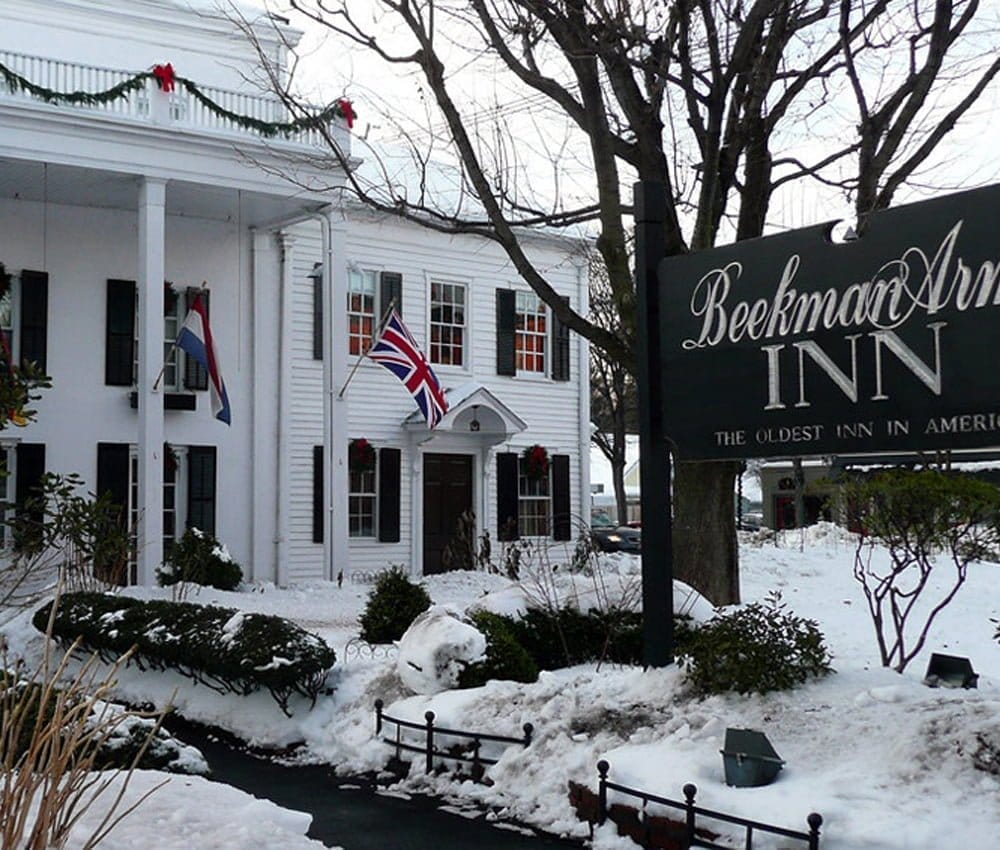 Experience Rhinebeck
Distance from Rhinecliff Station (RHI): 2.3 miles to Downtown Rhinebeck
Looking to experience some retail therapy or delicious food while out on the town? With so many villages and main streets throughout the state, there are plenty of towns that are worth the trip. Rhinebeck is the perfect destination to enjoy various boutiques, restaurants and history.
Walk through a winter wonderland in Rhinebeck to enjoy the season this year. Due to various precautionary measures taken by the village, Rhinebeck is a safe destination to have fun during the pandemic. In the village you can partake in outdoor dining, as many of the restaurants have set up seating in the parking lots.
A must-see location in Rhinebeck is the Beekman Arms. This inn is the oldest in the United States, dating back to the Revolutionary War. Whether you're visiting the Beekman Arms to observe its history, eating, or staying at the inn, your visit will be worth the trip. While in Rhinebeck, be sure to check out The Amsterdam restaurant (expand on other restaurant choices) for a delicious dining experience. Another must-visit location for a Rhinebeck getaway is Mirbeau Inn & Spa. This inn and spa is the perfect resting place to treat yourself to on your trip.
You can learn more about visiting Rhinebeck here.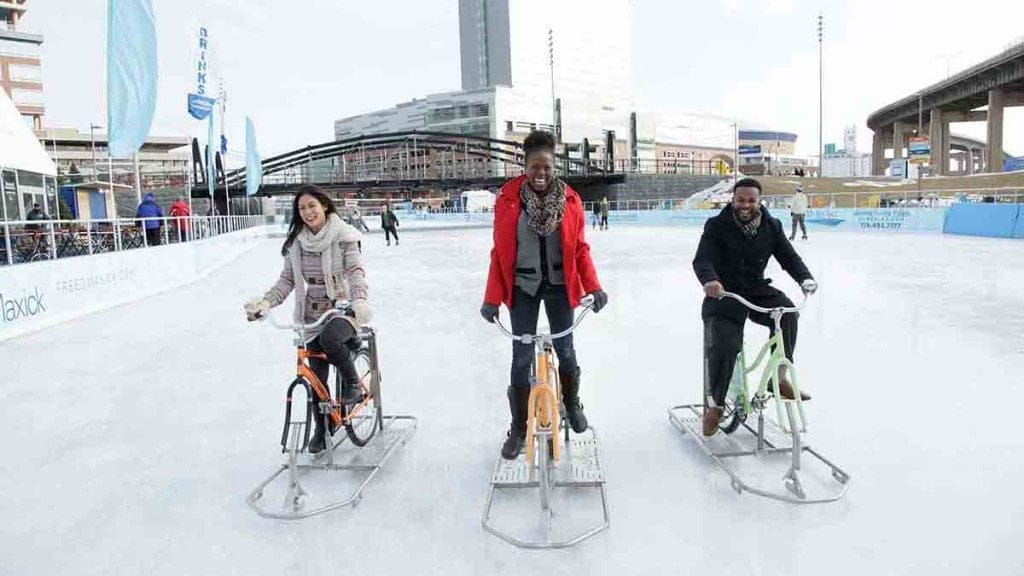 Go Ice Biking in Buffalo
Distance from Buffalo Exchange Street Station (BFX): 0.4 miles to Canalside
Ready to stretch your legs with a physical activity but want to try something new? Ice biking is a fun twist on your typical cycling in the winter season. If you struggle with ice skating, but still want to enjoy the ice, ice biking may be the next best thing for you. At Canalside in Buffalo, you can bike across the ice along with the ice skaters. 
At Canalside, you can rent these innovative bikes and take on the ice. For single riders, you can rent an ice bike for $12 per half hour. Since this activity takes place outdoors, you can feel safe and socially distant from others. The Buffalo Waterfront also offers countless other fun activities, like ice skating, curling and ice bumper cars.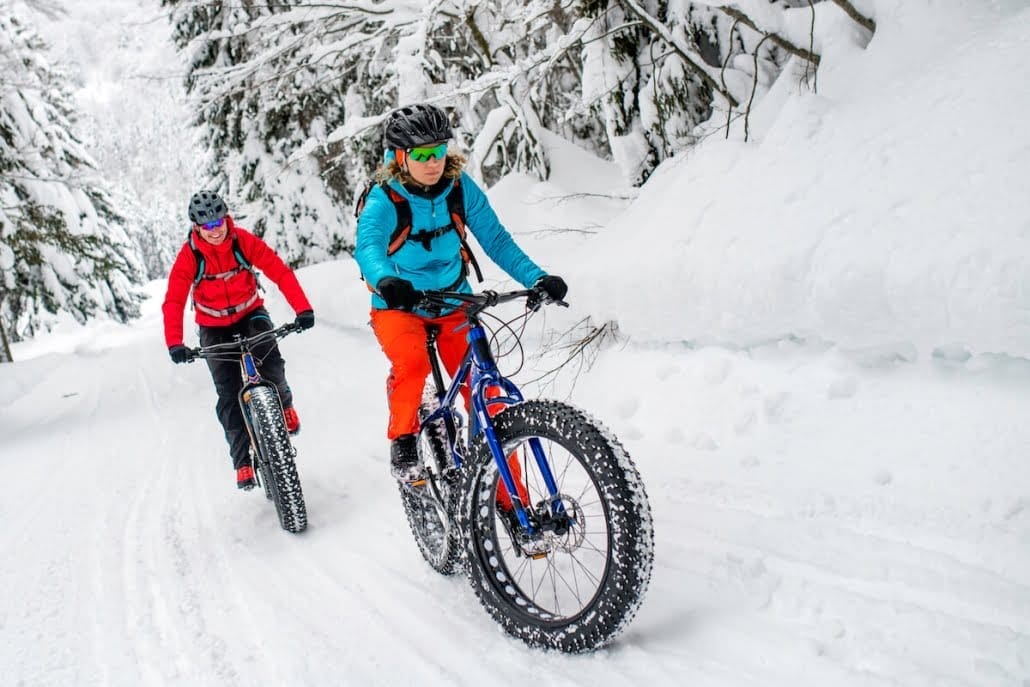 Fat Biking on the Empire State Trail
Distance from Syracuse Station (SYR): 3.3 miles to the beginning of the trail on Wallace Street
Ever heard of fat biking? This type of bicycle differs from the traditional bicycle. With larger tires and lower air pressure, you'll feel like you're floating on clouds. On many portions of the Empire State Trail, biking and fat biking are available. One trail that this activity is common on is the Erie Canalway Trail. This trail begins in Buffalo and ends in Watervliet.
Fat biking is also a great source of exercising. During the winter season, it's easy to feel lethargic, so why not try to make exercising enjoyable? Whether you are fat biking to stay active or purely for fun, the activity surely puts a fun spin on the winter months.
An ideal portion of the trail to fat bike on is the Syracuse section of the trail. There are several bike shops in Syracuse near the beginning of the trail and the Amtrak station that have fat bikes available for rent. Also available on the Empire State Trail are a variety of fun winter activities, such as hiking, cross-country skiing and snowshoeing.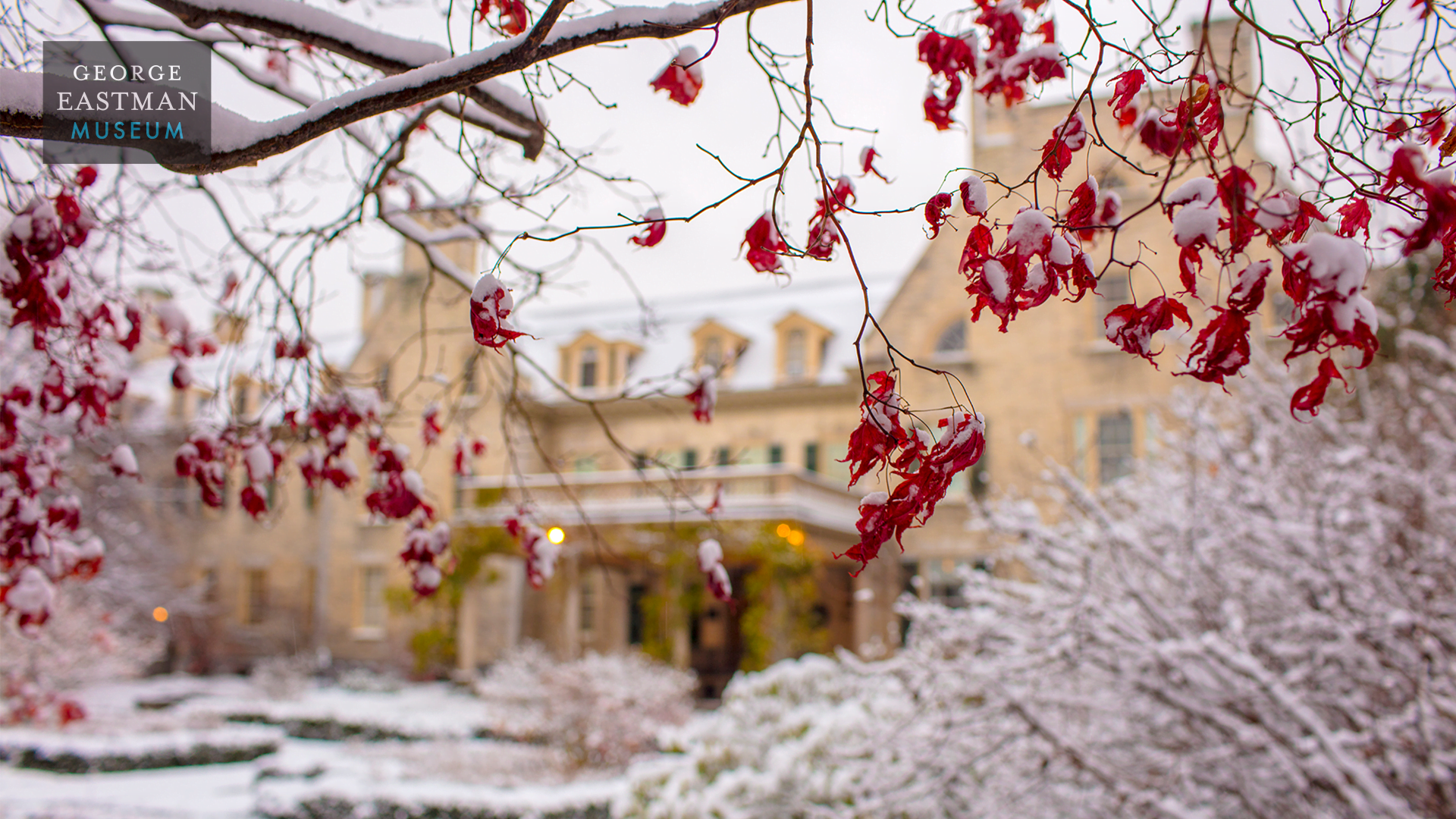 Get Ready for Spring in Rochester
Distance from Rochester Station (ROC): 2 miles to the George Eastman Museum
Prefer the warmer seasons to winter? The George Eastman Museum is a beautiful escape to this chilling time of the year. From Feb. 5 to 28, the museum is showcasing the Annual Dutch Connection Floral Show. This fun sneak peek to the Spring season features a vast variety of different flowers. These flower variations include tulips, hyacinths, daffodils, amaryllis, freesias and more. 
Tickets for the event are to be purchased in advance online here. For members, the flower show is free. The event will be open Thursday to Saturday from 10 a.m.-5 p.m. and Sundays from 11 a.m.-5 p.m. Enjoy a pop of color in a sea of white at the George Eastman Museum this winter. 
While at the flower show, be sure to check out the rest of the George Eastman Museum. The museum is the world's oldest photography museum and has plenty of interesting exhibitions.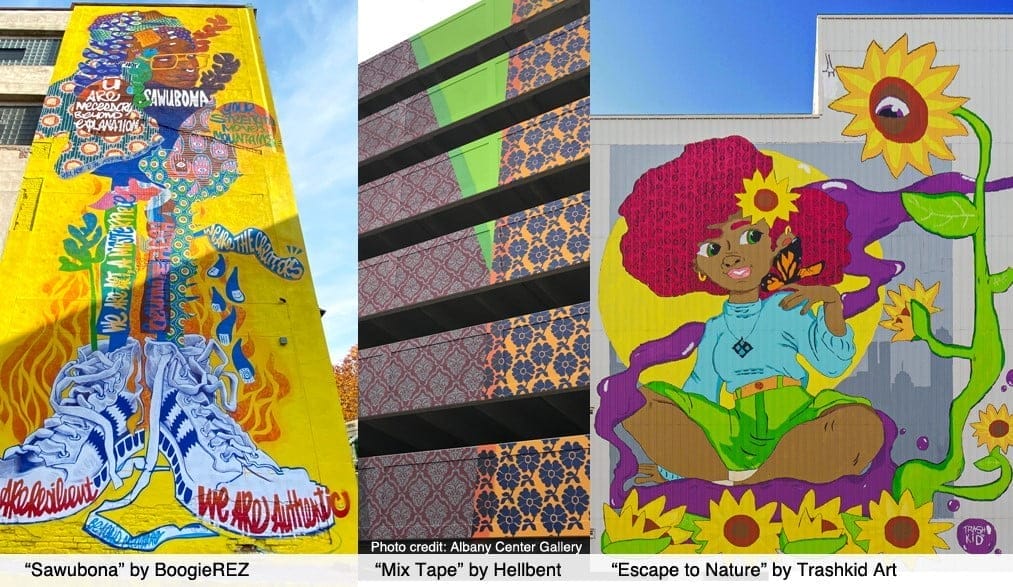 Enjoy a Guided Walking Tour Podcast of Downtown Albany
Distance from Albany-Rensselaer Station (ALB): 1.3 miles from Downtown Albany
Want to dedicate your winter to art, history and culture? The Artful Albany Podcast is the perfect way to experience Downtown Albany this winter season. The podcast takes you on a guided walking tour in a different area of Downtown Albany. Not only is the podcast educational, but you'll be able to stay warm.
You can listen to this podcast from any location, but actually exploring the Downtown area makes for a more fun and immersive experience. What better way to explore Albany than with a guided tour?
Looking to make the most of your visit to the Capital City? Downtown Albany is home to countless restaurants and experiences. Check out Jack's Oyster House for delicious seafood meals via curbside pickup, or The Hollow Bar and Kitchen for craft beer.
Take Amtrak to experience these fun winter activities today!