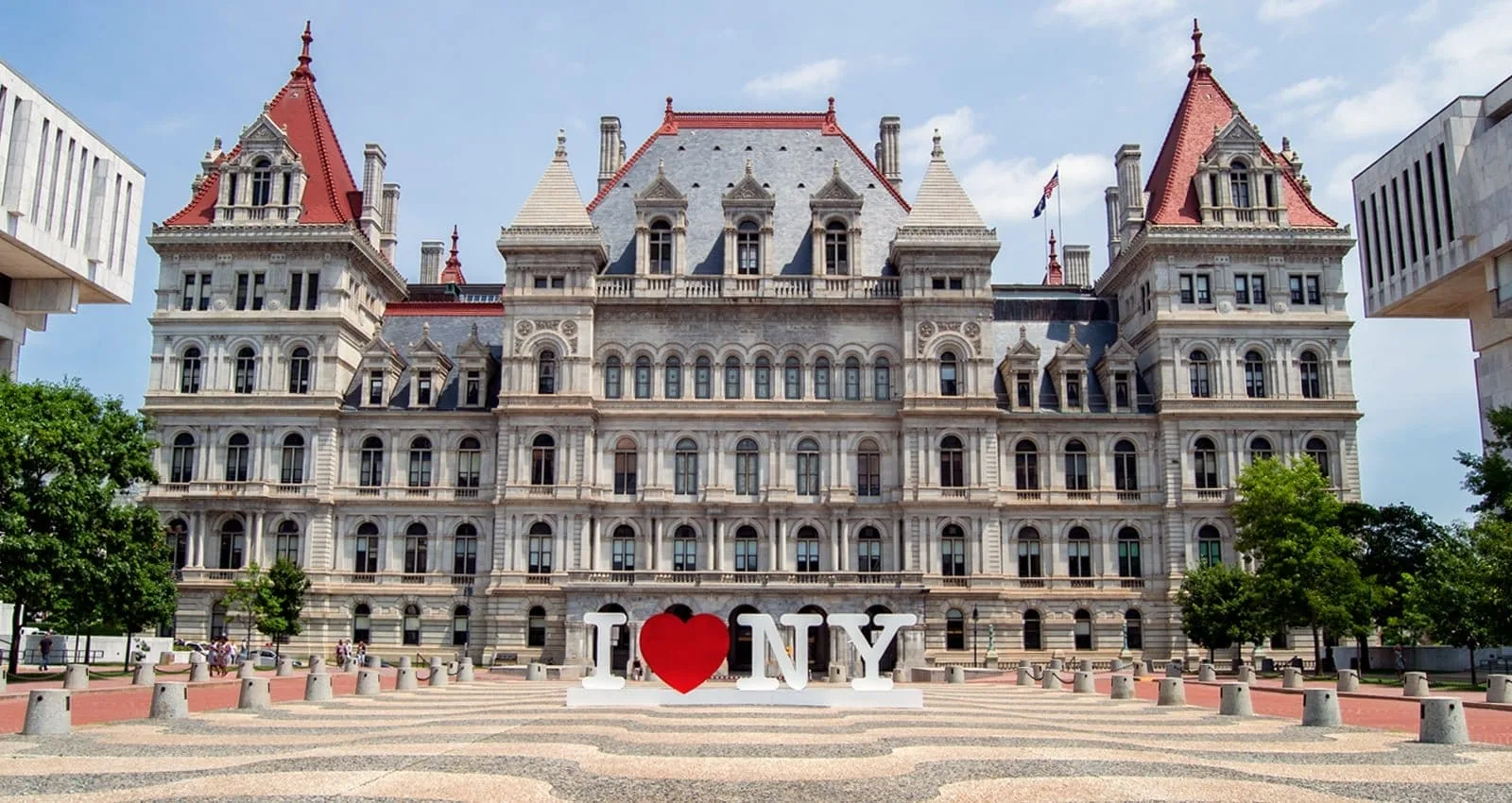 The New York State Capitol Building from Empire State Plaza. | Photo Courtesy of Andrew Frey
Beneath Dutch gables and ornate facades, I saunter toward Stacks Espresso Bar on Broadway Avenue. The summer sun kneads the back of my neck, making me eager to cool down with a refreshing iced coffee. Despite the heat, I revel in the lively atmosphere that downtown Albany radiates. Aside from the flurry of daily commuters, I can't help but notice the plaques in the sidewalks inscribed with facts of historical significance and the vibrant Capital Walls murals that adorn the cityscape. Even pre-caffeine, the walk energizes me to explore the city's art scene and past.
New York State Capitol Tours
I start with a tour of the Capitol. Crowning State Street's hill, the Capitol has served as the seat of New York State government since the 1880s. Construction began in 1867 and was completed in 1899, at a staggering cost of $25 million, about $500 million in today's dollars. The most expensive government building of its time and a marvel of late 19th-century architecture, the five-story, 220-foot-tall landmark looks as remarkable as its price tag, with its magnificent Romanesque-style, white granite and Westchester marble exterior.
The interior of the Capitol is equally impressive. Along the tour, our group visits the legislative chambers via their monumental staircases. The Great Western Staircase, also known as the "Million Dollar Staircase", leads to the Senate Chambers and is a true highlight. Embellished with elegant, handmade carvings, the 119-foot, 444-step stairway took 14 years to complete, at a cost of $1.5 million. Over 500 masons worked on the project, which, in 1894, The New York Times called "the greatest architectural work on this continent." Despite the daunting number of steps, our tour group makes light work of the climb, entranced by the endless arches, columns and carvings, some of famous figures like Susan B. Anthony, Alexander Hamilton, Abraham Lincoln and Walt Whitman.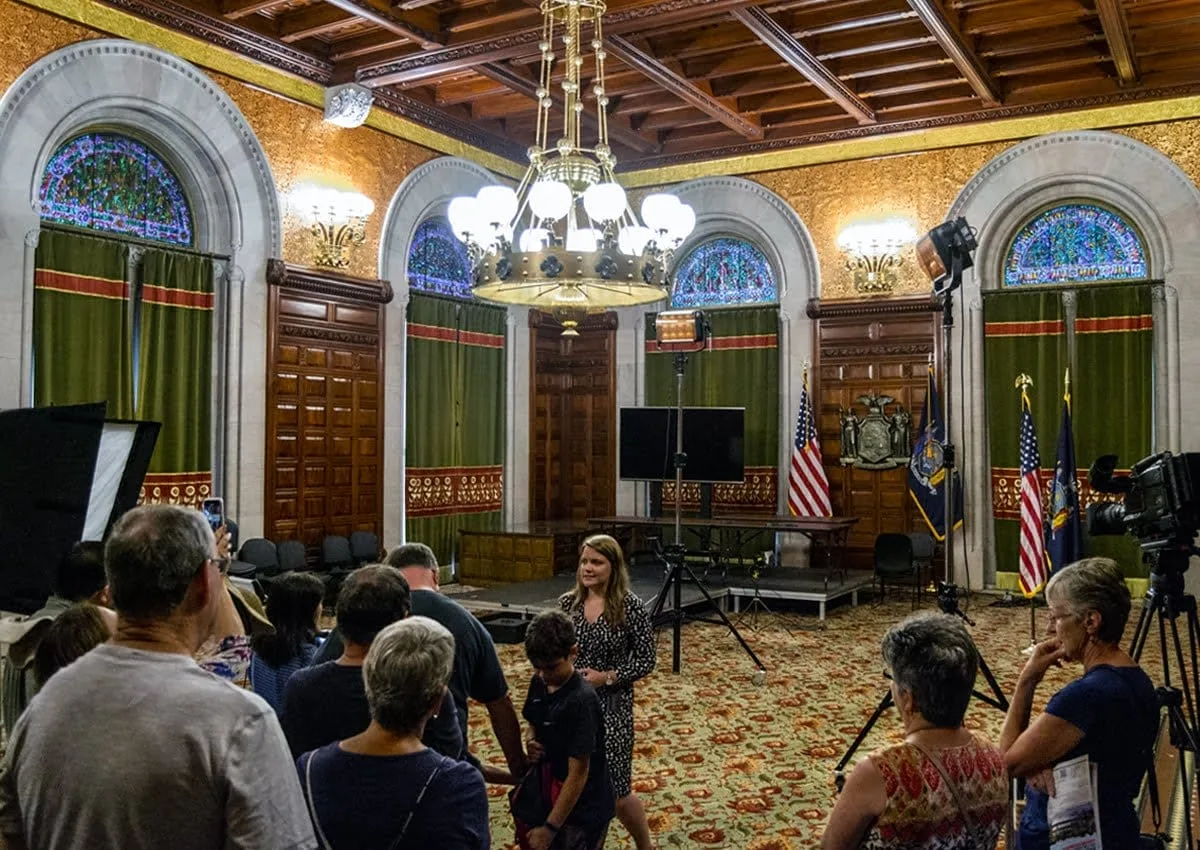 The New York State Governor's Executive Chambers. | Photo Courtesy of Andrew Frey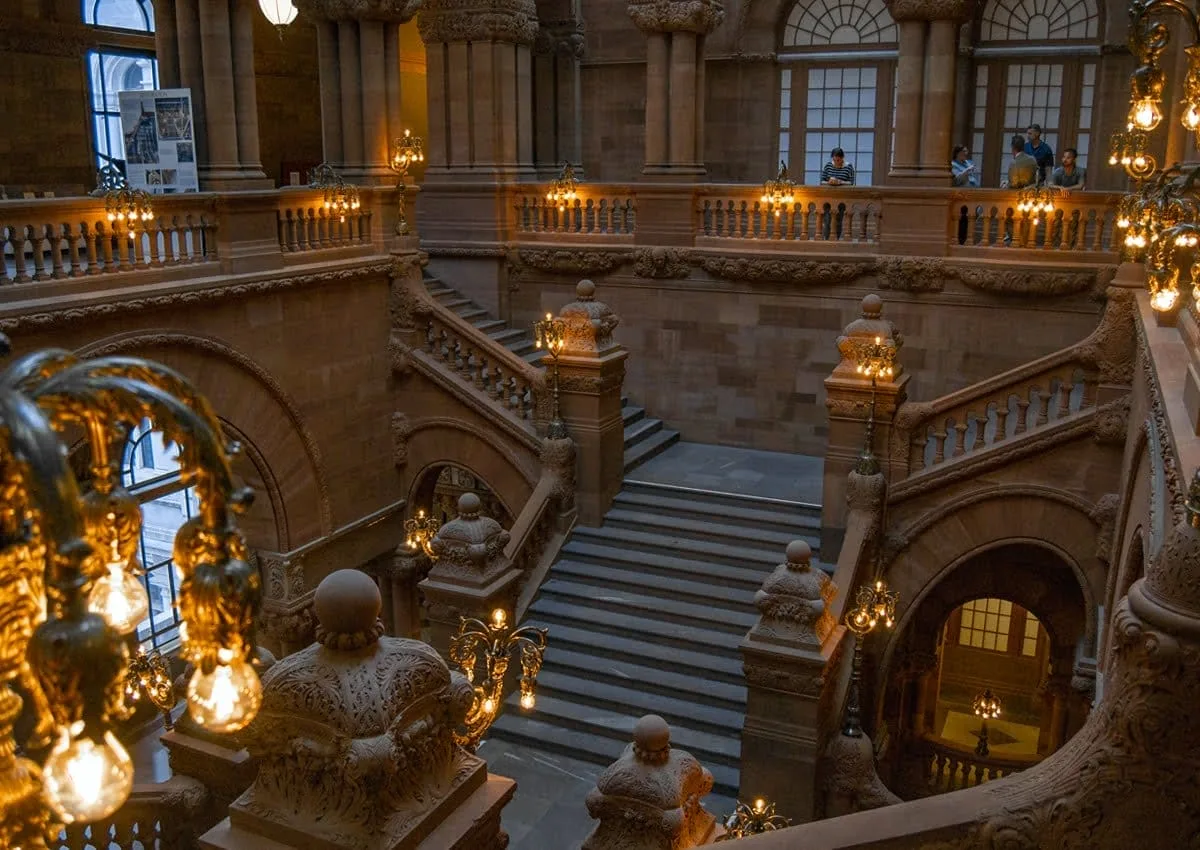 The New York State Capitol Building's "Million Dollar Staircase". | Photo Courtesy of Andrew Frey
Other highlights include a walk through the Hall of Governors to the Governor's Executive Chambers, decorated with real gold paneling and accents, and colorful, stained glass windows. The tour also includes the War Room, a 40-foot-high rotunda with ceiling murals chronicling important events in New York State's military history; and a brief rest inside both the Senate and Assembly chambers.
Exiting onto State Street, I soon find myself at the Governor Nelson A. Rockefeller Empire State Plaza, a short walk from the Capitol's doors. I enjoy a relaxing stroll along a sweeping row of reflecting pools that accent the expanse of government buildings around them. The tranquil setting is home to The Egg (a performing arts center), the New York State Museum, and a must-see, The Empire State Art Collection, a sizeable collection of important 1960s and 1970s abstract works of art which are on permanent public display throughout the site.
Albany Institute of History and Art
Opposite the State Street entrance to the plaza, I take a short walk down Washington Avenue, passing by more government buildings and Brooklyn-esque brownstones, to one of the oldest museums in the United States, the Albany Institute of History & Art (AIHA). Founded in 1791, the AIHA is the primary archive of the region, housing nationally significant collections – more than 30,000 works of art and artifacts – from the Upper Hudson Valley region.
Inside, I gravitate toward the Nineteenth-Century American Sculpture exhibit. An ongoing showcase, the exhibition features twenty plaster, marble and bronze sculptures by Albany sculptor, Erastus Dow Palmer, and his protégés, Launt Thompson, Charles Calverley and Richard Park. Enveloped by two marble staircases leading to another floor of sculptures, the room is flooded with natural light, creating a placid ambiance.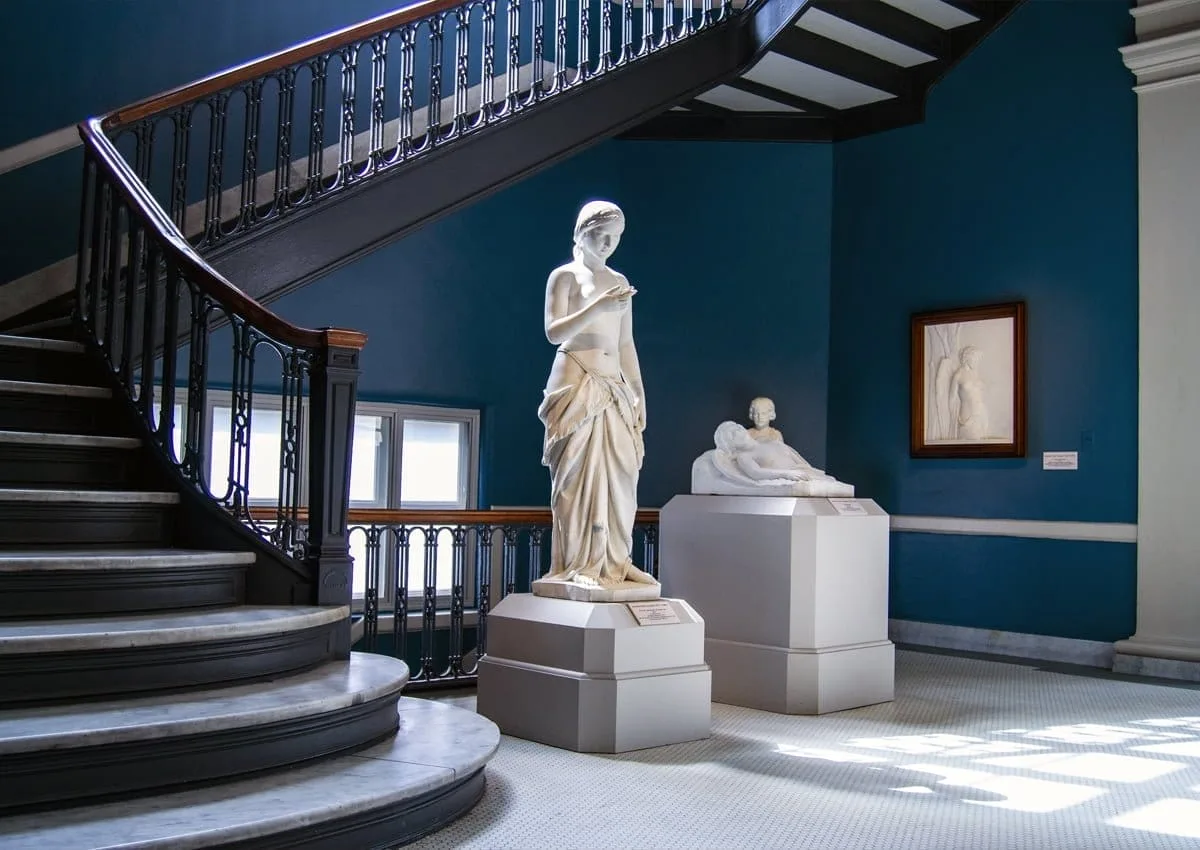 The Nineteenth-Century American Sculpture exhibit at the Albany Institute of History and Art. | Photo Courtesy of Andrew Frey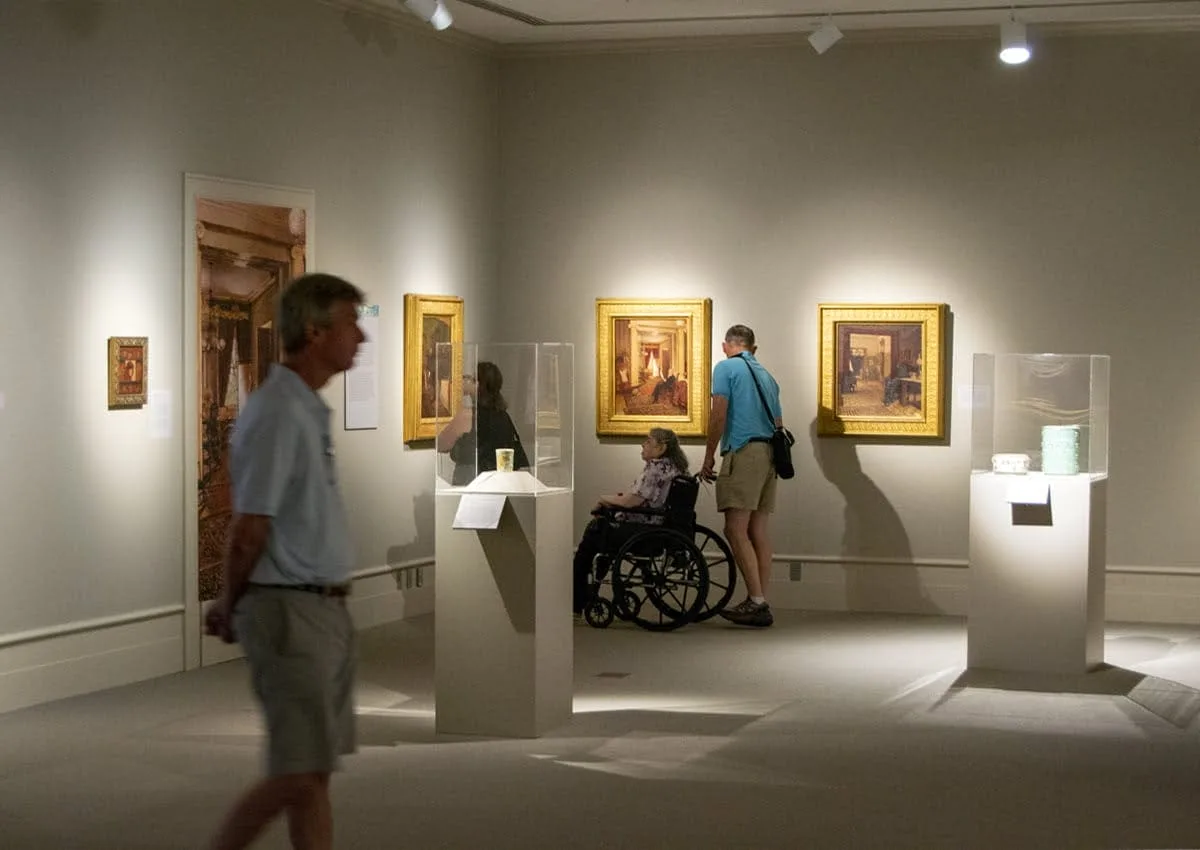 A Brilliant Bit of Color: The Work of Walter Launt Palmer at the Albany Institute of History and Art. | Photo Courtesy of Andrew Frey
I amble between sculptures then head upstairs to see the Heavy Metal and Ancient Egypt exhibits, which include cast iron stoves of the Capital Region and a 3,000-year-old mummy!
Toward the rear of the museum is the Hearst Gallery which contains the highlight of AIHA's current exhibits for me, a collection called The Hudson River School: Landscape Paintings and showcasing the works of renowned 19th century artists such as Thomas Cole, Frederic Church, Jasper Cropsey and Asher Durand. I spend an hour poring over the nearly 90 paintings on display, taking in the grandeur of each landscape.
Other exhibits that catch my eye are A Brilliant Bit of Color: The Work of Walter Launt Palmer; Traders & Culture, which examines the diverse peoples who shaped colonial Albany; and Anne Diggory: All in a Day's Work. I'm a day early for The Schuyler Sisters and Their Circle, but I am lucky enough to secure a tour of the Schuyler Mansion State Historic Site to learn about this prominent family's ties to the region.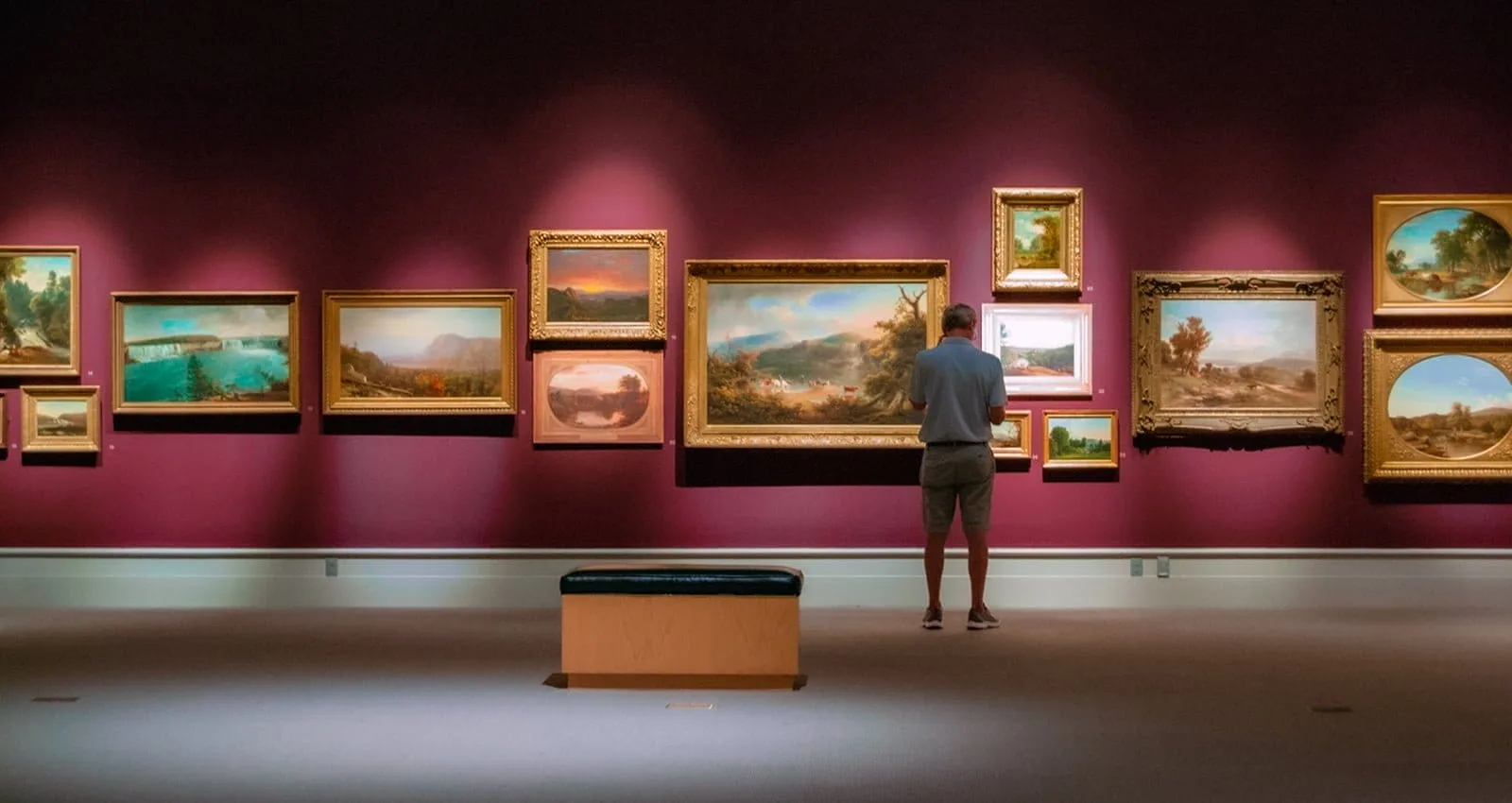 The Hudson River School: Landscape Paintings exhibit at the Albany Institute of History and Art. | Photo Courtesy of Andrew Frey
Take Amtrak to Historic Downtown Albany
Take Amtrak to Albany-Rensselaer Station (ALB). Don't forget to use the Amtrak See New York and Save 15% Discount! Weekday (13) and weekend (11) trains operate from New York-Penn Station (NYP) to Albany for an approximate 2.5-hour train ride. Four daily trains from Niagara Falls, NY (NFL) to Albany take approximately 6 hours. Albany is also reachable by daily Amtrak service from Chicago (Lake Shore Limited), Toronto (Maple-Leaf), Montréal (Adirondack) and Rutland (Ethan Allen).
Downtown Albany is walkable and bikeable. CDPHP Cycle! is Albany's bike-share program with rental stations located throughout the downtown area. Or take an Uber or Lyft throughout the Albany area.
In town for the weekend? Take the free Capital City Trolley, driven by CDTA, which operates Thursday, Friday and Saturday, 5:00 p.m. to 12:30 a.m. Pick-ups are every 20 minutes.
Prefer a car? Pick up your Enterprise Rent-a-Car at Albany-Rensselaer Station. Use the code, NYTRAIN, for a discount when making your reservation. Click here to reserve your car or call Enterprise's Albany-Rensselaer office at 518-427-3893.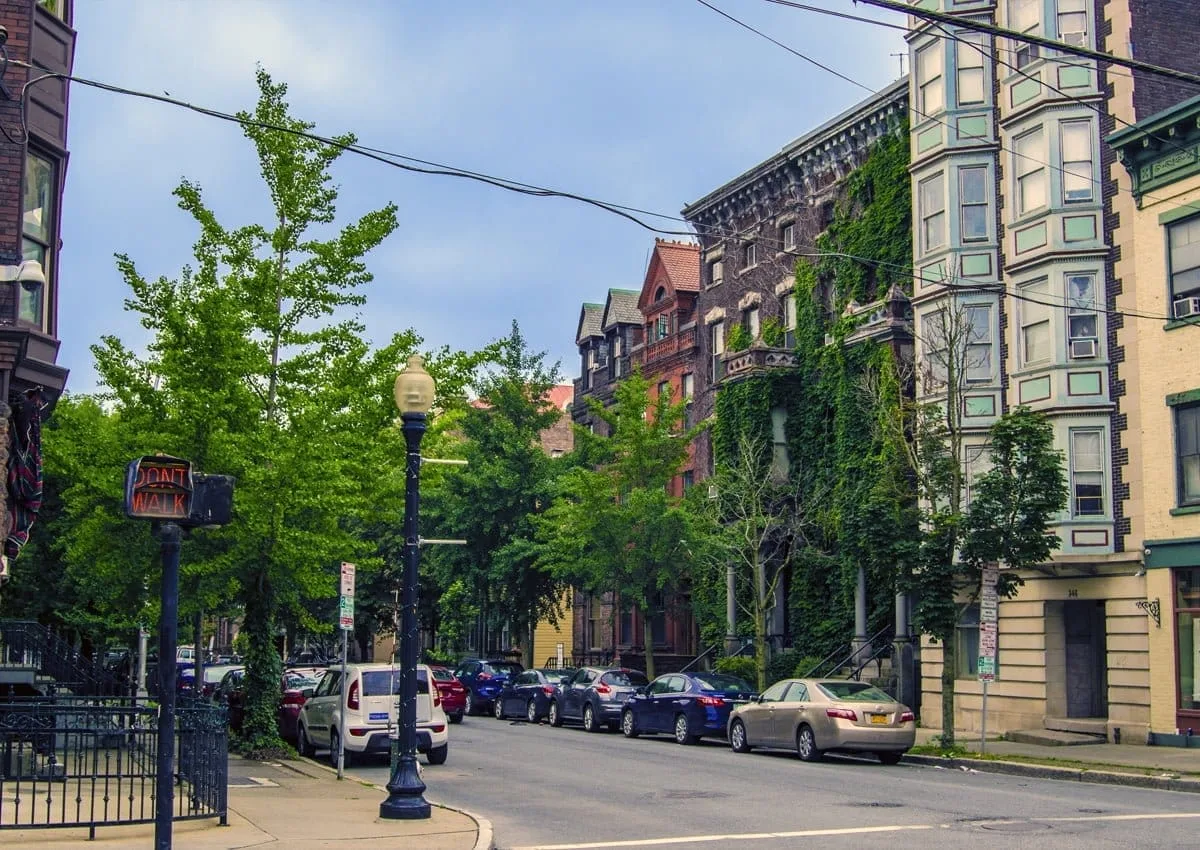 Brownstones of downtown Albany along State Street. | Photo Courtesy of Andrew Frey
Other Historic Happenings in Downtown Albany
What to See and Do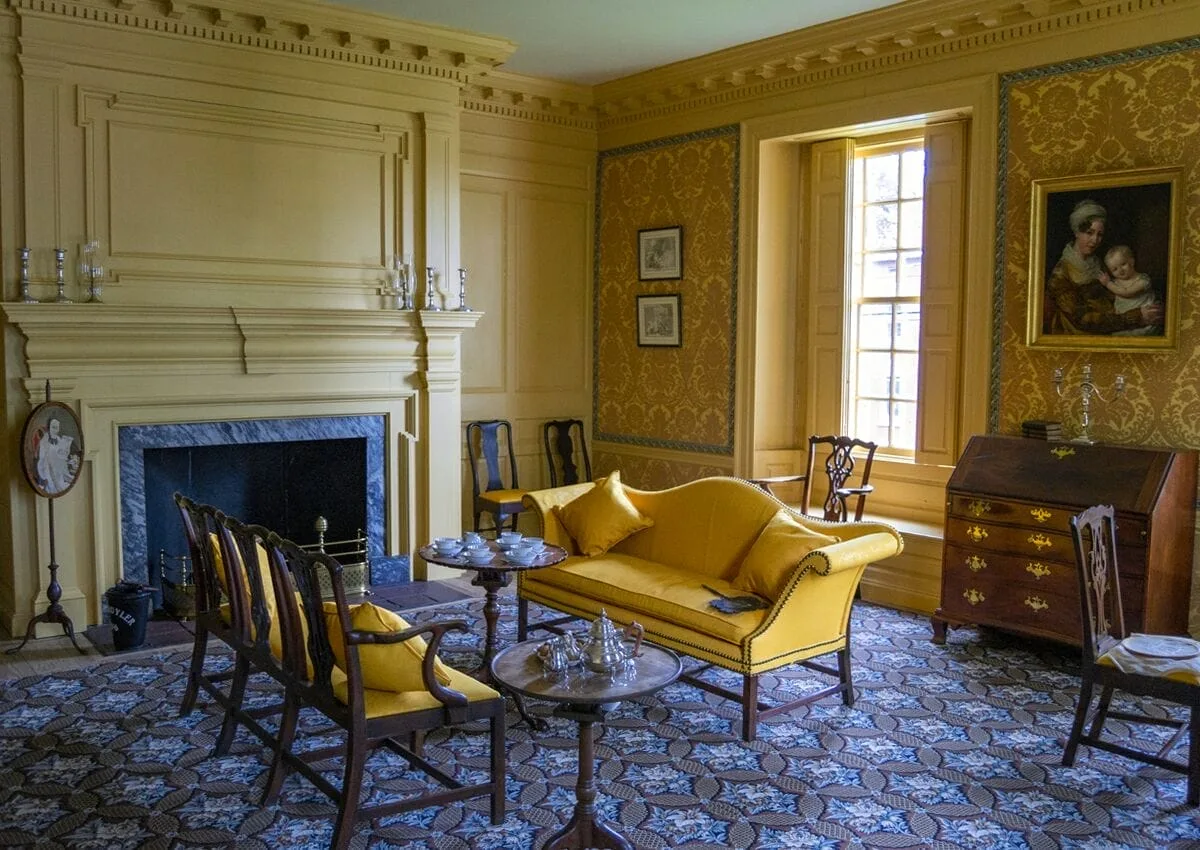 Schuyler Mansion
32 Catherine St, Albany, NY 12202
Dive into the beginnings of American history by touring the magnificent Schuyler Mansion, perched over the Hudson River.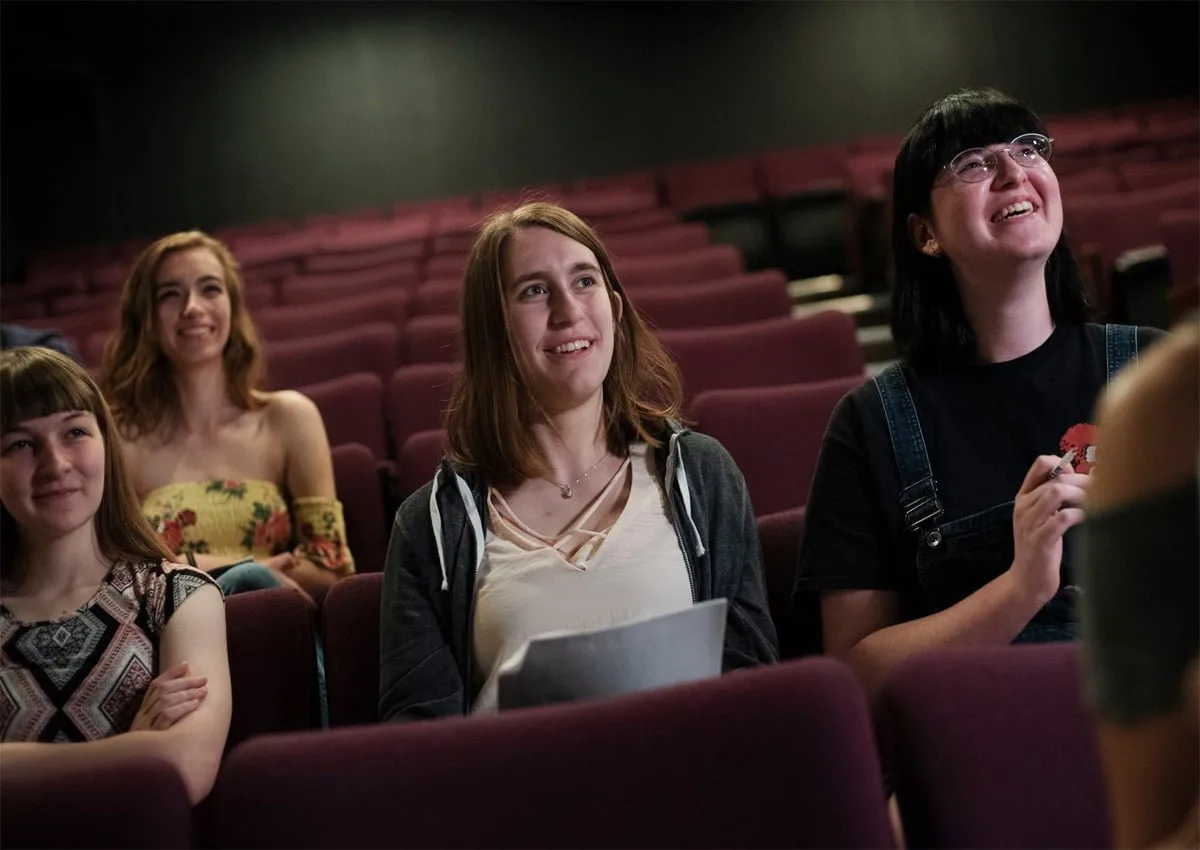 Capitol Repertory Theater
111 N. Pearl St, Albany, NY 12207
Located in the heart of downtown Albany, Capital Repertory Theatre is an award-winning, professional theatre that offers productions year-round.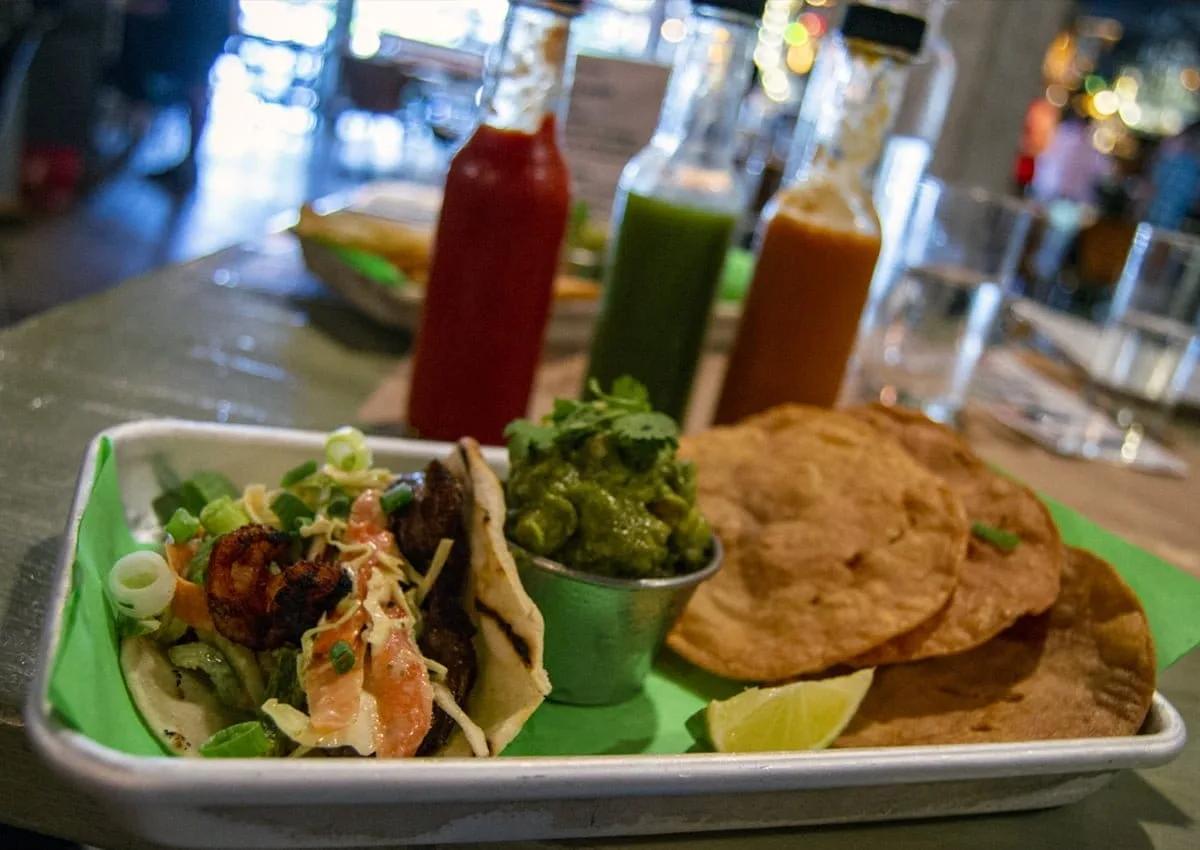 Historic Downtown Food Tour (Taste of Troy Food Tours)
Departs from 25 Quackenbush Sq, Albany, NY 12207
Taste Albany's rapidly evolving culinary scene by exploring the food print of this historic city on the west bank of the Hudson River with a Historic Downtown Food Tour by Taste of Troy Food Tours.
Stacks Espresso Bar
488 Broadway, Albany, NY 12207
Providing a cafe and community space, Stacks Espresso Bar offers experimental espresso-based drinks using unique beans from a variety of roasters.
Excelsior Pub
54 Philip St, Albany, NY, 12207
Excelsior Pub brings to downtown Albany the most difficult-to-find beverages from around New York State.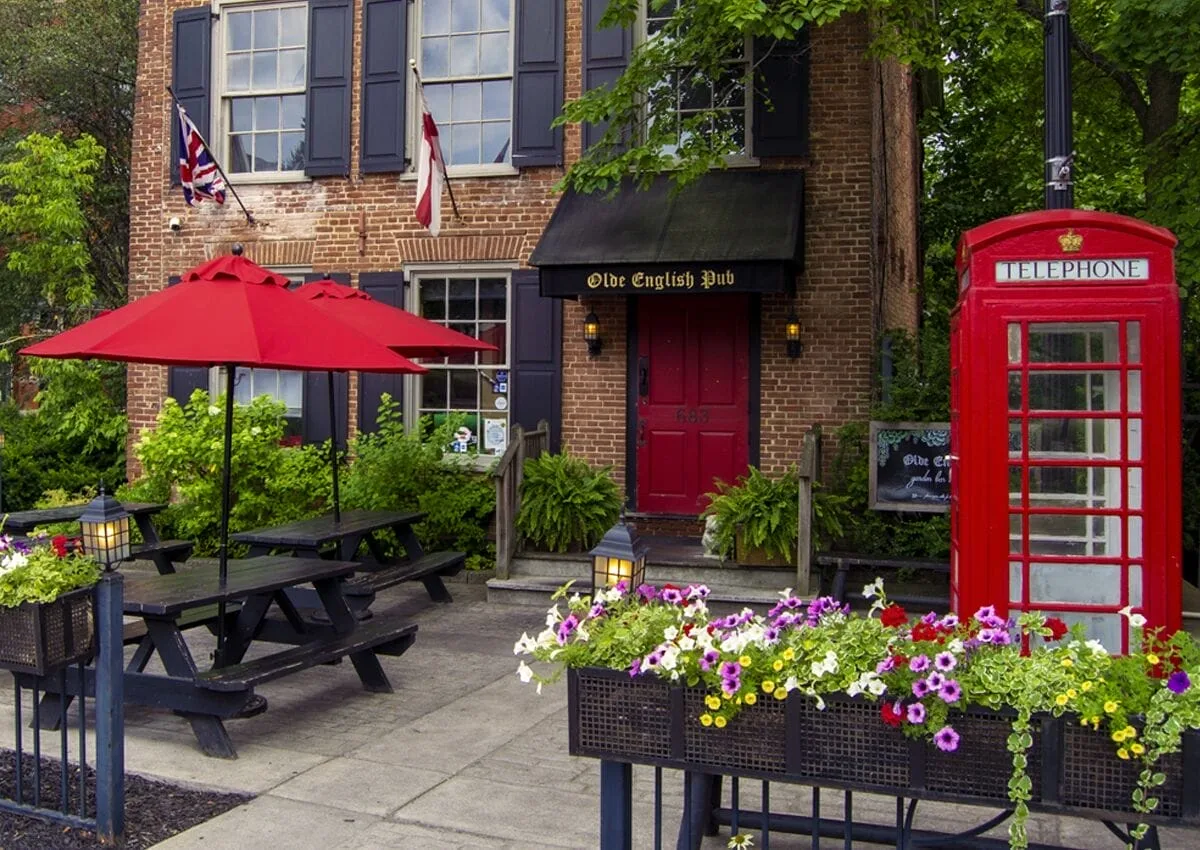 Olde English Pub
683 Broadway, Albany, NY 12204
Known as "the little house with beer in it," the Olde English Pub serves quality British beers along with English-style food.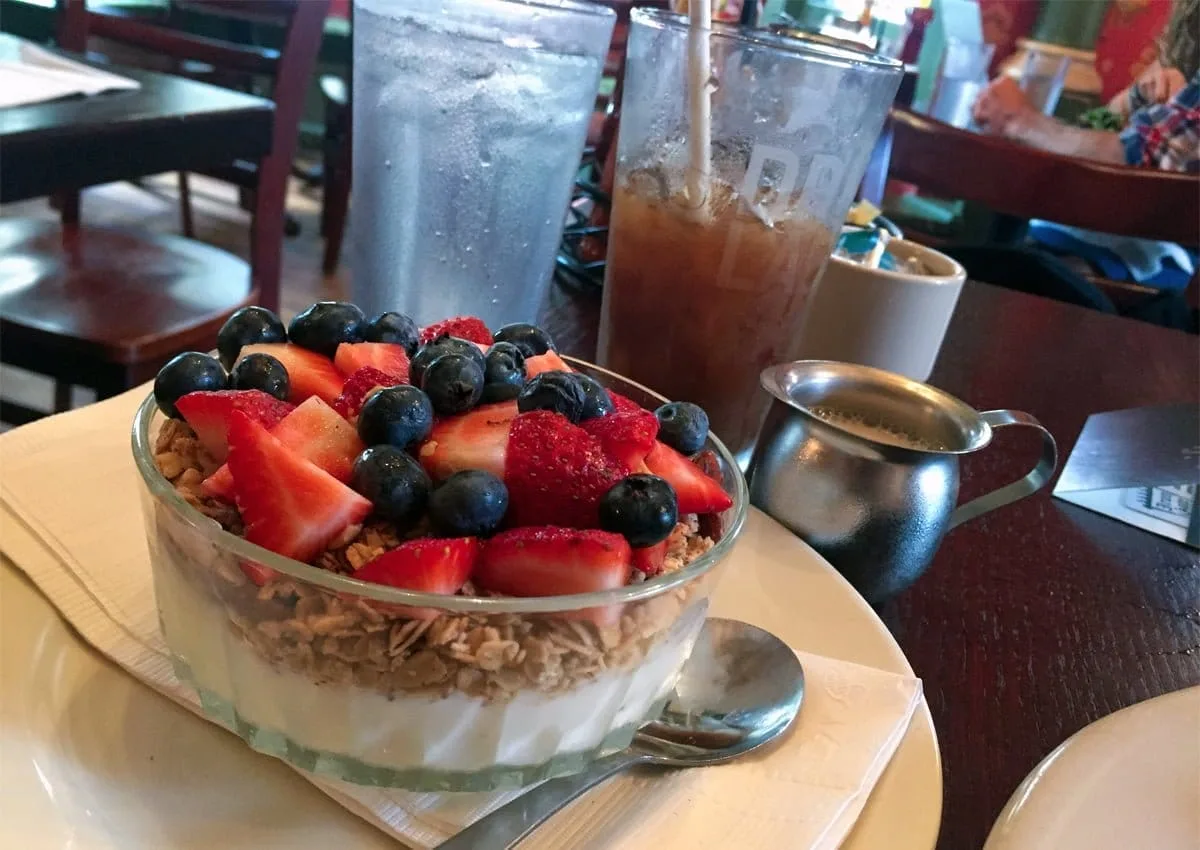 Iron Gate Cafe
182 Washington Ave, Albany, NY 12210
Perched on the edge of Center Square, Iron Gate Cafe offers the sweet combination of historical charm, rock and roll style and delicious foods.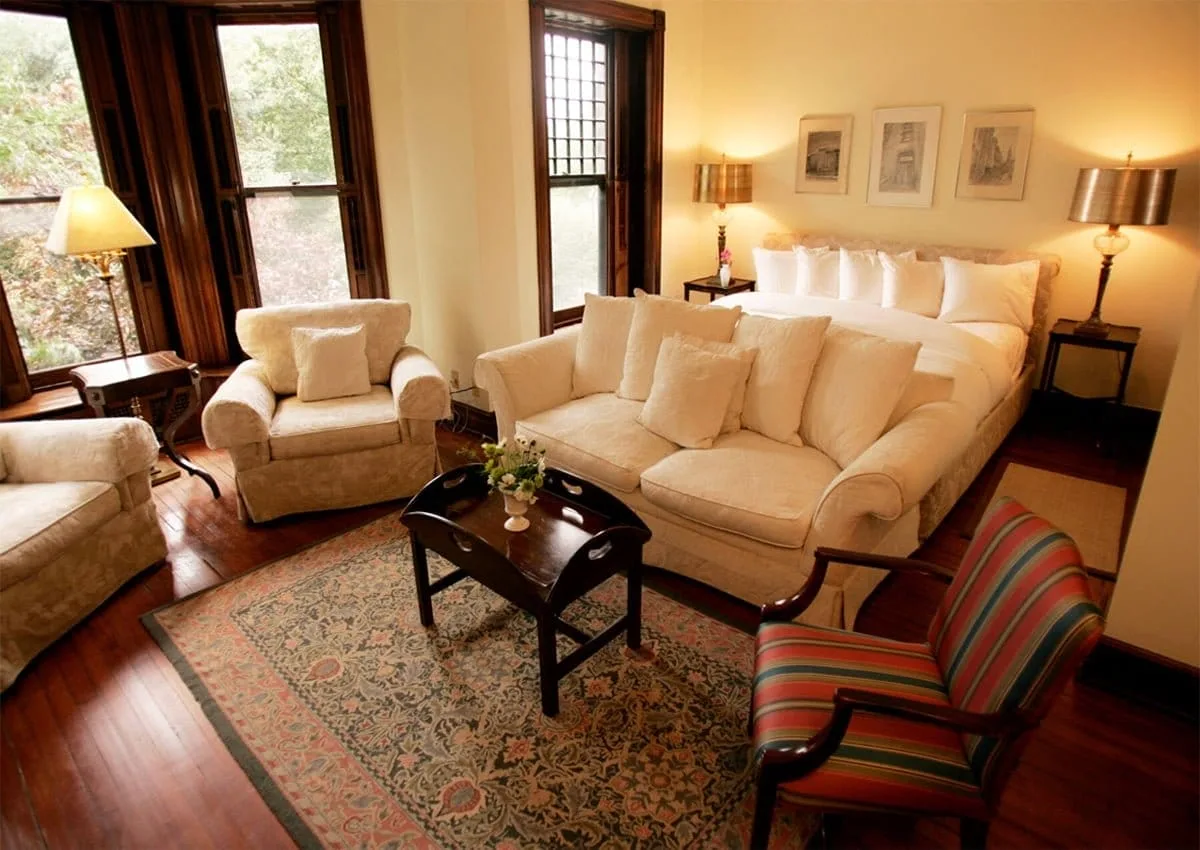 Morgan State House
393 State St, Albany, NY 12210
Voted the best inn in the Capital-Saratoga region, the Morgan State House Inn mixes modern conveniences and historic elegance with beautiful views of Washington Park.