Canalside
Canalside Buffalo is the broadway of the city's downtown area. Multiple activities every single day make this one of the most sought out attractions in the entire area.
Concerts, summer storytime and yoga show just how versatile Canalside Buffalo truly is. This spectrum just shows that truly anybody can have a great time down by the river, no matter what age or interest.
Spend the day and enjoy food, entertainment, and events all throughout!
Located at the 1825 terminus of the Erie Canal and only 1.3 miles from the nearest Amtrak station, this is a must-see destination along the Buffalo waterfront. Nestled between several Buffalo tourist attractions, like Silo City and LaSalle Park, this is the perfect stop along the way for some sightseeing and fun!
Throughout the year, the waterfront venue hosts concerts and festivals, and offers fitness classes, ice skating lessons, children's programs, history tours and more!
Each event is either free or low-cost and open to the public.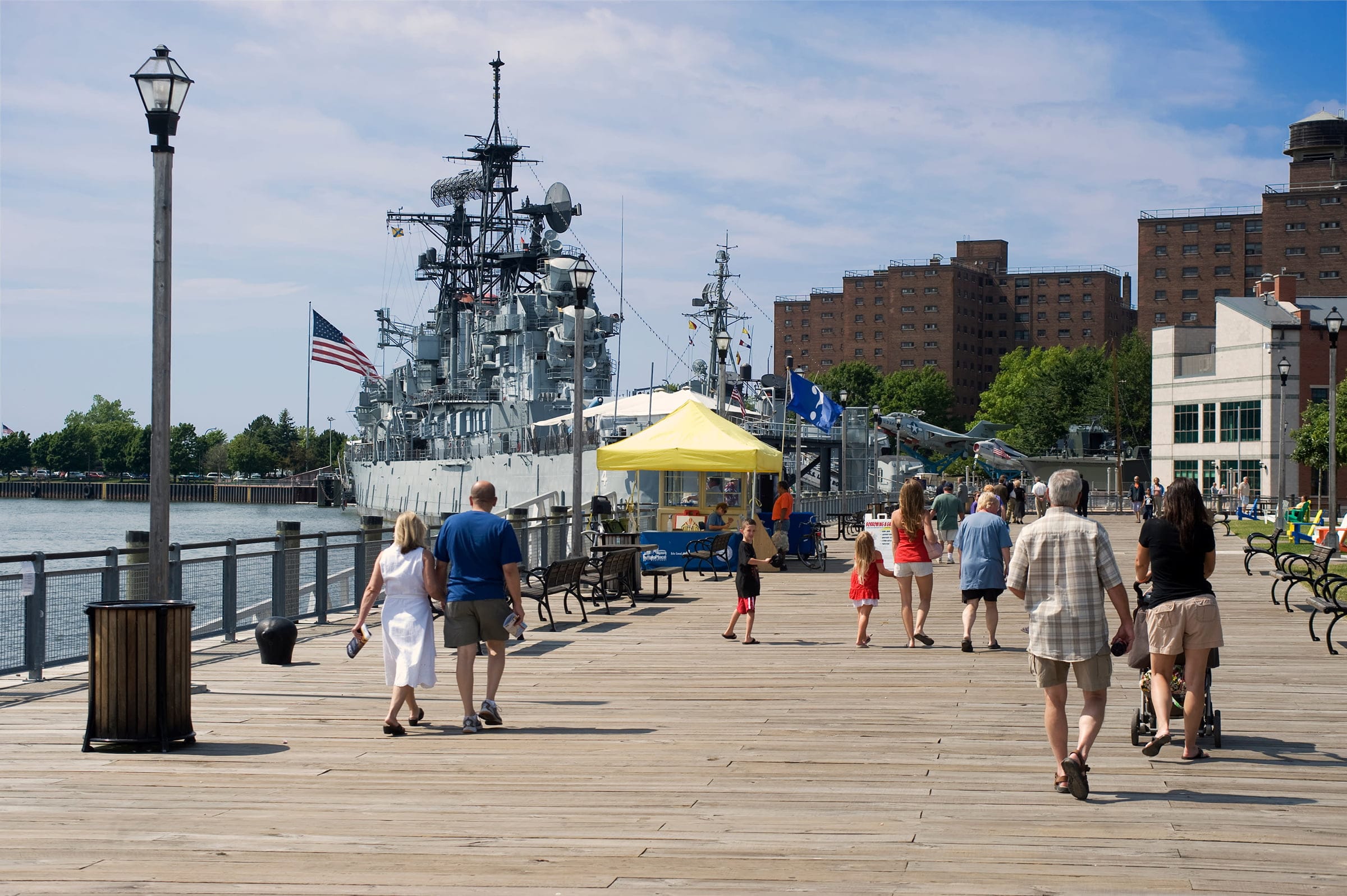 Buffalo's Naval & Military Park
If you're visiting Buffalo during the winter season, the Ice at Canalside is an attraction you simply can't pass up. Enjoy exciting winter attractions, such as ice skating, curling, bumper cars, ice bikes and igloos. Try public ice skating with skate rentals. Prefer to take on the ice a different way? Cruise along the ice with a bike or play against friends with ice bumper cars and curling. Getting cold? Cozy up in the warmth of an igloo rental.
No matter what exciting winter activity you choose at Canalside, you won't be disappointed.
LaSalle Park
A highlight of the Buffalo area is the largest waterfront park. The park is located between Lake Erie and the Niagara River. Historical aspects of the park include Colonel Francis G. Ward Pumping Station of the Buffalo Municipal Water Authority.
"I have two children, ages 8 and 10. We have had season passes for the botanical gardens for two years and love it! We go every season, and we always have a great time. It really is our family happy place!"

—Catherine2205789, TripAdvisor