The recently announced Vermont Forward Plan is a roadmap to reopening Vermont safely. Amtrak's Ethan Allen Express and Amtrak Vermont Shires Connector bus service will resume effective July 19, 2021. To learn more about visiting Vermont via Amtrak, click here. Tickets will be available starting April 19th, 2021.
For details of getting a 20% discount off Ethan Allen Express tickets, go to Amtrak.com/VisitVermontandSave20 percent.com.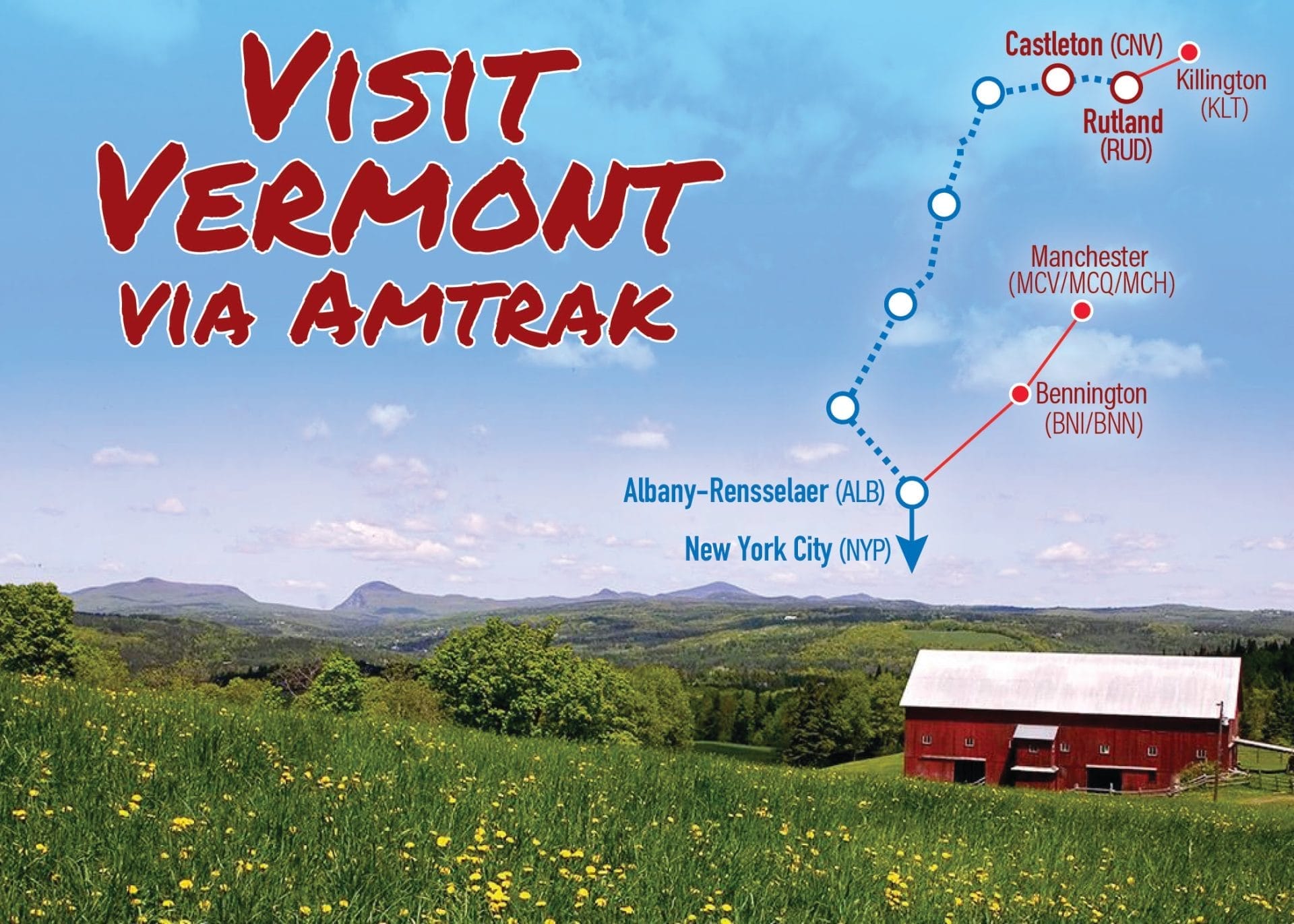 We all need a place to destress that's uncrowded and close to home. Vermont is that place. Relax on the Ethan Allen Express from New York City to destinations in central Vermont or connect from Albany to The Vermont Shires bus service to Manchester and Bennington. It's carefree travel with beautiful scenery, free WIFI, and large, comfortable seats… and no traffic! In a few short hours, you can explore a myriad of Vermont-made products, historic sites and outdoor activities, then return home refreshed and happy.
Who was Ethan Allen?
Ethan Allen (1738-1789) was born in Connecticut but settled in the "New Hampshire Grants" in what is now Vermont. After fighting in the French and Indian War, Allen became the leader of the Green Mountain Boys, a regional militia who were best known for taking Fort Ticonderoga and Crown Point, both strategic spots on Lake Champlain, from the British during the American Revolutionary War. He later lobbied unsuccessfully for Vermont to become the 14th state, though it was ultimately was awarded statehood 1791.
Why go to Vermont?
Vermont's nickname is the Green Mountain State. It is certainly lush during the summer, but Vermont is more than green. It's brilliantly red, orange and yellow during the fall, white during the winter and pretty pastels in spring. It's multiple hues hint at the many things you can do by train:
Ski and Snowboard Killington, Pico Peak, Okemo Mountain, Stratton Mountain, Bromley
Hike Mount Equinox, the Long Trail, to fire towers, to waterfalls and lakes
Fish for trout in the Battenkill, Mettawee and Black rivers, or catch a bass in Half Moon or Gale Meadows ponds.
Shop Manchester's designer outlets, Woodstock's boutiques, Quechee's crystal and pottery, Rutland's farmer's market, and who knows what you discover at the antique shop or general store around the corner!
See performing arts, galleries, museums, historic sites…
There's so much to do in Vermont. You'll need to visit more than once!
Bennington: Home of the Ethan Allen Boys
Bennington Battle Monument
Built in 1891, this 306-foot, limestone obelisk commemorates the Battle of Bennington in 1777, a turning point in the American Revolutionary War. The Battle of Bennington is famous in Vermont with its own holiday on Aug. 16th. The public is welcome to visit the monument, and numerous events are typically held there each year. From 10 a.m. to 5 p.m. the monument is available for viewing through Friday to Monday.
Distance from BNI or BNN: 1.7 miles
Bennington Museum
Established in 1852 in a former church, this museum houses regionally significant, 18th century objects and art. See the schoolhouse attended by Grandma Moses, 10 acres of woodland and wildflowers, and a genealogy and historical research library. Here, you'll learn mostly about southern Vermont, as well as eastern New York and other states. At the museum you'll also witness several ongoing, upcoming and special exhibitions. Some ongoing exhibitions include Bennington Pottery Gallery, Gilded Age Vermont, Early Vermont Gallery and much more. The museum just reopened for the spring on April 2nd is ready for visiting and viewing. Bennington Museum's spring hours are open Friday through Monday from 10 a.m. to 4 p.m.
Distance from BNI or BNN: 1 mile
Silk Road Covered Bridge/Burt Henry Covered Bridge
The meticulously crafted and preserved the Silk Road Bridge spans the Walloomsac River between Bennington and North Bennington. Built in the 1830s, Burt Henry Bridge is the oldest covered bridge in the area. With both of these covered bridges, you can take your own self-guided tour by exploring them. By touring them, you'll witness breathtaking landscapes and views. While you're there, feel free to have lunch at a picnic table by the Burt Henry Bridge.
Distance from BNI or BNN to Silk Road Covered Bridge: 0.6 miles
Distance from BNI or BNN to Burt Henry Covered Bridge: 2.0 miles
Revolutionary War-Era Churches, Homes and Landmarks
Take a self-guided walking tour past historic churches, monuments, cemeteries and the homes of numerous Revolutionary War heroes, including Ethan Allen's residence from 1869-1775. Learn more about Revolutionary War-Era churches, homes and landmarks here.
Distance from BNI or BNN: Various
Dollhouse and Toy Museum of Vermont
This museum is modeled after an 1850's Victorian era house and is home to the Museum of Miniature Art. Exhibits include furnished dollhouses, dolls, fairy houses, and puppets. For those not interested in dolls, the museum also has vintage trains, planes, tin soldiers, and circus wagons. Open weekends or by appointment from 1 p.m. to 4 p.m.
Distance from BNI or BNN: 0.2 miles
Bennington Potters
Since 1946, this local potter makes unique stoneware, including cookware, dinnerware, bowls, gifts and their famous Trigger mug. No two pieces are exactly alike. With so many options and styles, there's truly something for everyone here. Whether you're treating yourself to something beautiful or searching for a gift, Bennington Potters is a prime location for all of your pottery needs.
Distance from BNI or BNN: 0.5 miles
Oldcastle Theatre Company
Founded in 1972, this non-profit is one of the longest running professional theatre companies in the country. Watch thought-provoking performances in an intimate setting. Oldcastle Theatre Company strives to provide an educational experience for all visitors. Through Oldcastle's educational methods, you'll walk away with a new perspective and an incredible life experience.
Distance from BNI or BNN: 0.5 miles
Castleton: College town for all ages
Castleton University
Not just for students, Castleton's sports facilities, galleries showcasing local and regional artists and theater offer a full calendar of events and community activities. The university is also home to Casella Theater for the performing arts. The theater seats a little under 500 people and hosts a variety of productions, concerts and other events. At the theater you can experience an array of wonderful features, such as audiovisual and streaming functions, as well as high-quality recording equipment.
Distance from CNV: 0.5 miles
Higley Homestead
Home of the Castleton Historical Society, this circa 1811 brick house contains furnishings, wall stencils, paintings, clothing, documents and photos from the Castleton area. Built by Erastus Higley, the Higley House is a historical location which has connections to New York City's Metropolitan Museum of Art, and houses several artifacts from the Higley family. In the homestead, you can explore the history and culture of Castleton in the 19th century. Open Thursday afternoons, July to September.
Distance from CNV: 0.3 miles
Lake Bomoseen State Park
Hike the Slate History Tail through the ruins of the former slate quarries. You can also fish, swim, paddle and camp in this 3,576-acre park on the largest lake entirely within Vermont's borders. Enjoy the sun and the beach. Lake Bomoseen is the perfect location to spend some time with family and friends. Nearby is Glen Lake, plenty of lovely forested land and Half Moon State Park. At Half Moon, you can make the most of your visit by camping and embarking on fun hiking trails.
Distance from CNV: 4.1 miles
Pond Hill Ranch
This family-owned horse ranch offers lessons and scenic trail rides or watch an action-packed rodeo or barrel racing competition. The ranch is approximately 2000 acres of land right in the Green Mountains. At Pond Hill Ranch you can find horses of the utmost quality found throughout the country. Primarily, the ranch is a facility that leases horses, and carries the largest variety in the Northeast. Types of horses include show horses, young horses, English horses, proven trail horses and horses that can work cattle.
Distance from CNV: 7.2 miles
Killington: Basecamp for winter sports and outdoor adventure
Killington Ski Resort
"The Beast of the East" boasts 1,500+ skiable acres across six peaks, with a vertical drop of 3,000+ feet. The resort also offers snowmobile tours, the Beast Coaster, scenic gondola rides, sleigh rides, snowshoe tours, and a tubing park. Killington Ski Area also offers stores to shop in, fitness centers, spas, and delicious dining services. Additionally, Killington Mountain provides vacation packages for those who want to spend extra time enjoying all the activities and amenities.
Distance from KLT: 0 miles
Homelight Killington Cup
Watch the top women ski racers, including American star Mikaela Shiffin, compete in giant slalom and slalom. The celebration includes live music, fireworks, parades, and movie screenings. This event has occurred annually for the past few years and is always a great event for sports fans. The Homelight Killington Cup can be watched live on television, and is viewed by more than two-million people around the world.
Distance from KLT: 0 miles
The Long Trail
Ambitious hikers can trek to the top of Killington Peak (4,241 feet), Vermont's second highest summit. For a more casual climb, the 2.2-mile round-trip to Deer Leap, a rocky outcropping above Sherburne Pass, offers exceptional views of Pico Peak and the surrounding countryside. No matter the season, the Long Trail always has something exciting in store. Although spring and April is considered mud season, which makes hiking difficult, the winter and summer seasons offer some of the best hikes around. Overall, the Long Trail encompasses 272 miles, alongside 166 miles of side trails.
Distance from KLT: 10.8 miles
Vermont Brewers Festival Bear Mountain at Killington
Brewers from across the state offer 140+ beers, some exclusively available at the festival. Due to Covid-19, it is unclear when the next festival will be occurring. Nonetheless, the Vermont Brewers Festival at Killington is always a fun event for beer-drinkers.
Distance from KLT: 0 miles
Manchester: Comfortable country life
Manchester Designer Outlets
Rated "One of the Top Shopping Getaways in New England" by Yankee Magazine, shoppers can stroll store to store, saving on designer fashions and unique goods, in the historic center of the village. The Manchester Designer Outlets is the perfect place to shop while visiting Manchester, Vermont.
Distance from MCQ, MCH or MCV: 1.4 miles
The Orvis Company
Founded in Manchester in 1856 by Charles F. Orvis, this iconic outdoor company offers gear and apparel for fly-fishing, wing-shooting, and sporting clays, plus instructional clinics, dog training, guided outings and travel opportunities. If you're interested in embarking on some outdoor adventures in Vermont, visiting the Orvis Company is a prime place to start.
Distance from MCQ, MCH or MCV: 0.9 miles
American Museum of Fly Fishing
The American Museum of Fly Fishing is dedicated to the sport of fly fishing and the conservation of its waters, visitors learn the history and traditions of this outdoor pastime. The museum provides the public an educationally visual experience through its extensive art and media collection comprised of over 700 prints and paintings, 90 linear feet of photographs and interviews with nine saltwater fly-fishing pioneers.
Distance from MCQ, MCH or MCV: 0.5 miles
Hiking
Hike to the top of Mount Equinox (3,848 feet, the highest peak in the Taconic Range), Prospect Rock, or 125-foot high Lye Brook Falls, to name a few popular routes close to town, or backpack through the Lye Brook Wilderness to a pond-side campsite. Enjoy beautiful views of Manchester and Mount Equinox from Prospect Rock. You can also opt for a Mount Equinox drive that enables you to experience several lookouts.
Distance from MCQ, MCH or MCV: 9.3 miles
Hildene
Tour the grand Georgian-revival mansion and gardens of Robert Lincoln. The only child of President Abraham Lincoln to survive to adulthood, he became the head of the Pullman Company, one of the preeminent manufacturing firms of the early 1900s. At Hildene you can enjoy a variety of experiences, such as Robert & Mary's Home, Pullman Car Sunbeam, Hildene Farm & Goat Dairy, Dene Farm and the trail system. The hours of operation are Thursday to Monday, 10 a.m. to 4 p.m. Due to its fascinating history, Hildene is a must-visit attraction in Vermont.
Distance from MCQ, MCH or MCV: 1.6 miles
Rutland: A Rural renaissance
Paramount Theatre
Built in 1912 and 1913 by George T. Chaffee, this historic Victorian theater attracted top entertainers like Will Rogers and The Great Houdini, as well as vaudeville shows and operas. Additionally, the Paramount Theatre was one of the most artistically designed theaters in America. Today, this rejuvenated, ornate auditorium is a cultural center featuring artists and acts of various genres. Due to Covid-19, the Paramount Theatre may not be currently featuring too many shows; however, the history of this great theater and its role in the Rutland community is enough of a reason to visit.
Distance from RUD: 0.2 miles
Wonderfeet Kid's Museum
Toddlers to teens explore, create, and problem-solve using a variety of interactive tools and activities, including a block puzzle; clay, sensory and color tables; legos; a wind tunnel; and role playing on a train. If you're visiting Vermont with children, you'll definitely want to explore this fun attraction. In May 2021, Wonderfeet Kid's Museum has plans to reopen to the public. In the meantime, check out private tours throughout Wonderfeet.
Distance from RUD: 0.2 miles
Chaffee Art Center
Founded in 1961, Chaffee Art Center preserves Rutland's history while serving as a resource for art education in Central Vermont. It's located in a Queen Anne mansion built in 1895 by George Chaffee, a prominent local businessman whose many interests included that era's booming train industry. Today, the art center organizes a multitude of artistic events and aims to provide a resource for art education in Central Vermont.
Distance from RUD: 0.6 miles
Norman Rockwell Museum of Vermont
Known for his slice-of-life covers on The Saturday Evening Post, Rockwell moved to this part Vermont (Arlington) in 1938. The Norman Rockwell Museum of Vermont shows the diversity of his long career with a chronological exhibit of 2,500+ magazine covers, ads and other illustrations. Rockwell's work is displayed in chronological order. Visitors are able to see Rockwell's life unfold in front of them, from early work done in his teenage years with Boy's Life all the way to his more famous and widely recognizable pieces.
Distance from RUD: 2.6 miles
Art in the Park
Held twice annually, in August and October, in Main Street Park, this expansive, juried festival features the works of artists and craftspeople from the region. Art in the Park is organized by the Chaffee Art Center. Much of the art at the festival is visual with plenty of paintings, including oil, watercolor and acrylic. The festival supports talented local vendors selling their craftwork. One of the more popular Art in the Park events is the Fall Foliage event.
Distance from RUD: 0.6 miles
Lodging and Dining
The Green Mountain State has places to stay that fit your style and budget, including farm stays, historic inns, luxury hotels, convenient motels, charming bed and breakfasts, full service resorts and a plethora of vacation rentals.
Here are some must-visit lodging and dining options:
The Equinox Golf Resort & Spa
Killington Grand Resort Hotel
Comfort Inn Trolley Square
Antique Mansion Bed & Breakfast
TAKE AMTRAK®!
Ride the Ethan Allen Express and get a 20% discount!
The Deal. Amtrak's Visit Vermont Fare provides 20% discount off the regular (full) adult fare to any Vermont station. Each adult may bring one child, ages two to 12, at 50% off the regular (full) adult fare. Blackout dates apply. Seats must be reserved at least three days in advance. For details, go to Amtrak.com/VisitVermontandSave20 percent.com.
The Ride. From New York City's Penn Station (NYP), travel north on the Ethan Allen Express through the scenic Hudson River Valley to Albany, then east to train stations in Castleton (CNV) or Rutland (RUD).
If your destination is Killington (KLT), book your Amtrak® ticket to KLT. Amtrak's Thruway Bus, operated by the Killington-Gramps Shuttle, takes you from Rutland station to the slopes. Thruway bus service is also available to Ludlow during the winter.
If your destination is Bennington (BNI or BNN), Manchester (MCQ), or Manchester Center (MCV or MCH), book your Amtrak® ticket to BNI, BNN, MCQ, MCV or MCH. Amtrak's Thruway Bus service, operated by the Vermont Shires Connector, takes you to these Vermont destinations after a short layover at Albany-Rensselaer (ALB). For more info, call 1-800-685-RIDE or visit VTTranslines.com.
If you need transportation from the train or bus station to a destination, ride shares, taxis, rental cars or public transportation is typically available based on your location.
TRUST THE TRAIN!
Amtrak® is taking every precaution to keep you healthy while traveling. For example, Amtrak® trains exchange fresh air every five minutes. For information on how the trains and stations are cleaned, social distancing and other virus-related policies, go to Amtrak.com/coronavirus.
AMTRAK® TO EXPAND SERVICE TO BURLINGTON!
Get ready to see more of Vermont by train! In 2022, Amtrak plans for its Ethan Allen Express to continue north from Rutland to Burlington's Union Station on the city's waterfront. The expanded route will include stops in Middlebury and Vergennes. Likewise, Vermont residents from as far north as Burlington will be able to travel by train to New York City and beyond.