Editor's Note: New York by Rail updated this July 2020 blog experience to include current information.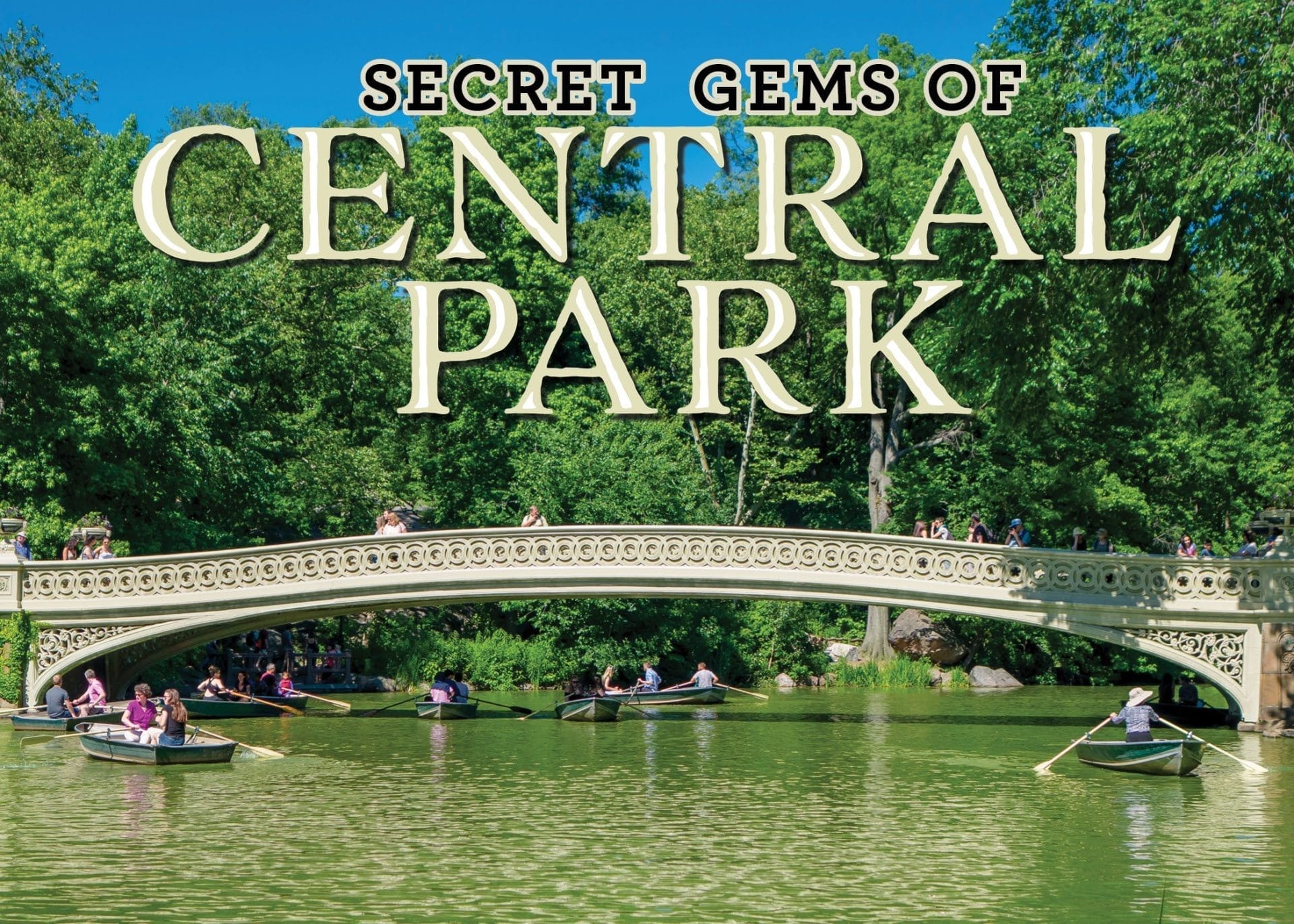 When it comes to polishing the rough edges of New York City, providing a respite from the rat race and taking a deep dive as you dial down your day, there is no better place to start than Central Park.
There's importance in this public green space, its paths and its opportunity for elbow room in a city of more than 8 million people. It all takes on added meaning as we continue to social distance in the midst of the Covid-19 pandemic. At the same time, restrictions are being relaxed. One of the latest is the expansion of New York City's indoor dining capacity, to 50 percent beginning March 19.
For those living in Manhattan, Central Park is likely an anchor of your existence already. But for the rest of us, the adventure begins on an Amtrak train that takes you to the new Moynihan Train Hall. This new train hall is located directly across 8th Avenue from New York Penn Station and Madison Square Garden.
A Big Apple Adventure
Your journey to Central Park begins in fine fashion. Opened in January, Moynihan Train Hall is a 255,000 square-feet transportation hub that expands platform access capacity, improves sanitation and air flow, reduces congestion and eases boarding as it allows for social distancing. There is a 92-foot high, sky-lit atrium. And Moynihan Train Hall was designed to transform the travel experience for Long Island Rail Road (LIRR) passengers.
Once you exit the hall, it's less than 10-minutes to Central Park by cab, Uber or Lyft ride.
Central Park has always been an escape for both Manhattan residents and visitors to enjoy. The park offers an escape from the high-rise buildings and into the outdoors. Now, more than ever, the park is a space to physically and mentally recharge during an otherwise unsettling time. Here are a few remote options within Central Park that would make for an ideal getaway.
Central Park Conservancy is closely monitoring the COVID-19 situation with increased protocols to ensure the health and safety of guests. Find out more information below. Here is an inside look at the hidden gems of Central Park.
Secret Gems
For decades, I've been enjoying the sprawling greenery of Central Park. One of my favorite places is The Pond at the south end of the park, for bird-watching. I also enjoy Turtle Pond by Belvedere Castle, because I love that Manhattan has a waterhole that teems with turtles. In addition to the ponds, I like to visit Loeb Boathouse near the Bethesda terrace and fountain. The Boathouse is best when I feel like rowing beneath picturesque Bow Bridge instead of strolling over it. And of course, I go to Wollman Rink, when I want to ice skate. To me, nothing beats Wollman Rink for skating in New York City, not even the rink at Rockefeller Center. 
Recently, I realized that whenever I visited Central Park I gravitated toward my usual haunts with such regularity that I had stopped exploring other areas of the park. I made a list of several destinations to check out, then spent a day visiting each of them. My excursion took me to much of 840 acres of the park, during which I discovered these secret gems: 
I started my day looking for the Hallett Nature Sanctuary, a woodland that was recently restored. It's nestled between Wollman Rink and The Pond, near East 62nd Street, toward the south end of the park. 
Although the sanctuary has been open since 2013, I'd never stumbled upon it. It's tricky to find because it has only one entrance. This entrance opens at 10:00 a.m. and is locked just before sunset. When I arrived at the rustic wooden gate, it was still locked, but it was almost 10:00 a.m.. Moments later, I was the first person to enter that morning. 
I hiked up and down the log-lined mulch paths, rarely seeing another person. Chirping birds drowned out the sounds of the city. I wandered for half an hour, enjoying every viewpoint. The higher ones had excellent cityscapes, the lower ones overlooked The Pond, where I glimpsed ducks swimming by. The longer I walked through the peaceful nature sanctuary, the more I convinced myself that I was hiking in the woods in upstate New York. Eventually the path took me back to the entrance, and suddenly I was back in Central Park again. 
Dene Slope
In 2017, the Central Park Conservancy finished restoring Dene Slope, turning the space near 66th Street on the east side of the park into a hillside meadow brimming with native wildflowers. Although currently closed due to weather conditions, the meadow when open is quiet and sparsely populated. This differs from the nearby Central Park Zoo and running paths. Click here for updates on openings and closings in Central Park.
Dene Slope is home to a variety of native wildflowers that bloom white, yellow, pink, magenta and lavender. I'd never seen so many monarch butterflies flitting around one area of Central Park until I entered this meadow. 
Dene Slope is not only an ideal spot to witness nature, but also for people-watching. Toward the top of the hillside, a man meditated on a gnarled wooden bench amid the butterflies, birds and crickets. When I reached the Slope's highpoint, a hump of exposed bedrock, a young couple was taking a selfie with the Manhattan skyline behind them. 
Before I began investigating Central Park's hidden treasures, I thought that I had to head to upstate New York or the Poconos to see waterfalls. Then I learned there are several waterfalls along the Ravine Walk, a path that runs through Central Park's North Woods. I headed to West 102nd Street toward the eastern edge of a small pond, called The Pool. Surprisingly, I heard rushing water. 
The Ravine Walk is a pleasing, secluded path that meanders along The Loch. This stream runs from the Huddlestone Arch near 105rd Street to Glen Span, another arch near Lasker Rink, an ice skating and swimming destination. Along the way, there are a half-dozen waterfalls of varying heights, as well as the two impressive stone arches. As I walked, chipmunks ran across the path, and the thick woods made a canopy over me. I could hear only chirping birds and burbling cascades. 
I couldn't decide which waterfall was my favorite, but I was impressed by the height of the two tallest ones, both about eight-to-12-feet high. One was by the Glen Span Arch. The other was near a clearing paved with large flat stones. 
I'd heard about a 19th Century log cabin, called the Swedish Cottage, and wanted to see it. The structure is near West 79th Street and Central Park West at the foot of the Shakespeare Garden. This two-story cottage looks like an old Swedish schoolhouse, with butt-and-pass corners and tall, arched windows. 
The historic structure was built in Sweden for America's Centennial Exposition, in 1876 in Philadelphia. A year later, Frederick Law Olmsted, co-designer of Central Park, moved the cottage to its current location. It once served as a children's nature center, an entomology lab and several other uses. In 1947, it became the headquarters of a traveling marionette theater. 
In 1973, the park built a permanent marionette theater inside the cottage. Since then, thousands of families have enjoyed productions like Peter Pan and Cinderella. 
My last stop of the day was the Conservatory Garden in the northeast corner of the park, which covers six acres and boasts three formal gardens. The gardens were painstakingly designed in three different styles: Italian, French and English. 
After the Ravine Walk, I stepped out of Central Park at 110th Street and Lenox Avenue and walked east, then south along Fifth Avenue, because I wanted to approach the Conservatory Garden from outside of the park. The pay-off for the extra two-minute stroll was entering the garden through the majestic, wrought-iron Vanderbilt Gate on Fifth Avenue between 104th and 105th Streets. The ornate gate serves as a visual entryway to the garden, perfectly framing its centerpiece fountain. 
I went down a flight of stairs to the Italian-style garden at the heart of the Conservatory Garden. Between the fountain and me was an expansive lawn bordered by rectangular topiary hedges. Behind the fountain, a pergola overgrown with wisteria vines served as a lush backdrop. Enticed by the verdant archways, I climbed a flight of stairs to sit on a bench beneath the vines and listened to the rushing fountain. 
After a five-minute rest, I continued north into the French garden, which was designed with circular paths. Several arched trellises led to the center of the garden with its stately sculpture of three dancing women. Bright blue, pink, yellow, orange and purple blooms liked the pathways. Some of the flowers were only ankle-high, while other plants towered over me. 
Next, I walked south to the English garden. A variety of flowers, shrubs and craggy trees lined its stone walkways. I headed for the fountain at the center of it, which pays tribute to the classic book, The Secret Garden, written in 1922 by Frances Hodgson Burnett. In the book, an orphaned girl goes to her uncle's English estate where she meets her disabled cousin, a boy her age. The two youngsters find purpose and happiness when they begin tending an overgrown garden on the property. Fittingly, I found sculptures of a girl and a boy overlooking the water, which was strewn with lily pads. 
The Conservatory Garden was my last stop in Central Park, but only for that day. I had discovered five sanctuaries in the city, all places that I'm eager to return to and share with my friends and family. 
Take Amtrak to New York City's Central Park
Take Amtrak to Moynihan Train Hall. 
Hallett Conservatory, Dene Slope: Walk one block east to the 34th Street Herald Square subway station on 6th Avenue, then take an uptown N, R or W train to the Fifth Avenue/59th Street station. 
Swedish Cottage: From the 34th Street Penn Station subway station on 8th Avenue, take an uptown C train to the 81st Street-Museum of Natural History station. 
Ravine Walk, Conservatory Garden: From the 34th Street Penn Station subway station on 7th Avenue, take an uptown 2 or 3 train to the Central Park North (110th Street) station. 
More to do in New York City