Editor's Note: New York by Rail updated this past blog experience to include current information.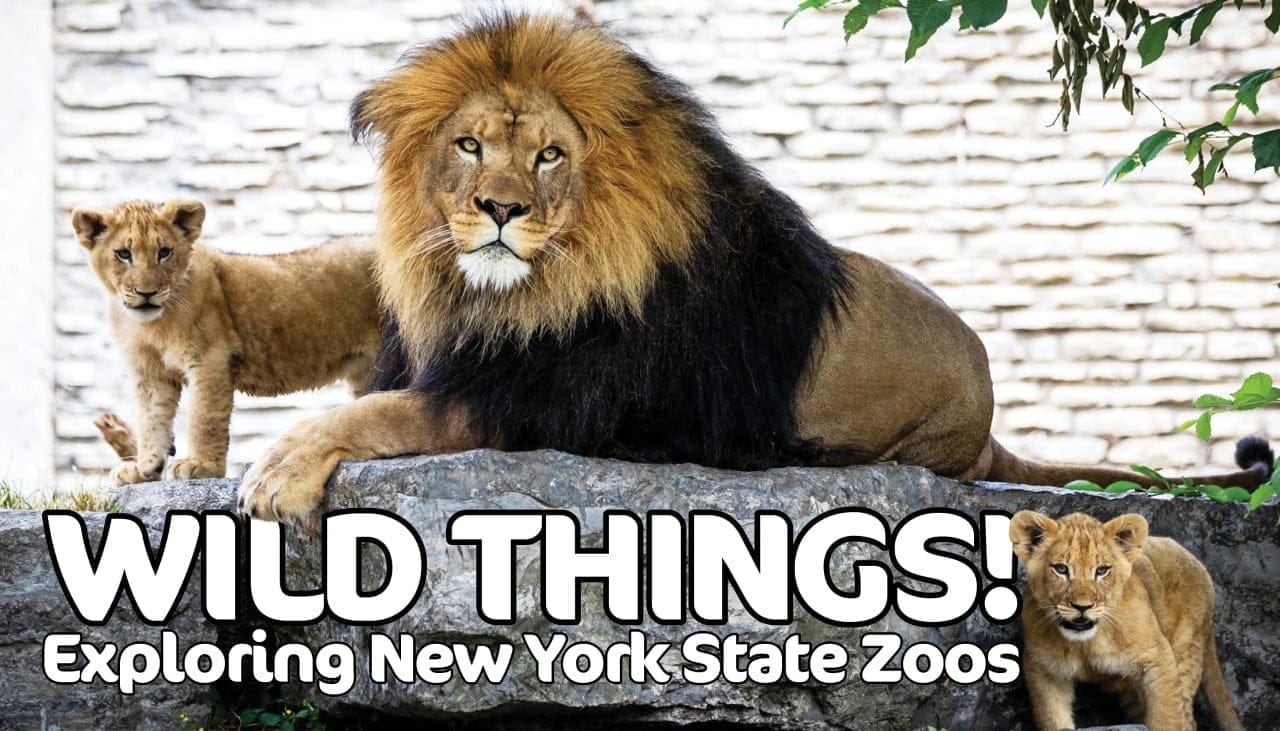 When I was a little girl, my favorite book was Where the Wild Things Are, by Maurice Sendak. In the story, a boy named Max dressed up in a wolf costume then terrorized his family. His parents sent him to bed without his supper. During the night, his room transformed into a jungle from which Max sailed to a land of exotic "wild things". An animal-lover and adventurer at heart, I imagined myself as Max, a child king of beasts, or more accurately, queen of the frogs, turtles and butterflies in my backyard. Then my parents took me to the Bronx Zoo.
Wild Things in New York City
At the Bronx Zoo, I saw a live hippo, a camel and an elephant for the first time. After watching the pink flamingos, I tried to stand on one leg whenever we paused to peer at a polar bear, lion or any other creature. The Bronx Zoo not only solidified my love of animals but opened my young eyes to the wider, wilder world.
Thirty years later, I took my own son to the Bronx Zoo. It had changed. Habitat pens resembling the native ecosystems of each animal had replaced the oversized cages. A rare Grevy's zebra, native to Kenya and Ethiopia, grazed on a semi-arid African plain. Adorable dwarf mongoose, the size of burly squirrels, stared at us from a crevice between two rocks, and two grizzly bears wrestled by a pool that resembled a remote tarn in the northern Rocky Mountains.
On another visit to New York City, my son and I toured the Central Park Zoo. That zoo had an entire pavilion dedicated to exotic birds. The colorful Birds of Paradise, Nicobar pigeons and macaws mesmerized us. Elsewhere in the zoo, a red panda napped on the branch of a tree, and sleek seals played by their manmade seashore like frolicking torpedoes.
Wild Things in Syracuse
Looking back, those visits to zoos, first with my parents and then with my son, were fantastic family activities that imparted cherished memories and a shared interest in wildlife. But somehow a decade slipped away without another trip to a zoo, until last summer when the opportunity arose to visit the Rosamond Gifford Zoo at Burnett Park in Syracuse, New York.
With an Amtrak train to catch at 3:30 p.m., I made a point of arriving when the zoo opened at 10:00 a.m. It was an old zoo, founded in 1914 in a barn surrounded by four acres of land. Its earliest animals were only bears and waterfowl. Today, it is home to 275 species, and more than 700 animals. It's also much bigger, filling 43 acres with a range of animal habitats.
An avid birdwatcher, I went straight to the Diversity of Birds Aviary, home to two dozen species of birds, which fly freely around a steamy, indoor forest. Ironically, the first creature to catch my eye was not a bird, but a sloth, lounging in the crux of a stout tree branch to the left of the walkway.

A family tours the Diversity of Birds Aviary at Rosamond Gifford Zoo in Syracuse, NY. | Photo by Lisa Ballard
Suddenly a black songbird, with a tail longer than its body, buzzed by me and landed in a tree above my head. Flipping through an oversized, waterproof booklet mounted on the railing, I learned it was a Pin-tailed whydah from Africa. A what-da? I had never heard of that bird, nor the white-faced whistling ducks preening under a broad-leafed bush, nor the pale Imperial pigeons perched on a feeding platform. The chance to see foreign species like these is what I love most about zoos!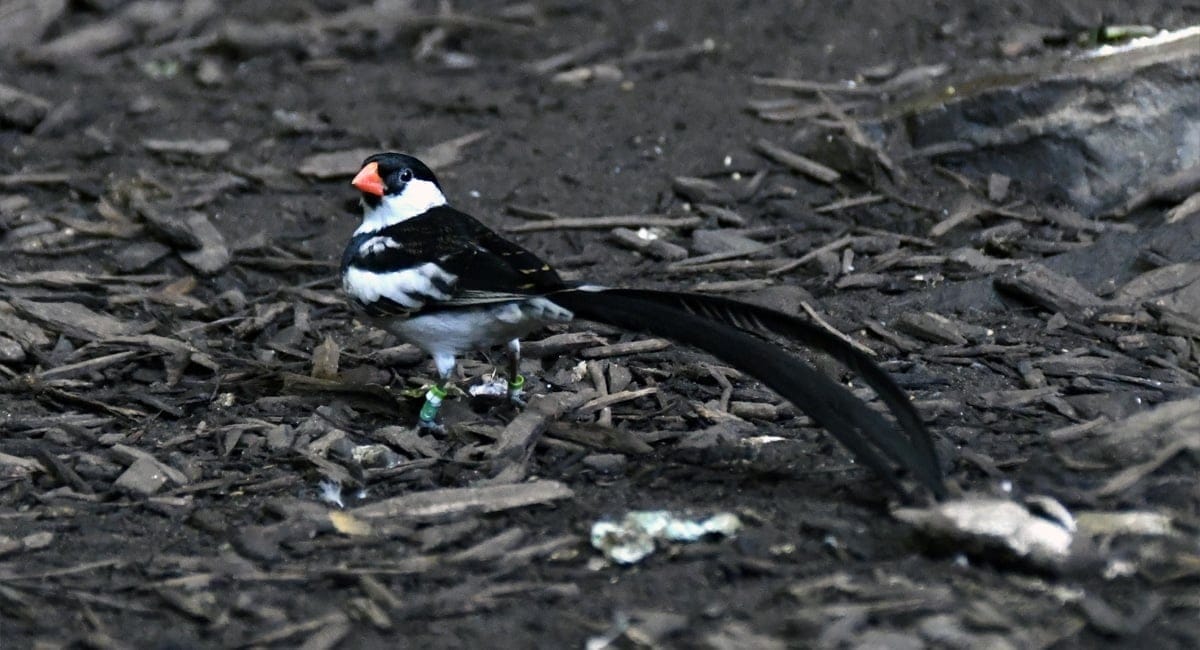 An African songbird, the Pin-tailed whydah has a conspicuous pennant-like tail longer than its body. | Photo by Lisa Ballard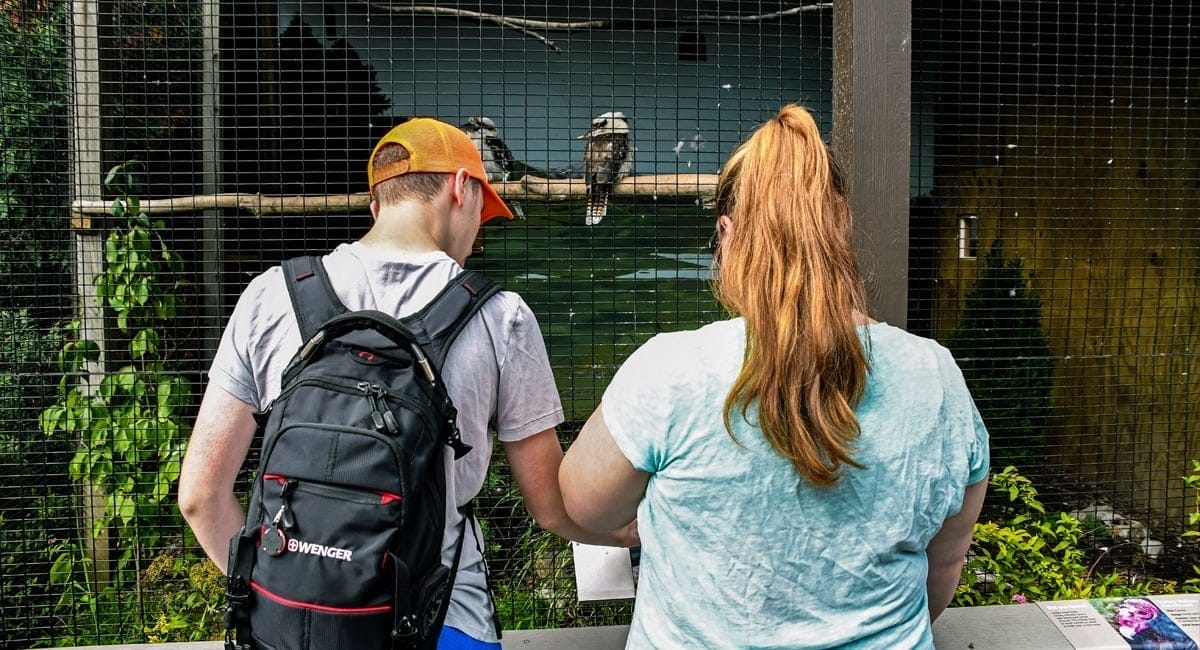 Zoo-goers visiting the Kookaburra, a kingfisher indigenous to Australia and New Guinea. | Photo by Lisa Ballard
Takins, Markhors and Foreign Felines
Emerging from the aviary, I headed to the left of the flower-ringed duck pond, opting to take the paved walkway to the outdoor animals in a clockwise direction. I spent a couple of hours walking the level, half-mile loop. There was much to see, starting with Primate Park. Several Patas monkeys lolled here and there, some peering back at the humans that watched them, and others ignoring us completely.
Then I saw it! A month-old infant clinging to its mama. The mother monkey walked up a tilted log on the opposite side of the glass viewing area and was only a few feet from where I stood. The kids and the parents around me gushed with excitement at seeing the baby monkey. It was an unexpected treat.
From there, I stopped at Penguin Coast where Humboldt penguins from Antarctica entertained onlookers. Some of them hammed it up underwater for me and the kids that pressed their faces to the glass. They swam straight at us, then raced away at the last second as we giggled at their antics.
The timberwolves, snow leopards and Andean bears were interesting but napping. I stopped long enough to see each of them, then moved on to allow more enthusiastic children to get a look.
I lingered longer to watch the Turkmenian markhor. Two markhors at the zoo had bred successfully last spring, but I could only see one mature one. It stood motionless on the highest rock in its cliffy cage. It struck a princely pose with its wavy horn and goat-like profile. One horn. The other had broken off. Since markhors don't regrow their horns, this one would spend the rest of its days like a lopsided unicorn.
A little farther along the path, I spotted a couple of shaggy Sichuan takins, another animal that I had never heard of. As their name implies, they come from China, where their numbers have declined due to overhunting. They watched me shyly from a high corner of their boulder-piled pen. I wondered if they had babies in captivity, too.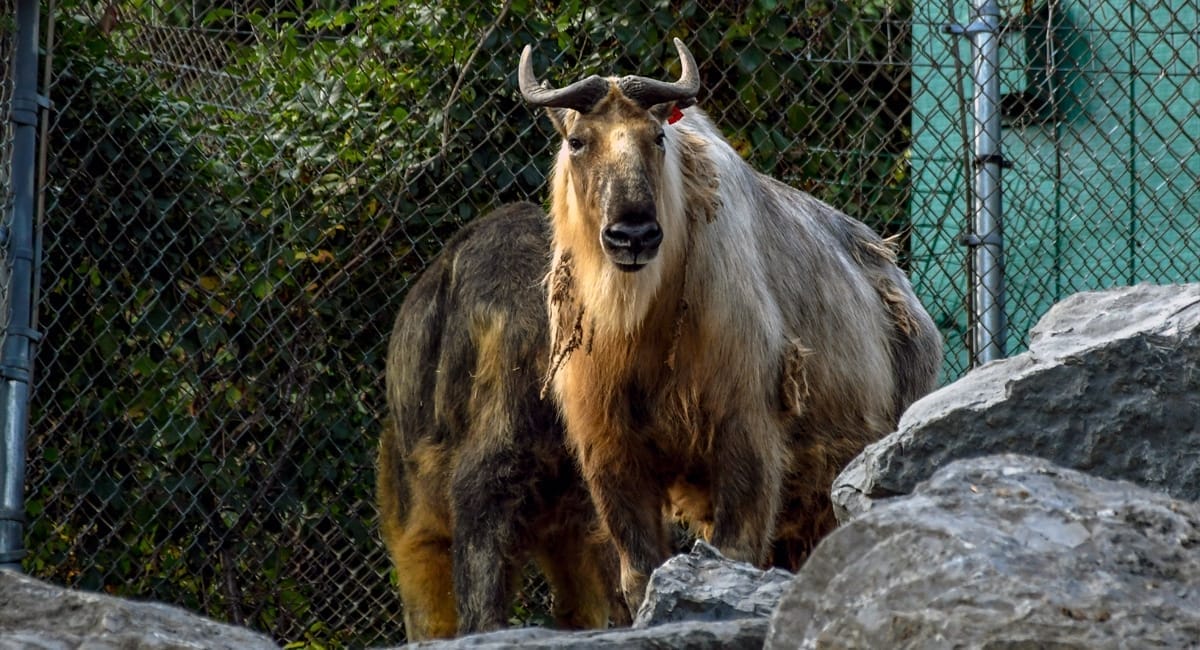 Native to Tibet, the Sichuan takin is considered a vulnerable species due to poaching. | Photo by Lisa Ballard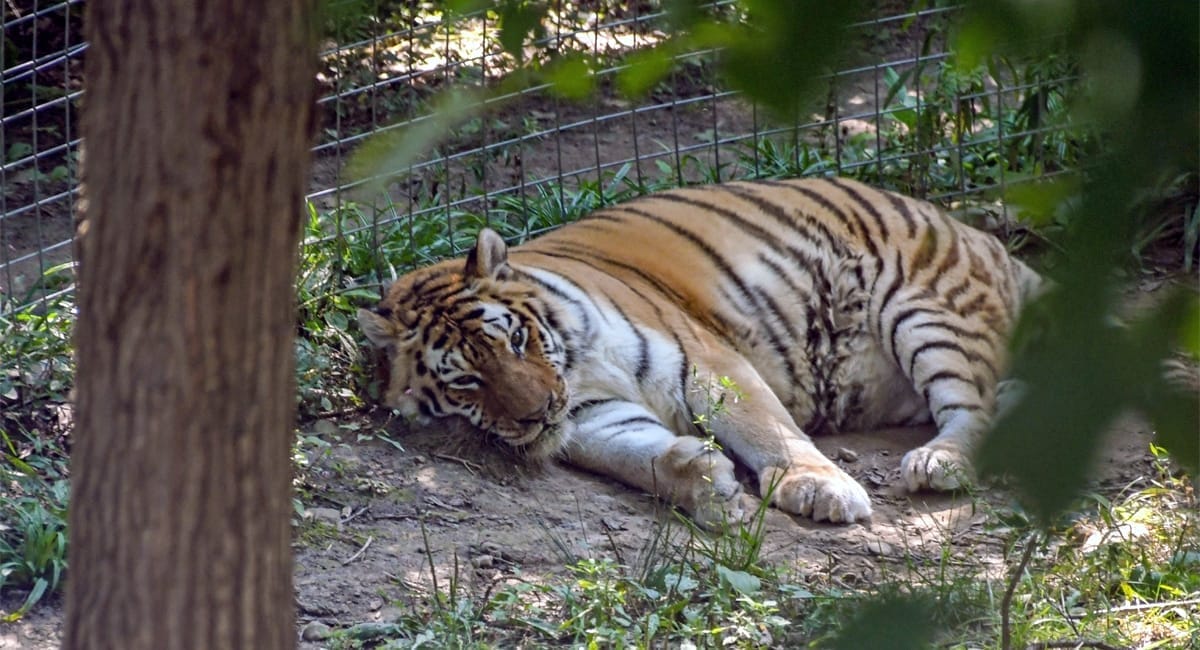 The largest of the tiger species, an Amur tiger lays down for an afternoon nap. | Photo by Lisa Ballard
My favorite animal habitat was the Asian Elephant Preserve. The Rosamond Gifford Zoo has seven elephants. Three were visible in an expansive field by a viewing platform and the now elevated boardwalk. I assumed the others were in the adjacent "Pachyderm Pavilion", which serves as a shelter, birthing barn and general elephant care center. I could have spent the entire day watching these large animals lumber around, throw hay on themselves and drink from a small waterhole.
Zoo Conservation
The well-cared-for elephants made me realize the role that zoos now play in conserving animal and bird species around the globe. Through a partnership called the Species Survival Plan (SSP), zoos like Rosamond Gifford help maintain populations of rare and endangered animals. The SSP's inter-zoo lending program insures both genetic diversity and the chance for many more families to see and appreciate these exotic creatures. For example, the Rosamond Gifford's critically endangered Amur leopards are found in the wild only in the Amur River Basin in far eastern Russia. Only 90 Amur leopards are believed to exist in their native ecosystem. The species faces extinction due to habitat loss, illegal poaching and inbreeding. More of these cats now exist in captivity than in the wild.
Other rare animals at the Rosamond Gifford Zoo that are part of the SSP include Andean condor, Asian elephant, black and white ruffed lemur, golden lion tamarin, Humboldt penguin, ocelot, red panda, red wolf, ring-tailed lemur, siamang, snow leopard, Andean bear, Turkmenian markhor and white-lipped deer. Most of these animals are nearly impossible to spot in their native lands due to their low numbers and elusive nature. Zoos offer a precious opportunity to see and learn about them.
I finished my visit with a sandwich and a drink at the zoo's Jungle Café. The parent next to me patiently answered the myriad of questions from his three excited children:
"How old are those snow leopard cubs?"
"Do you think that baby monkey likes pizza?"
"When will that red panda wake up?"
The Rosamond Gifford Zoo is a gem for creating such enthusiasm for animals among those kids and kids of all ages (like me). If you haven't been to a zoo in a while, it's worth taking a day to go where the wild things are.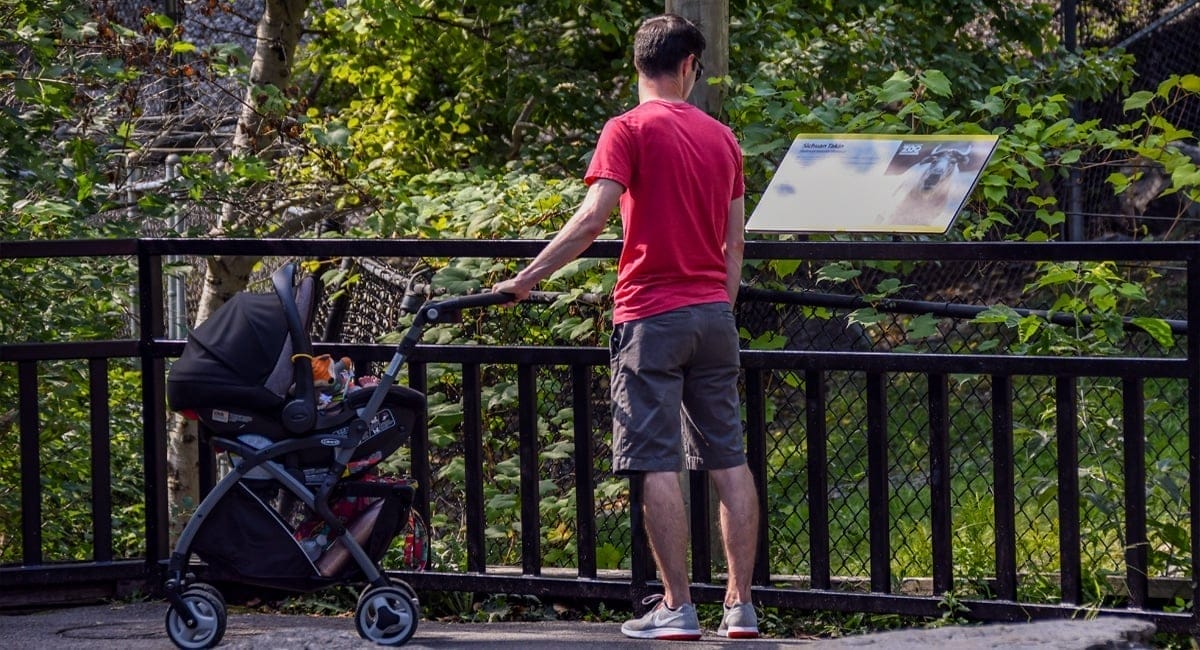 A father and his child perusing the exhibits at the zoo. | Photo by Lisa Ballard
[/vc_row]
Take Amtrak to Rosamond Gifford Zoo
Take Amtrak to Syracuse Station (SYR), then Uber or Lyft to the Rosamond Gifford Zoo at Burnet Park, One Conservation Place, Syracuse, New York, or reserve an NYTRAIN Enterprise Rent-a-Car by calling 315-423-0022. Enterprise picks you up at the station and takes you to your car. Drive 5 miles to the zoo. Free parking. Note: Hotel guests at the Embassy Suites by Hilton Syracuse Destiny USA, located by SYR, can take a free hotel shuttle to/from the zoo.
Special Offer: Get 15% off regular adult rail fares and 50% off children's fares on Amtrak through ILoveNY.com. (Restrictions apply).
Zoo Do's and Don't's
Planning a visit to a zoo. For your safety and the health of the animals, please keep this advice in mind:
DO watch the animals calmly and take lots of photos.

DON'T

throw things into animal enclosures.

DON'T

tap on the glass in viewing areas.
DO talk in normal voices.

DON'T

yell or play loud music.
DON'T

feed the animals. They typically eat food that is specially prepared based on their natural diet.

DON'T

climb trees, rocks or fences. Some are meant as landscaping, and others are meant as animal barriers.

DON'T

smoke, vape or use any tobacco-related products. It disturbs the animals.
DO leave your pet at home. If you need to use a service animal, you should call ahead to alert the zoo staff and to learn where service animals may bother zoo animals or cause them to act aggressively.
50-meter swimming pool
2 softball diamonds (1 lighted)
1 baseball diamond
2 multi-purpose athletic fields for football, soccer and lacrosse
2 tennis courts
1 basketball court
2 handball courts
Playground with swings, slides, seesaws, and climbing bars
Picnic area with tables and benches and view of the city
9-hole, par-3 golf course
Monday Mile Trail for walking or running.
7 More Wild Places!
Here are some other places where you can take Amtrak to see live, wild animals in New York, Eastern Canada and Vermont: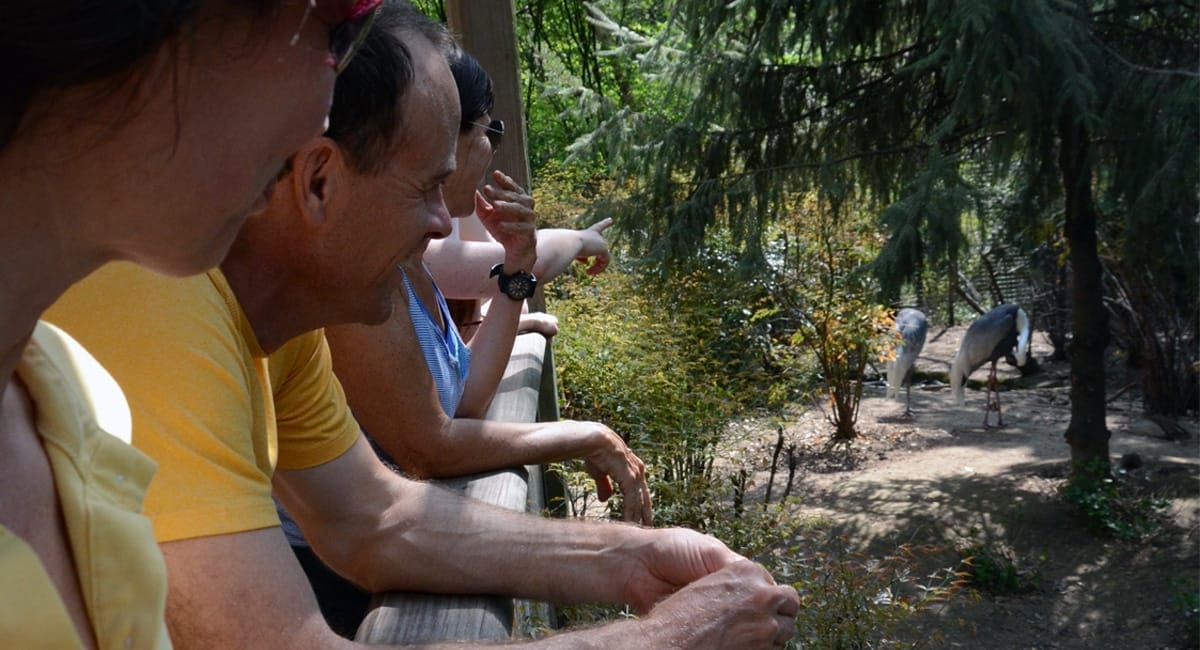 Central Park Zoo (New York, NY)
The Central Park Zoo is a small 6.5 acres but big on features. This historic wildlife sanctuary in the southeast corner of Central Park has a surprisingly diverse array of species. Visitors must reserve a date-specific ticket before visiting.
CentralParkZoo.com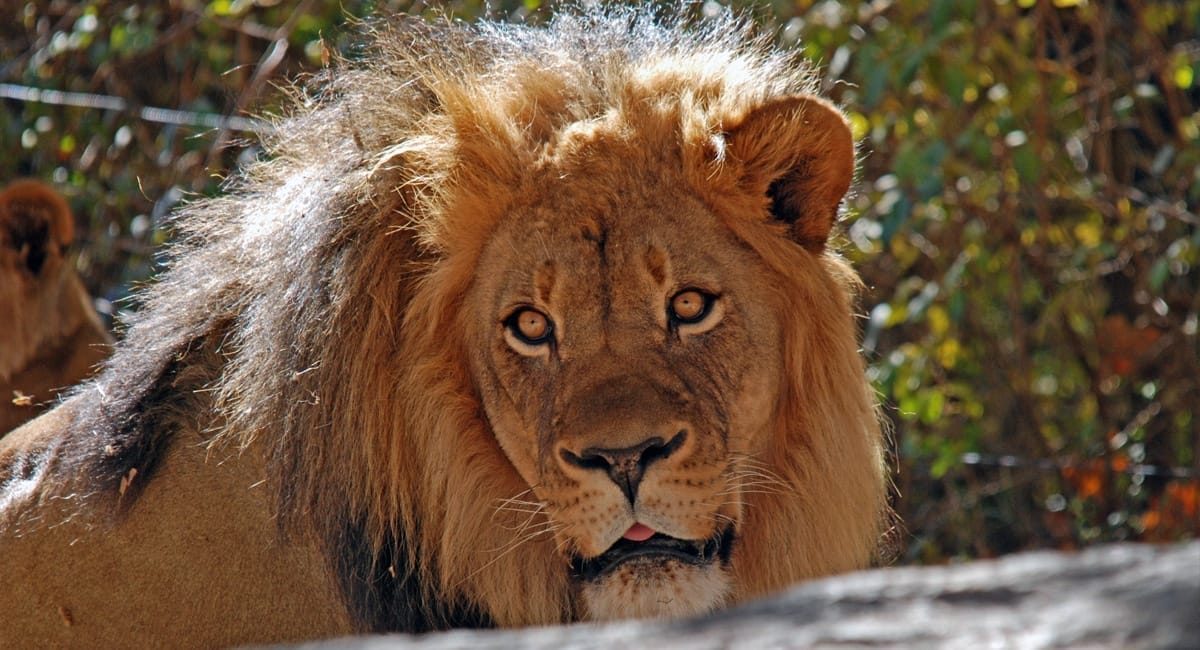 Bronx Zoo (Bronx, NY)
The Bronx Zoo, located within its namesake borough of New York City, is the largest metropolitan zoo in the U.S., and one of the most famous. Over 2 million visitors come each year to explore its 265 acres of parklands and animal habitats. Visitors must reserve a date-specific ticket before visiting.
BronxZoo.com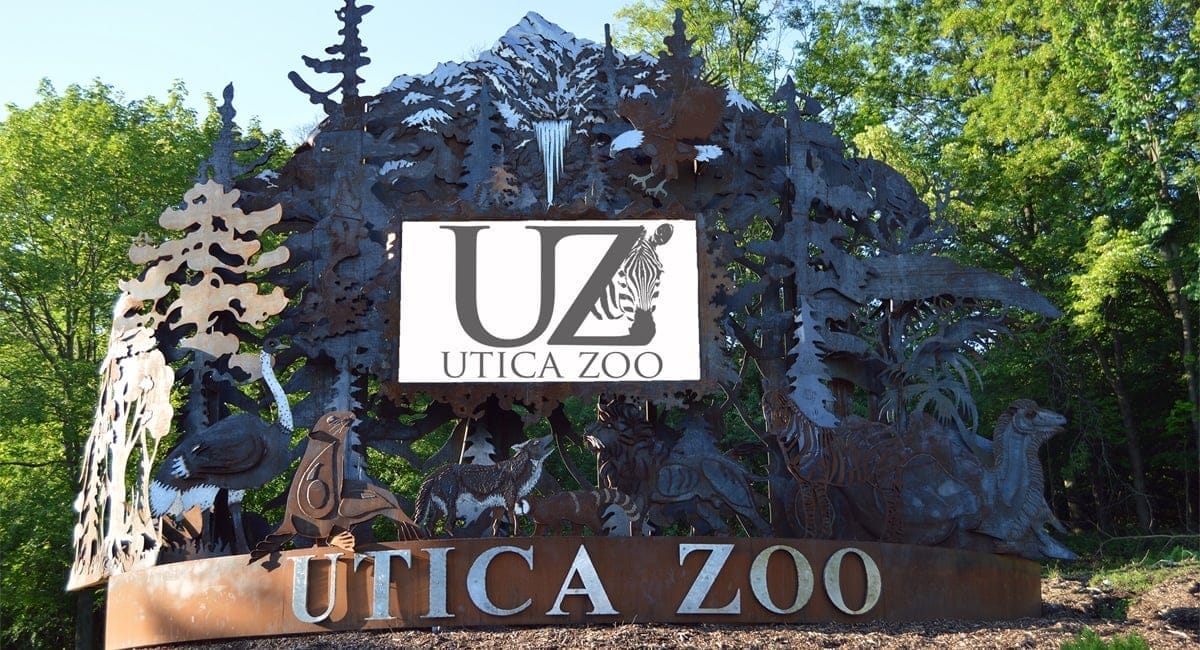 Utica Zoo (Utica, NY)
The 80-acre Utica Zoo was founded over a century ago at what's now the Roscoe-Conkling Park. Thomas Proctor, a Civil War veteran and prominent local businessman, donated the land for the park, in 1909, to the city of Utica. Proctor envisioned a park similar to Central Park in New York City.
UticaZoo.org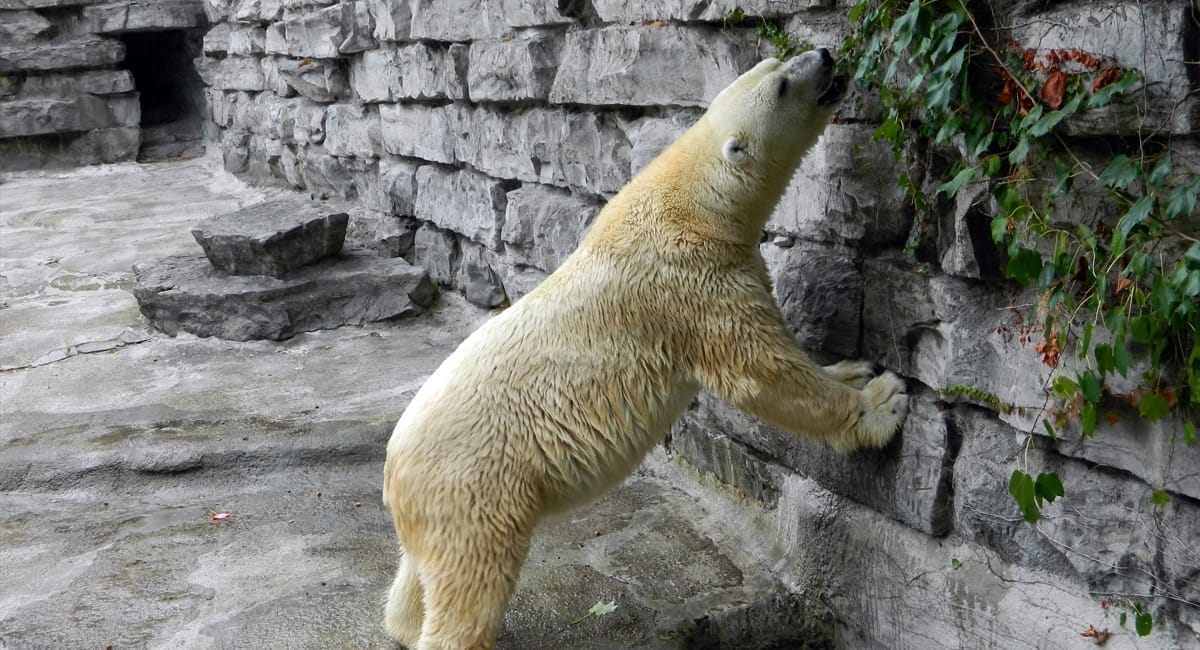 Buffalo Zoo (Buffalo, NY)
Established in 1875, the Buffalo Zoo is the third oldest zoo in the United States. Originally conceived as a deer park, local donations of animals spurred the zoo's growth and increased community interest. Today it is a family-friendly venue with extensive educational, conservation and research programs. Open for reservations and walk-ins.
BuffaloZoo.org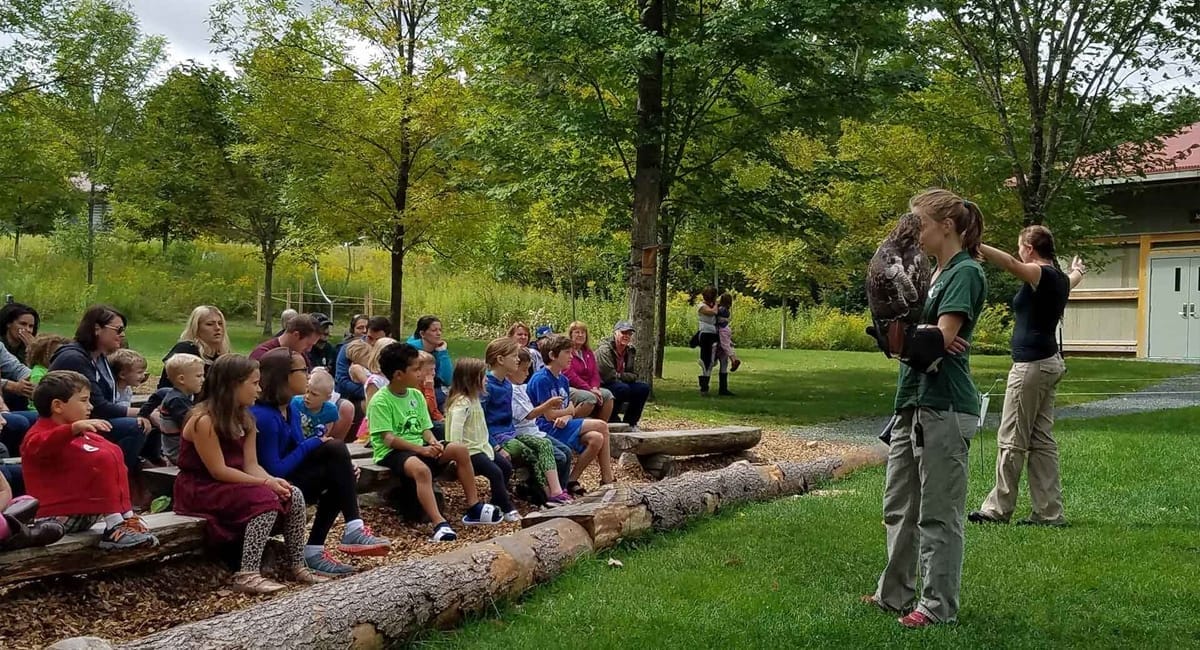 Vermont Institute of Natural Science (Queche, NY)
Vermont Institute of Natural Science is not a zoo per se, though it is a place where you can see and interact with wildlife though its various programs, most of which last 45 minutes and are scheduled throughout each day. Mask wearing for non-vaccinated guests is recommended. Masks are required for all guests in the Nature Store.
VINSWeb.org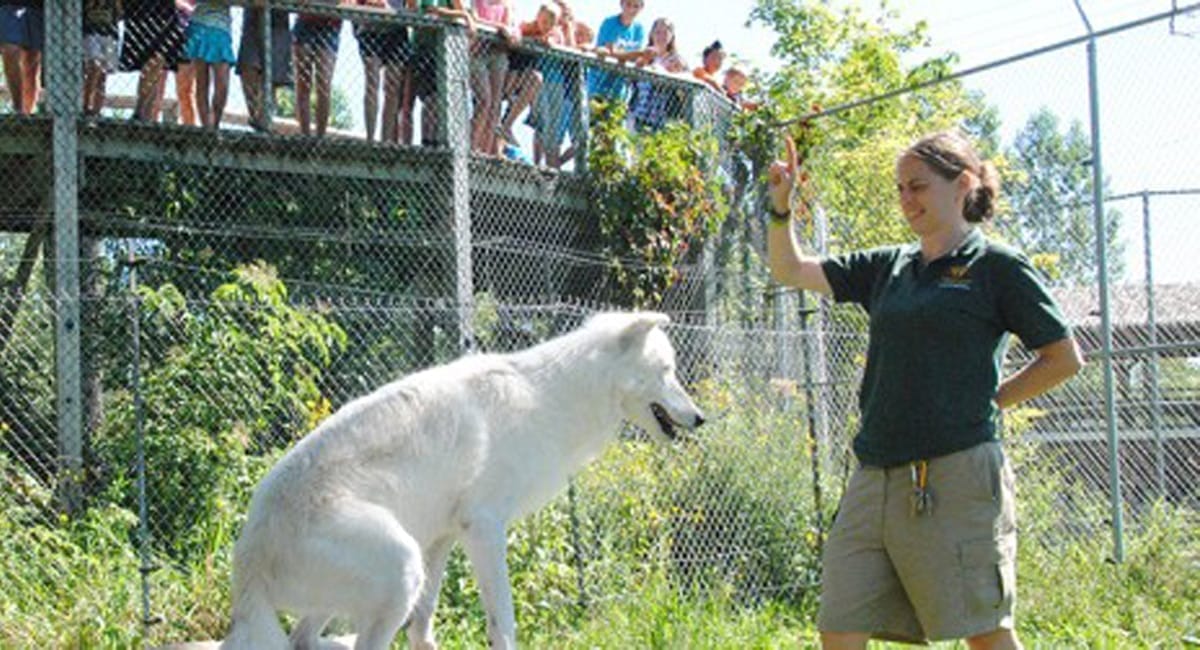 Parc Safari (Hemingford, Quebec, Canada)
Since 1972, over 13 million visitors have gone on an African safari without going to Africa. At Parc Safari, you can see many of the 265 animals (28 different species) from your personal car on the 2-hour driving tour around the park. You can even pet and feed them from your car window! The Canadian border reopens on Aug. 9th.
ParcSafari.com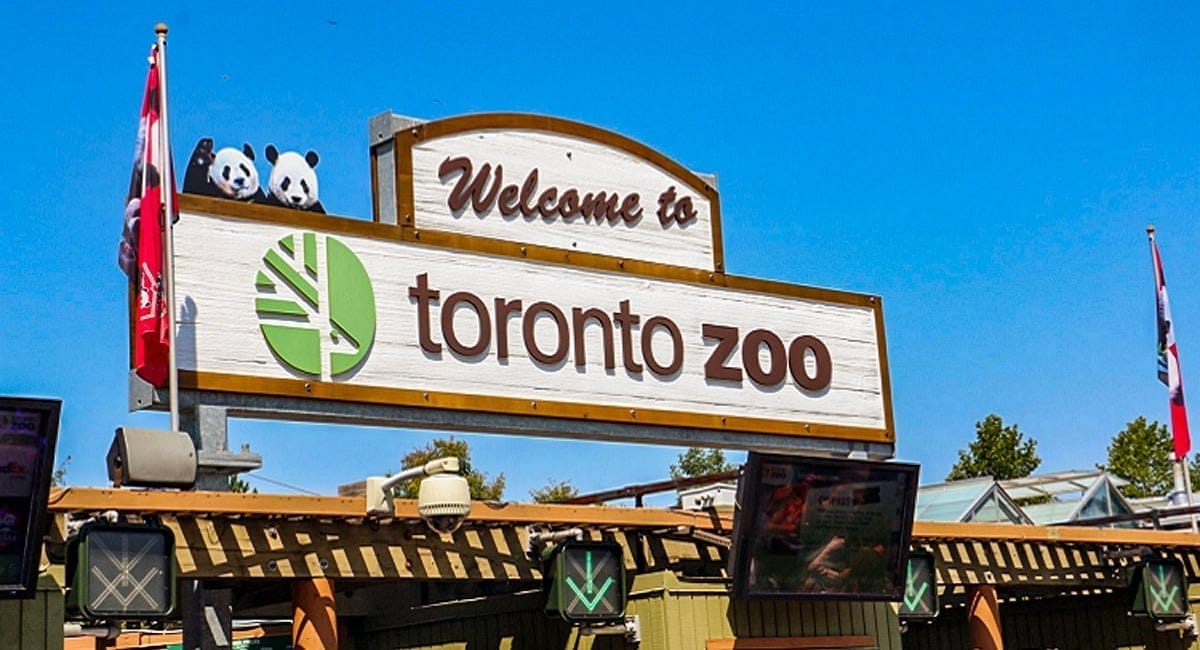 Toronto Zoo (Toronto, Ontario, Canada)
The Toronto Zoo is Canada's largest zoo and one of the largest zoos in the world. A living center for education and science, it is committed to protecting wildlife to ensure a rich natural diversity for future generations. Tickets must be pre-booked prior to arrival. The Canadian border reopens on Aug. 9th.
TorontoZoo.com
[/vc_column]