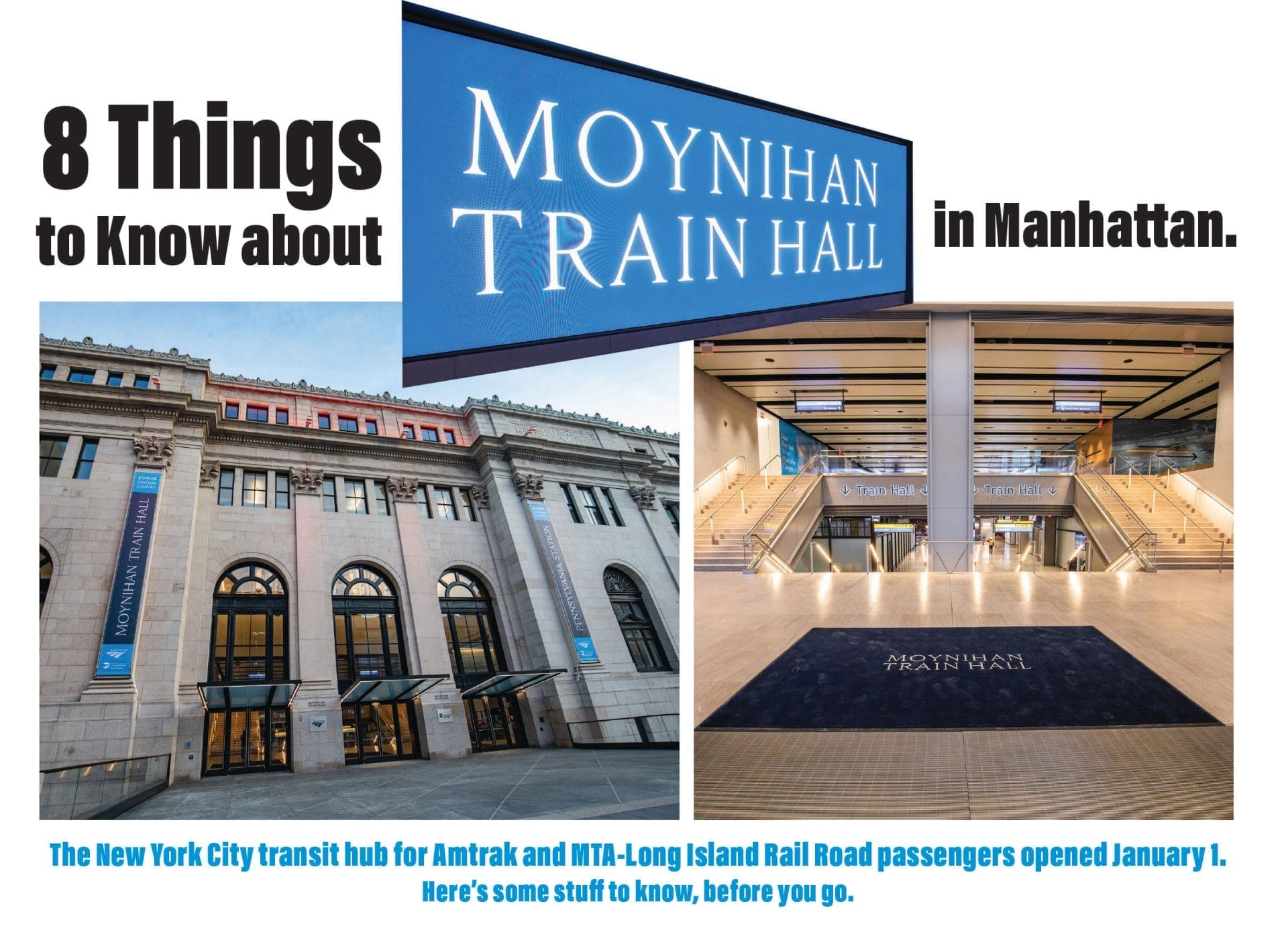 Construction and Design
The $1.6 billion project has generated an estimated economic impact of $5 billion, supporting more than 5,000 construction jobs and 11,000 indirect jobs with the core project management team consisting of more than 42 percent women. The 255,000 square-feet transportation hub expands the country's busiest train station, Penn Station, across 8th Avenue into the historic James A. Farley Post Office Building.
The 92-foot high, sky-lit atrium sits on the spot that was once the Post Office sorting room, under an acre of glass, and is roughly the same size of Grand Central Terminal's Main Hall. As part of the general rehabilitation of the building, which was launched in 2017, the stone facade, 700 windows, copper roof and decorative terra cotta were restored. 
Rail Passengers
Moynihan Train Hall builds on the legacy of a transportation hub which, with more than 700,000 passengers per day, is also the busiest in the western hemisphere. More people pass through Penn Station than LaGuardia, John F. Kennedy and Newark International Airports combined. The new transit endeavor expands platform access capacity, improves sanitation and air flow and, perhaps most important for rail passengers, reduces congestion and eases boarding as it allows for social distancing. Also, the station's total elevator capacity is expanded by more than 50 percent.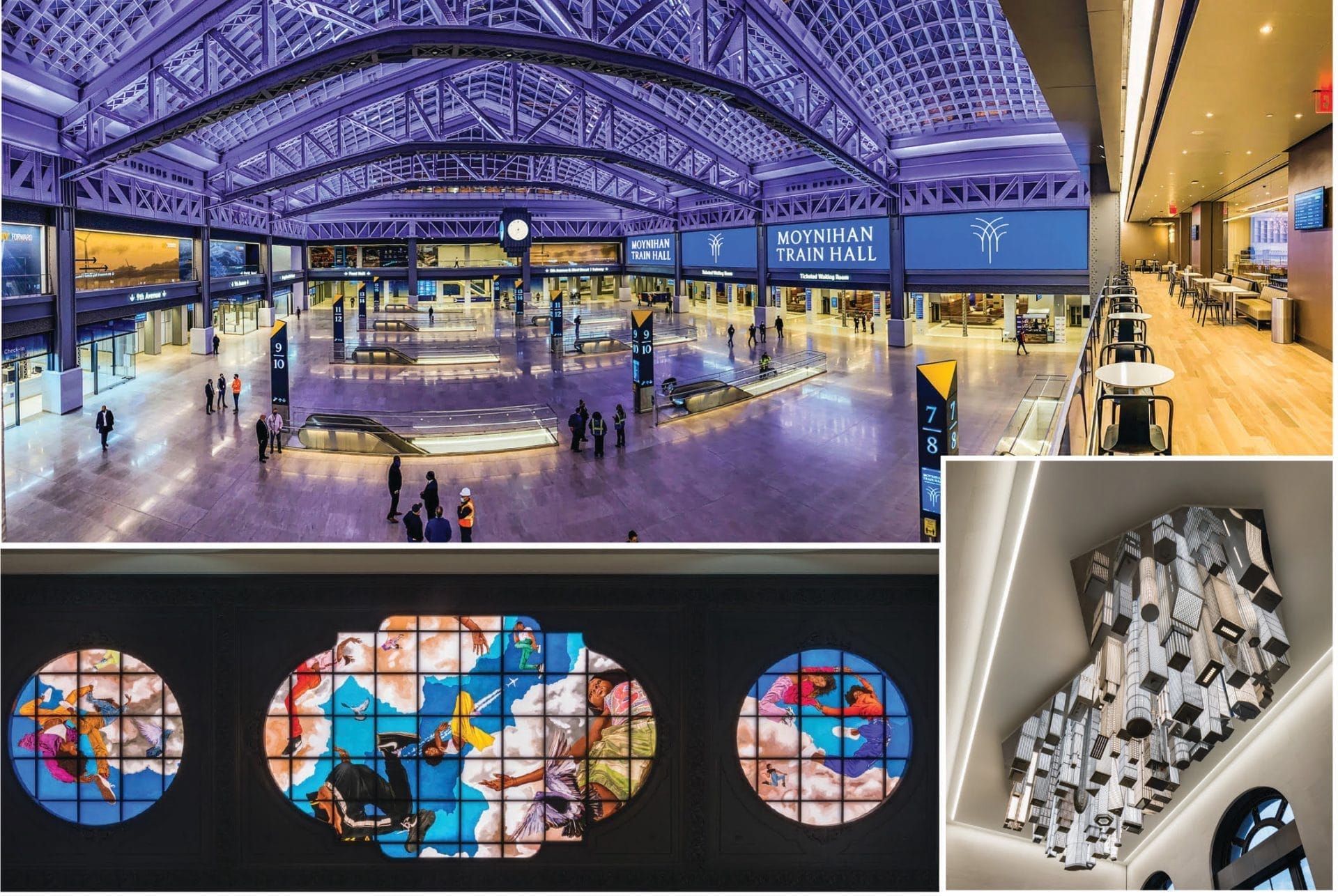 Visiting 
"Moynihan Train Hall is more fantastic and beautiful to see in person than the pictures," said Gary Prophet, president of the Empire State Passenger Association, a public transit advocacy organization.
"The signage, seating, boarding areas and ticketing area all seem to be very well designed. Of course, it is not the old Pennsylvania Station, but moving intercity rail passengers out of congested Penn Station and providing Amtrak passengers space, especially those who may be infrequent passengers, is a huge benefit and a much more pleasant experience."
As for moving through the new space, Prophet said, "From the mezzanine, if you walk toward 8th Avenue, you enter the Post Office, which is open seven days a week. If you walk to the Long Island Railroad West End Concourse, you can walk directly to the 8th Avenue subway entrance, where you can access the A, C and E trains. If you keep walking past the subway entrance, you enter the main boarding area of Penn Station, which is now used by NJ Transit. A stroll through Penn Station will also get you to the 7th Avenue subway and Madison Square Garden."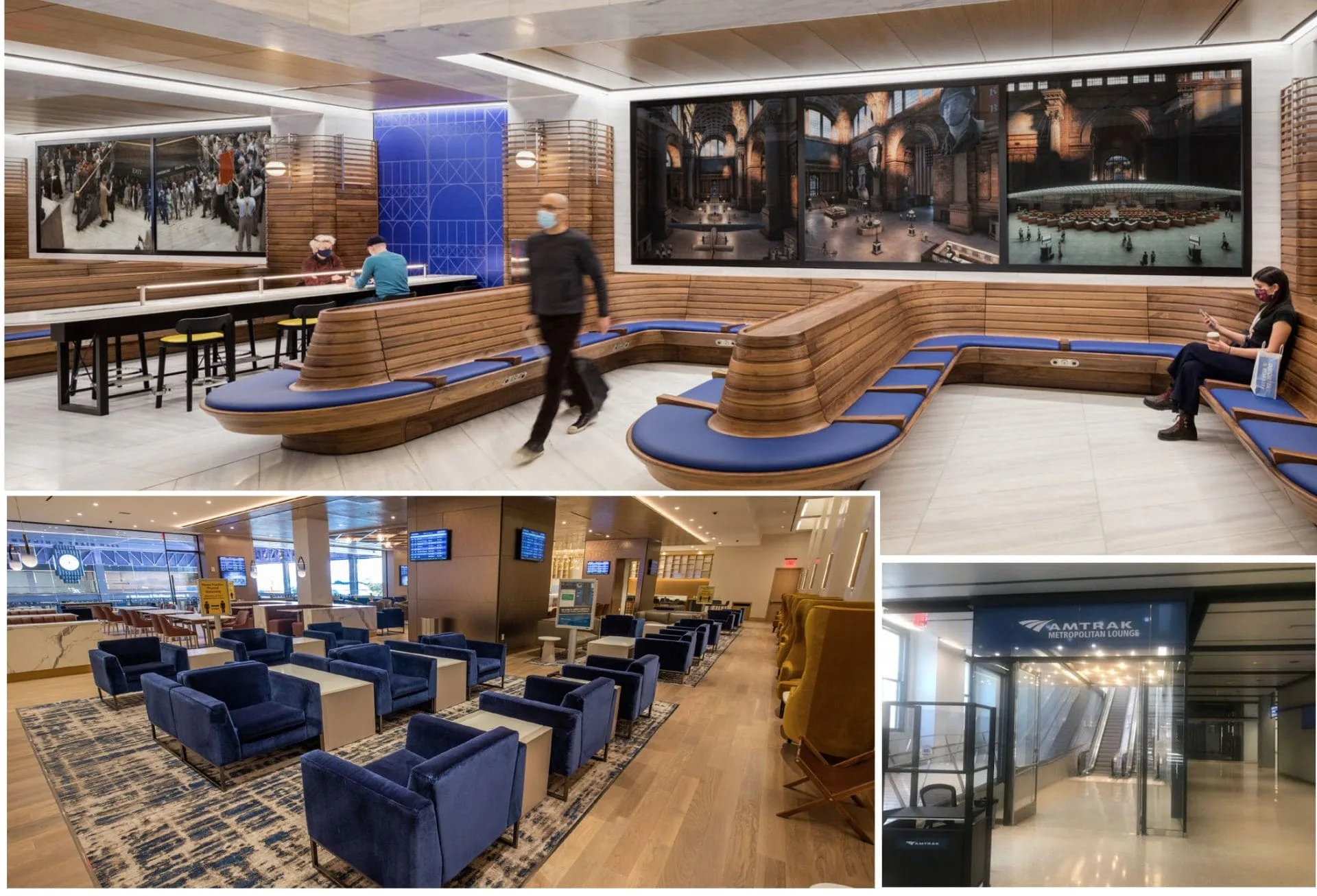 Enhancing the Experience
Moynihan Train Hall includes a wide range of amenities, including
Dedicated customer waiting areas

A combined ticketing and baggage area

Inductive loop system for hearing assistance

Complimentary Wi-Fi 

A dedicated lactation lounge for nursing mothers
Moynihan Train Hall's Metropolitan Lounge, formerly ClubAcela, provides a premium space with: 
Priority boarding

Expanded food and beverage offerings

A family waiting area

Dedicated customer service agents

Private restrooms

Complimentary Wi-Fi
Long Island Rail Road
Moynihan Train Hall was designed to transform the travel experience for Long Island Rail Road (LIRR) passengers by offering direct access to Tracks 13-16, with access to Tracks 17-21 available by way of the West End Concourse. All LIRR tracks are accessible on the main floor, as opposed to their former downstairs location. This allows Amtrak riders continuing on to Long Island destinations to make easier connections to LIRR trains!
Amenities include a ticket office, customer service office and ticket machines. Passengers who need mobility assistance can access the LIRR Care Program in advance by calling 718-LIRR-CARE, with mobile phone users asked to dial 718-547-7227. The LIRR Ticket Office at Moynihan Train Hall is open daily from 6:10 a.m. to 9:40 p.m. The LIRR Customer Service Office is open weekdays from 12:10 p.m. to 8 p.m. A total of five LIRR ticket machines, including one AirTrain ticket machine, are open 24 hours, seven days a week.
U.S. Sen. Daniel Patrick Moynihan
According to the New Yorker, Moynihan was "among the first to suggest the reportedly underused postal building as a suitable alternative to the botched Penn Station. As the senator is said to have observed, 'Where else but in New York could you tear down a beautiful Beaux Arts building and find another one right across the street?'" A social scientist who served as President Richard Nixon's Counselor and Assistant for Urban Affairs, and U.S. Ambassador to India prior to becoming a U.S. senator, Moynihan took his seat in the upper house of Congress in 1976 and served 24 years, retiring in 2001.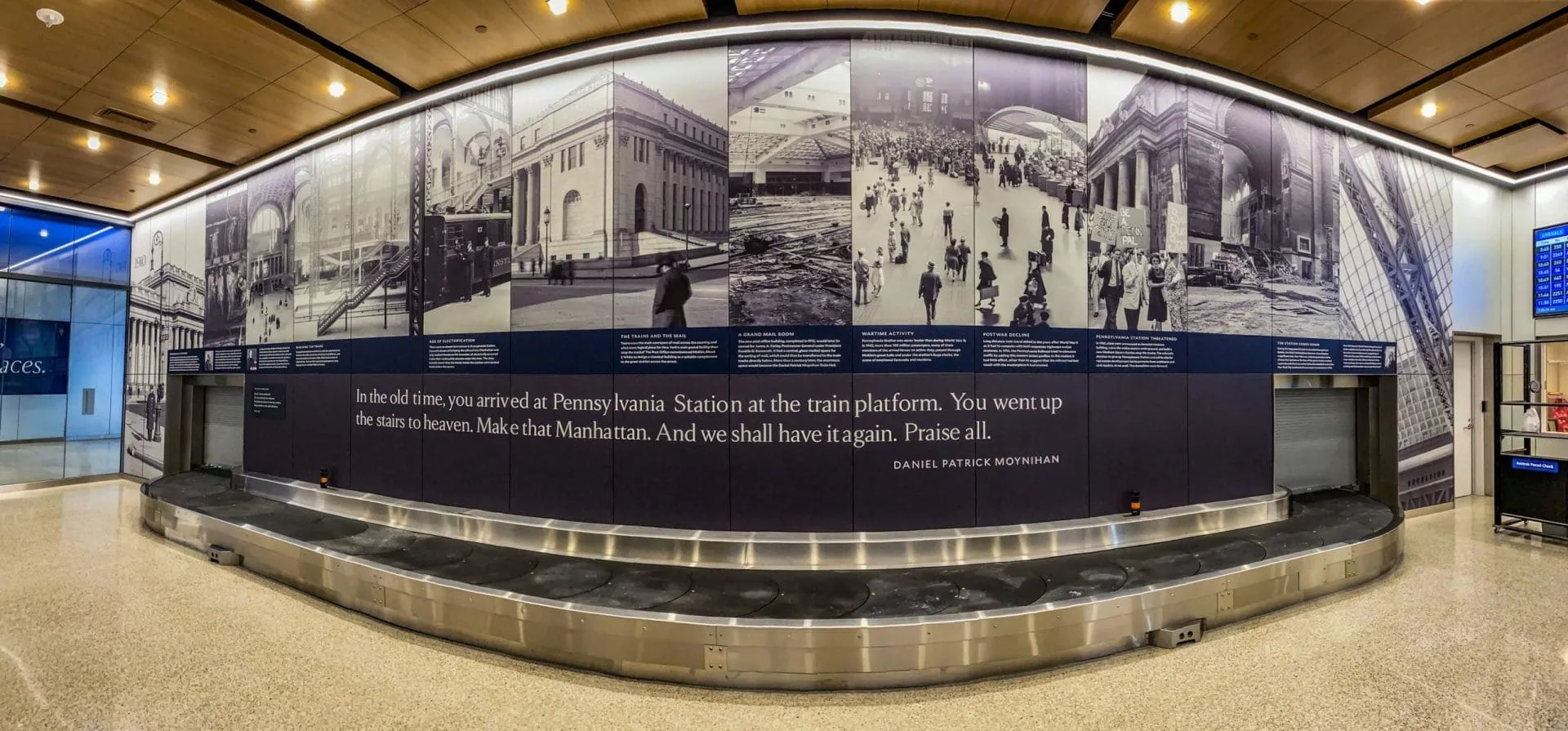 Pennsylvania Station
According to the New York Historical Society, train ridership at the original Pennsylvania Station peaked in 1945 with 100 million passengers. But the growth of air and automobile travel triggered the decline of rail travel. Fearing a doomed future for locomotive travel, terminal leadership cut a deal in 1962. The station was demolished to make way for a new entertainment destination, Madison Square Garden, and Penn Station was rebuilt underground.
"Despite vociferous dissent, its granite columns and steel-vaulted ceilings met their end starting on October 28, 1963," reads Behind the Scenes.
"Though Penn Station was not saved, its controversial demolition spurred the passage of the watershed 1965 New York Landmarks Law. Since its creation, the law has helped saved Penn Station's sister terminal, Grand Central, along with 30,000 other historic buildings around the city from destruction."
In the Neighborhood
Madison Square Garden, across 8th Avenue from the Farley Post Office, is considered by many to be the world's most famous arena. The current incarnation of "The Garden" opened on Feb. 11, 1968 with a salute to the USO hosted by Bob Hope and Bing Crosby.
The arena is the home court for the New York Knicks of the National Basketball Association and the home ice for the New York Rangers of the National Hockey League. MSG has hosted concerts by the Rolling Stones, Bruce Springsteen, Katy Perry and Taylor Swift; and Billy Joel has maintained a popular monthly residency. Madison Square Garden has also hosted three Democratic National Conventions; one Republican National Convention; visits from Pope John Paul II in 1979 and Pope Francis in 2015; and was the scene of Marilyn Monroe's famous birthday serenade to President John F. Kennedy in 1962.