Visit New Rochelle for a fantastic dining experience, gorgeous parks and exciting attractions, all right outside of New York City.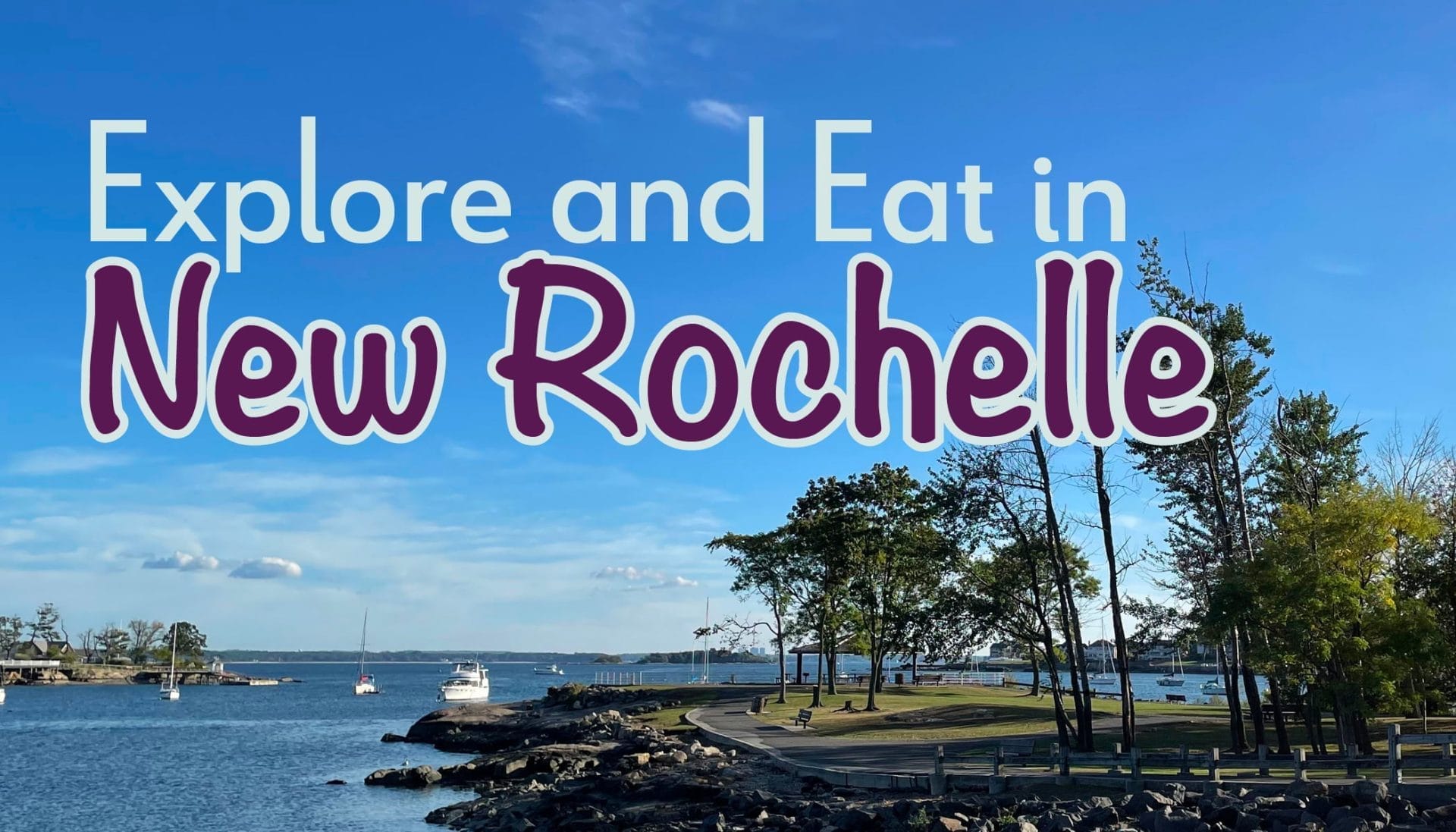 If you've ever visited Westchester County, you know it's a perfect, easy getaway destination. With its close proximity to New York City and its sweeping views of the Hudson River or the Long Island Sound, visiting Westchester is convenient and well worth the trip. One Westchester destination that doesn't get the attention it deserves is New Rochelle. The city is home to several fantastic restaurants, gorgeous parks and fun attractions, and with its own train station, visiting New Rochelle is a no-brainer.
Luckily for me, I got to visit New Rochelle for a great weekend-long fall getaway with my partner. During any getaway, the most important stops on your itinerary are the restaurants. As I mentioned before, you can find plenty of Michelin-guide and buzzworthy restaurants in this great city, and as a foodie, I couldn't have been more excited to try them.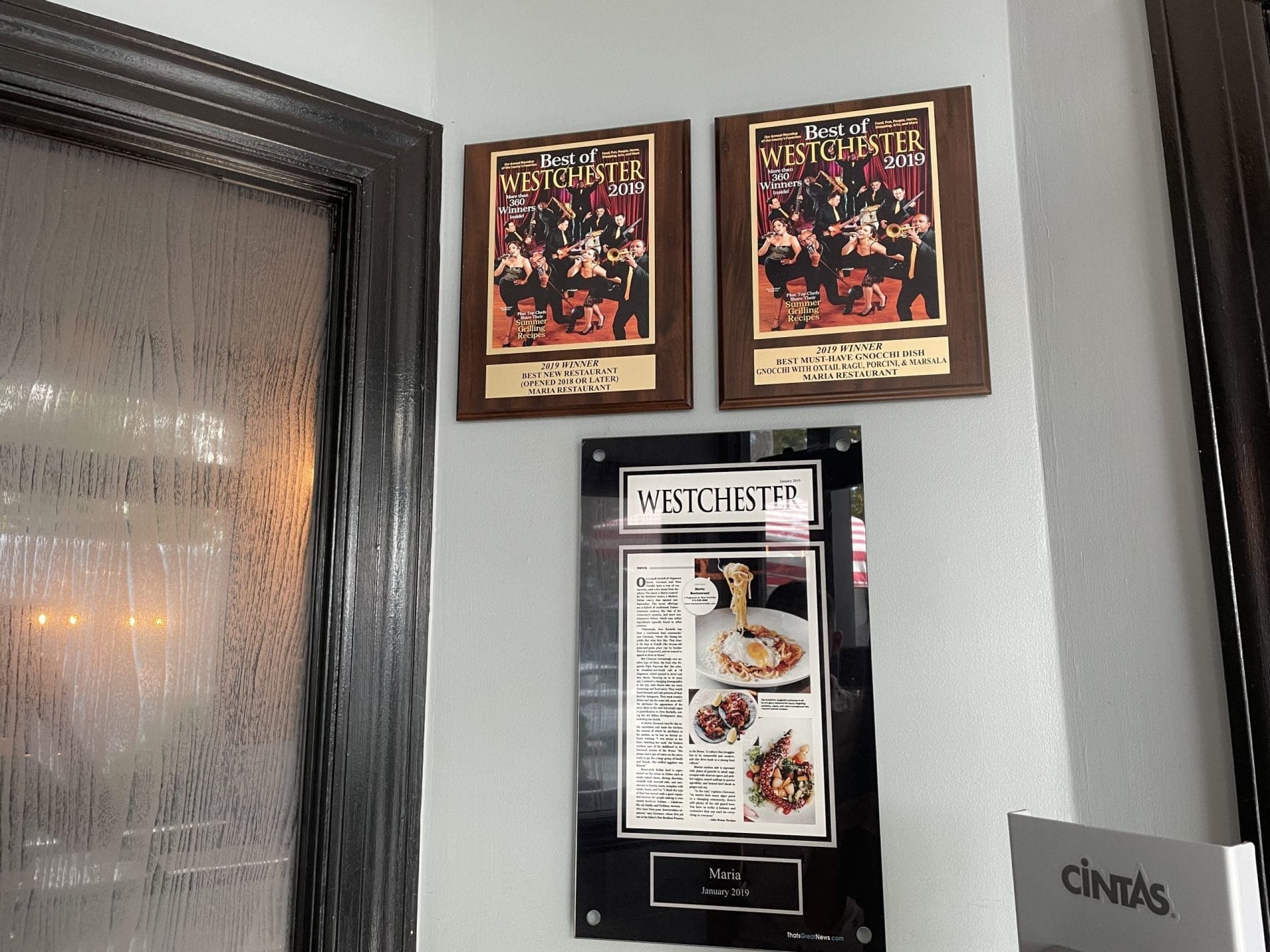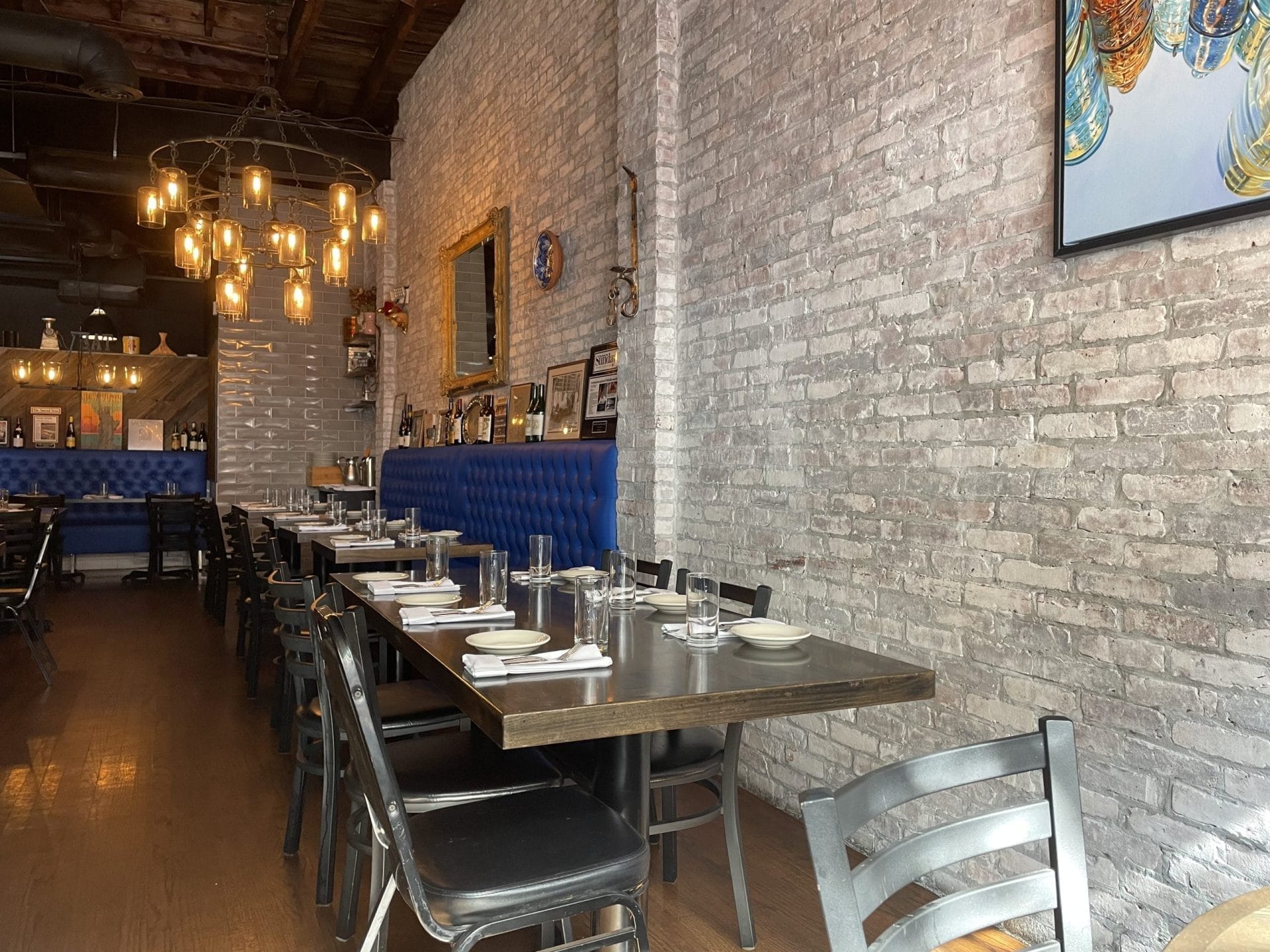 Maria Restaurant
The first of the restaurants I had the pleasure of visiting was a family-owned Italian restaurant with a modern twist called Maria. Not only did Maria win Michelin awards in 2020 and 2021, but the restaurant was also named Westchester Magazine's Best New Restaurant in 2019. Owned by brothers, Peter and Giovanni Cucullo and named after their mother, Maria is a restaurant that serves Italian cuisine with a modern twist. The brothers have been known to mix classic Italian recipes with the likes of Asian-style fare.
My partner and I love Italian food, so we knew we were in for a treat. Stopping in for our lunch reservation, we were in awe as we entered this beautiful venue adorned with gorgeous chandeliers and a clear modern ambiance. While we pondered the lunch menu, we sat by the window and took note of the hustle and bustle of the busy street. It wasn't easy deciding what to order, but eventually, I chose the Mushroom Ravioli, while my partner ordered the Rigatoni Sunday Sauce. After a short wait, we admired the presentation of our entrees and dug right in.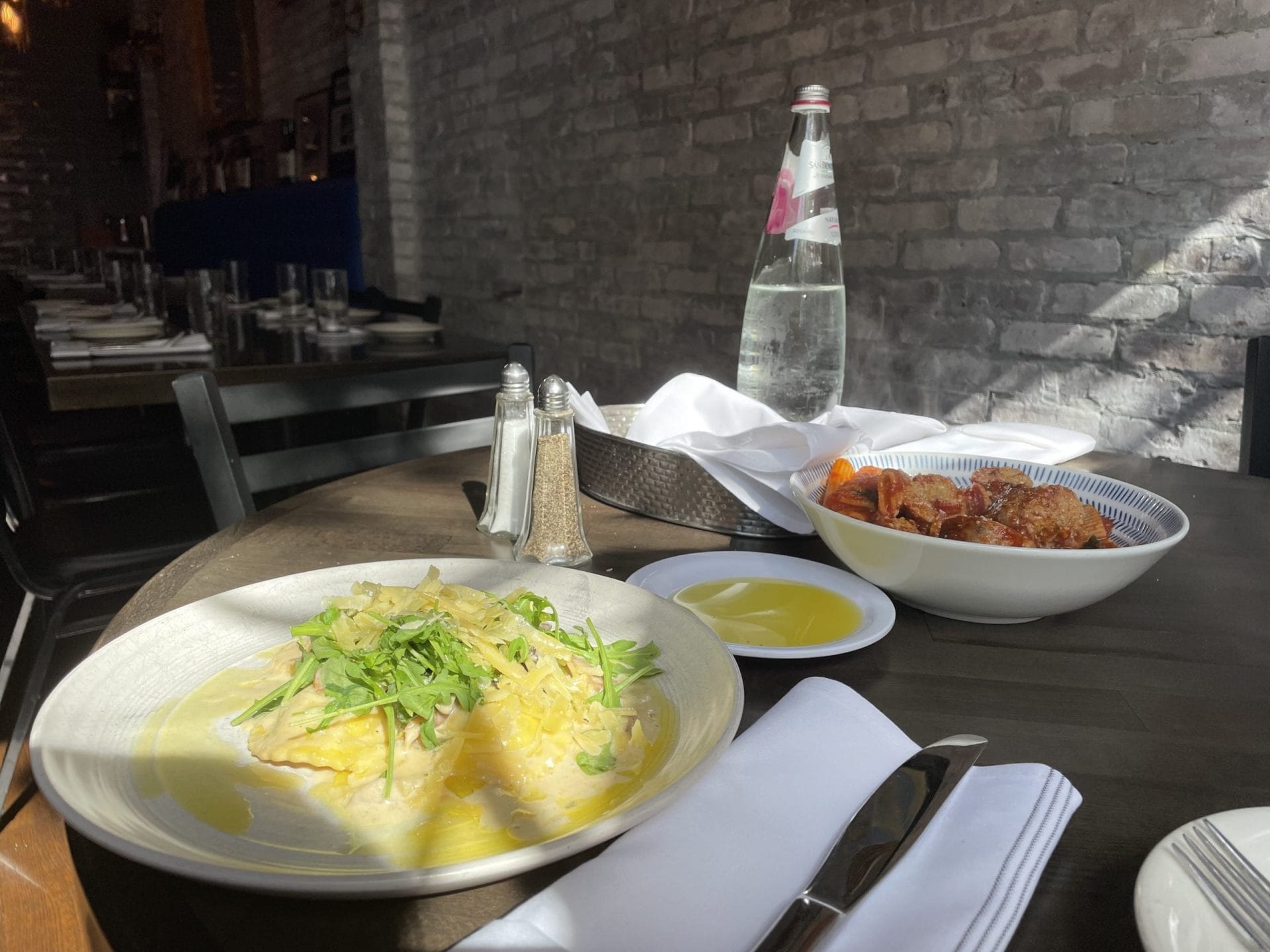 As expected, my Mushroom Ravioli was decadent. The sauce was perfect and the portion size was just right. My partner was astonished by his Rigatoni Sunday Sauce, claiming the sauce was some of the best he had ever tasted. His dish was accompanied by sausage and meatballs, which were both perfect. Of course, I had to try his meal as well.
While visiting Maria, you'll notice two restaurants adjacent to it, Fratelli's and Pop's. Both of these eateries are owned by the Cucullo brothers. Pop's Espresso Bar pays homage to the brothers' father, whereas Fratelli Pizza & Pasta is for the brothers, as Fratelli translates to brothers in Italian. Be sure to check out all of these great spots while eating at Maria Restaurant.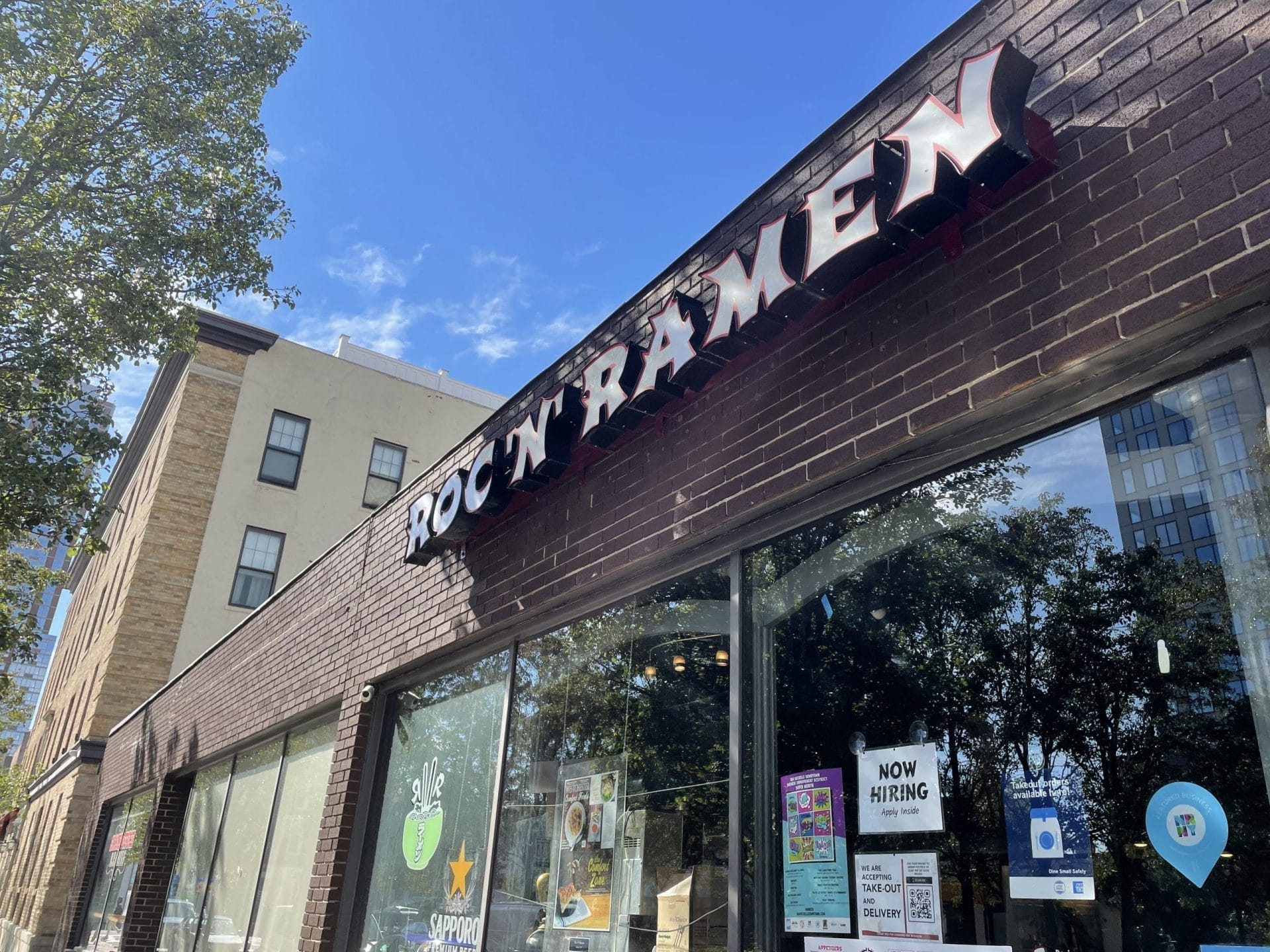 Roc n' Ramen
For a late lunch, my partner and I headed over to Roc n' Ramen, a high-rated and buzzworthy restaurant that's been in business since 2014. I had always wanted to eat at a ramen restaurant, so I was definitely excited to try Roc n' Ramen.
One of the things I loved most about my trip to New Rochelle was the variety of venues I was able to experience. Each restaurant had its own unique vibe that made it stand out from the rest. Located on Anderson Street, Roc n' Ramen is somewhat of a hidden gem. The style of the space is laid back and modern.
We sat down at our table and noticed something I had yet to experience, a QR code menu where you pay while you order. This style of ordering was a breath of fresh air. You order right at your table from your phone at your own pace, which added to the laid-back and comfortable feel of the space.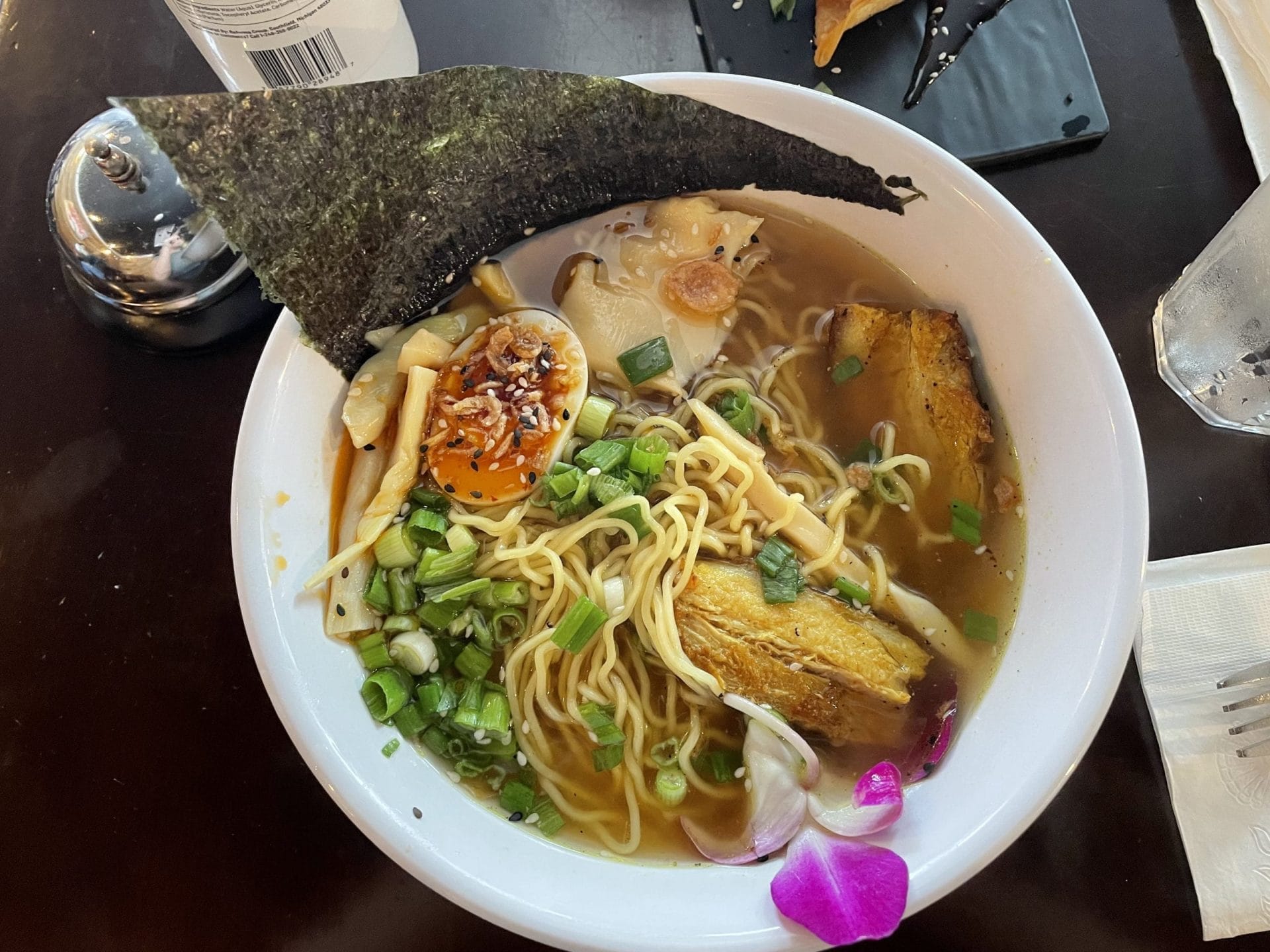 Since we were at a ramen restaurant, I of course ordered the ramen, the Shoyu Ramen to be exact. This dish included noodles, pork belly, scallions, bamboo shoots, egg, edible flowers, sesame seeds, fried onions and nori seaweed. My partner ordered the Gyoza Dumplings, which I of course had to taste as well.
After scarfing down our second lunch, I had the pleasure of meeting part-owner and successful businessman, Sean Southwell, who gave me the backstory of the restaurant. As aforementioned, Roc n' Ramen was established in 2014, when Chef Wayne Carrington, founder and owner of Roc n' Ramen, was inspired by his daughter's favorite movie, Ramen Girl. This film inspired him to open his own ramen restaurant, as he traveled to Japan to master the craft of ramen making. In 2017, Sean joined the Roc n' Ramen family and helped bring the business to the success it has achieved today. Now, you can find Roc n' Ramen in the Bronx and even in Dubai.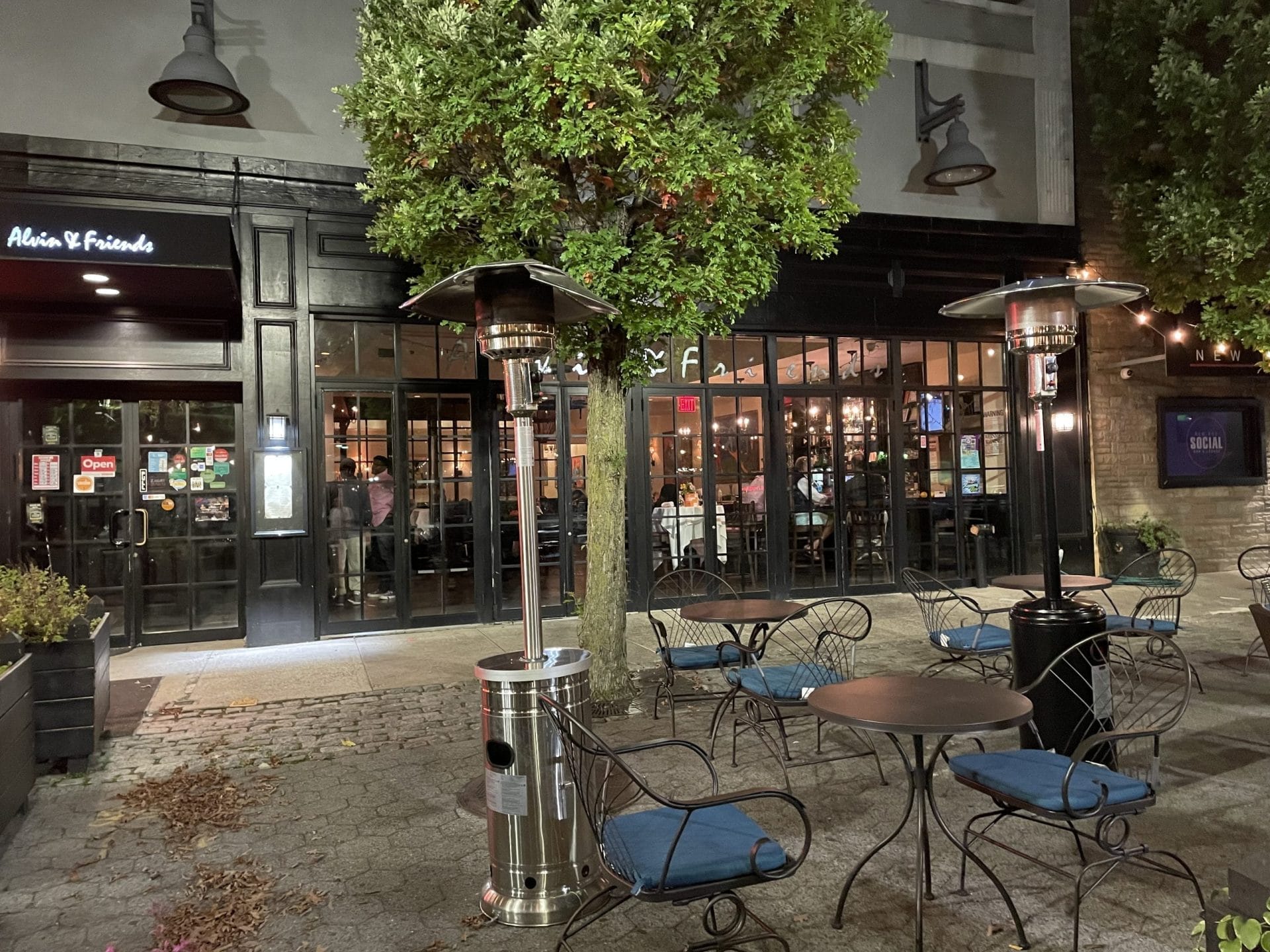 Alvin and Friends
After spending the rest of our day exploring New Rochelle, we were hungry and ready for dinner. Another high-rated and buzzworthy restaurant in New Rochelle is Alvin and Friends. Owned by artist and restauranter, Alvin Clayton, Alvin and Friends is a Southern and Caribbean-style eatery sat in an intimate and contemporary venue. Alvin's own paintings decorate the walls and his personable presence is felt throughout while he greets his guests regularly.
It was clear upon arrival that Alvin and Friends is a popular restaurant, which is both in part to Alvin's presence and the amazing menu. While pondering the menu, we enjoyed the cornbread, which was a nice change from the usual bread.
We ordered Alvin's Hamburger & Fries and the Classic Jambalaya, both with a side of Three-Cheese Mac & Cheese. Both of our meals were exquisite and offered the Southern comfort we were craving.
The mac n' cheese was easily one of the best I've had, and if you know anything about me, you know I love mac n' cheese. The Classic Jambalaya was particularly delightful with its plethora of flavors. It had the perfect amount of heat to it with its delectable combination of Andouille sausage, Tasso ham, blackened chicken, seafood medley, crawfish tails, Cajun spices and tangy Creole.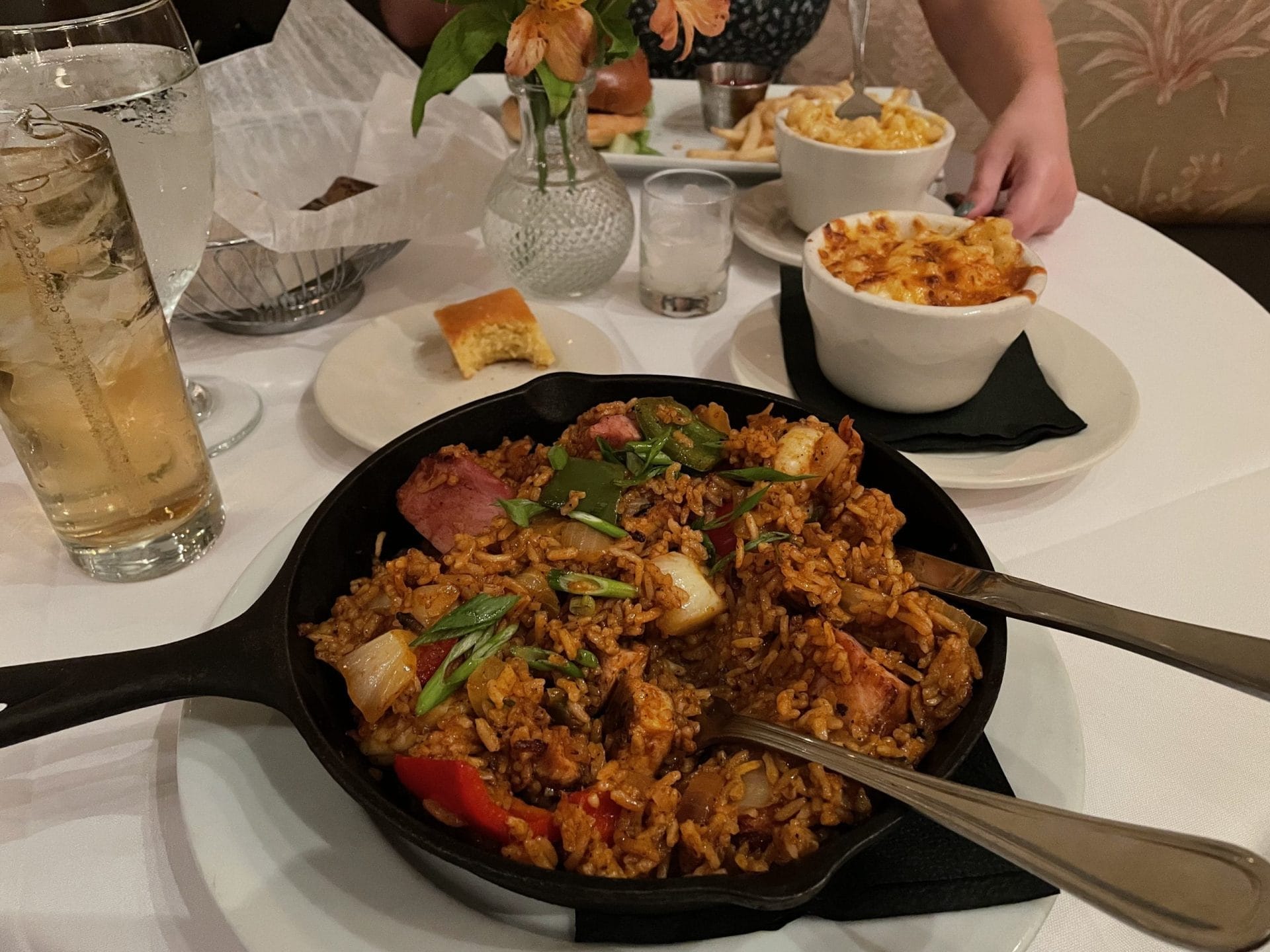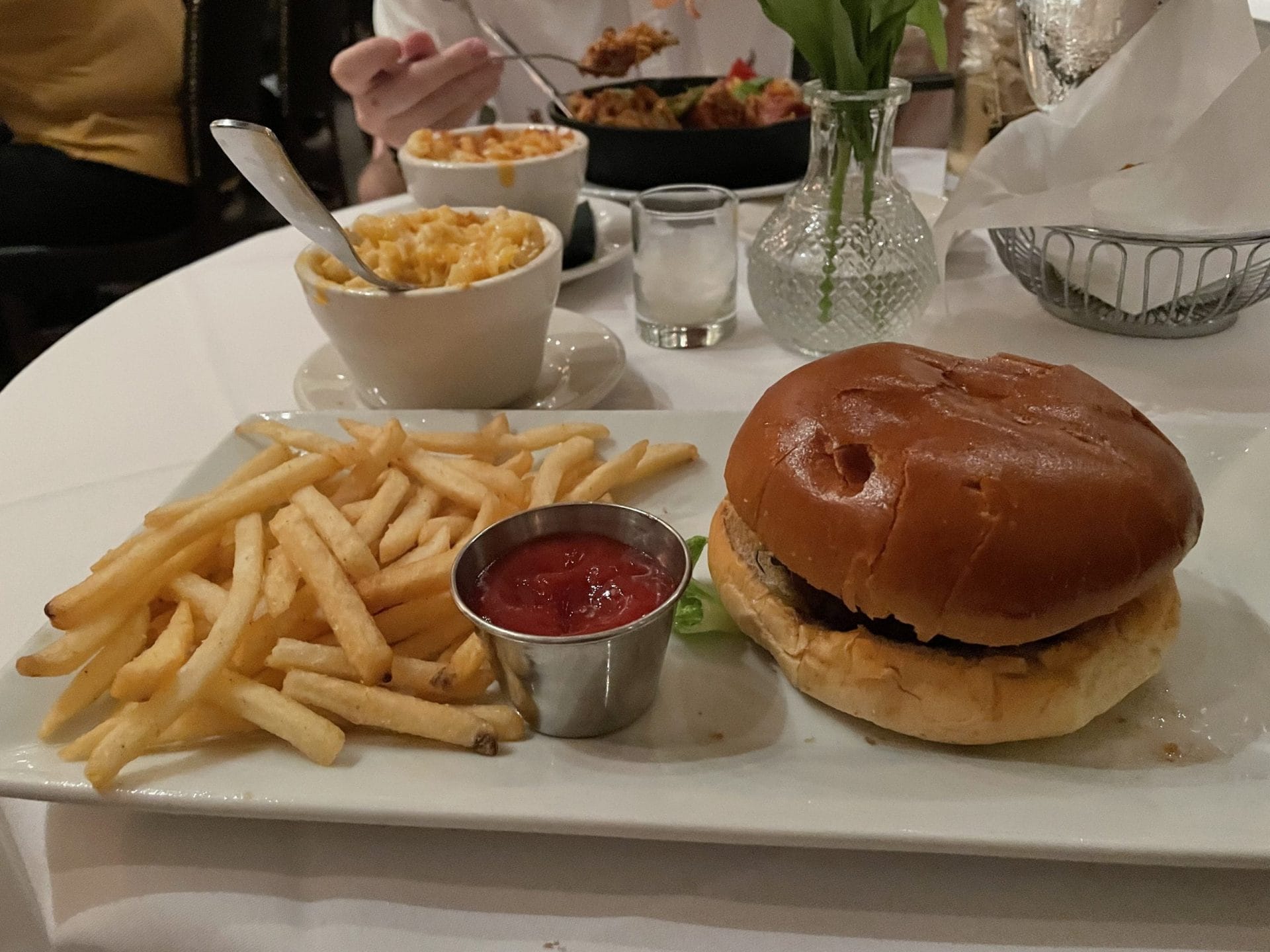 While waiting for our food, we sat down with Alvin to discuss the history of the restaurant. Alvin regularly greets patrons in the restaurant, offering a personal experience. Alvin and Friends opened in 2010 and has had monumental success ever since, even during the height of the Covid-19 pandemic. Before opening Alvin and Friends, Alvin had a successful career as a model for 25 years and owned a restaurant in Los Angeles that was frequented by the likes of celebrities like Denzel Washington. Upon moving to New York, Alvin Clayton decided to bring his greatly needed Southern and Caribbean comfort food to New Rochelle.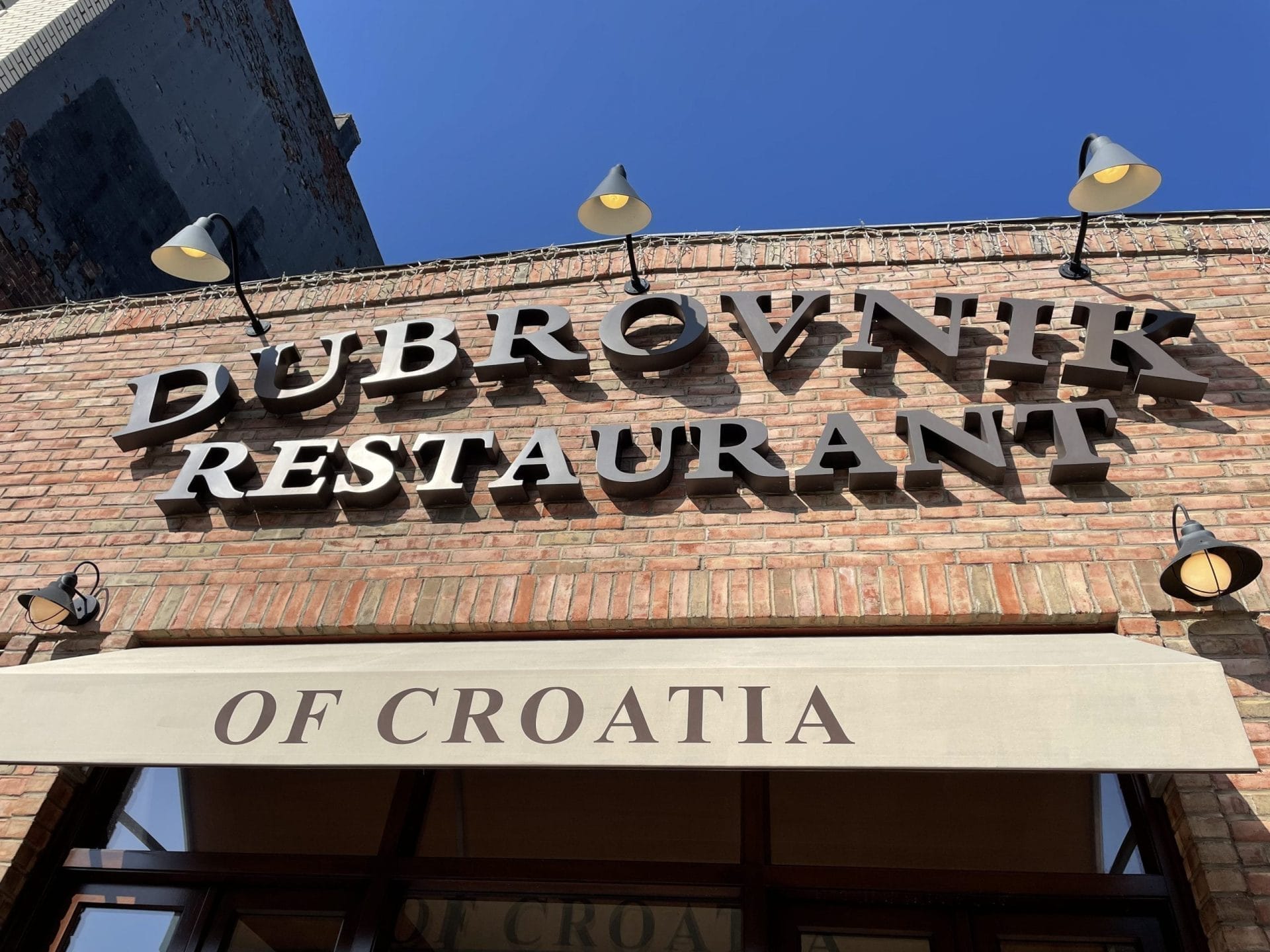 Dubrovnik
The last stop on our New Rochelle restaurant tour was another Michelin Guide restaurant called Dubrovnik. This restaurant is a little piece of Croatia in New Rochelle. This was my first time having Croatian food, and I knew Dubrovnik would not disappoint.
Out of all of the venues we visited, this was my and my partner's favorite. The restaurant had a European feel, and the outside seating was gorgeous. Overlooking a courtyard that houses some of Dubrovnik's garden-to-table ingredients, we sat outside among a vine-covered terrace. Although we were visiting during the daytime the following day for an early lunch, you could tell the terrace was just as beautiful at night as it was during the day.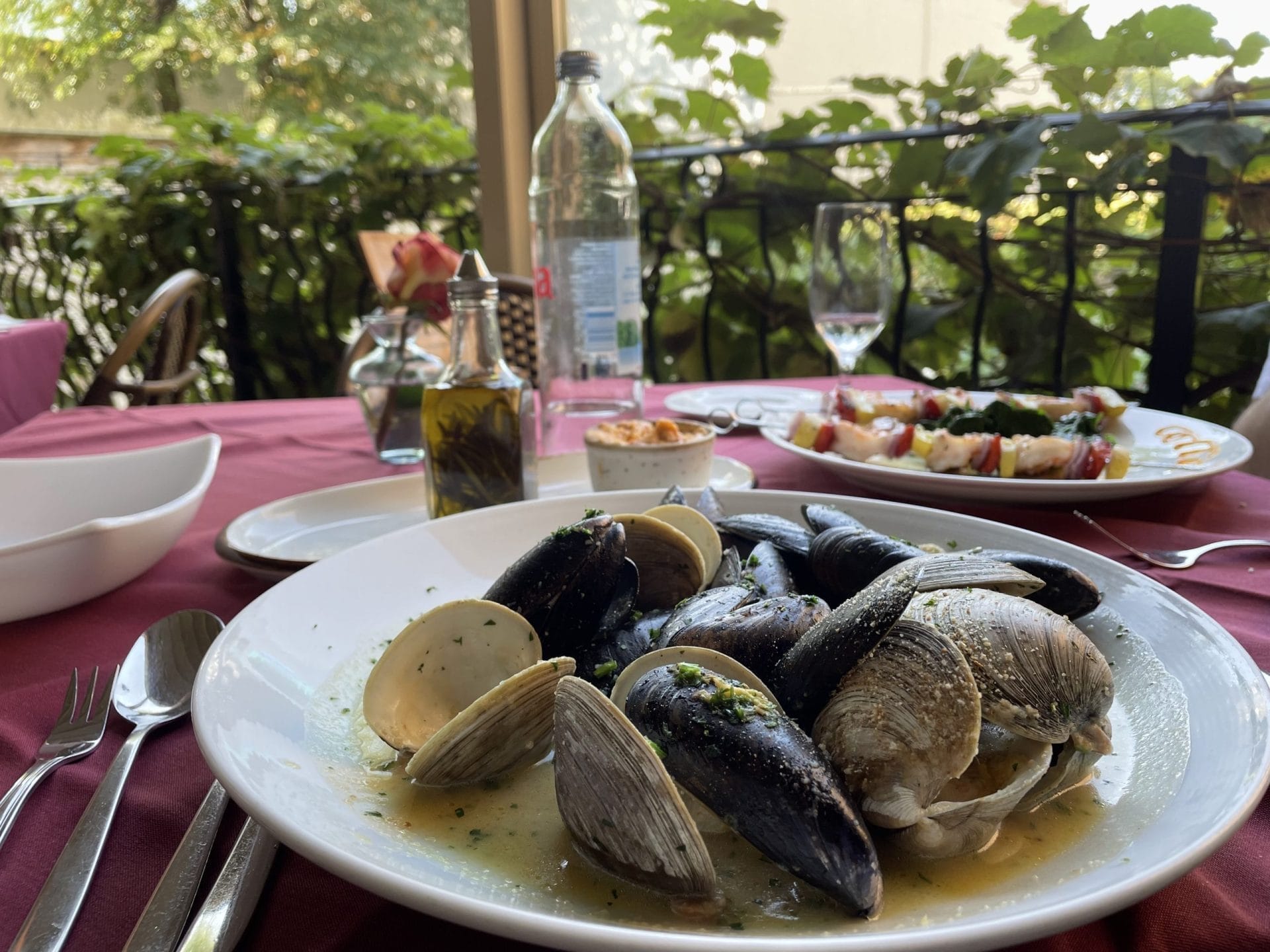 My partner and I enjoyed the perfect weather and chowed down on our favorite part of any meal, the bread. We were both craving seafood so I ordered the Mussels Buzara, which was mussels and clams accompanied by fresh herbs and white wine sauce. My partner opted for Shrimp Raznjici, which was grilled shrimp and vegetable skewers served with mixed greens.
While enjoying our delectably light meals, we were lucky to meet with the owner, Zeljko Tomic, who shared the origin of his restaurant alongside amazing menu samples. Dubrovnik, named after a Croatian city, hosts a surplus of fantastic recipes created by Zeljko's mother, a renowned Croatian cook. Explaining that his mother was a culinary natural, Zeljko observed his mother's cooking to ensure her recipes would be present among the Dubrovnik menu. The restaurant has been a New Rochelle staple for nine years and has prided itself on fresh seafood and ingredients.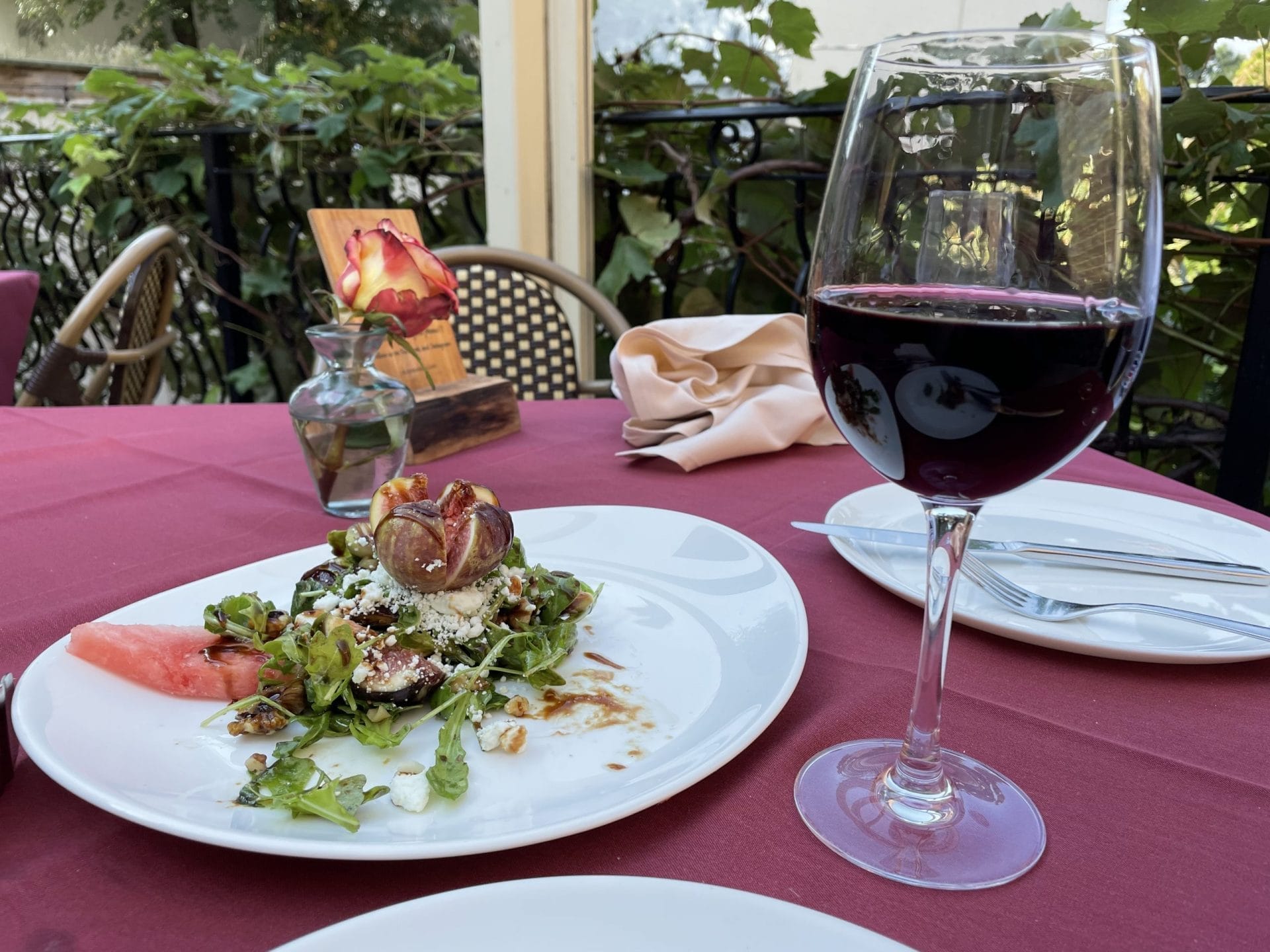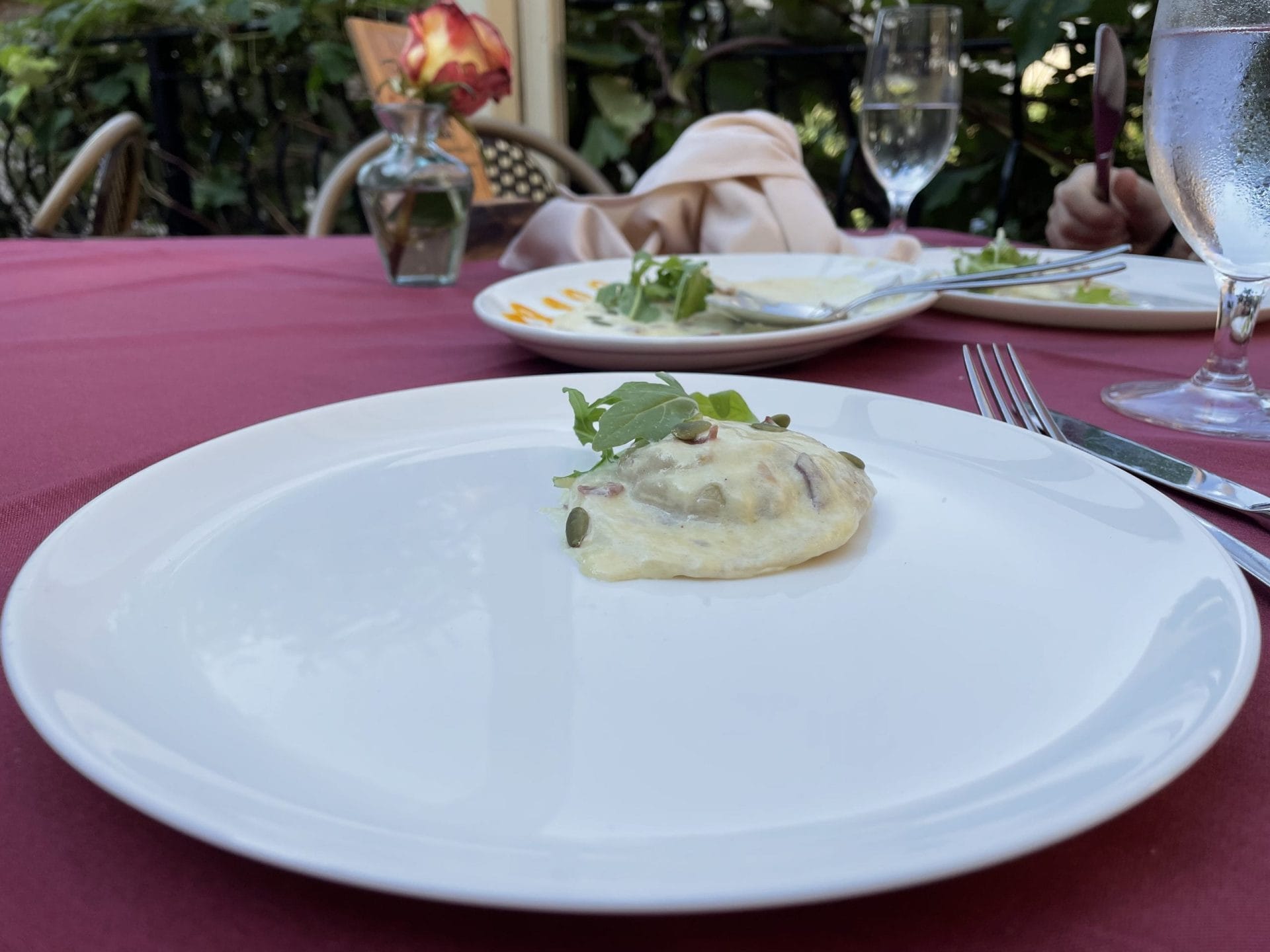 Zeljko Tomic very kindly provided us with some menu samples, like Pumpkin Ravioli, Mediterranean Salad and house-made Merlot and white wine.
Of course, everything tasted incredible. Perfect for the incoming colder months, the creamy Pumpkin Ravioli was almost too good. The white cream sauce was life-changing and I would return to New Rochelle for this dish alone. The Mediterranean Salad was a beautiful taste of summer with slices of watermelon, fig and gorgonzola cheese. This light dish was flavorful and sweet.
Paired with our salad and ravioli, Zeljko served us Dubrovnik's house-made Merlot that was made with grapes from the garden. Personally, I favor white wine over red, but this Merlot was smooth enough to make both my partner and me red-enthusiasts. Luckily for us white wine lovers, we were also able to try Dubrovnik's white wine that's made in Croatia. Unsurprisingly, everything we tried at Dubrovnik was exceptional thanks to our great host.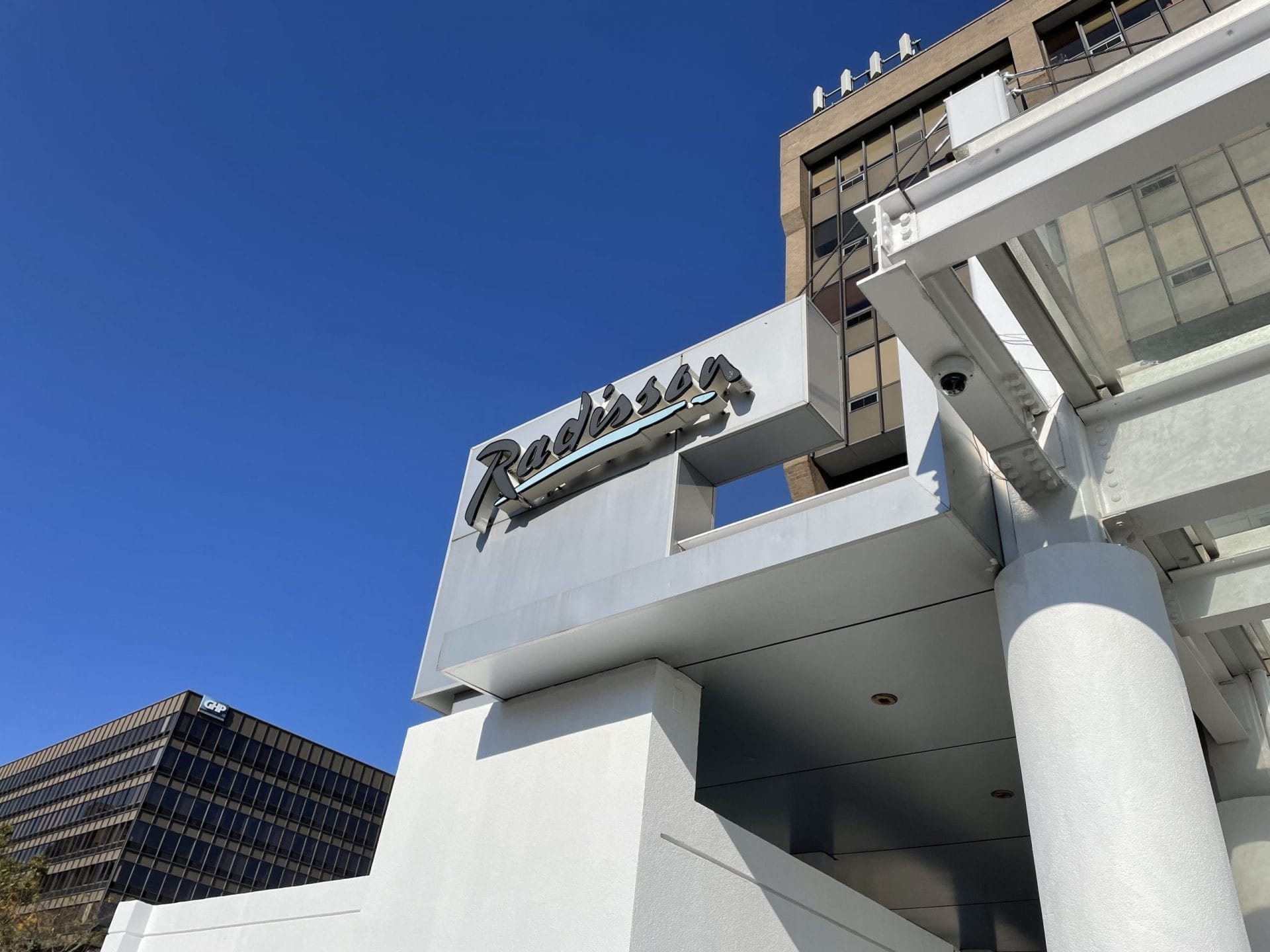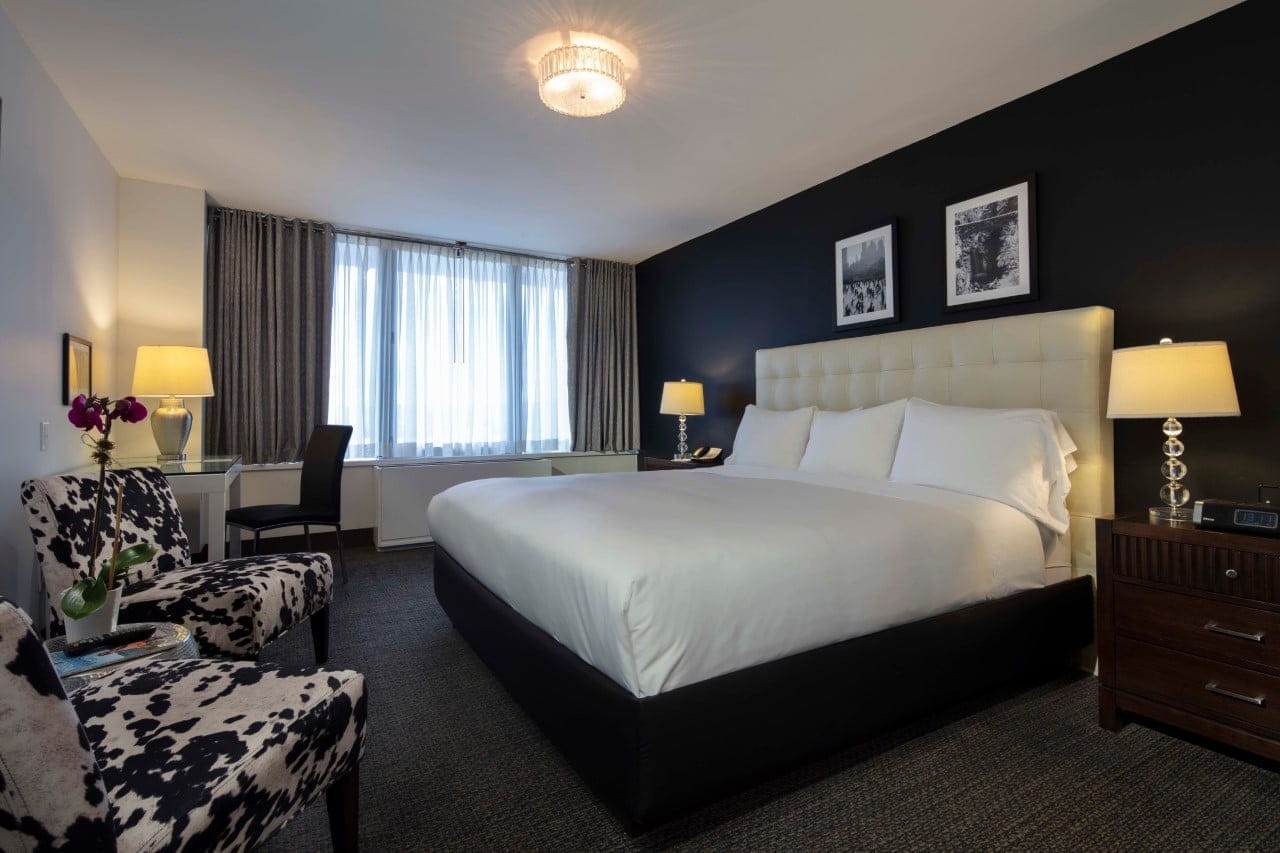 The Radisson Hotel
During our exciting weekend getaway, we chose to stay at the lovely, Radisson Hotel. Located in Radisson Plaza, it's clear the Radisson Hotel is not only an excellent lodging option but a great nightlife location as well. As we checked into the hotel, my partner and I admired the stylish and chic ambiance of the lobby. This observation lingered as we entered our room on the fifth floor, which faced a beautiful view of the city and was decorated beautifully.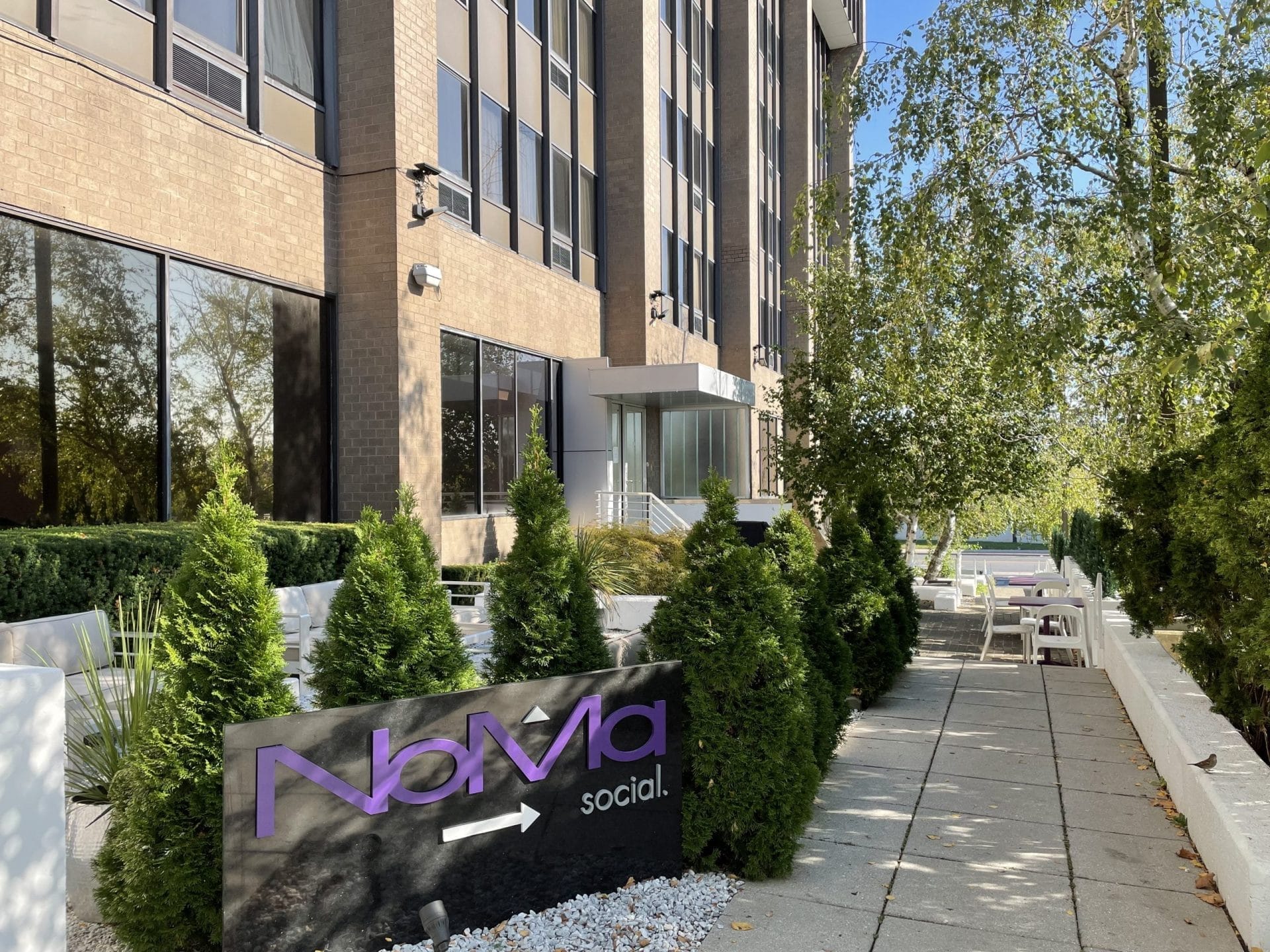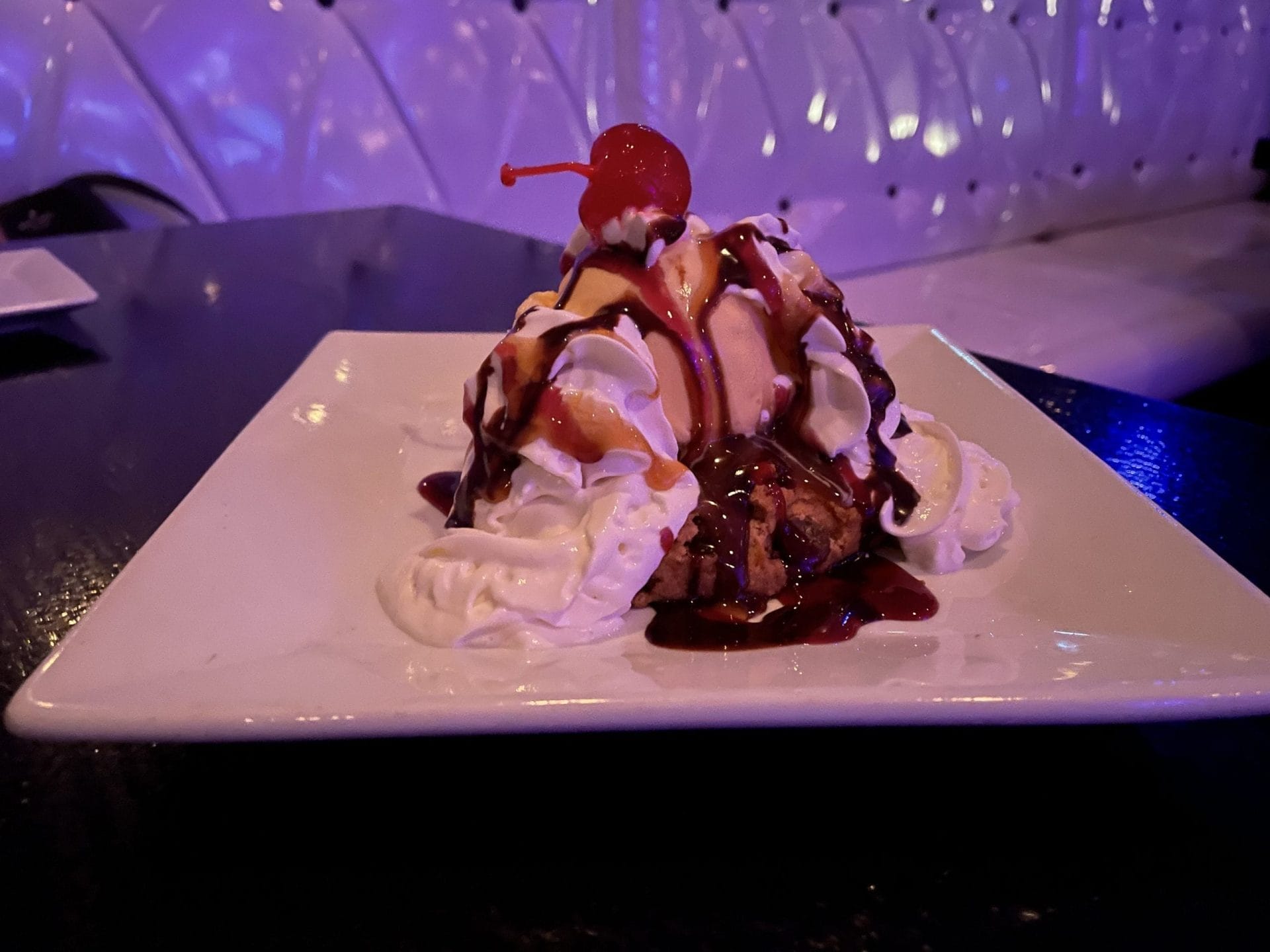 With a hotel this lovely, you may not feel like leaving the premises. If you're staying at the Radisson you can rest assured that your comfort won't be the only thing ensured. On the same floor of the lobby is NoMa Social, a restaurant and bar serving Mediterranean dishes and tapas. On our first night in New Rochelle, we decided to stop by NoMa Social after dinner before heading up to our room. Thirsty for cocktails and hungry for dessert we sat down at a booth and enjoyed Salsa music and dancing. I ordered a Margarita while my partner and I shared a Chocolate Chip Cookie Sundae. Everything was fantastic, and a great way to end our night.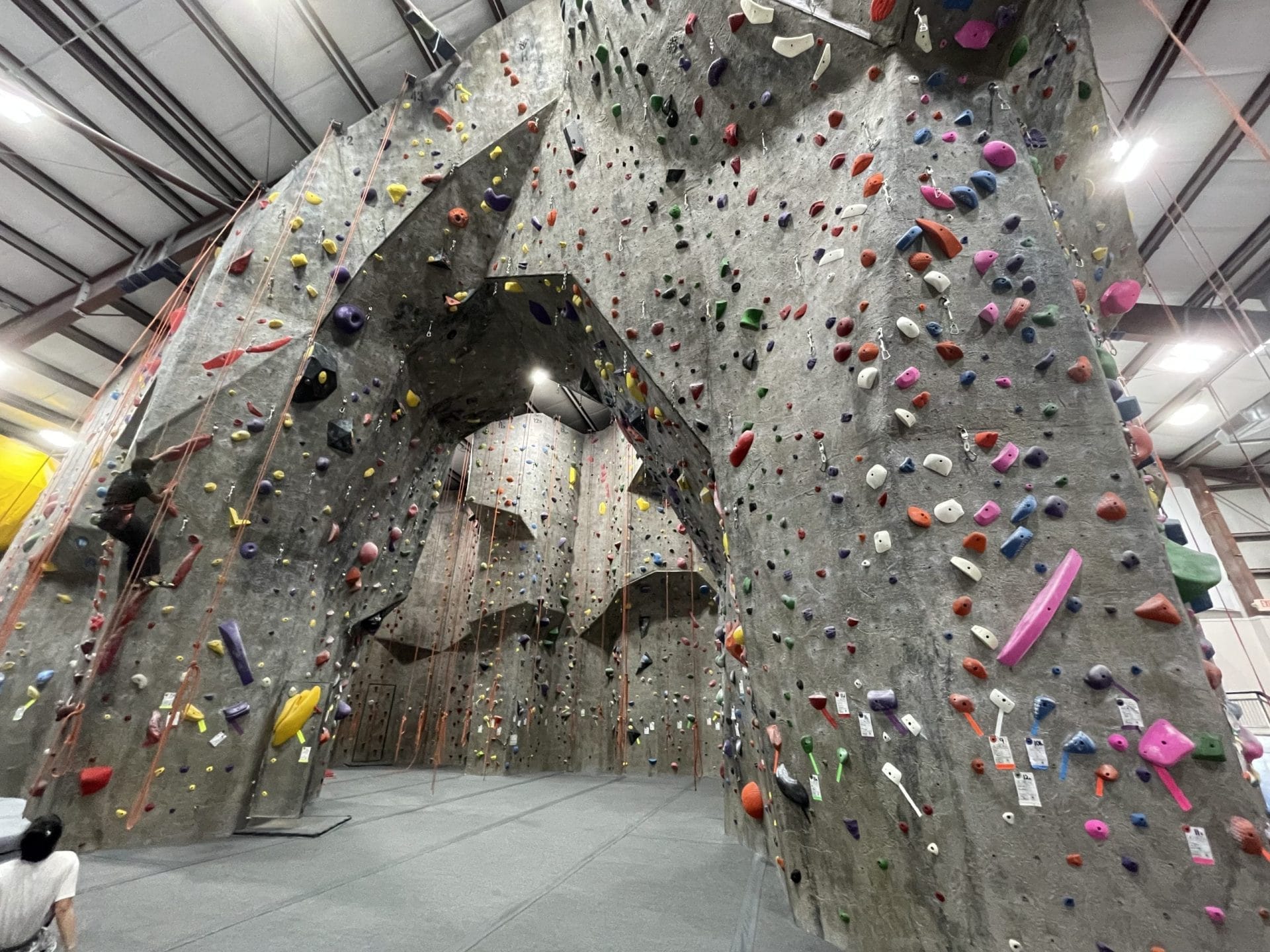 The Rock Club
You may be wondering what else there is to do in New Rochelle other than eat delicious food. New Rochelle hosts a variety of fun attractions that'll leave you wanting to come back for more. Another hidden gem in New Rochelle is The Rock Club, a rock climbing gym for people of all ages.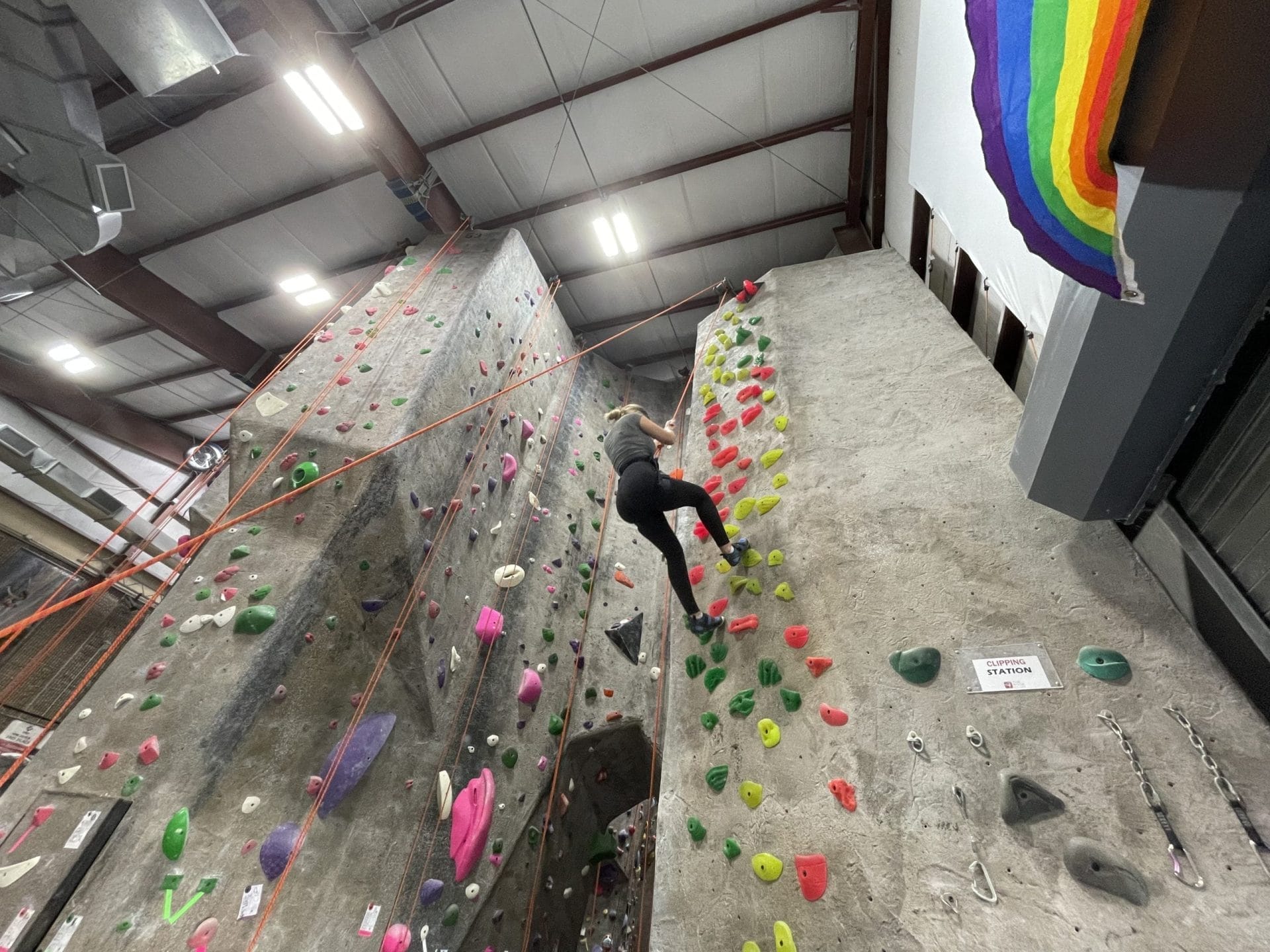 I hadn't been rock climbing since I was little, and I was excited and nervous to give it a try as an adult. When visiting The Rock Club, I met with Megan Jeffry and Max Golden, both experienced climbers and employees at the gym. After getting a tour of the attached tennis court and gym, I geared up for two beginner rock walls with a harness and climbing shoes. I anxiously started on a tall beginner wall with Max belaying me. After climbing up a quarter of the way I told my instructors I was too nervous to keep going, but with their encouragement, I continued to climb up the wall.
This fear was of course mind over matter, being that I was perfectly safe. I listened to my guides' encouraging words and made my way to the top. I then moonwalked my way down the wall and found myself wanting more. Later, I climbed another beginner wall, but this time, much more confident.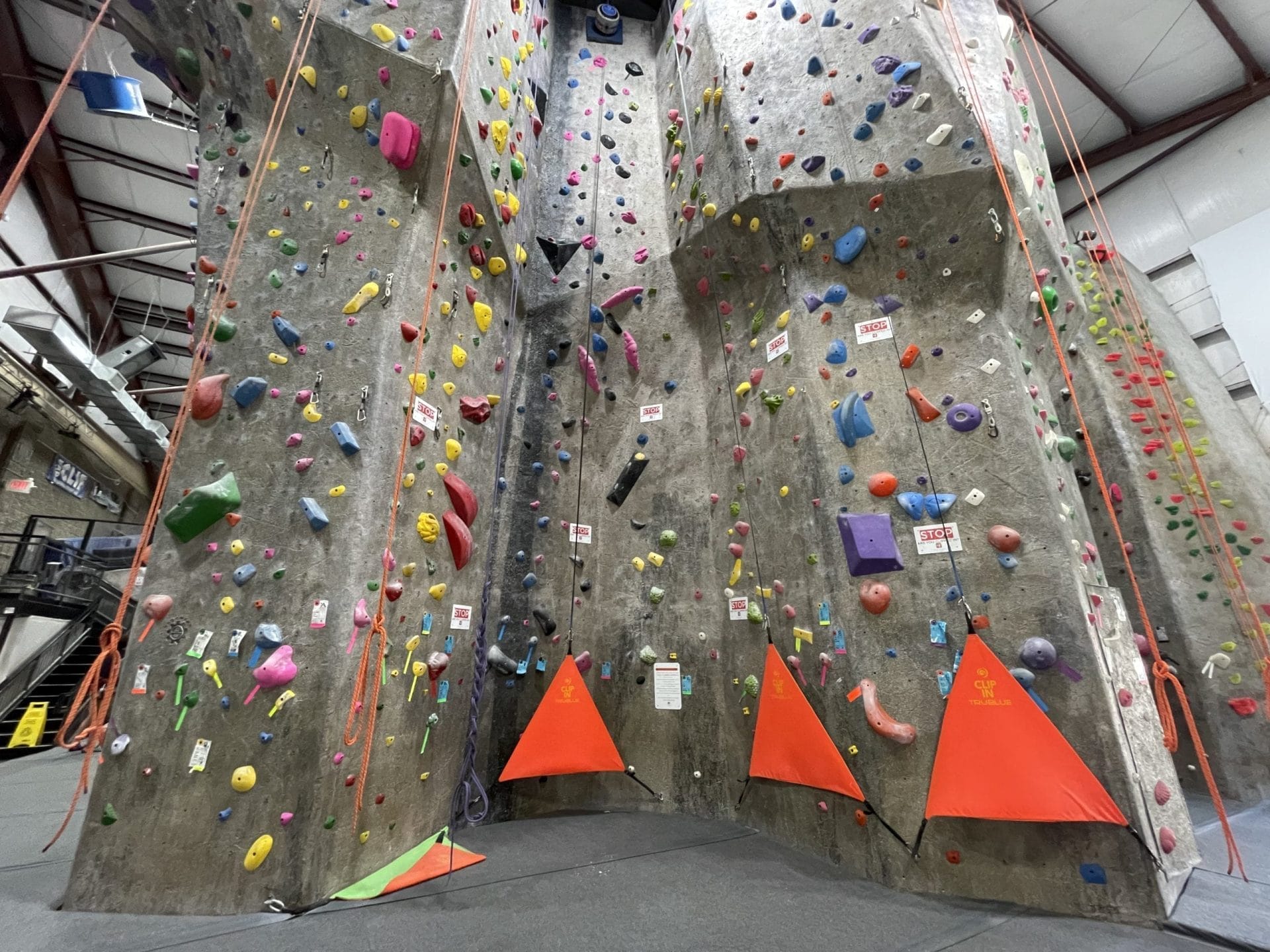 Wanting to see the climbing of a more seasoned rock climber, I watched Max make his way up one of the more difficult rock walls. His climbing was certainly impressive, which was expected after he explained his experience with outdoor rock climbing.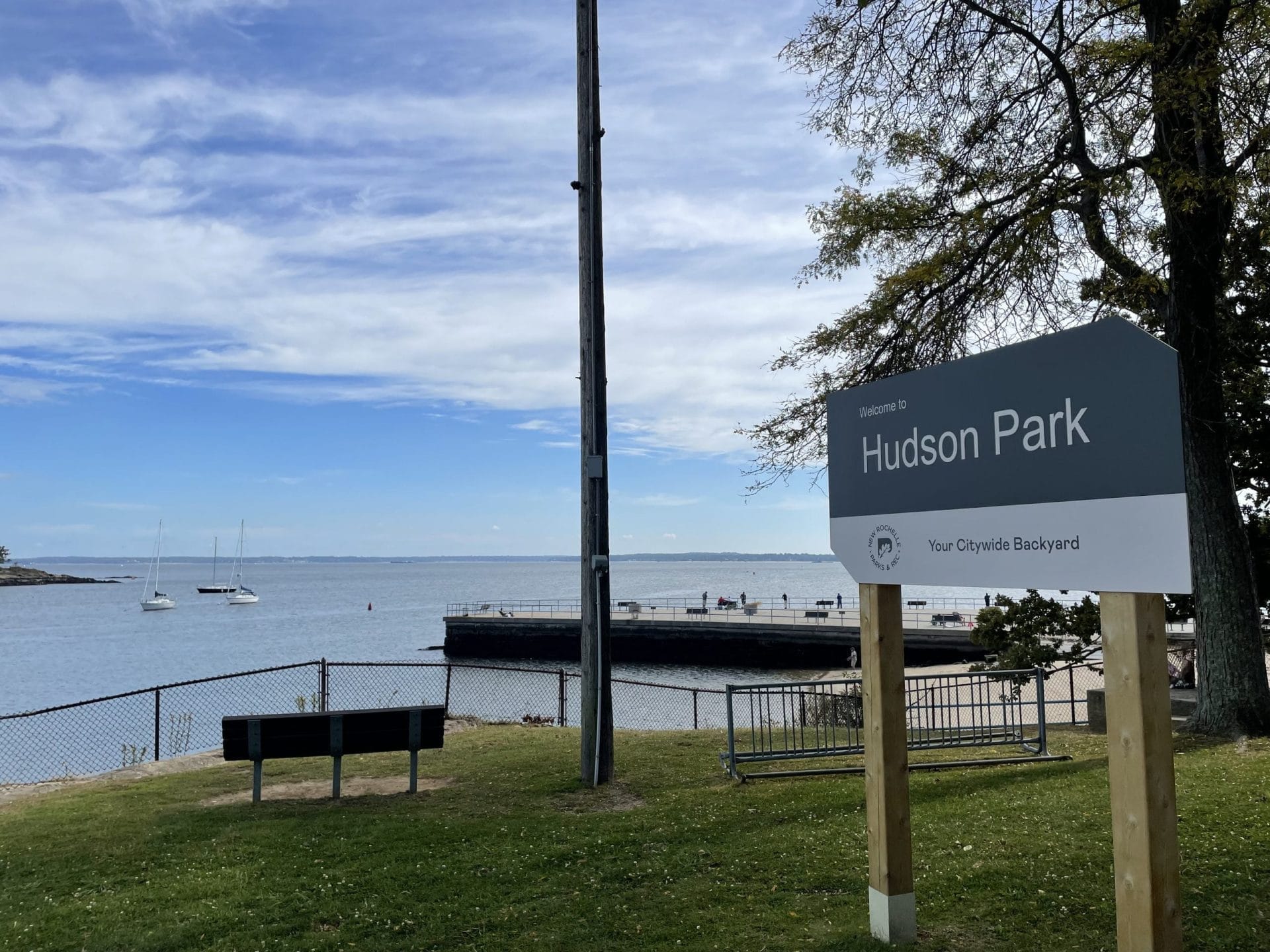 New Rochelle Parks
New Rochelle is a scenic destination, boasting a multitude of gorgeous waterfront parks. During our stay, we were able to visit three of New Rochelle's parks, each more beautiful than the last.
The first of these parks was Hudson Park Beach, which was situated along the Long Island Sound. This park was obviously popular for beachgoers, which wasn't surprising given the beautiful day. We stood upon an overlook as we people-watched, observing swimming, lounging, fishing and people gathering while listening to music.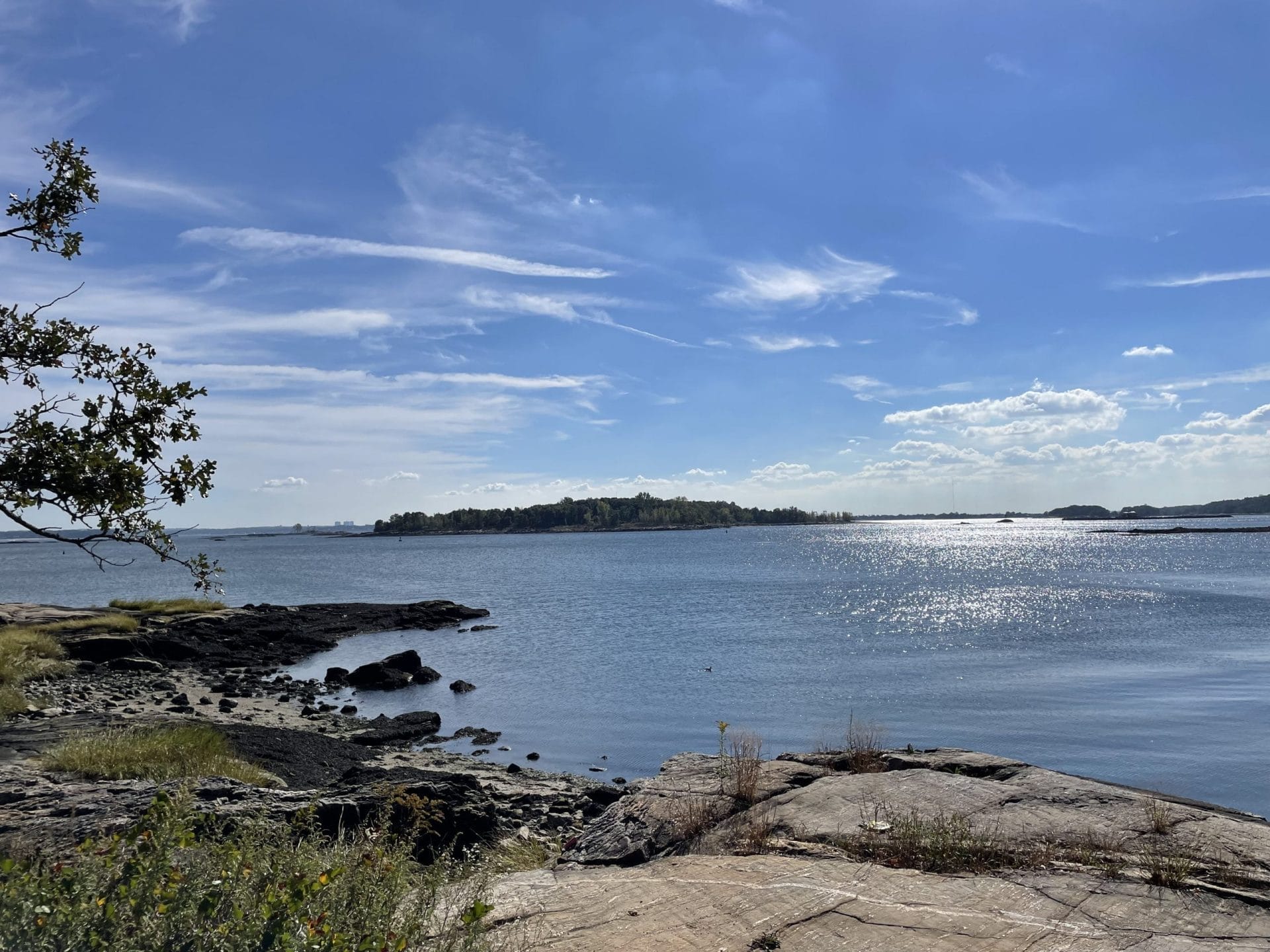 Second, on our park list was Davenport Park, which featured more views of the Long Island Sound accompanied by a vast lawn. People lounged on the lawn while reading books and playing drums, while others walked along the water and took in the views. While walking across the lawn we stumbled upon a hidden cove area that offered a fantastic view of large houses and boats.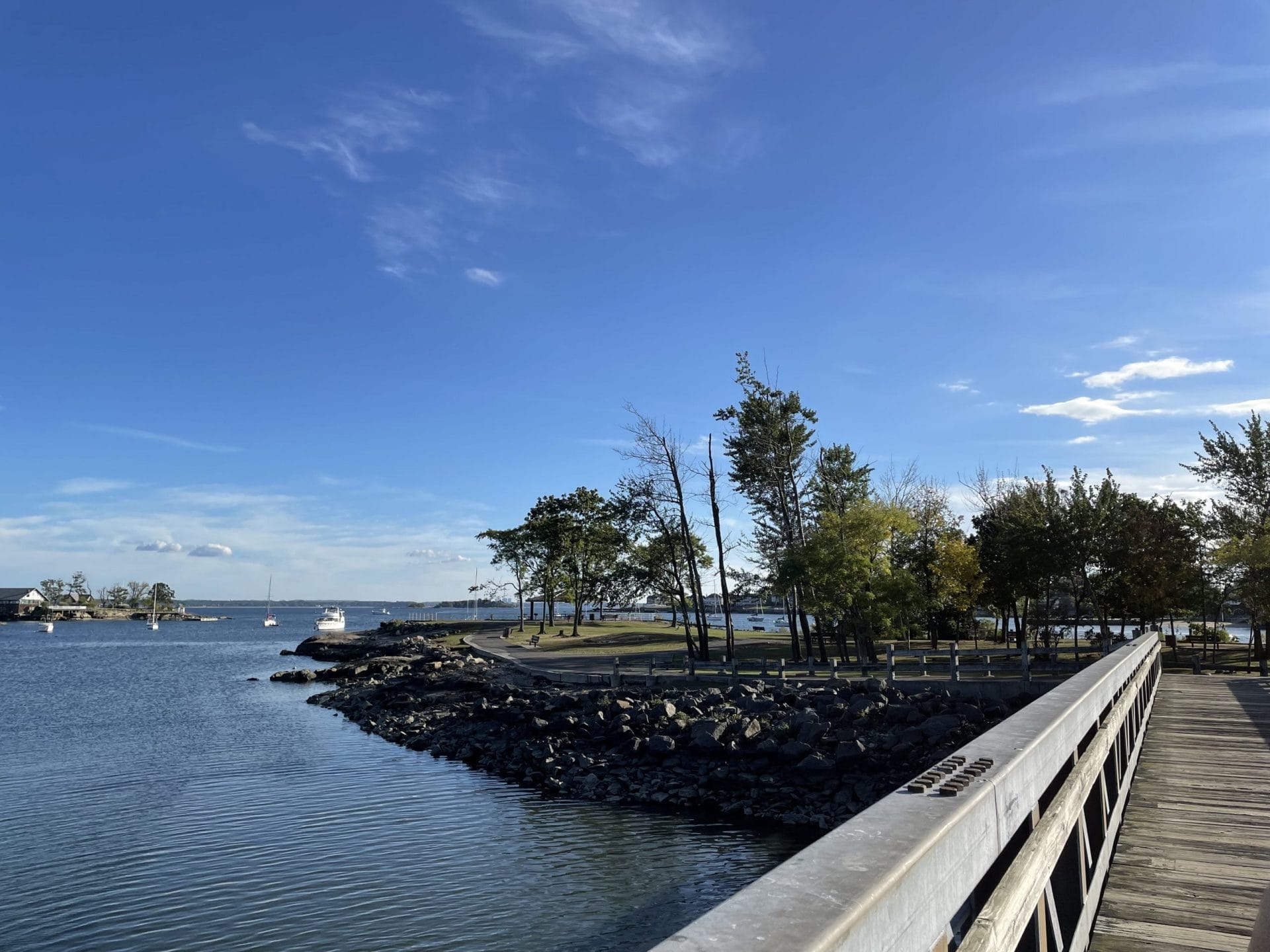 The last park we visited was the most unique of the three. Called Five Islands Park, because, well, it's five islands in one park, this park featured views of the New Rochelle skyline and plenty of boats among the water. As we walked from each island to the next, we took note of the scenic views and the families and runners enjoying the park. At the last island, we walked down to the rocks below to catch a closer look at the Long Island Sound.
With so much to do, see and eat, visiting New Rochelle is a getaway you simply can't pass up. Plan your visit to Westchester County today.
Other Things to Do in New Rochelle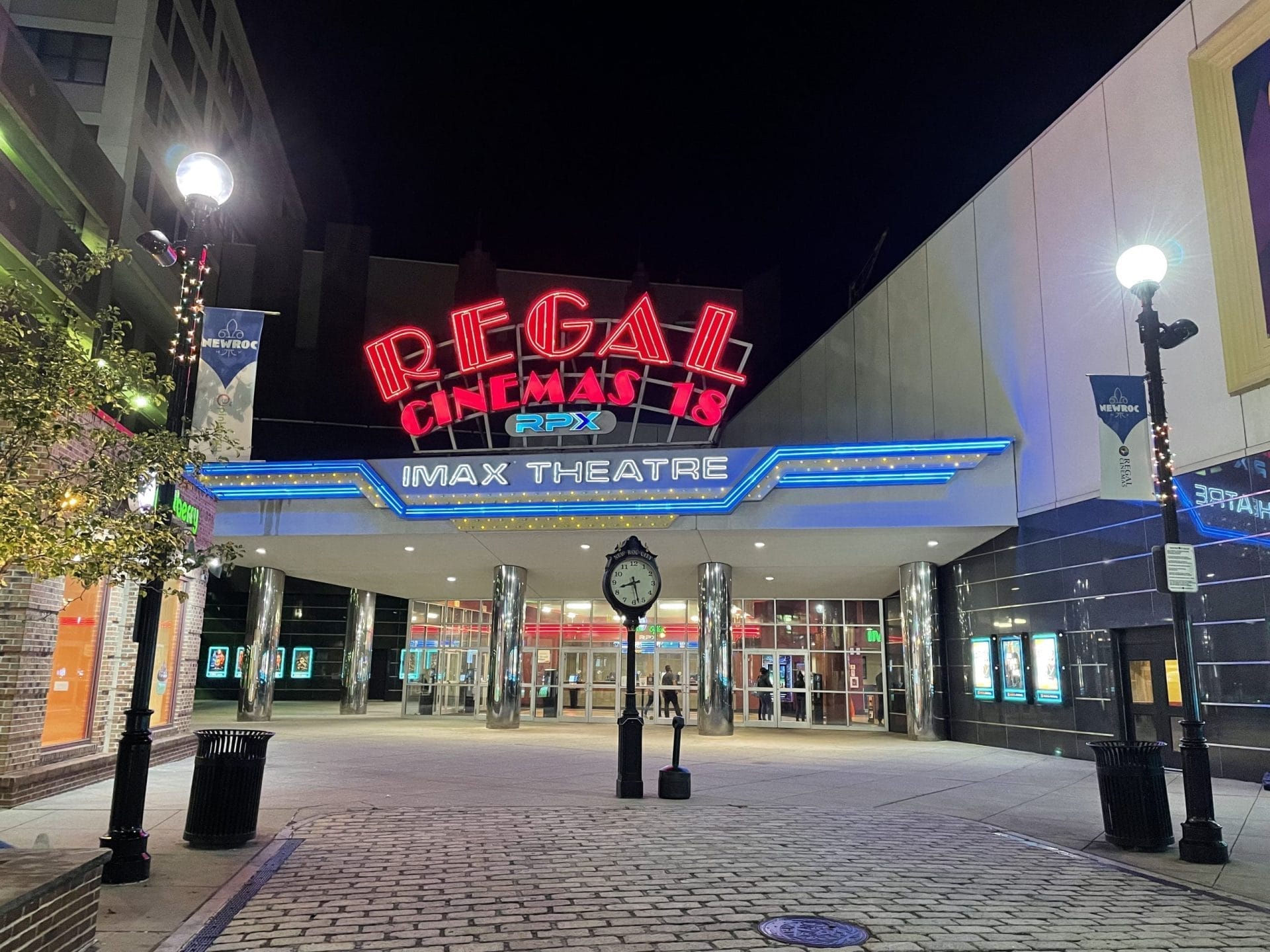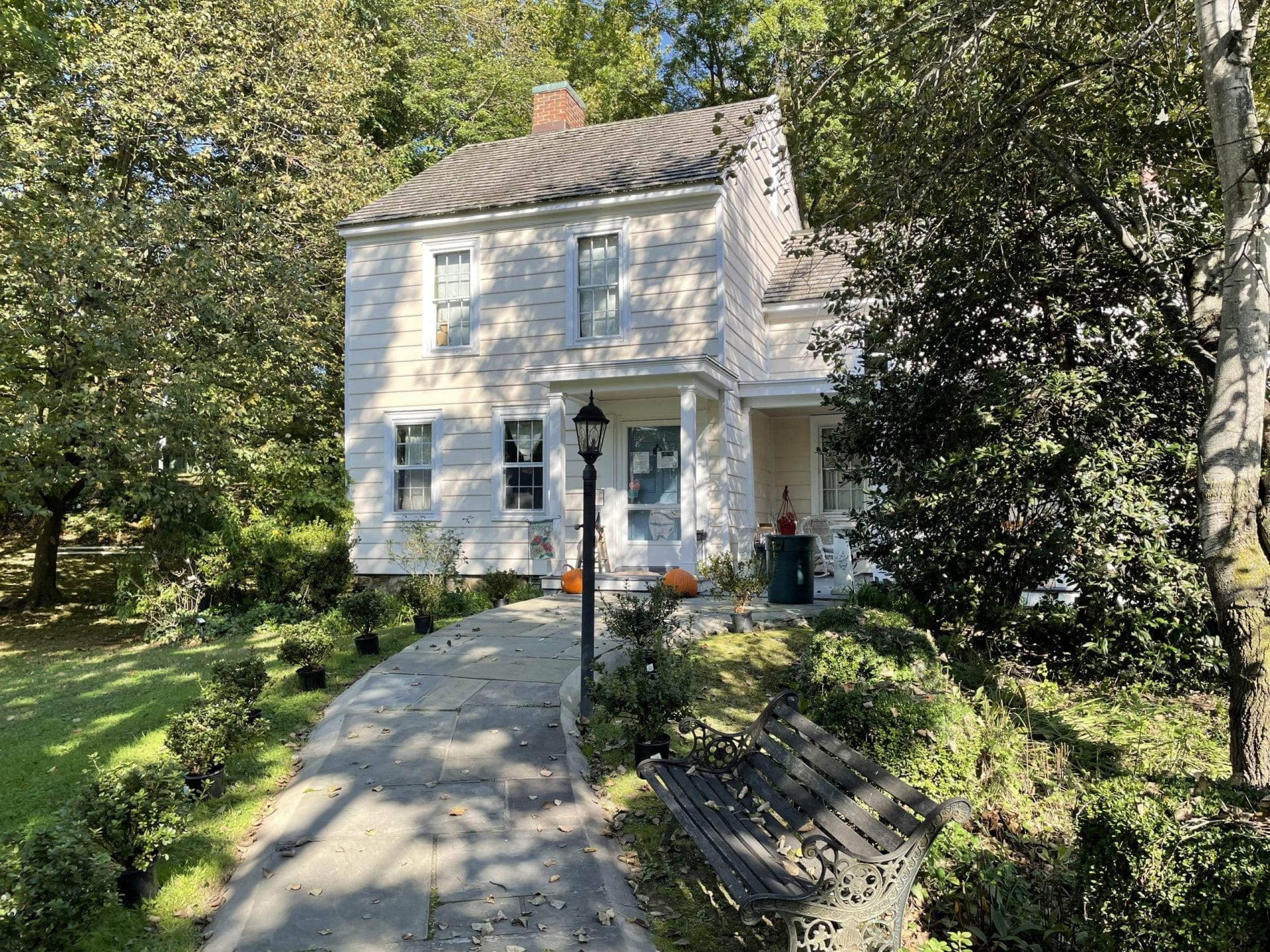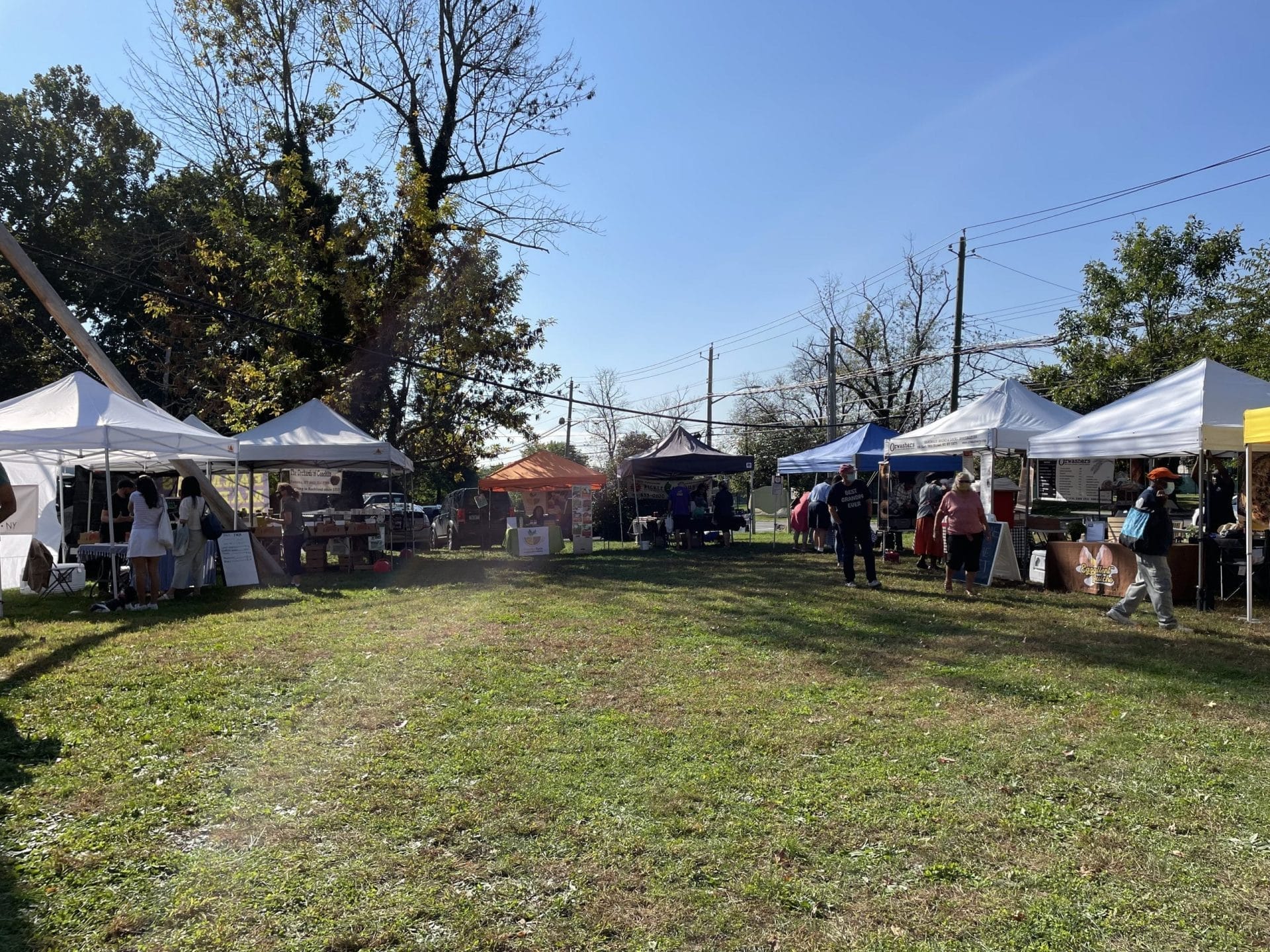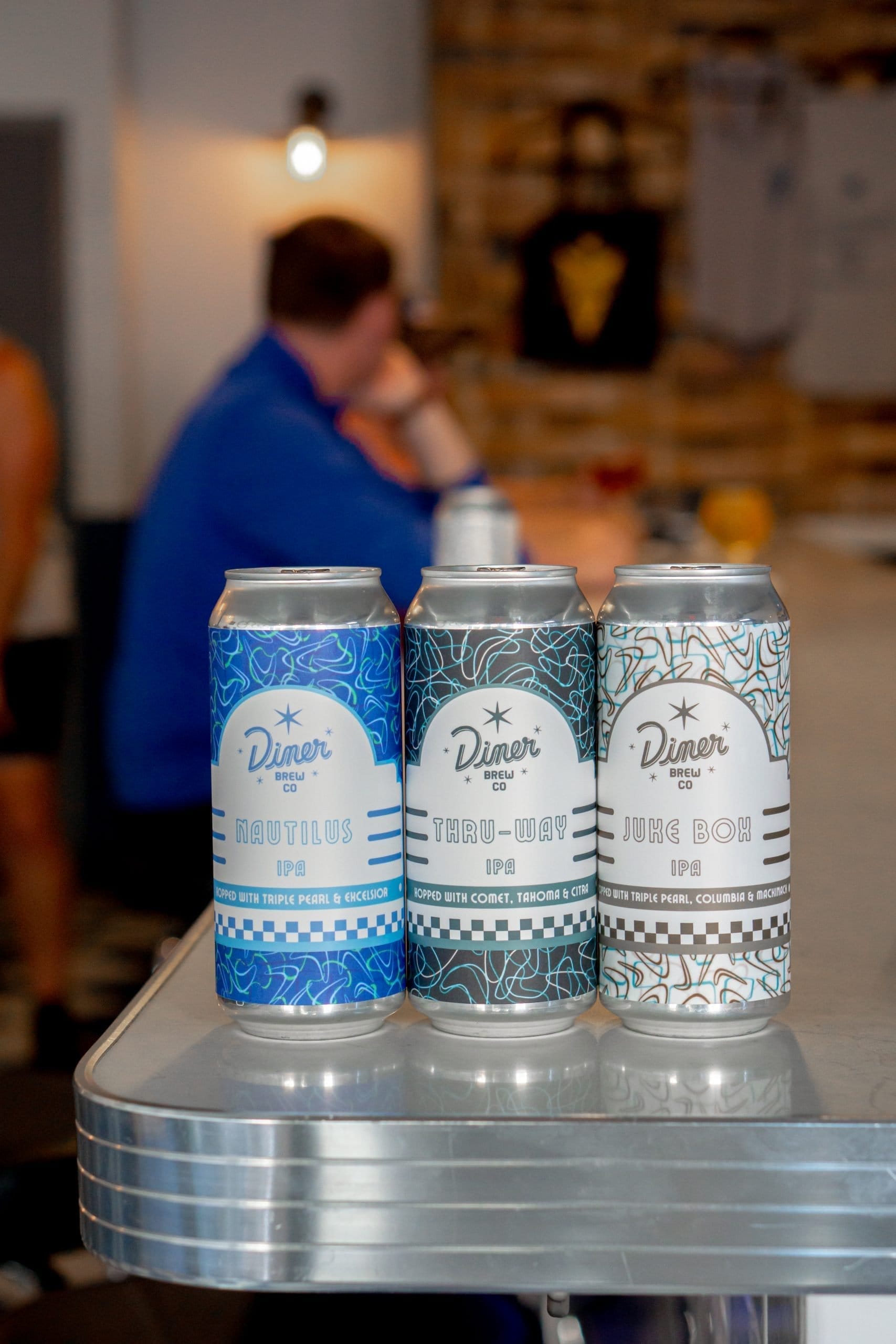 Regal Cinemas IMAX is located in New Roc City and is the perfect place to have a unique film experience. Buy tickets today while visiting New Rochelle!
Sound Bound Charters is known for being Westchester's popular fishing fleet. It sails daily for day and night trips. Sound Bound Fishing charters started in New Rochelle as a 6 passenger Charter Boat & has grown into a fishing/ cruising fleet consisting of 4 vessels ranging from 35 feet all the way up to 80 feet. The company is owned and operated by Brendan Lorino, an active NYC Fireman. Sound Bound offers a range of fishing trips both day & night, seven days a week! They are the ONLY full-time fishing / cruising fleet in Westchester and target every species the western Long Island Sound has to offer. Sound Bound Fishing Charters has become a staple in New Rochelle and a family name in the Bronx, NYC, Long Island and CT.
Glen Island Park is a beautiful island off of New Rochelle and a lovely park to visit. This park is yet another one of New Rochelle's gorgeous waterfront parks, offering sweeping, scenic views of the Long Island Sound. This beach is worth visiting during any season.
Thomas Paine Cottage is the historic home of the American author of Common Sense, Thomas Paine. Explore Thomas Paine's property while enjoying fun events. Stop by on Fridays for the Farmer's Market.
Diner Brew Co. is a staple beverage attraction in New Rochelle with award-winning beers. This brewery mixes new and old styles to create the perfect ambiance, ciders and brews. Sit down and grab a drink in this retro space. Enjoy the taproom Wednesdays through Sundays.
Farmer's Market occurs every Friday at the Thomas Paine Cottage from 9 a.m. to 2 p.m. Come check out a variety of amazing vendors selling their respective products. Here, you can find anything from pickles and fresh-baked bread to hand-made jewelry and crafts.
More to do near Westchester