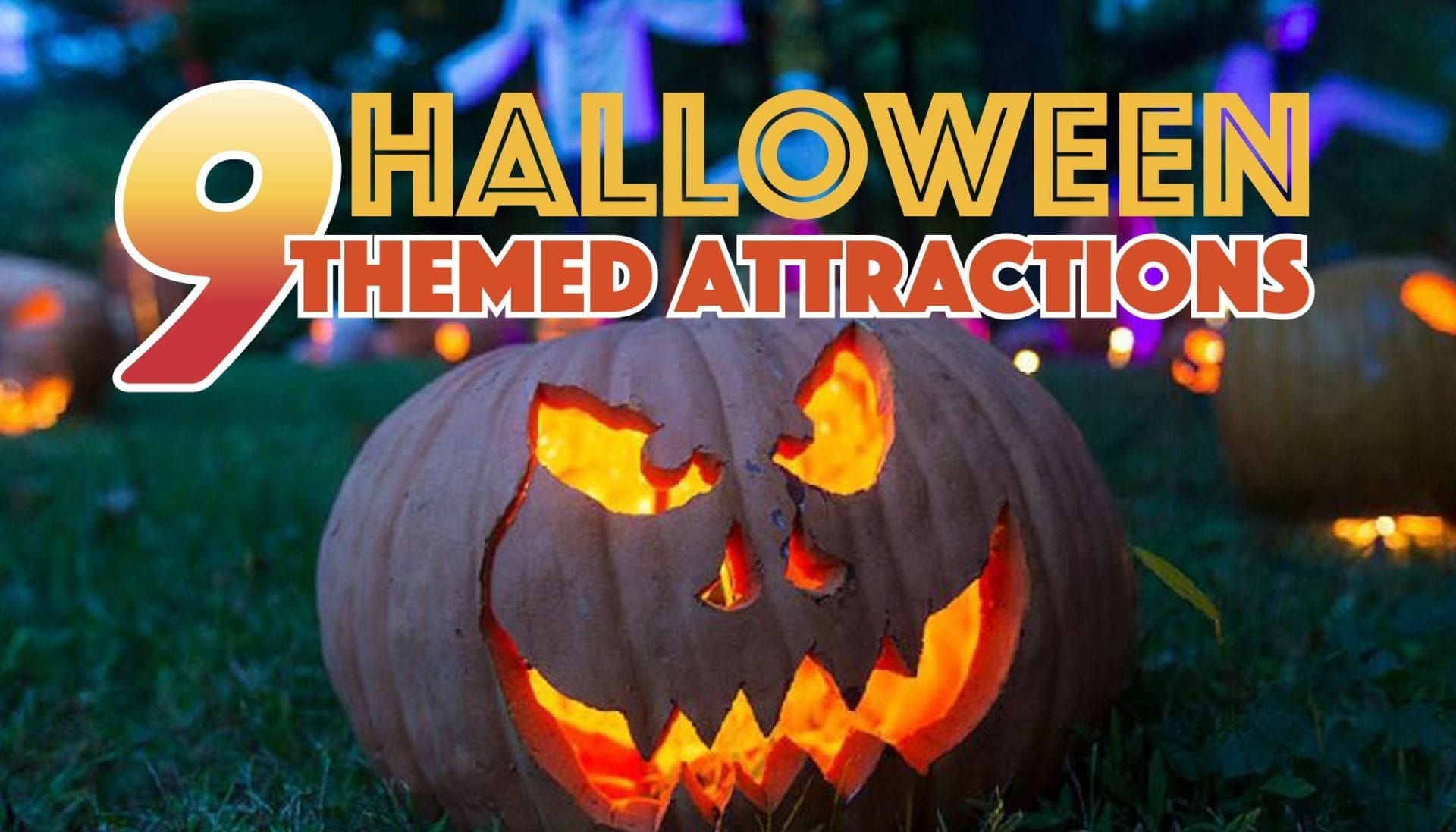 Halloween is the first holiday of the fall season, and we couldn't be more excited!
Arguably one of the best parts of autumn and the Halloween season is all the attractions and activities that are designed specifically for the holiday. Whether you want a good spook, a bucket full of candy or pumpkins galore, there is something for everyone.
Not sure exactly how to celebrate this year? This list compiles seven different Halloween attractions around New York that are all reachable by train and guaranteed to fill you with Halloween spirit.
Grab your best costume and plan your Halloween fun today.
Great Jack O'Lantern Blaze
Distance From Croton-Harmon Station (CRT): .6 miles
Address: 525 S Riverside Ave, Croton-On-Hudson, NY 10520
Dates: September 17 – October 31; November 3-7, 10-14,18-21
Located at the Van Cortlandt Manor, the Great Jack O'Lantern Blaze is comprised of over 7,000 carved pumpkin displays. Each pumpkin is hand-carved on site by artisans who are assisted by volunteers. They require over 10,000 pumpkins to ensure that the best quality of their artwork is put on display for guests.
These pumpkins have been carved and sculpted into anything you can imagine. The Statue of Liberty, planets, zodiac signs and even some animals, like dogs. There are wizards and skeletons and other mystical beings. In addition to the carvings, there are also paintings done on pumpkins.
Guest can plan to spend up to 90 minutes looking at the mesmerizing artistry. We have previously published a first-hand account of what it is like at the Great Jack O'Lantern Blaze, which you can check out by clicking here.
HEADLESS HORSEMAN HAUNTED HAYRIDES
Distance from Poughkeepsie Station (POU): 13.6 miles
Address: 778 Broadway, Rte 9W, Ulster Park, NY 12487
Dates: Sept. 25 – Oct. 31
If you're looking to get a head start on your favorite spooky season festivities, you'll want to head to Poughkeepsie Station. Nearby is Ulster Park, which hosts the annual Headless Horseman Haunted Hayrides. Starting Sept. 25 and ending Oct. 31, you can enjoy an experience that's hauntingly fun. New this year is The Haunting of Pumpkin Jack, a haunted walking trail experience. Whether you're taking the hayride or embarking on the haunted walking trail, you'll be sure to have some spooky fun.
The Utica Zoo
Beaversprite
Distance from Utica Station (UCA): 2.1 miles
Address: 1 Utica Zoo Way, Utica, NY 13501
Date: Oct. 16, 2 – 7 p.m.
This Halloween season, The Utica Zoo is hosting the Beaversprite Haunted Trail. The trail takes guests through the woods around the Beaversprite Conservation Education Center and finishes at the Nature Center. There will be animal-themed Halloween stops along the trail to help guide adventurers through the path.
Upon completion, guests are greeted with treats, crafts, snacks, cider and a fire pit for making s'mores and sharing scary stories. Tickets are $5 for everyone 2 years old and up.
Spooktacular
Dates: Oct. 23 – 24
Another fantastic annual event hosted by the Utica Zoo is the Spooktacular. This event celebrates Halloween, the harvest and agriculture. Typically, you can expect food trucks, trick-or-treat stations, contests, costumes, entertainment and more family fun. Stay updated on future details regarding Spooktacular on the Utica Zoo website.
Field of Horrors
Distance from Albany-Rensselaer Station (ALB): 12.6 miles
Address: 100 Farrell Rd. Troy, NY 12182
Dates: Fridays, Saturdays and Sundays in October
The Field of Horrors is not for the faint of heart. Once the sun goes down, this maze-meets-haunted house crossover offers five different themed attractions guaranteed to scare you. The themes of these mazes vary from traditional haunted houses to catacombs and playing with insanity. There is something for every horror fan to enjoy.
According to the Field of Horrors website, the attraction is not for children under the age of ten. The event also uses strobe lights as part of the show, so if you're sensitive to these elements, keep this factor in mind when planning your trip.
BOOtanical Celebration
Distance from Buffalo, NY Exchange St. Station (BFX): 6.2 miles
Address: 2655 South Park Ave, Buffalo, NY 14218
Dates: Oct. 17-18
The Buffalo and Erie County Botanical Gardens decorates its conservatory and greenhouse to reflect this spooky season. The conservatory transforms into a pumpkin patch while the greenhouse is haunted by ghosts overnight.
Guests are encouraged to wear Halloween costumes to celebrate the holiday. Collect an activity book to complete during the event for a prize while enjoying Wegmans Family Days. While visiting the Buffalo and Erie County Botanical Gardens during this event, you can expect a carnivorous plant collection, a train display by the WNY Garden Railway Society, Kettlecorn and craft bags to enjoy at home.
Bronx Zoo
Distance from Yonkers Station (YNY): 10.4 miles
Address: 2300 Southern Blvd, The Bronx, NY 10460
Dates: Weekends from Oct. 2 – 31.
Every year the Bronx Zoo hosts "Boo at the Zoo". Open to people of all ages, there is a multitude of activities that are designed to ensure a day of spooky fun. In addition to the entertainment aspect of the event, the Bronx Zoo aims to educate guests on animal conservation and foster a learning environment regarding the animals that reside there.
The zoo offers magic shows that run every thirty minutes, a live pumpkin carving demonstration, a scavenger hunt and an educational candy trail.
While you're there, stick around for the costume parade! Keep an eye out for people on stilts dressed like your favorite animals and an intricately designed pumpkin trail. Head over to the extinct animal graveyard to learn about the conservation of some of the world's most beautiful animals. Similar to the other attractions on this list, costumes are encouraged to fully get into the Halloween spirit.
Zombie Zips at Mountain Ridge Adventure
Distance from Schenectady Station (SDY): 11 miles
Address: 300 Weatherwax Road, Schenectady, NY 12302
Dates: Fridays & Saturdays in October
Mountain Ridge Adventure reinvents the traditional haunted house experience with their Zombie Zips. Here, you can forget about the typical, mildly frightening hayrides and strolls through haunted houses and mazes. This haunted experience is for thrill-seekers.
Beginning with a walk through the woods, visitors are faced with serial killers lurking in the forest. Venturing out of the woods, visitors will be launched 70 ft into the air. Guests ride down ten different zip lines while being greeted by zombies popping out of the darkness. Guests must be 14 years or older to participate.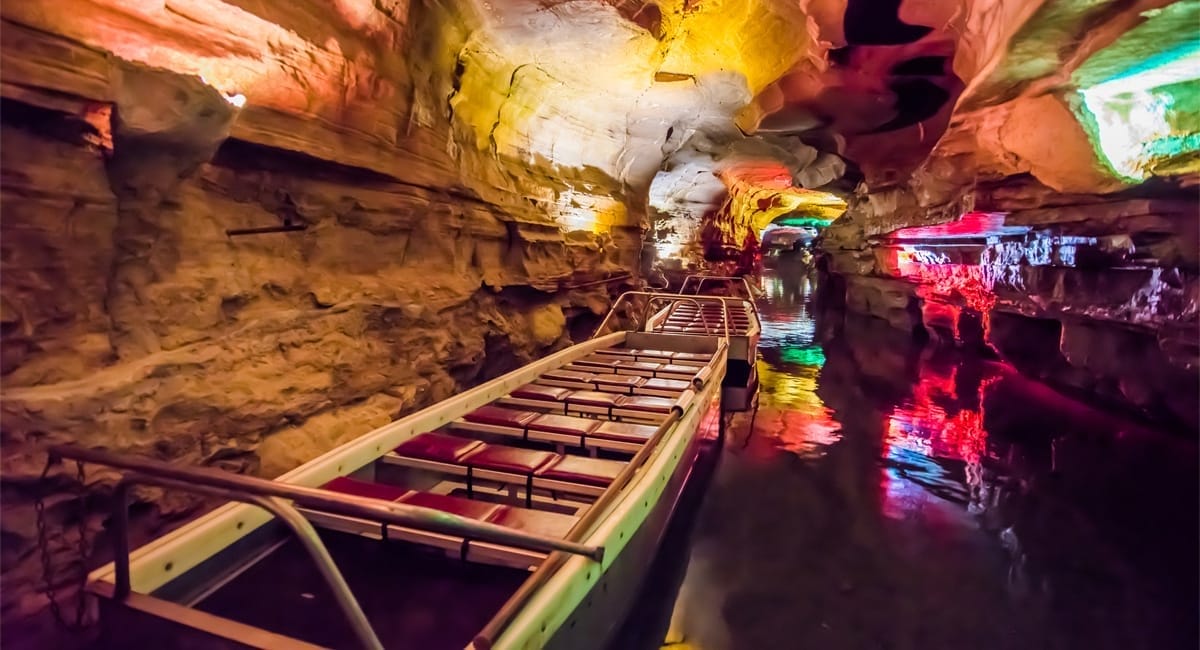 The Underworld at Howe Caverns
Distance from Schenectady Station (SDY): 32.7 miles
Address: 255 Discovery Drive, Howes Cave, NY 12092
Dates: Fridays & Saturdays in October
Looking for another unique Halloween experience? The Underworld at Howe Caverns is an unforgettably terrifying cave tour that runs on weekends throughout October. Now in its second year, this cave tour is guaranteed to be even scarier than it was in its previous year. The Keepers of the Cave will guide you through this immersive and thrilling tour as you cruise through the caverns. Be prepared to be haunted at every turn.
More fall attractions via Amtrak