Editor's Note: New York by Rail updated this past blog experience to include current information.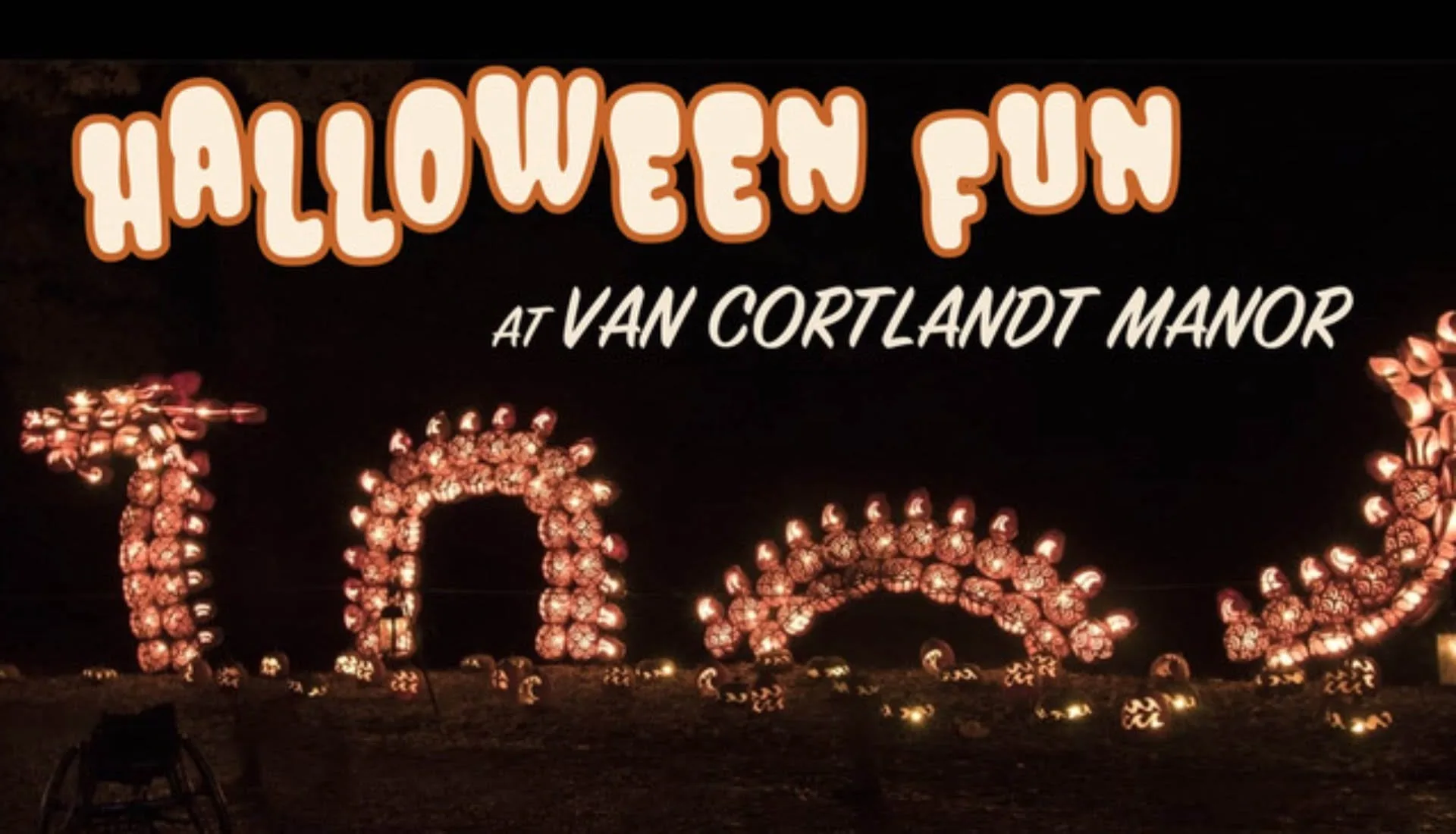 On a cool October night, I stand at the entrance to the Great Jack O'Lantern Blaze at Van Cortlandt Manor in Croton-on-Hudson. The Blaze is a self-guided tour through the grounds of this 18th-century mansion, with more than 7,000 artisan-carved pumpkins. In its 17th year, this magnificent combination of art and the Halloween spirit is an autumnal event that starts in late September and continues through November 21st.
I walk through an archway of carved pumpkins, then follow a path lined with trees illuminated by vibrant red, purple, and blue lights. With one last look around, I enter the world of the Great Jack O'Lantern Blaze.
The atmosphere of the Blaze is spooky, but festive and fun. The sound of children's laughter mingles with haunting music. It begins with a windmill made entirely of pumpkins. The blades change color as they go round and round, turning from blue to purple to red to pink.
Continuing down the path, I walk cross the Pumpkin Zee Bridge. The stanchions of the bridge are completely covered with Jack O'Lanterns. The many carved faces watch me. Some have classic triangular expressions, while others have hearts for eyes, huge grins, frowns, or scowls.
Exiting the bridge, I walk past a wall of pumpkins carved with beautiful Celtic knots. Each design is unique and glows with warm, golden light. The knots are a work of art. I am awed that these intricate designs have been engraved into pumpkins.
Moving on, I come to another wall of pumpkins arranged to look like stained glass windows, similar to those in a church. These pumpkins continue the Celtic theme and glow dark red and orange.
This display of beautiful pumpkins is reminiscent of a European church. | Photo Courtesy of Allyson Macci
The next stop on the tour has a medieval fantasy theme. I see pumpkins stacked on top of each other, their carvings resembling a flock of owls flying into the night. Instead of music, I hear whoo-whoo-ing. A pumpkin wizard stands in the center of the display, with his wand held high. This fantastic wizard casts quite a spell!
Opposite the wizard and his owls, I encounter a magnificent flying unicorn. This majestic creature enchants onlookers, especially the children. Beside the unicorn stands a glowing castle. A giant sea serpent completes the fantasy. Its great body glows orange and gold. Smaller pumpkins with wave-carvings surround the serpent, as if it is swimming through water.
I continue down the path, leaving the medieval realm and entering the Zodiacs. Each unique astrological symbol shines with its own distinctive lights. I excitedly look for my own star sign, Libra. Its scales glow a brilliant turquoise.
The celestial theme continues as I walk through the "Pumpkin Planetarium," a tunnel. Lining the top and sides of the tunnel are hundreds of stars carved into pumpkins. The shining lights change from blue to rainbow colors to the sounds of twinkling, shimmering stars.
Exiting the Planetarium, I am immediately wowed by a moving pumpkin carousel! Skeletal horses float by to eerie amusement park music.
Next, I come face to face with a hill of spiders and one ginormous spider web. The ground is covered with pumpkins, each with a different spider carved into it. Toward the top of the hill, I see larger arachnids, their bodies made up of several pumpkins and their faces that of skeletons. Truly spook-tacular!
The next pumpkin is the Statue of Liberty. Lady Liberty stands before me, tall and proud, with her pumpkin torch atop her outstretched arm, illuminating the night sky.
Leaving the Statue of Liberty behind, I find myself swept back in time to the Jurassic Era. Pumpkins form a tyrannosaurus rex, stegosaurus, triceratops, pterodactyl and even a long-necked apatosaurus.
Finally, I reach the end of my tour at the manor house, which is decorated with changing lights and a giant Jack O'Lantern made of individual pumpkins. The front lawn is covered with pumpkin zombies and hundreds of grinning Jack O'Lanterns.
As I exit the tour, I pass a big wedding cake made out of pumpkins, with "Will you marry me?" carved into some of the them. I wonder if the proposal is real, meant for a bride-to-be who plans to visit this fantastic fall show.
PUMPKINS IN THE BLAZE
The Great Jack O'Lantern Blaze began in 2005. Favorite themes are usually repeated, though each year, there are a number of new ones. Past themes have included Undersea Aquarium, Skeleton Experience, Buzzing Beehive and Flesh-Eating Plants.
Every pumpkin is hand-carved by a team of local artisans, assisted by the Historic Hudson Valley staff and 1,000 volunteers. The event is under the creative direction of Michael Natiello. According to Natiello, the inspiration for the Blaze is in the landscape of Van Cortlandt Manor. Certain pieces are also arranged to complement and draw attention to the site's architecture and history.
Each year, over 7,000 Jack O'Lanterns make up the display. A mixture of real and fake "Funkins" (art pumpkins) are used. Carving the fake pumpkins begins in June, while the real pumpkins are carved throughout the run of the Blaze. The event requires 10,000 live pumpkins, most of which come from the Wallkill View Farm Market in New Paltz, New York.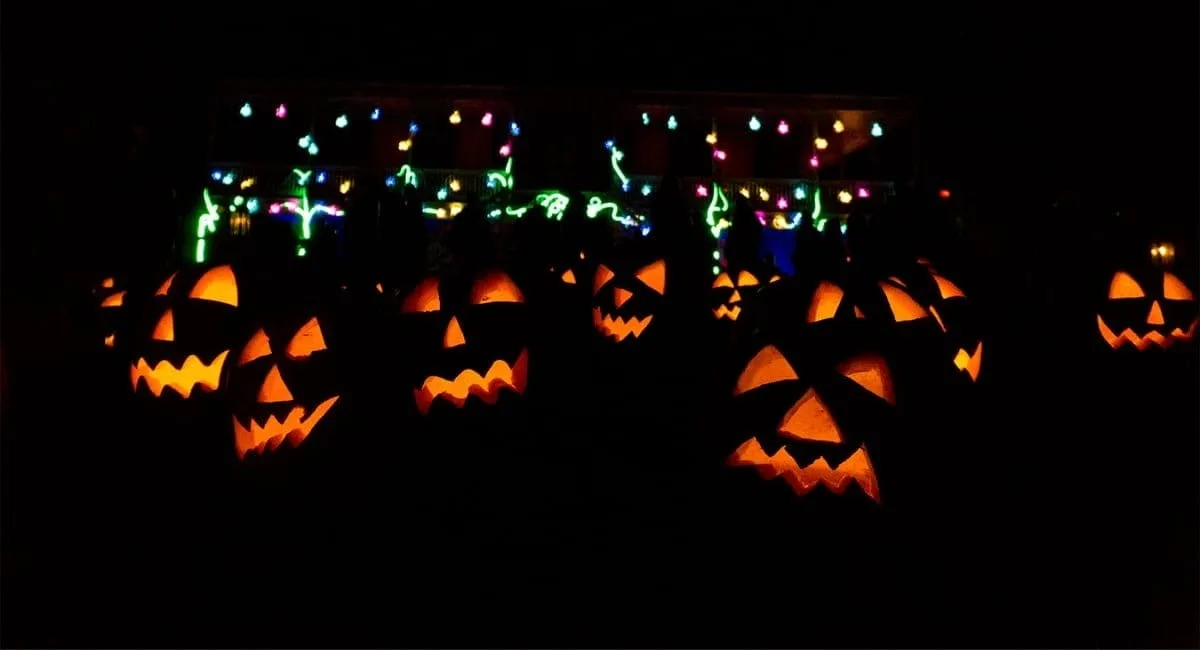 Grinning Jack O'Lanterns surrounding the field out front of the Van Cortlandt Manor House. | Photo Courtesy of Ryan Zoller
More on the Great Jack O'Lantern Blaze
The event organizers are enforcing social distancing measures with limited capacity. Regardless of vaccination status, masks are required for everyone when indoors at the event. Masks are optional for vaccinated guests outdoors and mandatory for unvaccinated guests over the age of 12 at all times.
The Great Jack O'Lantern Blaze runs through the following 2021 dates:
September 17-30
October 1-31
November 3-7; 10-14; 18-21
Availability and admission times vary, as well as ticket prices. Ticket prices begin at $24 but vary based on availability and time. Click here to see updated tickets and prices.
Adult tickets: $40.00
Children, ages 3-17: $32.00
Children under age 3: Free
Student (18-25 w/ID): $40.00
Senior (65+): $40.00
Although FLEX tickets for the Hudson Valley are currently sold out, FLEX tickets allow attendees to visit Blaze on any night regardless of tickets being sold out. All FLEX tickets come with a complimentary snack and drink. In the future, be on the lookout for these special tickets.
$2.50/ticket surcharge for onsite and phone purchases
Discounted admission is given to those arriving by bus in groups of 30 or more.
Parking is free and on-site; you may park up to 30 minutes before your ticket time.
Select a time when purchasing your ticket(s), every half hour until 9:00 p.m. midweek and 10:00 p.m. weekends. Purchase tickets online in advance, as they may sell out for a given day/time.
If you have a Premier Membership to Historic Hudson Valley, it includes reserved tickets for the Great Jack O'Lantern Blaze valid even at a sold-out time. All the proceeds from the Blaze support the programs of the non-profit Historic Hudson Valley.
The walking tour takes 60 to 90 minutes. It is handicap and stroller-accessible; however, there are parts of the path that are narrow and slightly sloped with unpaved surfaces.
A food tent, with fall-themed fare from Geordane's of Irvington and drinks from Captain Lawrence Brewing Company, is on-site. There are also many restaurants within walking distance in the village of Croton-on-Hudson.
Take Amtrak to the Great Jack O'Lantern Blaze
Experience the Great Jack O'Lantern Blaze via Amtrak to the Croton-Harmon Station (CRT) in the Hudson Valley, then walk 0.7 miles to the Great Jack O'Lantern Blaze at Van Cortlandt Manor. Don't forget to use the I Love New York 15% Amtrak discount!
If you would like to rent a car, to further explore the area, New York By Rail suggests Enterprise Rent-a-Car. Click here to reserve your car, or call Enterprise's Croton-Harmon office at 914-271-0100.
More fall activities in the Hudson Valley