Editor's Note: New York by Rail updated this April 2018 blog to include current information.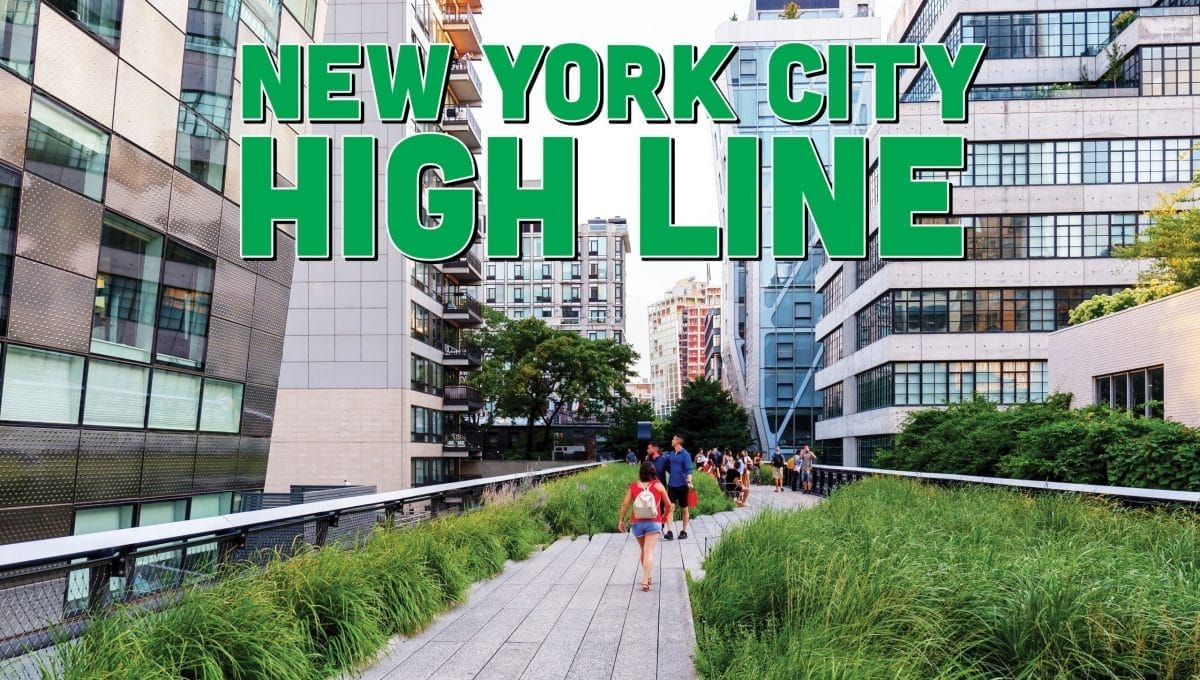 A new life for an old train line.
During the mid-1800's, railroad tracks ran along 10th and 11th Avenue in Manhattan, delivering coal, dairy products and beef to processors and distributors on the West Side. Men on horseback rode in front of the trains, waving flags to warn people of approaching trains, but the corridor was hazardous. By 1910, an estimated 548 deaths and 1,574 injuries had occurred over the years on the 11th Avenue line alone. The solution – elevate the tracks!
In 1933, the first train chugged along the High Line viaduct, which ran from St. John's Park to Spring Street. However, by the 1950's the dramatic increase in interstate trucking greatly depressed the market for freight trains. By 1978, the High Line saw only two carloads of cargo per week. Two years later, with the construction of the Javits Convention Center at 34th Street, Conrail, the High Line's owner, had to disconnect it from the national rail system. Afterward, the unused line fell into disrepair, but its riveted steel structure remained sound.
The High Line in 2021
Today in the spring of 2021, the High Line is still a must-see attraction in New York City. Even in the midst of Covid-19, the High Line remained open for visiting. As an outdoor attraction and urban trail, the High Line is easily a staple destination for New Yorkers and visitors alike. With its very close proximity to Moynihan Train Hall at Penn Station, which is less than half a mile away, the High Line is a quick and easy trip for visitors. Whether you're someone looking for a little bit of nature in an urban environment, or someone looking to take on a trail without walking through the woods, the High Line has something for everyone.
Because Covid-19 restrictions are only beginning to be lifted as nearly 50 percent of New Yorkers are being vaccinated, you'll need to make advance reservations to walk the High Line on the weekends. However, if you're looking to embark on your adventure on a weekday, no reservations are needed. One of the greatest aspects of the High Line is that it's completely outdoors, making it a safe activity for anyone who is still worried about the pandemic.
A Second Life
In 1999, inspired by the Promenade Plantée, a tree-lined walkway following an old, elevated railroad line in Paris, residents along the High Line began advocating for the city to preserve and repurpose of the High Line as an urban park. Work on the project began in 2006, with the first phase opening in 2009. The third and final phase was completed in 2014, with a short spur above 10th Avenue and 30th Street to open this year.
Today, the High Line is one of New York's outdoor gems. This 1.45-mile elevated greenway now has over 5 million visitors annually and has inspired other cities throughout the United States to turn obsolete infrastructure into attractive public areas.
The High Line Highlights
The High Line is first and foremost a park, with green space, areas for children to play, tai chi classes, joggers, strollers and many places to simply hang out and watch the world go by. Visitors can also take a walking tour to learn about the High Line's history, design, unique horticulture and public art program. You can also watch or participate in live music and dance performances. And during Halloween, the ghosts of all those who met their demise before the train tracks were elevated are said to haunt the High Line. But they're friendly ghosts offering a day of family activities, like face painting, ghoulish live performances and other reasons to dress up.
There's a saying in the city, "You gotta have park!". The High Line has quickly become one of New York's most beloved green spaces and a must-see for visitors. The High Line plays many roles and one of them is a garden. During the warmer months, you'll be accompanied by beautiful gardens filled with different types of plants and flowers. Just like Manhattan's other parks, the High Line provides a natural outlet for New Yorkers, whether they're city residents or visitors. It's a tribute to the past and a shining example of how that past can be preserved and revitalized.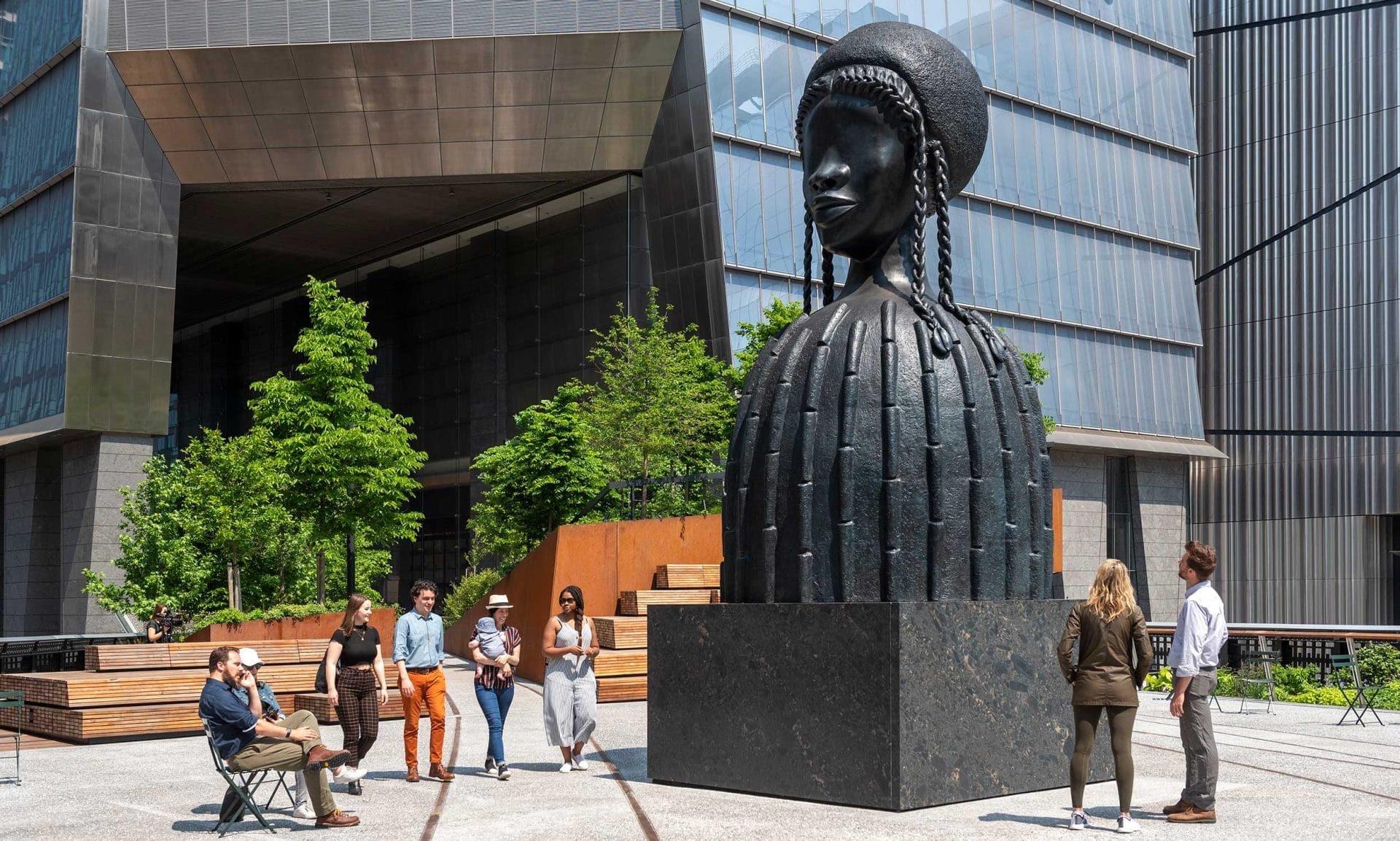 Plinth
While walking the trail, you'll likely notice things that'll differ from your typical walking trail experience. In typical Manhattan fashion, this urban trail is filled with art, culture and even food. A prominent feature along the High Line is its position as a sculpture park. The High Line is adorned with multiple commissioned sculptures. This section of the High Line is called Plinth, a landmark destination that has hosted public art commissions since 2019. Here, you can view large sculptures like the upcoming "Untitled (Drone)" by Sam Durant. If you visited anywhere between June 2019 and May 2021, you likely saw Simone Leigh's famous "Brick House" sculpture. No matter when you're visiting the High Line, you'll always witness breathtaking art from talented artists.
Alongside the sculptures on the High Line, there are plenty of performing arts performances to witness. Check the High Line's website for updates on the next performance at the park.
Food
With all of your walking along the High Line, you're bound to get hungry. Luckily for you, the High Line is lined with a surplus of food options. Food vendors on the High Line include Melt Bakery, La Newyorkina, Hungry Ghost, Berlin Currywurst, Tastalu, L'Arte del Gelato and Hearth on the High Line. For sweets, you'll want to check out Melt Bakery, which serves ice cream sandwiches, La Newyorkina, which serves frozen treats that are perfect in the city heat or L'Arte Gelato, which of course, serves delicious gelato.
If you're looking for cafe-style foods, you'll want to stop by one of the three Hungry Ghosts. This shop sells coffee and baked goods, which is great if you're walking the High Line early. Prefer savory over sweet? Be sure to sit down at Hearth on the High Line for smaller plates and wine with a view of the Hudson River. If you're craving street-style food, Berlin Currywurst is a sure bet to satisfying your German food cravings. Last but certainly not least, Tastalu serves artisanal Italian paninis that are sure to suit all of your meat and cheese needs.
Dining Nearby
Thinking you'll be hungry before or after visiting the park? There are plenty of restaurants near Penn Station that are great dining options. Above the station and next to Madison Square Garden, you'll find the Pennsy Food Hall, which serves food from six different vendors including Sabi Sushi for Japanese food and the Cinnamon Snail for vegan options. Only 10-minutes from the station is the delicious, Madangsui Korean BBQ. Here, you can try a variety of dishes that perfectly incorporate a combination of sweet and spicy flavors. Another option is the Molly Wee Pub & Restaurant which is only a mere block away from Penn. If you're a fan of Irish food and culture, you'll want to check out this restaurant and pub.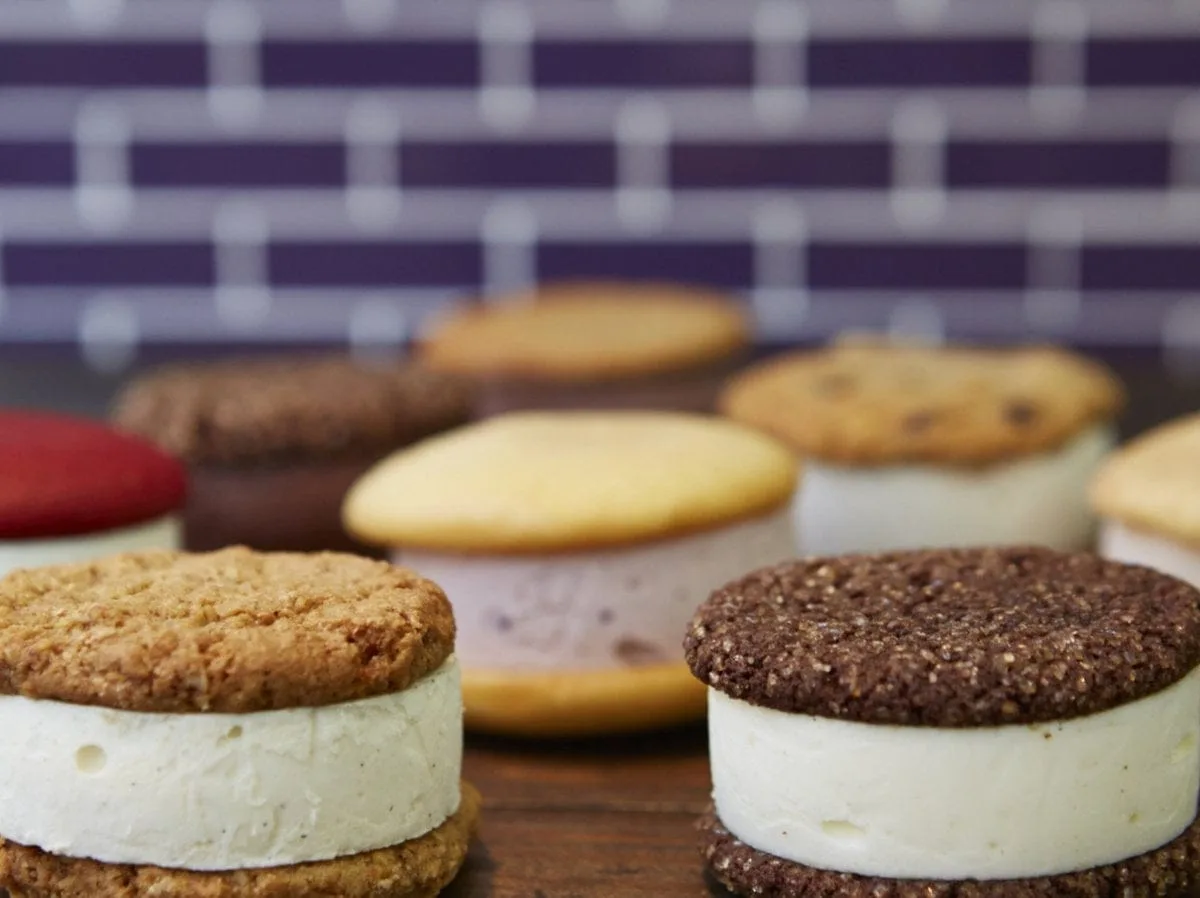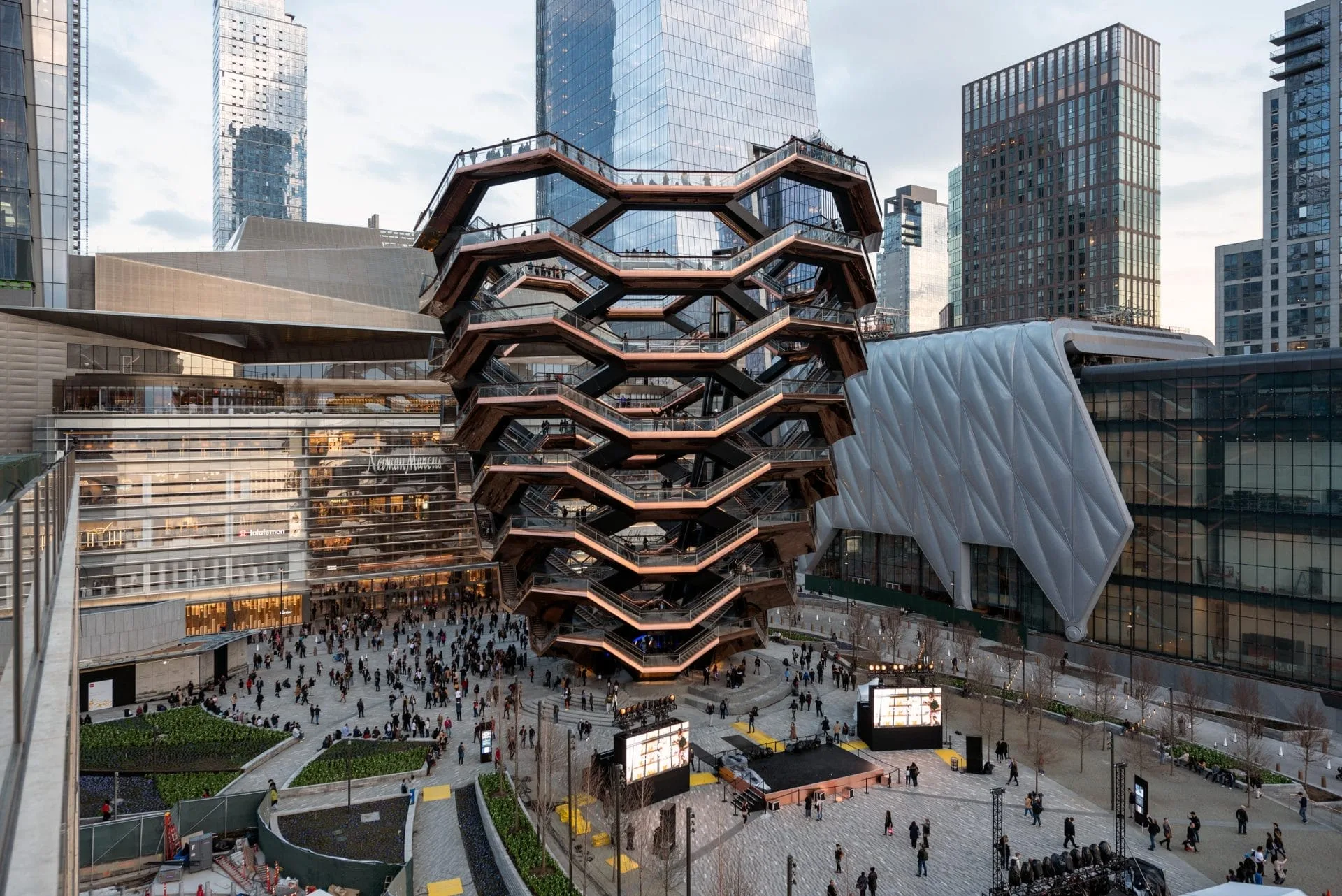 Things to Do Along the Way
If you're visiting the city and walking the High Line, you may be wondering what else there is to do nearby. Luckily for you, the High Line has plenty of attractions and things to do along the way. One of the most popular attractions near the park is Hudson Yards, the home of the Vessel, Edge and multiple shops. The Vessel at Hudson Yards is a major attraction for visitors, towering over the city. When you climb to the top of this honeycomb-style structure, you'll experience the art of the sculpture you're standing on as well as the art of the city skyline and the Hudson River. Aside from the Vessel, Edge is a great attraction as well. This feature of Hudson Yards allows you to stand on the edge of Manhattan, overseeing the skyline ahead. With windows surrounding you, it'll truly seem like you're standing on the edge. Also at Hudson Yards is several restaurants and shops.
Looking to do some more shopping? The park passes by Chelsea Market, which boasts a surplus of restaurants and shops as well.
Moving forward you'll find the Whitney Museum of American Art, which hosts a plethora of art exhibitions and events. The art museum features artwork from more than 100 artists, including work from the famous Jackson Pollock and Andy Warhol.
Take Amtrak to the High Line
Experience the High Line via Amtrak to Moynihan Train Hall—Don't forget to use the New York By Rail 15% discount! From there, the High Line is a 10-minute, half-mile walk, or take the E or C trains downtown on a 13-minute subway ride.
More to do in New York City