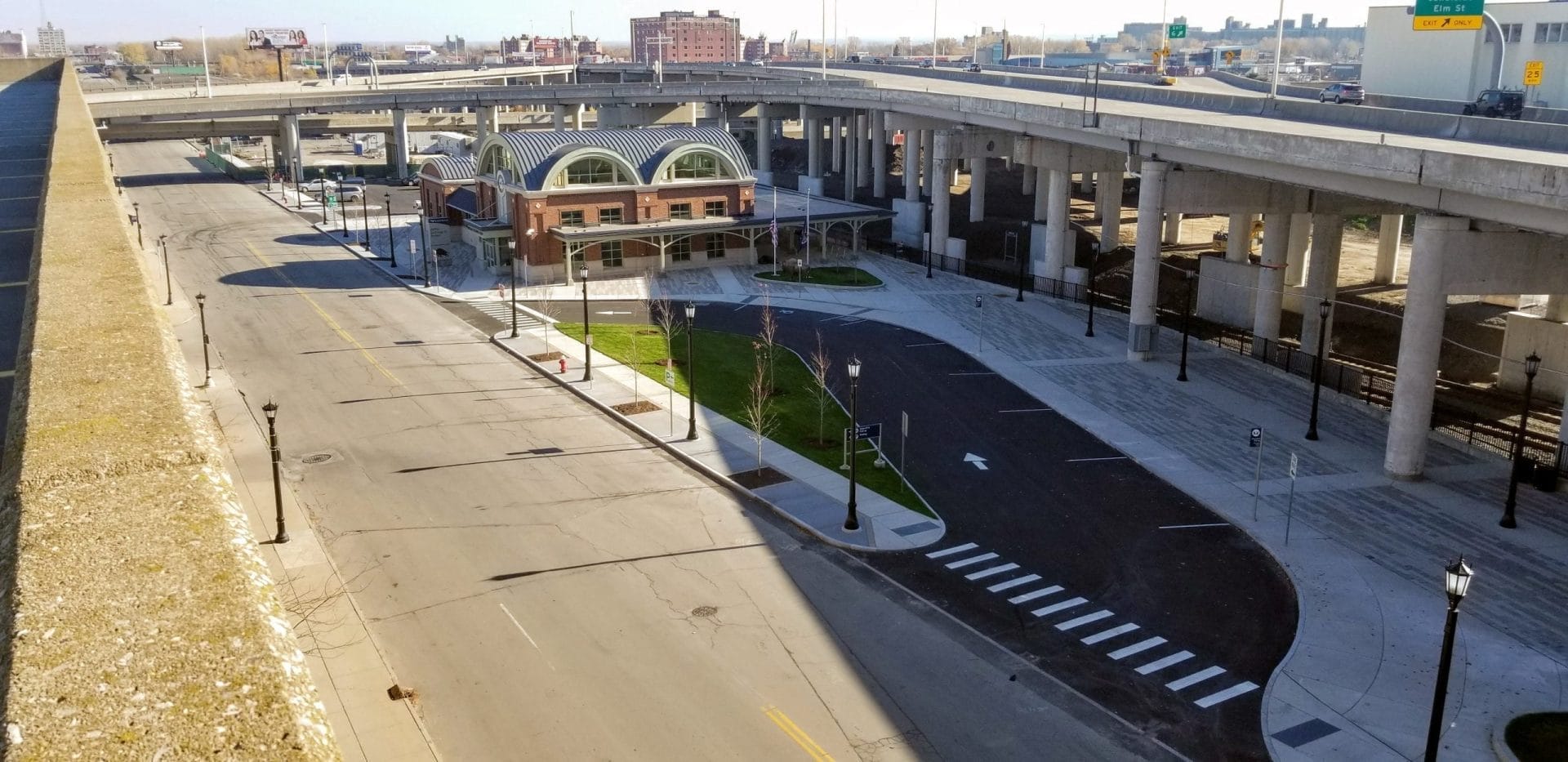 The newly renovated Buffalo-Exchange Street station, double the size of its predecessor, is now open for business! The Exchange Street stop, originally built in the 1840s, has been servicing Amtrak passengers and providing transportation in and out of Buffalo for over almost two centuries. Just walking distance from Canalside, the KeyBank Center, Sahlen Field-home of the Buffalo Bisons– and other local attractions, this historic depot serves as a crossroads for the downtown area and Western New York region.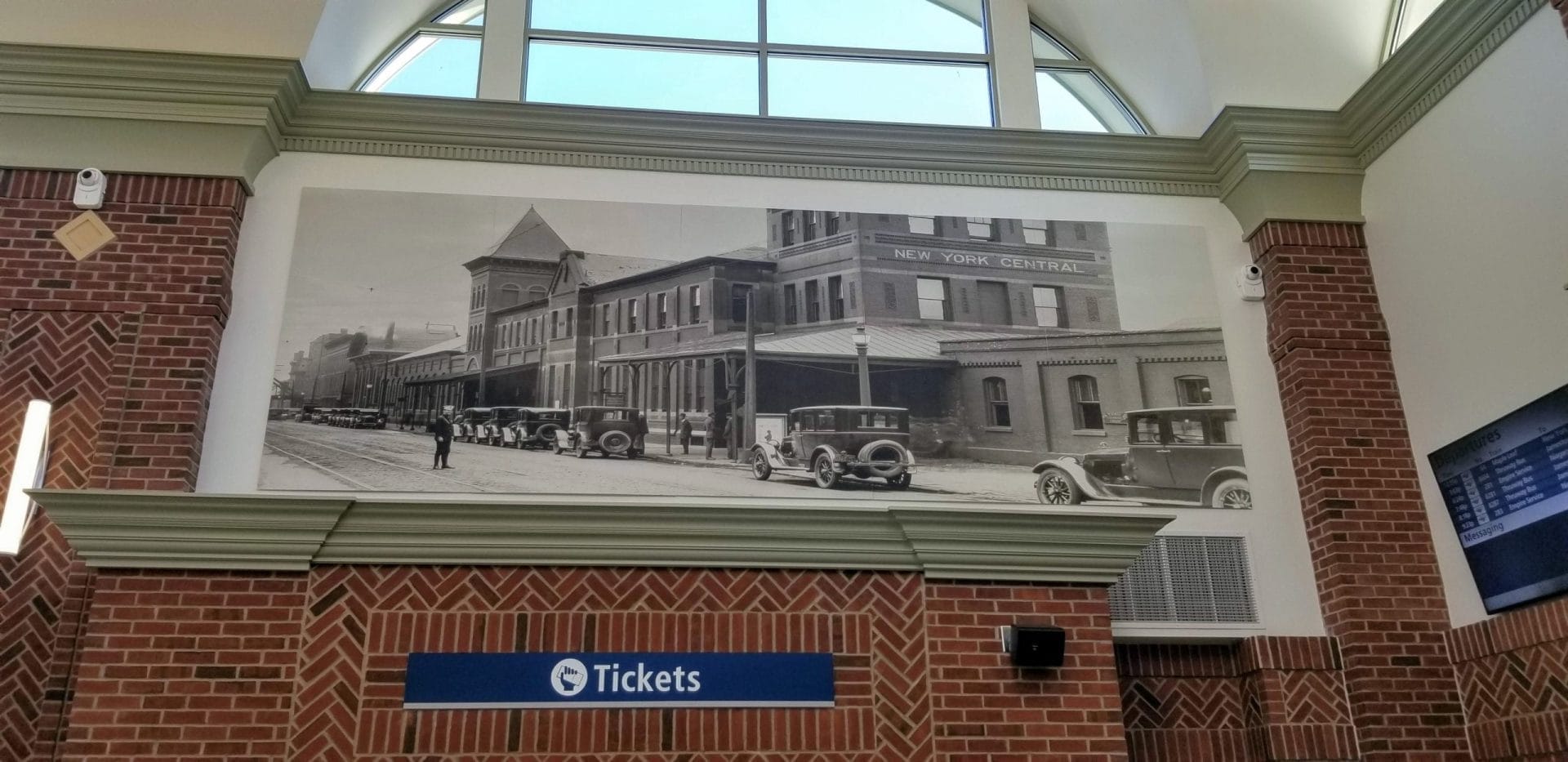 Buffalo-Exchange Street's History
Built in 1848, Exchange Street initially hosted two main train stations: Buffalo Central Terminal, (BCT) until 1929, and New York Central Railroad, (NYC) until the 1960s. In 1952, a new depot aimed at fixing congestion issues was built as a secondary station to BCT, but due to problems with the railroad, NYC eventually ended operations with the Niagara Falls service. In 1978, a new building was opened by Amtrak to return passenger train service to Niagara, soon restoring the station to its former reputation and popular status. Over the years, this train station faced numerous add-ons, closures, and foundational changes. As a result of its long history, the neglected building was in need of some serious renovations and was eventually demolished in 2019. However, due to its prime location downtown, this dilapidated, yet central, train station proved to be pivotal for the city's tourism and transportation. The New York State Department of Transportation assumed control of the restoration project and major construction for an updated and modern Exchange Street station was quickly underway.  
The Project Commences
With a budget of 27.7 million dollars, the city of Buffalo shut down the approximately 60-year-old Amtrak Station and began working on building a more energy efficient and environmentally-friendly depot that would be sustainable, as well as picturesque. A temporary station was erected in 2019 to service its 38,000 passengers per year until construction was completed. The once outdated and crumbling Buffalo-Exchange Street train station now serves as the city's main center for travel, as well as a beacon of hope in light of the COVID-19 pandemic. Not only was this project a testament to the determination and resilience of the city, it also showed that Buffalo knows how to get things done. Finished on time and on budget, this rail station serves as a reminder that even during this nationwide health crisis, New York can still rebuild and make necessary changes.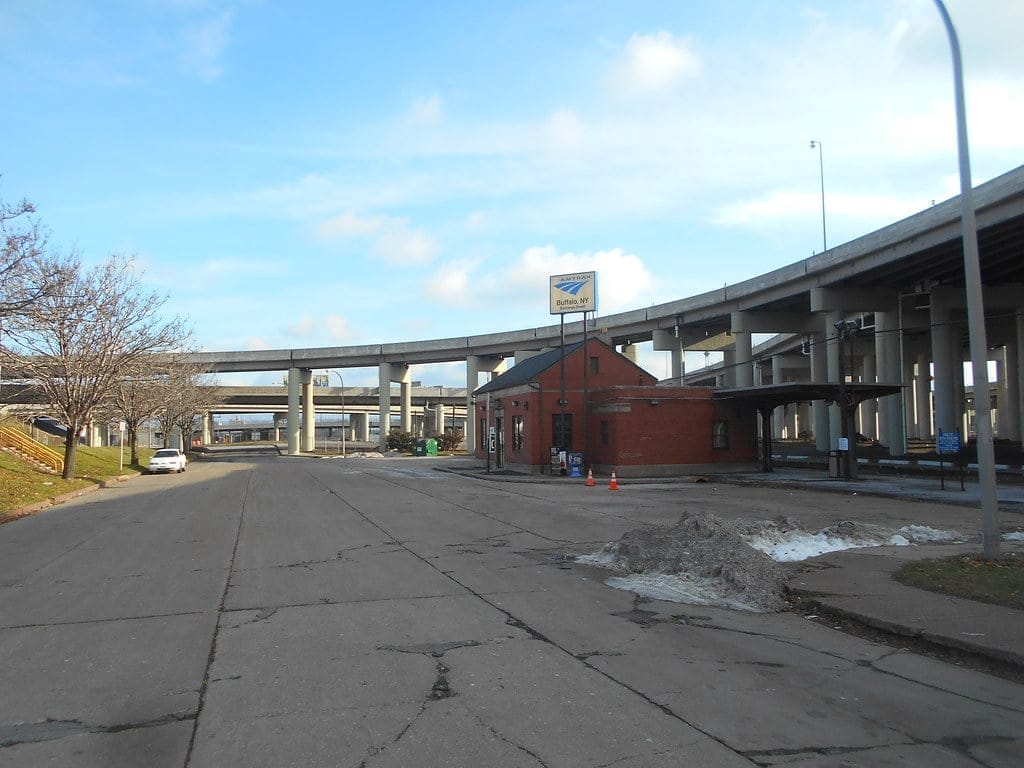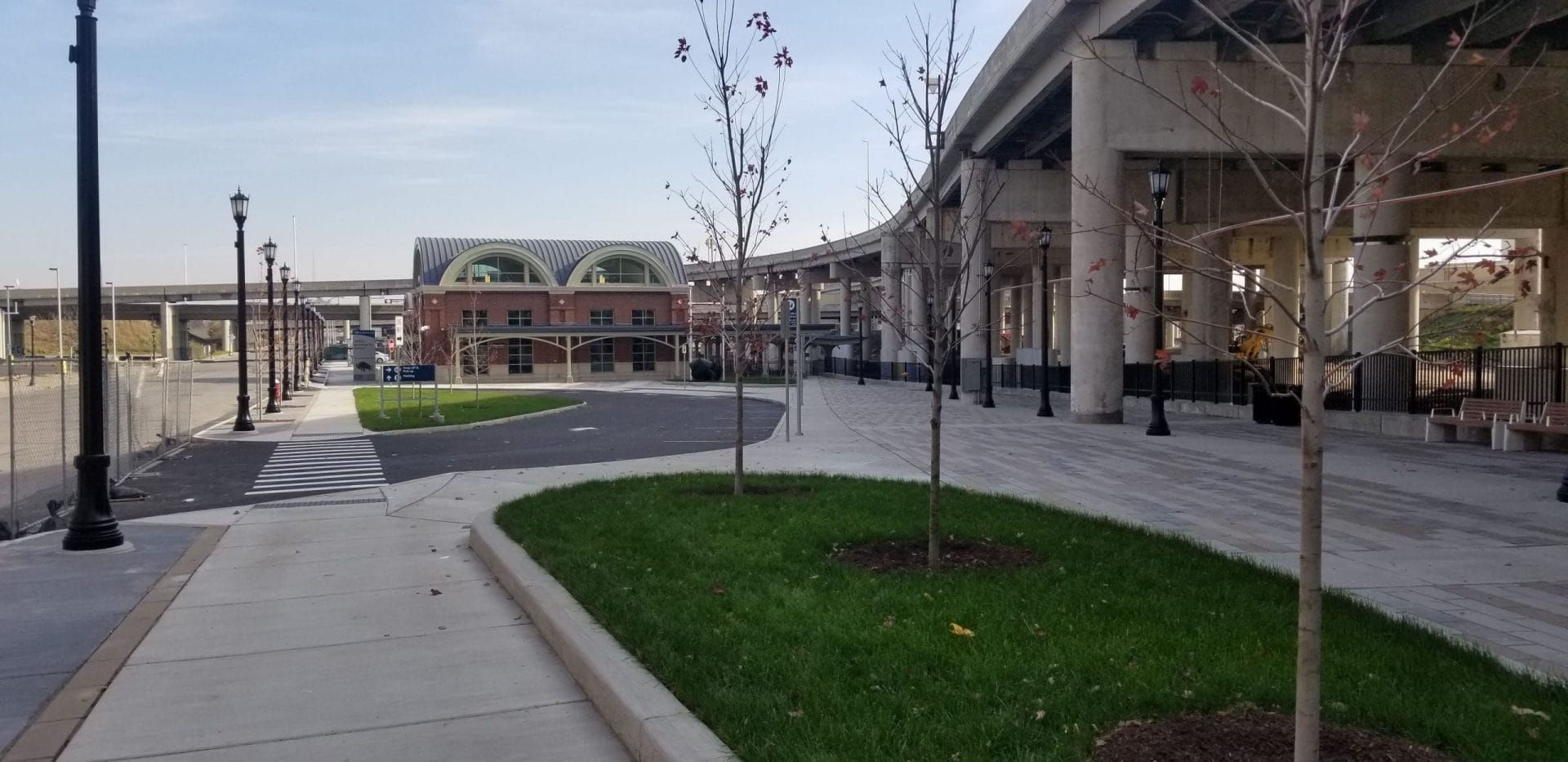 What's New
Despite community disagreements to move the new building to the popular outdoor location, Canalside, or the beloved Buffalo Central Terminal, the recently restored Buffalo-Exchange Street station (BFX) still stands in the same place as the previous building. The modern, 4,800 square-foot station was elevated and edged closer to Exchange Street for easier access and better visibility. Along with extra parking and pedestrian and cyclist improvements, this station was also built to accommodate future expansions of intercity bus service and additional train routes. These adjustments were added to ensure greater connectivity and convenience for traveling within and outside the Buffalo region; thus, increasing tourism and citywide economic gain. With the completion of the new and improved 2020 Exchange Street station in November, the city of Buffalo finally has a welcoming transportation terminal equal in strength and image to the already vibrant downtown area.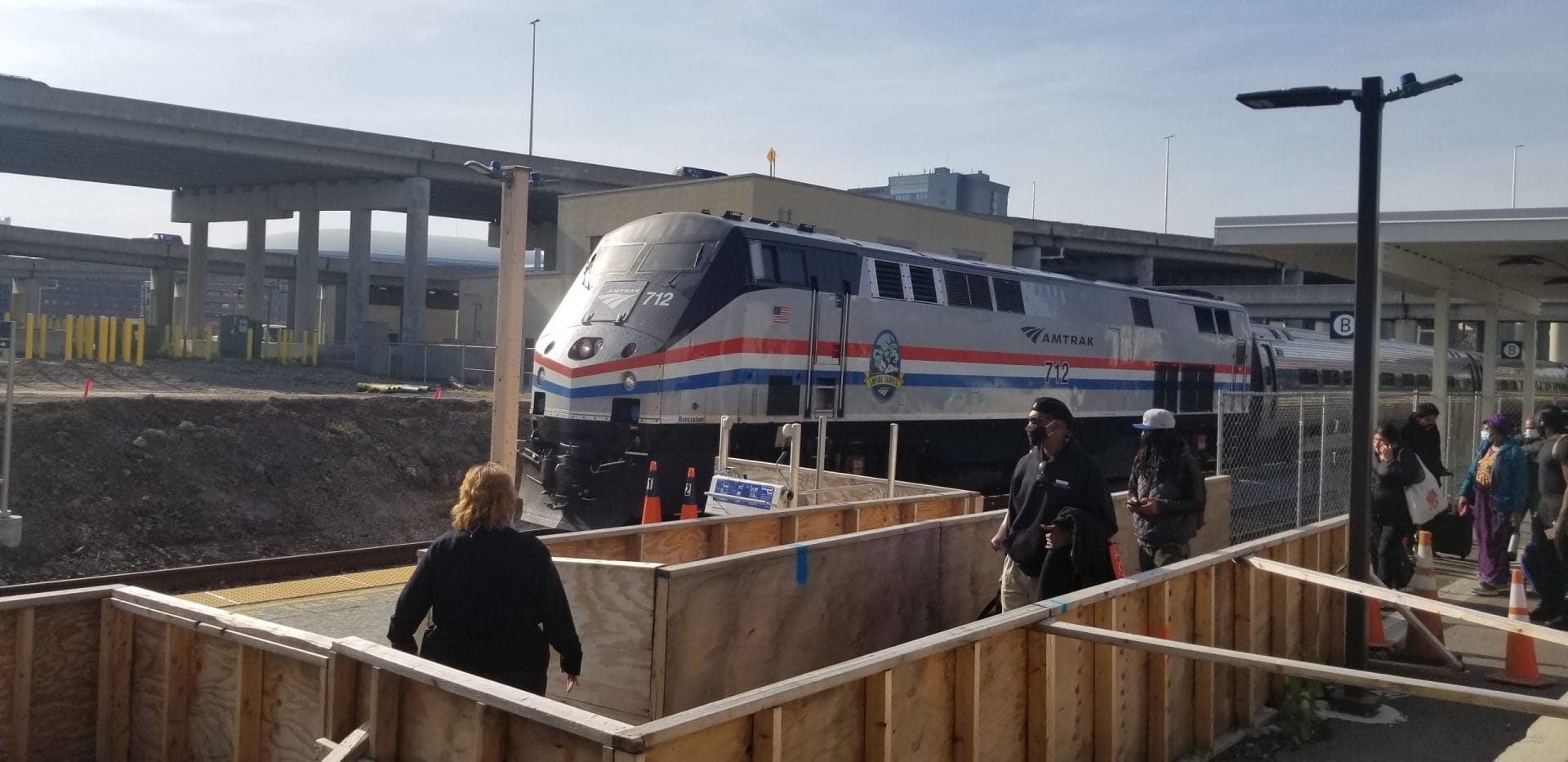 Aside from the economic and citywide benefits of the latest reconstruction, there have also been various upgrades to the station's architectural design, interior set-up, and outside accommodations for improved passenger experience. Visitors can walk in through the main entrance of the two-story brick building under a large clock, where they have access to a passenger waiting room, ticket office, and restrooms. The building's larger size eliminates congestion issues and allows for more seating, with a capacity of over 40 seats. Additional parking and a more clearly designated drop-off and pickup area have also been sectioned off for better ease of access. Approaching and leaving the train platform, passengers are now covered by a lit, overhead canopy to protect riders from inclement weather and increase visibility. The old platforms were replaced, as well, and redesigned to be longer and level with the train for easier boarding and exiting.  
Another new installment of the Exchange Street station aimed at bettering overall passenger experience is the Taste NY food and beverage kiosk, located on the main level. This specialty kiosk, which fuses both New York culture and travel, gives passengers a taste of the Buffalo region, while promoting the support of small businesses and local agriculture. Various New York-made products, such as pastries, sandwiches and coffee, will be sold at this kiosk on weekdays in November from 7 a.m. to 1 p.m. and 6 p.m. to 9 p.m. The Buffalo-Exchange Street's Taste NY menu is currently growing and new products are set to be added over the next few months.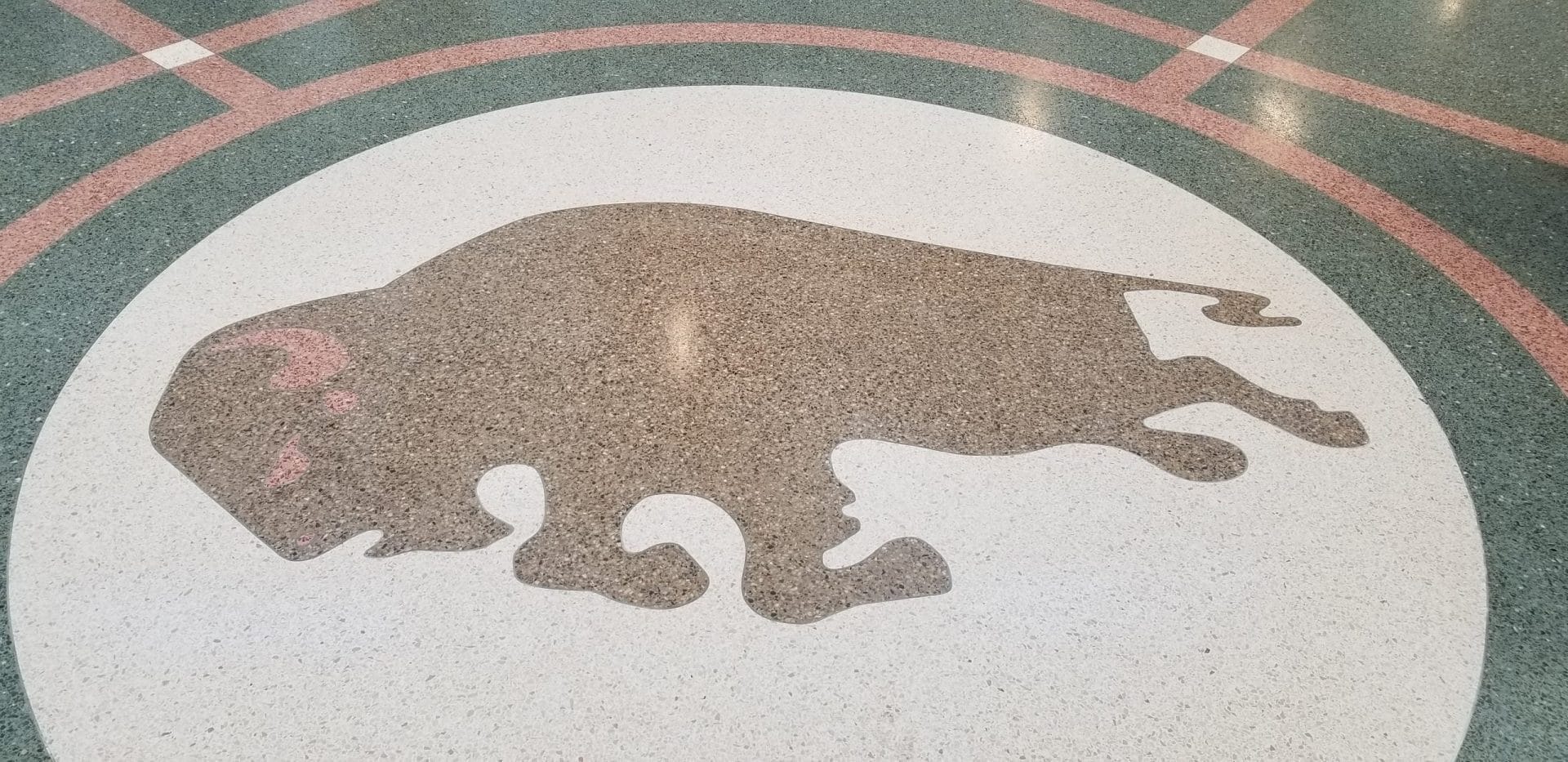 The opening of this widely anticipated train station, along with its latest additions, marks an exciting new era of tourism and travel for the Buffalo community and West New York region. Rich with local history, famous landmarks like Silo City, and breathtaking waterfront views, downtown Buffalo is no stranger to visitors-most of which flock to the city from BFX. Whether you're looking for an informative tour of Buffalo's historic grain silos, a minor league baseball game at Sahlen Field or an ice-skating rink four times the size of Rockefeller Center's at Canalside, this downtown area has it all and more! 
Explore the Area
There are several travel-worthy destinations reachable from Buffalo-Exchange Street-one being Canalside. This recently revived Lake Erie terminus and waterfront attraction is conveniently located just 1.3 miles from the newly renovated station and seated at the edge of the city on the river. The Ice at Canalside, one of downtown Buffalo's most popular attractions, offers a variety of cold weather events each winter season including, but not limited to: ice-skating, ice bikes, ice bumper cars and curling. Skate rentals and training sessions are available onsite and admission prices for the general public vary. Canalside, and its proximity to BFX, is just one of the many sought out attractions in downtown Buffalo that make the city so inviting and traveler-friendly. 
Other attractions include the Penn Dixie Fossil Park and Nature Reserve, where guests have the opportunity to find – and keep – fossils left over from an ancient undersea environment that existed 380 million years ago. Or, if you want a closer look at the Buffalo River, hop on a tour for a scenic, yet educational experience. Another great place to learn more about Buffalo's history is at its very own city hall, which also offers tours.
You don't need to worry about finding a good bite to eat on your trip to Buffalo either. One of the best options is exploring the Buffalo Wing Trail, as Buffalo is home to the famous and delicious Buffalo style chicken wings. On the trail, you can get your dozen wings at more than a dozen different restaurants, pubs and bars. If you're looking for another option during your trip, try the unconventional and Tokyo-inspired Misuta Chows.
As the downtown area and its waterfront developments continue to grow and attract more visitors from in and around the state, it was only fitting that its transportation system received a modern makeover to keep up with the times. Between this transit center's vital improvements and its central location, travelers won't want to miss the restored Buffalo-Exchange Street station and all its exciting features. Come visit Buffalo today and see all that this bustling city and its brand-new transportation hub has to offer!