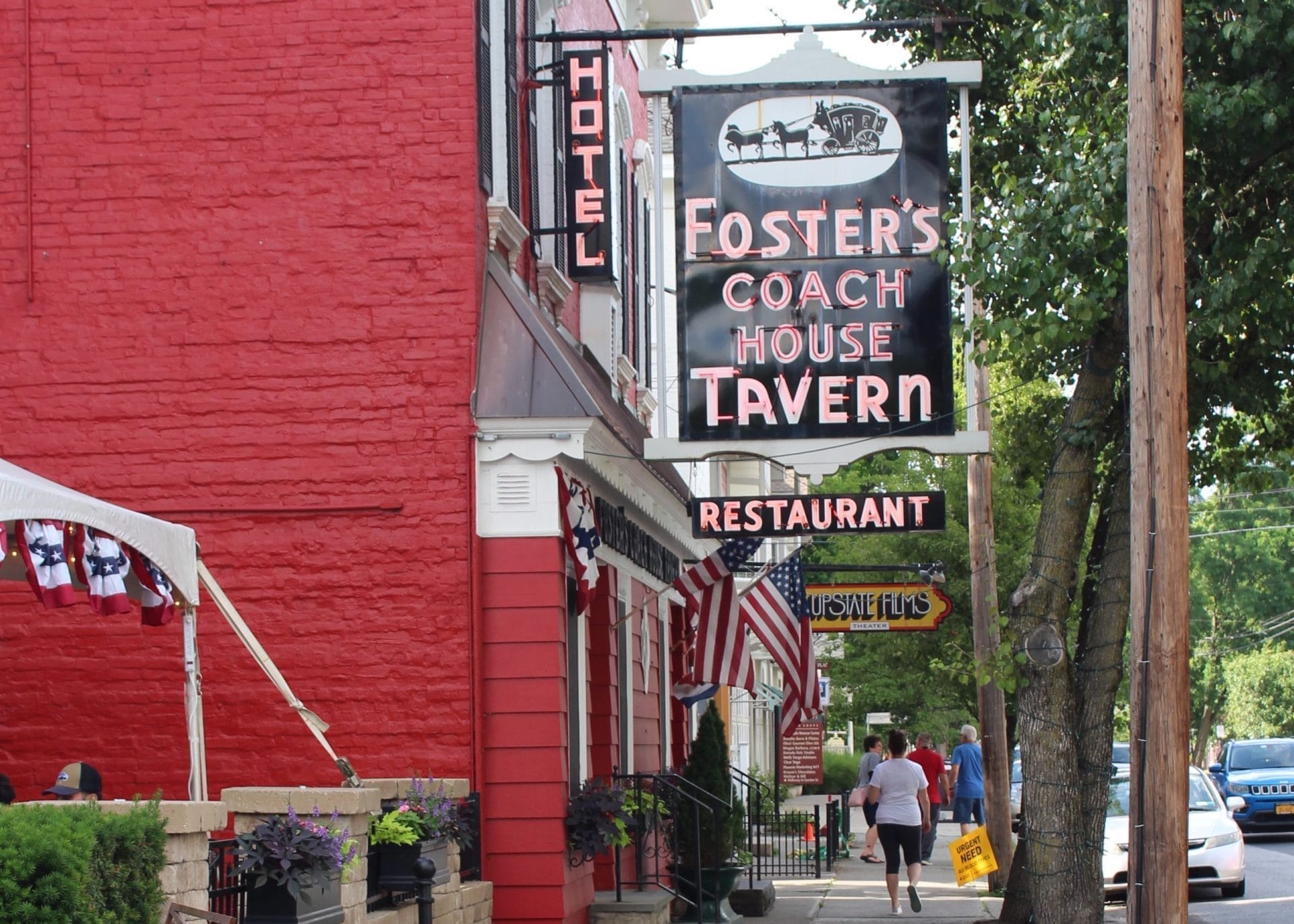 Upstate adventures are a breath of fresh air, especially for those coming from the hustle and bustle of New York City. It is the perfect opportunity to catch your breath and unwind. Let Rhinebeck be that place for you. 
After a quick hour and a half ride from Penn Station, the train doors slide open at Rhinecliff Station, located along the Hudson River, just minutes away from Rhinebeck by taxi. As you enjoy the quick ride on quaint, upstate roads, you're already beginning your getaway at a slower pace. 
Arriving in Rhinebeck, visitors experience a village full of spirit, activity and excitement. It is a quintessential Hudson Valley small town, where the streets are lined with restaurants, boutiques, culture, historic flare and beautiful scenery.
The town dates back to 1688, making Rhinebeck one of New York's earliest towns. In the late 19th and early 20th centuries, agriculture thrived and Rhinebeck became known as the "violet capital of the world."
The name "Rhinebeck" has several supposed origins, one of which says "beck" came from Henry Beekman, a prominent landowner at the time.
Additionally, there are over 400 registered landmarks in Rhinebeck and half of the Hudson River National Historic Landmark District, a sixteen mile area, traverses Rhinebeck.
The surrounding area offers a wide range of side trip opportunities. Head over to the Culinary Institute of America in Hyde Park or plan a trip to Milea Estate Vineyards in Staatsburg.
To see more historical sites, visit Olana State Historic Site in Hudson or stroll along the Walkway Over the Hudson in Poughkeepsie.
Rhinebeck and it's outskirts offers everything you need for a country getaway.
Whether you are headed to the Beekman Arms, America's oldest inn; the brand new Mirbeau Inn and Spa; or a charming bed and breakfast, you are in for a treat. After unpacking your bags, enjoy a stroll across the walkable town to start exploring. Did you know Rhinebeck dates back to 1688, making it one of New York's earliest towns? It is both rich in history, with over 400 registers historic landmarks, and it is always adding things that are new and lovely. 
Consider staying at the nearby Hotel Tivoli to see the surrounding area, or settle in at the newly renovated Rhinebeck Motel for a convenient stay.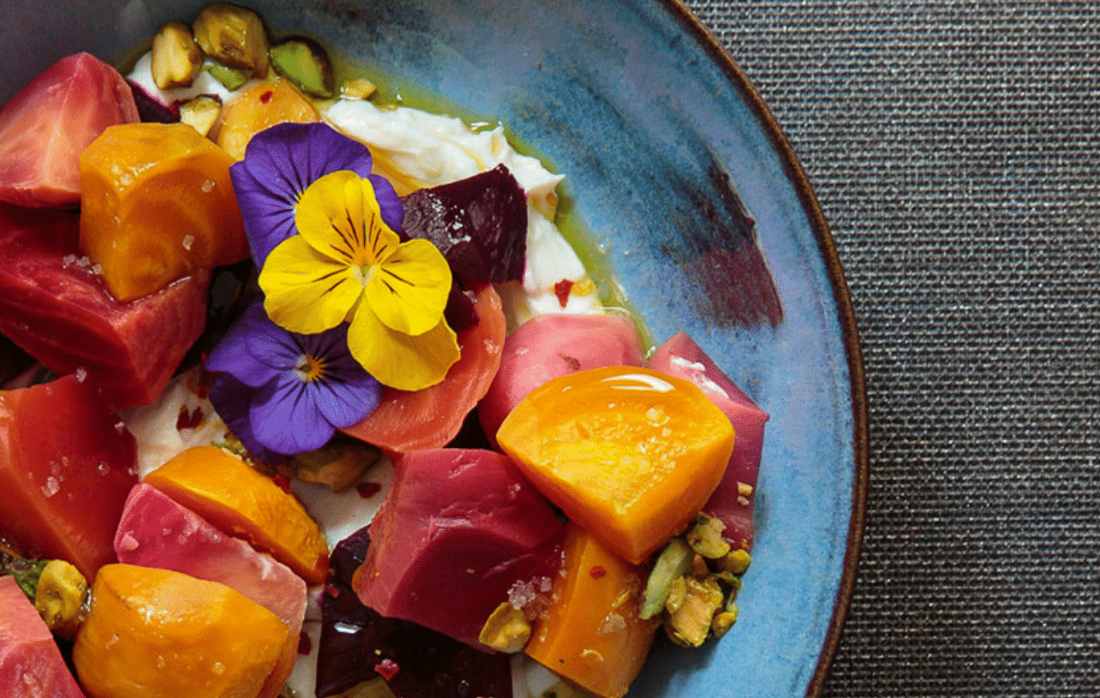 Come hungry! Along Montgomery and East and West Market Streets, you can find restaurants like the Italian-style Pizzeria Posto, local favorite Terrapin, old-style dining at Foster's Coach House Tavern and innovative eats at Bia Rhinebeck. 
The new Milea Estate Vineyard is an ideal destination for wine-lovers, with unique views and scenic landscapes across the 98-acre property. The Vineyard produces crisp, balanced, approachable wines. Visit the tasting room and see for yourself. 
Stick around on Sunday for the Farmers' Market that offers a variety of goods from several local farms. 
Not only are there good eats but also good boutique shopping. Stop in at Rhinebeck Department Store, Winter Sun & Summer Moon, Hammertown, Paper Trail or Oblong Books and Music. Warren Kitchen & Cutlery is a one-stop destination for food enthusiasts to purchase the best kitchenware. 
Rhinebeck has many opportunities to focus on your health and wellness. After all, you are probably upstate to destress and enjoy time away from routine life. The Omega Institute focuses on connecting with your spiritual side to provide hope and healing for individuals. Izlind also provides a place to engage your body, mind and spirit. The new Mirbeau Inn and Spa offers relaxing massages, organic facials, biotech technology, body treatments, hand and foot therapy and more. The meditation pool and fireplace, oversized whirlpool with a private bar and menu, eucalyptus-infused steam room and Himalayan Salt sauna will surely leave you feeling renewed and rejuvenated. 
Or head to the great outdoors if that is your preferred way to relax. Ferncliff Forest provides 200-acres for trekking, mountain biking, skiing and fishing. Climb the fire tower for an unforgettable view, especially at sunset! 
The nearby Dutchess County Fairgrounds hosts a variety of events between May and October, like the popular Hudson Valley Wine and Food Festival, where you can celebrate wine and food with wine seminars, cooking demonstrations and live music. Consider one of Rhinebeck's own events like Porchfest, a day of music and food through the community, or the Sinterklaas Festival, with storytelling, puppetry, a parade and more.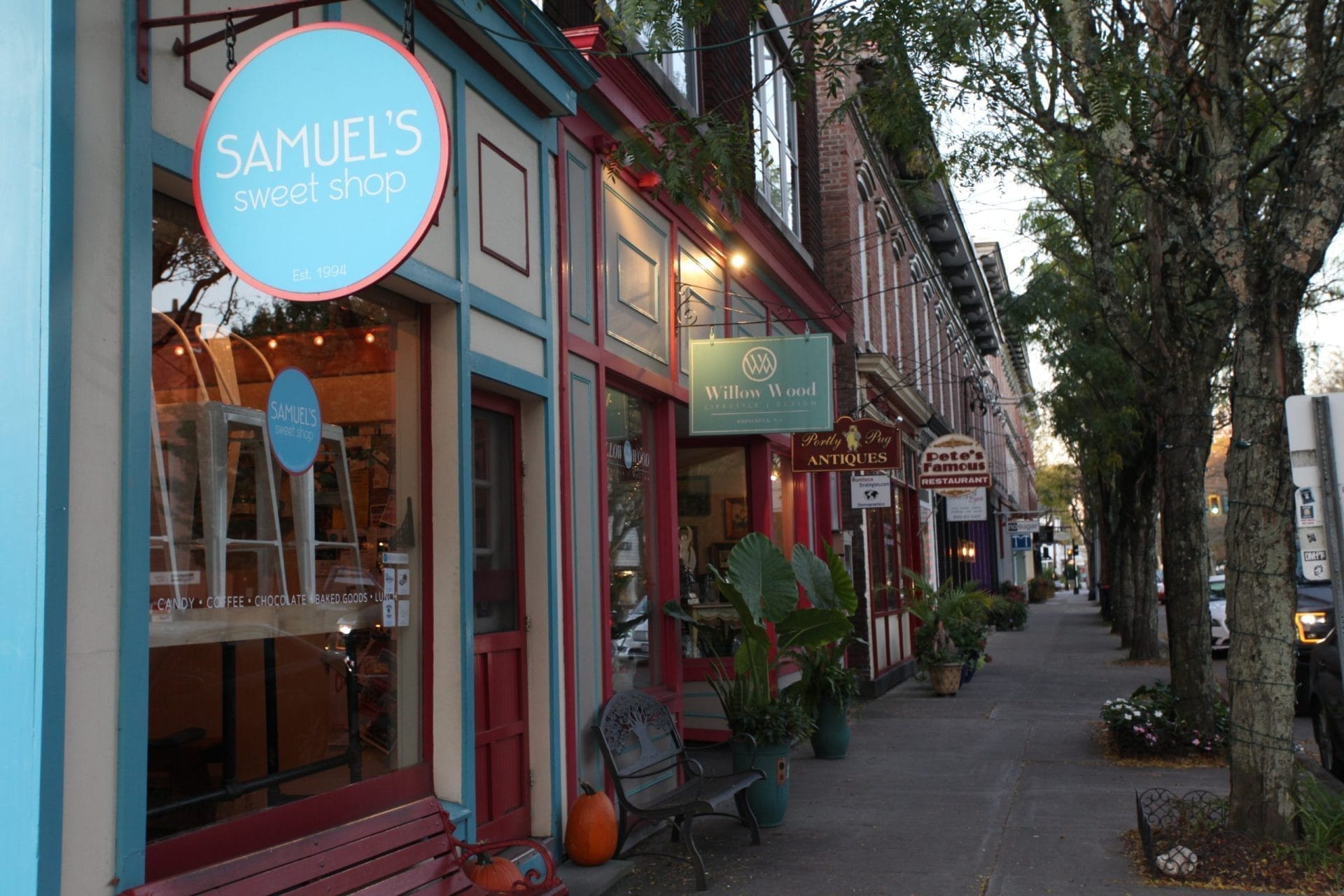 Once you visit Rhinebeck, we know you will want to come back. Rhinebeck is made up of friendly faces and lively energy in a postcard perfect village. 
Make it more than a trip. Give Corcoran Country Living a call, to stay permanently in a new home in Rhinebeck. Everything you want is in one place – open air, mountain views, farmland and more, with Manhattan still within reach via Amtrak.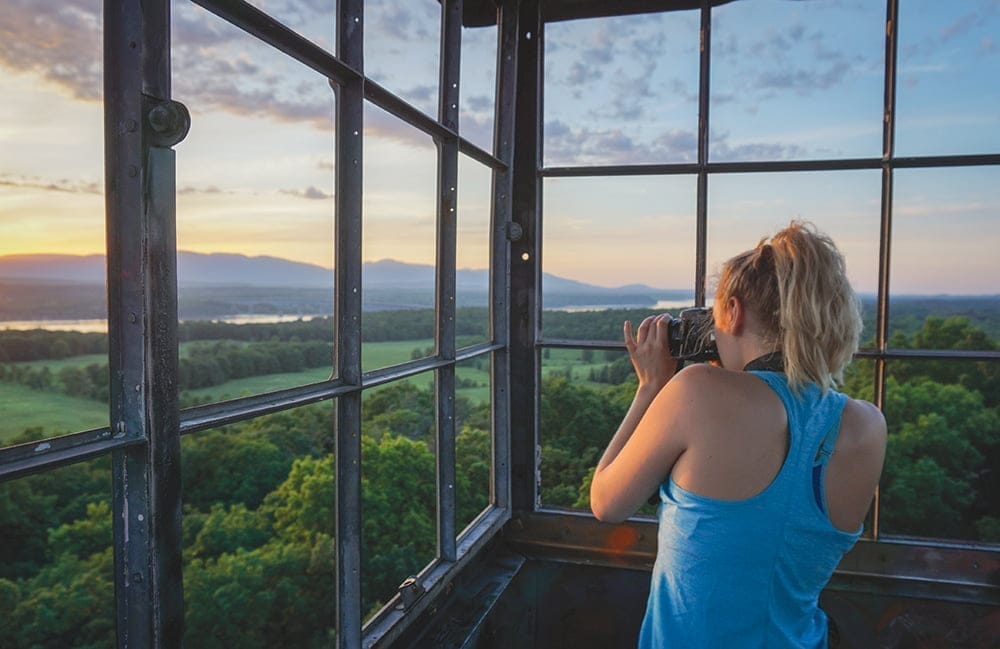 EXPLORE RHINEBECK'S PICTURE–PERFECT OUTDOORS! 
Enjoy the great outdoors in the Hudson Valley, walking, hiking, biking and camping. 
Ferncliff Forest offers 200 acres for skiing and snowshoeing in the winter, and fishing and mountain biking in the summer. Climb the fire tower for unforgettable views. 
Poet's Walk, a quick car ride away from Rhinebeck, celebrates the connection between beautiful landscapes and poetry. 
Mills Norie State Park, a serene, woodland with glimpses of a nearby river, is the perfect place for camping. 
Drayton Grant Park at Burger Hill gives panoramic views of the Berkshires and the Catskills and is ideal for wildlife watching, sledding, cross-country skiing and snowshoeing. 
Wilderstein Historic Site, located on Morton Road, has beautiful walking trails, perfect for history lovers looking to spend time outside. 
Thomas Thompson/Sally Mazzarella Community Park is a perfect spot for children to roam around and enjoy the outdoors. 
Brook n Wood Family Campground is the place to stay for a complete outdoor experience. It's set on 62 lush acres with Dover Kill Creek running through the area. 
The Rhinebeck area has everything you need to forget the city and enjoy the crisp upstate air. Whether you visit in the fall, winter, spring or summer, there is something to enjoy in the great outdoors of Rhinebeck. Pack your hiking boots or running shoes and start your adventure today.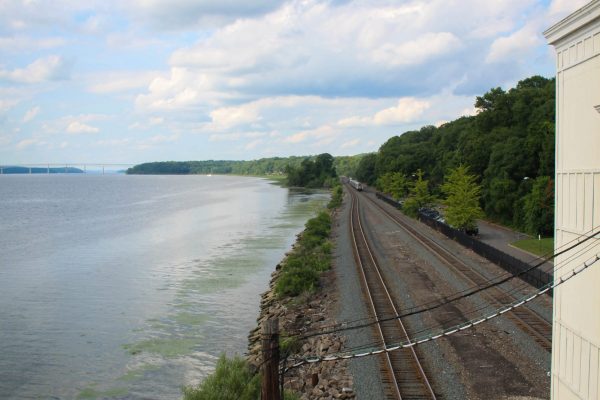 Take Amtrak to Rhinebeck
Experience this unforgettable town via Amtrak to the Rhinecliff-Kingston station in Hudson Valley—Don't forget to use the New York By Rail 15% discount!
Learn More About Rhinebeck
View the Rhinebeck Chamber of Commerce's 2020-2021 destination guide to learn more about Rhinebeck.