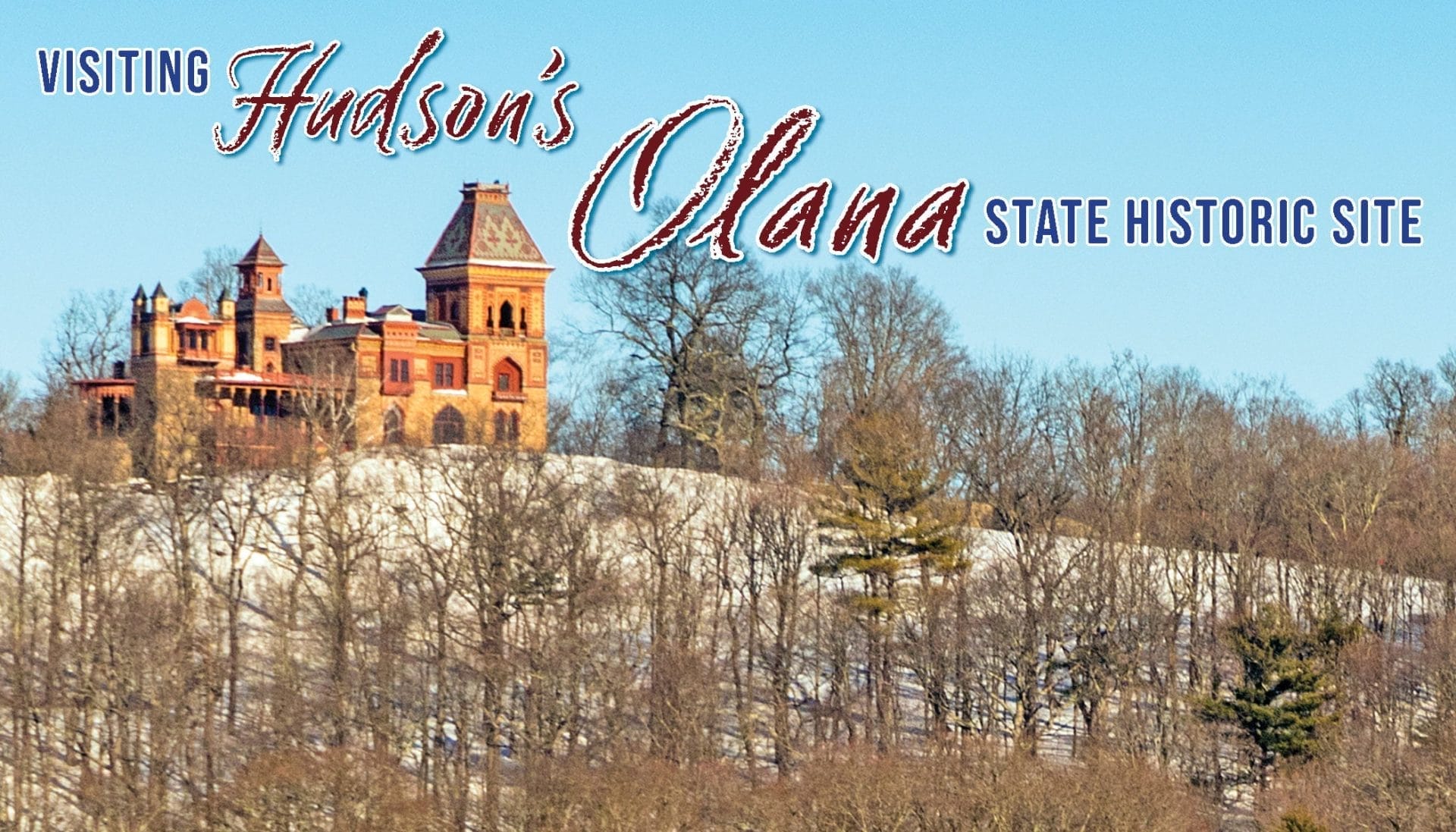 High above the Hudson Valley, in Columbia County, New York, sits a mansion that encapsulates so much of what defines the region, draws people to visit and keeps them here to live.
With commanding views of the Hudson River, Olana State Historic Site is towering in its presence and inspiring with its design. A landmark like no other, a point of reference for an entire region and a compelling destination that offers cause to ponder the majesty of nature, art and history, Olana awaits your arrival. Atop its perch, looking out on the Hudson River and Catskill Mountains, one almost feels as though you have been invited to join in on a collective exhale.
Located in Hudson, New York, about an eight-minute drive from the Hudson Amtrak Station in the City of Hudson, Olana is magnetic. You can credit the guy who built it more than a century ago, painter Frederic Church, who is described on olana.org as "a world traveler, a family man, and a self-taught architect, farmer and landscape designer." 
Olana State Historic Site marks the home and studio of Church, who was a painter in the Hudson River School of Art. Encompassing 250 acres with five miles of carriage roads, the grounds of this National Historic Landmark are open year-round with free admission.  
Visitors at the moment are welcome to enjoy hiking, picnicking, snowshoeing, cross-country skiing and guided, outdoor tours. The current featured indoor exhibition, Chasing Icebergs: Art and a Disappearing Landscape, is a collaboration with the New York State Office of Parks, Recreation, and Historic Preservation. On display through March 26, it highlights Church's Arctic iceberg sketches, which he produced after his 1859 voyage to the remote region.
But more about this artist, his home and this destination in a minute.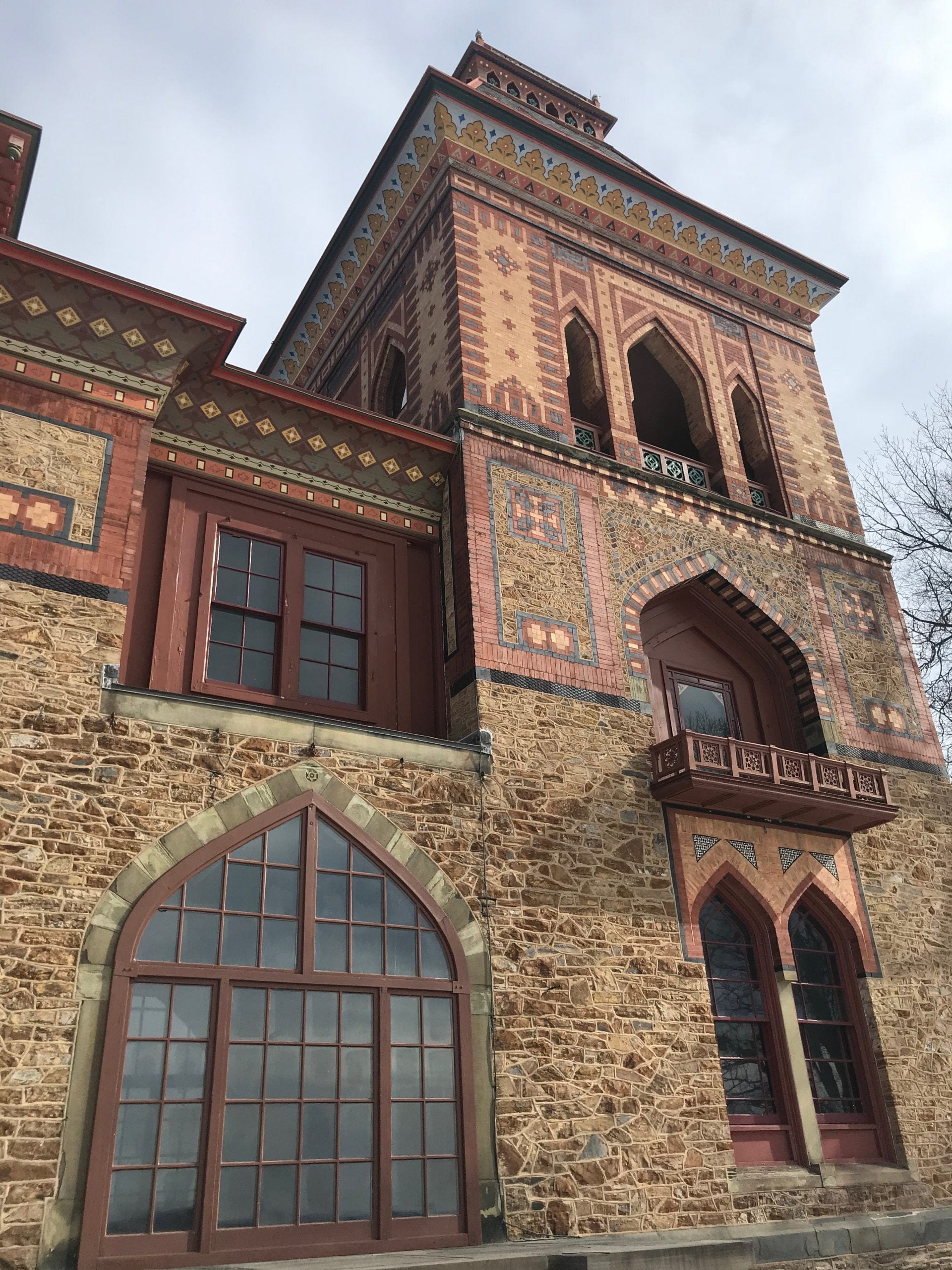 Your visit to Olana begins at the Amtrak Station in Hudson, a municipality that, according to officials, was the first city to be incorporated after the 13 colonies became the United States. 
Situated between the Rhinecliff and Albany-Rensselaer stops, the Hudson Amtrak Station was built for the New York Central Railroad in 1874 and sits on the river shore, within walking distance of the city's downtown.  
That downtown's origins date back to the late 1700s. According to the City of Hudson, that's when owners of whaling ships from outside the Hudson Valley sought a foothold to defend themselves and their industry from a British monarch they believed would not relinquish the colonies.  
"Sailing up the Hudson, they found what they were looking for about a hundred miles north of New York Harbor: a high bluff on the east bank of the river with a natural harbor on either side," reads cityofhudson.org. "They bought the land on the bluff and along the river from Dutch families whose ancestors had purchased it from the Mohicans generations before, and they set about to create there a seaport far from the sea."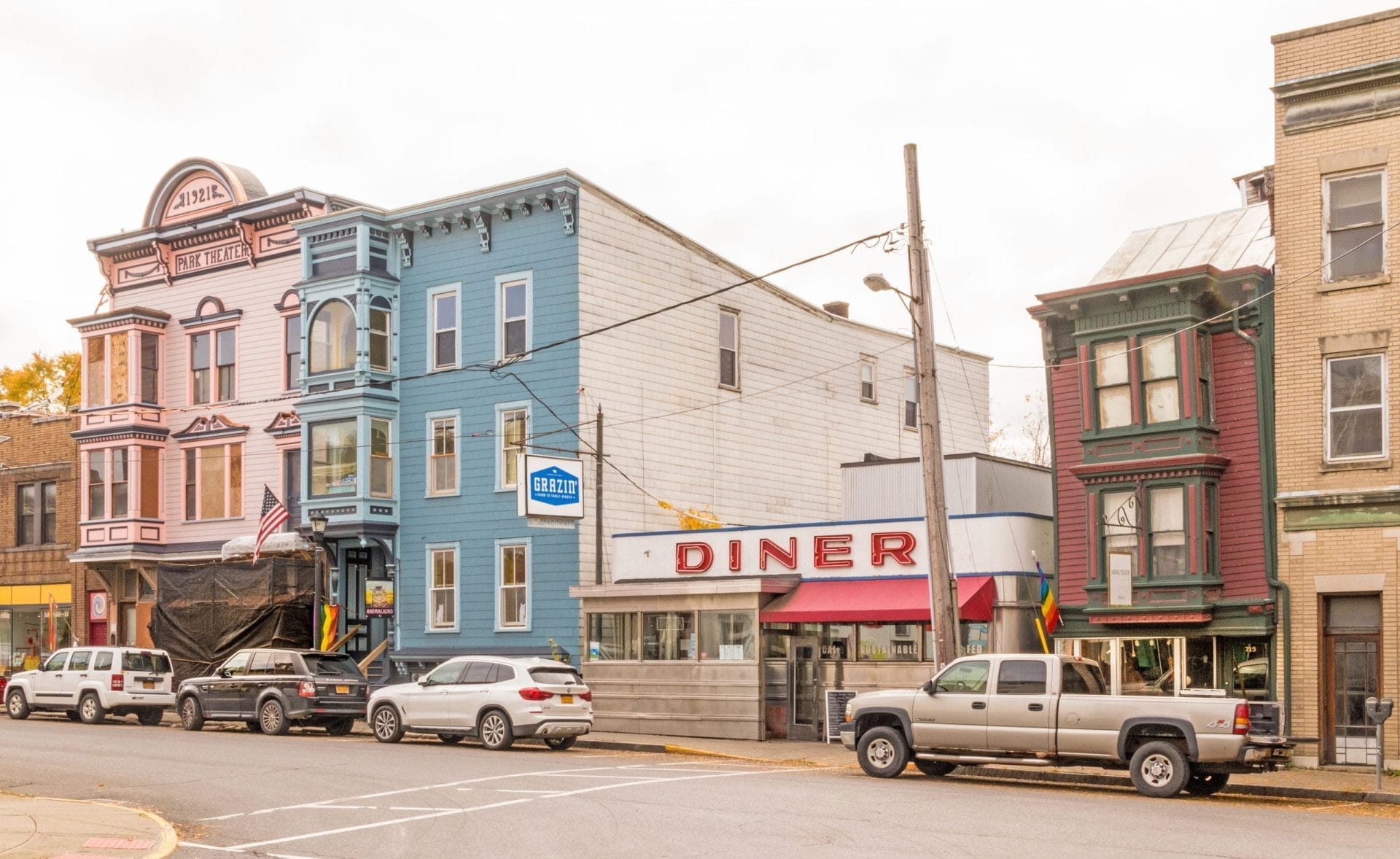 Along with Wm. Farmer and Sons, the cozy Nautical Nest Hotel sits in proximity to Warren Street, Hudson's main boulevard, where you can also grab something to eat.  
And the Grazin' Diner, located in an old classic diner with plenty of charm, bills itself as "the first completely Animal Welfare Approved restaurant in the world." The beef, pork and chicken served at  Grazin' Diner comes from Grazin' Angus Acres, a farm in nearby Ghent run by the diner owners.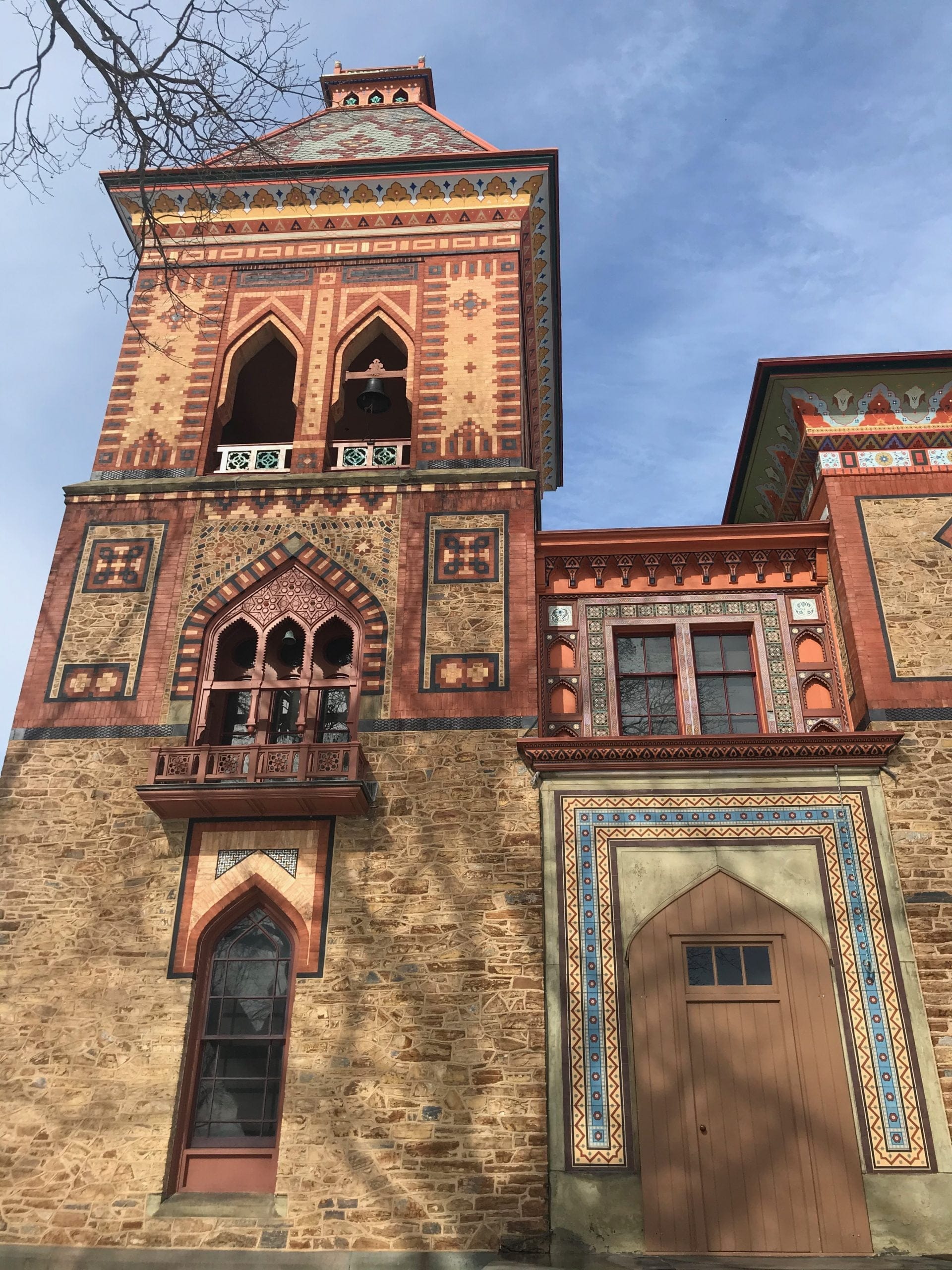 Accessible by rental car and Lyft, the journey to Olana takes you due south of Hudson, down a stretch of Route 9G and up a winding road to the crest of a peak upon which Church's famed mansion sits.  
The son of a silversmith who showed artistic talent early, Church studied with painter Thomas Cole, in Catskill, New York, on the western side of the Hudson River, according to olana.org. Church traveled the country and the world, with stops for painting along the way in Labrador, Canada, and South America. 
He later bought 126 acres of hardscrabble farmland on a south facing hillside, that would become the home for Olana. As a farmer and landscape artist, he planted crops, maintained a dairy herd and built a studio on the highest point of land.  
He and his wife Isabel "were pious, well-read, and fun loving," and they raised their four children on the estate overlooking the Hudson River, according to olana.org.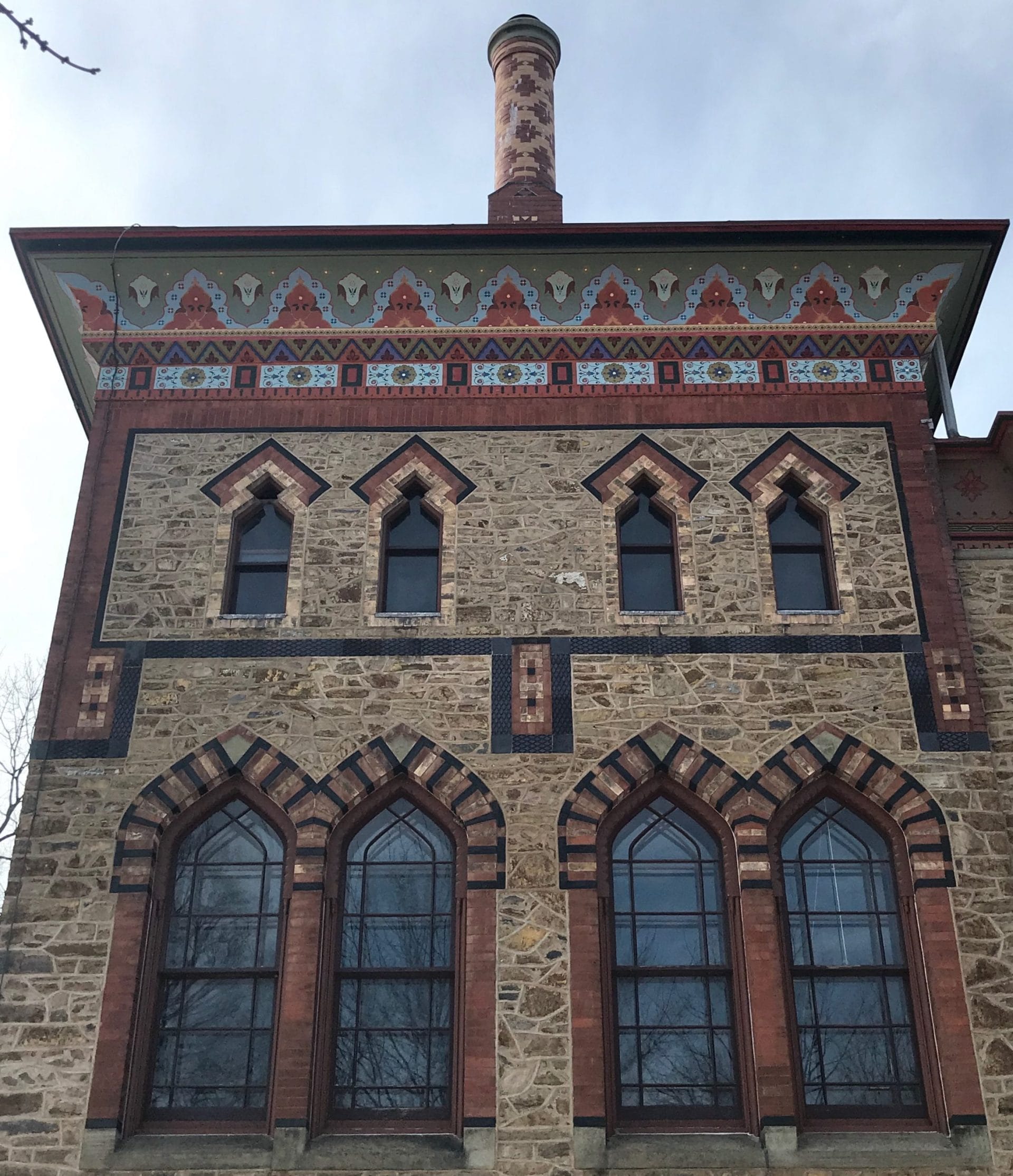 In 1866, Church purchased an additional 18 acres of land atop their hill and plans were put in place for a new house on the site. But a far-reaching journey would come first. In 1867, Frederic and Isabel Church brought their family on an 18-month trip to Europe and the Middle East, taking lengthy stays in Rome, Beirut and Jerusalem along the way. Inspired by the architecture of the Middle East, they returned home and construction began on the main house at Olana.
The structure is a unique mix of architectural elements and Middle-Eastern decorative motifs, according to olana.org. The building is a villa with an asymmetrical massing of towers and block masonry punctuated by fanciful windows and porches. The irregular silhouette of the exterior stands in contrasts with the more regular rhythm of rooms, which are arranged around a central hall. Exterior Middle Eastern motifs are carried out in colored brick, wood, slate, ceramic tile and stenciling. Underscoring everything is Church's vision, which is hard to categorize.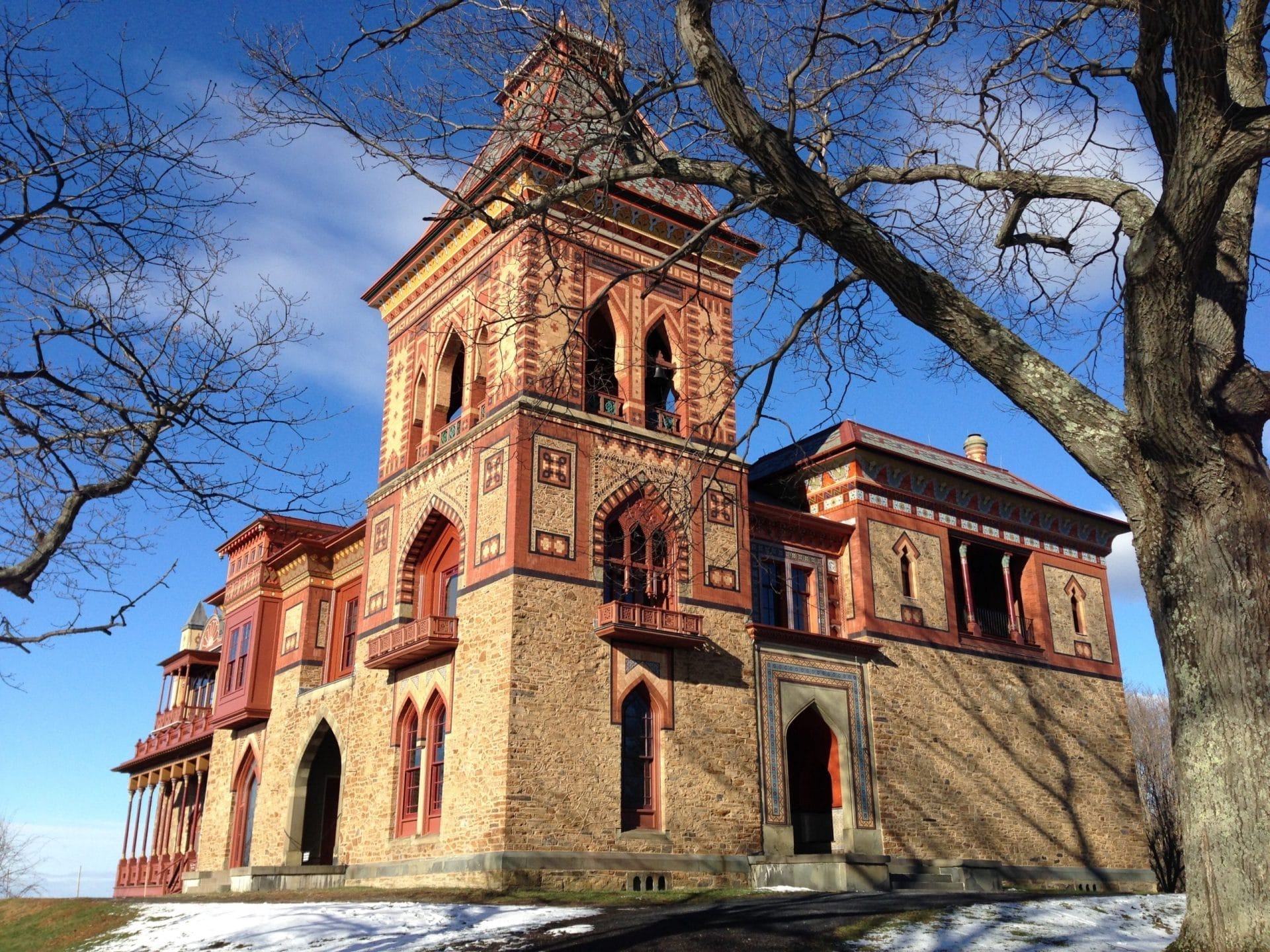 Tours of both the grounds and the Main House are offered.
You can take the Artist-Designed Landscape Tour for either 30 or 60 minutes, as you are introduced to both Olana's grounds, as well as Church's history as both an artist and landscape designer. The tour proceeds in both rain and shine, and appropriate clothing and footwear are recommended. Tickets are $10-12 per adult and free for children under 12 and members.
Inside, take a 45 minute tour of the first floor of the house and step into the shoes of the Church family. Attendees are treated to views of the surrounding Hudson Valley and Catskills, as well as a peek into Church's studio. Tickets are $20 each, with discounts for children, members of the military, and members. 
And finally, as for the previously mentioned Chasing Icebergs exhibit, tickets are available for guided viewing for $10 each. Members and children are free, and veterans receive a 50% discount. This exhibit evokes Church's artistry, including light and color, via the natural beauty of the Arctic North and also demonstrates the work of a voyage that was the first of its kind for an American artist. Work by contemporary artists will also be on display, to reflect on landscape development in both the old and modern era. 
Visit olana.org for information.