Editor's Note: New York by Rail updated this July 2020 blog experience to include current information.
New York State  and Vermont residents, this is where Amtrak enters the picture.
From Amtrak's Moynihan Train Hall in Manhattan to the James M. Jeffords Station in Rutland, Vermont and Exchange Street Station in Buffalo, bird-watching enthusiasts can amplify their immersion in nature by taking the railroad to a range of destinations that offer plenty of options for admiring our feathered friends.
Amtrak's rail line takes you off the road and places you, kind of like a bird, on the less-traveled paths of life, offering singular perspectives on rivers, marshes, forests and fields. In the Empire State, Amtrak passengers between Albany and New York can opt for a seat on the Hudson River side and enjoy exceptionally good odds of spotting bald eagles.
"Watching from the train may be one of the best ways to observe eagles with the least additional stress to the birds," said Lisa Masi, a senior wildlife biologist with the New York State Department of Environmental Conservation in New Paltz.
There are also numerous regional birding "hotspots" in proximity to train stops. Check out these locations to fuse the convenience of train travel with the relaxing, calming and compelling experience of birdwatching.
CENTRAL PARK: Robins & More!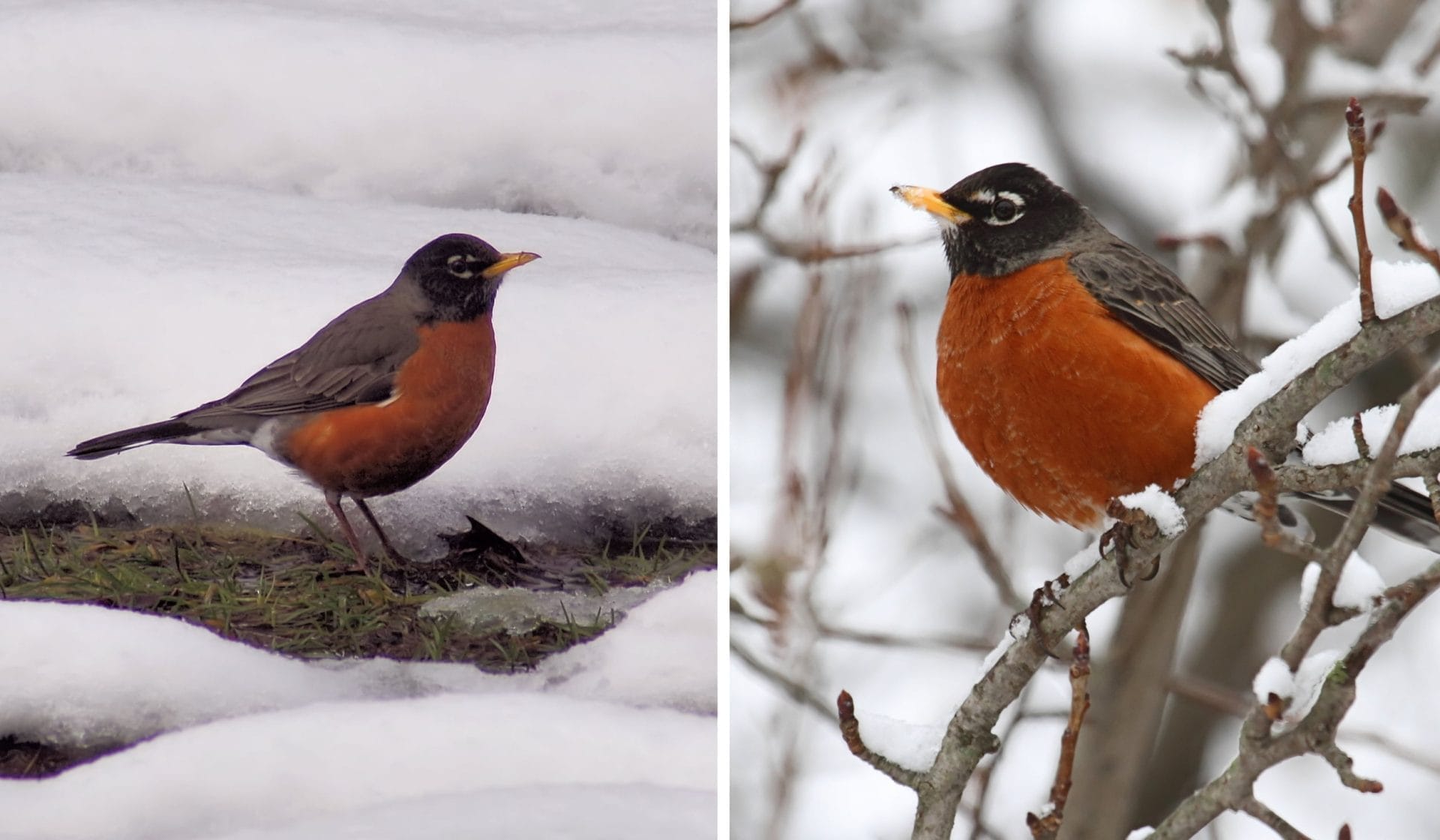 Countless numbers of birds pass through and live in New York City. Birding in the Big Apple is not necessarily a wilderness experience. But nationwide, Central Park can be one of the most fascinating destinations for this endeavor.
Each year, in excess of 200 species of birds occupy one of the world's most famous parks, for various lengths of time. Dedicated birders have recorded more than 100 different species on a single day during annual migrations. This is when common and rare birds utilize the park as they move north and south between nesting and wintering areas. Central Park's woodlands and water bodies appeal to a wide range of feathered visitors.
Summer finds around two dozen species nesting in Central Park. American robins are the most common, but blue jays, Baltimore orioles and northern cardinals also rear young in the park. Summer is considered the "slow season," as many birds escape the heat by moving inland. Spring and fall offer excellent prospects for viewing colorful warblers and majestic waterfowl such as hooded mergansers. Several species of owls are year-round residents while others winter in the park.
Take Amtrak to Central Park
From Moynihan Train Hall, Central Park's best birding is just two miles away. Walk to the park by exiting the station and heading up 8th Avenue. Or hop on the subway and exit at one of several stations along the park in a matter of minutes. The area around Bow Bridge (about a half-mile beyond the edge of the park) offers some of the best birding. Don't forget to use the See New York & Save 15% Discount!
CROTON-HARMON: Horned Owls & More!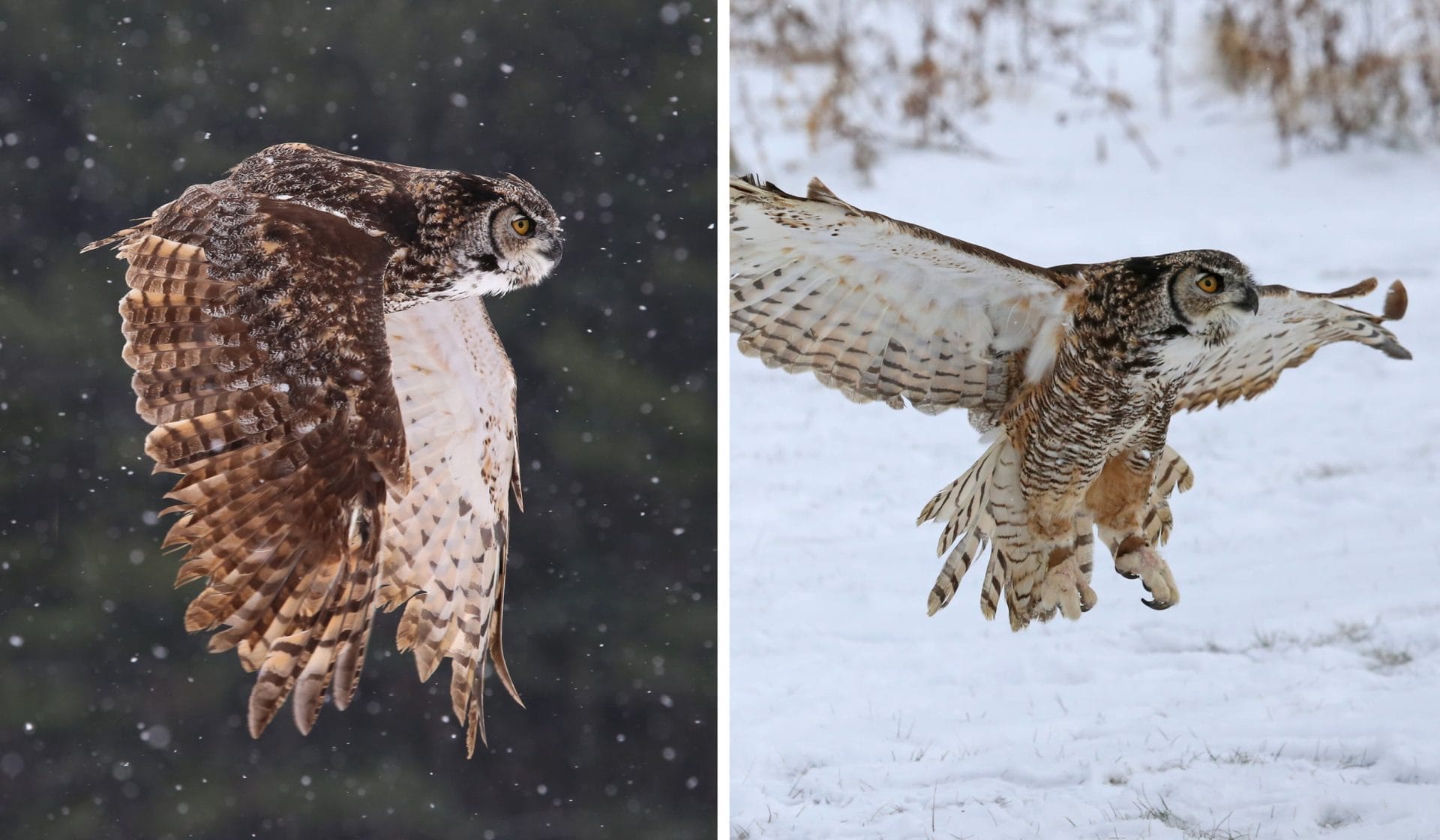 Croton Point Park sits adjacent to the Croton-Harmon Station, and this 504-acre park, on Westchester County's largest peninsula, attracts bald eagles in winter. This park offers sweeping views, north and south, of the Hudson River and surrounding Hudson Valley, is part of the Lower Hudson River Important Bird Area as designated by the National Audubon Society.
Croton Point Pork, according to the National Audubon Society, is "one of the most critical wintering bald eagle sites in the state" and supports about 10 percent of New York's winter bald eagle population. The park is also home to the northern harrier, short-eared owl, grasshopper sparrow and
vesper sparrow.
A major draw for birds is the fact that Croton Point Park is home to a capped landfill, according to the Hudson River Audubon Society of Westchester County. The former repository for waste is now a meadow.
Graff Audubon Sanctuary is located about 10 minutes due north of the Croton-Harmon Station. This bird-watching destination, according to Saw Mill River Audubon, is a protected woodland ridge that overlooks the Hudson River along Furnace Dock Road in the Town of Cortlandt. Great horned owls are among the species of birds that call Graff Audobon Sanctuary home.
Take Amtrak to Croton-Harmon
Amtrak's Croton-Harmon Station sits north of Yonkers and south of Poughkeepsie. From the station, Croton Point Park is located due west, by way of Veterans Plaza and Croton Point Avenue. Just head toward the Hudson River. Graff Audobon Sanctuary is north of Croton-Harmon Station and lies between Route 9 and the Hudson River. Don't forget to use the See New York & Save 15% Discount!
ALBANY: Pileated Woodpeckers & More!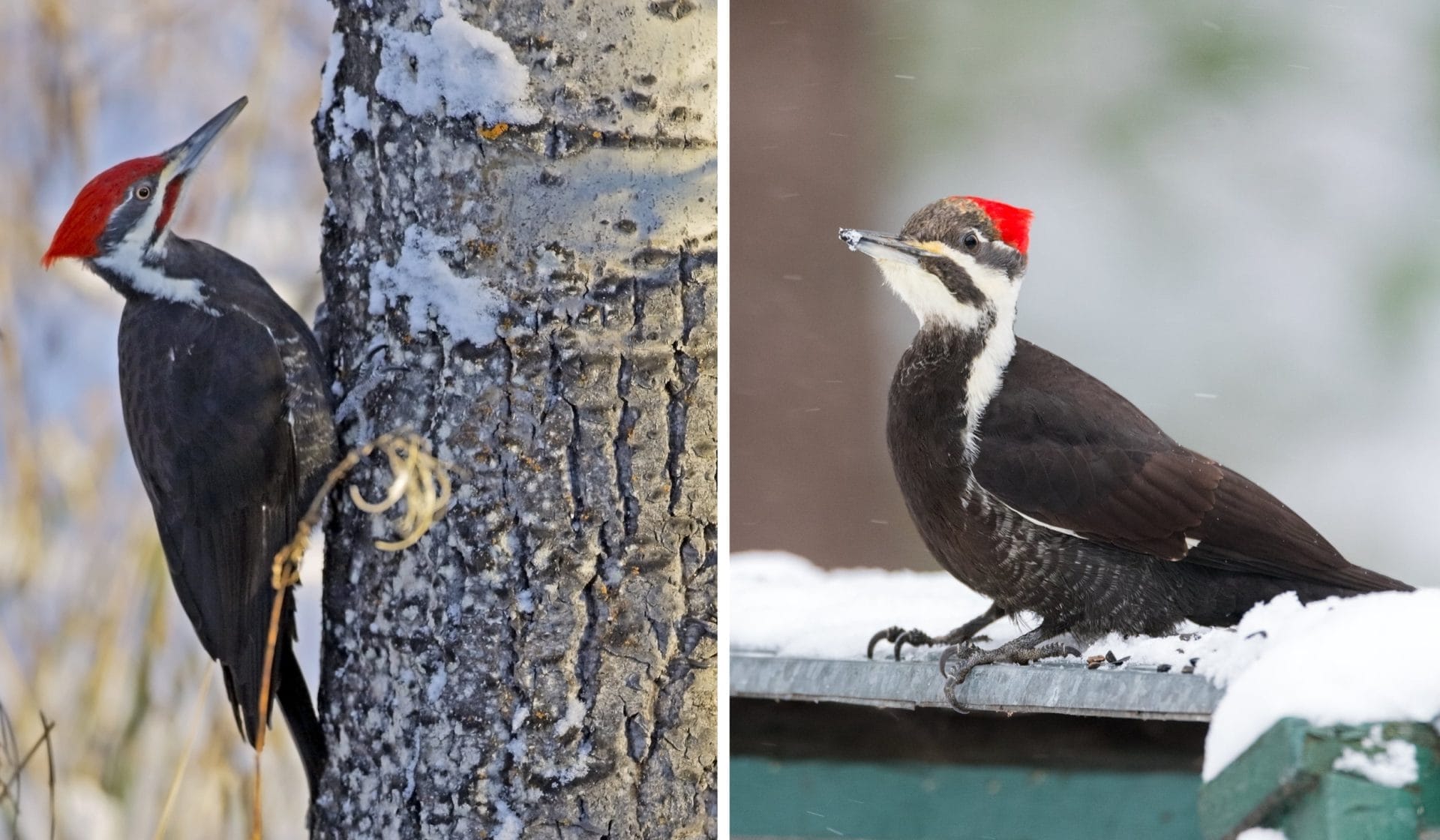 The state capital offers a range of bird watching options, starting with Washington Park, a 10-minute ride from the Amtrak station in Rensselaer.
The 81-acre park created during the late 1800s sits a few blocks away from the capitol and Lark Street. This outdoor destination offers a 2.5-mile looped path that traverses a bridge spanning a lake. Albany.com advises visitors to keep an eye out for wood ducks as they pass over the water. Spring brings with it warblers, vireos and sparrows, among other birds.
The Albany Pine Bush Preserve is a roughly 20-minute drive from Washington Park. It is home to about 18 miles of trails, and it rests on 3,200 acres of wilderness that feature expansive meadows and a discovery center. The Albany Pine Bush Preserve is one of the only 20 inland pine forests left in the world. According to Albany.com, more than 200 bird species have been spotted on the preserve, including prairie warblers, red-tailed hawks and pileated woodpeckers. The Kings Road Barrens Trail and Great Dune Trail offer some of the best spots for bird enthusiasts.
WEST RUTLAND MARSH: Goldfinches & More!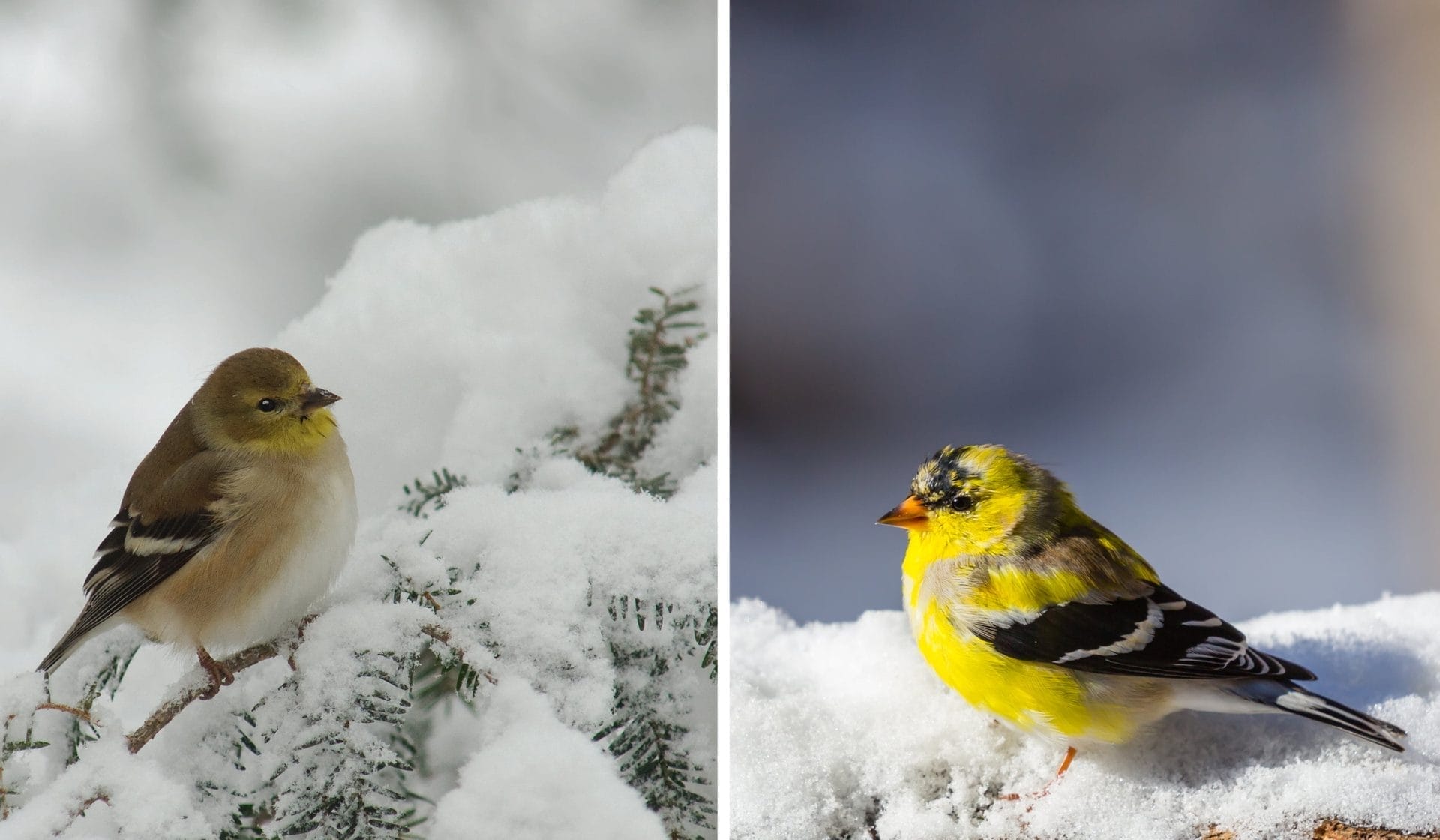 Located just five miles from the Amtrak station, at the terminus of the Ethan Allen Express in West Rutland, Vermont, the West Rutland Marsh is a favorite with local birders. The marsh is designated as an Audubon Important Bird Area for the state of Vermont, and offers an essential habitat for numerous species.
Marsh-loving fliers including American bitterns, sora and Virginia rails and marsh wrens are among the species often spotted during the spring and summer months. The marsh is one of a handful of places in the state where least bitterns can be seen, a prize for sharp-eyed summertime visitors. Waterfowl, such as mallards and Canada geese are present. There are also less common species that include American black ducks and wood ducks.
A number of brilliantly-colored birds call the marsh home in warmer months. A flash of yellow in the shrubbery might indicate an American goldfinch or yellow warbler. Orange feathers among green leaves could belong to a Baltimore oriole. The rat-a-tat-tat of a beak probing for bugs in a dead tree trunk might signal a northern flicker or hairy woodpecker. Willow and least flycatchers reveal themselves to patient observers willing to scan dense cover, along with spritely blue-gray gnatcatchers.
"We see lots of beautiful warblers during the spring," says Kathleen Guinness, President of the Rutland County Audubon Society.
Access to the marsh is easy via a rambling boardwalk and local trails. For bird-lovers with an expansive appetite, the marsh and the city of Rutland offer a convenient southern entryway to the Lake Champlain Birding Trail. That destination offers 88 birding sites along both sides of Lake Champlain in the lovely Champlain Valley.
Take Amtrak to West Rutland Marsh
You can reach the West Rutland Marsh from James M. Jeffords Station (RUD), by heading north on Evelyn Street a short distance to US 4-Business (West Street). Turn left and follow the road about three miles to West Rutland. Veer right onto Pleasant Street for slightly less than a mile, then take a left on Crescent Street. Go a quarter-mile, then turn right on Marble Street. Continue one mile to the entrance of the marsh. Marble Valley Regional Transit provides bus service between Rutland and West Rutland making it possible to walk from West Rutland to the marsh (about a mile). Don't forget to use the See New York & Save 15% Discount!
ONONDAGA LAKE: Bald Eagles & More!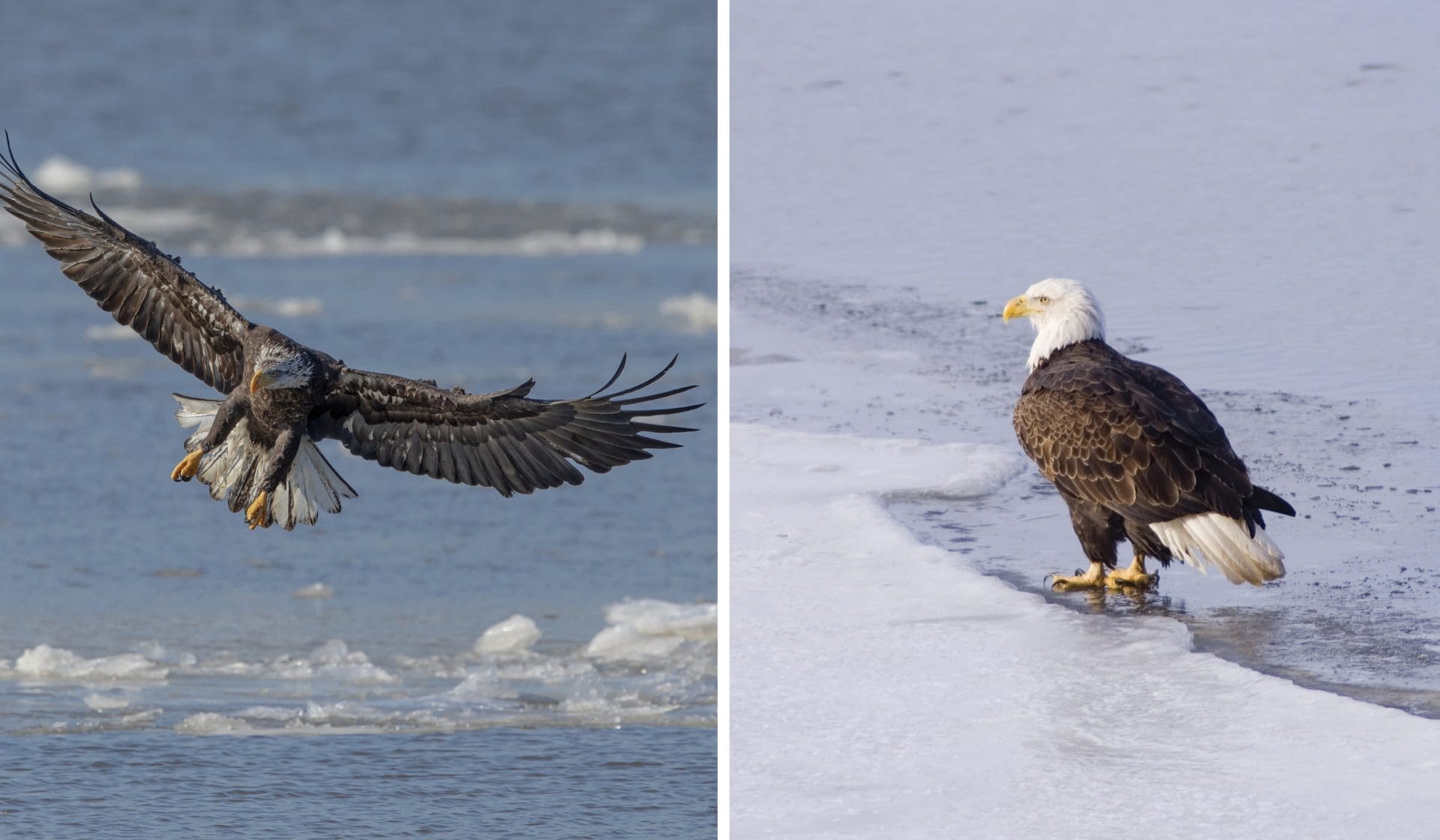 Onondaga Lake in Syracuse is a magnet for bald eagles in the winter. Amtrak's Empire corridor between Syracuse and Rochester offers a view of the southern end of the lake, where eagles congregate in the winter.
"It will be a quick look but you can sometimes see eagles from the train," says Alison Kocek, President of the Onondaga Audubon Society.
Contaminated by decades of industrial and other types of pollution, Onondaga Lake has been the subject of extensive restoration efforts. In 2012, the Onondaga Lake Conservation Corps was established to encourage restoration. The Honeywell Corporation pledged to plant over one million beneficial trees, shrubs and plants throughout the Onondaga Lake watershed. With improving water quality and expanding habitat, birds are returning to this important migration area in expanding numbers.
The eagles are the marquee attraction in the winter. Local photographers and birders look for them roosting in the tall trees on the southern end of the lake or soaring over the water in search of a meal. Treated water from the city's treatment plant is discharged into this section of the lake. This keeps an expanse ice-free in the winter, which is ideal for eagles looking for a fish dinner.
Onondaga Lake is also a superb place to view migrating and wintering waterfowl from fall until spring. Common and red-breasted mergansers, pintails, gadwalls and redheads tend to frequent the lake. Lesser seen species such as ring-necked ducks and pied-billed grebes have also been spotted on the lake. Spring and fall are also excellent times to see migrating songbirds in the trees and shrubbery there.
"There are also a few resident bald eagles outside the winter months," says Kocek.
Take Amtrak to Onondaga Lake
Access to this emerging birding hotspot, from the Amtrak station in Syracuse, is as simple as walking to the Destiny USA mall less than a mile away. That's where you can look for bald eagles in trees across from the parking lot in the winter. You can also take a bus from the mall to Vine and 1st Street, then walk a short distance south of Vine to Onondaga Lake Park during warmer months. Don't forget to use the See New York & Save 15% Discount!
For current information about the lake restoration and habitat improvements for birds: LakeCleanUp.com
TIFFT NATURE PRESERVE: Red-Tailed Hawks & More!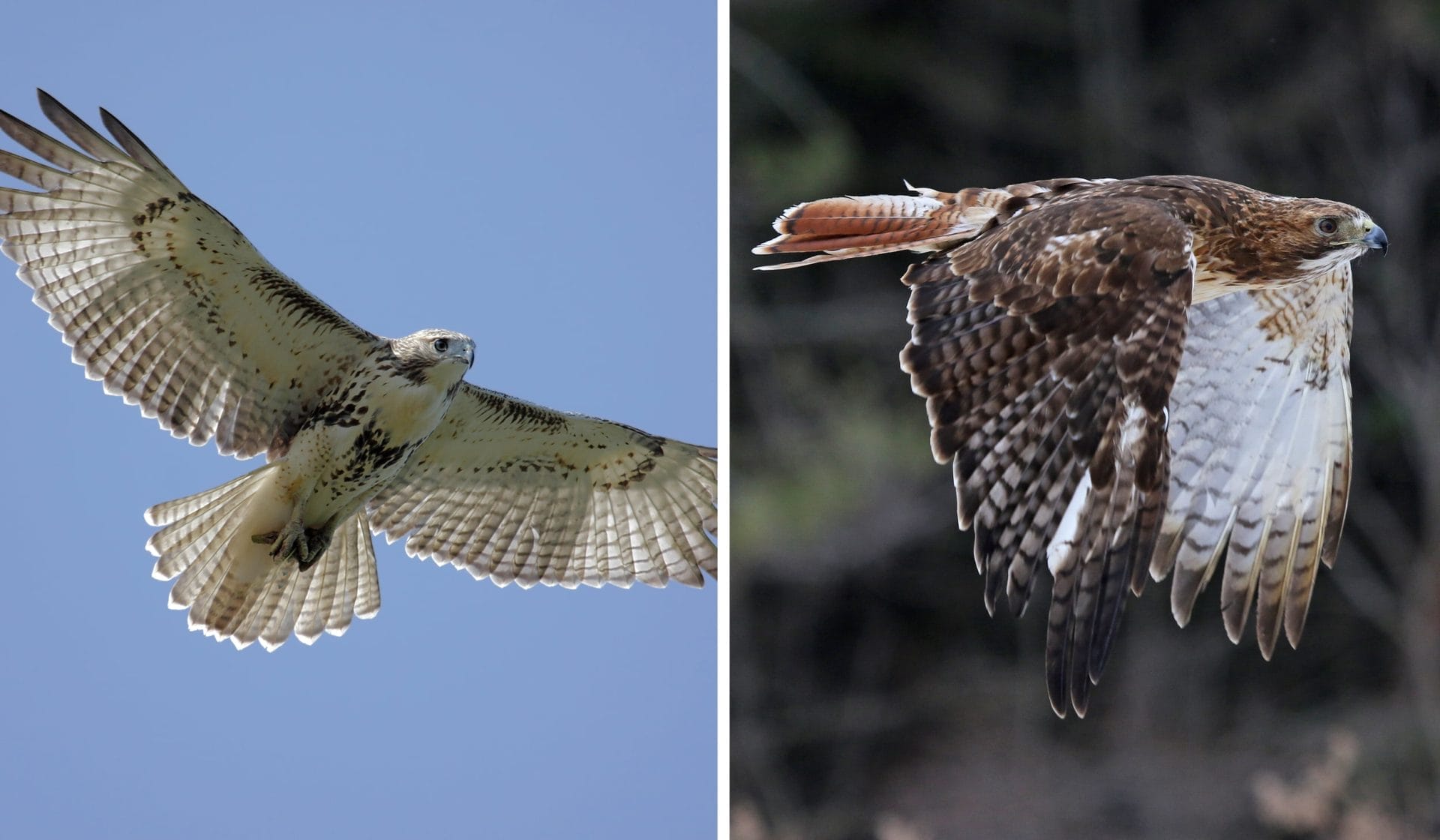 At 264 acres, the Tifft Nature Preserve in Buffalo is among the largest urban nature preserves in New York State. It sits on land utilized as a dairy farm in the mid-1800s, which became a municipal dump in the 1950s. In the early 1970s, public sentiment turned against its use as a landfill, leading to the creation of the nature preserve.
To say the creation of the preserve was a smashing success with birds is an understatement. More than 255 species have been recorded at Tifft, with 66 of these breeding or present during the breeding season. A 75-acre cattail marsh interspersed with open ponds is a magnet for waterfowl. Some species include rare pied-billed grebes and least bitterns that frequently rear young among the reeds. Grassland habitat is found around a 50-acre upland area, attracting species that frequent open areas and edges between woodlands and meadows. Raptors find sustenance with rodents and other prey in the preserve and are commonly seen soaring the skies overhead. Among the more intriguing species frequently gracing the preserve are common loons, red-shouldered hawks, peregrine falcons, upland sandpipers, willow flycatchers, short-eared owls and black terns.
Spring, summer and fall are prime seasons for birding. However, the preserve is open year-round and hearty birds are content to winter at Tifft. Similar to other birding destinations, visitors who arrive early in the morning typically enjoy the most sightings, particularly on hot summer days. Five miles of nature trails and three boardwalks in the marsh area offer expansive access.
Take Amtrak to Tifft Nature Preserve
CLICK BELOW FOR MORE TO DO AROUND NEW YORK
Further Information Regarding Travel
Amtrak has taken several initiatives to ensure the safety of its passengers. They have committed to requiring face masks for all passengers, converting the cafe car to takeout only, adding social distance signage, and much more.