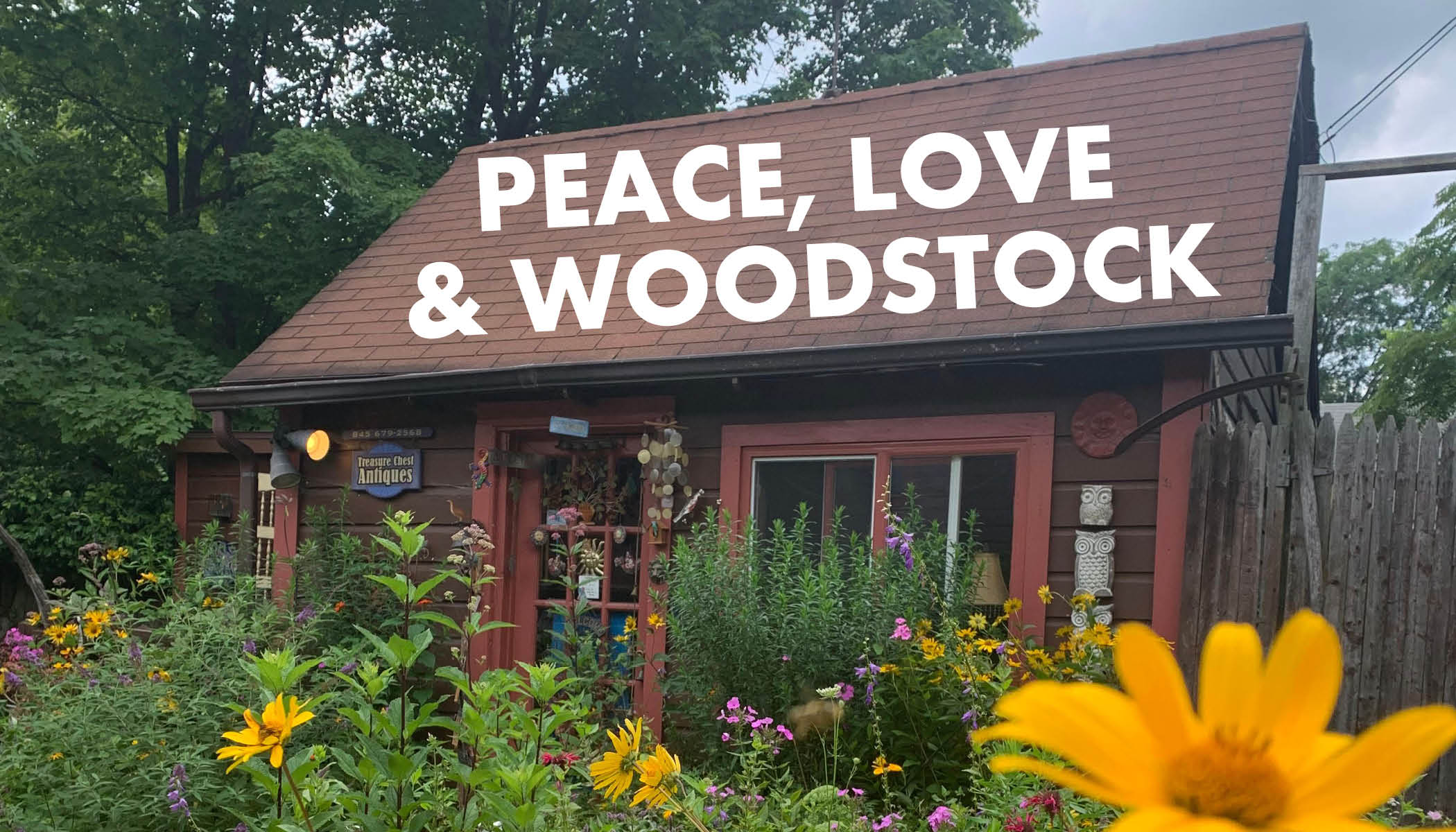 A town built on the arts, community and tourism, Woodstock, NY enriches the senses and generates a sense of place with its vast history. With plenty of things to do and sites to visit, Woodstock surely does not disappoint. During a recent visit I made to the Ulster County town that gave the famous music festival its name, it became apparent that Woodstock rests upon a foundation of meaningful relationships between art, vibrant culture and community members.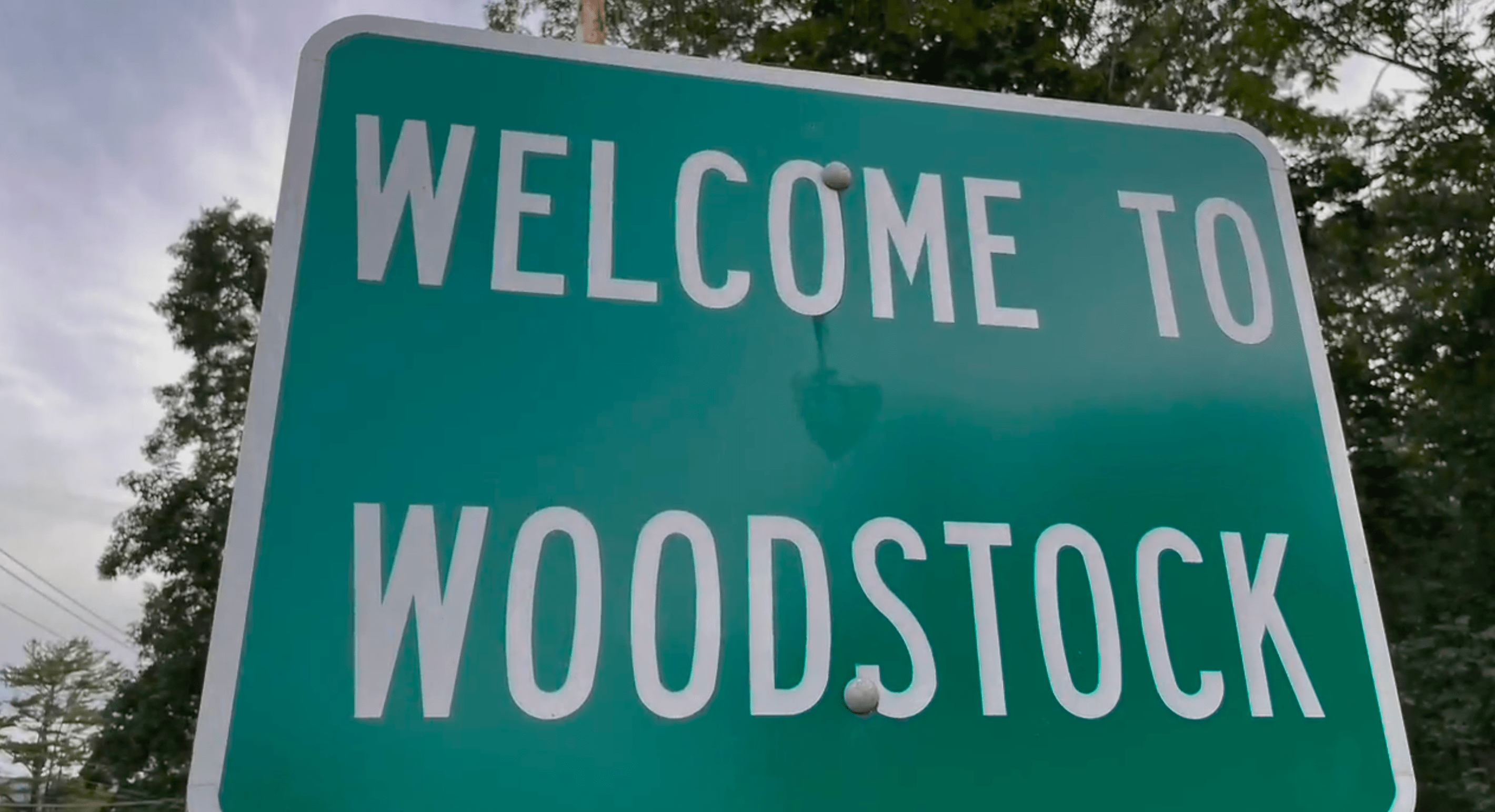 History of Woodstock
A defining chapter in America's history, the '60s served as a catalyst in America's ever-changing societal, technological and political landscape. The 1960s were marked by a number of tumultuous events, including the Vietnam War, the Civil Rights movement, political assassinations and the emerging 'generation gap.' Violence and uncertainty left many individuals less hopeful for a peaceful society.
Remembered as one of the most divisive decades, Americans during this time period longed for harmony and unity. In 1969, four young men recognized this need and delivered a viable solution. On August 15th, 1969, Artie Kornfeld, Michael Lang, John P. Roberts, and Joel Rosenman launched the Woodstock Music and Art Fair, known worldwide simply as Woodstock.
Planned out in the Town of Woodstock, the Woodstock festival encapsulated the feeling of hope and peace by providing visitors a way to escape the harsh realities of the '60s. Woodstock attracted roughly a half million visitors to an alfalfa farm in Bethel, New York, about two hours from the Town of Woodstock. The festival ran through Aug. 18 and featured dozens of performances by musical acts that included Richie Havens, Janis Joplin and Jimi Hendrix.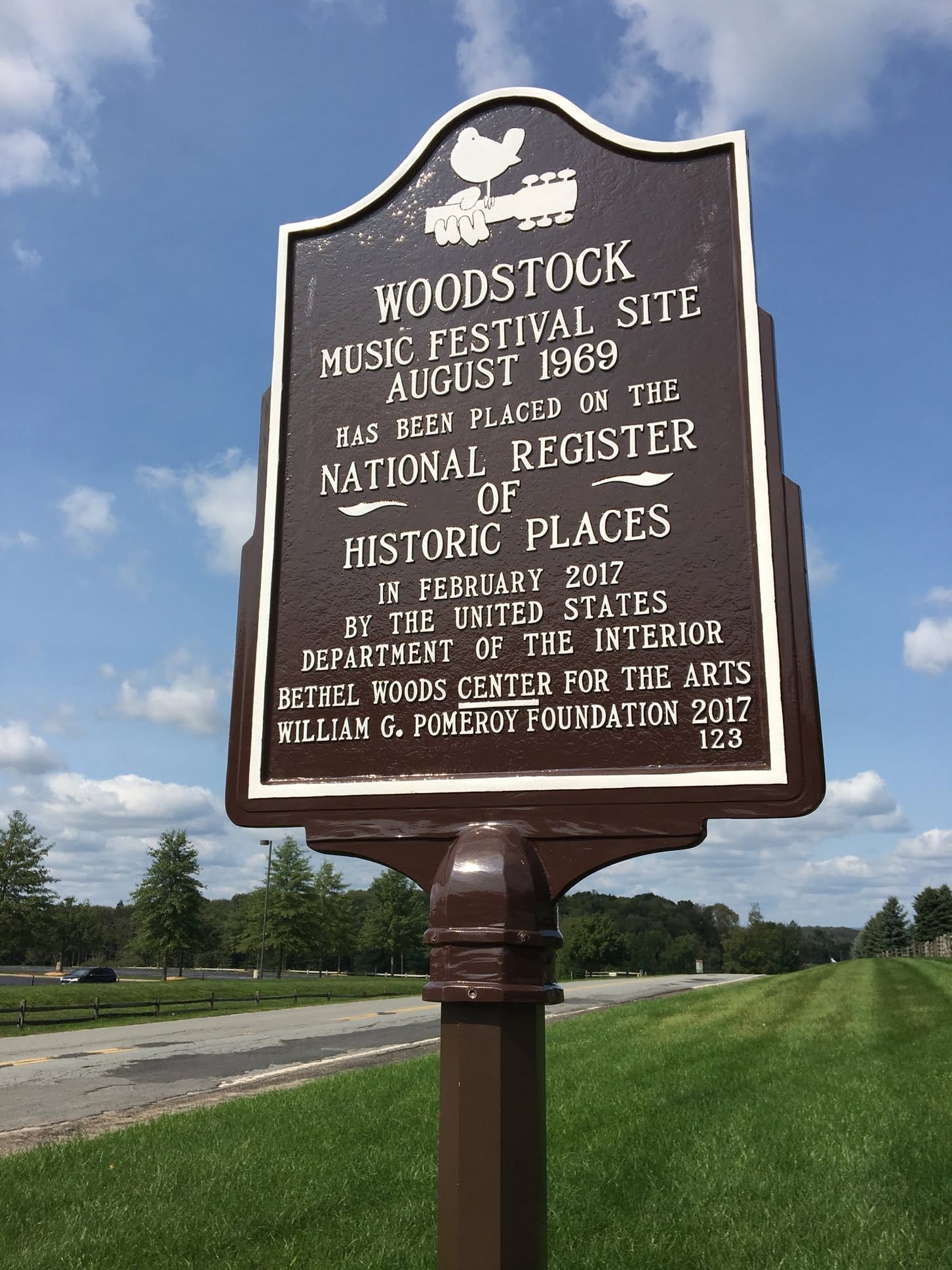 Like the '60s, today's social climate has left families and individuals uncertain about the future. With the unprecedented events of COVID-19, folks feel confined by health and safety restrictions triggered by the pandemic. With the restrictions limiting what I could do, I began to research safe and fun places to visit in New York state. I eventually stumbled upon the Town of Woodstock.
Woodstock serves as a safe and perfect getaway to escape the confinements and restrictions surrounding COVID-19. Woodstock infuses art, community, and cultural touchstones to bring a sense of peace and stability back into the heart of society. Let's just say my trip to Woodstock was not disappointing in the slightest.
Traveling to Woodstock
Located about 20 minutes from Kingston, Woodstock is accessible by Amtrak via the Rhinecliff Train Station. Upon arriving in Rhinecliff, dial-up an Uber or Lyft, or arrange to rent a car through Enterprise. From the train station, the Kingston-Rhinecliff Bridge will give your journey momentum with expansive views of the Hudson River and breathtaking views of the Catskill Mountains.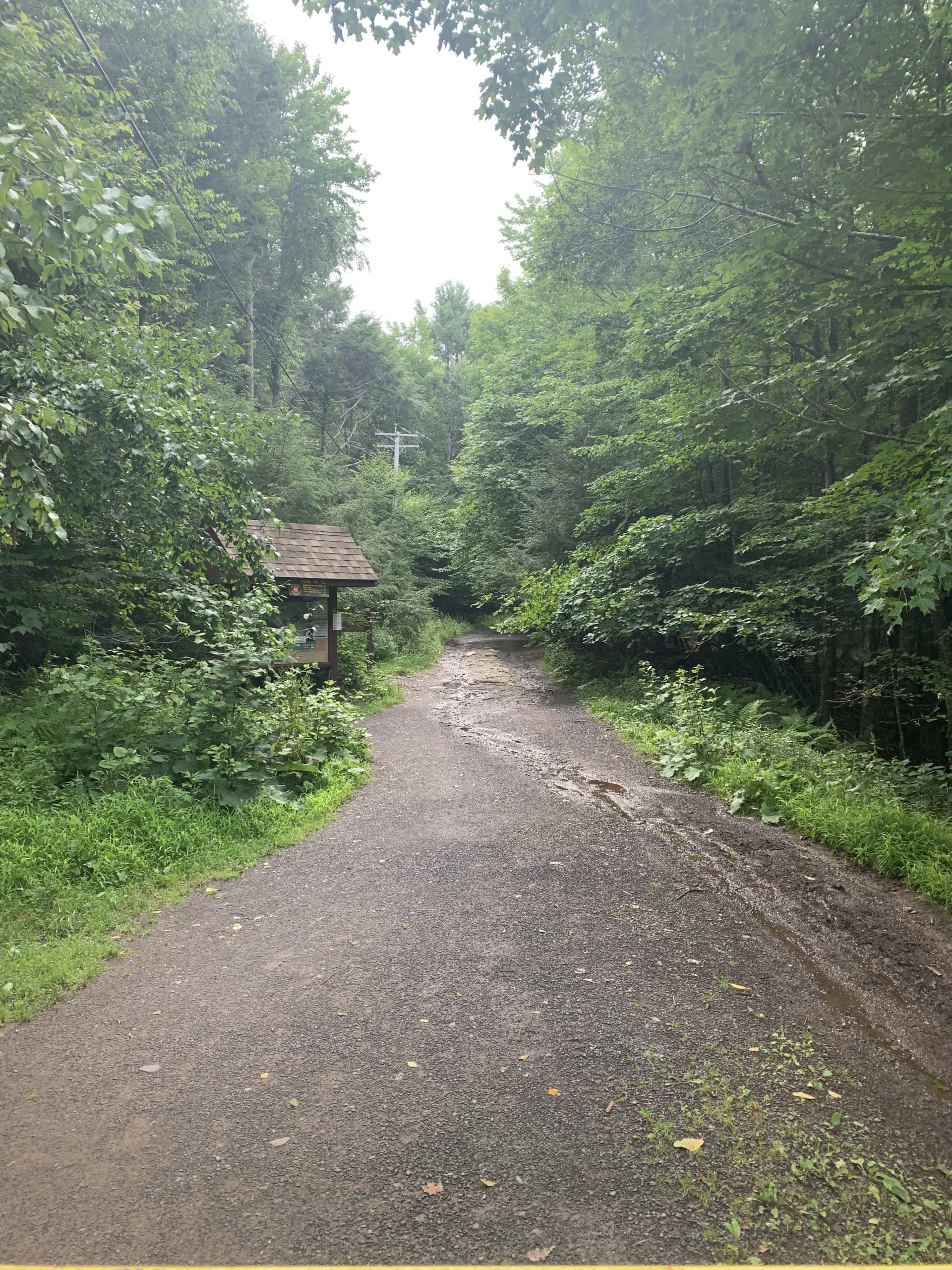 Overlook Mountain
Once I arrived in this historic town, I immediately visited the first stop on my itinerary, Overlook Mountain. One of Woodstock's most scenic landmarks, the mountain is just a short drive from the village green, which marks the town center. Driving up a twisted roadway towards the trailhead, I was captivated by the beauty of the scenic landscape. Eventually, I arrived at one of the mountain's four parking areas and was greeted by a welcome sign at the trail entrance. The sign consisted of information about the various trails and the history of the site. Each trail varied in distance and led to a different scenic landmark: Overlook Mt. Fire Tower (2.5 miles), Echo Lake (4 miles), Devil's Kitchen (5.6 miles) and Indian Head Mountain (8 miles).
With my day just getting started, I chose to hike the Overlook Mountain Fire Tower trail. An old carriage road that once transported guests to the Overlook Mountain House, I began the manageable 2.5-mile ascent up the rocky terrain. With foliage lining the trail and sufficient cloud coverage, it was the perfect weather for hiking.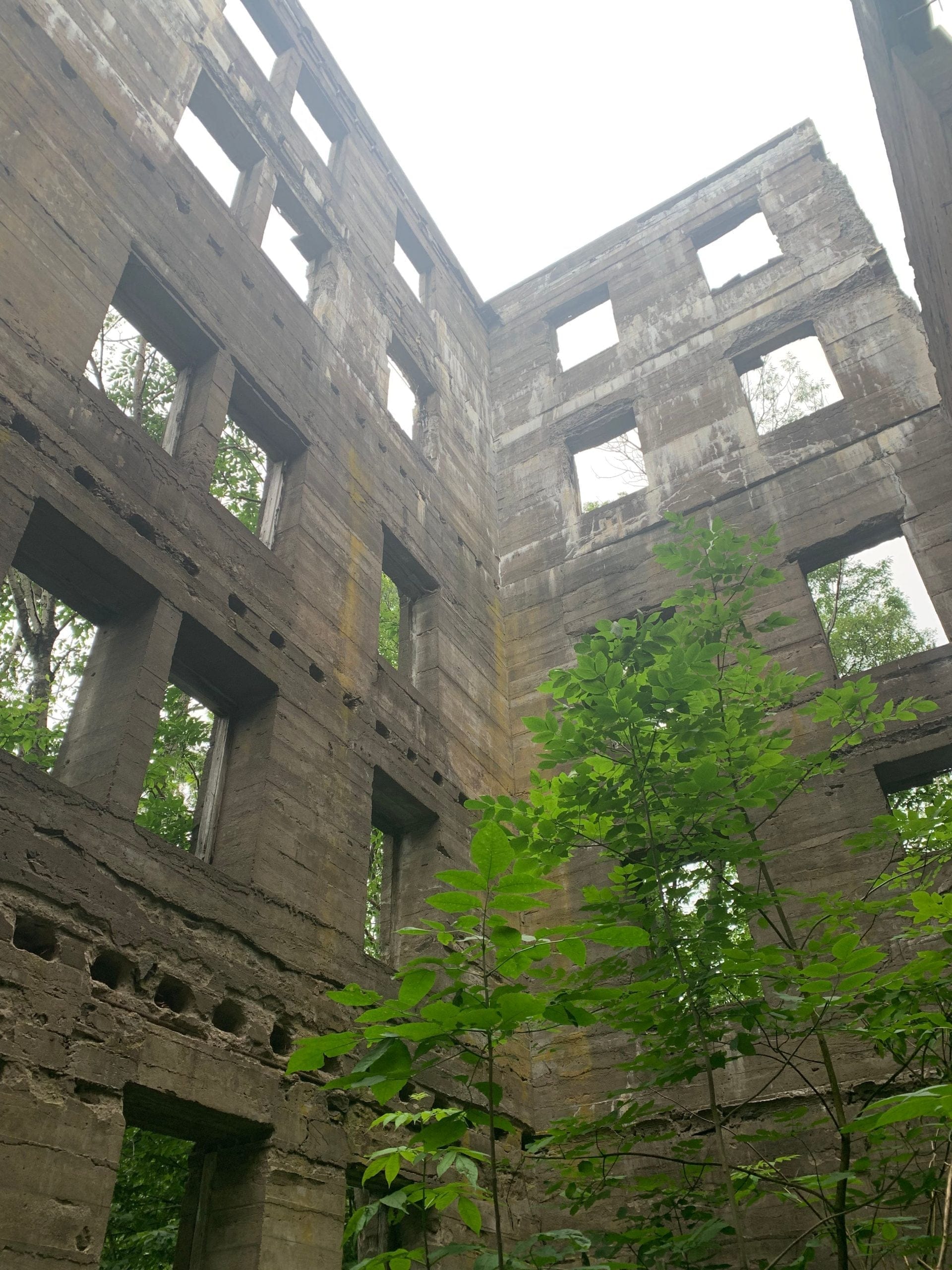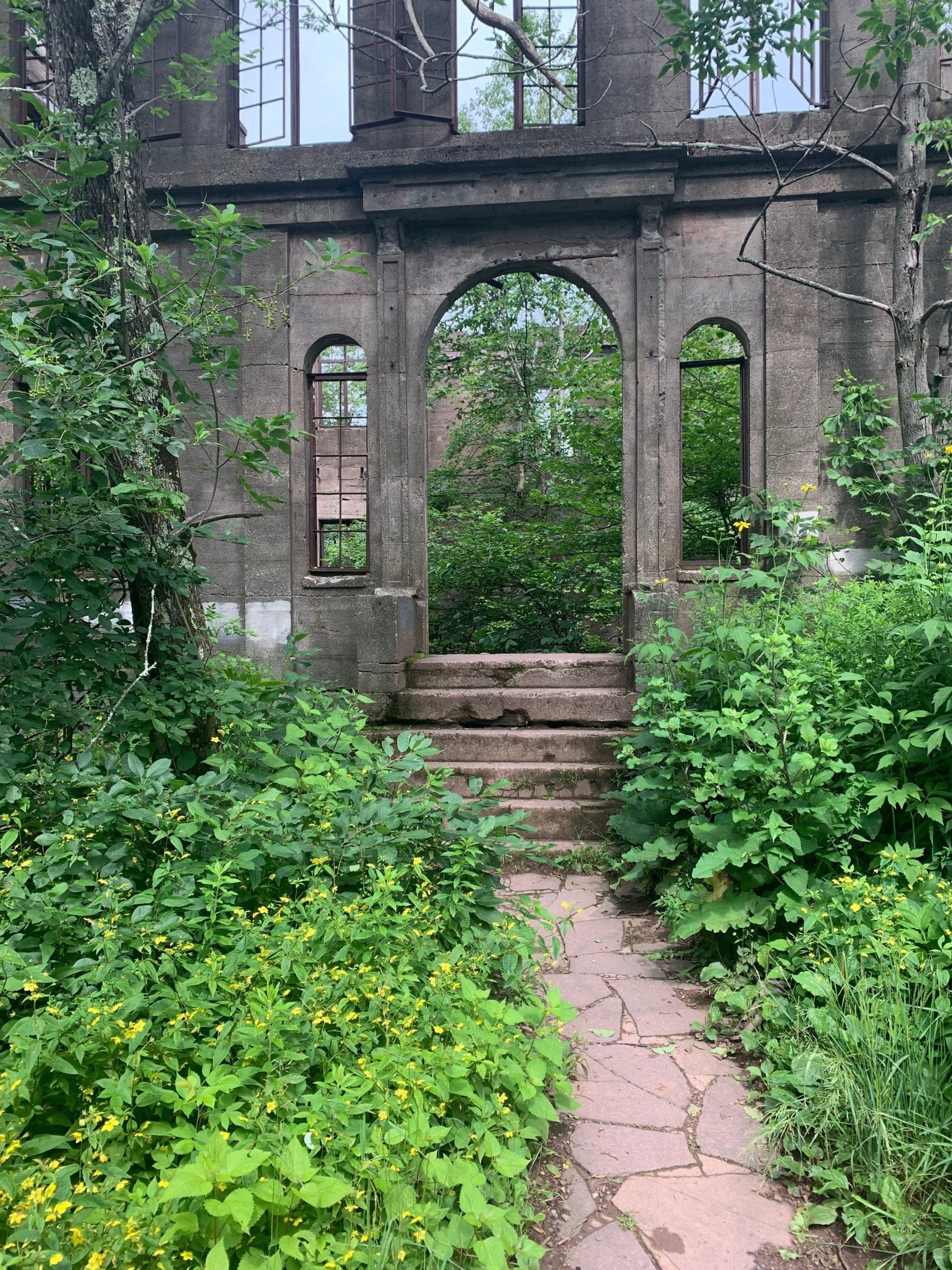 I began my ascent and was left awestruck by the mountain's peaceful and serene surroundings. With only a few other hikers on the trail and the occasional chipmunk roaming across the rocky terrain, it was a perfect time to decompress and meditate. I was able to sit and take in the breathtaking surroundings at one of the trails' many large rocks that double as a rest area. After my brief intermission at one of the rest areas, I finally continued my hike and reached the Overlook Mountain House ruins.
What once was a popular destination for New York's elite, the Overlook Mountain house served as a unique tourism destination with its singular views of the Catskills mountains. The developers of this destination wanted to capitalize on the growing tourism craze of the 19th century. However, due to the resort's difficult accessibility and three forest fires, the destination was never able to experience its heyday.
Now all that remains of the resort is a concrete skeleton. The ruins include the main house, with multiple rooms, stairs and even a fireplace. Additionally, there is a separate house in the back now adorned with foliage and other wildlife. When visiting, I felt like I was taking a step back in time while wandering inside the concrete walls of the ruins. My next stop was the summit.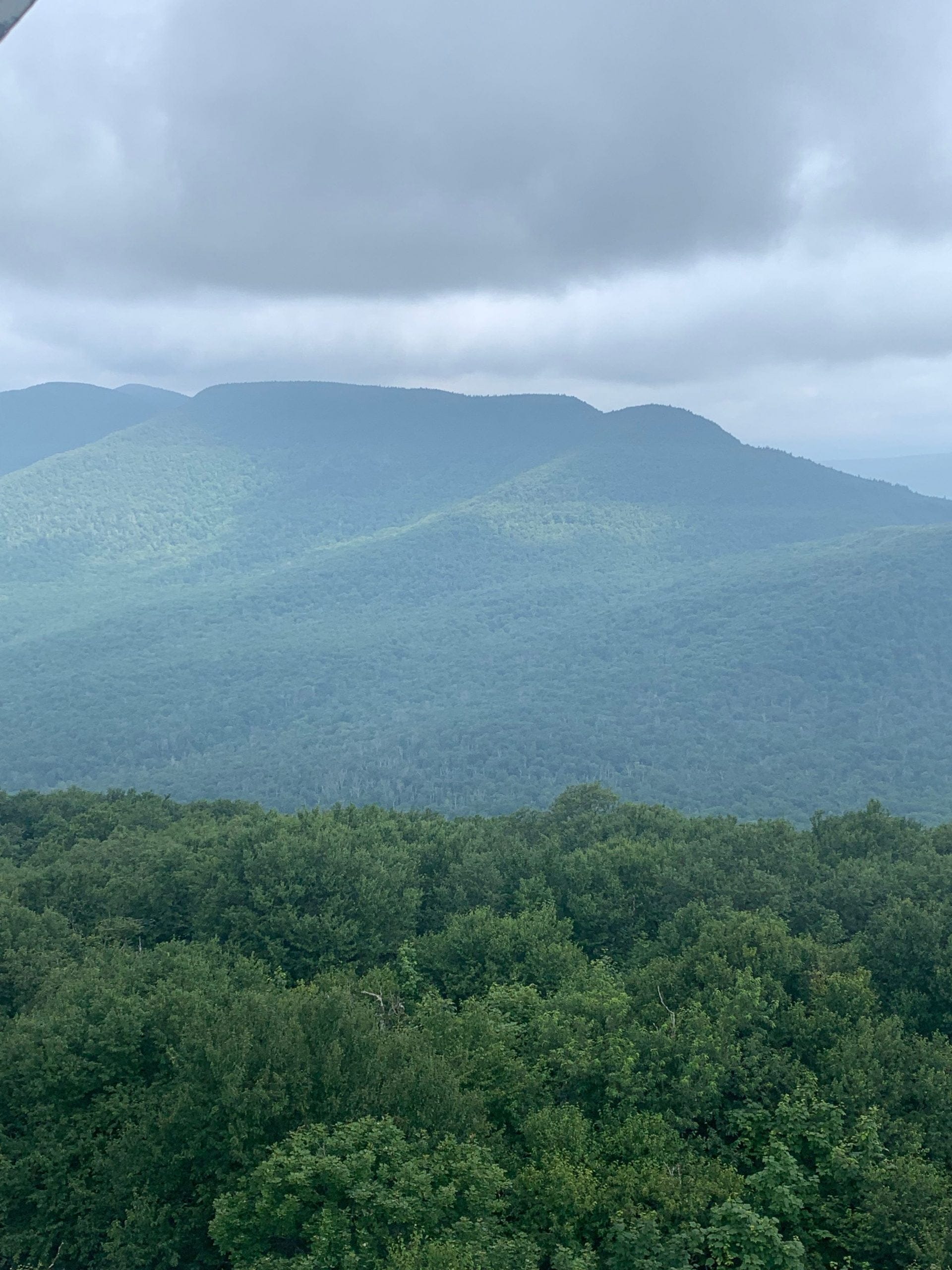 After a ten-minute walk, I reached the summit. Sitting at approximately 3,140 feet, the Overlook Fire Tower is another great photo opportunity. Visitors can climb 60 feet up the tower stairs to a platform area overlooking the Catskill Mountains. The tower is just one of five remaining fire towers in Catskill Park. Make sure to visit Outlook Mountain on the weekends to receive an in-person tour of the history of the park's fire tower.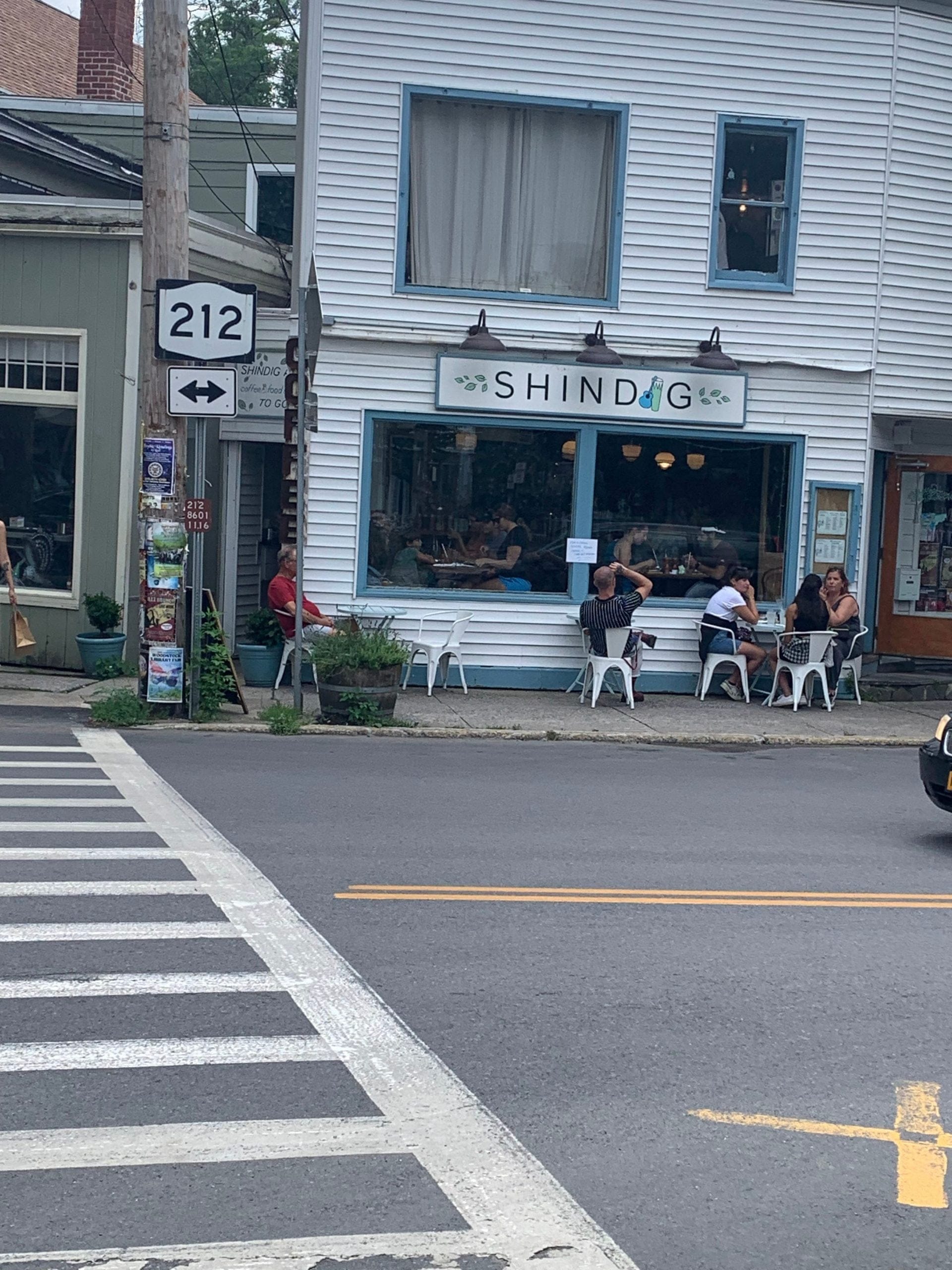 Woodstock Dining – Peace, Love and Comfort Food
The nearly two-hour hike gave me quite an appetite. So I returned to town, the shops and the restaurants that line Tinker Street and Mill Hill Road. Upon my return to downtown Woodstock, the culture of art, community and peace became readily apparent. Several local restaurants and breweries lined the street. With so many dining options, it made my decision of where to eat quite difficult.
With a variety of local eateries to choose from, I decided to grab a burger at Shindig, which sits across from the village green. Shindig offers a warm and inviting atmosphere while visitors indulge in the dine-in and take-out options for brunch, dinner and dessert. The menu is adorned with traditional comfort meals including pancakes, burgers and bread pudding.
After much contemplation, I decided to order the Shindig Burger from the restaurant's outdoor service window. The burger features cheddar cheese, romaine lettuce, onion chutney, tomato and a signature smoky sauce. It was delicious! I also got to meet a friendly Shetland sheepdog eating outside the restaurant—a definite plus!
If you're not feeling up for experiencing an old-fashioned Shindig, Woodstock offers a variety of other locally sourced restaurants too.
Go check out SILVIA, which occupies a building that once housed the Joyous Lake, a bar that hosted the Rolling Stones and Phish for performances. Tinker Taco Lab is also inviting.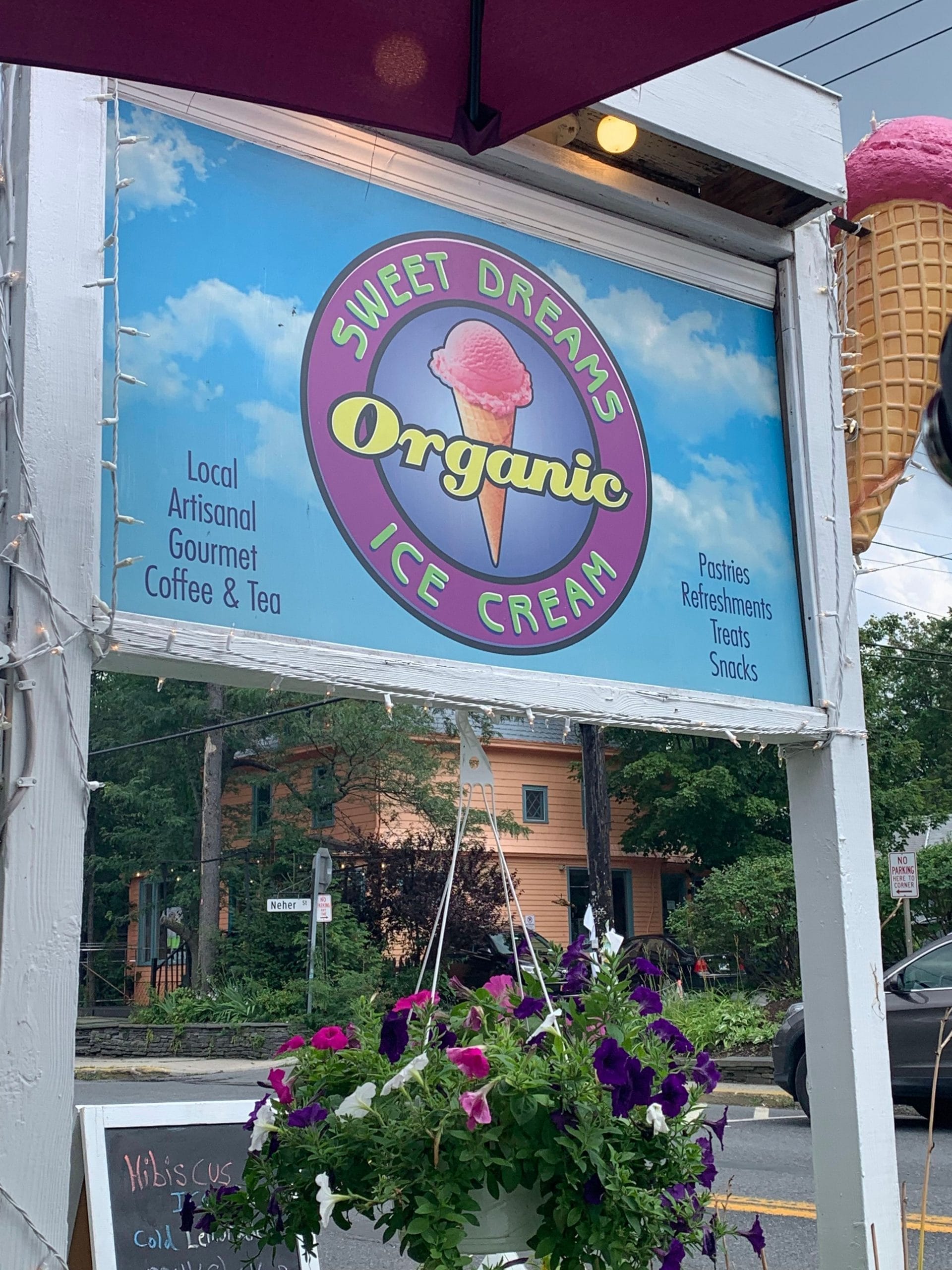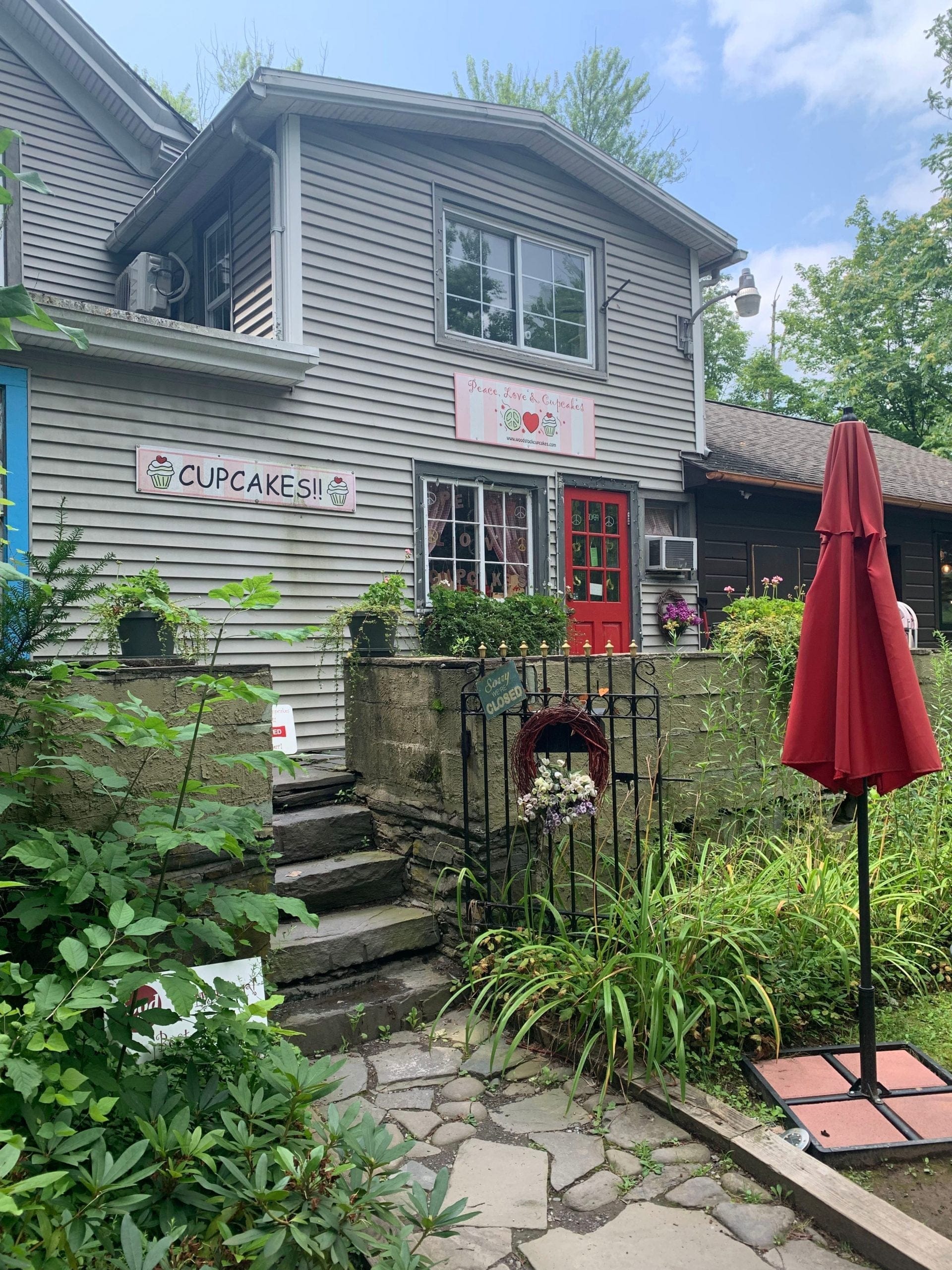 Dessert
Make sure to save room for dessert as there is an array of award-winning venues to choose from. Just a brief stroll from Shindig is a couple of great dessert spots. My personal favorite was Sweet Dreams Organic Ice Cream.  Housed in a rustic home off Main street, Sweet Dreams features a variety of unique ice cream flavors that conjure up the feeling of summer. Flavors include classic Strawberry, Mint Chocolate and Banana Pudding. There is sure to be a flavor you'll enjoy.
When I arrived at the quaint ice cream shop, I immediately walked up the stairs of the home. I was delighted to find myself on a charming porch with tables, benches and even some sidewalk chalk for kids to use. The storefront served as a perfect place for families to enjoy their ice cream and converse with peers. I then entered the establishment, and immediately was greeted by welcoming staff members who made me feel like I was a local. After taking a moment to decide on which organic ice cream flavor to indulge in, I finally decided on banana pudding.
After sitting outside and enjoying a small cup of ice cream, I then took a short five-minute stroll down the street to the award-winning Peace, Love & Cupcakes. Featured on the Food Network Channel, the bakery offers visitors a variety of cupcake flavors for the 'hippies in all of us'. Cupcake offerings include red velvet, coconut cake and of course the award-winning chocolate cupcake topped with delectable chocolate frosting.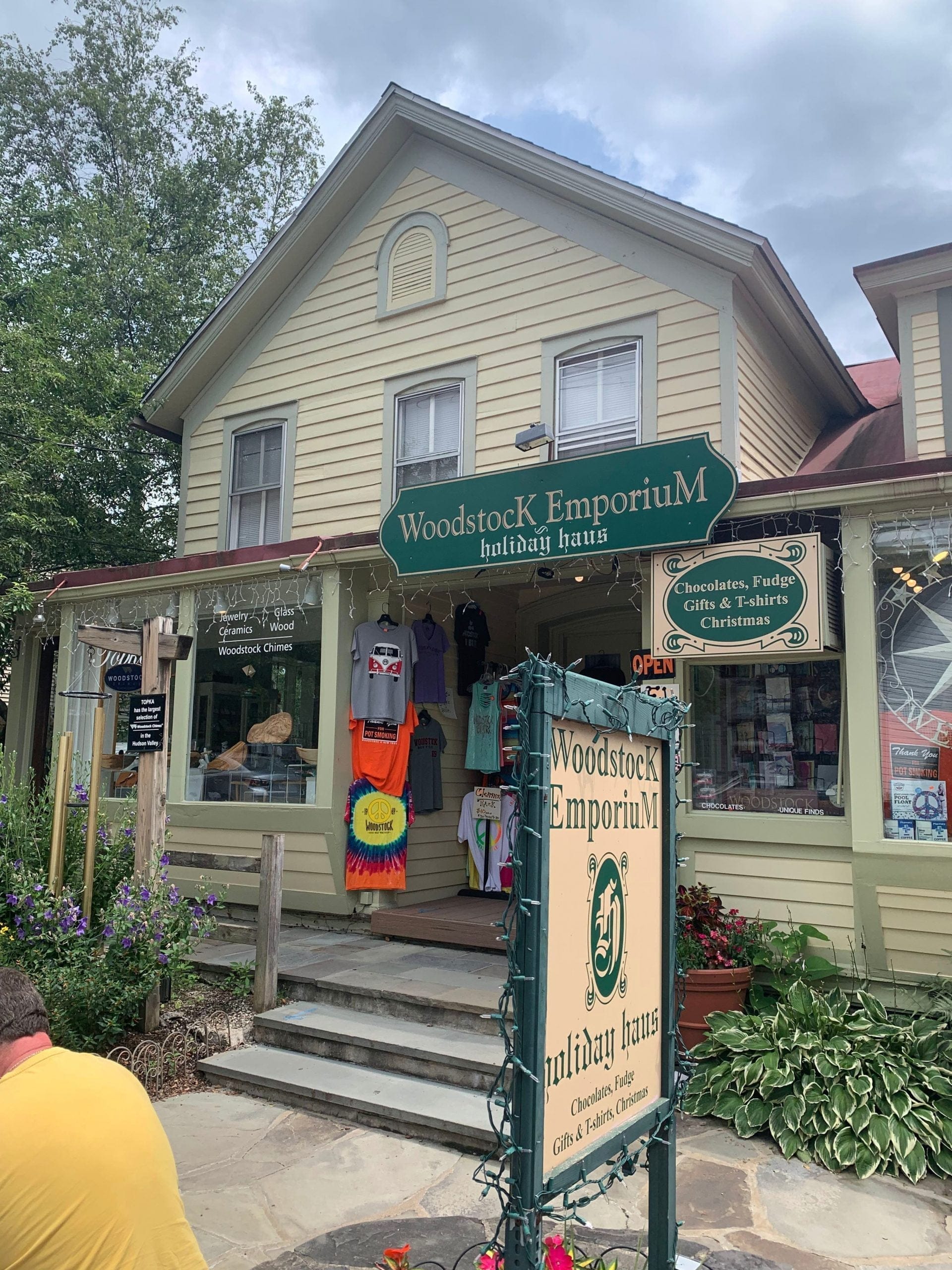 Art Exhibitions – Just Tinkering Around
After filling up my empty stomach, I immediately went shopping on Tinker Street. One of Woodstock's main hubs, Tinker Street exudes a vibrant culture and a strong dedication to art and community. Lining the street are several small businesses ranging from clothing stores, restaurants, gift shops and even a bookstore!
My first stop was a Tinker Street novelty, Woodstock Emporium and Christmas Haus. The store serves as a one-stop-shop for specialty holiday and novelty items. The owner, Mark, always had a passion for the holiday season and wanted to share his excitement with visitors and locals. Upon entering the store, I felt transported back to my childhood. Shelves were lined with novelty candy, including candy buttons and Smarties and there even was a showcase full of homemade fudge. Exploring deeper into the Emporium, visitors will find a vast selection of holiday ornaments, decorations and several t-shirts that align perfectly with Woodstock's classic hippie style.
After browsing the Emporium's offerings, I eventually left the store and walked a few minutes down the road to The Woodstock Artists Association & Museum. Founded in 1919, WAAM works to foster and promote visual art, artists and art education through dynamic exhibitions and programs. The museum features five spacious galleries consisting of group, solo and historic art exhibitions that work to maintain Woodstock's reputation as the "Colony of the Arts."
Aside from the enthralling art exhibitions found at WAAM, there are additional spaces devoted to showcasing the arts. Most notably, the Woodstock Byrdcliffe Guild offers an integrated artistic experience featuring engaging art installations and performances. Additionally, The Center for Photography at Woodstock works to promote contemporary photography within the artistic community that prompts dialogue and discovery among visitors. With the art exhibitions and galleries that I walked past, it was apparent Woodstock's culture centers heavily around the support and promotion of artistic minds.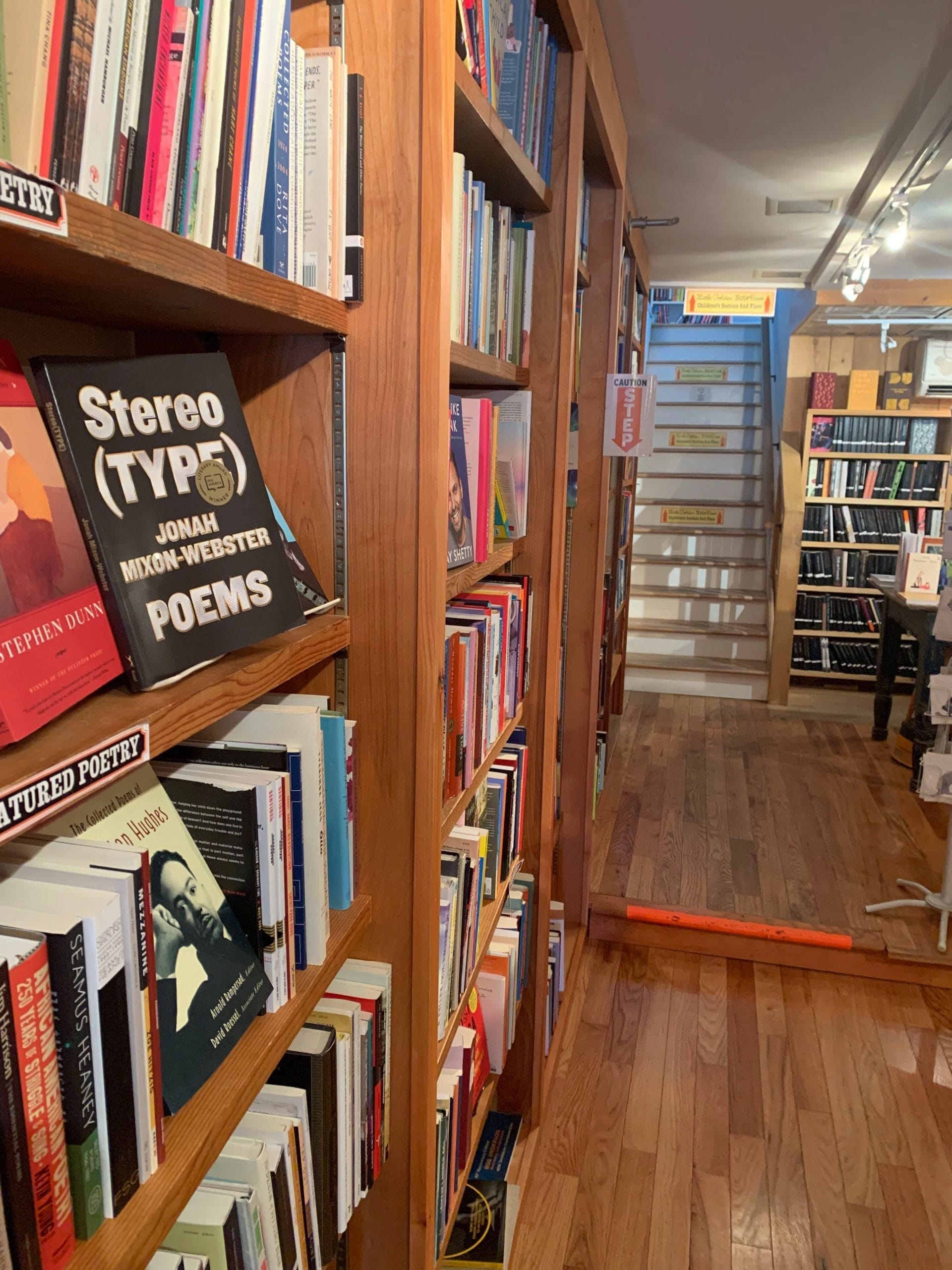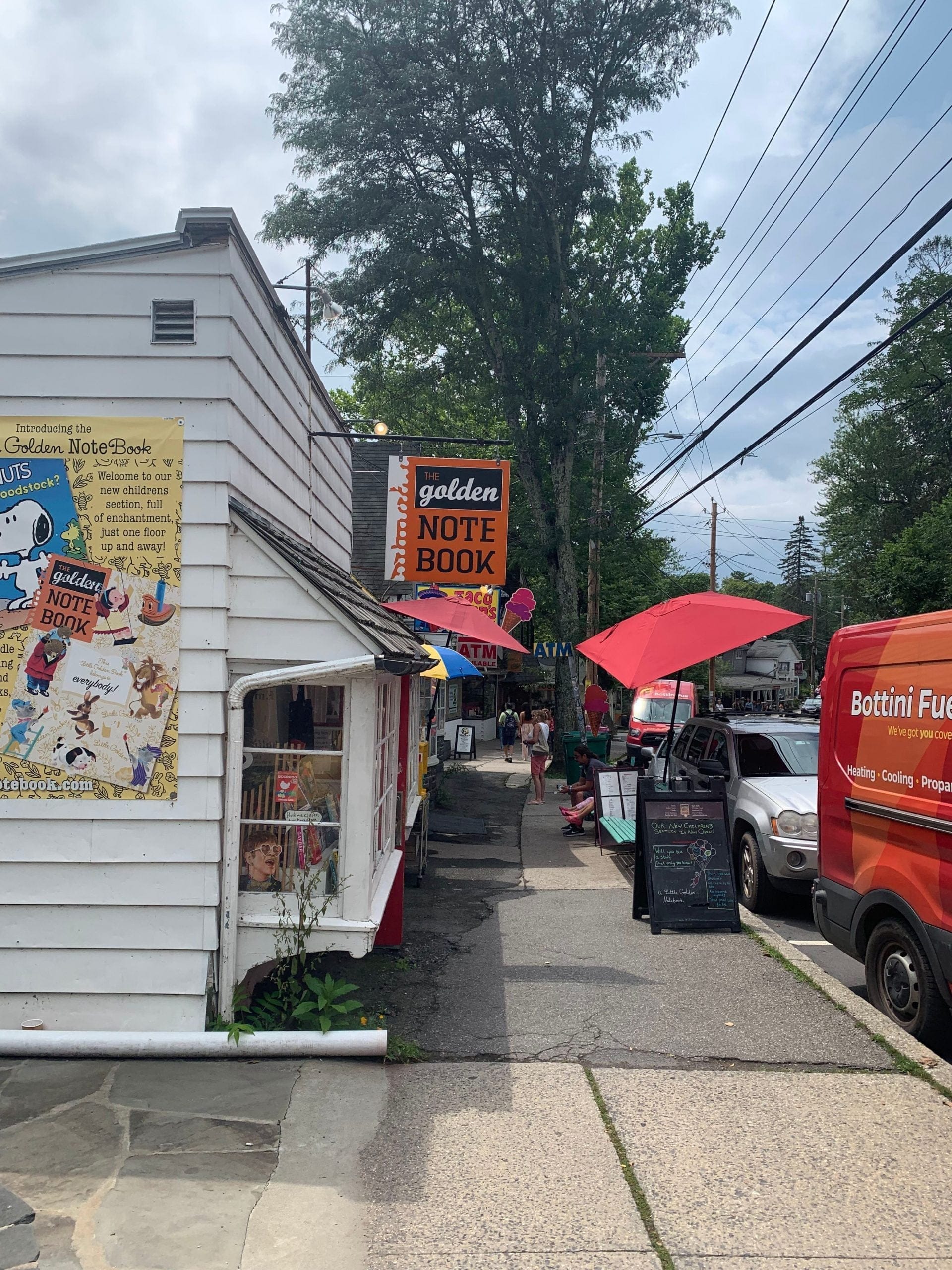 It's also worth noting that The Center for Photography at Woodstock on Tinker Street occupies the building that once housed the old Espresso Café, where former Woodstock resident Bob Dylan rented a room upstairs.
After walking past the town's artistic mecca, I made my final stop on Tinker Street—The Golden Notebook bookstore. One of my favorite stops of the day, The Golden Notebook is nestled into Tinker Street's shopping district. Filled with books for all ages, this bookstore provides visitors a vast selection of literary works to choose from.
When I first entered the shop, I immediately felt overjoyed by how many books were available for sale. Every wall was lined with wooden bookshelves filled to the brim with young adult literature. The atmosphere was cozy, and the staff made me feel extremely welcomed. Towards the back of the store is a wooden staircase that leads to a comfortable sitting area. The sitting area serves as a perfect place for visitors to curl up and enjoy their favorite books. Overall, a great find!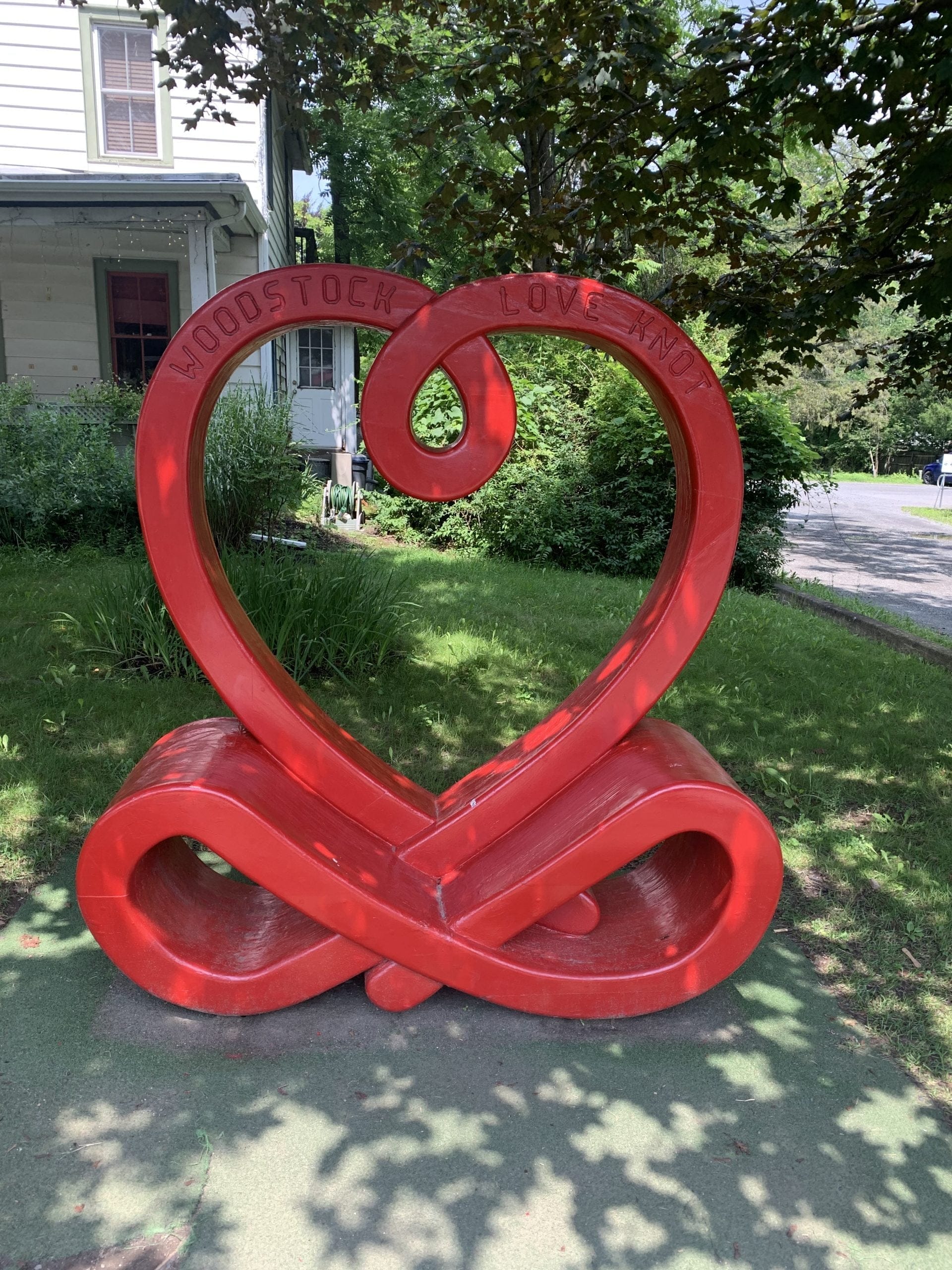 Building a Sense of Community
After spending a couple of hours navigating Tinker Street, I couldn't help but feel the vibrant and accepting culture of Woodstock. One of the most notable characteristics of the town is its undeniable ability to support and foster communities. Woodstock devotes a considerable amount of time and resources to provide engaging events and attractions that not only are enjoyable but promote togetherness.
Most recently, the town reintroduced the Drum Circle to event listings. In its 21st year, Woodstock's Drum Circle features the musical talents of various drummers who perform on (MOST LIKELY) the village green. An almost 50-year-old tradition, the Drum Circle is held every Sunday afternoon from 4-6 pm. Amid the pandemic, the tradition offers patrons a sense of routine and normalcy during these challenging times.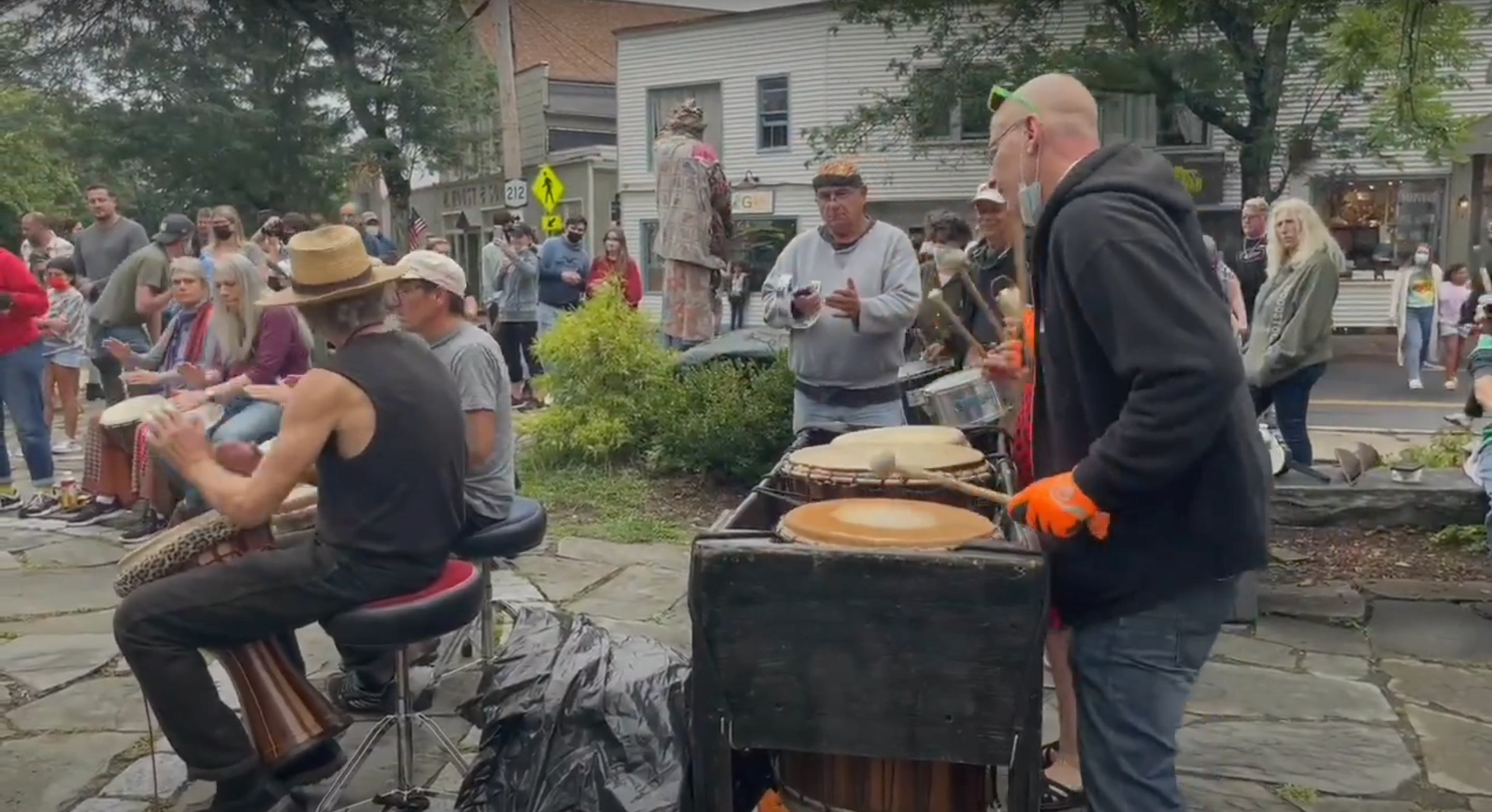 Another thrilling community event to attend is the Woodstock Film Festival. From September 29th through October 3rd, Woodstock will be hosting the film festival that is celebrating 22 years of "Fierce Independence." The festival's mission is to support filmmakers while promoting a sense of community, diversity and economic growth. The film festival, which commandeers Woodstock each year, has welcomed some of the entertainment industry's biggest names for screenings, panel discussions and other events, including Alec Baldwin, Natalie Portman and Woody Harrelson.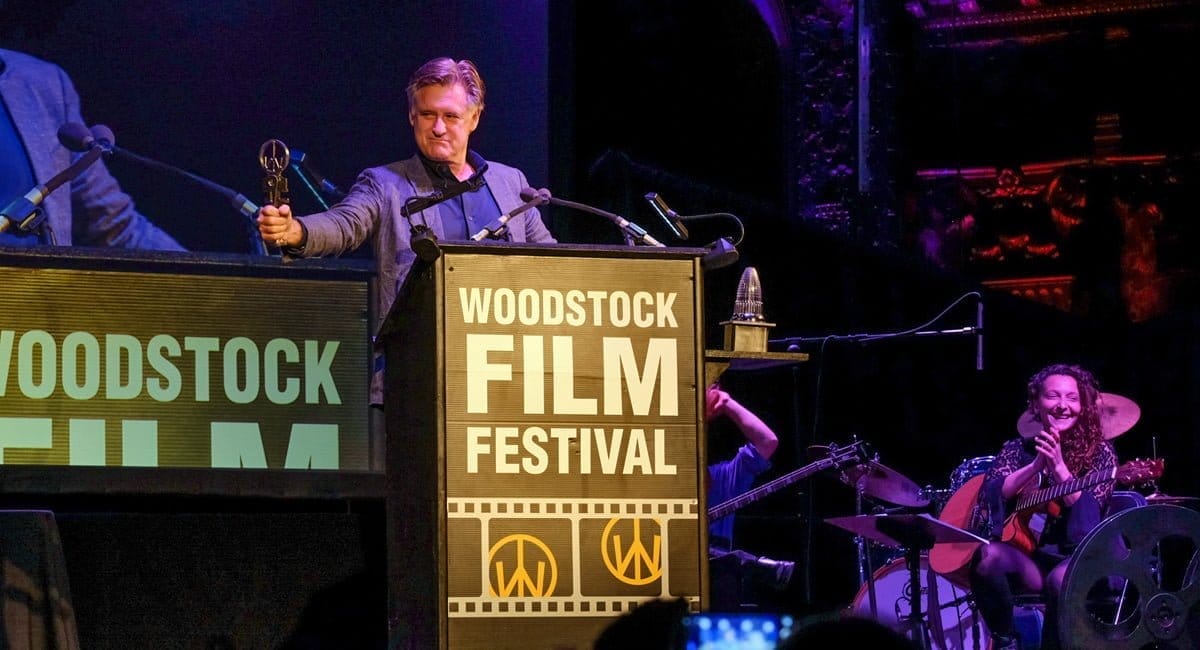 The 2021 film festival will be returning to in-person screening options with events set for Woodstock, Kingston and Saugerties. In addition to in-person screenings, short features and films will be available online to enjoy from the comfort of your own home. 
Take Amtrak to Woodstock
Just two hours outside of New York City, Woodstock is easily accessible via multiple modes of transportation. If not driving by car, take your local Amtrak to the Rhinecliff-Kingston Station—Don't forget to use the Amtrak See New York and Save 15% discount! The station is only a brief 26-minute drive from the heart of Woodstock.
Get picked up from the Rhinecliff-Kingston Station and taken to your reserved NYTRAIN Enterprise Rent-a-Car. Click here to reserve your car or call the Rhinecliff-Kingston office today at 845-336-4700.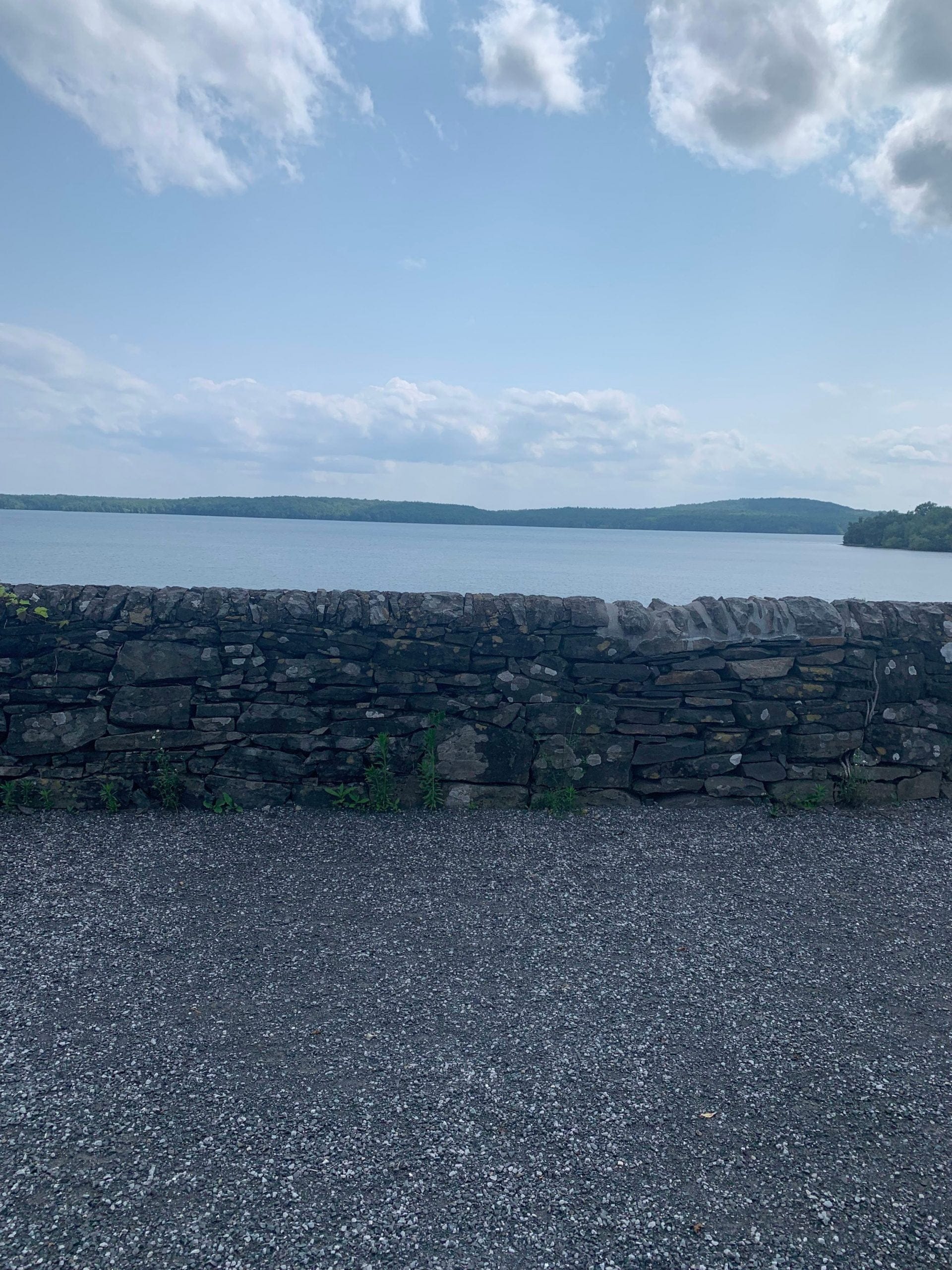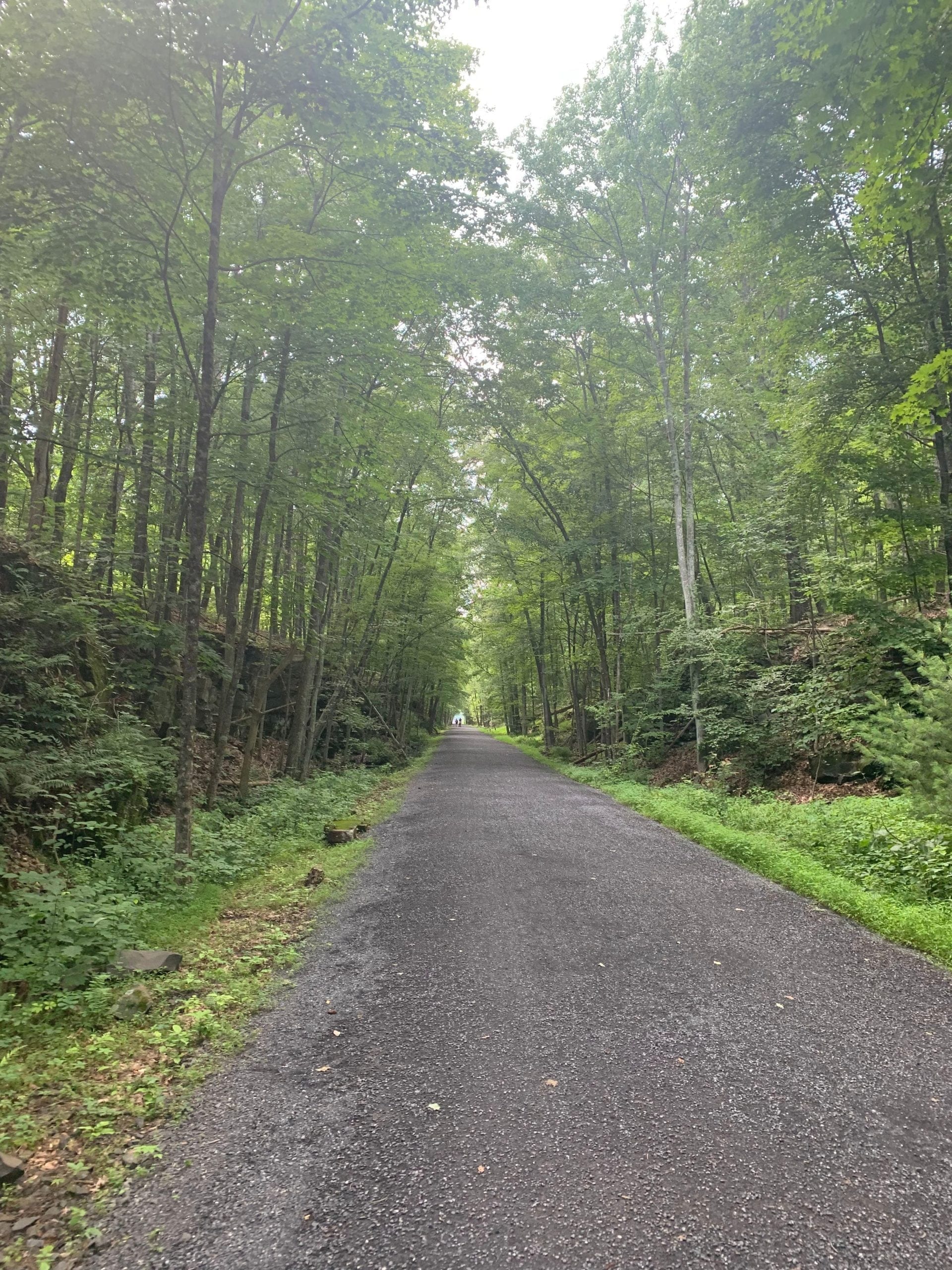 Other Things to Do Near Woodstock
The Comeau property, off Tinker Street, is reachable by foot and has a great wooded trail for relaxing, stream-side strolls. The entrance is across from the Woodstock Police Station and there is plenty of parking.
Just outside of town, straight down Route 212, Bearsville Center is home to the Bearsville Theater for shows, Little Bear for Chinese food and Bear Cantina for Mexican food. Bearsville Center is a complex that is also home to the Utopia Building, which decades ago housed former Woodstock resident and musician Todd Rundgren's Utopia Studio. Donald Fagen of Steely Dan, Mike Gordon of Phish and Jon Anderson of Yes are just a few of the big names to have performed at the Bearsville Theater.
The Colony Woodstock and Pearl Moon host live music regularly and serve food and drinks.
Catskill Mountain Pizza serves some of the best New York City pizza in Ulster County.
Bread Alone is a great place for coffee drinks, pastries, breakfast, brunch, lunch and yes, plenty of bread.
Another great part about Woodstock is its proximity to other Ulster County attractions and venues. After just a quick 15-minute drive, I arrived at another notable destination—the Ashokan Reservoir. Located roughly 13 miles west of Kingston, the Ashokan Reservoir offers visitors spanning views of water and foliage.
Placed into service in 1915, the reservoir holds approximately 122.9 billion gallons of water and supplies 40% of New York City's water supply. Along the reservoir's northern edge sits another popular travel destination—the Ashokan Rail Trail. Spanning 11.5 miles, the rail-trail offers visitors a flat terrain perfect for running, biking and cross-country skiing, all while taking in the sweeping views of the reservoir basin.
After parking at one of four parking lots located at the trailheads, I took a short mile-walk on the Glenford Dike to the river basin. The Glenford Dike is 2,850 feet long and 60 feet high and extends approximately 30 feet underground. Prior to becoming a walking trail for pedestrians, the Glenford Dike originally housed tracks for the Ulster and Delaware Railroad, which was rerouted to accommodate the building of the reservoir. During the walk, I enjoyed the cool shade offered by trees lining the trail and was even greeted by some goats! The trail was a quick and easy stroll, the perfect getaway from the hustle and bustle of Woodstock's main street.
After visiting Ashokan Reservoir, my day in the Woodstock area sadly came to an end. As much as I was saddened to leave, I still had a fun day filled with exciting and refreshing experiences. With many places and destinations to visit, Woodstock offers a serene escape from individuals' everyday routines. Whether it's hiking, shopping on Tinker Street, or visiting  a nearby attraction, Woodstock continues to bring art, peace, love and communities together.
More to do in the Hudson Valley