02octAll Day06Woodstock Film Festival(All Day) Woodstock Film Festival, Throughout Woodstock, Rhinebeck, Rosendale & Saugerties
Event Details
Woodstock Film Festival
One of the most well known film festivals in the country showing the best upcoming films for the year.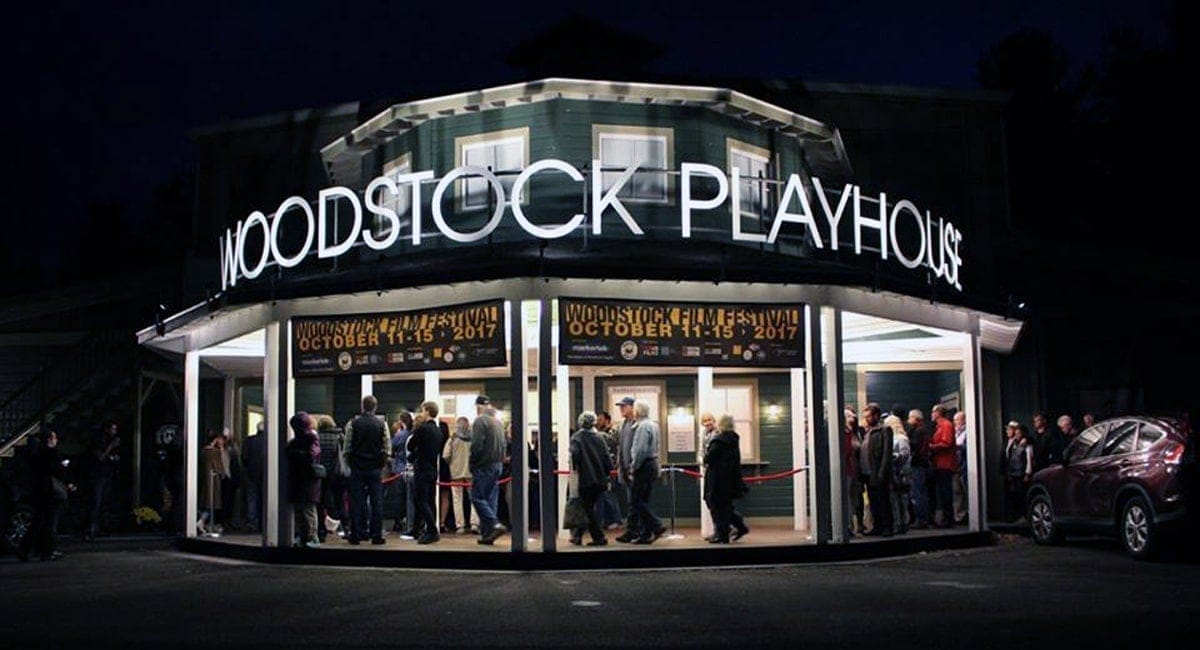 Attendees wait patiently outside to go watch one of the films premiered at the Woodstock Film Festival. | Photo Courtesy of Woodstock Film Festival 
The 20th Annual Woodstock Film Festival is back this year premiering new and groundbreaking films to the public, along with having special celebrity guests, concerts, panels, and parties.
Do not miss out October 2 to 6 for this momentous weekend. The festival will take place in not just Woodstock, NY, but screenings of movies will also take place in Kingston, Rhinebeck, Rosendale, and Saugerties.
Honorary Award Recipients at Woodstock
This year's film festival will feature incredible creative work from a variety of talented actors and directors. Entries for awards are due by June 20, 2019. Last year showcased a multi-nominated director for her work over the years, named Julie Taymor. Some of her award-winning productions are The Lion King on Broadway, Oedipus Rex, Titus, Across the Universe, and The Tempest. She received the Maverick Award, which showcases a filmmaker who has a unique style and presents it well on screen, especially when the film is covering groundbreaking change. This year's award ceremony will take place on October 5 of the festival at Backstage Studio Productions in Kingston, NY.
Live Music to Kick-Off the Festival
What better way to kick off this festival filled with art than live music! At the Woodstock Playhouse on October 10 at 7:00 p.m., come check out live performances from the German jazz group Karl Berger, Ingrid Sertso and Friends, who will perform new material for the first time live in the United States. In addition, there will be an acoustic performance by Michael Franti followed by the screening of his film, Stay Human. He will be performing a selection of his favorite songs that you will not want to miss!
Special Panels at Woodstock
Not only will there be a lot of new films being shown, but there will also be panels that ticket holders can attend! Some of them include Women in Film- Crossing the Lines on October 13 at 12:00 p.m. hosted by Allison Dune and Blair Breard. Dune is the host and producer of the Northeast Public Radio's show 51% (affiliated with NPR) and Breard is a New York producer who has worked on many films throughout her career.
Attendees will have a chance to ask questions to Julie Taymor, the honorary award recipient at Woodstock at her panel, A Chat with Julie Taymor on October 13 at 4:00 p.m. Mark your calendars to see her discuss her groundbreaking work and artistic mind.
For those who are interested in learning about the music that goes into films, composer W.G. "Snuffy" Walden and filmmaker Mark Maxey will be hosting a panel called "Up To Snuff- A Music in Film Case Study" where Walden will talk about his experience as a composer through trialing times in the 60s and 70s!
All of these panels and more will be hosted at the Kleinert/James Arts Center in Woodstock!
For a full list of film screenings and events, click here!
Time

october 2 (Wednesday) - 6 (Sunday)
Location

Woodstock Film Festival

Throughout Woodstock, Rhinebeck, Rosendale & Saugerties