Editor's Note: New York by Rail updated this 2017 blog experience to include current information.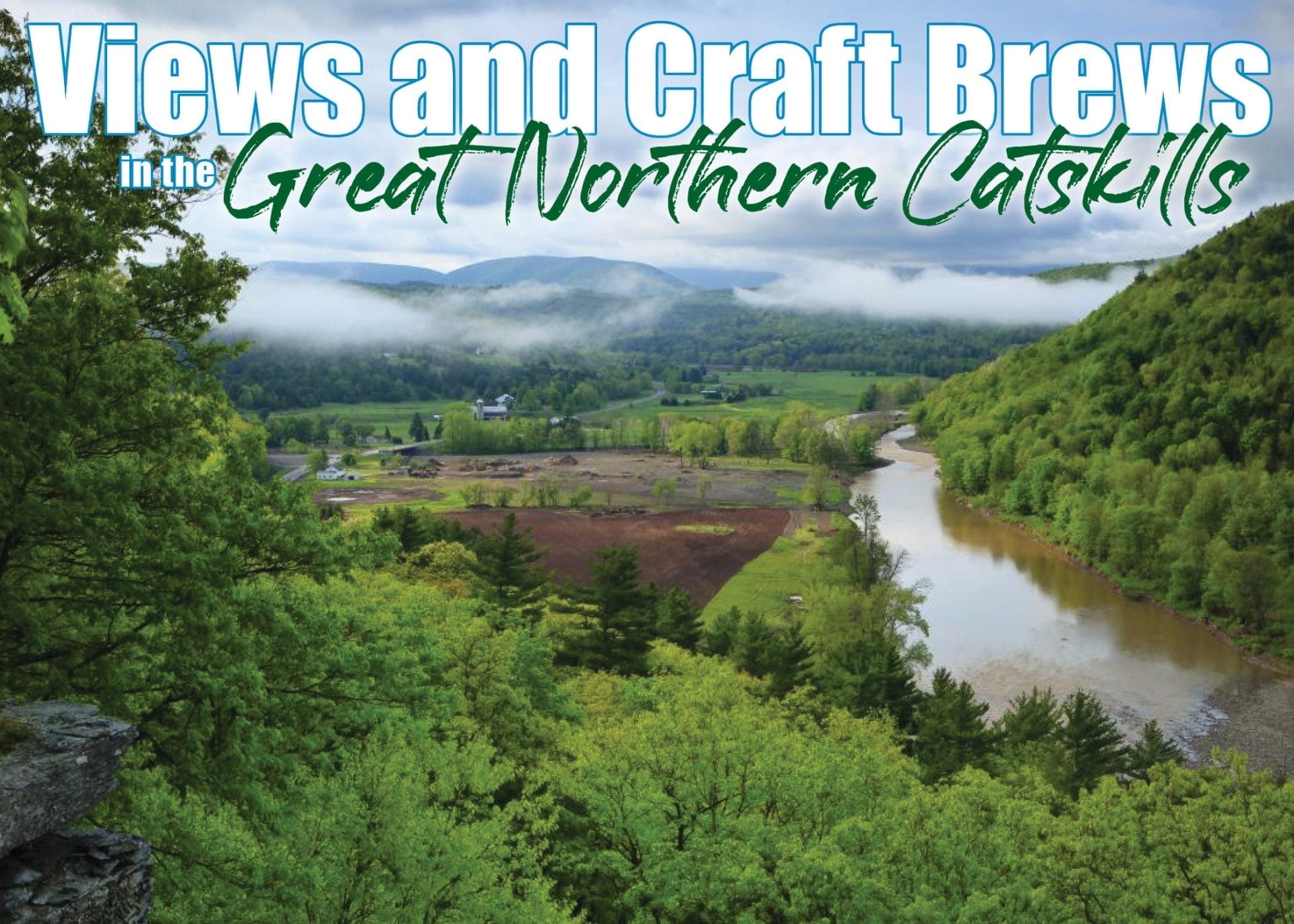 Traveling has always been something that I've wanted to do. As a student I was lucky to have traveled abroad, studying English literature and psychology, on top of interning with two independent publishing companies in London, England. Amidst catching the tube to different pubs, museums, and markets throughout the London's thirty-two boroughs, I was also fortunate enough to travel outside of the city. From Paris to Budapest to Prague, Krakow, Amsterdam, Brighton, Edinburgh and the Isle of Skye in Scotland, I was able to see a lot of Europe in a short visit. Upon returning from my adventures abroad, I quickly realized how little of my own area—the Hudson River Valley, I've explored. So, when given the opportunity to travel throughout the Great Northern Catskills, I was beyond thrilled. I couldn't wait to see what was in store during two days of exploration—all in my own backyard.
Now in 2021, the Great Northern Catskills is still a must-visit destination with exciting attractions to experience. The beautiful Kaaterskill Falls may not be open for visiting right now, but there are still plenty of amazing locations that are waiting to be explored.
THE GREAT NORTHERN CATSKILLS
My adventure began by catching the Amtrak train from New York City. I really like traveling by Amtrak, and have used it on a plethora of occasions, whether I'm traveling up to Syracuse or Buffalo. You can really go anywhere your heart desires from this station.
As anticipated, the ride was relaxing for an early morning trip. Once seated I had a nice scenic view of the Hudson River the entire way up, traveling from New York City to Hudson, my final destination. Before hopping off at the Hudson Station in Columbia County, I was curious about other passengers' weekend plans and decided to ask around.
The older gentleman I was sitting with was traveling to visit his family in Rochester. A college-aged girl was sitting with her dog, a black-and-white Border collie mix, getting off at the Albany-Rensselaer station to see her boyfriend. She mentioned how excited she was about being able to travel with her dog on Amtrak, and how much easier it was without the struggle of finding someone to watch her furry companion.
Upon arriving at the Hudson station, I was greeted by a friendly Enterprise driver who took me, along with another passenger, to their headquarters to set us up with our own vehicles. Along the ride, winding through the streets of Hudson, the driver told us briefly about its history as a whaling village, once almost entirely occupied by sailors. The town did project a sort of historic charm, with red brick buildings and cozy main streets.
After filling out paperwork at the Enterprise office, I was given a quick yet informative tour of my car: a dark blue Toyota Camry. It was one of the nicest cars I had ever driven, with heated seats, Bluetooth and voice controls – let's just say, I was very excited to be driving around from place to place. And I did, after thanking my Enterprise salesperson I was on my way to my first location on my two-day adventure, the Thomas Cole National Historic Site.
TAKING IN THE SCENERY AT THE THOMAS COLE NATIONAL HISTORIC SITE
Exiting off the Rip Van Winkle Bridge, leaving the hustle and bustle of traffic in the midst, I pulled into a quiet, secluded property and immediately noticed the impressive yellow house with a beautiful wrap-around porch. I began the tour looking out from the porch onto the scenery before me. Past the houses and power lines that didn't exist during Thomas' time, were the magnificent Catskill Mountains, the exact scene Thomas had painted numerous times.
As a primarily self-taught artist, Thomas Cole was enamored by the "haunting beauty of the Catskill wilderness" and took to painting the scenes that enveloped him, a majority of his work depicting not only the beauty of the natural world, but the necessity of it. I was inspired by this idea, Thomas Cole projecting the idea of transcendentalism through his paintings, similar to the writings of Thoreau and Emerson, and I couldn't think of a better way to kick off my trip.
After touring the interior of the home, viewing a few of Cole's original paintings, I was shown the newly-renovated studio, constructed to match Cole's original blueprints. An old barn with exposed wooden beams and a giant easel, it was the quintessential writer's quarters. I imagined all of the hard work and creativity that once existed in that room, which was enlightening in its own right.
Waving goodbye to Thomas Cole, I was on the road for a thirty-five-minute journey toward Hunter Mountain, where I was about experience one of greatest thrills of my life – zip lining! Winding toward my destination, a light rain began to fall and a white mist began rolling up and over the mountains. It was spooky and beautiful all in one, so of course, I had to stop and take a few pictures.
In 2021, the Thomas Cole National Historic Site can be explored from dawn to dusk. In addition to Cole's beautiful paintings, the site now offers a multitude of digital content and outdoor attractions to be viewed and explored. Beginning May 21, the site will be hosting outdoor guided tours. On June 12, Thomas Cole National Historic Site will feature "Indoor Explore," in which advance reservations are required. The weekend of May 16 will be the last to experience "Spring Lights" where visitors can explore the site at night.
ZIPLINING AT HUNTER MOUNTAIN
The weather started to clear up once I arrived at Hunter Mountain. The New York Zipline Adventure Tour is "the longest and highest zipline canopy tour" in all of North America, so I would be lying if I said I wasn't a little nervous. Those nerves seemed to melt into excitement once I met the ever-so-friendly staff and group I would be ziplining with. Once we bundled up in our gear of strappy harnesses and bright red helmets, we hit the ski slopes that carried us to the top of the mountain. The ride up was incredible, and regardless of the light rain, the view was spectacular. The verdant Catskills rolled on for miles in every direction.
At the top, the group's collective adrenaline was kicking in – especially when we saw the first of five ziplines on the tour. Stretching from one peak to another, the first line traveled over the valley, revealing the most impressive view and the steepest drop. Out of the four total tour guides, two traveled down the lines first to secure the platform on the other end.
Considering every other person in the group had come in pairs, I was the odd man out, it only meant one thing – I would be the first person to go. Seizing the opportunity, and preventing myself from wimping out, I readied myself at the platform and tried not to think about the stomach-lurching drop that was two feet in front of me. The guide instructed me to run off the platform and jump into a cannonball position, similar to jumping into a swimming pool. I thought, not only am I the first victim down this mountain but now I have to run and jump into thin air?
Before I could let my nerves get the best of me, at the "okay" of the instructor, I went for it. Jumping off the platform, I was flying through the air and forgot entirely about being scared of the height because I was taken aback by the immense beauty of the view all around me. The excitement I was feeling lasted for about three hours, as we made our way down the mountain, flying across five different zip lines until finally landing on the last platform. It was an exhilarating experience.
Currently, there are two tours to experience at Hunter Mountain. Ziplining tours include the Mid-Mountain Tour and the Skyrider Tour. The Summit Skyrider Tour is the second-longest zipline in the world, 600 feet above the ground and is 4.6-miles long. The Mid-Mountain Outdoor Adventure Tour is considered a family-oriented experience and lasts approximately three hours.
Ziplining at Hunter Mountain also has an array of new cleaning protocols and online booking.
CHECKING IN AT THE HOTEL VIENNA
Hopping back into my Enterprise rental, I found myself winding through the Catskills once more, the smoky mist rolling down and through the valley. My destination was Windham, a quaint town known for its skiing, hiking, mountain biking – essentially anything involving the outdoors. I traveled over several small brooks and through open fields of green before I came upon my home for the evening, the Hotel Vienna.
Following check-in, I made my way up the carpeted steps to my room, a large space with a vanity and bathroom, king-size bed and a porch looking out onto the surrounding area. A charming birdhouse hung right next to the porch, the little birds escaping the chilly air. I settled in before heading to Athens, NY. It was time for dinner and craft brews on the Catskills Beverage Trail.
ON TO CROSSROADS BREWING CO. FOR DINNER AND CRAFT BREWS
Crossroads Brewing Company is the place to be on a Monday night. Why Monday? It's trivia and wing-and-beer night, where you order a dozen of their wings and get a beer for only one dollar!
I rolled up to the brewery and it was crowded, customers young and old bustling around, chatting with individuals at other tables. Crossroads held a very comforting, homey atmosphere and was absolutely buzzing with charm. I was seated closer to the bar, but I could still be present during the exciting trivia session that lasted until closing.
Dying to try one of their beers—all the beers on tap were new as of July 19th, I ordered the Brick Row Red Ale, described as "a bright amber color and rich malt flavors with notes of nuttiness, biscuit, caramel and a mild bread character." The brew was delicious, and it went perfectly with the dozen wings I had ordered: honey sriracha and the black rock BBQ. Partnered with homemade bleu cheese dressing, the wings were fantastic – dare I say, the best I've ever eaten.
Of course, in 2021, this crowded scene of friendly faces conversing from table to table isn't exactly a common occurrence. Nonetheless, Crossroads Brewing Company is still a popular and delicious option for all of your brew needs. The Athens Brewpub recently released their Spring 2021 Menu that includes delectable dining options such as Seasonal Salads, Crossroads Classics and Brewery Bites.
BREAKFAST AND A HIKE
Returning to my cozy room at Hotel Vienna, I collapsed on the bed for a good night's sleep. Sleeping soundly through the night, I woke up just in time to catch the hotel's complimentary breakfast in their dining room. I packed up my belongings and loaded up my car, then hit the buffet, consisting of apples and bananas, eggs, oatmeal, different cereals and delicious jam-filled and buttered croissants. Along with a fresh cup of coffee and some orange juice, I sat at the wooden table accompanied by an elderly couple, who were staying in Windham for the week. The dining room reminded me of one that would be in a log cabin, with wooden furniture, a beautiful fireplace and a view of the Catskills beyond the deck.
After finishing the last bite of croissant, I took to the nature trail, called the Windham Path, which wrapped its way behind the hotel in a two-mile loop. Several small bridges crossed over areas of overgrown foliage and winding streams. The path took me around the grounds, revealing beautiful views of the mountains. A few individuals were already out on the path, walking or running or chatting with another person. It was a nice trail to follow, whether you're looking to get some exercise or just some peace & quiet.
Trekking Diamond Notch Falls
Although the popular Kaaterskill Falls may not be open for trekking right now, Diamond Notch Falls is a breathtaking alternative. This gorgeous waterfall is considered a fairly easy hike that can be considered moderate for some, making it the perfect location for hikers at any level. Hiking the falls takes you through 2.2 miles of scenic woods. One of the greatest perks of hiking Diamond Notch Falls is that it's a suitable hike for all seasons. Whether you're taking in the colorful fall foliage of the Catskills or enjoying a leisurely spring time stroll, Diamond Notch Falls has something beautiful to offer every season. Now that we're in spring and weather is finally warming up, there's no better way to enjoy Upstate New York than exploring one of its many waterfalls.
Grabbing Lunch
I was growing hungry by the time I climbed back up the trail and decided it was time to grab a bite for lunch. At the main intersection in Tannersville, a small town five minutes from Kaaterskill Falls, and a 40 minute drive from Diamond Notch Falls, sits Mama's Boy Burgers, a quirky joint acclaimed for its "great food in the great outdoors." Serving up burgers, fries, frozen custards, milkshakes and more, it's the new "go-to" place in Tannersville.
It also had outdoor seating, bright red picnic tables, which was nice considering the day was getting warmer and lovelier as it went on. I ordered the Devil's Tombstone burger, two patties with the works and a special sauce, and onion rings. As I waited outside for my food, I appreciated the charming, cheerful atmosphere of the little town, with families walking up and down Main Street, and bicyclists winding down the road. I was beyond excited as my food arrived, the onion rings piping hot, the melting cheddar cheese oozing down the burger. I was in heaven!
Today, Mama's Boy Burgers is still going strong by staying open seven days a week. Whether you're grabbing takeout or sitting outside to enjoy the outdoors with your meal, Mama's Boy Burgers is open and ready to serve you. What more is there to ask for than forty different flavors of milkshakes?
Zoom Flume Water Park
As the weather continues to heat up and spring transitions into summer, places like Zoom Flume Water Park are ready for visiting. The water park is located in East Durham and is open daily from 10 a.m. to 6 p.m. from June to Labor Day. Once this exciting attraction opens up for the summer, be sure to enjoy some fun in the sun.
A SAMPLING AT RIP VAN WINKLE BREWING CO.
Savoring every last bit of burger, I was able to finish up just in time to hit the road for the Rip Van Winkle Brewing Company tour, located at Angela's Italian Bistro and Brewery in Catskill. I was able to easily navigate myself away from the mountains (sad) toward the Hudson River, taking about thirty minutes to arrive at the brewery. Once there, I was greeted by the friendly wait staff and was shown the room where all the magic happens – the brewery itself! All of the craft beers are made with Catskill Mountain spring water, so of course, I had to try a few samples. I received a flight of five of their best craft beers.
I sampled the Palenville Pale Ale (malty-caramel), the Rip Van Wit (my personal favorite of the five, wheat with coriander and orange peel), the Shucker Punch Oyster Stout (dark, creamy and smooth, containing real shellfish), the Kiskatom Brown Ale (malty with chocolate and caramel notes), and the Mountain House Helles (golden-hoppy lager). The Mountain House actually won the silver medal at the 2017 New York International Beer Competition. All of the beers were deliciously fresh, and a few of them are even used in the Bistro's recipes. For instance, they use the Kiskatom Brown Ale to make their popular French onion soup.
Although only open five days a week, Rip Van Winkle Brewing Co. is yet another Great Northern Catskill brewing company that remains standing after enduring the difficulties of the past year and the ongoing struggles that continue for venues like this. Whether it's 2017 or 2021, Rip Van Winkle Brewing Co. is sure to deliver by giving you the ultimate craft beer experience.
HAPPY HOUR AT NEW YORK RESTAURANT
I had one more stop before dropping off my Enterprise rental at Hudson Station, so I hit the road once again for happy hour at New York Restaurant in Catskill. Walking down Main Street towards the restaurant, I admired how up-and-coming the area was. People of all ages milling on the sidewalks, some sitting outside enjoying an early dinner, others with shopping bags in hand.
Arriving at New York Restaurant, I was surprised by the modern, yet warm and cozy atmosphere. Candles adorned the dark wooden tables, and flowers and art pieces covered the walls. The restaurant was mildly busy for a Tuesday afternoon, a majority of folks crowding the bar, drinking and eating small appetizers. I was seating at a small table for two next to the bar, enjoying the light breeze coming in through the wide-open windows.
The menu ranged from chicken wings to pierogis, to a traditional Polish dish of kielbasa, golabki and bigos, called the Tour of Poland. Considering my own Polish background, I decided on the potato-and-cheese housemade pierogies. The waitress mentioned cauliflower wings, which I had never heard of before, so I had to try them.
After a short wait for my food, I was quick to dig in and was just as quickly blown away. I was incredibly impressed with the cauliflower wings, a spicy, sweet, and creamy mix with the bleu cheese. The pierogis were also delicious, and I could tell they were homemade. I would definitely return to New York Restaurant; the food was amazing, the new owner did a wonderful job mixing a sleek, modern restaurant with their Polish influences.
Right now, New York Restaurant is serving their delicious Spring/Summer menu and is open daily.
HEADING HOME
Leaving Catskill, I crossed over the Rip Van Winkle Bridge and traveled back toward Hudson. Filling the Enterprise car with gas before parking it in the small lot next to the Hudson train station, I couldn't help but reflect on the past forty-eight hours of enlightening, fulfilling experiences. I felt lucky to have been able to participate in such a trip, taking me all around Greene County, through beautiful scenic routes and seeing the breathtaking Catskill Mountains at every turn. As my Amtrak train pulled into Moynihan Train Hall, I knew I'd return to the Great Northern Catskills soon.
GETTING TO GREENE COUNTY IN THE GREAT NORTHERN CATSKILLS
Amtrak's Empire Service, Maple Leaf, Adirondack and Ethan Allen Express lines service the Hudson Station; a two-hour ride from Penn Station, and a 25-minute ride from Albany-Rensselaer Station. The lowest current cost is $31 for a one-way, off-peak ticket from Penn Station, and $15 from Albany-Rensselaer with sufficient advance purchase, but price can vary. The earliest trains to Hudson leave Penn Station at 7:15 a.m. and Albany-Rensselaer at 5:05 a.m, arriving at 9:20 a.m and 5:30 a.m. respectively. For schedules visit amtrak.com.
Get picked up at the Hudson Station by Enterprise Rent-a-Car and taken to your reserved rental car! Use code NYTRAIN for a discount when making your reservation. Reach the Hudson office at 518-828-5492. From there, Greene County and the Great Northern Catskills are a 20-minute drive away. The Hudson office also offers pick-up service that is available at non-airport locations. You can call the Hudson office directly to schedule your pick-up time or make other arrangements.
Don't forget to use the See New York and Save 15% Discount when purchasing tickets!
More to do in the Catskills