Editor's Note: New York by Rail updated this October 2018 blog experience to include current information.
On Saturday, June 20 Windham Mountain opened its bike park for visitors again, after a long few months at home. Windham Mountain is closely monitoring the COVID-19 situation with increased protocols to ensure the health and safety of guests. The bike park is only open on weekends at this time. This is an inside look at Windham Mountain Bike Park.
I balance precariously on a mountain bike at the top of a steep hill. The sun is hot, beating down on me. Sweat drips slowly down my neck.
A gentle breeze kicks up and cools me down. With this relief, I am able to focus on the task at hand. I need to bike down a hill. Gripping the handlebars tightly, heart pounding in my chest, I stare at the bottom of the slope with apprehension. It's my first time on a mountain bike. Although the hill is small compared to the mountain behind me, I feel anxious, as if it's my first time learning to ride a bike.
My instructor is speaking to me, trying to ease my nerves. His patience and confidence in me help calm me. He tells me to keep breathing, lighten my grip and remember to brake. I nod my head, excitement replacing my nervousness.
My instructor grins at me, then releases his grip on my handlebars. For a moment, time freezes. I stand alone on my perfectly balanced bike. The sound of chirping crickets is the only thing I can hear. Then, with a deep breath, I tip forward and roll down the hill. Wind rushes past my face. I am flying at the Windham Mountain Bike Park!
First Impressions of Windham Mountain Bike Park
At an elevation of 3,100 feet and with bike trails for every skill level, Windham Mountain Bike Park is a popular spot for this adrenaline-inducing sport. Pulling into the parking lot, I can see the mountain peeking behind the Windham Mountain Resort. Outlined beautifully against the bright blue sky, it's a welcoming yet intimidating sight, challenging me to its slopes.
As I walk to the Windham Mountain Bike Park rental shop, I watch bikers snake their way down the steep slopes among a sea of emerald trees. They glide effortlessly. I stare, transfixed, as one after another loop their way to the bottom and eventually stop on the patio in front of the rental shop.
As a first-timer, I need to rent my gear for the day. Before I can take the chairlift up the mountain to the trails, I must also take a lesson. At the rental shop, I get suited up, handed a bike and introduced to my instructor, Chris.
The Windham Mountain sign welcoming visitors. | Photo Courtesy of Allyson Macci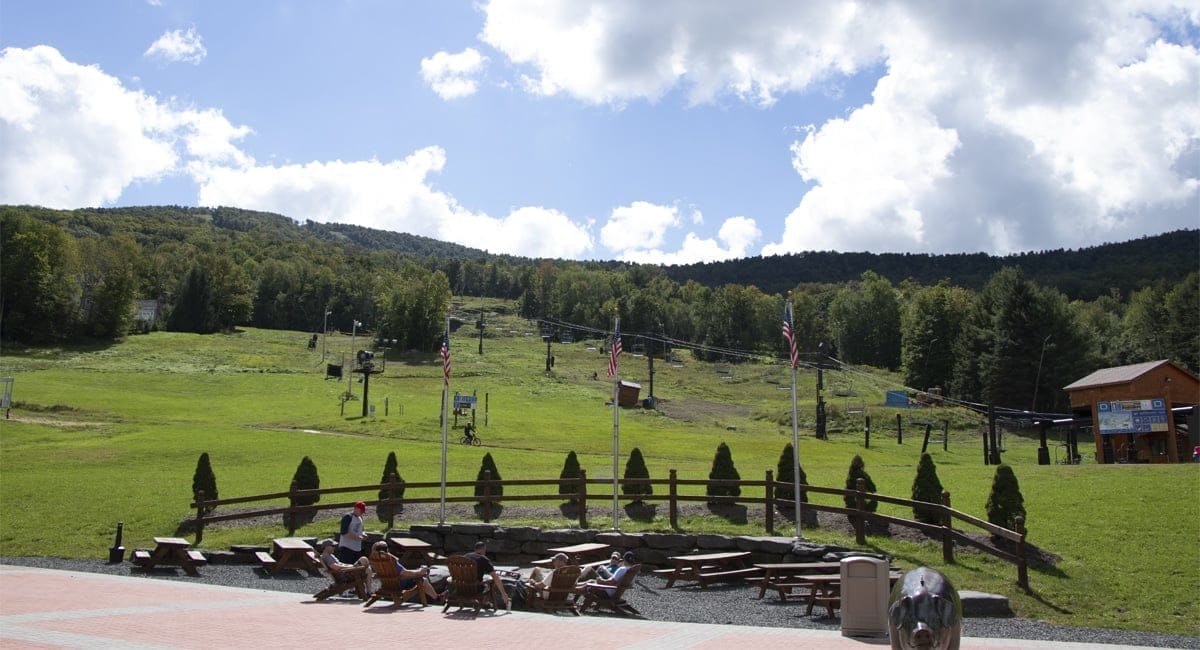 View of Windham Mountain. | Photo Courtesy of Allyson Macci
Taking a Lesson
My cousin, an experienced mountain biker, compares mountain biking to riding a motorcycle without the motor. It is not "city biking," the term Chris uses to describe leisurely rides through a city or a park. I am a city biker, which makes me nervous about my first mountain bike ride. Outfitted with knee pads, shin pads, a full-face helmet and a jacket with padding on the chest, arms, shoulders and back, I am ready. The padding is light but strong, supplying a sense of protection without hindering my mobility.
Chris begins my lesson on the patio outside the rental shop. The whiz of bikes and people fill my ears as I hop on my bike. Adults and children mill around the patio, dressed head to toe in mountain biking gear. Bikers zoom by me with grace and precision. I feel awkward and intimidated on my bike but determined.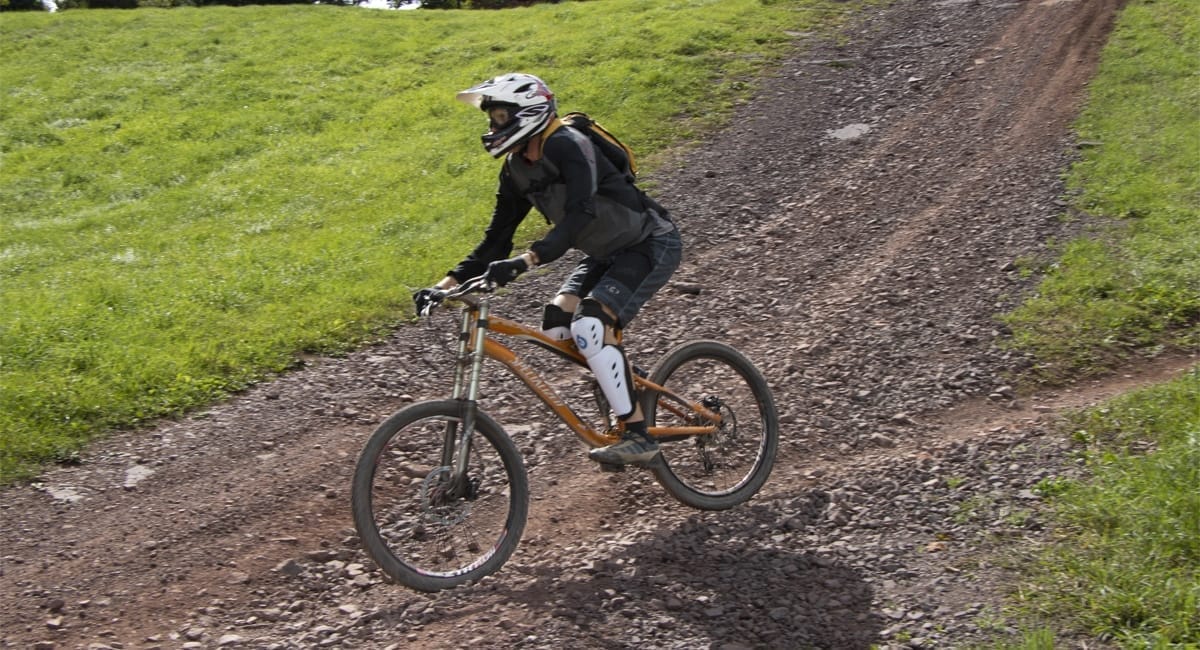 Mountain biker speeding down one of the many trails at Windham. | Photo Courtesy of Allyson Macci
Chris starts with the basics: turning, braking, changing gears, and how to properly position my body on the bike. Riding around, I can feel how different this bike is from my street bike. The mountain bike is heavier, but it glides smoother and easier. I can tell this bike is meant for speed.
Since all of the trails at Windham go through woodsy terrain, Chris teaches me how to navigate narrow dirt trails and rocky paths. I need to ride with my body hovering over the seat. Chris instructs me to center my weight, keeping my pedals level and body elevated. By staying above the seat and maintaining an athletic position, I have more mobility, power, and control over the bike. If I need to make a sharp turn or stop short, I'll be more balanced and can move my body in the direction I wish to go. Most importantly, Chris teaches me is to lead with my eyes. Where I look is the direction my bike will go.
As I ride around the patio, I have trouble keeping myself elevated over the saddle and remind myself to avoid the "flamingo stance," in which one of my pedals is raised and the other is all the way down. At first, I wobble as I ride, but eventually I move more fluidly.
Next come the hills. At first, I have difficulty pedaling uphill. The weight of my bike is unfamiliar and heavy, making it hard to move it upward. When we start riding downhill, I become anxious about going too fast and losing control, but Chris stays with me until I am comfortable. With his encouragement I can soon navigate down a novice slope by myself. I teeter but feel ready for the practice course.
The Practice Course
The bunny slope during ski season serves as the practice course. It's short but designed to mimic the terrain I'll find on the real trails. The edges are banked where the trail curves. Chris shows me how to navigate these berms. I take it slow. While I am nervous about making the sharp turns, I'm excited to get down the practice course without any trouble.
At the end of my lesson, I do not feel confident enough to try even the beginner trails. Despite Chris's excellent teaching and patience, I realize that mountain biking is not something I can just jump into and do perfectly. It's requires physical exertion, skill, and balance to ride a bike on uneven terrain. My lesson is a good introduction. Now I need more practice before going down steep slopes, around sharp turns, and over rocky trails.
Even though I don't ride a mountain bike down the entire mountain my first day, I still enjoy riding the chairlift to the top of it. At the summit, I admire the gorgeous view of the Catskill Mountains, glad for the chance to try mountain biking. What a thrill, and Windham Mountain Bike Park is the perfect place to do it!
About Windham Mountain Resort
Windham Mountain Resort, in Windham, New York, is a year-round, family-oriented resort that mixes small-town charm with modern amenities. Founded over 50 years ago as a ski area, today it offers an array of outdoor activities for all skill levels, including mountain biking and golf in the spring, summer, and fall. During the winter, skiers can take advantage of its 54 trails and 285 skiable acres. Along with its sports, Windham attracts visitors to its inn, alpine spa, and three restaurants. It's also a popular place for weddings, with the Catskills providing a picturesque backdrop.
A couple riding down the ski lift, looking out at the Catskills and the valley below Windham Mountain. | Photo Courtesy of Allyson Macci
More on Mountain Biking
Not a beginner? Windham Mountain Bike Park has trails for everyone, including the pros. The resort is a regular stop on the UCI World Cup tour. Experienced mountain bikers can ride the same terrain as the best in the world.
Windham is also home to the longest jump trial on the East Coast. Designed by world-renowned Gravity Logic, the park features berms, tabletops, mini rock gardens, and other elements that test one's skill and airtime on a bike.
Take Amtrak to the Windham Mountain Bike Park
Take Amtrak to Hudson Station (HUD) in the Hudson Valley. Don't forget to use the New York By Rail 15% Amtrak discount! 
Amtrak allows passengers to carry on a collapsible bicycle that must be smaller than 34" X 15" X 48" and weigh less than 50 pounds. If you take the Lake Shore Limited (Trains 48, 49), you may check a bike as luggage. The bike must weigh 50 pounds or less and be a maximum of 70" X 41" X 8.5," with a maximum tire width of two inches. Reservations are required. Note: The Lake Shore Limited does not stop at Hudson. Instead, take the train to Poughkeepsie Station (POU). Click here for more information on taking your bike on the train.
To get from Hudson to Windham Mountain Resort, New York By Rail suggests an Enterprise Rent-a-Car. Enterprise picks you up at the station and brings you to your vehicle. To return the car, leave it in one of the reserved Enterprise parking spots at the train station and drop the keys in the key drop box.
Click here to reserve your car, or call Enterprise's Hudson office at (518) 828-5492.
To reserve a car at POU, click here or call Enterprise's Poughkeepsie office at (845) 485-2222.
Students Get 15% Off in New York State!
Students traveling within New York State and from New York to St. Lambert or Montréal receive 15% off regular (adult) fares in 2019. (Blackout dates apply.) Purchase your ticket at least three days in advance. For complete terms and conditions, click here.
Other Ways to Explore the Great Outdoors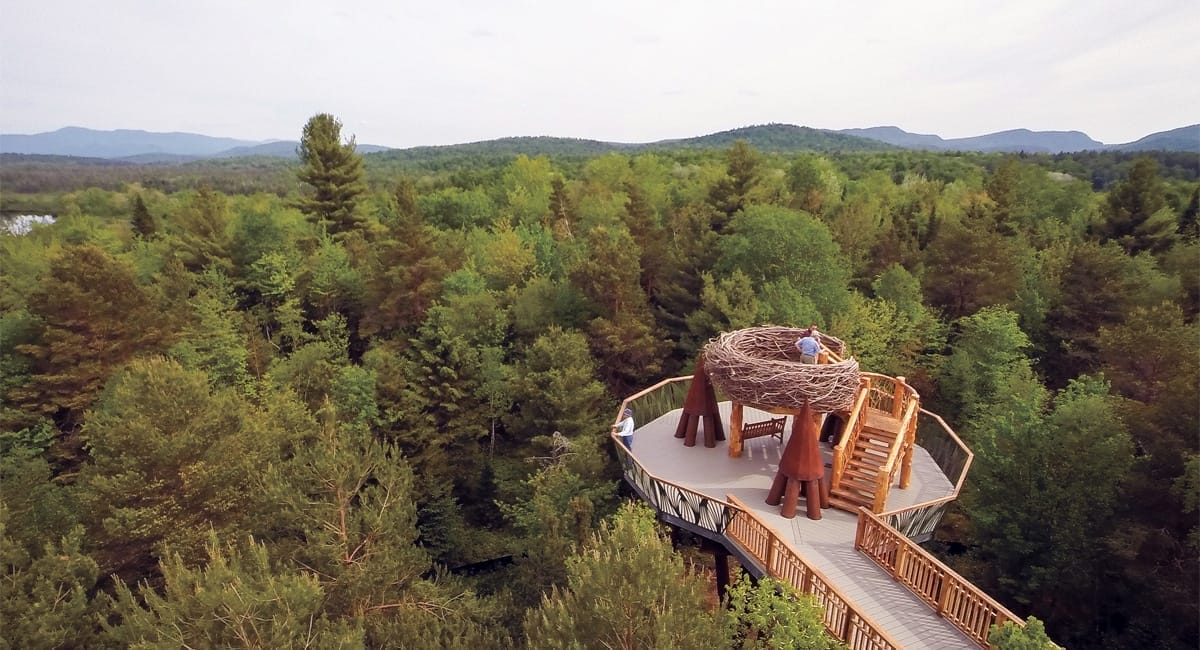 The Wild Center (Tupper Lake)
The Wild Center is committed to teaching people how nature and humanity can coexist together through the help of science, hands on experience and exploration. Established in 2006, The Wild Center offers a range of permanent and changing exhibits and programs for all ages. It's a unique destination in the Adirondack Park, designed to connect you with the region's natural environment in engaging ways.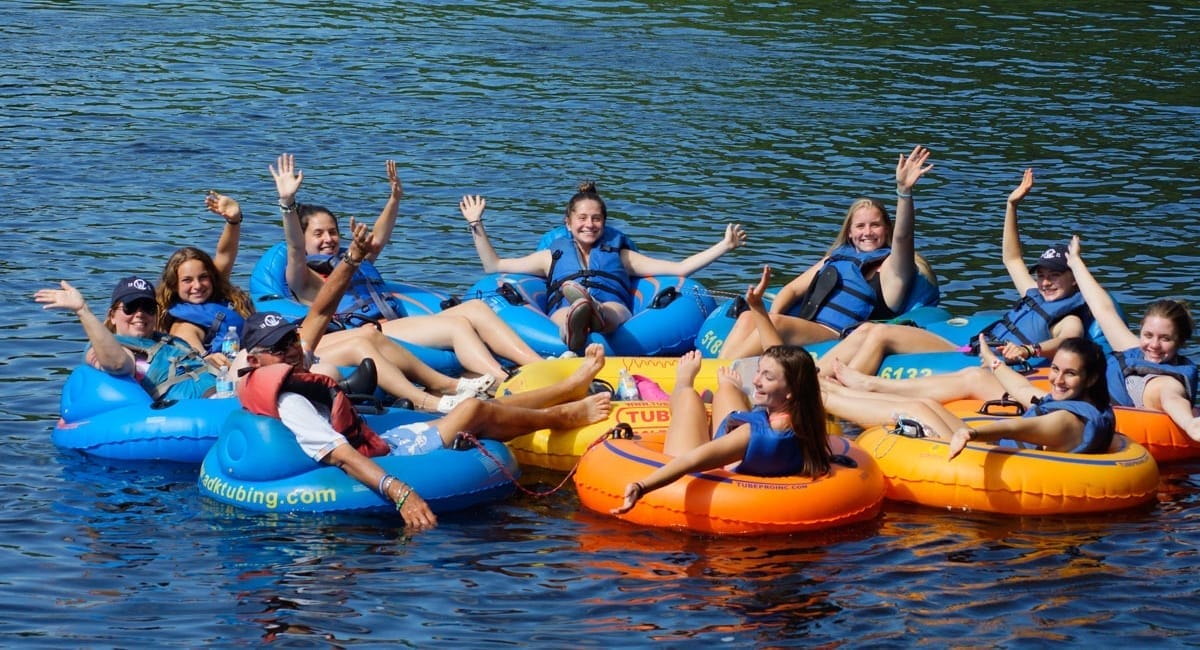 Adirondack Tubing Adventures (Lake Luzerne)
Adirondack Tubing Adventures is part of the family-friendly Adirondack Adventure Center, where you can also go tubing or rafting on the Hudson River or pump up your adrenaline on their treetop ropes course and zip lines. Established 20 years ago, the adventure center offers the perfect way to get outside and experience the Adirondacks near popular Lake George.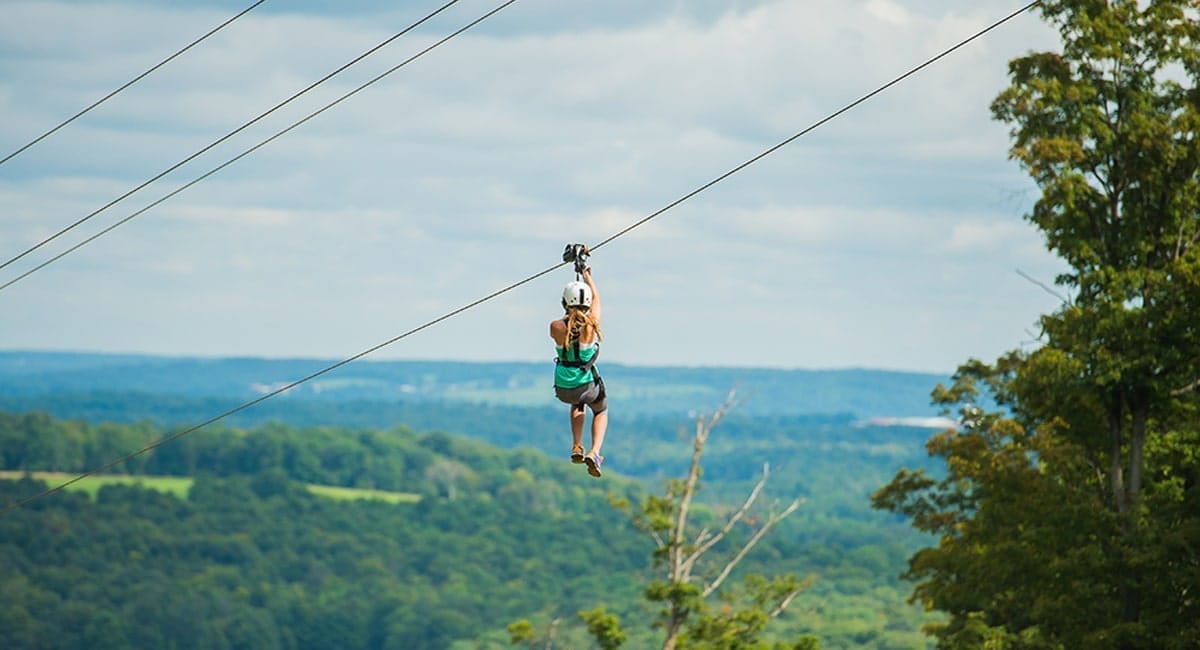 Peek' N Peak Resort and Aerial Adventure (Clymer)
Peek'n Peak opened as a ski area in the 1965 ski season. Today, Peek'n Peak is a year-round destination, thanks to its golf course, spa, restaurants, indoor and outdoor pools and, for those looking for an adrenaline fix, its aerial adventure center. Peak Mountain Adventures includes aerial adventure courses, ziplines, Segway tours, miniature golf, and biking. The aerial adventure course features 69 obstacles and eight courses of varying difficulties.
Other I Love New York Family Bucket List Articles: