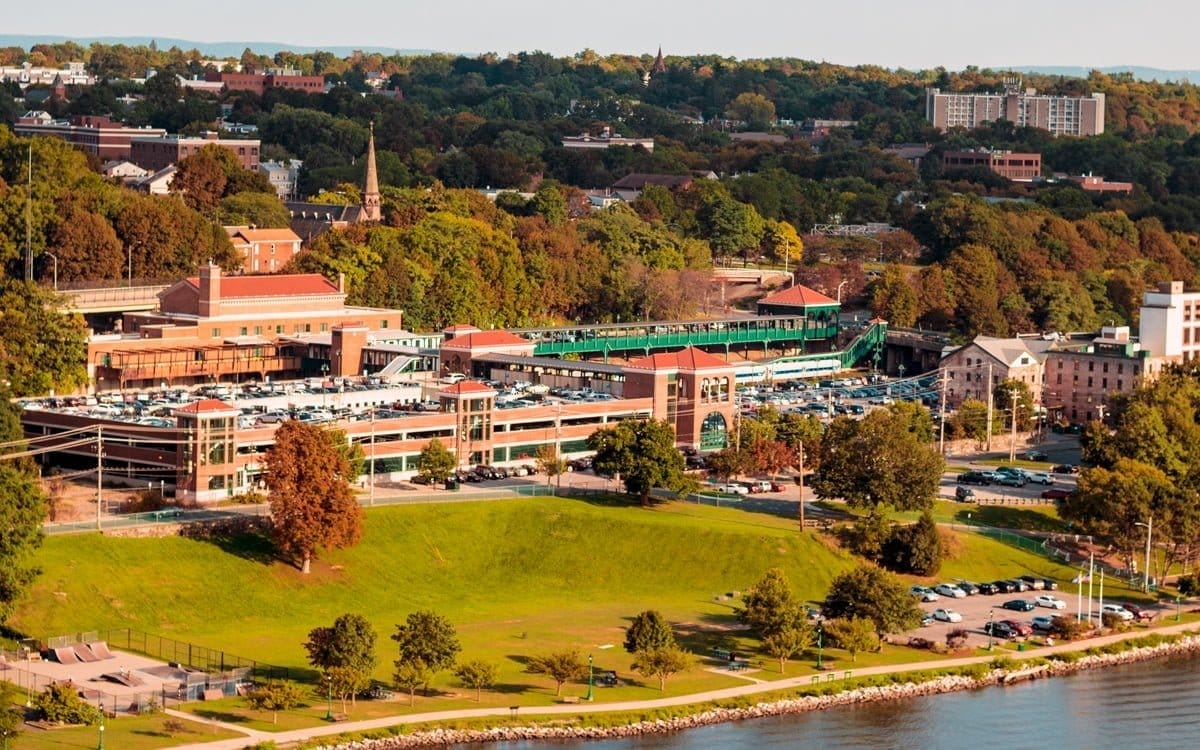 Poughkeepsie Station (POU)
41 Main St
Poughkeepsie
,
NY
12601
United States (US)
Thinking of visiting the Hudson Valley by taking Amtrak to Poughkeepsie Station? Poughkeepsie is a jewel among other Hudson Valley cities. It is home to several major attractions, ranging from fantastic restaurants and breweries to fun outdoor experiences and other things to do. When taking Amtrak to the Poughkeepsie train station, make sure to visit Walkway Over the Hudson. The Walkway is less than a mile from the station, making it a prime destination for visitors and residents alike. Other significant attractions that can be reached from the Poughkeepsie train station include the Bardavon 1869 Opera House, Millhouse Brewing Co. and Rocking Horse Ranch.
Taking Amtrak to the Poughkeepsie train station but looking to venture outside of Poughkeepsie? What makes this station so great is its close proximity to several Hudson Valley attractions. You may be looking to hike in New Paltz, visiting Bannerman Island on the Hudson River or gazing at sculptures at the Storm King Art Center, taking Amtrak to Poughkeepsie is a perfect way to get there while still being able to take in all of the scenic sights of the Hudson Valley.
Not only does traveling to Poughkeepsie Station provide you with a scenic train ride no matter where you're traveling from, but it also places you right in the scenery of the Hudson River Valley itself. Poughkeepsie is a great destination for nature lovers and city-goers and can offer you a multitude of experiences. Whether you're hiking, enjoying a fantastic dining experience, embarking on a historical adventure or simply going to the mall, you're bound to enjoy Poughkeepsie.
Poughkeepsie train station parking is simple and accessible. There is also dedicated accessible parking available. At the station is 50 long-term parking spaces and 10 short-term spaces. Additionally, there is no parking attendant available.
Public transportation from the station includes Dutchess County Public Transit and Ulster County Area Transit Bus. Get picked up from the Poughkeepsie Station and taken to your reserved NYTRAIN Enterprise Rent-a-Car. Click here to reserve your car or call the Poughkeepsie office today at 845-485-2222.
General Poughkeepsie Station Services
ATM available
Elevator
Payphones
Quik-Trak kiosks
Accessible restrooms
Unaccompanied child travel not allowed
No vending machines
No WiFi
Arrive at least 30 minutes prior to departure
Baggage
Amtrak Express shipping not available
No checked baggage service
No checked baggage storage
Bike boxes not available
No baggage carts
Ski bags not available
No bag storage
Shipping boxes not available
No baggage assistance
Poughkeepsie Station Parking Information
Dedicated accessible parking available
Parking is available
10 short-term parking spaces
50 long-term parking spaces
No parking attendant
Poughkeepsie Station Accessibility
Payphones
Accessible platform
Accessible restrooms
No accessible ticket office
Accessible waiting room
Accessible water fountain
Dedicated accessible parking available
High platform
No wheelchair
No wheelchair lift
Poughkeepsie Station Waiting Room Hours
Monday – 5:00 AM – 9:00 PM
Tuesday – 5:00 AM – 9:00 PM
Wednesday – 5:00 AM – 9:00 PM
Thursday – 5:00 AM – 9:00 PM
Friday – 5:00 AM – 9:00 PM
Saturday – 5:00 AM – 9:00 PM
Sunday – 5:00 AM – 9:00 PM
General Poughkeepsie Station Services

ATM available
Elevator
Payphones
Quik-Trak kiosks
Accessible restrooms
Unaccompanied child travel not allowed
No vending machines
No WiFi
Arrive at least 30 minutes prior to departure

Baggage

Amtrak Express shipping not available
No checked baggage service
No checked baggage storage
Bike boxes not available
No baggage carts
Ski bags not available
No bag storage
Shipping boxes not available
No baggage assistance

Poughkeepsie Station Parking Information

Dedicated accessible parking available
Parking is available
10 short-term parking spaces
50 long-term parking spaces
No parking attendant

Poughkeepsie Station Accessibility

Payphones
Accessible platform
Accessible restrooms
No accessible ticket office
Accessible waiting room
Accessible water fountain
Dedicated accessible parking available
High platform
No wheelchair
No wheelchair lift

Poughkeepsie Station Waiting Room Hours

Monday – 5:00 AM – 9:00 PM
Tuesday – 5:00 AM – 9:00 PM
Wednesday – 5:00 AM – 9:00 PM
Thursday – 5:00 AM – 9:00 PM
Friday – 5:00 AM – 9:00 PM
Saturday – 5:00 AM – 9:00 PM
Sunday – 5:00 AM – 9:00 PM