Explore the Hudson Valley by Taking Amtrak to Poughkeepsie (POU).
Poughkeepsie is a major destination in the Hudson Valley. From the moment you pull into the station (built in 1918 it was meant to be a much smaller version of Grand Central Terminal), there are many attractions to explore, as well as top-notch restaurants and breweries. Poughkeepsie is also a jumping-off point to explore other parts of the region. When taking Amtrak to the Poughkeepsie train station, make sure to visit Walkway Over the Hudson, the world's longest elevated pedestrian bridge; it's less than a mile from the station. In Poughkeepsie you can also visit  the Bardavon 1869 Opera House, Millhouse Brewing Co., Vassar College, the Samuel Morse Estate. Just north of Poughkeepsie lies Hyde Park, home of the Culinary Institute of America (CIA) and several national historic sites, including the Vanderbilt Mansion and the home of President Franklin D. Roosevelt.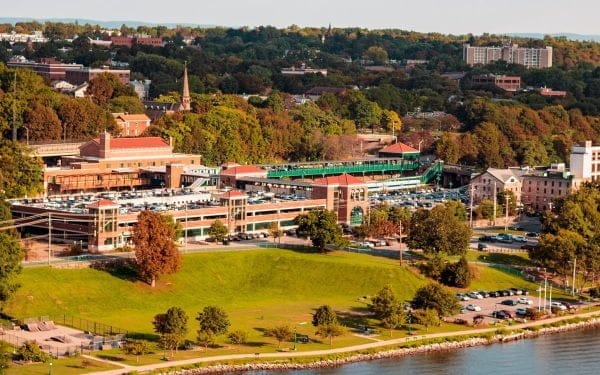 Things to do in the Poughkeepsie Area
Taking Amtrak to the Poughkeepsie train station but looking to venture farther afield? What makes this station so great is that you can also travel across the Mid-Hudson Bridge to easily access attractions on the west side of the Hudson River.  You may be looking to hike in New Paltz, visiting Bannerman Island on the Hudson River or gazing at sculptures at the Storm King Art Center, taking Amtrak to Poughkeepsie is a perfect way to get there while still being able to take in all of the scenic sights of the Hudson Valley.
Not only does traveling to Poughkeepsie Station provide you with a scenic train ride no matter where you're traveling from, but it also places you right in the scenery of the Hudson River Valley itself. Poughkeepsie is a great destination for nature lovers and city-goers and can offer you a multitude of experiences. Whether you're hiking, enjoying a fantastic dining experience, embarking on a historical adventure or simply going to the mall, you're bound to enjoy Poughkeepsie.
Poughkeepsie Train Station Parking
Poughkeepsie train station parking is simple and accessible; there is also dedicated accessible parking available. The parking garage, with approximately 600 spots, is run by LAZ Parking. Permits and daily metered parking are available. (Meters run $3.75 for 16 hours and $6.50 for 24 hours.) There is no parking attendant available. Call LAZ at 1-888-682-7275.
Connecting Transportation
This Poughkeepsie Station also services the Metro-North Commuter Rail, which offers train service from Poughkeepsie into New York City. Other public transportation from the station includes Dutchess County Public Transit and Ulster County Area Transit Bus. Get picked up from the Poughkeepsie Station and taken to your reserved NYTRAIN Enterprise Rent-a-Car. Click here to reserve your car or call the Poughkeepsie office today at 845-485-222