Editor's Note: New York by Rail updated this July 2018 blog experience to include current information.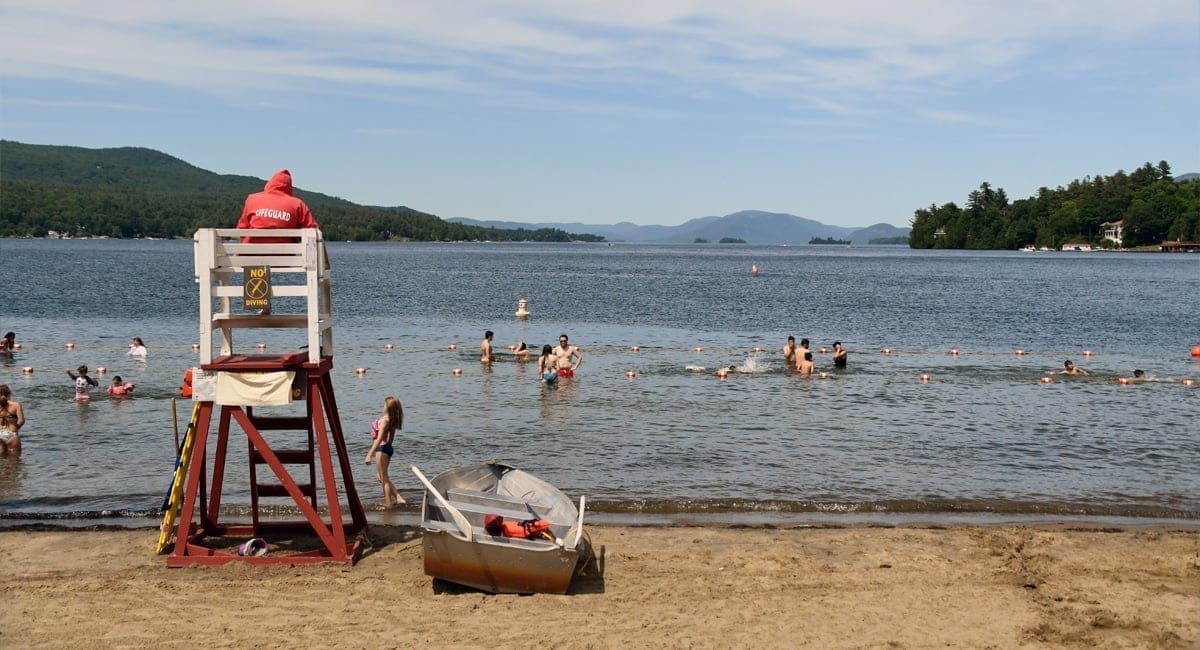 I lie on my beach towel, hat over my face, the warm sand cradling my back while the sun massages me from head to toe. Rhythmical waves lap the shoreline a few yards from my feet. Gulls call as they take to the sky. Children, to my right, dig in the sand while others laugh and splash a little further away. My teenage stepdaughter, Zoe, is absorbed in a book on her towel next to mine. I drift into a relaxed semi-consciousness. This beach is heavenly.
Surprisingly, I don't doze by the ocean. I'm in the Adirondack Park, Lake George to be precise. I grew up in the Adirondacks and thought I knew its beaches, typically a precious dollop of sand on pick-your-lake's rocky shoreline. But today, I feel like a million bucks, lounging at Million Dollar Beach, an expansive 1,700-foot strand on the edge of Lake George Village.
Beach with a Backstory
Million Dollar Beach, also known as Lake George Beach, is run by the New York State Department of Environmental Conservation (NYSDEC). It opened in June 1951 at a cost of $1 million. I confess, I was curious to see it because of its rich nickname. In fact, the total investment in the facility is now in the multi-millions. In 1989, its expansive beach house opened, a $3.7 million addition. Then another $6.3 million went into improvements in 2014-15. It's certainly a treasured oasis for swimming and sunbathing.
Interestingly, it was highly valued well before the mid-20th Century, which I learn upon entering the sizeable foyer of the beach house. I pause at a glass display case. A series of black and white photographs and several descriptive placards are on display. Among the photos is former New York Governor Thomas Dewey at the groundbreaking ceremony for the beach. A few photos show the beach under construction, and several more portray 1950's beachgoers. There's also an outline of the Land Tortoise.
Did You Know?
The area around the parking lot and campground by Million Dollar Beach is the site of a recent archeological discovery. In 2013, about 2,000 prehistoric artifacts, mainly stone tools and weapons dating from 1,500 BC to 8,000 BC, were discovered. For more info, visit the New York State Museum's website.
Land Tortoise is the sole survivor of a class of watercraft called a "radeau", and America's oldest intact warship. Radeau means "raft" in French. These floating artillery platforms, used on Lake George and Lake Champlain in the mid-1700's, were 50 feet long, 16 to 18 feet wide and propelled by 26 oarsmen. Land Tortoise was constructed at the site of Million Dollar Beach in 1758 in preparation for the British attack on the French at Fort Carillon (now Fort Ticonderoga) the following year, but there was one problem, how to store it over the winter when Lake George was covered with ice. The solution was to scuttle the boat. It would secretly rest on the bottom of the lake under the ice, then get pulled up in the spring for the battle. Unfortunately, the spot was deeper than anticipated, and the soldiers could not recover the boat. The Land Tortoise lay at the bottom of Lake George undetected until 1990 when it showed up in a sonar survey about two miles from the beach. It's now listed on the National Register of Historic Places and is a National Historic Landmark, not to mention a popular scuba site.
Boats by the Beach
No divers depart from the boat launch on the right side of the beach, but the distinct rumble of an antique boat engine awakens me from my sun-induced slumber. A lovingly maintained Criss-Craft, its polished mahogany body and chrome trim gleaming, revs up to speed and then arcs gracefully away from the beach.
The Criss-Craft was the iconic powerboat on Lake George when Million Dollar Beach was built. As I admire the Criss-Craft's classic lines and beautiful wood construction, another even older boat calls across the water to my left. The sonorous toot of an old-time paddle-wheeler, the Minni Ha Ha, announces its departure from the nearby Lake George Steamship Company's pier.
Minni Ha Ha was the fictional wife of Henry Wadsworth Longfellow's Chief Hiawatha. The name means "laughing waters" in the Dakota language. Watching the paddle-wheeler chug past, I imagine a tour guide on the boat telling the passengers the story of Million Dollar Beach, which in a small way, I am now part of, just for coming here on this glorious bluebird day.
Family Time at Million Dollar Beach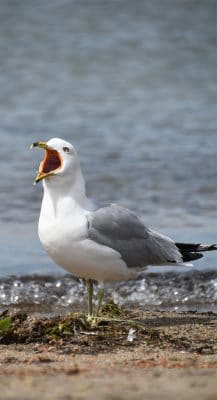 The raucous laughter of a half dozen ring-billed gulls grab my attention as the paddle-ship disappears around a point. One brave gull stares at me from only 10 feet away, looking for a handout. The gulls surely scavenge food around Million Dollar Beach. On crowded days, the beach can handle 1,200 picnicking sunbathers.
"Ha ha," I retort to the gull, mocking the boat's name, hoping to chase it off, but it merely hops closer.
Not wanting to encourage it, Zoe and I decided to take a walk down the beach. We spot a couple of mallards napping in the shade of an unused lifeguard chair. The ducks are even tamer than the gulls. As I draw near to take a photo, one of them raises an eyelid. The other doesn't stir.
"The birds aren't very skittish here," observes my stepdaughter. As if proving Zoe's point, a mother Merganser and her dozen ducklings slip over the rope into the swimming area. They are also unperturbed by people and make their way steadily through the kids and parents playing in the water.
On this Friday in late-June, the beach is comfortably busy. About 150 locals and visitors relax under their umbrellas, picnic or splash around. Only one lifeguard is on duty, so all swimming is concentrated in front of that guard. Most of the beachgoers are families, with kids ranging from infant to high school age. It's a happy, active scene. Moms and dads introduce their wee ones to the water for the first time. Grade schoolers kick up water and laugh, challenging each other to water tag.
My stepdaughter Zoe dunks under the surface near several other teenage girls. When she reappears a few seconds later, she beams with delight. Zoe loves the water. A strong swimmer, our family jokes that she grows gills each summer.
"Come in!" she beckons to me. Normally, I don't care to swim at an Adirondack beach. The sand typically turns to mud from which underwater weeds grow upward, tickling a swimmer's legs, but Million Dollar Beach is not typical. Here, the sand stretches far into the water. I wade deeper and deeper until I reach the rope marking the deepest part of the swimming area. The water is above my waist, and my feet are still happily on a sandy bottom.
I dunk completely to cool off, then hang out with Zoe half underwater, watching the beach. A 10-year-old busily constructs a sand castle. A young couple coaxes their toddler into the water for his first swim. Another preschooler giggles with joy as his father swings him like a pendulum across the surface of the water. Million Dollar Beach is more than just a beach. It's a place where families can celebrate summer together. I'm sure Zoe and I will be back for another splash!
Take Amtrak to Million Dollar Beach
Take Amtrak to Albany-Rensselaer station. Call ahead and pick-up your reserved #NYTRAIN Enterprise Rent-a-Car. Click here to reserve your car or call the Albany-Rensselaer office today at: 518-427-3893. From there, drive less than hour to Million Dollar Beach at 138 Beach Road, Lake George, New York. There is a $10 parking fee per car.
Please note: Usually the Adirondack and Ethan Allen Express trains run to Ford Edward Station, making it an even shorter drive to the beach.
Special Offer: Get 15% off regular adult rail fares and 50% off children's fares on Amtrak through ILoveNY.com. (Restrictions apply).
More Information about Million Dollar Beach
Thinking of a visit to Million Dollar Beach? Here's some helpful information to help you plan your outing:
Amenities
Lifeguards
Sizeable men's and women's changing rooms with restrooms, lockers and showers
Parking for 200 cars
Public boat launch
Beach volleyball
Picnic tables and grills, available first come first served.
When to Visit Million Dollar Beach
Memorial Weekend through Labor Day Weekend. Open daily, 8:00 a.m. to 8:00 p.m. Lifeguard hours (when swimming is allowed) are 9:00 a.m. to 7:00 p.m.
Beach Rules
Swimming is only allowed if a lifeguard is on duty and only in designated areas.
If you hear thunder or see lightning, you must get out of the water immediately.
No glass
No alcohol
No smoking
No pets
No floats or inner tubes
No underwater swimming gear
No beach games, except beach volleyball when offered by the NYSDEC.
For more info on how to visit the Lake George Area, click here.
Other Ways to Get Wet
Nothing says "family vacation" more than a beach! Here's a list of great New York beaches to add to your Family Bucket List.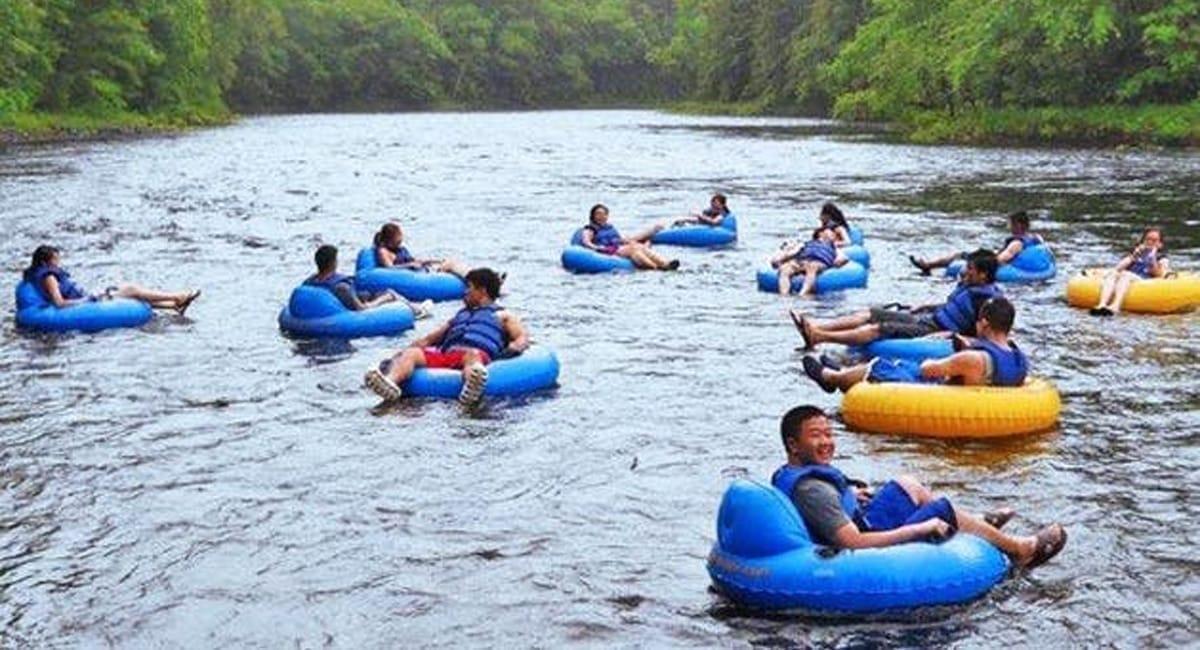 Adirondack Tubing Adventures (Lake Luzerne)
Albany-Rensselaer (ALB) and Enterprise Rent-a-Car (58 miles)
Float a real, pristine lazy river at this family adventure center in the Adirondacks. There's also a state-of-the-art aerial course where you jump, climb and zipline your way through the forest canopy. The bravest in your clan may dare to plunge from the 63-foot high QuickJump XL freefall device at Adirondack Tubing Adventures.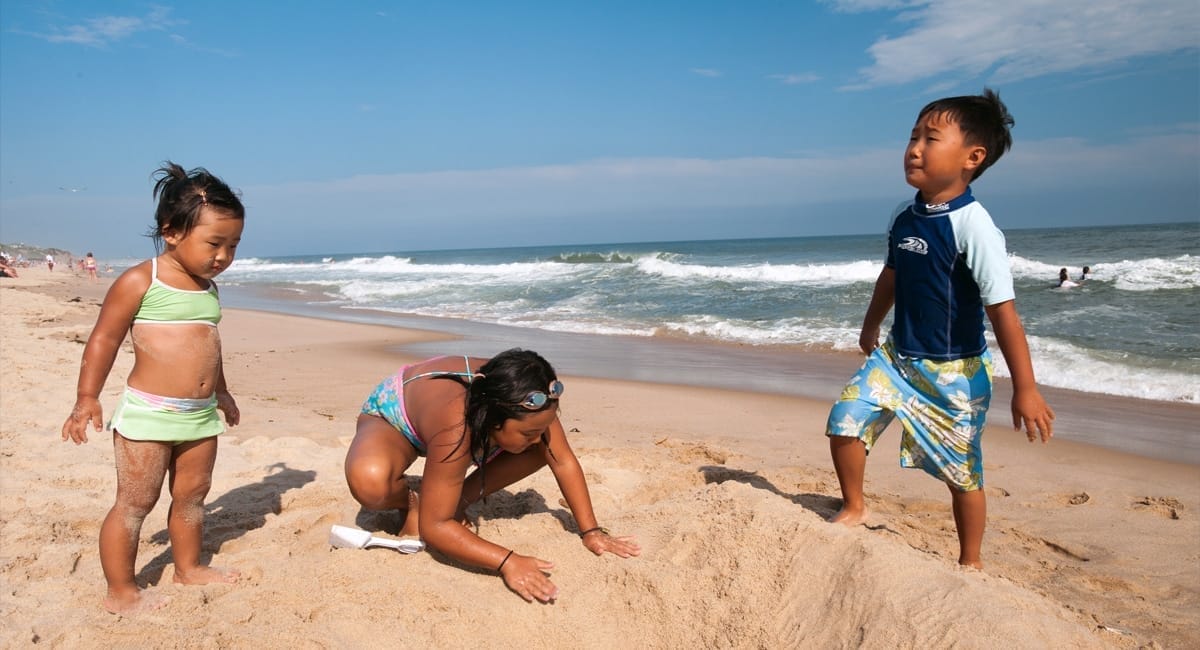 Montauk (Long Island)
Penn Station, Long Island Rail Road to Montauk (3 hr. 19 min.)
At "the End" of Long Island, miles of white gleaming sand welcome beachgoers. No boardwalks or development in Montauk. The strand is framed by natural rolling dunes and high bluffs. Block Island Sound on the north side is calmer and great for beachcombing.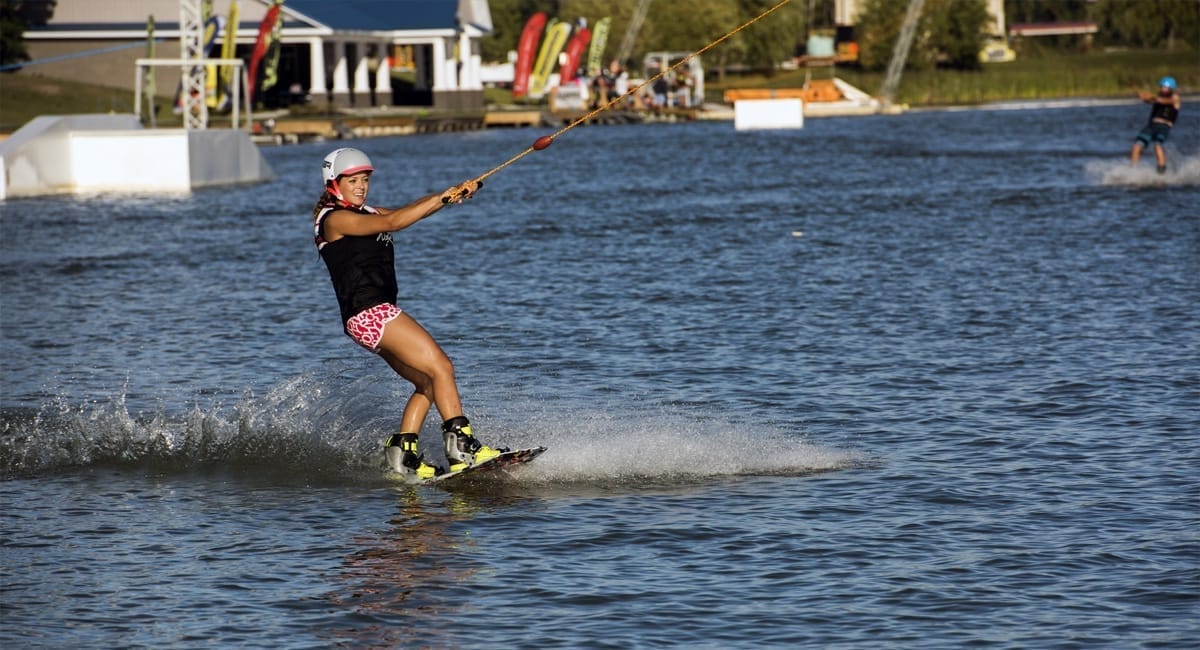 Roseland Wake Park (Canandaigua)
Rochester Station (32.2 miles)
Wakeboard at the only full-sized cable park in the Northeast, pulling up to nine riders in a continuous 2,100-foot loop, with optional ramps and rails—only at Roseland Wake Park.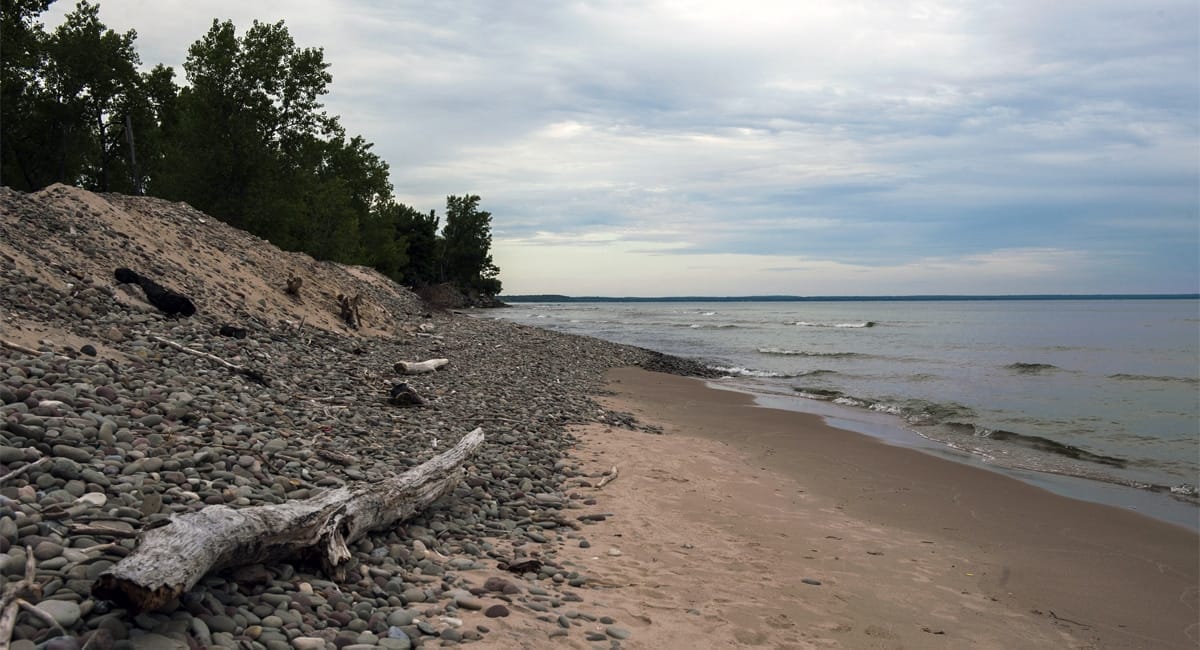 Sandy Island State Park (Lake Ontario)
Syracuse Station (48.6 Miles)
Located on the eastern shore of Lake Ontario near Pulaski, Sandy Island State Park has a quarter-mile long natural sandy beach considered the finest on the lake. It's at the tip of a 17-mile natural area made up of a family-friendly, sandy shoreline, dunes and wetlands. The area also attracts hikers, birdwatchers, canoeist and kayakers.