Other I Love New York Family Bucket List Articles:
Make Lasting Memories on the Erie Canal (Coming Soon)
Exploring the Great Outdoors (Coming Soon)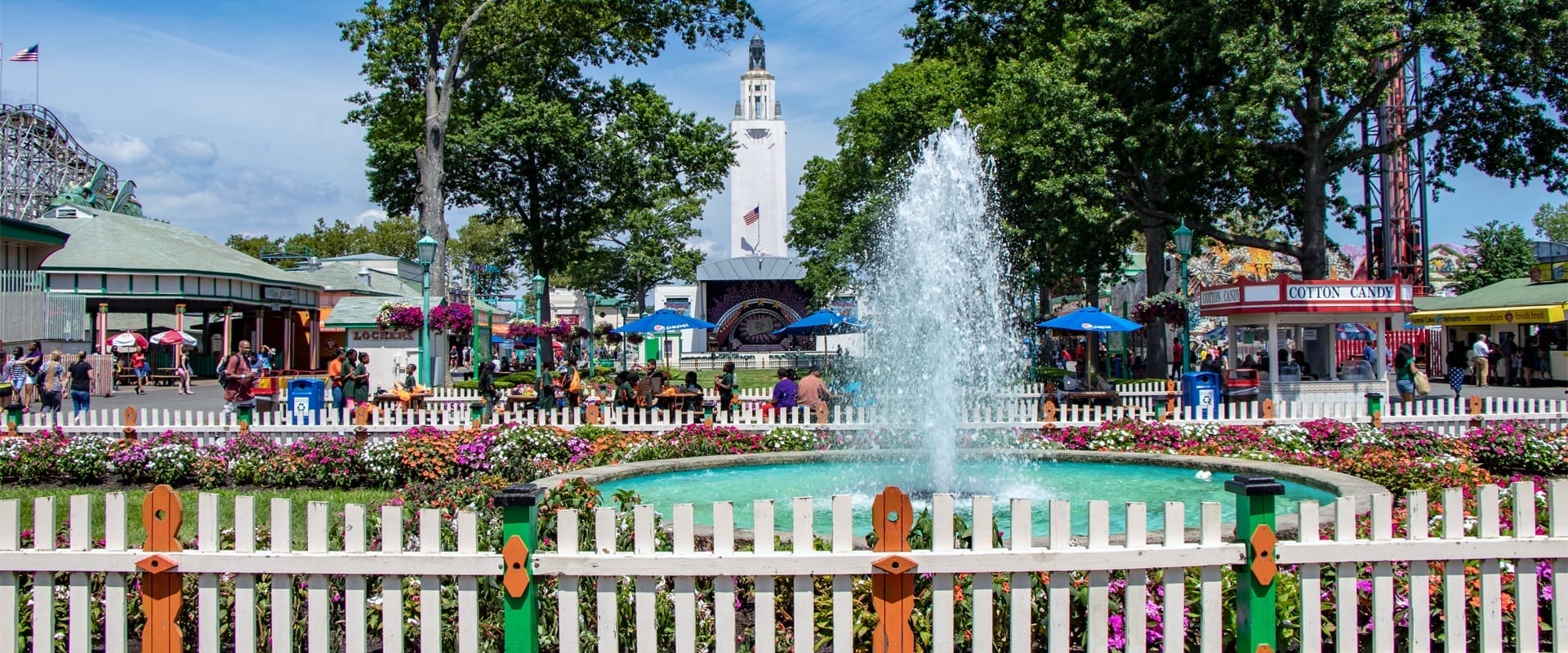 Locking into my harness, I'm hoisted three feet into the air, parallel to the platform where I just stood. Someone mutters, "All clear." I begin my ascent, a view of only clear skies ahead.
Over the clanging of the chain that lifts me and 15 others, a woman asks, "Are you ready?" Children giggle nervously, knowing that in a few moments we'll be soaring through the air at breakneck speed on Super Flight.
Approaching the top of the 50-foot steel structure, two boys to my right begin a countdown. "Three, two, one…" Abruptly, we plunge downward. One boy screams with delight as the other shouts, "Hands up! Hands up!"
We speed along the 1,283-foot track like Superman. We barrel at 3.3 G's through spiraling, 360-degree heartline rolls and yell mirthfully as we cascade through endless twists and turns. 
"Are you going again?" one of the boys asks me as we reach the end. "I am!"
But I'm going to explore the rest of Playland.
Entering the gates at Playland in Rye, New York (also called Rye Playland and Playland Park), a beautifully manicured garden welcomes me. The scent of popcorn, the roar of the rides and the colorful landscape ahead transport me back to my childhood and summer weekends spent at another New York amusement park, Adventureland on Long Island. It's going to be a fun day!
To the left of the entrance is Kiddyland, where children, ages three to 10, laugh with delight from miniature versions of the "adult" thrill rides elsewhere in the park, like the Flying Dragons coaster. They fly on the Red Baron plane ride and chug along the perimeter of Kiddyland on the Playland Express train. Kids run excitedly from ride to ride. It's a perfect place for young families to have fun.
To the right, I see go-karts, arcade games and a Carvel ice cream stand. On this hot summer day, rich soft-serve sounds delectable.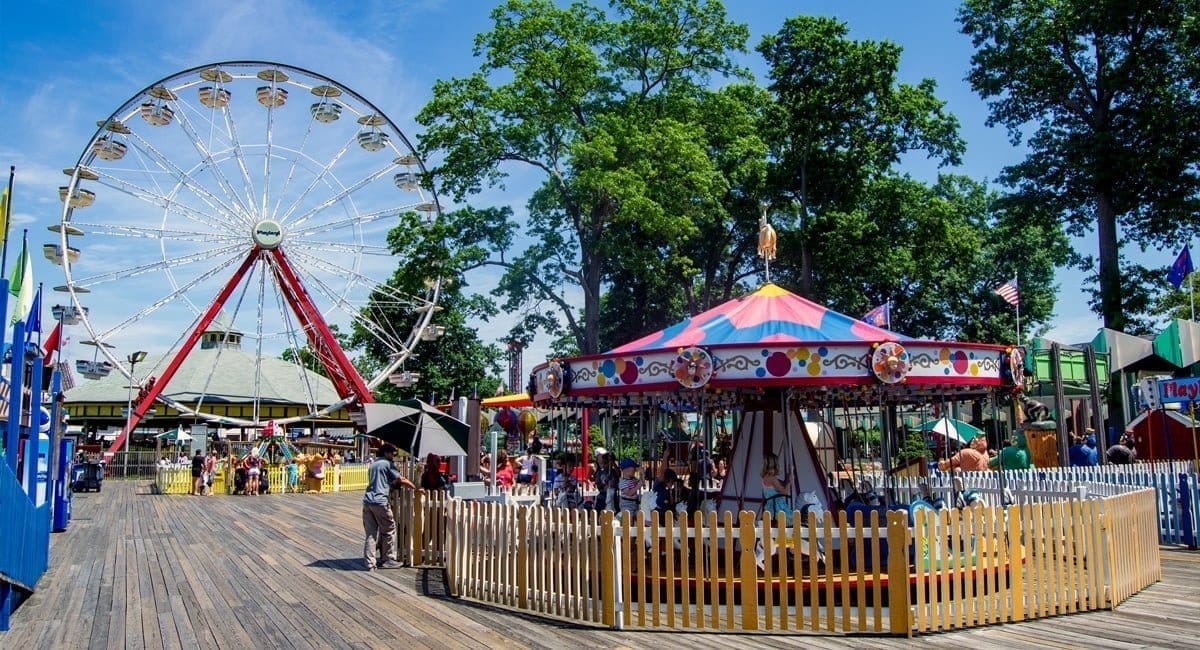 The Kiddyland carousel at Playland Park. | Photo by Andrew Frey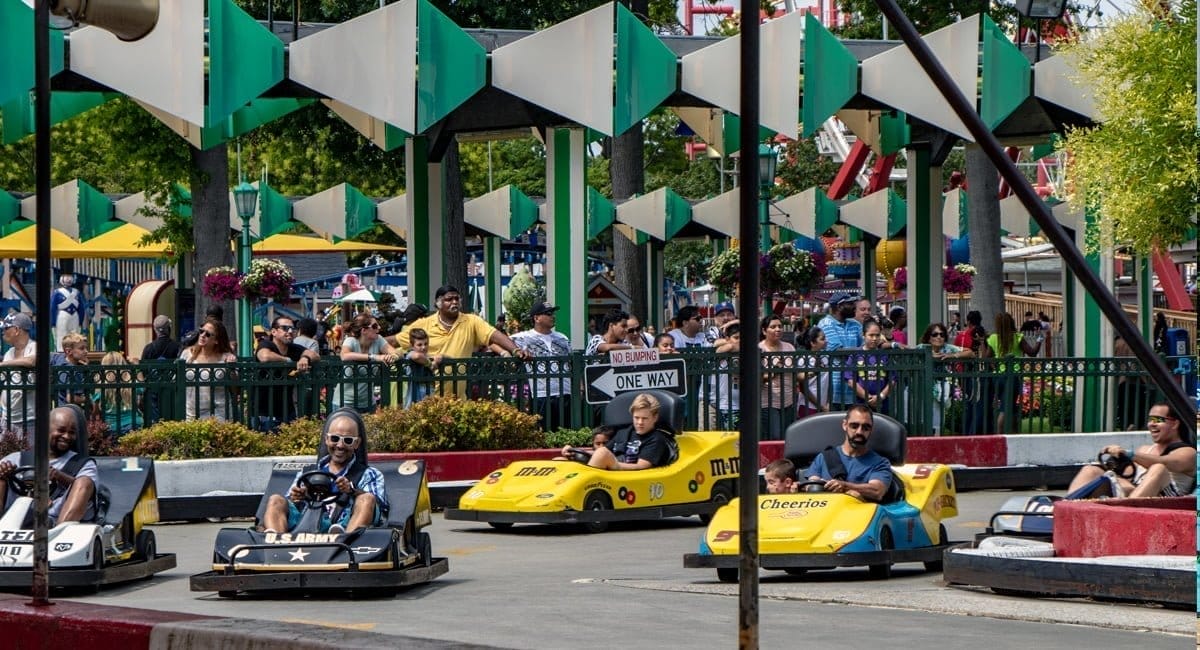 Catch me if you can! Put the pedal to the metal with a Go Kart race. | Photo by Allyson Macci
Cone in hand, I make my way toward the rear of the park to the picnic area. There's also a dock from which boat rides on Playland Lake depart. As I approach the shoreline, I hear the familiar chorus of "Happy Birthday" and turn in time to see a child blowing out candles.
After devouring my ice cream, I'm ready for the rides. I pass the Music Tower Theater, which hosts concerts and other daily entertainment, heading to my first choice, Playland's flagship ride, Dragon Coaster. Thrilling people for over 80 years, the American Coaster Enthusiast, a non-profit that works to preserve and recognize roller coasters as architectural and engineering landmarks, designated the Dragon Coaster as a "landmark coaster" in 2009. The wooden coaster has over 3,400 feet of track, including a 128-foot drop straight into the mouth of a fire-breathing Dragon!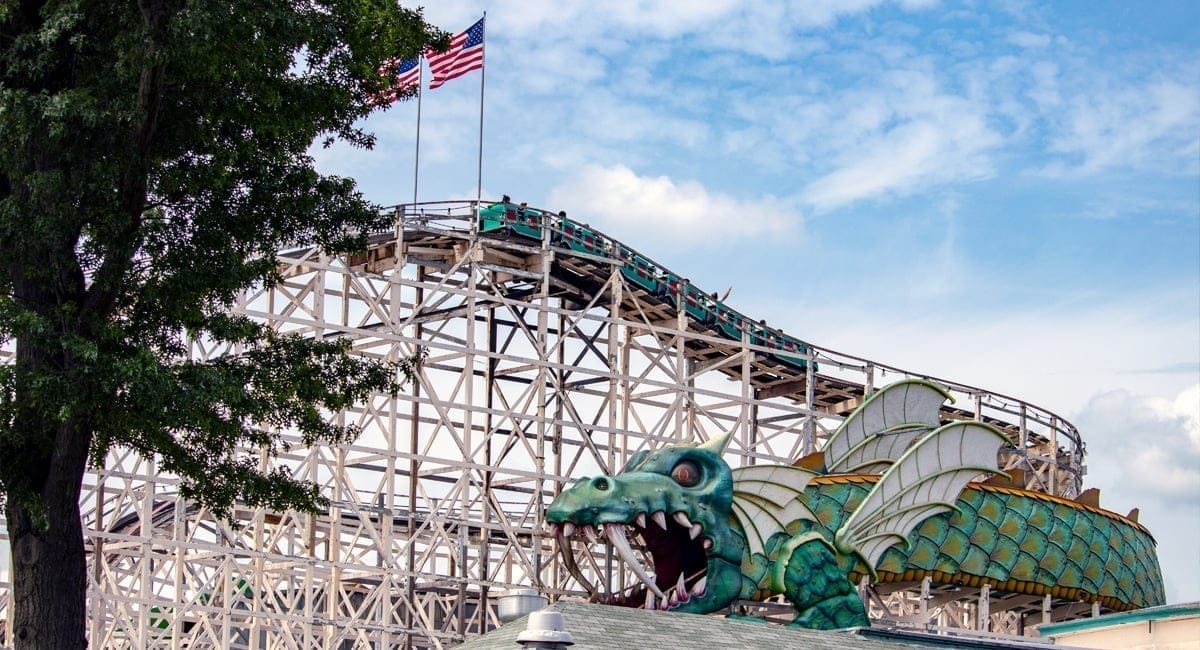 Look out for that fire-breathing dragon! | Photo by Allyson Macci
Other thrill rides at the park include the Crazy Mouse coaster, the Sky Flyer (a giant spinning pendulum), and a vertical 85-foot ride called Double Shot. There's also the historic Derby Racer. Not your average carousel, Derby Racer is one of only two remaining rides of its kind in the U.S. The horses imitate the motion of real steeple chase steeds!
After an overdose of adrenaline and trying my skill at carnival games like the Squirt Gun Race and Quick Shot Basketball, it's time to cool off with water rides.
Take the Train to Playland!
Reach Playland with Metro-North to Rye Station (RYE) or Amtrak to New Rochelle Station (NRO) in the Hudson Valley. Don't forget to use the New York By Rail 15% Amtrak discount!
From RYE: Take Bus 75 or 13 for a 15-minute ride to Playland Park Center Lane.
From NRO: Enterprise picks you up at the station and takes you to your reserved #NYTRAIN Enterprise Rent-a-Car. Click here to reserve your car, or call Enterprise's New Rochelle office, Tel. 914-632-6622.
Uber and Lyft are also available from both stations to Playland.
Beating the Heat at Playland
After splashing down the Playland Plunge and Log Flume, I take a leisurely stroll along the Playland Boardwalk. Hugging the coastline, the park's quarter-mile long, seaside promenade allows for vast views of Long Island Sound. Along this wide, wooden walkway are comfortable benches to rest, the Playland Ice Casino skating rink – home of the Manhattanville Valiants, a college ice hockey team – and the Westchester County Children's Museum.
Hungry again, I'm happy to discover waterfront dining at the Pier Restaurant & Tiki Bar. After a delicious, generous coconut shrimp appetizer, I forgo the 30-minute wait for a meal and enjoy a dip at the park's pool before a relaxing walk along the beach.
With energy left for one more ride, I re-enter the amusement park for a trip on the Gondola Wheel. Each time I rise to the top of the towering structure, I'm able to see the entire park and get an unforgettable view of Long Island Sound. When I look down, the coasters look like toy building blocks even though they are 80-feet tall.
Playland is the ideal park for a fun family day and everyone else. With the variety of child and thrill rides, on-site and waterfront dining options and attractions like the beach, pool, concerts and Friday fireworks, Playland is unlike any other New York amusement park. Plan a visit before the 2018 season ends on September 9th!
Playland Park History
By Allyson Macci
The history of Playland Park is long and iconic. Located on the beautiful shores of the Long Island Sound, the Park was established in the late 1920's. As the population of the region rapidly increased, the Westchester County Park Commission purchased and redeveloped the area at the request of local residents, establishing two theme parks, Rye Beach and Paradise Park. Both of these beach side parks are neighbors to Playland and now are associated with the amusement park.
The park commission asked Frank W. Darling, president of the L.A. Thompson Scenic Railway Company at Coney Island, to construct and operate Playland. Darling designed the park with balance, beauty, and much enthusiasm. He carefully planned the layout, with manicured landscapes throughout the park. He installed a music system so guests could hear their favorite melodies, and he paid consideration to the lighting to enhance the carnival atmosphere but in subdued tones. Playland's signature art deco styling was the creation of the award-winning architectural firm Walker and Gillette. It is the only art deco amusement park in America and is now listed on the National Register of Historic Places.
Advertised as a family-friendly amusement park, Playland caught the attention of the people in Westchester County and the New York City region. Playland's first season brought in far more guests than the Park Commission predicted, with rides such as the Whip and the Derby Racer. To this day, seven of the original rides continue to thrill visitors in the park.
Proudly calling itself, "America's Premier Playground," Playland has evolved into so much more than an amusement park. It's a place to see circus acts, listen to concerts, dance under the stars, even win a new car! (Visit the park to find out how.) This year Playland celebrates its 90th anniversary, continuing with the tradition of what Frank Darling called, "old in amusements but young in enthusiasm."
Did You Know?
Playland Park has been the location of a number of films including Netflix' Jessica Jones and Orange is the New Black, as well as the 1988 comedy Big, starring Tom Hanks. A replica Zoltar is on site. For some spare change, it will tell your fortune like it did to Tom Hanks' character. No guarantee he'll turn you from a kid into an adult (or vice versa)!
Other Rides to Enjoy
By Allyson Macci
Nothing says "family day trip" more than an amusement park! Here's a list of great New York parks to add to your Family Bucket List.

Seabreeze Amusement Park | Photo Courtesy of I Love New York
Seabreeze Amusement Park. Seabreeze Amusement Park, located in the Rochester, New York between Lake Ontario and Irondequoit Bay, features a variety of adult and kid rides and attractions, providing something for everyone in the family.
Founded in 1879, Seabreeze has a long history. The fourth oldest amusement park in America, it continues to update itself without losing its traditional flare. Today, the park has 70+ attractions, including thrill rides, a waterpark, family rides, shows, shops and games.
One of Seabreeze's oldest attractions that continues to thrill visitors today is the Jack Rabbit. Built in 1920 and designed by Miller and Baker, this 2,150-foot wooden coaster has a 75-foot drop, wild curves and crazy dips.
Another of Seabreeze's original rides is the Carousel, with its carefully hand-carved and beautifully painted horses and carriages.
Other great rides that thrill include the new Time Machine, Whirlwind, Bumper Cars, Screamin' Eagle, Wave Swinger and Log Flume. For young children and their families, Seabreeze offers rides like Spring! (a kid-sized drop tower), Twirlin' Tea Cups, Kiddie Boats and Bear Trax (a junior roller coaster). In Seabreeze's waterpark, the wave pool, known as The Wave, has rollers up to 4 feet tall. There are also Inner Tube Slides, Hydro Racer and Soak Zone. But if you're looking for something more relaxing, you can lounge on an inner tube while floating the 600-foot Lazy River.

Midway State Park | Photo Courtesy of I Love New York
Midway State Park. Midway State Park, on the shores of Chautauqua Lake, was established in 1989 as a trolley park (a picnic and recreation area on a former streetcar line). Since then, family-friendly Midway State Park has expanded to include a museum, gift shop, concession stands and rides, such as a vintage carousel, Tilt-A-Whirl and a go-kart track.
Looking for a hands-on challenge? Midway State Park also has a three-sided, 24-foot climbing wall and mini-golf.
Many come to just relax, take in the natural surroundings and soak up the sun. The park is on the shore of Chautauqua Lake and has shelters for picnics. People also come to fish, swim and boat. Day visitors can dock for free.
Lake Chautaqua is an angler's heaven, with large populations of walleye, smallmouth bass, largemouth bass, yellow perch, white perch, and crappie. It's also a bird watching hotspot, named an "Important Bird Area" by New York Audubon.

Santa's Workshop | Photo Courtesy of I Love New York
Santa's Workshop. It's Christmas all summer at Santa's Workshop in Wilmington, New York. Established in 1949, Santa's Workshop was created by Julian Reiss, a Lake Placid businessman whose daughter wanted so badly for Christmas to come early that he made her wish come true. Santa's summer home was designed by Arto Monaco, a well know artist and theme park designer who worked at Disney Studios and Disneyland, and Harold Fortune, who owned land along the Whiteface Memorial Highway. Reiss, Monaco and Fortune partnered to create a fantasy village populated by storybook  characters at the "North Pole", frozen year-round in upstate New York, even during the hot summer months. This theme park caters to primarily to small children, enchanting them with everything Christmas. Not only does the park entertain, it also embraces the true spirit of Christmas with Operation Toylift, a charity that delivers toys and gifts to underprivileged children in 13 states, the District of Columbia and two Canadian provinces.