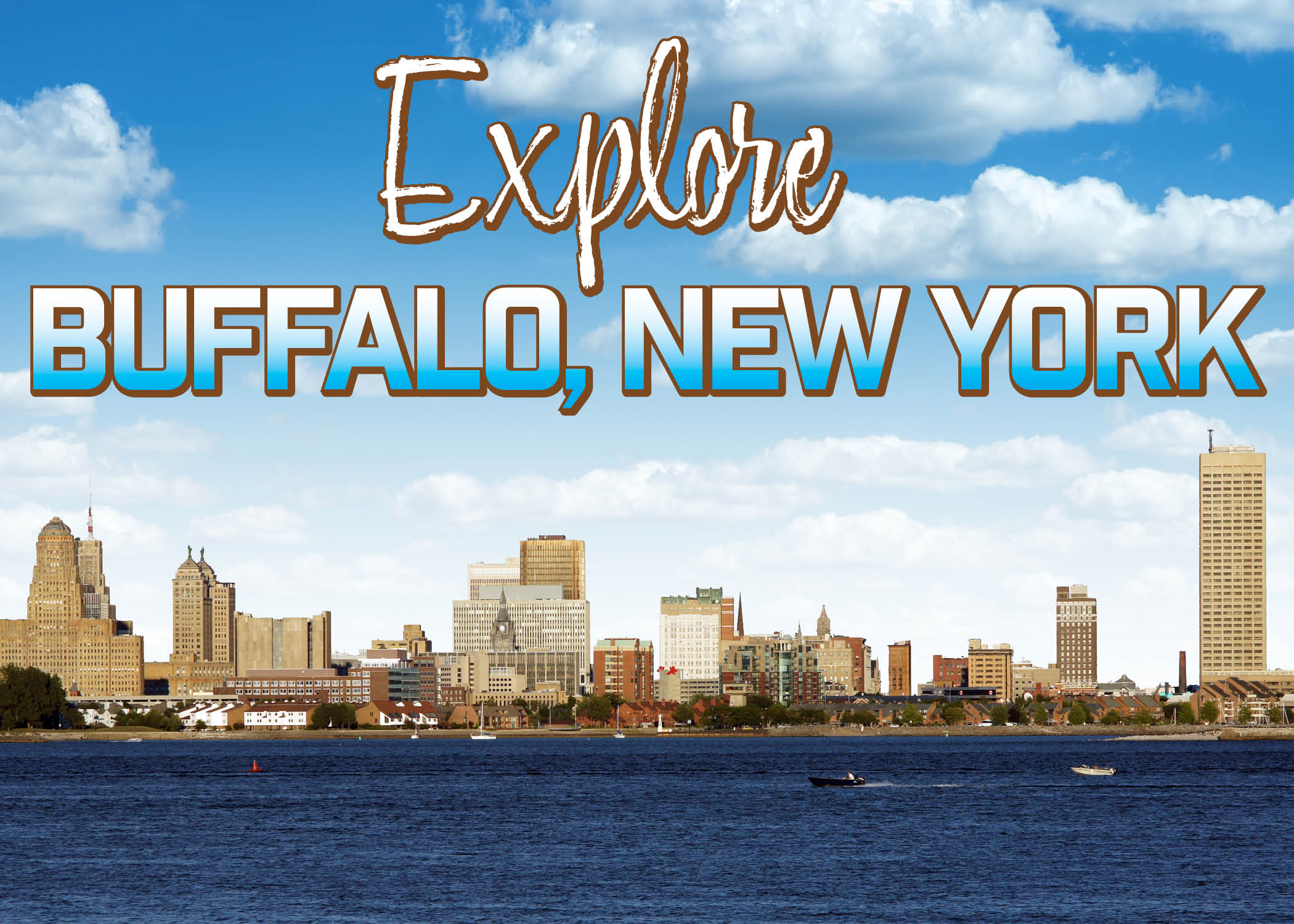 When you think of New York, your mind probably jumps to New York City or miles of green hills, autumn leaves and thick snowfall. Yet the city of Buffalo, the second biggest in the state, isn't what immediately jumps to mind, is it?
Before transferring to SUNY New Paltz in the Hudson Valley, I attended the University at Buffalo for three semesters. Although I've loved my time residing in the Catskills, I've always longed to return to Western New York. After earning a full-time position just north of Buffalo, I moved back to an area I hadn't seen in over two years. It's safe to say that I missed it.
The city of Buffalo is vastly underrated, in my opinion. It has loads of vibrant eateries, entertainment venues and historic landmarks, just to name a few. In the short amount of time I've been here, there are a few spots in downtown Buffalo, a bonus suburban location and a major attraction I want to visit that I've chosen to feature that are easily accessible and enjoyable for just about anyone. You've likely heard of most of these, but these are some of my favorite places to visit (and ones I'd still like to visit!).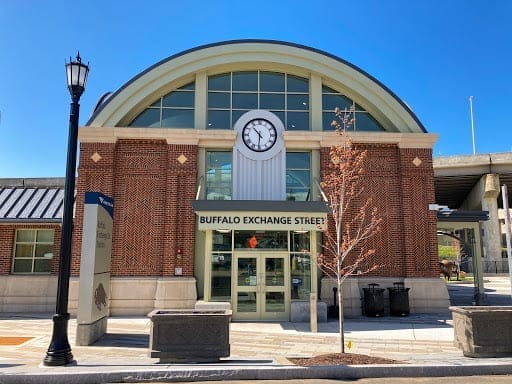 Buffalo-Exchange Street Station
When you take Amtrak to Buffalo, this is likely the first place you'll visit once you disembark. Buffalo is home to two Amtrak stations, Buffalo-Depew Station (BUF) and Buffalo-Exchange Street Station (BFX).
The older small brick building that hosted most rail passenger traffic out of New York's second biggest city is finally gone and replaced with a much larger and more modern station. With the small old station from 1952 being demolished in 2019, a temporary platform was in use as the new station was being constructed. The new station, opened in late 2020, has 4,800 square feet! It features two floors, seats for nearly 50 people, increased parking, bus accessibility and larger platforms.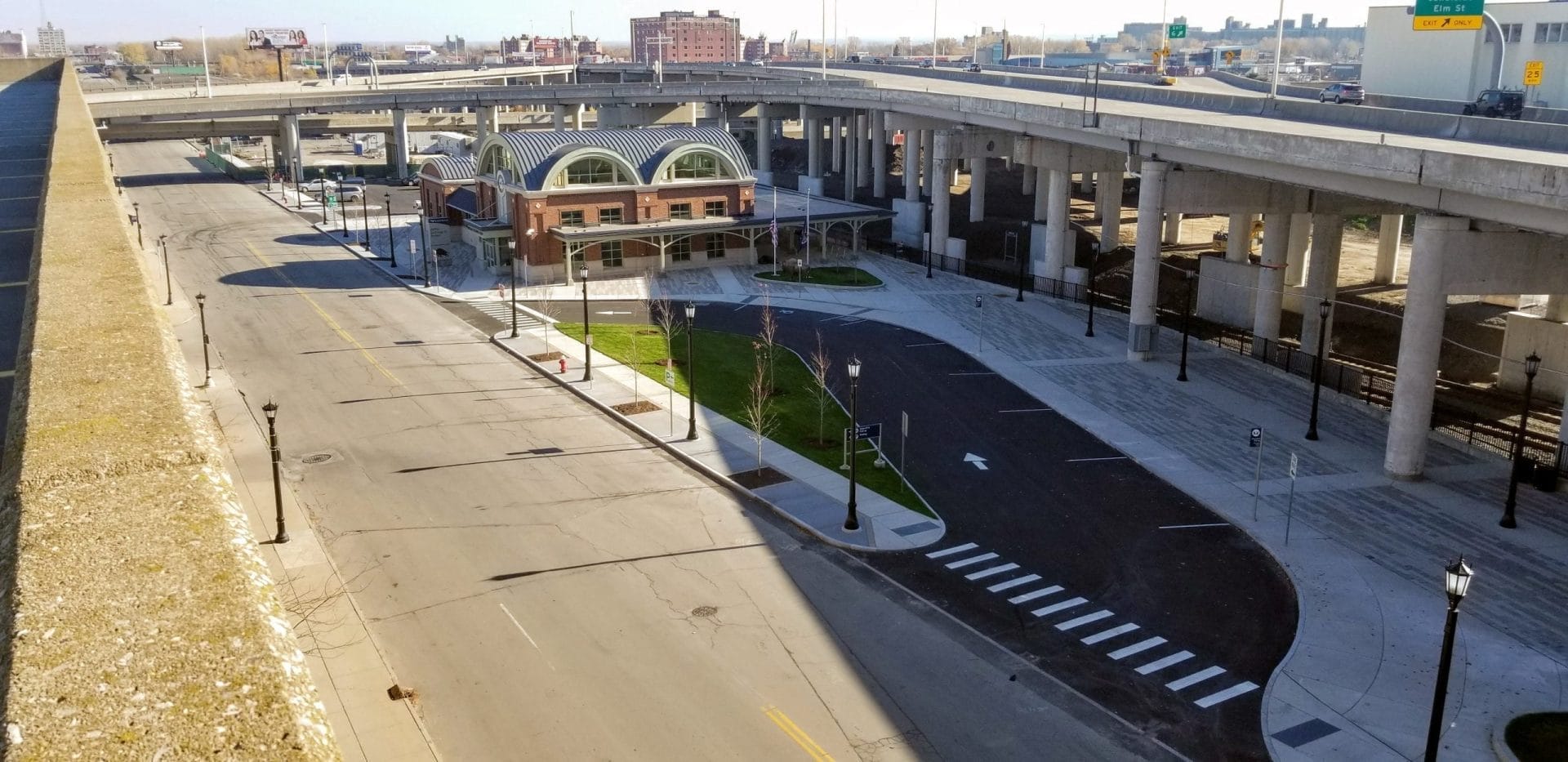 A stone mural of a large bison, taken directly from the Sabres logo, greets you when you walk through its main doors under a large clock.
Is it small? Sure, but it's quite charming and the architecture fits in very well with its surroundings. It's a marked improvement over the building it replaced.
If you're feeling hungry after your train ride, you'll want to check out the newly added Taste NY food and beverage kiosk in the station. The kiosk is located on the main level of the station, providing a literal and figurative taste of Buffalo. Shopping at the kiosk helps to support the small-businesses throughout New York, as a variety of New York-made food and beverages are sold there.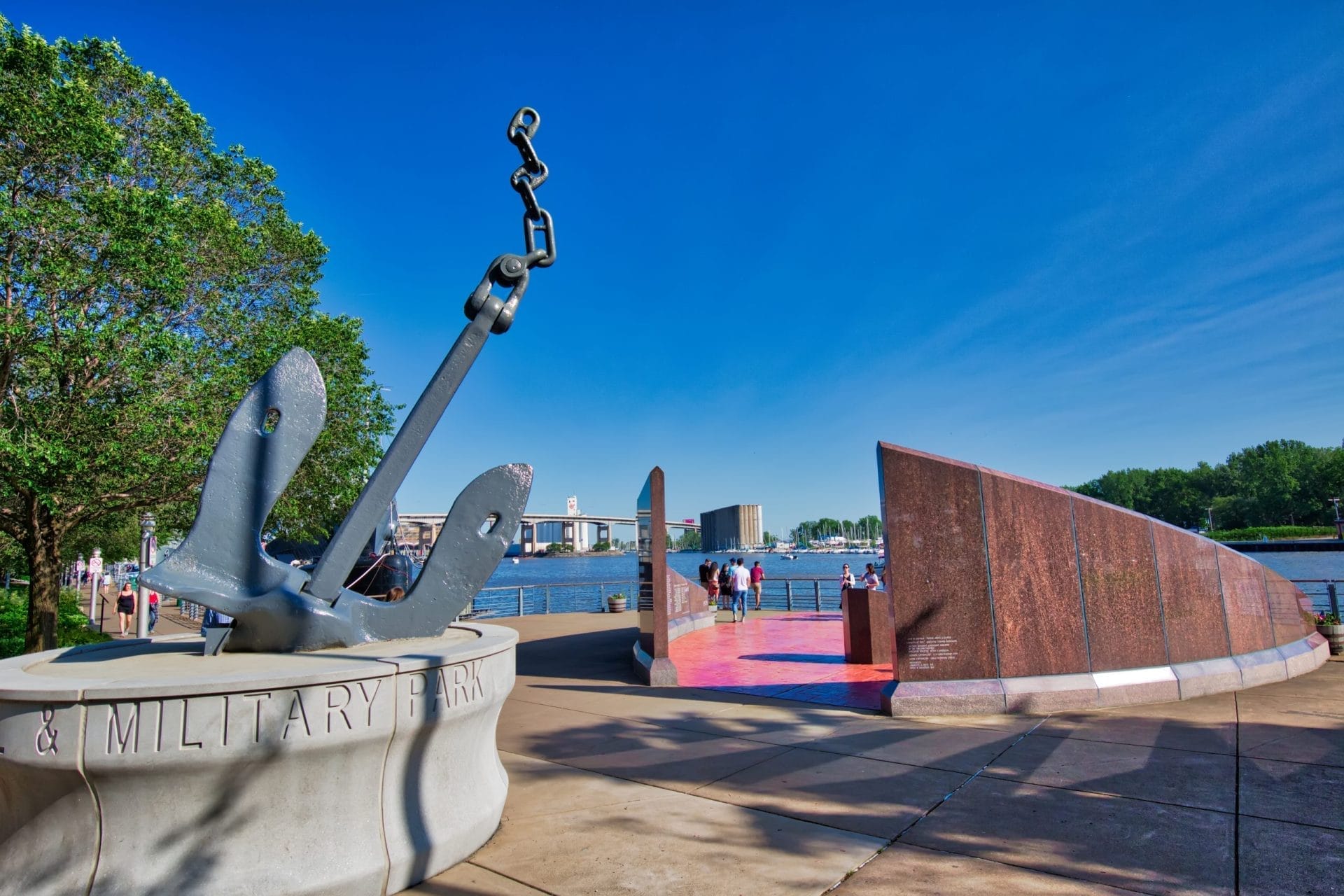 Buffalo and Erie County Naval & Military Park
After arriving at the Buffalo-Exchange Street Station, I made sure to visit the first stop on my list. As soon as you get off of the last stop on the metro, it's only a three minute walk to the Naval and Military Park. You can't miss it; the massive USS The Sullivans destroyer is docked there, its mast flying high and prideful. Admission is $5 for adults. If you're a boat, plane or military buff, this is a little dose of heaven on Earth. Cold War era aircraft such as the F-101F Voodoo interceptor, the FJ-4B Fury naval fighter and the UH-1 Huey helicopter are all displayed on tall metal posts, keeping them in the sky where they belong.
After gazing at the aircraft, you have the exclusive options of climbing into a submarine or stepping on a cruiser. The submarine, the USS Croaker, was a "Gato"-class submarine used during World War II. When the Cold War began, she was upgraded to more advanced electronics with the goal of hunting down Soviet vessels. She was decommissioned in 1971 and has been at the park since 1988.
If you're claustrophobic, the Croaker may not be ideal for you but for those who aren't, it's a surreal feeling to stroll around a previously classified military vessel that lived underneath the waves for months on end. If you want a bit more sunshine and open-air, feel free to board the USS The Sullivans, a "Fletcher"-class destroyer that served in World War II and the Korean War.
The USS Little Rock, a "Cleveland"-class light cruiser that served in the first decades of the Cold War is also moored there. Fun fact: she's the last of her type remaining in the world! When you're done exploring the Cold War relics, visit the quaint park behind the ships, memorializing the military members who lost their lives in combat.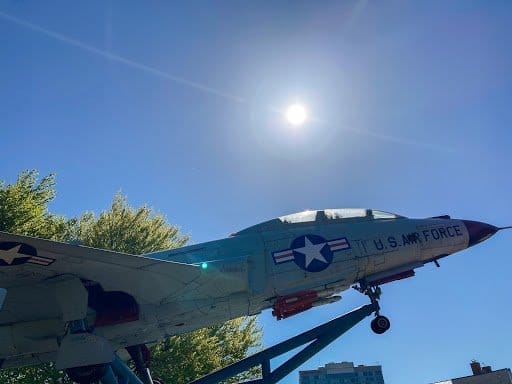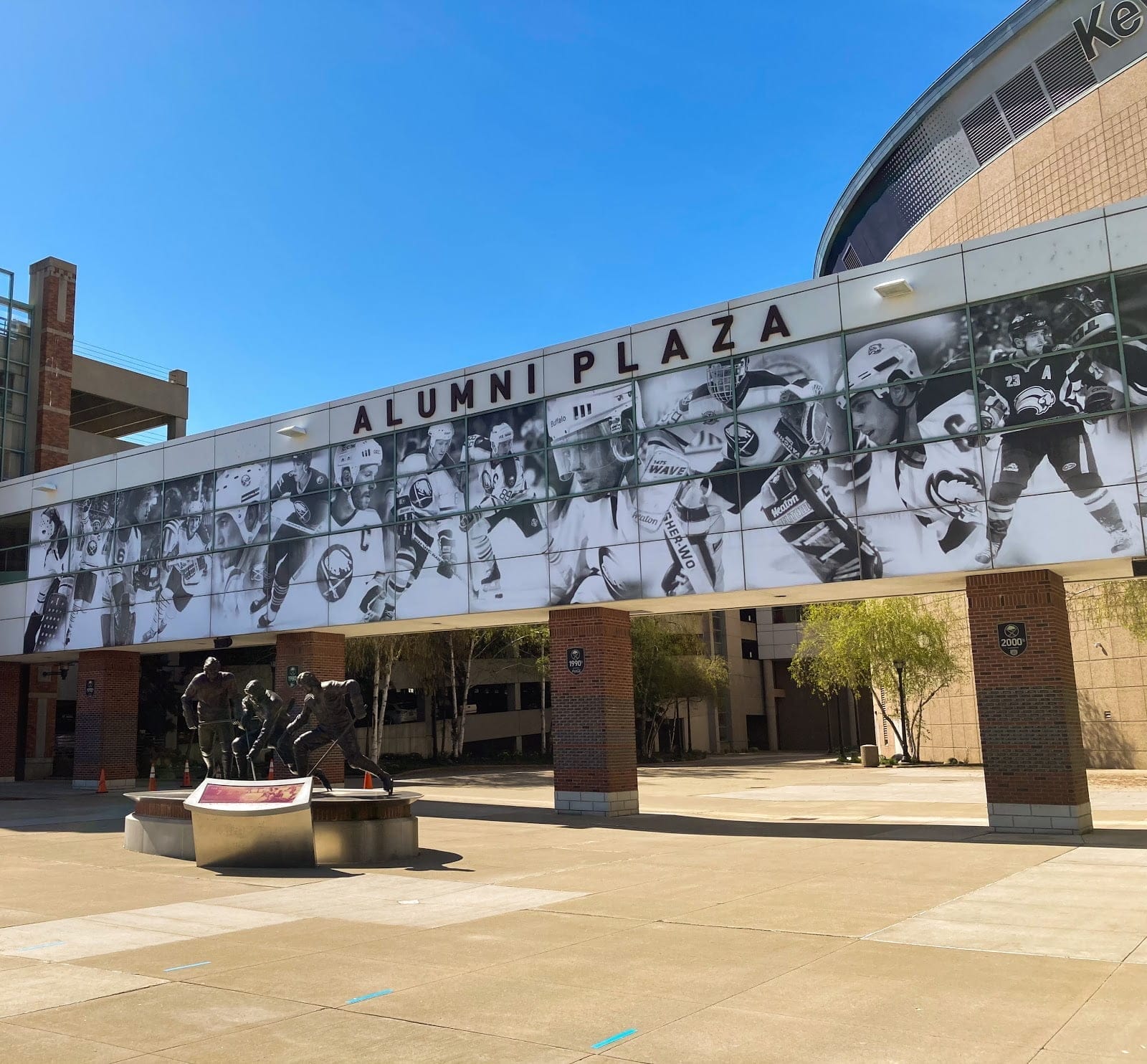 KeyBank Center
In order to truly absorb the Buffalo, NY experience, I knew I had to re-visit this next location. If you're a hockey fan like me, there's no better place to be in Western New York other than the KeyBank Center, the home of the NHL's Buffalo Sabres. Completed in 1996 to replace the aging Buffalo Memorial Auditorium, it hosts not just the Sabres, but the National Lacrosse League's Buffalo Bandits and loads of concerts. The arena's 19,070 seat capacity for hockey games is an homage to the Sabres' first season in 1970! It's located right on the edge of Lake Erie.
Even though the arena is relatively new, it doesn't let you forget about the Sabres' storied history. Outside of the main entrance, you can find a statue of the famed "French Connection" line that led the Sabres to playoff glory in the 1970s. Overhead is a covered walkway with images of previous Sabres greats, including Dominik Hasek and Chris Drury, plastered along the sides of it.
Inside, as with any hockey venue, food and beer options are plentiful. There are 17 eateries to choose from, including Anchor Bar, Bacchus and Pearl Street Grill. I've been to multiple Sabres games there myself and I can safely say that when the arena is eventually allowed to be filled to full capacity, they have a raucous crowd and it's such a fun place to be.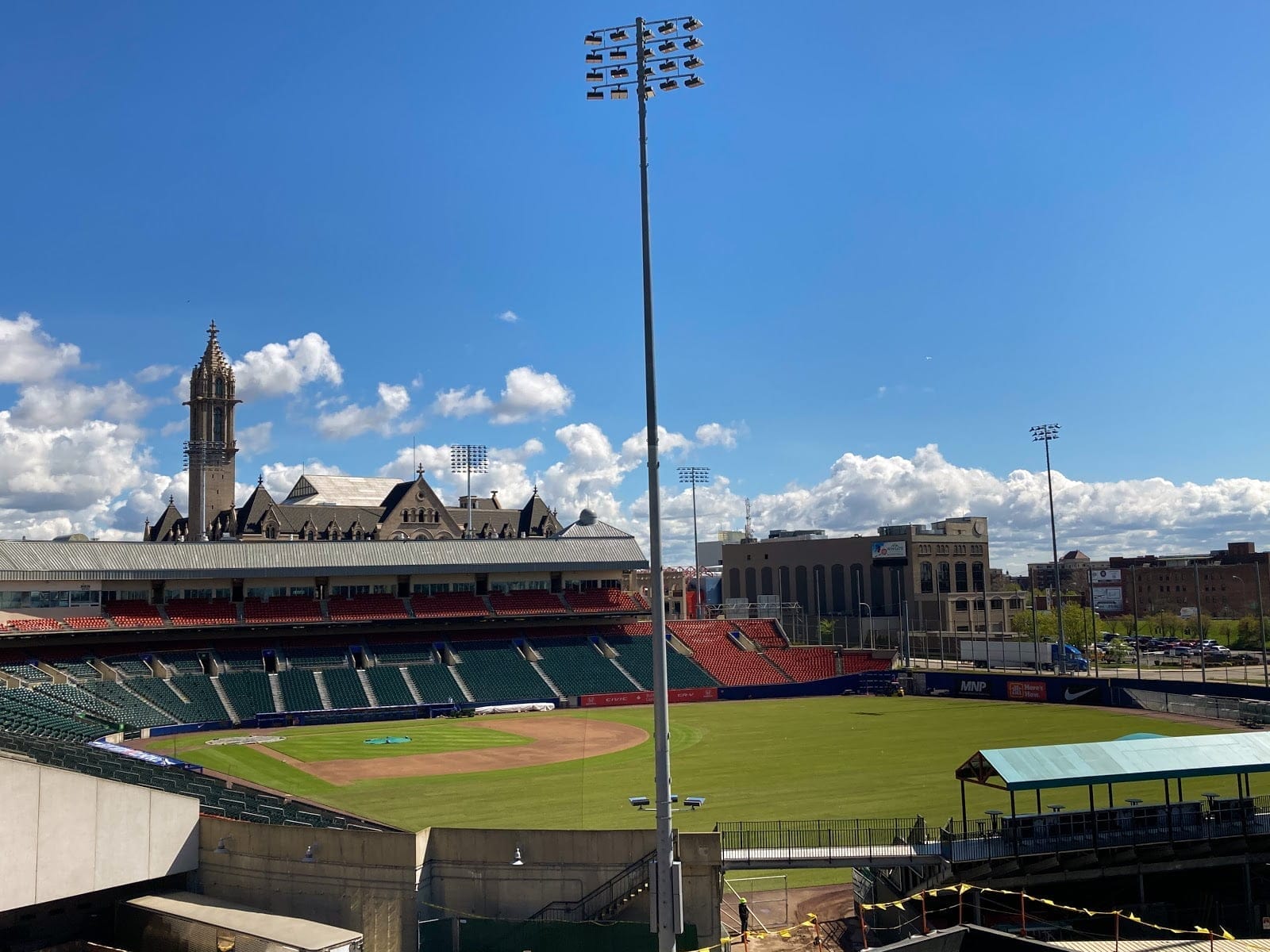 Sahlen Field
Buffalo is inherently a sports town, so there's something for everyone. If you want your fix of baseball, Sahlen Field is your prime destination. Completed in 1988, the field is the home turf of the AAA Buffalo Bisons, directly affiliated with the Toronto Blue Jays. In fact, since the beginning of the COVID-19 pandemic, the Blue Jays have played their home games here due to COVID travel restrictions into Canada. The stadium holds 16,600 people and was recently upgraded with an LED scoreboard in the outfield and improved lighting to boot. It's only two blocks away from KeyBank Center, too.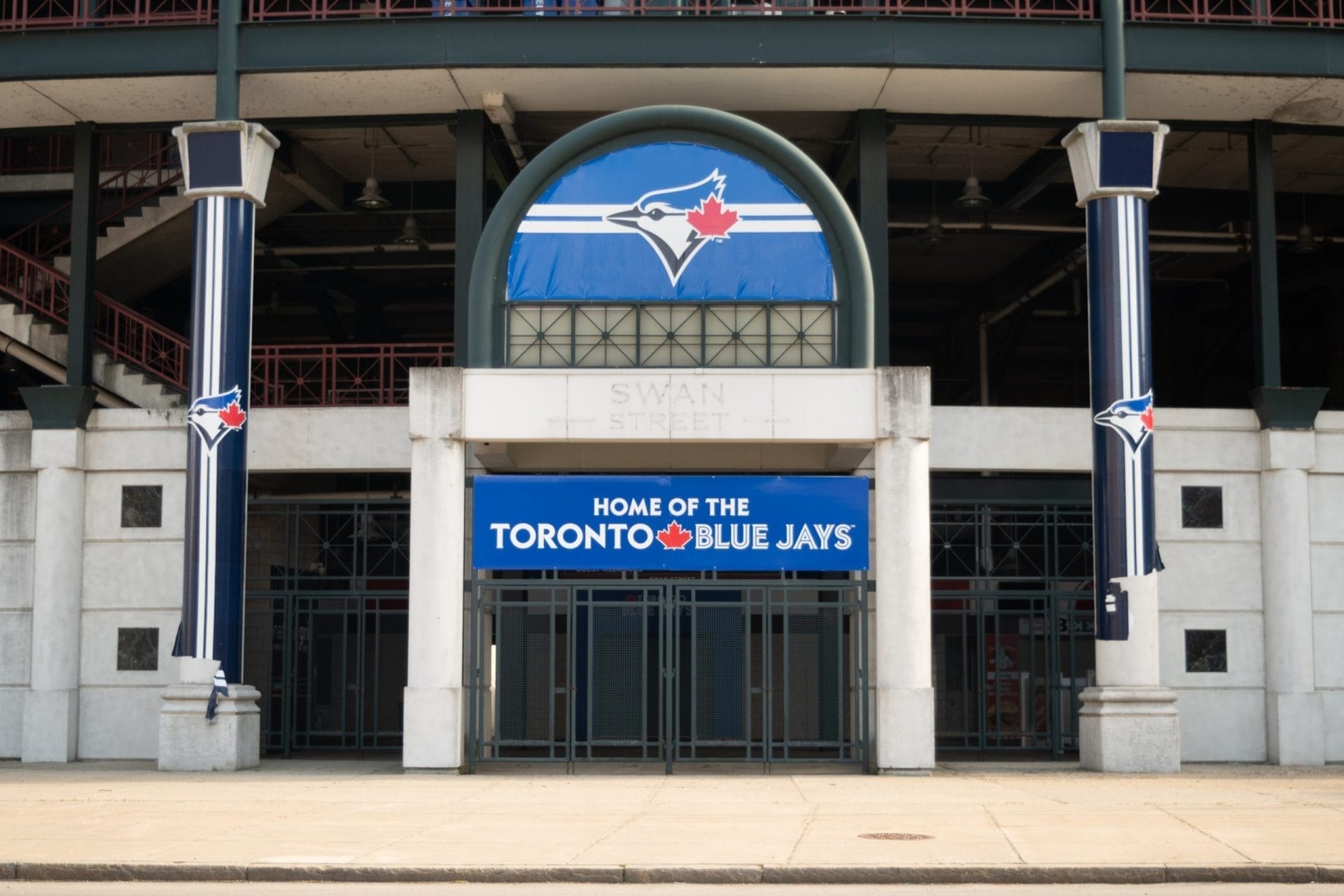 As with any ballpark, the amount of food options is vast, especially in a diverse and food-rich city like Buffalo. Under normal non-COVID circumstances, the Consumer's Pub at the Park is available with a wide range of beer, pizza and wings to choose from. With local health safety guidelines, this is temporarily unavailable. However, you still have the options of the local favorite La Nova pizza, Ted's Hot Dogs, Buffalocal brewery and Nick Charlap's ice cream.
Does all of that sound appealing? Well, come catch the Jays' season opener against the Marlins at Sahlen Field on June 1! Tickets are limited due to COVID restrictions.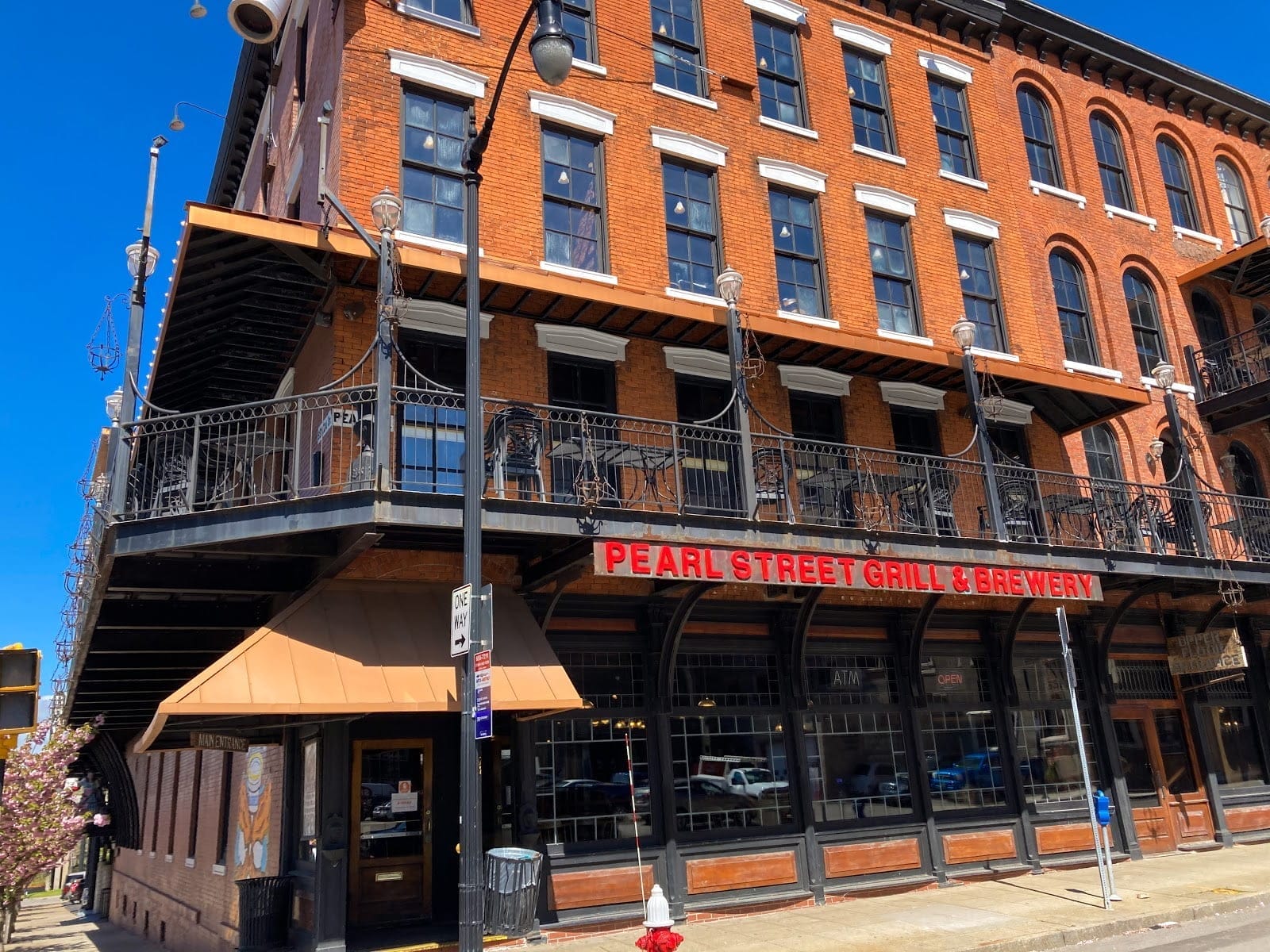 Pearl Street Grill and Brewery
After all of this exploring, I was starting to get hungry. Conveniently located a block away from Sahlen Field, this renowned eatery is a staple of classic American dining. Located right on the corner of Pearl Street and West Seneca Street, this famous dining spot has hundreds of stellar reviews for its bustling atmosphere and interesting menu choices. You can even see fermentation vessels (where beer is brewed) from certain seating areas.
Try their signature pot roast meal, cooked with Trainwreck Amber Ale and complete with gravy and potatoes. Burgers (which I had and would definitely recommend), wings, salads, soups and even pizzas are on their compact but well-thought-out menu. They have an incredible selection of draft beers (after all, it is a brewery) and cocktails to choose from with some killer happy hour deals.
You can even have your wedding there (and yes, they do cater)! There's truly something for everyone to enjoy at this famed restaurant.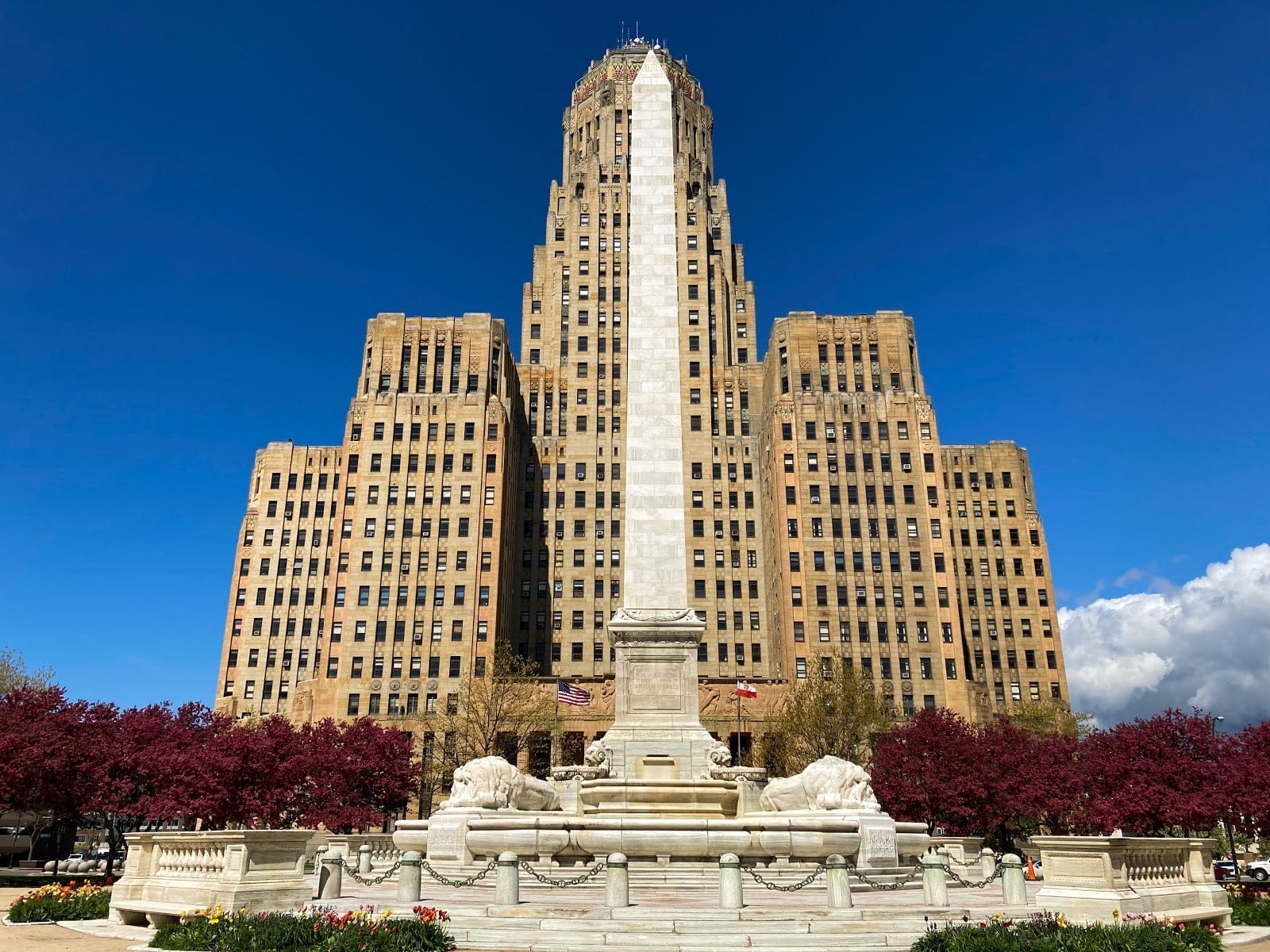 City Hall
Moving on from the invigorating sports experience that Buffalo provides, the next attraction on my list was an obvious choice. The City Hall is one of the most architecturally striking buildings in Western New York. Completed in 1931, this Art Deco masterpiece stands at 398 feet tall, has 26 floors of office space (out of 32 stories in total) and has over 1,500 windows. You can't miss it; the hall stands out quite significantly in Buffalo's skyline. It sits at the nexus of Niagara Square, directly in front of the impressive McKinley Monument, a marble obelisk. The building's facade features artistic representations of family, science and Native American culture, amongst others. There is loads of art and impressive interior design all throughout the building, especially on the first floor.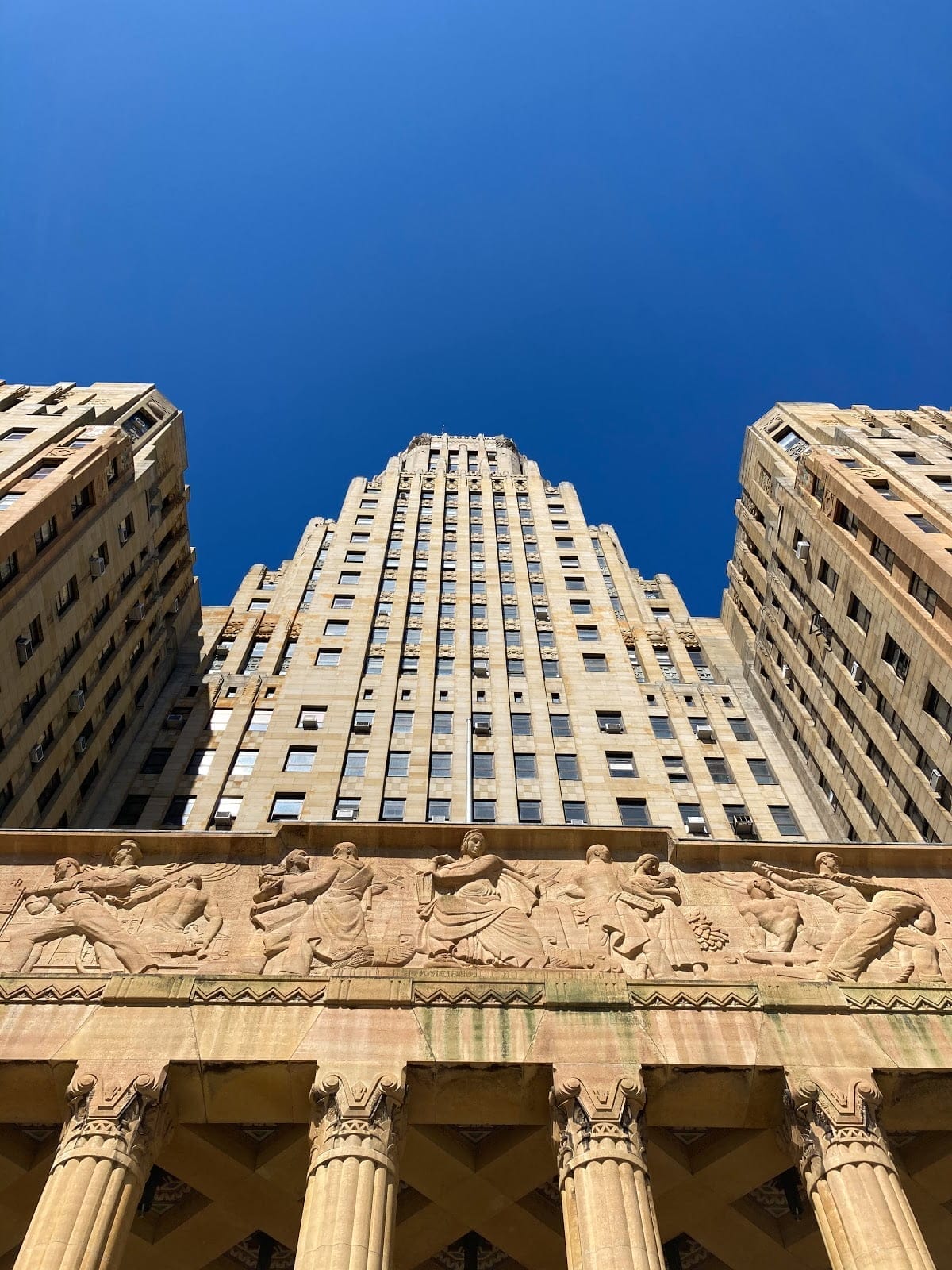 The building originally had wind-powered air conditioning. Large vents were built into the side of the building so cool winds off of Lake Erie could be funneled through the building and provide natural air conditioning. Window mounted AC units were eventually installed.
Its biggest draw is the observation deck on the 25th floor, with astounding views of the Buffalo skyline and beyond. Since Western New York is relatively flat, visibility is largely unimpeded. Unfortunately, the deck is closed until further notice due to COVID-19. But when it opens, trust me, you should be there.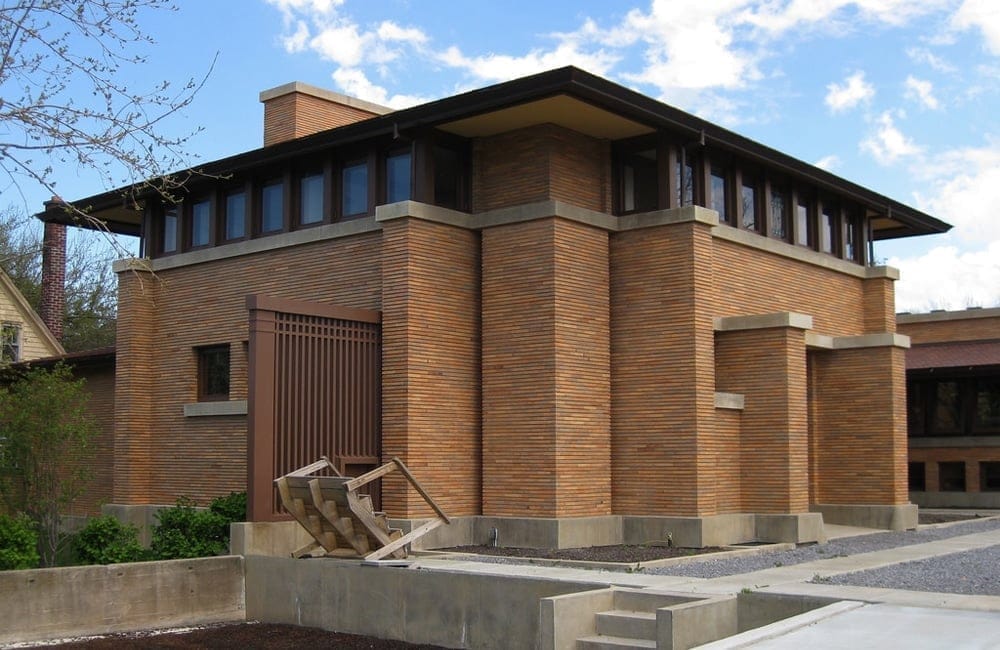 Frank Lloyd Wright's Darwin D. Martin House
If you're looking for more of Buffalo's architectural beauty, you won't have to go far. Although I haven't had the chance to visit it yet, the Frank Lloyd Wright Darwin D. Martin House is next on my list of must-see locations. Architect, Frank Lloyd Wright is responsible for much of Buffalo and Western New York's architecture and design. Spread out throughout the city, Frank Lloyd Wright's work can be found in seven locations. The most notable of Frank Lloyd Wright's architecture is the Darwin D. Martin House. Designed and built in the early 20th century, Wright's Martin House is considered an architectural masterpiece. Not only is the Martin House available for touring, it is also often home to artistic exhibitions.
Until Oct. 3rd, 2021 you can visit the Martin House to experience renowned ceramicist, Jun Kaneko's sculptures. This exhibition is a result of the Albright-Knox Art Gallery's Public Art Initiative. Despite the Albright-Knox Art Gallery being currently closed due to the construction of the Buffalo AKG Art Museum, you can still enjoy the gallery's contributions outdoors and at the Martin House. Be sure to visit the Albright-Knox Art Gallery upon its reopening on June 26th, and stay tuned for updates regarding the Buffalo AKG Art Museum opening in 2022.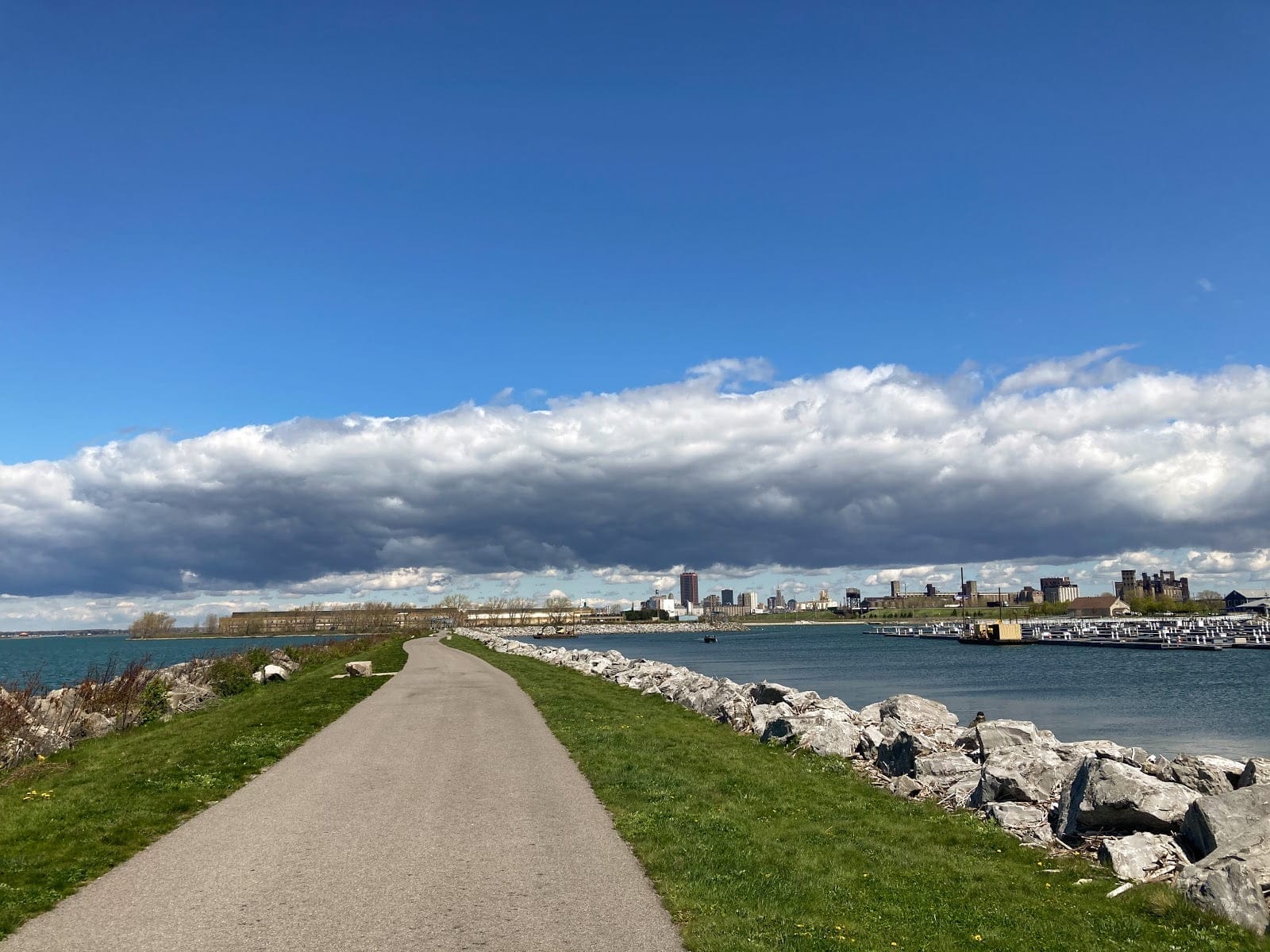 Buffalo Harbor State Park
Now that I'd spent some time visiting Buffalo's sports, architecture and military history I figured I'd return to the water to get a breath of fresh air. Sure, you've heard of the famous and ever-expansive Delaware Park and the waterfront Lasalle Park. But I suggest trying the brand new Buffalo Harbor State Park! Opened in 2015, the newest park in Buffalo's park system is located directly alongside Lake Erie. It has a 1,000 slip marina, so if you fancy some boating, there's ample room for your vessel. At first glance, the park appears to be something you'd find in coastal states such as Virginia or one of the Carolinas and not Western New York.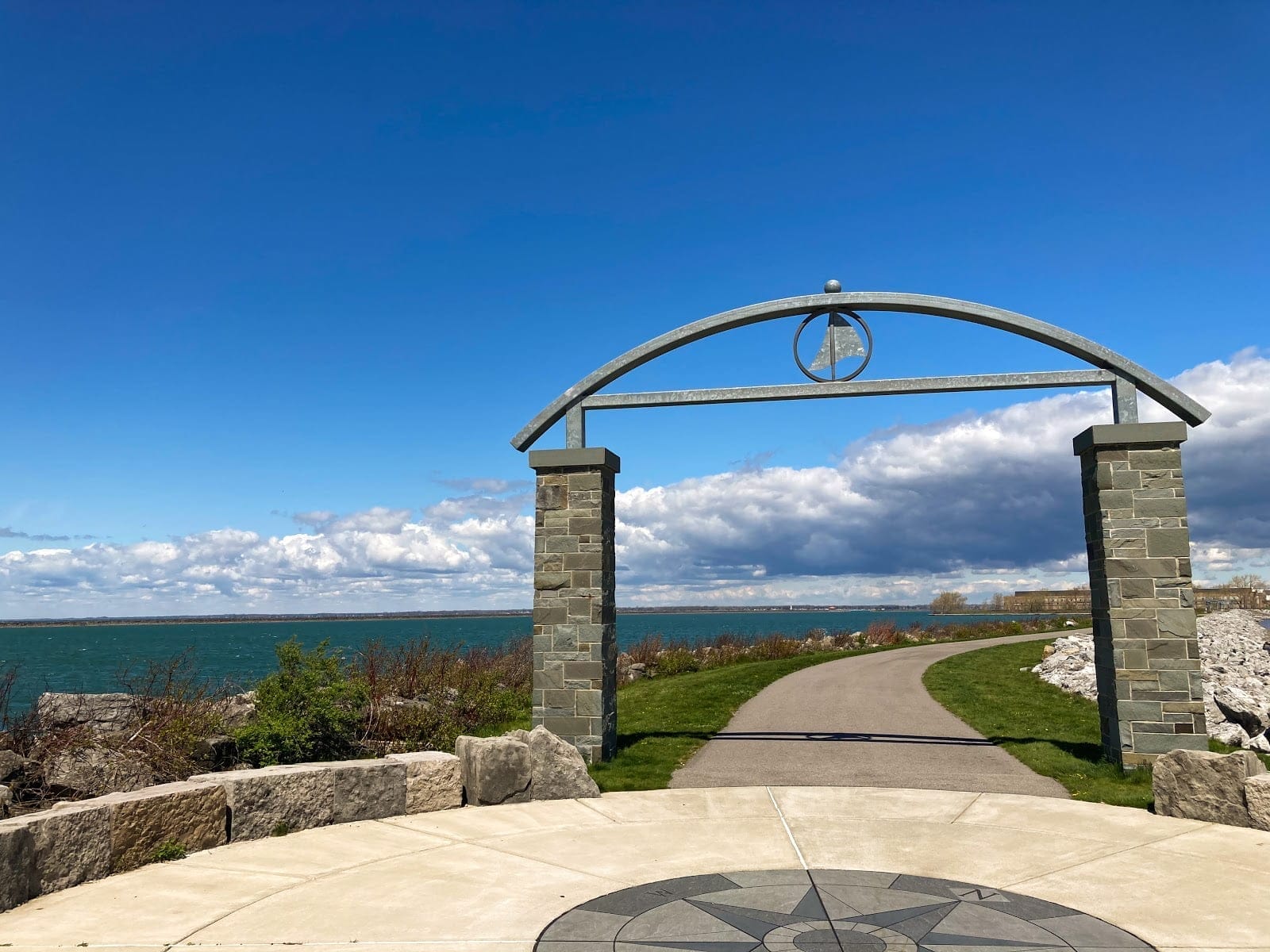 A labyrinth of paved paths is available to explore. There are four boat launches situated right at the edge of an expansive parking lot, complete with boat washing stations for your convenience. A playground and tons of shoreline space are also available.
Be sure to walk carefully along the paths on windy days, as the gales from Lake Erie can be quite strong! If you're one for boating, fishing or simply enjoying coastal views, it's hard to beat a spot like this in Western New York.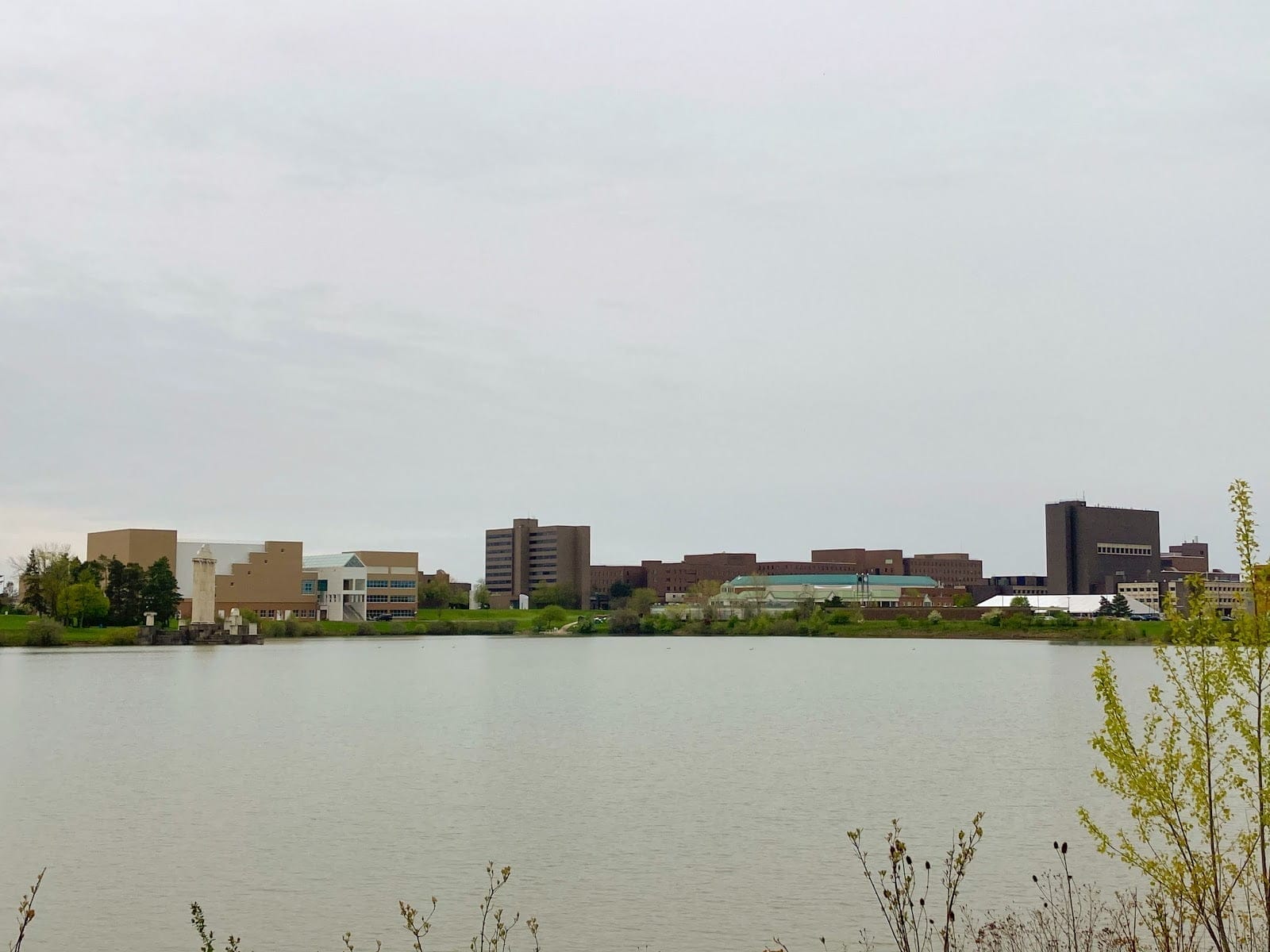 University at Buffalo
Finally, I knew I had to return to alma mater, University at Buffalo to end my day of exploring. As a former UB alumnus, I can attest that their North Campus, located in Amherst, is a phenomenal and vast place to explore with nearly 1,200 acres of land. You may be wondering why you'd want to visit the University at Buffalo as a non-student. With it being such a large campus, there are a large number of spots that even non-students can access.
For starters, the Ellicott Creek Trailway, a seven-mile paved trail, begins just outside the Ellicott dormitory complex. It extends from Maple Road to Niagara Falls Boulevard. You can easily access it behind UB's Ellicott dorm complex. Ellicott, known as "Lego Land" are called that for their unusual blocky and angular design
The perimeter of the dorm complex also has a paved path to explore on. Heading towards the academic and athletic complexes, gaze upon the mighty LaSalle Lake! There, you can rent a canoe (or bring your own) and gently glide along the frictionless surface of the shimmering lake.
At the edge of the lake is a lookout spot called Baird Point. While its assembly of stone pillars and large slabs may appear like some out-of-place abstract art, there's a story behind it. The pillars used to make up the grand facade of the old Federal Reserve Bank in downtown Buffalo. After the bank was demolished and the removed pillars sat unused on UB's South Campus for 18 years, the pillars were relocated to their current spot on North Campus in 1978.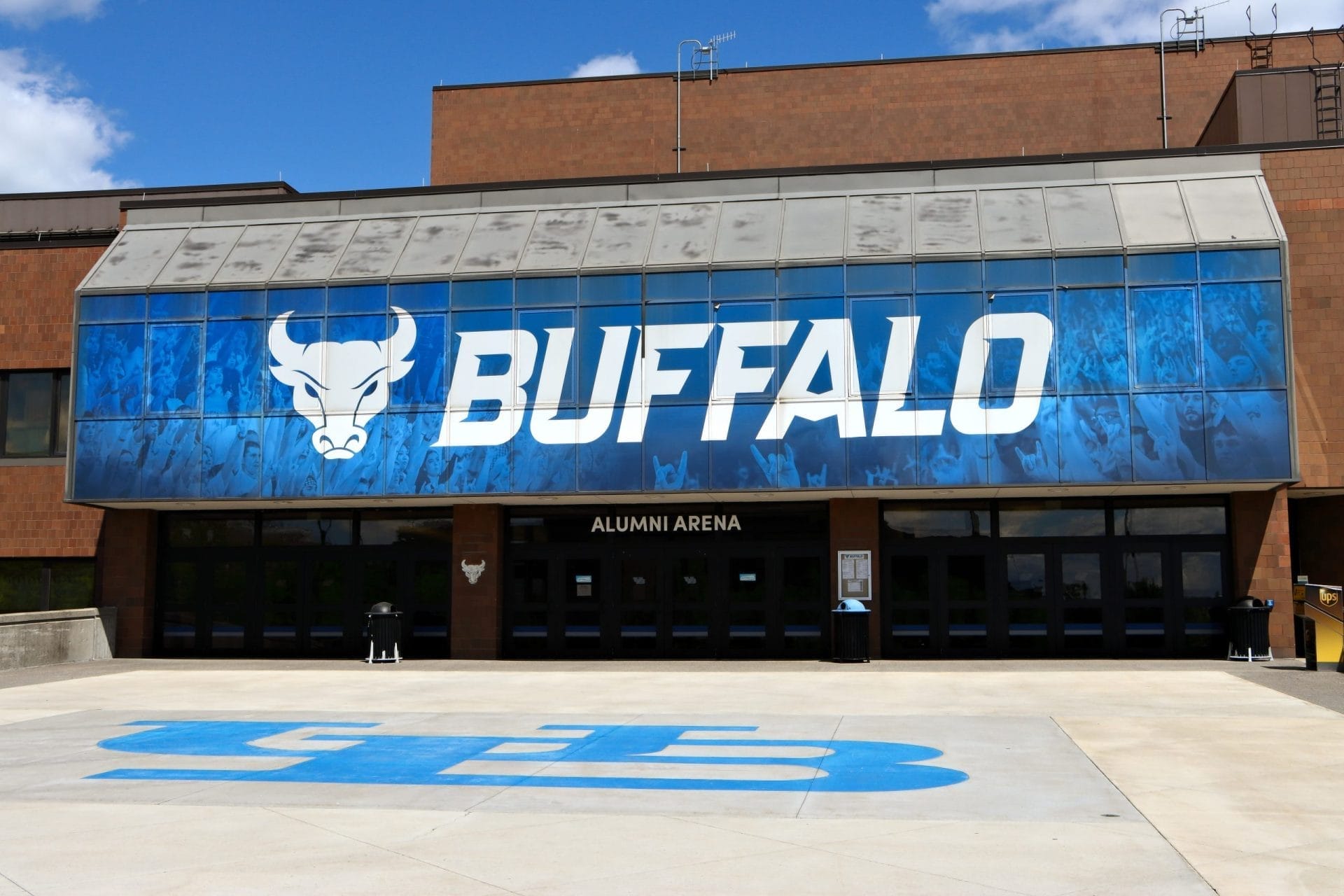 There are miles of sidewalks inside the campus and along the perimeter. Looking for a surreal place to exercise? If it's open, walk or run the track at the NCAA Division I-sized UB Stadium, which can hold nearly 25,000 people!
Need a bite to eat? The Student Union building in the hub of campus has you covered with Moe's, Tim Horton's and Jamba Juice that anybody can order at, not just students.
I could go on and on about the amenities that the largest college in New York has to offer, but I think it's best if you go experience it yourself. That's how I did it as a student and a visitor!
Although Buffalo often gets overlooked when considering all of the great cities of New York, it's clear that New York's second largest city has plenty to offer. From delicious food to major sports to exciting attractions, Buffalo should be your next destination.
TAKE AMTRAK TO BUFFALO
Take Amtrak to Buffalo-Exchange Street Station (BFX), which is approximately an 8 hour trip from NYC, and a 5.5 hour trip from Albany. Two Amtrak trains go to Buffalo-Exchange Street Station per day.
If you're not going downtown, take Amtrak to Buffalo-Depew Station (BUF), or get picked up from the Buffalo-Depew Station and taken to your reserved NYTRAIN Enterprise Rent-a-Car. Click here to reserve your car or call the Buffalo office today at 716-565-5400.
Don't forget to use the Amtrak See New York and Save 15% discount!