Sometimes overshadowed by New York City, we often overlook the grand city of Syracuse's ability to impress. Home to unique restaurants, bars, and small eateries, Syracuse will not let you or your taste buds down—and let's not forget about its remarkable museums and historic landmarks. Once here, you will not want to leave such a charming and lively city. So if you're looking for a fun summer, fall, winter, or spring getaway, plan a weekend trip to Syracuse.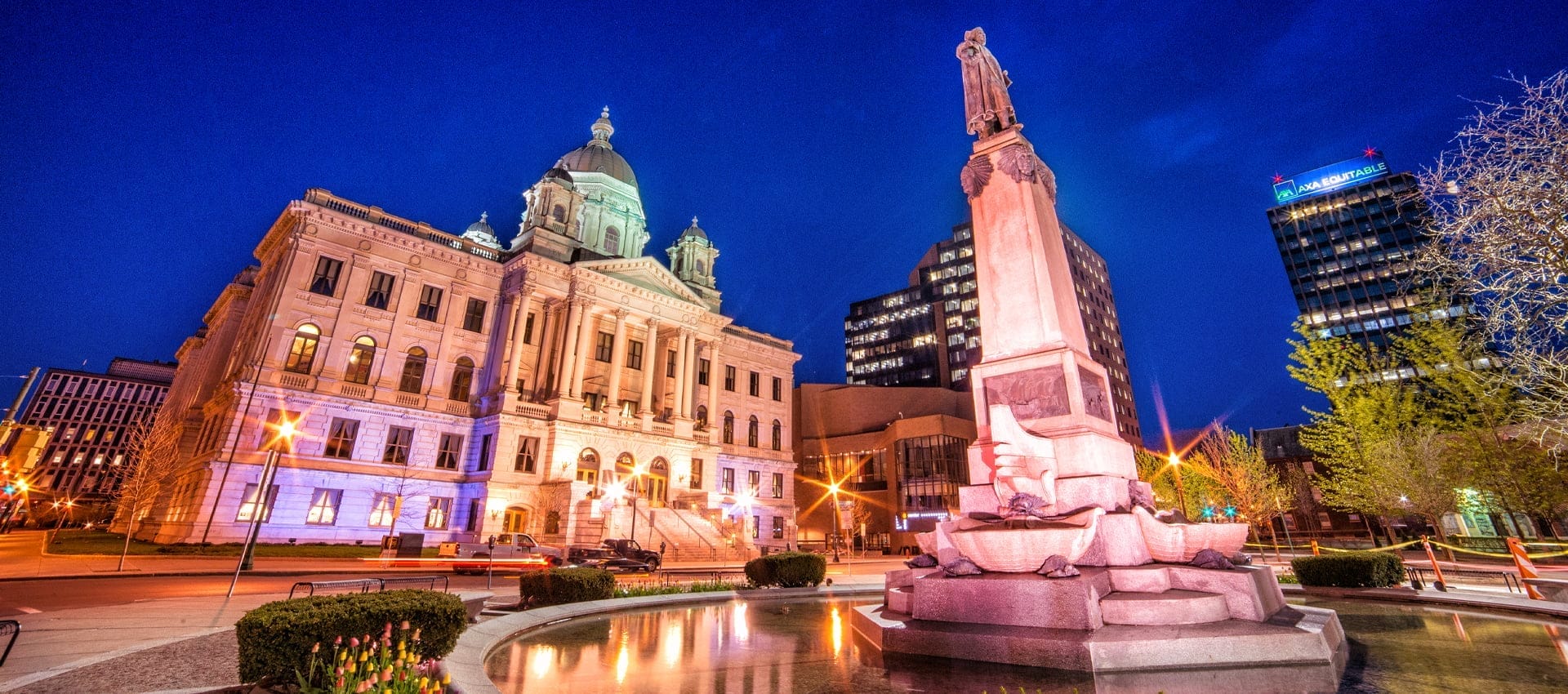 Begin your journey exploring Syracuse's unique history.
Its rich history, specifically surrounding the construction of the Erie Canal in the mid-1800s, will not fail to hold your interest. Open to the public seven days a week, the Erie Canal Museum ensures the preservation of history behind the canal and focuses on its remarkable impact—past and present.
Perhaps you'd rather visit Clinton Square, which transformed into a communtiy center for Central New York after the canal's construction. Winter turns Clinton Square into an ice rink, surrounded by brick buildings that hold the history of this once busy center for trade and commerce. Spend an hour or two skating on the rink among history.
Next take a stroll over to the elaborate Landmark Theatre. Built in 1926, the theatre, once deemed "the last word in theatrical ornateness and luxuriousness," is still active, hosting about 150 events a year! It has accommodated some of the most well-known stars since its construction including Tony Bennett, Bob Dylan, and Harry Belafonte. So before you discount history as boring, visit these fascinating sites!
Not a history buff? Experience art and science museums located throughout Syracuse.
Known as the museum of firsts, the Everson Museum of Art will appeal to those who are artistically inclined. The Everson houses primarily American art, including paintings, sculptures, drawings, videos, and more. This hidden jewel is especially known for its collection of international ceramics—the largest in the nation.
For those interested in science, the Milton J. Rubenstein Museum of Science and Technology (The MoST) offers hands-on exhibits. Th MoST is home to the only domed IMAX theater and planetarium in New York, allowing for the ultimate stargazing experience. The museum also features exhibits about the future of power sources, the effects of climate change on New York State, and the intricacies of the human brain and cosmology.
After all this learning, you certainly will need something to quiet your rumbling stomach!
Thankfully one perk of a big city getaway is access to countless renowned restaurants offering a variety of cultural foods.
Kitty Hoyne's Irish Pub offers authentic Irish food, drink, and atmosphere that cannot be found anywhere, but Ireland. This "Best Irish Pub in the World Outside of Ireland" nominee is definitely worth a visit, especially on the weekend when a live Irish band is present.
If an Irish experience isn't part of your travel plans, Pastabilities is a must try. Serving homemade pasta in a contemporary setting, this restaurant is a local favorite. Don't leave without trying the spicy, hot tomato oil!
End the night with a visit to Eva's European Sweets. Her sweet, savory Polish desserts are the perfect ending to a fabulous evening. Superb dishes from unique, quaint restaurants are boundless in Syracuse.
At the finish of such a busy day, it's time to put your feet up and relax.
Luckily, there are many places for lodging and tranquility in this bustling city. The Jefferson Clinton Hotel combines both comfort and history in one place. One of the few hotels still located in Armory Square, this hotel, built in 1926, finds a balance between the luxuries of modern living and the preservation of the building's old charm. If you're looking for something with an even cozier atmosphere, I suggest you book a room at Turtle Street Bed and Breakfast. Spend your evenings wrapped in a blanket by the brick fireplace with a cup of hot cocoa in hand, or your mornings around the kitchen table with a cooked-to-order breakfast. Both of these places have the potential of becoming your home away from home.