There are three things to know about traveling on Amtrak and visiting Rivers Casino & Resort in the midst of the pandemic.
1. Strict Covid-19 precautions are in place.
2. Restrictions on movement are not overbearing.
3. There is a strong sense that management is watching your back as far as the health crisis is concerned.
These are my takeaways from spending a little more than 24 hours taking Amtrak from Rhinecliff to Schenectady. These safety takeaways are only emphasized by my stay at the Landing Hotel and my time at the casino.
With all of the uncertainty generated by Covid-19, an extended vacation and a long journey doesn't interest me very much. But a 90-minute train ride for an overnight getaway with few moving parts worked and it worked well. Of course, staying within New York State only made the experience more enticing.
Schenectady Amtrak Station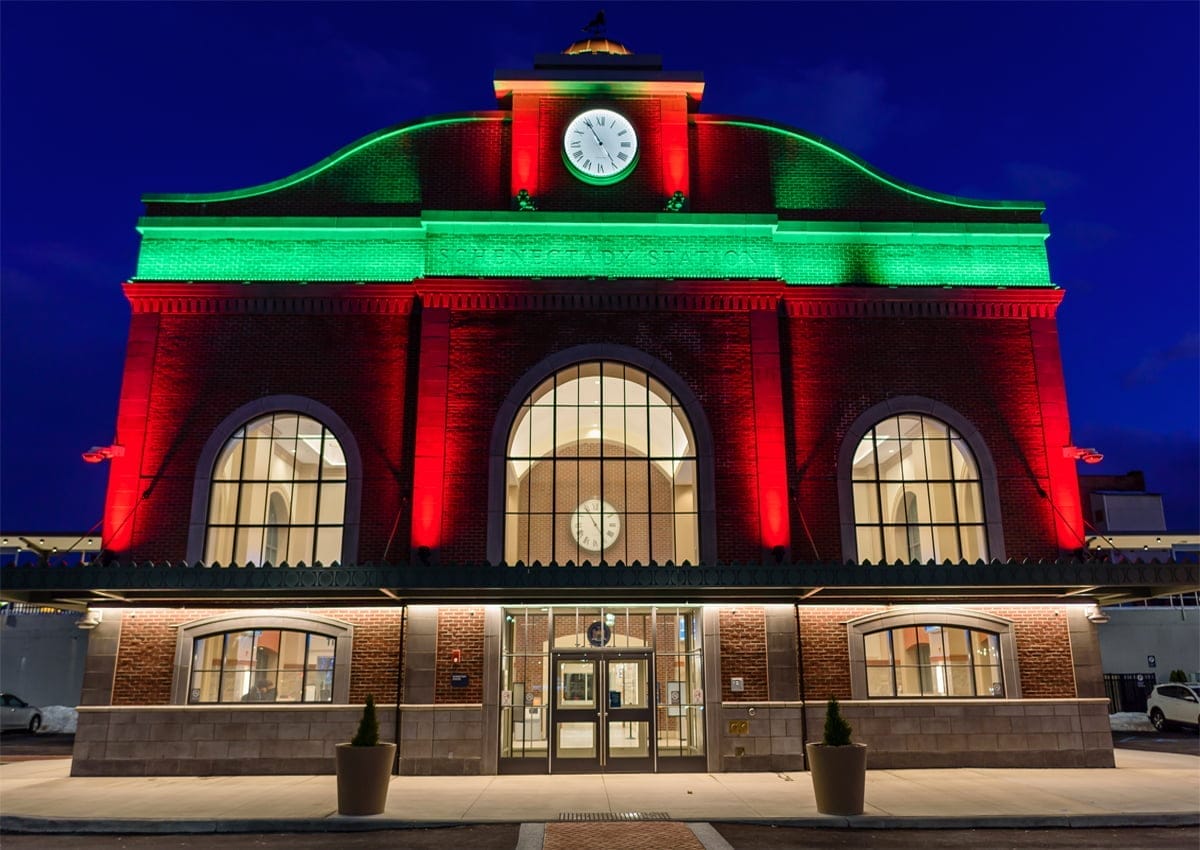 With the year-long restrictions on movement, public gatherings and socialization prompted by the pandemic, I can't tell you how exciting it was on a recent Saturday to board the 11:59 a.m. train in Rhinecliff.  
Amtrak is currently hosting 50 percent capacity, which left the seat beside me empty. The ride left me feeling as though I had my own pod. I couldn't see the person in front or behind me. There was little foot traffic in the aisle during the trip. And my comfort level was boosted by the strict enforcement of masks. With all my bases covered, I was left to gaze at the Hudson River and Catskill Mountains. There were also relics of river shore industry that spoke of the Empire State's rich history. We hadn't even reached Hudson yet and I felt a burden was lifted from my shoulders.  
My next trip on Amtrak could, quite simply, be a ride from Rhinecliff to the Albany-Rensselaer Station, where I just board a return trip back down the Hudson and call it a day. The train ride was that relaxing and that comforting as far as health precautions are concerned. But on this recent Saturday I was on my way to Schenectady and Rivers Casino for 24 hours of rest, relaxation and recreation.
The Rivers Casino and The Landing Hotel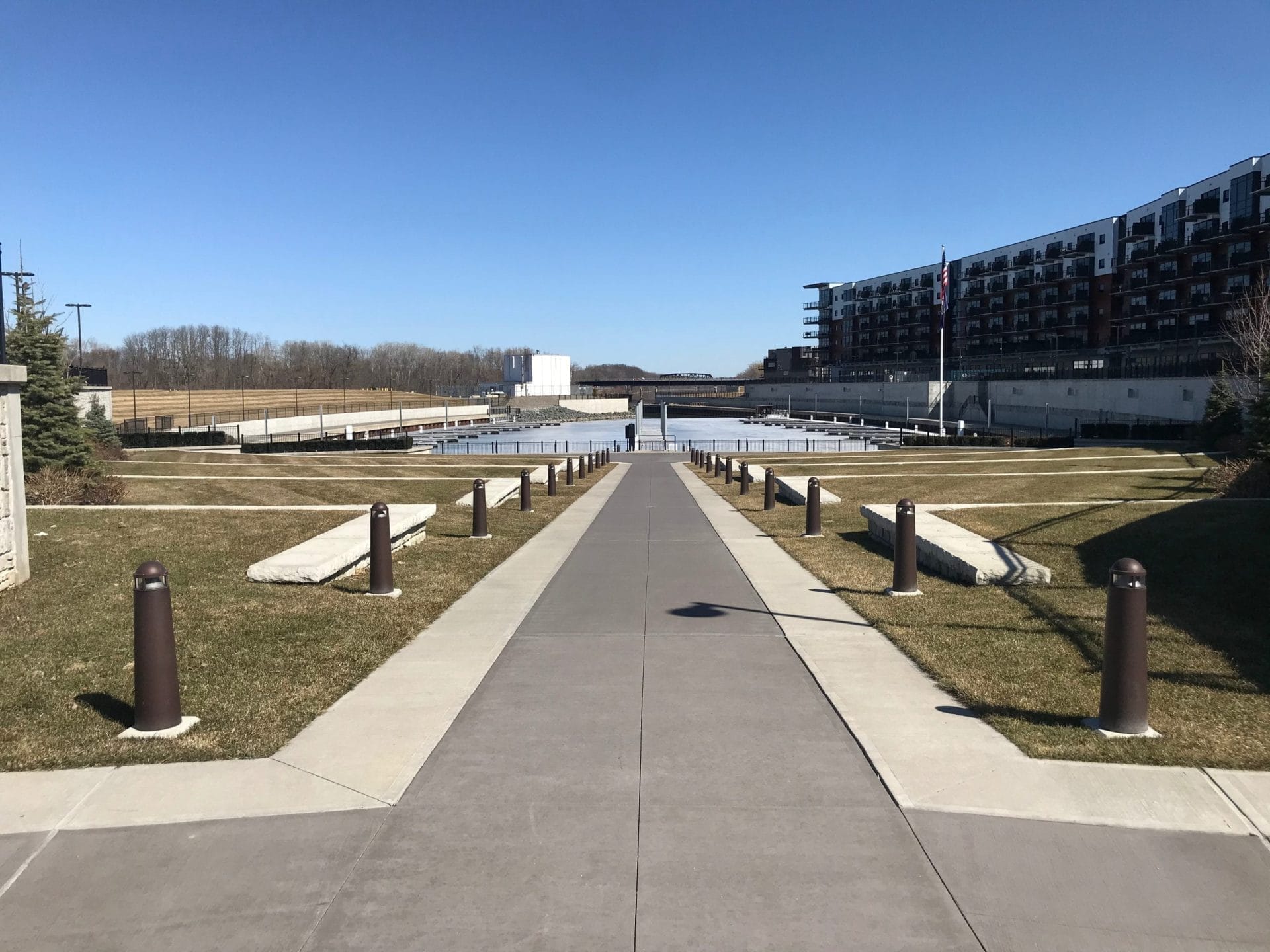 The Amtrak station in Schenectady is centrally-located in the city's downtown. So that meant my Uber ride to the casino and hotel lasted for mere minutes.   
Temperatures are taken upon entry. You check in to The Landing Hotel at a front desk that is cleaned hourly. And as you make your way to the elevator, the gravity of the hotel and casino's approach to Covid-19 precautions becomes quite clear. There is plenty of signage and a steady presence of staff with cleaning supplies.  
My room on the sixth floor was spacious. My view of the Mohawk River right behind the hotel and casino was stunning. The sunset I witnessed over the river was worth the price of admission alone.  
But I was anxious to scope out the gaming options. So after settling in I masked up, rode the elevator back down and walked through the lobby that connects the hotel to the casino. My temperature was taken again before entering the casino. Numerous floor decals reminded me of the safest way to social distance.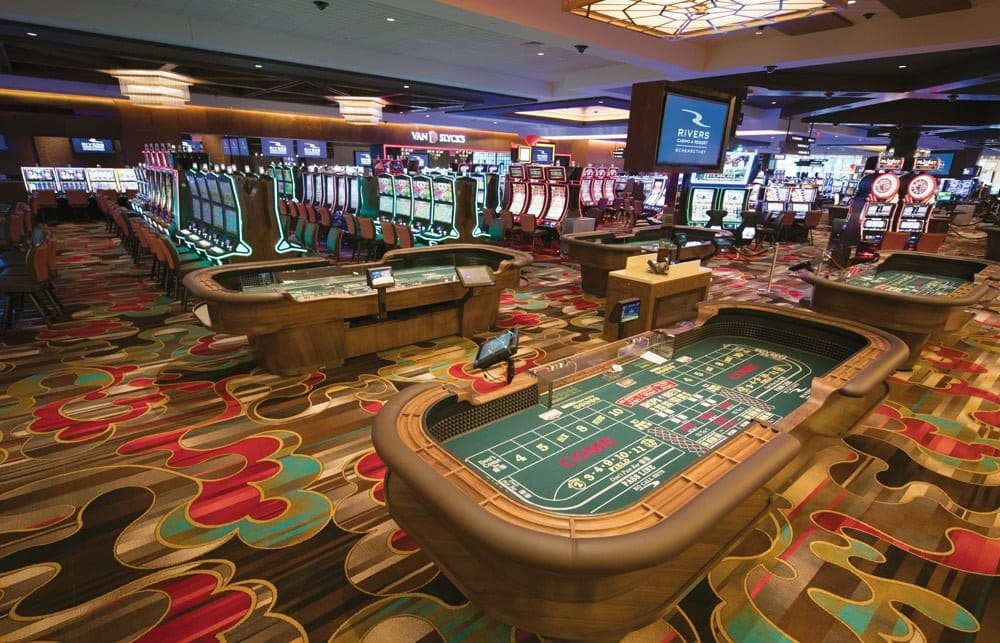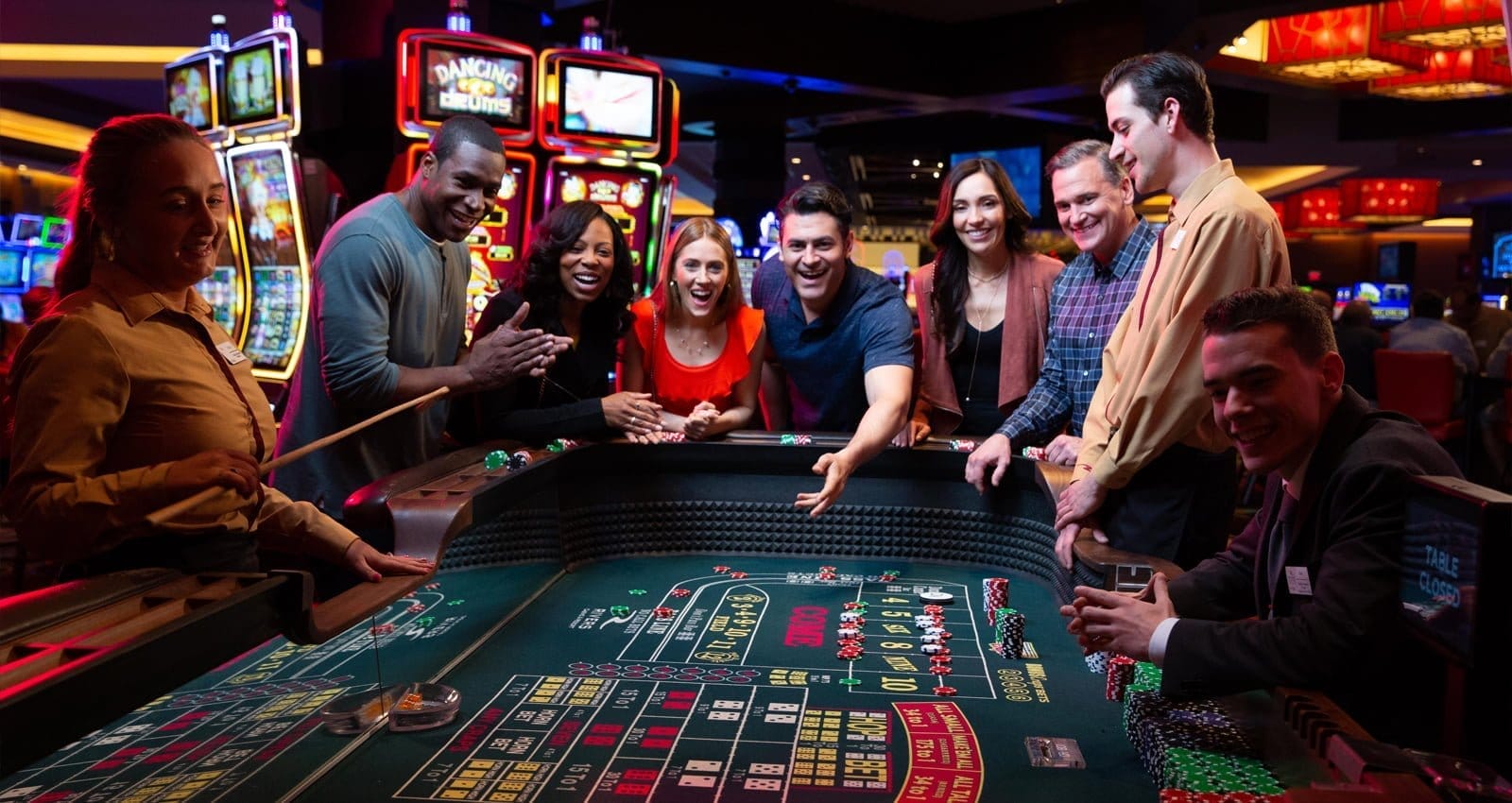 Rivers Casino has a vibe, a groove, a feel that evokes a Jersey Shore boardwalk tailored for Las Vegas high rollers and newcomers alike. But there is also a warm welcoming here, which I experienced at every turn. The sense of being welcomed also made me less self-conscious about the fact that I am as amateur a gambler as they come.  
From table games and slots to Keno and Video Poker, Rivers Casino is accessible and familiar. But above all it's fun. Building on your Amtrak trip, the casino offers escape during strange times that can sometimes feel like they are closing in on us all.  
So whether you're as seasoned as an old riverboat gambler or looking to blow off some steam by burning through some cash in a few hours, Rivers Casino projects an attitude of, "Come one, come all."
I entered the casino on Saturday afternoon and was pleasantly surprised to see all the Covid-19 precautions. I was even more pleased to see how freely I could move about, with the precautions in place.
The "Sure Bet Sanitized" program is in place to ensure that all machines and facilities are being regularly and thoroughly sanitized. According to RiversCasino.com, "Our Sure Bet Sanitized program was developed with your health and safety in mind. We have expanded our cleaning practices to exceed those recommended by health experts and continue to use cleaning products and protocols that are approved for use and are effective against viruses, bacteria and other airborne and bloodborne pathogens."
Your Rush Rewards card also offers rewards points that can be redeemed for slot play, food credit, hotel credit and giveaways. There are also personalized monthly offers, exclusive invites to member-only promotions and services, and local discounts. 
So that gives you a sense of the Covid-19 precautions. Now let's have some fun.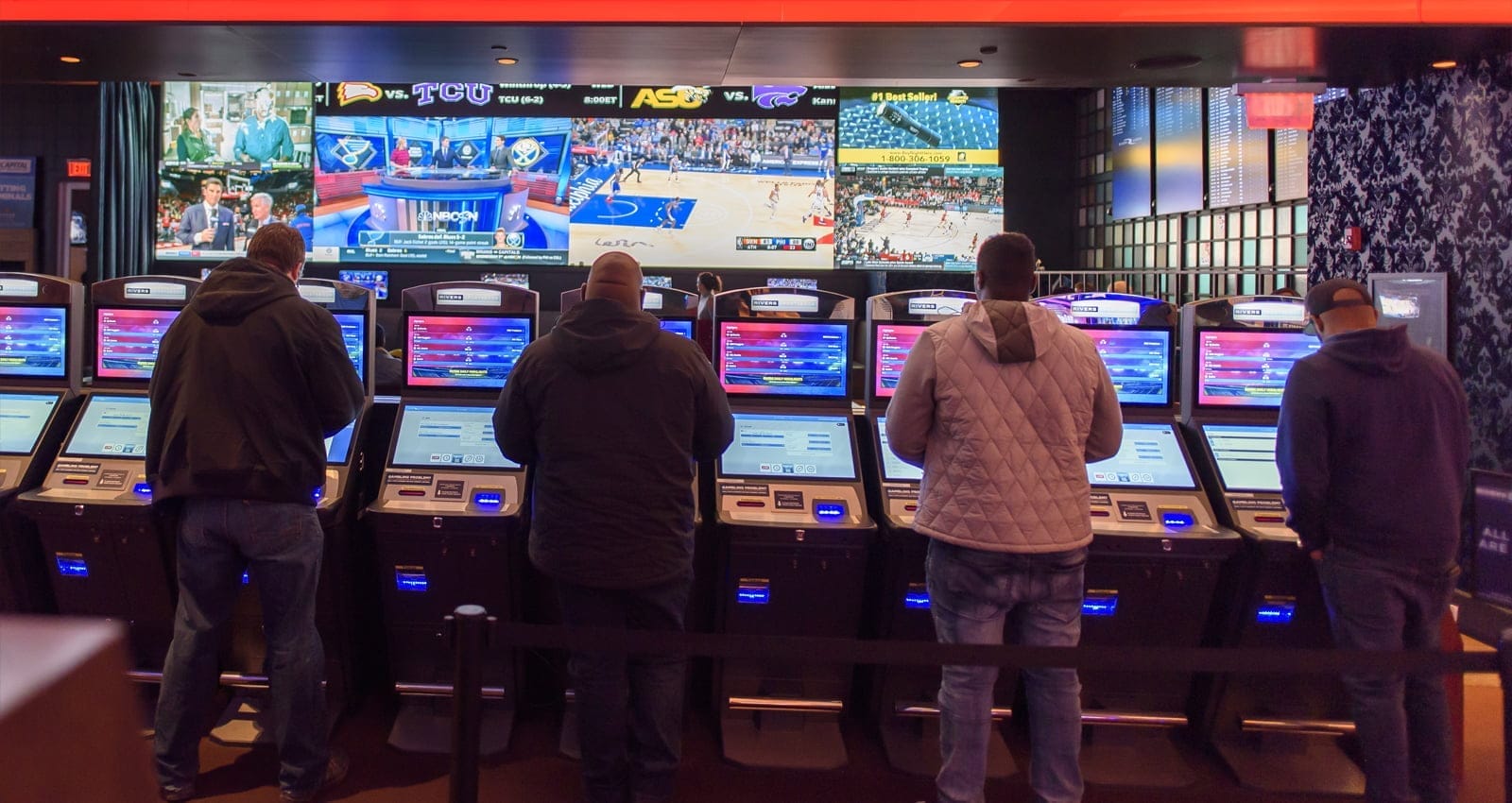 The turn of the seasons from winter to spring brings warmer and longer days, a brighter outlook on life and college basketball — lots of college basketball.  
In the past, Rivers Casino has hosted March Madness with a frenzy of college basketball playoffs and championships that could reach even the most casual observer. At Rivers Casino, it could be as close as you can possibly get to center court.  
The Rivers Casino Sportsbook was the first to open and take wagers in New York State. It maintains a commanding presence in the casino, with a 53′ LED video wall, which Sportsbook Manager "Harborside" Hal Wafer said is the only one in the state. There are also 22 additional TV screens and 14 betting kiosks. Additionally, there are six staffed betting windows to accommodate guests.
Rivers Casino & Resort also showcases F&B specials, promotions and giveaways for all of the major sporting seasons.
If you're visiting Dukes Chophouse, definitely order the lobster mac and cheese for dinner. Flipit for lunch will place you on the receiving end of one of the best burgers you've ever eaten. In fact, if I lived in Schenectady, I would eat at these restaurants on a regular basis, whether or not I was availing myself of the casino's gaming options. Both of these fantastic restaurants are located within Rivers Casino & Resort.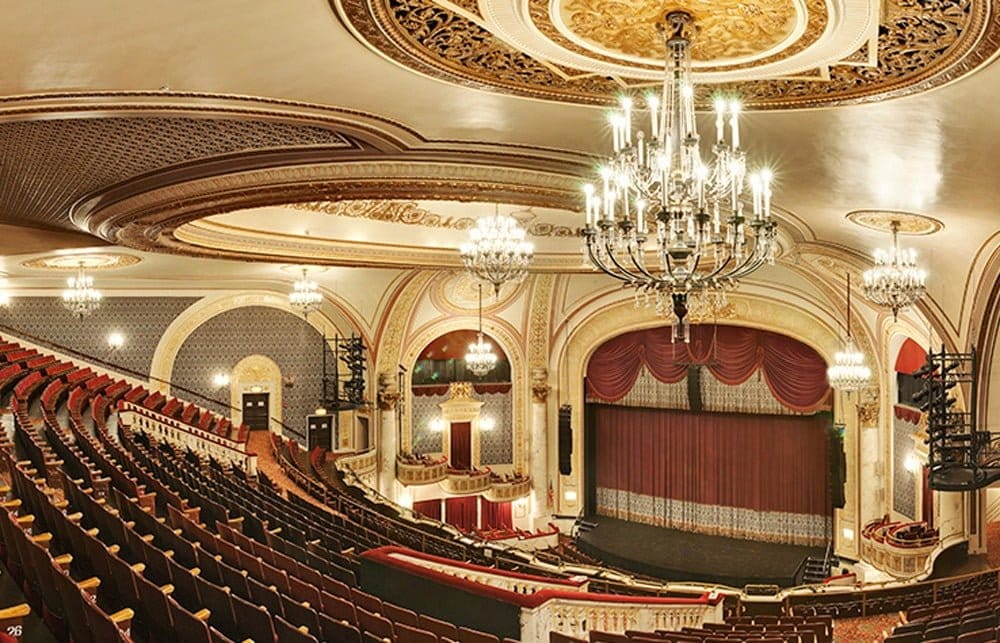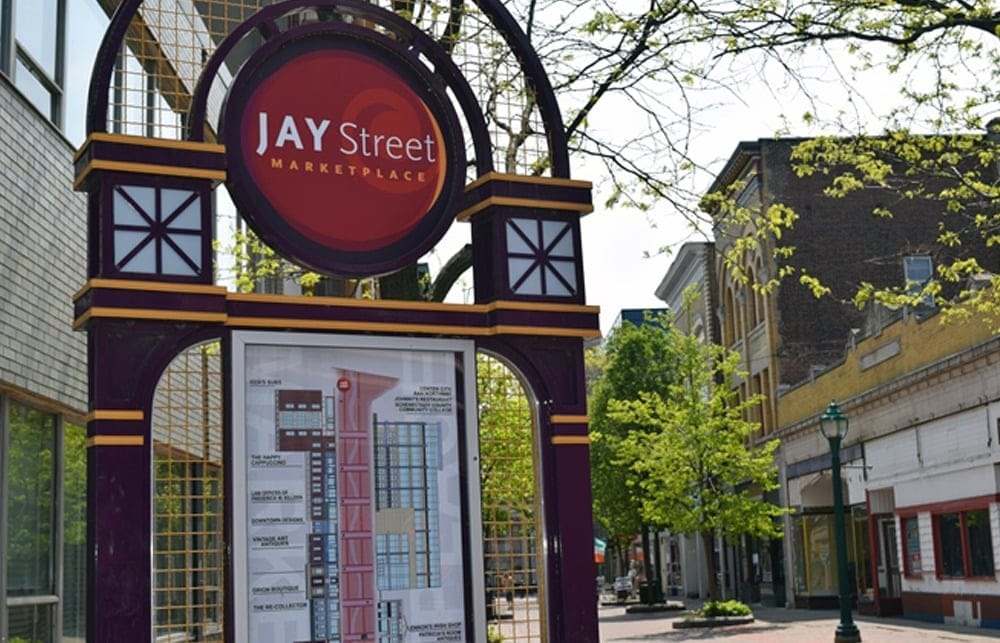 In addition to all that is offered inside the Rivers Casino & Resort, there is plenty to do on the grounds and in downtown Schenectady.  
Adjacent to the hotel, casino and Mohawk River is the ALCO Heritage Trail, an outdoor walking, jogging and biking path. Mohawk Harbor sits within walking distance and features an inviting lawn, park and amphitheater that in warmer months will host live music for socially-distanced audiences.  
Hop back in an Uber and downtown Schenectady offers yet another compelling destination on your overnight getaway.  
Proctors Theatre offers plenty to admire with shows and performances throughout the year. City Hall and the neighboring U.S. Post Office are also compelling sights to be enjoyed with a gaze. Jay Street Marketplace offers shops and restaurants as well as a pedestrian plaza that links Proctors to City Hall and the Post Office.  A less-than 10-minute walk to the city's Stockade District brings you back in time. The state's first historic district features more than 40 pre-Revolutionary houses, as well as Dutch Colonial, Georgian, Federal and Victorian architectural styles. 
You are without a doubt hungry and thirsty at this point. So give Mad Jack Brewing Co., at the Van Dyck Lounge in the Stockade District, a try. When it's time to catch your train, visit Katie O'Byrnes Pub. The Irish Pub shares a parking lot with the Amtrak station, making it an easy solution for a final slice of Schenectady style.  
And so it was that my overnight getaway to Schenectady drew to a close on Sunday evening. As I waited on the platform for the 6:17 p.m. train back to Rhinecliff, I was already plotting my return.
Take Amtrak to Rivers Casino & Resort
CLICK BELOW FOR MORE TO DO IN SCHENECTADY
Further Information Regarding Travel
Amtrak has taken several initiatives to ensure the safety of its passengers. They have committed to requiring face masks for all passengers, converting the cafe car to takeout only, adding social distance signage, and much more.