Photos courtesy of the Brinckerhoff Inn
The Brinckerhoff Inn
Celebrating 301 years with a brand new, luxury renovation at the Brinckerhoff Inn.
What to anticipate at your stay
Built in the 18th century, Brinckerhoff Inn is a bed and breakfast with substantial history. Located in Fishkill, NY, the Inn preserves original elements of the house, while offering many of the modern conveniences we enjoy today available your stay is sure to be a comfortable and immersive experience.
History of the Brinckerhoff Inn
The Brinckerhoff Inn is a mansion built in 1718, spanning 10,000 square feet and for the past 297 years remaining largely untouched. managed by the same family for several generations. Much of the Inn's original construction remains intact for visitors to enjoy a preserved, authentic historical experience of 18th-century design. There are many photographs, historical documents and pieces of art throughout the Inn originally owned by the Brinckerhoff family. Accompanying these priceless artifacts are the building's original wood flooring, crown molding, doors, plaster walls, and stairs.
Not only does Brinckerhoff have a longstanding personal history for the family who hosted it, but it also has a foundation in that of American history. During the Revolutionary War, many historical figureheads, including several Founding Fathers, visited the Brinckerhoff Inn several times through America's fight for independence as a country. George Washington, Baron Von Steuben, and Alexander Hamilton viewed German and British soldiers marching to Virginia from Boston while they were in this house in 1778. In the morning of one of General Washington's stays at the Inn, he came to learn of Benedict Arnold's treason.  
Several of these historical leaders have rooms named after them, so you can spend the night in the same room they did! Rooms include; The Benjamin Franklin Room, The George Washington Room, The Marquis de Lafayette Room, The Thomas Jefferson Room, The James Madison Room, The John Adams Room, The Abraham Lincoln Room, The Ulysses S. Grant Room and The Andrew Jackson Room. While the Inn has been meticulous in upholding historical accuracy in its design, due to renovations it has been upgraded to include various modern amenities to ensure the comfort and satisfaction of guests. When it was sold in 2014 by the Brinckerhoff family, it was renovated by the new and current owners and since then it has become the highest rated luxury boutique Inn in Duchess County, New York.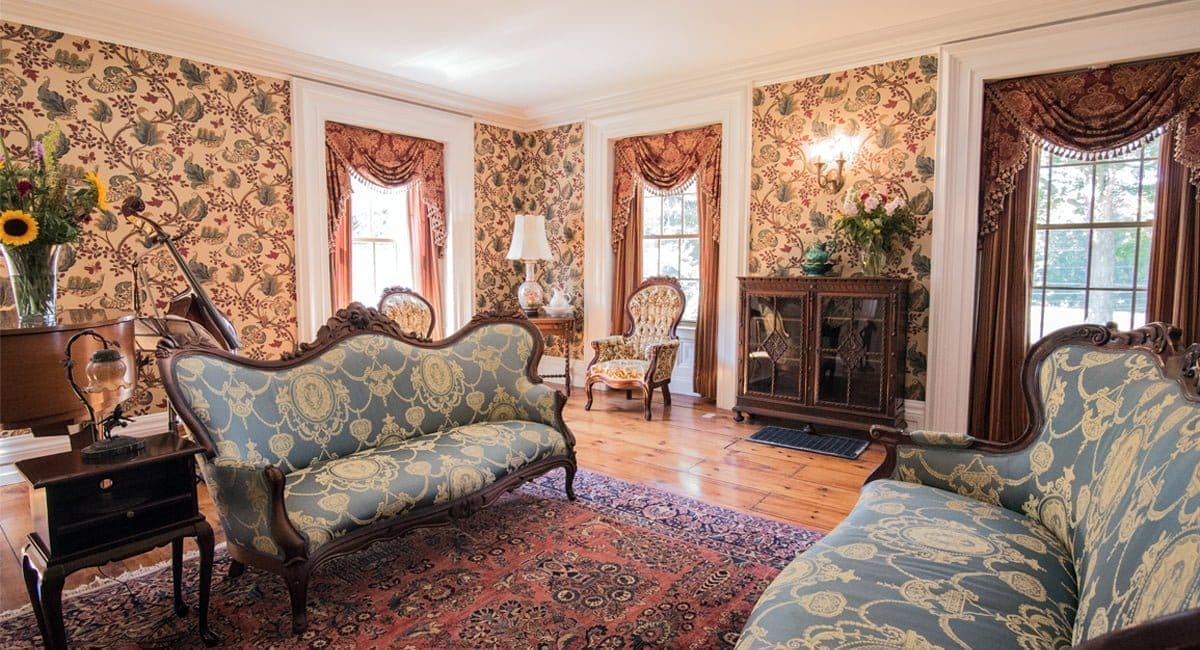 Amenities
This Inn provides many resources to secure a positive experience for guests. The parlor includes a cello, grand piano, fireplace and an array of places to sit and relax. Equipped in the living room is a flat screen Smart HD Television with access to Netflix, cable etc. Also included is a place for guests to sit, fireplace, and powder room. The dining area has 5 tables and can fit up to 25 people. Included is a gourmet made to order breakfast with staff equipped to prepare food in a dietary restriction and allergy accommodating way when prior notice is given in advance of your arrival. A stocked pantry that includes snacks, fresh fruits and beverages is open to guests 24/7 and is accompanied with a microwave, refrigerator, toaster oven, and coffee machine.
The lounge and game room is a great place to read and look through the library full of modern and historical texts and become acquainted with other guests by playing some pool. There is a screened in back porch that is covered and winterized so that guests can enjoy the area even in cold weather. Multiple barns and a green house on 5 acres of land are available for guests to explore as well.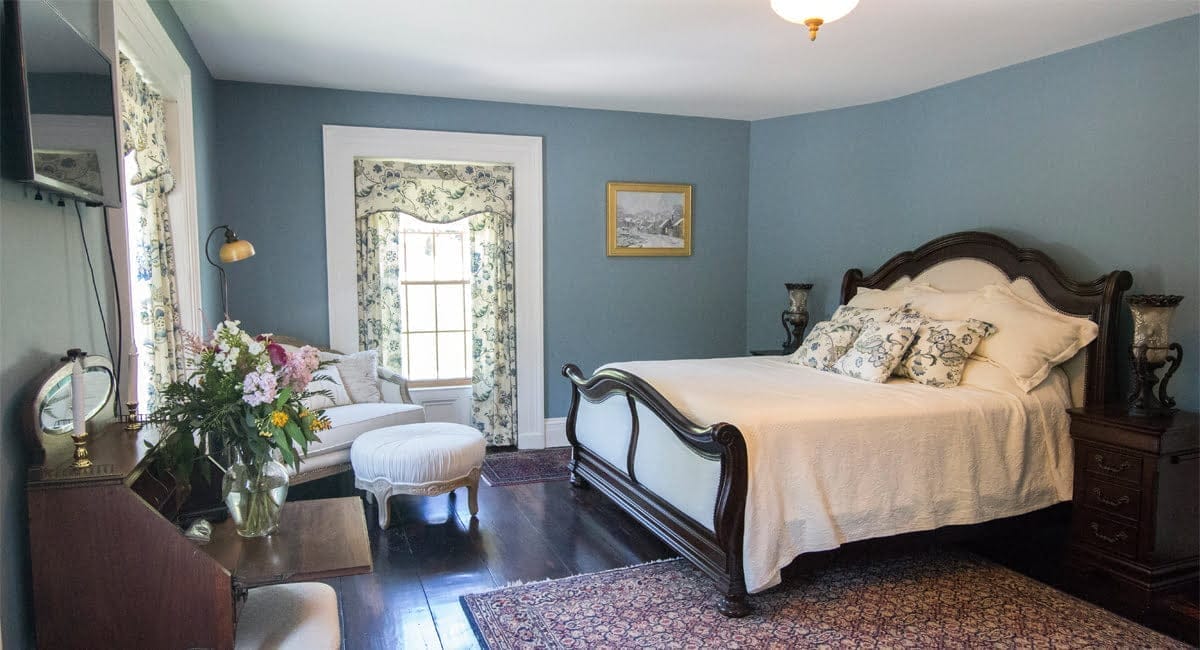 Hair driers
Queen or king-sized beds
Luxury toiletries (Molton Brown of London)
Flat screen Smart Televisions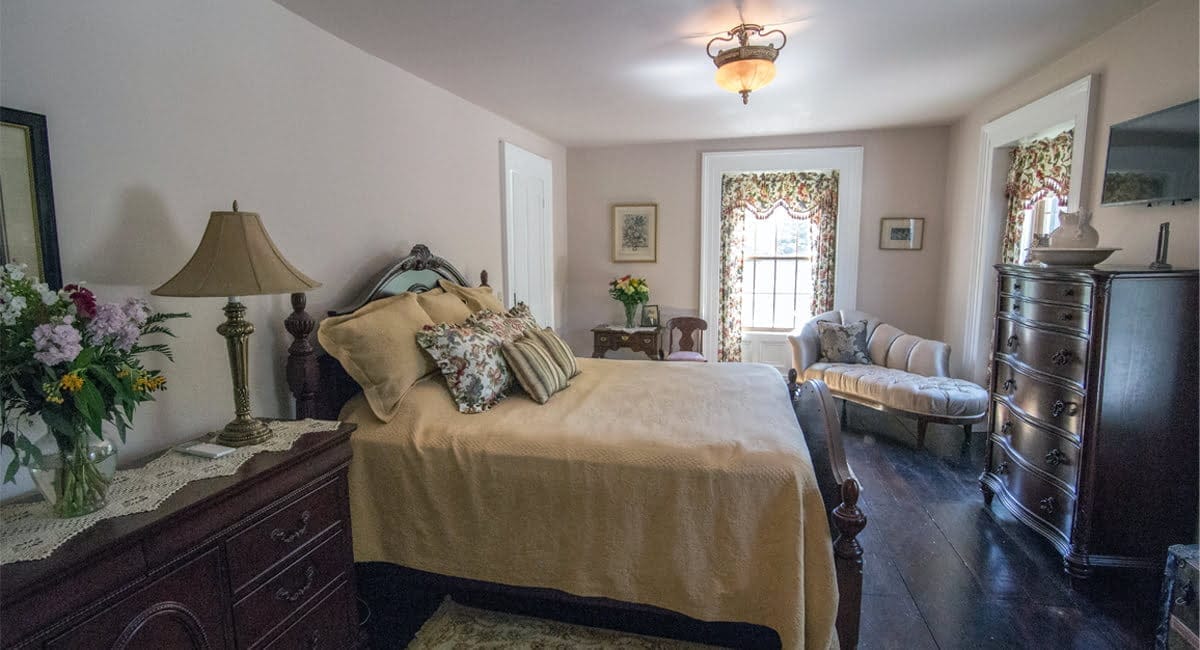 Personal thermostat
High-speed WiFi (complimentary)
Armoire and dressers
En suite private bathrooms with large, clawfoot bathtubs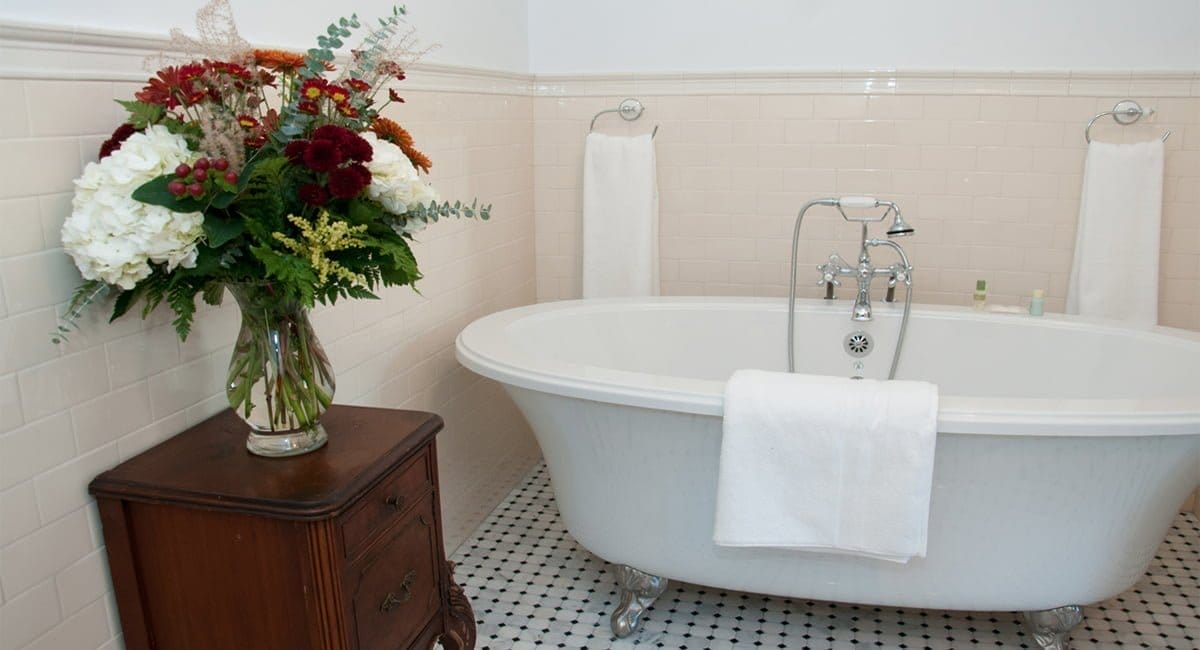 Packages
 When you book 2 nights direct in the month of February you will receive a 75 dollar credit to use at a local restaurant you choose.
Policies
24-hour check-in, full-time staff accessible.
Check out is at 11 a.m.
A deposit for one night stay is necessary to secure a reservation. Email confirmation within 30 minutes of your booking direct is to be expected.
Two-night minimum-stay is likely necessary on booking weekends or holidays that take place peak season.
Prices are subject to change.
Cancellations need to be made 14 days before the date of expected arrival to receive a full refund. If you choose to refund sooner than that, there will be a $40 service charge.
Cancellations within 15 days will remove the deposit in full and no refund will be made. The non-refundable $40 service charge can be applied as a credit for future bookings.
Early check-ins and late check-outs are accepted based on availability and relying on occupancy may be obtainable for an additional payment.
An early departure will not provide refunds and payment will be made as it was booked originally.
Guest rooms are on the second and third floors, there is no wheelchair accessibility for this.
No rollaway beds or cots are offered. Guest rooms fit two (2) people.
No children under the age of 10 due to the historical nature of the Inn necessitating it remains preserved.
No pets allowed.
This property is smoke-free. New York State law prohibits this smoking indoors. There will be a $500 fine to guests who do not respect these regulations, and an additional cleaning fee will be added to that.
A complimentary breakfast is served each morning from 8 a.m. to 10 a.m. Earlier or later breakfast hours can be accommodated with advance notice. Accommodations can be made for food allergies or restrictions when specified before your arrival.
Inquiries
For more information about the Brinckerhoff Inn or to make a reservation click here to be directed to their website.
Take Amtrak to the Brinckerhoff Inn
Experience the Brinckerhoff Inn via Amtrak to the Poughkeepsie Station in the Hudson Valley—Don't forget to use the Amtrak See New York and Save 15% discount!
Rent a car with Enterprise! Pick up your reserved NYTRAIN Enterprise Rent-a-Car right at the Poughkeepsie Station. Click here to reserve your car or call the Poughkeepsie office today at 845-485-2222.
Brinckerhoff Inn also provides transportation shuttling to and from Poughkeepsie Station, with area tour packages available.