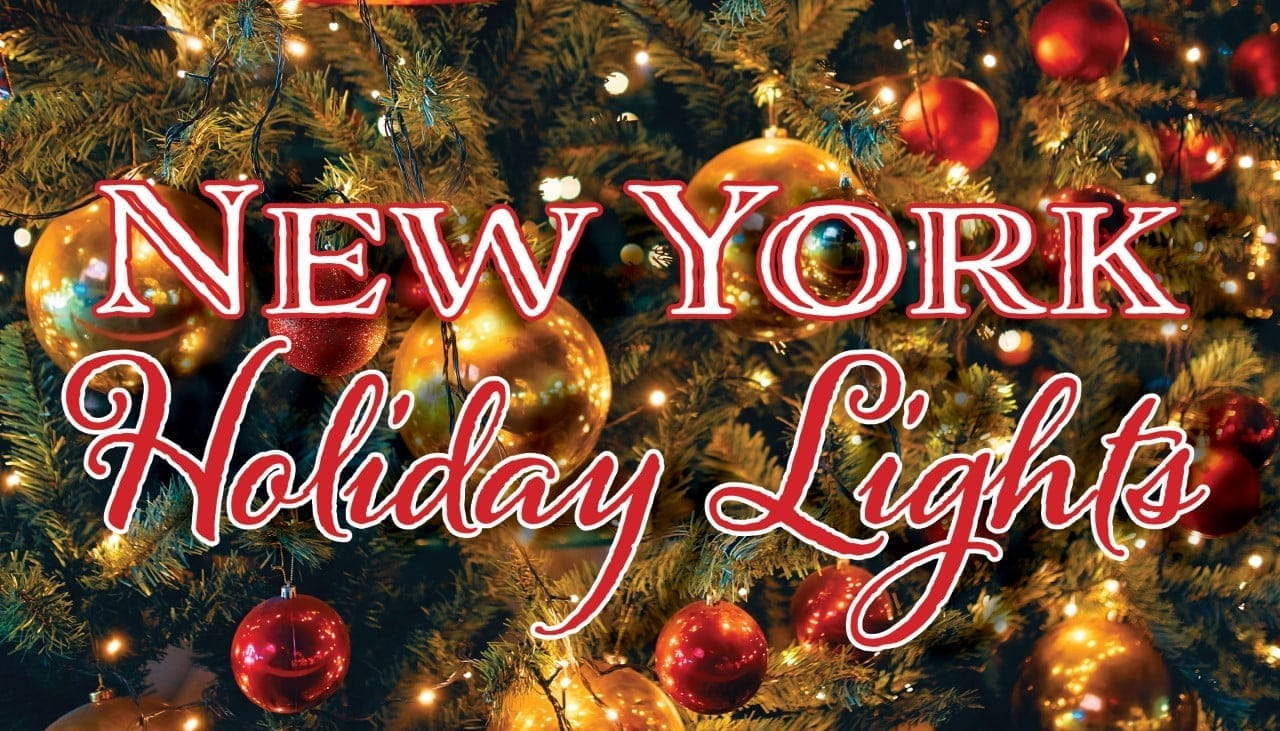 The holiday season offers a plethora of outside, and inside, celebrations for getting us into the festive spirit. New York is a prime location for these feel-good events, surrounded by loved ones. Home to many famous festivities, no winter celebration is complete without the influence of a New York-style holiday. Whether it be lighting a gigantic Christmas tree or driving through the Capital decorated in lights, New York owns the holidays.  
Make sure you don't miss out on one of these extraordinary events!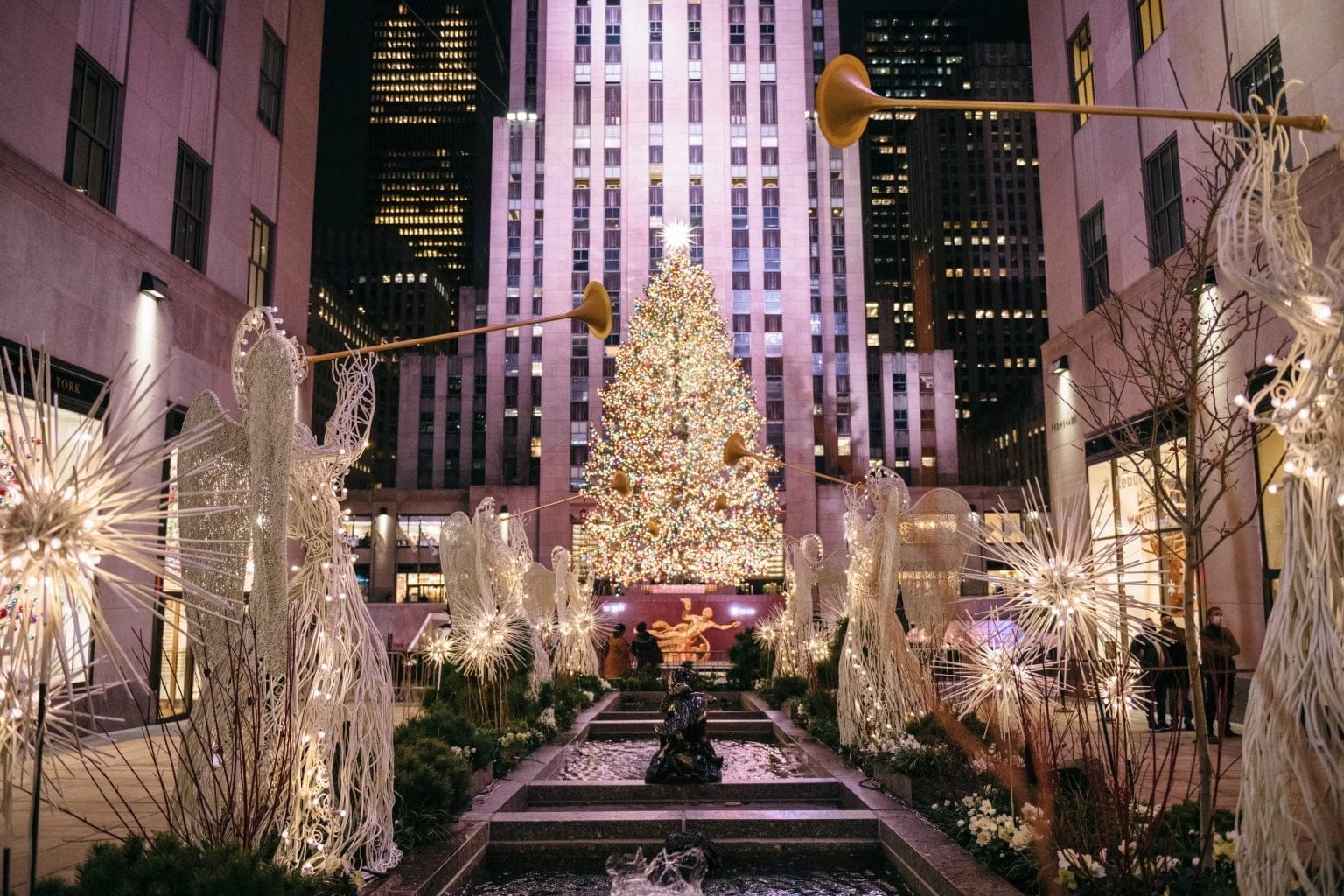 Rockefeller Center Tree Lighting
Signaling the start of Christmas for many New Yorkers and travelers alike, the Rockefeller Christmas Tree Lighting is the epitome of the holidays in New York. Making history since 1933, the Rockefeller Center Christmas Tree has earned its right as the epicenter of the holidays. While the tree is officially lit on December 1st, preparations begin well in advance. The 60+ foot tall tree needs to be decorated with over 50,000 lights on nearly 5 miles of wire, while a 9-foot star must be hoisted to the top. All of this must be completed just in time for the hush to fall on the crowd of thousands gathered around Rockefeller Center.
After several performances, from singers, bands, and the Radio City Rockettes, the switch will be flipped; lighting up the most illuminating view in all New York. While the initial lighting draws crowds, the tree will be on view from December 2nd to January 10, 2022. For a picture-perfect presentation of the Rockefeller Tree, stand at the 5th Avenue entrance to the Channel Gardens.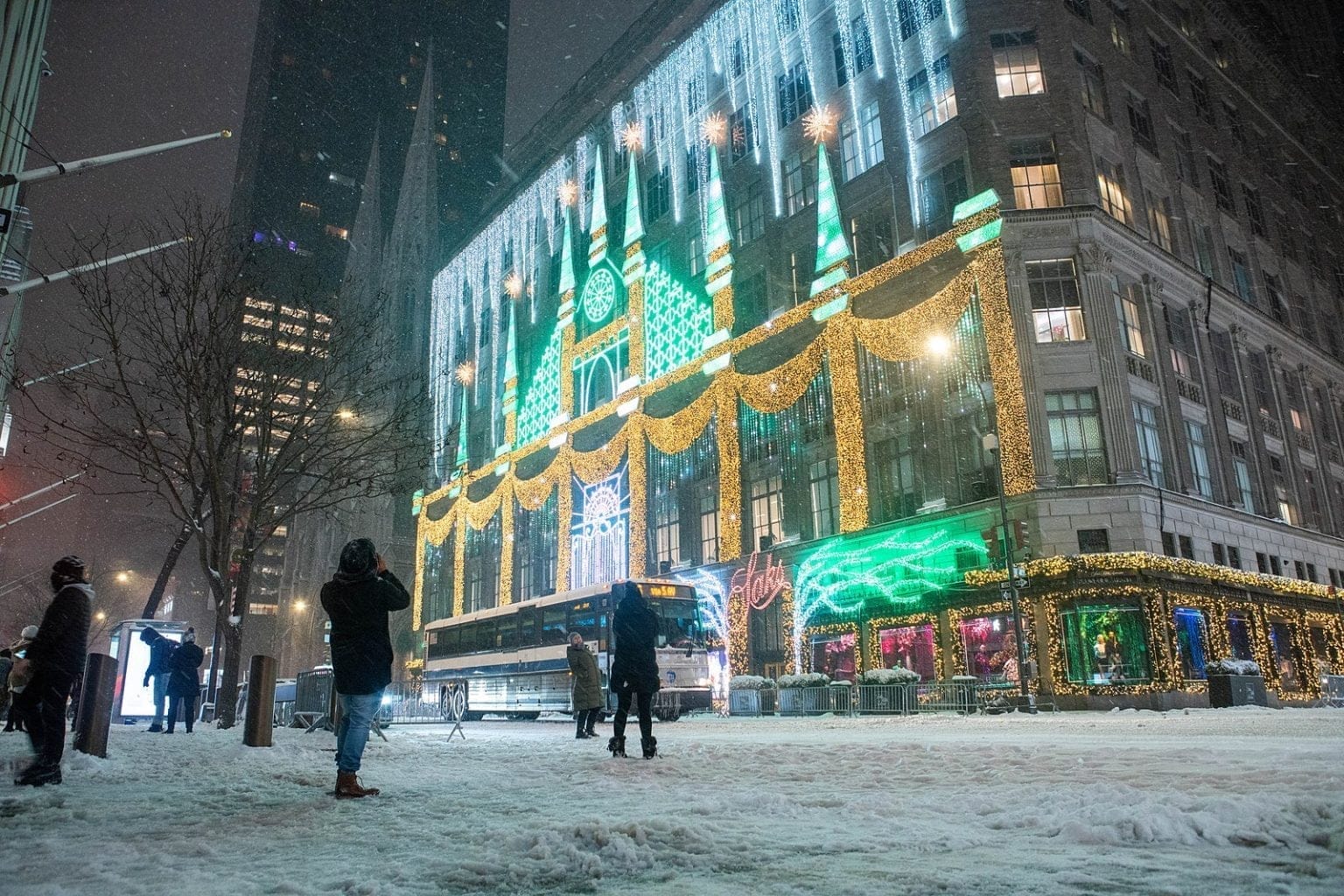 Saks Fifth Avenue Light Show
A true eye-catching display of light, the Saks Fifth Avenue Light Show draws in anyone who walks by. Located at the flagship Saks Fifth Avenue store, this light show decorates the façade of the building with a theatrical display of color. Paired with orchestral music, a multi-sensory splendor overcomes whoever stops to enjoy the spectacle.
This 10-story tall magical demonstration of the holiday spirit is accompanied by window displays following the same theme. A new light show begins every ten minutes starting at 5 p.m. and lasting until 11 p.m. Oblivious passersby can't help but stop and stare. Window displays and the light show was unveiled on November 23rd, marking the start of this festive holiday tradition.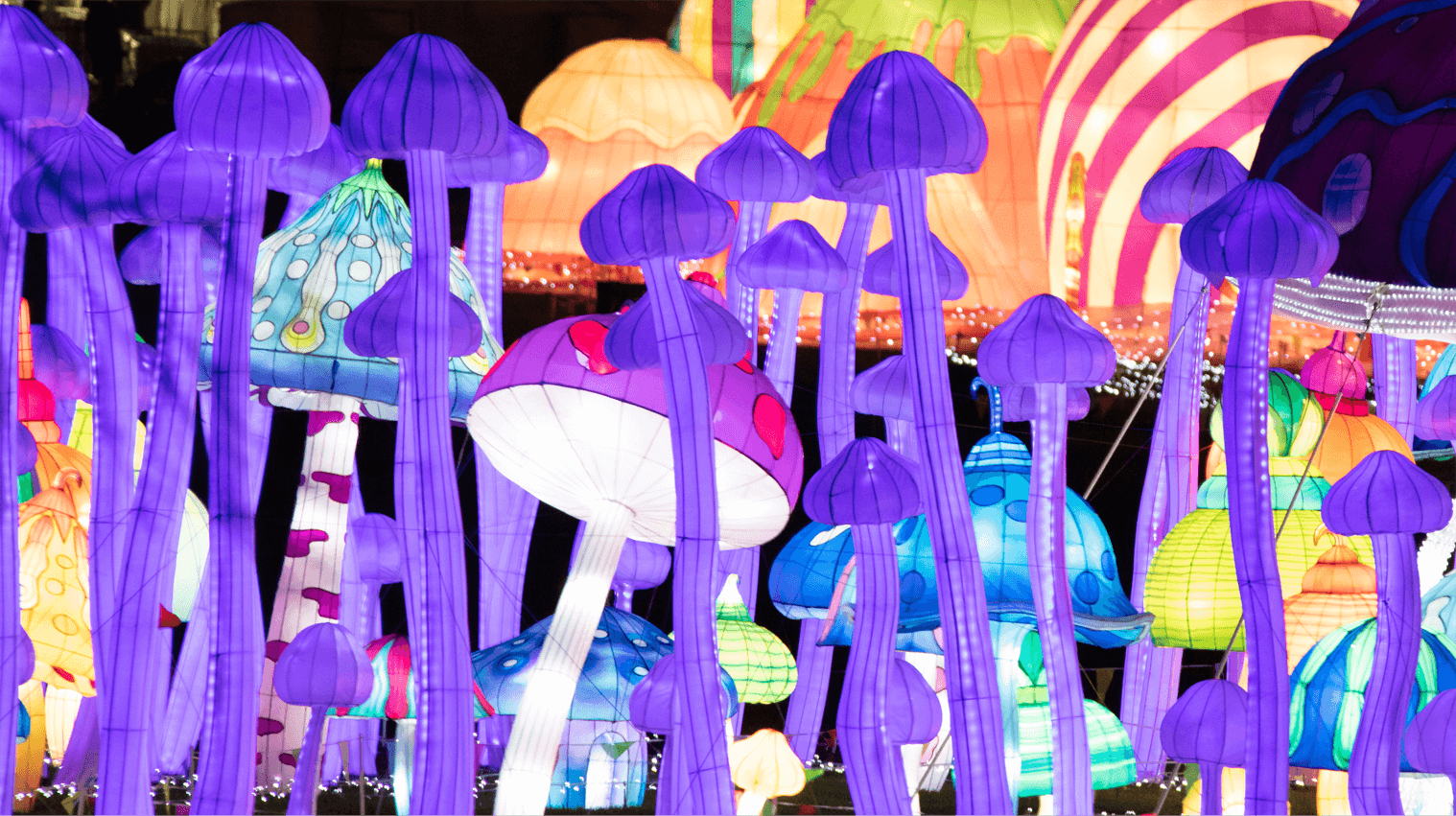 Take Amtrak to Penn Station (NYP) and take the Long Island Railroad (LIRR) to Manhasset Station
LuminoCity Festival engages visitors with a 45-minute walking tour through luminescent Whitney Pond Park. A magical lightbulb from the Unicorn Kingdom, Lumi, will lead guests through the festival as they are enchanted by the wonder of light. Based on the wish to "Shine Again," this year's display is inspired by the power in overcoming darkness. Larger than life sculptures will adorn Christmas Hill while the Mysterious Forest will showcase hidden flora and fauna. Alice's Sleepwalk will feature grinning cats, a giant caterpillar, and the Red Queen's minions.
Lumi's Utopia will exhibit the paintings of three young artists depicting their favorite gift. The holiday spirit is enhanced with fantastical light at this festival, supported by the best local vendors. To travel to this great event by train, take Amtrak to Penn Station. From Penn Station, you can take the Long Island Rail Road to Manhasset Station; which is 1.4 miles from LuminoCity. Shuttles are provided by the festival from Manhasset Station and from the nearby Macy's parking lot; whichever way you arrive, transportation will be provided to welcome you!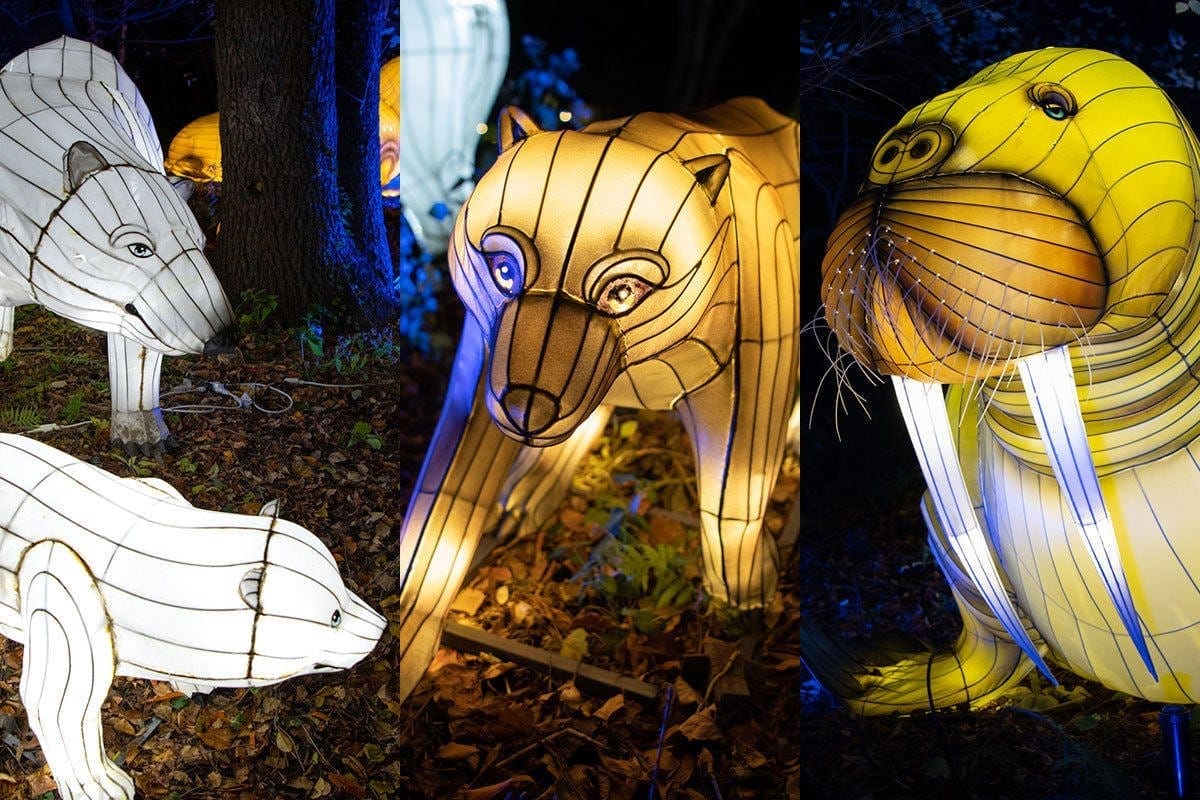 Distance from Moynihan Train Hall at Penn Station (NYP): 10 miles
Rent a car from Enterprise! Enterprise picks you up at YNY and takes you to your rental car. Use the code, NYTRAIN, for a discount when making your reservation. Click here to reserve your car or call Enterprise's Yonkers office: +1 914-964-2004.
Looking to experience an unforgettable holiday festivity? The Bronx Zoo Holiday Lights will leave you feeling as if you've been transported to another dimension. Upon entering the event, an enchanting exploration of the flora and fauna world will delight you. While walking through the holiday lights, you'll notice paths dedicated to wildlife throughout the world. In 2021, the zoo will host a wide variety of plant and animal species represented by life-size illuminated lanterns. This year, you'll find 30 new animal species.
Colored tunnels and architectural lighting will lead you to undersea journeys and animal safaris. Larger-than-life lanterns of bugs and moths, toads and turtles, can be found in the Forest of Color: an exposition of the beauty found in the little things on Earth. While touring the festival, you'll be sure to enjoy the multitude of entertainment activities available. In addition to a carousel, the Holiday Lights offers guests a view of ice carving in Grizzly Corner. Somba Village allows children to meet special characters, while animal-themed stilt walkers peruse Astor Court. Dancing Crane Pavilion hosts several shows, including Penguin State of Mind and Polar Bear and the Beat. Throughout the festival, there will be s'mores, ice cream, coffee, gifts and more to enjoy. If you're looking for an escape with your family, you need not look further.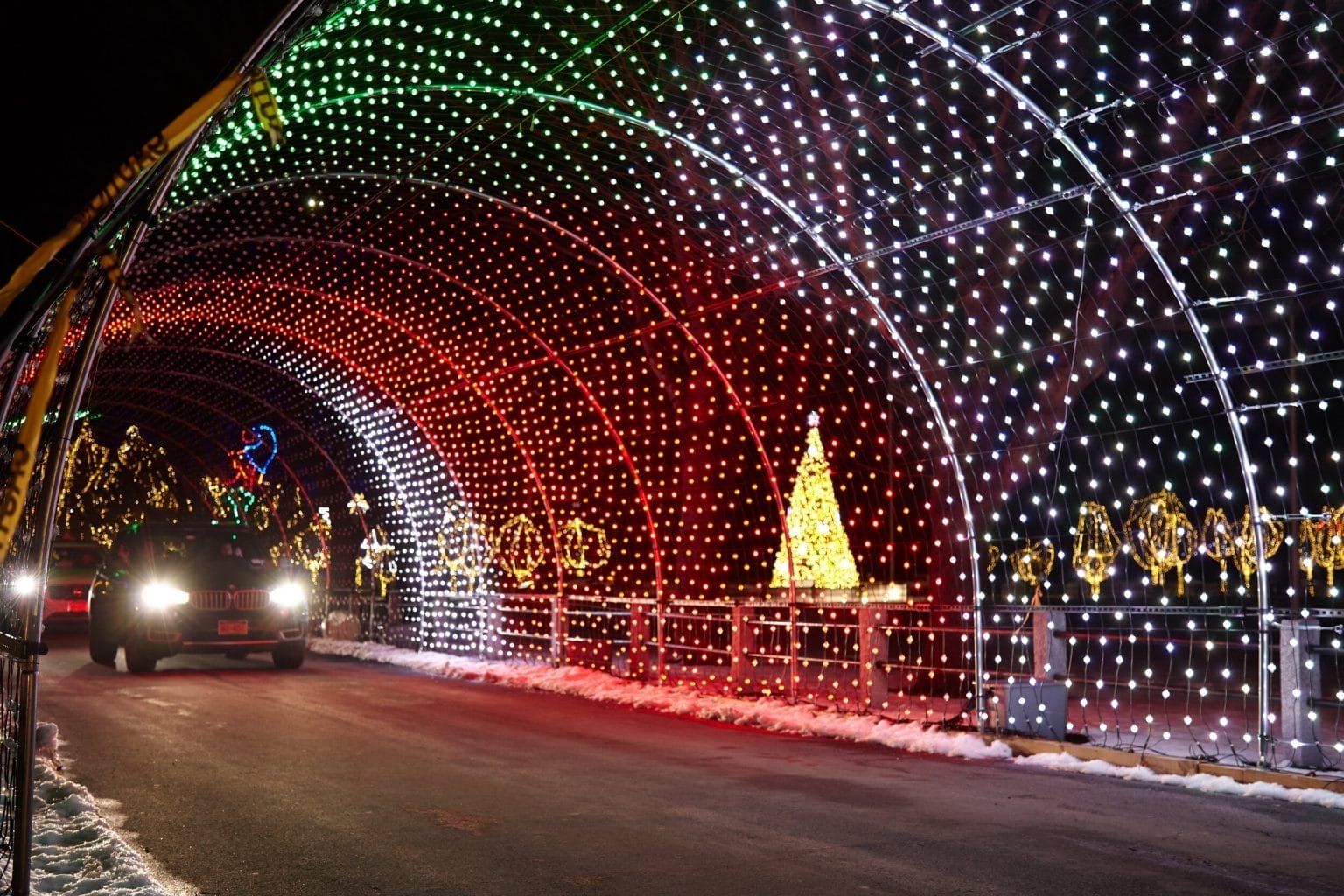 Westchester Winter Wonderland
Distance from Croton-Harmon Station (CRT): 12 miles
Rent a car from Enterprise! Enterprise picks you up at CRT and takes you to your rental car. Use the code, NYTRAIN, for a discount when making your reservation. Click here to reserve your car or call Enterprise's Croton office: +1 914-271-0100.
Westchester Winter Wonderland is exactly how it sounds. Set in front of the Kensico Dam, this 1.2-mile drive-through light show is an immersive and wonderful foray into the holidays. Each year, holiday lights can be seen throughout the state, some of which, can be experienced from the warm comfort of a car. Only 12 miles from Croton-Harmon Station, rent a car through Enterprise to travel to and through the event. Featuring the favorite local elves, angels of peace, dancing trees and glowing snowballs, guests of all ages are sure to be delighted by the visual pleasure at this Wonderland. A few can't miss elements present at the holiday lights extravaganza are the 50-foot dove and 40-foot-tall Christmas tree, as well as the recently included 30-foot snowflakes and Peace on Earth display.
Passengers may take photos while driving through the show and the entire car can enjoy Christmas music by tuning in their car radio. The whole car can also enjoy Ned and Alberts treat bags, prepared by Wegman's, for an extra charge. Driving through the themed displays should take between 20-25 minutes, but that is without any traffic. Opening night will feature a tree lighting with an additional celebration for the New Year. Given all of the fun activities at the event, there is plenty of delightful reasons to visit the Dam. 
A first-time attraction to the Dutchess County Fairgrounds, as well as to New York, is The Wonderland of Lights. Made of tunnel displays, whimsical designs and towering architectural feats, the Wonderland is more than a mile of drive-through holiday wonder. Also running in Florida, this festival may include talks with Santa, rides, holiday games or festive entertainment. Aiming to illuminate the wonder of the holidays through celebration, this festival will delight those young and old. Situated 2.9 miles from the Rhinecliff Station, traveling via Rhinecliff Road is the most direct.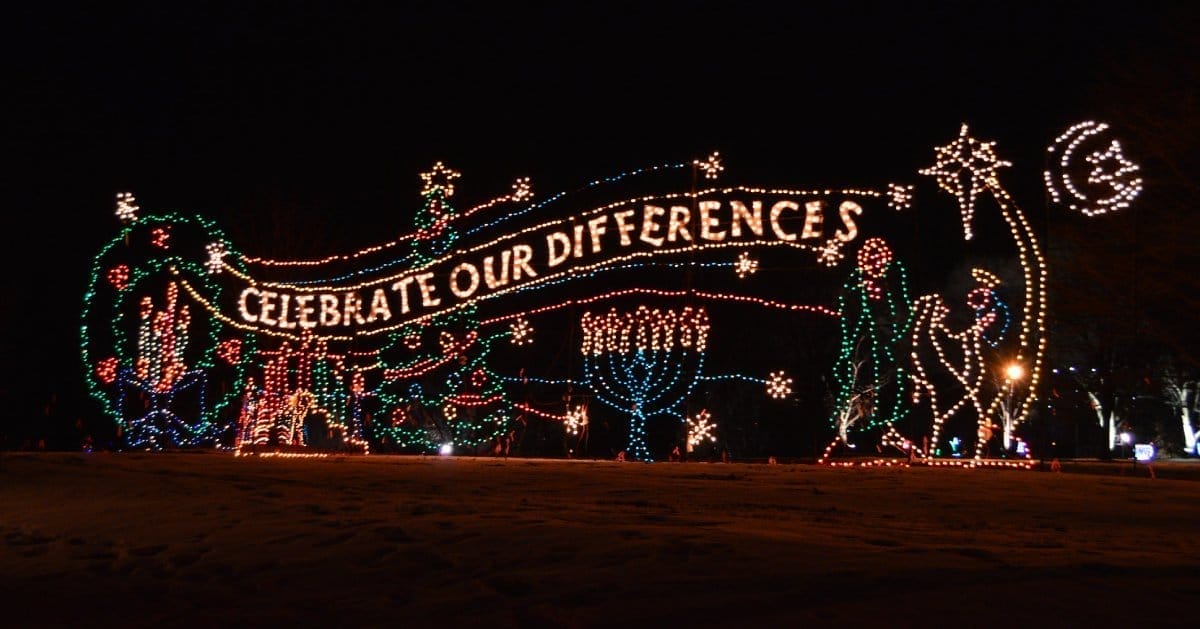 Capital Lights in the Park
Capital Holiday Lights in the Park is a staple event in the heart of the state. Made up of over 125 different light displays and festive scenes, this event brings the magic of the holiday season to life. As visitors enter the park, they are greeted by Santa's mailbox where families can drop off letters to Santa.
Spread around Washington Park Lake, driving through these animated light displays provides entertainment for the whole family. Flashing lights and illuminated setups lead cars to Santa, allowing kids to visit with him. Vendors are located along the path, offering small gifts and treats during this festive drive. Running from Nov. 16, 2021 through Jan. 2, 2022, this light display is something you can't miss.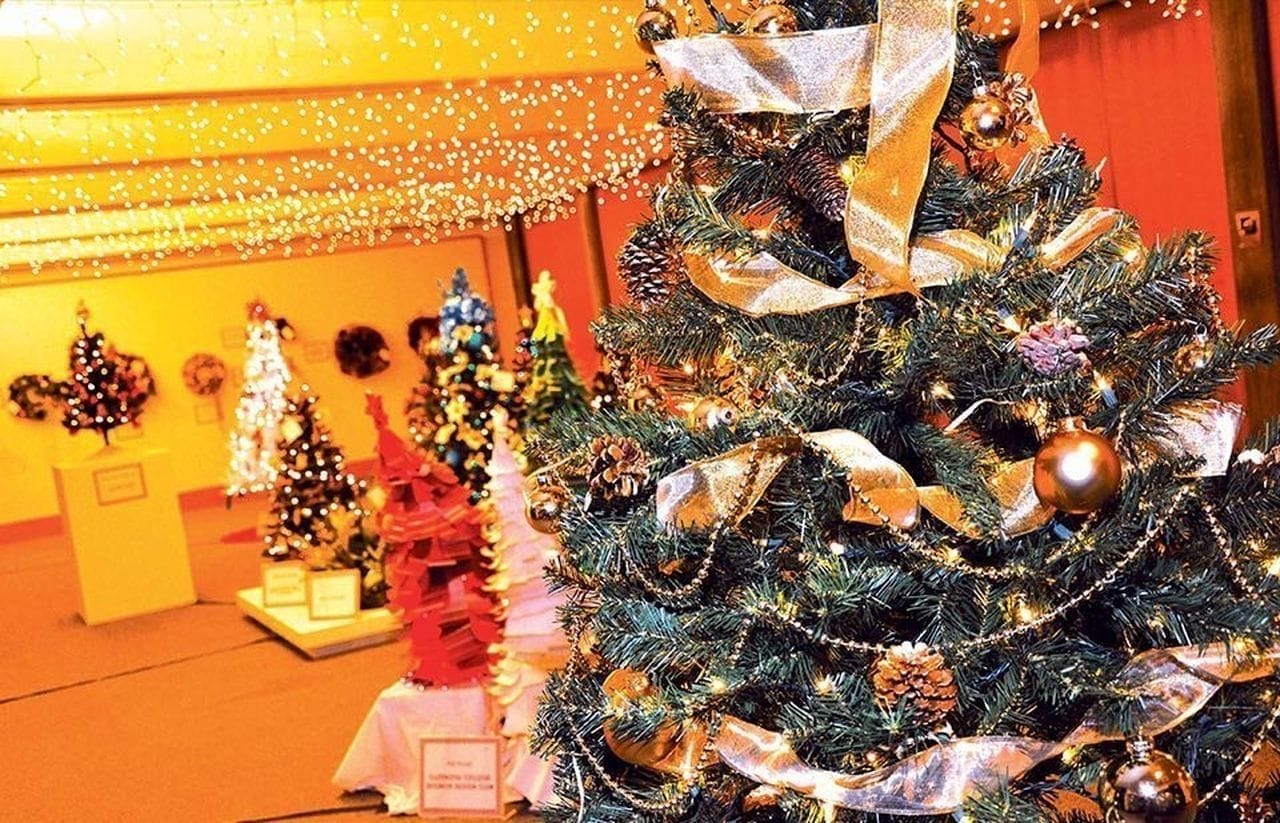 Festival of Trees and Light at the Everson Museum of Art
The Festival of Trees and Light at the Everson Museum of Art offers an interactive and visual exposition into the holiday season. Moving beyond visual festivities, the Festival of Trees and Light includes various art-making events, storytelling and singalongs for a dynamic experience unlike any other. The museum is transformed into a jolly walkthrough show with the use of holiday wreaths, tabletop décor and festive wall art. Additionally, the Holiday Marketplace offers handmade goods and locally sourced products for sale.
New seasonal items are continuously introduced to the marketplace and in the museum, meaning no two trips to the Festival of Trees and Light are the same. While wandering through the thrilling joy of the festival, you'll be able to access refreshments provided by the Everson restaurant. Be sure to finish your visit by meeting with Santa and getting pictures in the winter photo booth. The Everson Museum is also available as a venue for any holiday entertaining, making this versatile event ideal for any occasion.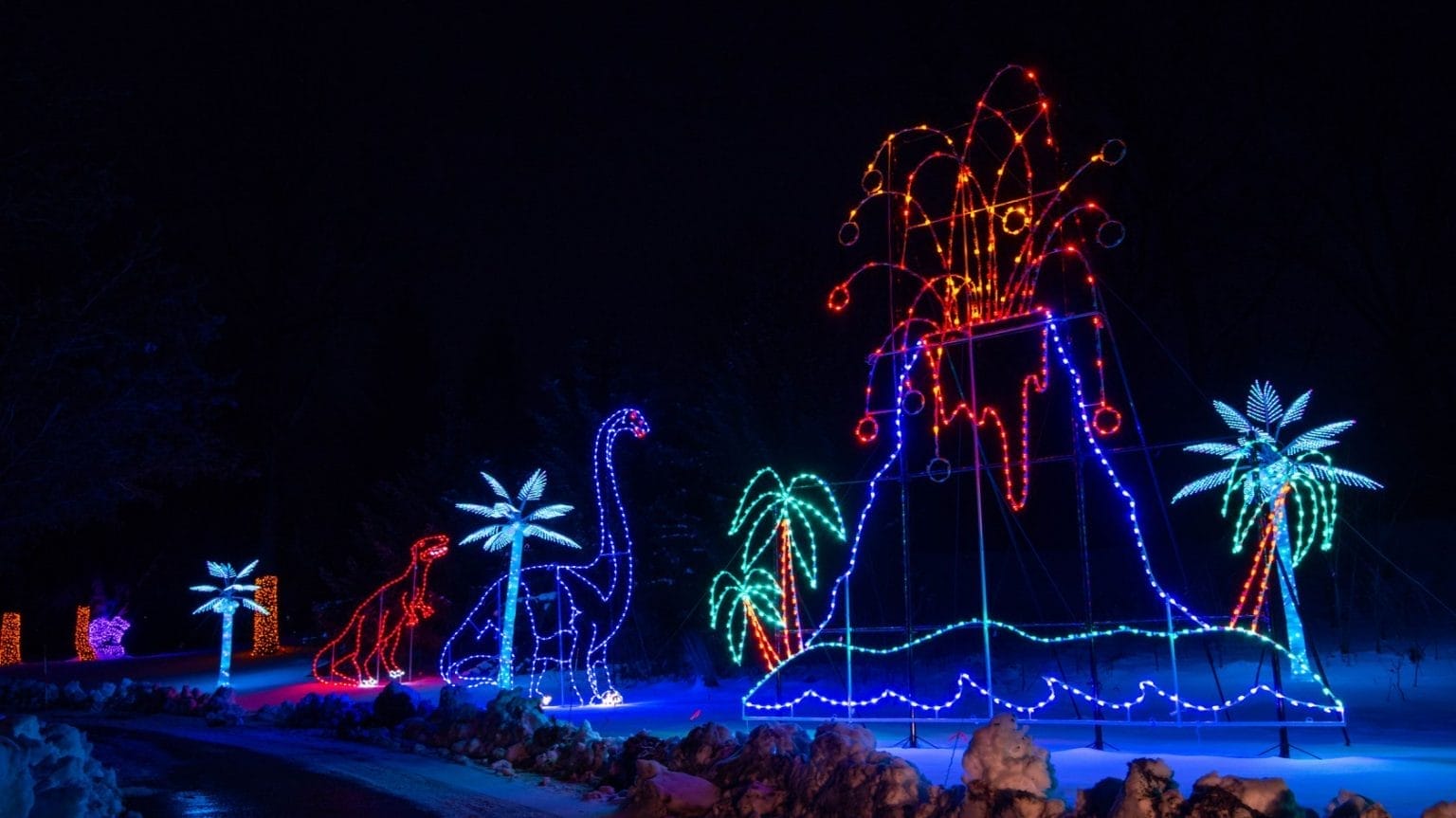 Roc Lights at Victor Hills
Distance from Rochester Station (ROC): 21 miles
Rent a car from Enterprise! Enterprise picks you up at ROC and takes you to your rental car. Use the code, NYTRAIN, for a discount when making your reservation. Click here to reserve your car or call Enterprise's Rochester office: 585-423-2220.
Creating a whimsical land where you can see it all, Roc Lights at Victor Hills engages families with drive-through wonder. Three hundred trees wrapped in lights, magical forest creatures and elegant figure skaters adorn the paths at the Victor Hills Golf Club. At Roc Lights at Victors Hills, you'll traverse a portal to Santa's workshop and travel along Candy Cane Lane while getting a surprise visit from Santa and his elves upon entrance.
A journey through this mile and a half path brings you through an elaborate light show consisting of a million bulbs and various different scenic areas. Designed to remind you of childhood, this event focuses on the tradition of holiday magic. Roc Lights is safe for kids, the elderly and those with mobility issues. This year, no outdoor activities will be offered, but the holiday spirit will be felt through magic and color. Roc Lights is 21.4 miles from the Rochester Amtrak station when driving on I-490 E. Be sure to rent a car through Enterprise in Rochester. You won't want to lose out on the memories made at Roc Lights.
Further Information Regarding Travel
Amtrak has taken several initiatives to ensure the safety of its passengers. They have committed to requiring face masks for all passengers, converting the cafe car to takeout only, adding social distance signage, and much more.
Learn More Information Here