04dec5:00 pm8:00 pmWinter Walk in HudsonWinter Walk in Hudson5:00 pm - 8:00 pm Hudson Hall at the Historic Hudson Opera House, 327 Warren St., Hudson, NY 12534 Event Organized By: Hudson Hall at the Historic Hudson Opera House
Event Details
Winter Walk in Hudson
Hudson's liveliest, largest, and most colorful event of the year is now celebrating 25 years! At Winter Walk in Hudson, NY meet Mr. and Mrs. Santa Claus, dine and shop at festive holiday stalls.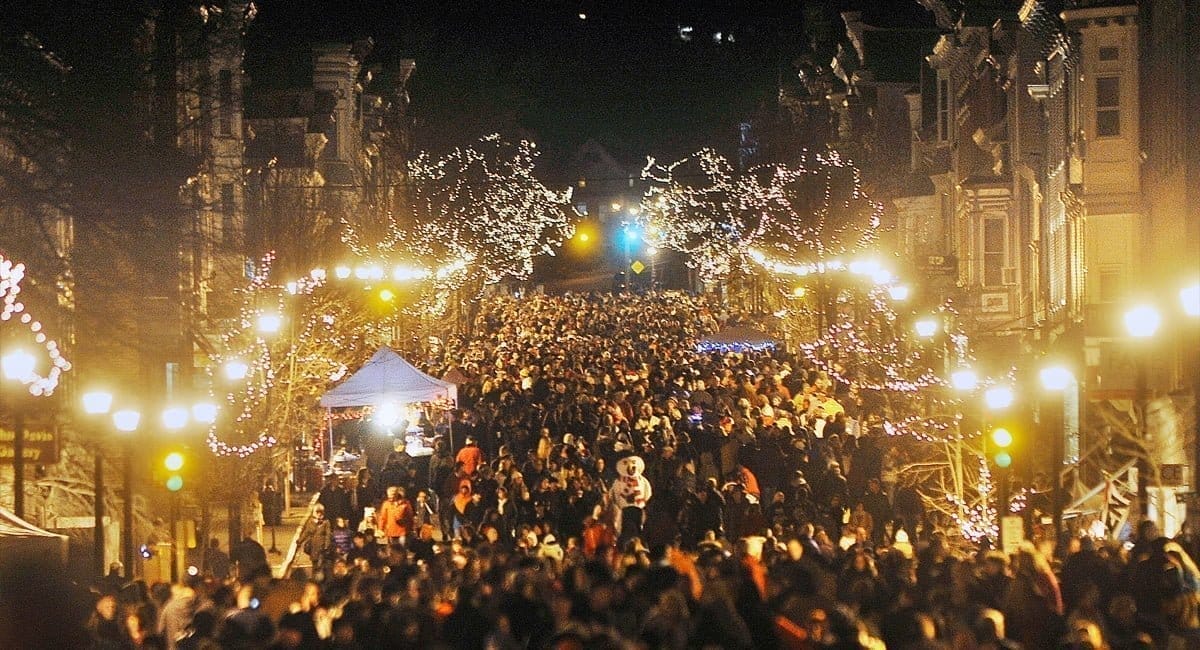 The community crowds Warren St. as it becomes a winter wonderland for Winter Walk in Hudson, NY. | Photo Courtesy from Hudson Hall
Voted "Best Community Winter Event of the Year" numerous times, the Winter Walk in Hudson transforms Hudson's mile-long main street into a holiday wonderland for one magical evening.
A cherished Hudson tradition, Winter Walk will light up the early December night once more with stunning storefront displays, roaming carolers, Mr. and Mrs. Claus with live reindeer friends, and a magical firework display from the Hudson River to end the night. In its 25th year, the 2021 Winter Walk is the perfect way to celebrate and support the creative economy re-energizing Hudson. So layer up and join this radiant community for a night of warm hearts and festive cheer!
Become a Volunteer
Winter Walk in Hudson is looking for a team of generous volunteers to lend their time to help wrap donated children's books for Santa and his elves to give to local children. The first wrapping party was a huge success – all books were wrapped on site — and there will be more books to wrap soon. To get involved, email Caroline Lee, Development & Marketing Manager at caroline@hudsonhall.org.
Want to wear one of our amazing costumes during the festival? Or help organize and repair those amazing costumes? Winter Walk also needs a few good elves and ushers. To become one of the beloved Winter Walk volunteers, contact Rebecca Gee, Director of Fund Development at rebecca@hudsonhall.org.
Street Performers and Artists at the Winter Walk in Hudson

Aly's Ponies and Barnyard Friends
Crazy Christine Balloons
The Canaan Chorale
Holly, Andy, Ivy (carolers)
Hudson High Marching Band
The Orcapelicans (carolers)
Sax-o-Claus
Sean The Prankster Magician
Living Large Draft Horse and Carriage Rides
St. Julian's Jugglers
Ice Yacht (The Vixen) on display at Backbar
Performers and Events at the Winter Walk in Hudson
Adirondack Baroque Consort (Hendrick Hudson Chapter of the D.A.R.)
Anne Banks (Guitarist at Hawkins New York)
James Autery and Carolee Schneemann (Second Ward Foundation Artist Pop-Up at Old City Clerks Office)
Christina Bolt Face Painting (The Bee's Knees)
Matthew Bowe (Guitar/mandolin player at Princeton Architectural Press/Paper + Goods)
Malachi Cherubini (Classical harp at Foley & Cox Home)
The Can Can Girl (In the windows at de Marchin and Magic Hill Antiques)
Michael Carr (Guitar at Vasilow's Confectionery)
Bill Cash (Classical Guitar at AD LIB Gallery)
Dancing Doll (Sternfeld Dance Studio)
Rachel Haley (Tarot card reading at For Future Reference)
Hand Made Here: Holiday Pop-Up and Kindling: Devised Performance (Drop Forge & Tool)
James Hearne (Family-friendly blend of country, rock, folk, and soul music at Steiner's Sports)
Philip W Howee (TK Home & Garden)
Hudson Busk (Guitar duo at Bruno's)
Hudson Junior and High School bands (First Presbyterian Church)
Diana Jones of Dee and the Sunny Saps (Folk rock at Tradewinds)
Peter Jung, Don Mikkelsen, and Peter Tenerowicz (Blend of jazz, folk, and rock at Peter Jung Fine Art)
Abby Lappen Duo with Pete Toigo (Jazz/folk duo at Lili and Loo)
Lady Moon (Cosmic soul at The Hudson Milliner Art Salon)
Musical Chairs (The Hudson Milliner Art Salon)
Lauren Peacock (Cellist at Rural Residence)
Kate Scarlett & Friends (Singer and guitarist at MINNA)
Lavender Suarez (New Age sound bath at Kasuri)
Chris Theriault (Classical and jazz guitar at Olde Hudson)
Alex Turnquist (Guitarist at 2Note Hudson)
The Wiyos (American ragtime and blues at Flowerkraut)
Karina Wolf and Chuck Groenink (Author and illustrator of new picture book, I Am Not A Fox at The Spotty Dog)
Rebecca Wolff, Hallie Goodman, Cat Tyc, Adam Tedesco, Karen Schoemer, and Jane Liddle (Literary Reading at Walnut Hill Fine Art, hosted by Jasmine Dreame Wagner)
Lisa Wood Face Painting (The Second Show)
Masha Zabara (Cellist at Artemesia)
Time

(Saturday) 5:00 pm - 8:00 pm
Location

Hudson Hall at the Historic Hudson Opera House

327 Warren St., Hudson, NY 12534