Editor's Note: New York by Rail updated this past blog experience to include current information.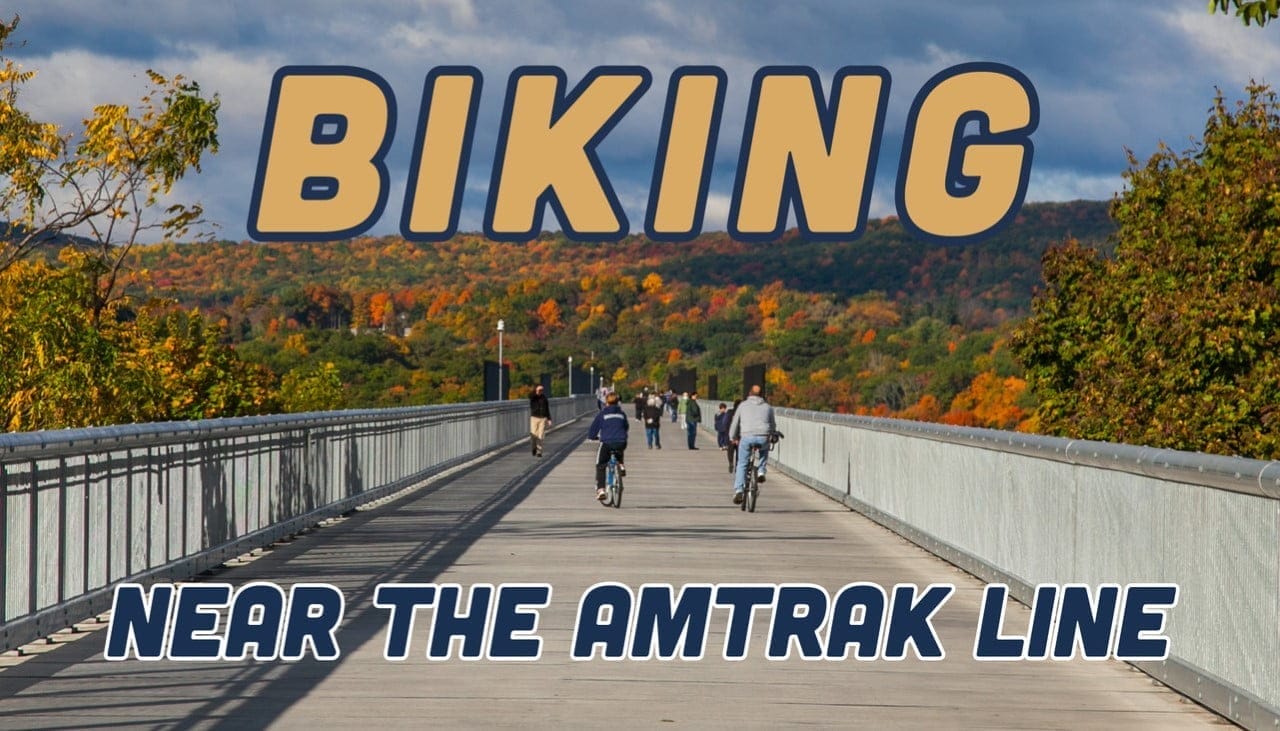 Every year, thousands of amateur and seasoned cyclists alike flock to New York State to traverse both challenging and leisurely bike trails and witness for themselves the multi-colored majesty of fall foliage. With fall around the corner and so many trails throughout the state, you're likely considering how to transport your bicycle into New York's natural scenery.
Now, planning bike trips has been made easier since Amtrak made the decision to expand its Carry-On bike program for select routes, including the popular Empire Service and Maple Leaf trains, as well as most Northeast Regional departures. Rather than have to drive to a "start" location or box or bag their bike to board the train, a majority of Amtrak passengers will now be allowed to store their full-size bikes on new bike racks located mere feet from their seats. This Amtrak bike policy has made traveling with your bike easier than ever!
Regarding the recent amendment, Amtrak Executive Vice President, Chief Marketing and Commercial Officer Roger Harris said, "Bringing your bicycle on board a train is part of the journey, as it allows our customers to explore the cities they are visiting. To coincide with the increased popularity of biking in this country, we also wanted to provide our customers with the option of bringing their bike on more trains."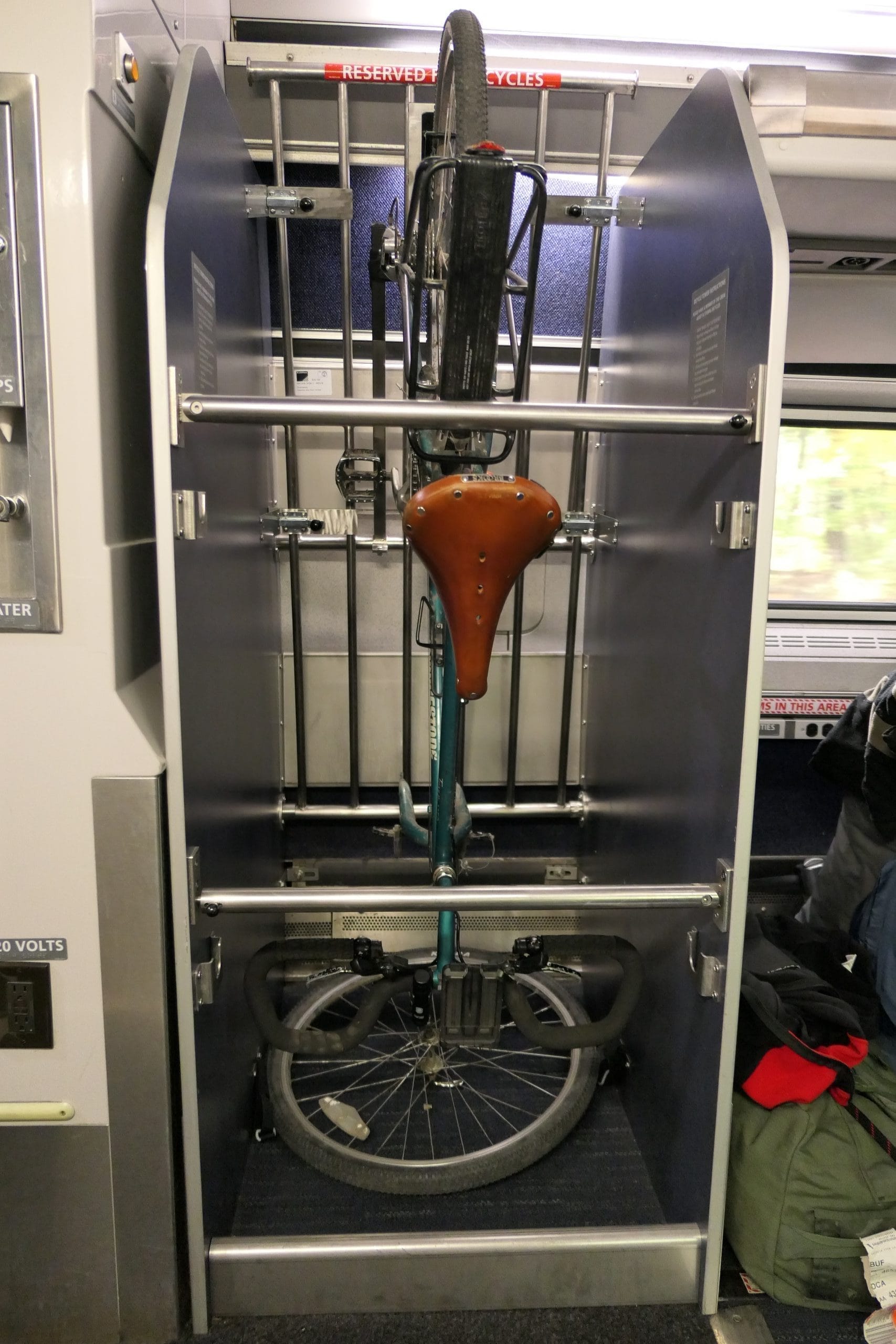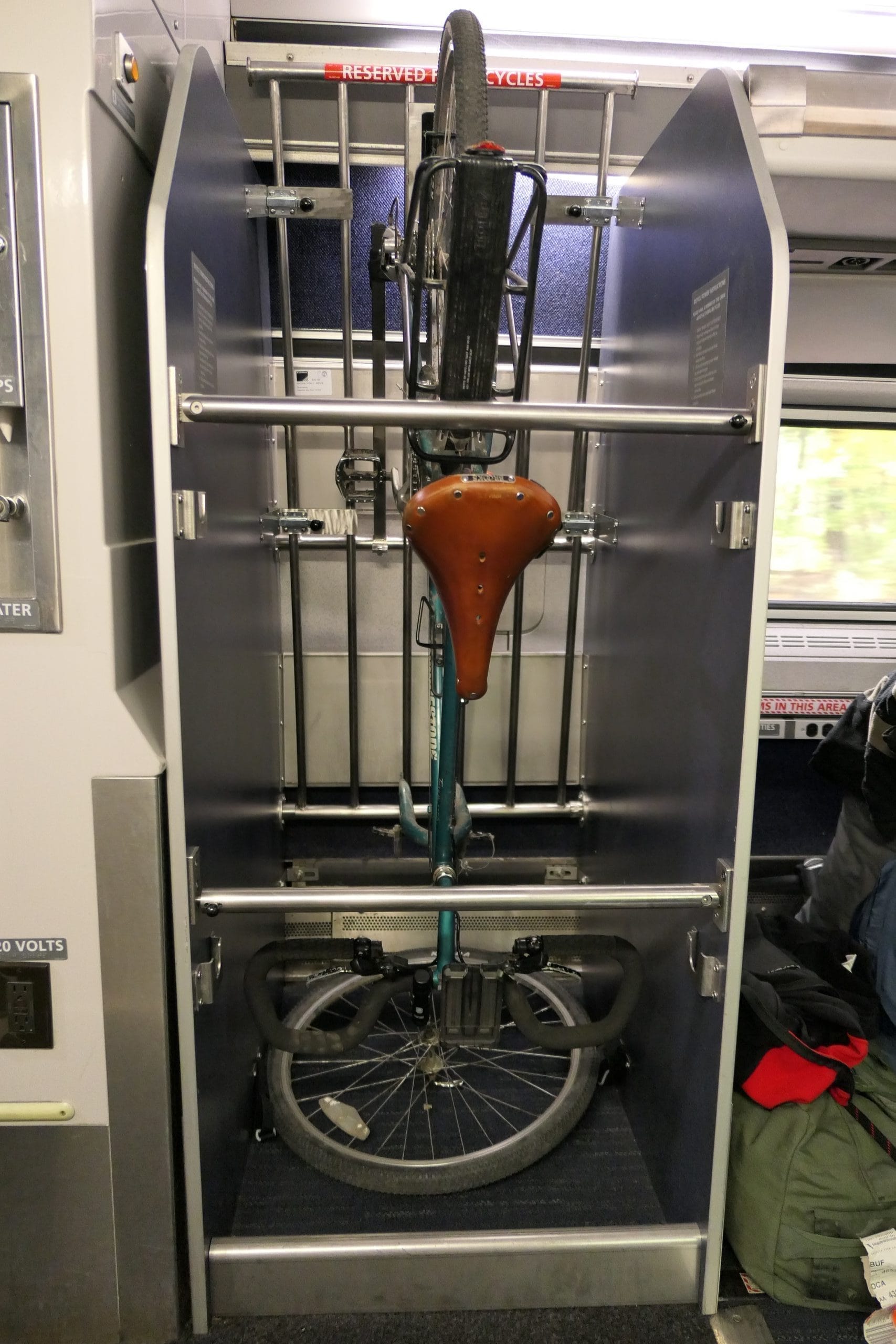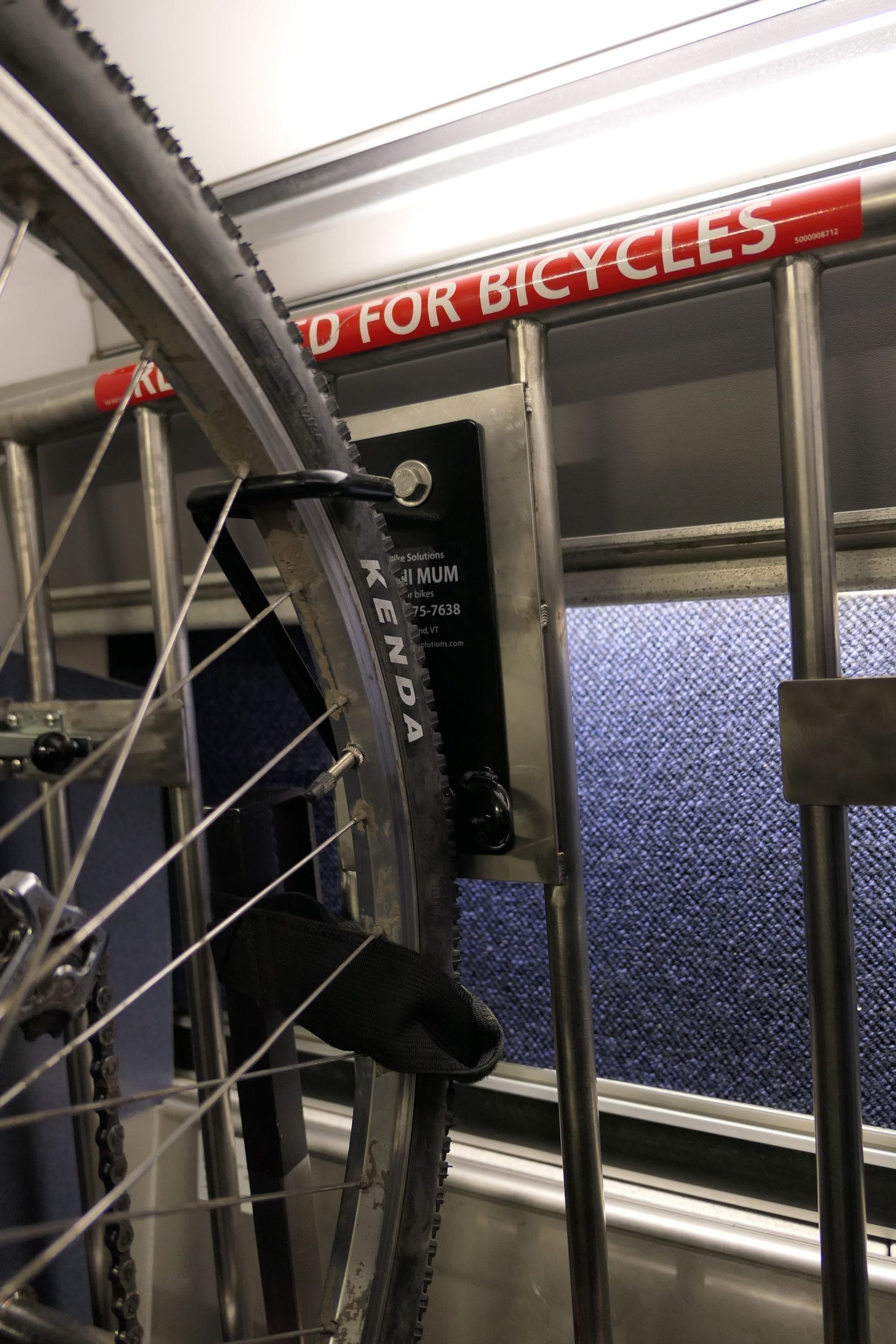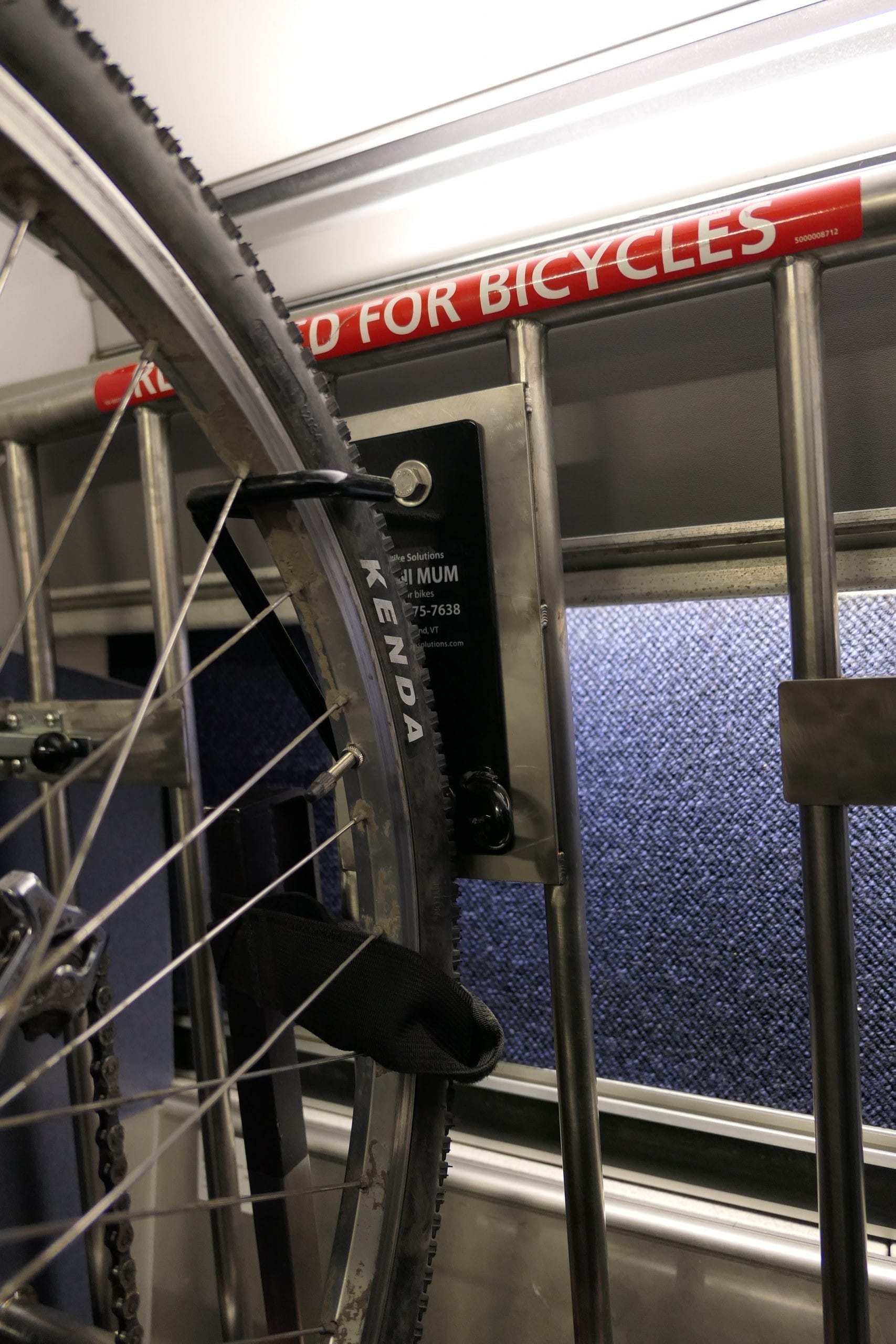 The Carry-On program will utilize newly installed luggage racks that convert into bike racks to provide storage space for up to two bikes per departure. As long as the front wheel is removed prior to boarding, standard full-size bicycles may be carried on board and stored in designated racks upon reservations, which for most routes are $20 each way and non-refundable. Passengers interested in using the Carry-on bicycle system are encouraged to arrive at their Amtrak station 30 minutes before departure.
Harvey Botzman, a life-long avid bicyclist and the author of four New York State bicycle guidebooks, was thrilled by Amtrak's move, which he has been working to solidify for the last forty years. As Director Emeritus of the New York Bicycling Coalition (NYBC) and an NYBC representative for the Amtrak/Adventure Cycling Association, Botzman appreciates the decision and understands what it makes possible for seasoned bikers across New York State and throughout the country.
"Now you can do all sorts of things," Botzman said. "A weekend trip is now possible allowing you to go from New York City with your bike to Albany, right to the Mohawk Hudson Erie Canalway Trail, and then bike to Utica, and then return home, all in a weekend. Before people had to box their bicycles, but now they can just pay their $20 and put their bike on the hook. It's that simple."
For your travel convenience, New York by Rail compiled a short yet comprehensive list of some of the best biking trails accessible near popular Amtrak stops. Now that bringing your bike on board is cheap, easy and hassle-free, there's no excuse not to get out and explore beautiful New York State!
Walkway Over the Hudson and Connecting Trails
Distance from Poughkeepsie Train Station: 1 mile
Length: 1.6 miles
Counties: Dutchess, Ulster
Trail end points: William R. Steinhaus Dutchess Rail Trail at 61 Parker Ave. (Poughkeepsie) and Hudson Valley Rail Trail at 87 Haviland Road (Highland)
In the Lower Hudson Valley, bike from the Poughkeepsie train station to the historic Walkway Over the Hudson. The longest pedestrian bridge in the world at just over 1.6 miles, the Walkway runs parallel to the Franklin Delano Roosevelt Mid-Hudson Bridge and crosses the Hudson River, connecting towns Poughkeepsie and Highland. After taking in the breathtaking views of the Hudson Valley from over 200 feet up, choose between the Hudson Valley Rail Trail on the river's west bank or the William R. Steinhaus Dutchess Rail Trail to the east. If you're feeling really adventurous, do both! If you don't own a bike, you can always rent! With Hudson Valley Bike Share you can easily rent a bike or ride along the Walkway by visiting the Dutchess Welcome Center in Poughkeepsie.
The William R. Steinhaus Dutchess Rail Trail is a 13.1-mile trail shrouded in beautiful green landscapes and dense tree cover that links Poughkeepsie with smaller towns to the southeast. Traveling east from Poughkeepsie, the route passes popular fishing spots and runs through the communities of Arlington and LaGrangeville before skirting the eastern edge of Red Oaks Mill.
In Wappingers, the trail follows along the Veterans Memorial Mile, which features signage honoring each of the five branches of the military and offers a quiet place to honor those who have served.
The path continues through East Fishkill and eventually ends in Hopewell Junction near the Hopewell depot, home to a museum and historical photo gallery.
On the other side of the Walkway, bikers will arrive in Ulster County and find the Hudson Valley Rail Trail, which stretches 7.1 miles under two spectacular stone-arch bridges and over Black Creek, a popular waterway for kayakers and canoeists. This rail-trail follows the former New York, New Haven and Hartford Railroad and connects towns Highland and Lloyd with lively New Paltz further down.
Together, the Walkway Over the Hudson and its two connecting rail trails form part of the Empire State Trail, a developing 750-mile trail network spanning the state from New York City to Canada and Buffalo to Albany. The Empire State Trail makes history as the longest multi-use trail in the country.
Explore the Duchess Rail Trail here and the Hudson Valley Rail Trail here.
Albany County Helderberg-Hudson Rail Trail
Distance from Albany-Rensselaer Station: 2.9 miles
Length: 9 miles
County: Albany
Trail end points: NY 32/S. Pearl St. and Old S. Pearl St. (Albany) and Grove St., 190 feet east of S. Main St. (Voorheesville)
Following the route of the former Delaware & Hudson (D&H) Railway, the Albany County Helderberg-Hudson Rail Trail is a 9-mile, asphalt-surfaced scenic oasis for local residents and visiting adventurers. After starting just south of Albany the trail heads west and crosses under the I-87/New York State Thruway nearby the Hudson River. A mile from the start, you'll cross an old railroad bridge over Normans Kill. From there it's a 2.2-mile trek to Bethlehem Veterans Memorial Park, which includes several benches to rest and enjoy the peaceful setting. The trail passes within blocks of Delmar, a small hamlet rich in restaurants and shopping. After passing through Slingerlands, there are 3.7 miles more to go before reaching the end of the trail in Voorheesville, where bikers will find a historic pavilion leftover from the railway station that was once there.  Although much of the Helderberg-Hudson Rail Trail traverses many of Albany's residential areas and outer suburbs, expect to find views of picturesque bridges, creeks and woodlands throughout, and perhaps even a deer, turkey or bald eagle sighting.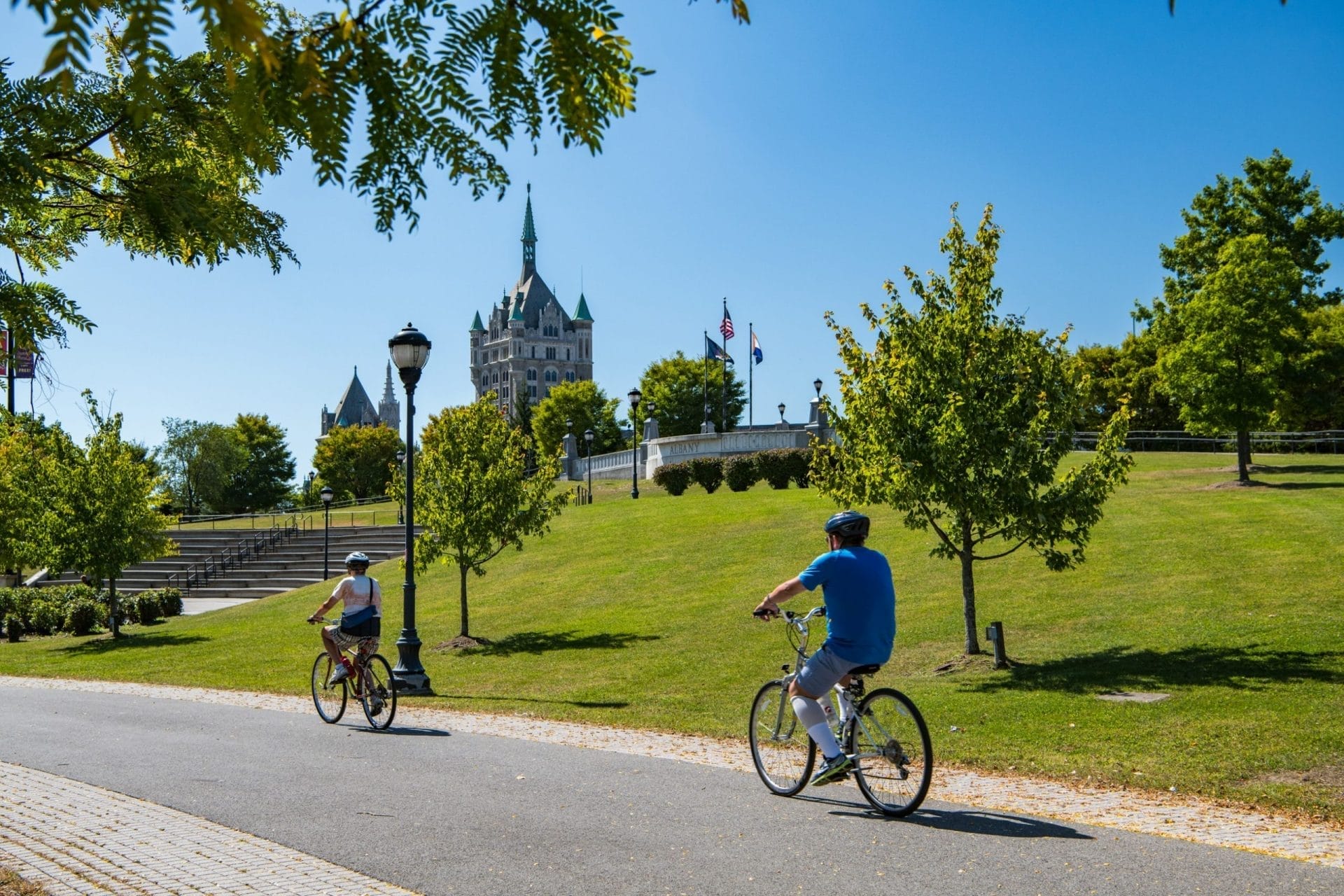 Mohawk-Hudson Bike-Hike Trail
Distance from Schenectady Station: 5.4 miles
Length: 36.7 miles
Counties: Albany, Schenectady
Trail end points: Corning Preserve in downtown Albany to Rotterdam Junction
Mohawk-Hudson Bike-Hike Trail is a moderate, heavily trafficked point-to-point trail located near Albany, New York, that allows cyclists to view the beautiful foliage of the Mohawk Valley up-close and features a lake and a number of activities, accessible year-round.
The Mohawk-Hudson Bike-Hike Trail extends from Albany to Rotterdam and makes up the eastern portion of the Erie Canalway Trail. Although most of the trail consists of paved bike paths and relatively flat terrain, expect to ride on roads for portions of the route before being guided back by signs to the path.
This trail traverses through residential neighborhoods, woods and fields, with a significant portion riding parallel to the Mohawk River, featuring excellent views of the river and several scenic parks along the way. Parts of the trail were built on old railroad beds and canal towpaths, so keep an eye out for remnants of the old Erie Canal and interesting landmarks like Lock 7 on the Mohawk River and an old train station building at Lions Park.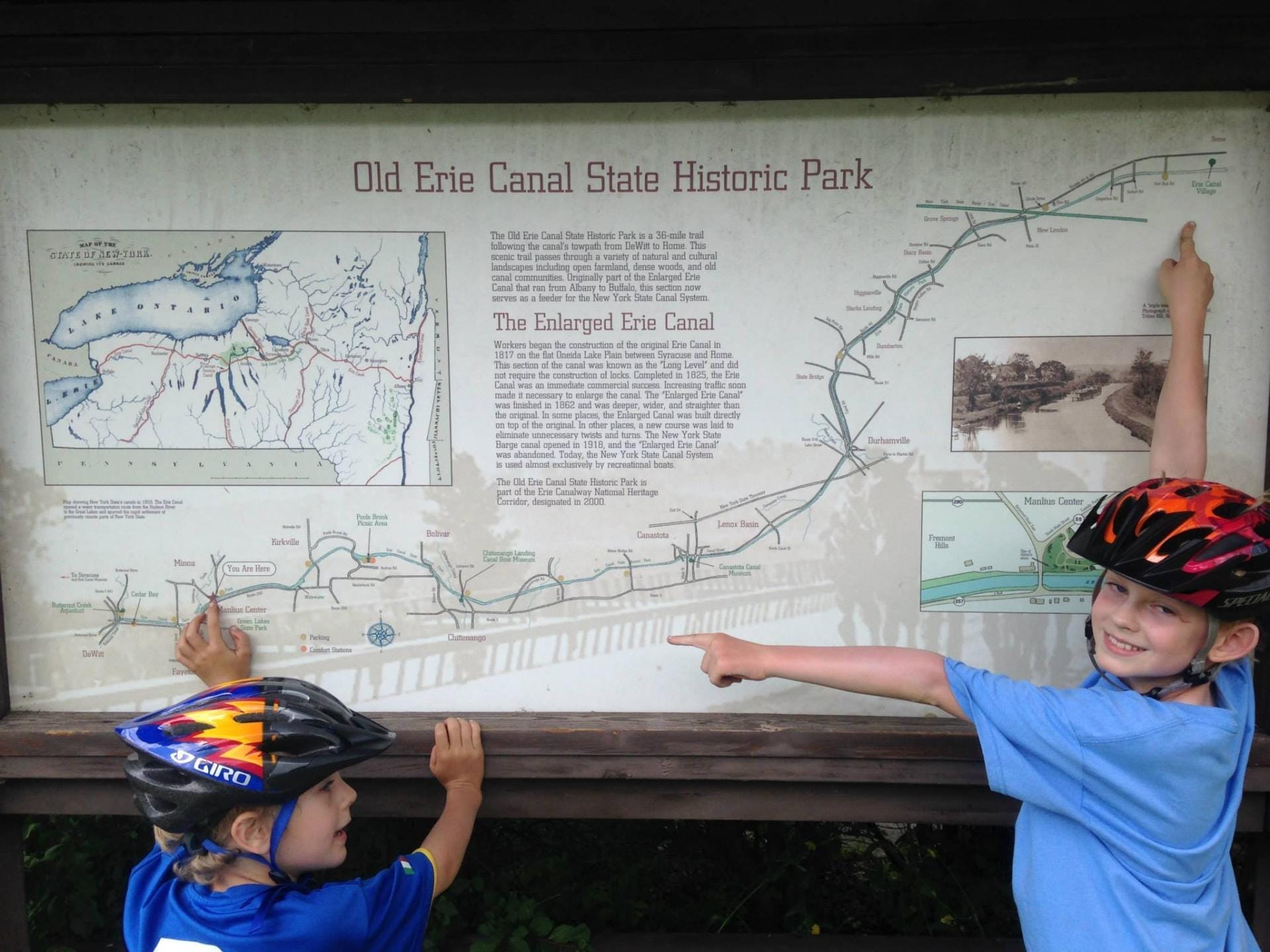 Old Erie Canal State Historic Park
Distance from Syracuse Station: 9.9 miles
Distance from Rome Station: 22.4 miles
Length: 36 miles
County: Madison
Trail end points: Butternut Creek in Dewitt to Rome Canalway Towpath
For a full day of biking and trailblazing, get off at Amtrak's Syracuse or Rome Stations and visit the Old Erie Canal State Historic Park, home to the longest and one of the only remaining portions of the original Erie Canal system dating back to 1817. The park's historic canal towpath, once traversed by mules pulling packet boats, stretches over 36 miles of land and water in Central New York. The surrounding woodlands and wetlands offer plenty of opportunities for activities such as biking, hiking, canoeing, fishing and horseback riding. Reserve a picnic shelter beforehand at the Cedar Bay Picnic Areas or stop for a lunch break at any of the restaurants in Chittenango, Canastota, Wampsville, Oneida and Rome along the way. The Old Erie Canal State Historic Park makes up one of the most beautiful sections of the iconic Erie Canalway Trail, a network of close to 300 miles of multi-use trails that span upstate New York and follows the Erie Canal from Buffalo to Albany.
Learn more about the different trails and sections that make up the Old Erie Canal State Historic Park at https://parks.ny.gov/parks/olderiecanal/maps.aspx and https://www.tourthetowpath.com.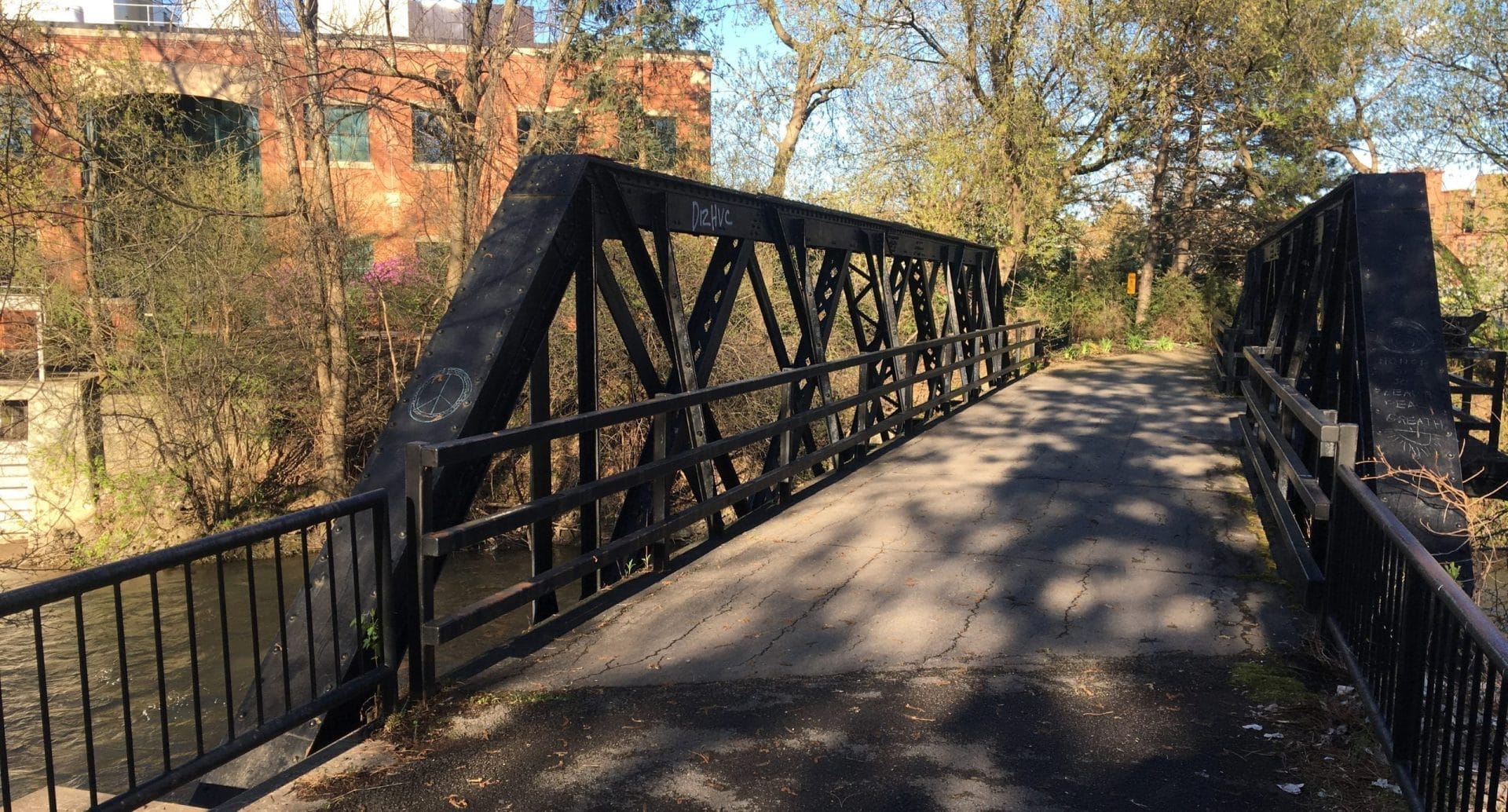 Onondaga Creekwalk
Distance from Syracuse Station: 1.8 miles
Length: 4.8 miles
County: Onondaga
Trail end points: Onondaga Lake to Kirk Park
For those looking for an all-skill level, moderately trafficked out and back trail, ride your bike the short distance from the Syracuse station to the Onondaga Creekwalk, a trail best visited from March until October. The original section of the Creekwalk, which runs from Onondaga Lake to Amory Square, was expanded in July 2020 (a project 10 years in the making) and now stretches all the way to Kirk Park, adding a necessary natural attraction to the city's Southside. The 13-foot wide asphalt trail goes west on Walton Street downtown through the business corridor along West Street and crosses Onondaga Street to run parallel with Onondaga Creek. At the trail's south end check out the stonework of the new Onondaga Creek Overlook before heading north to ride through an old section of the trail recently cleared of decades of overgrowth. Continue on to pass below busy South Avenue and emerge at the fountains at Lower Onondaga Park. For cyclists' convenience, the Onondaga Creekwalk is lined with lights as well as benches outfitted with bike racks and safety features.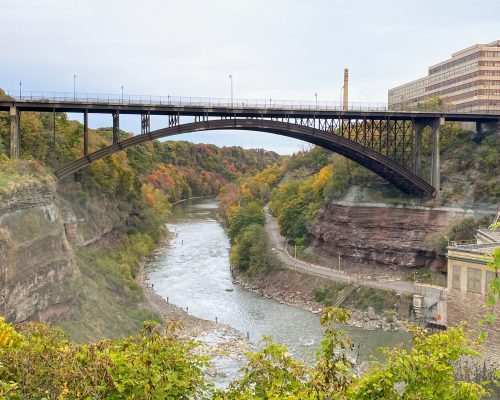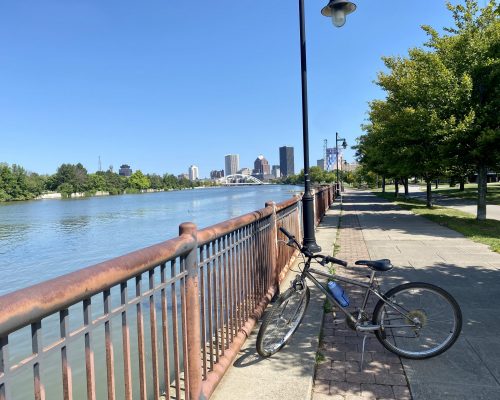 Genesee Riverway Trail
Distance from Rochester Station: 2.8 miles
Length: 24 miles
County: Monroe
Trail end points: Ontario Beach Park to Genesee Valley Park
Unload your bike at the Rochester Station and ride to the nearby Genesee Riverway Trail, an off-road, multi-use trail that follows the north-south course along the Genesee River from the Erie Canal to downtown and Lake Ontario, offering bikers access to the river's scenic gorge, three waterfalls, eight pedestrian bridges and eleven parks.
Start your ride in the north at Ontario Beach Park, where the trail juts out into Lake Ontario along a pier with panoramic views. On the way to meet the Genesee River you'll pass the park's historical— and still operating— 1905 carousel, followed by a short trek between riverside docks and a rail line. Soon you'll find Turning Point Park, where a winding boardwalk transports bikers across the swampy Genesee River Turning Basin, which leads back into a rail trail further south that parallels the roadway, transitioning briefly to sidewalks and bike lanes. As you continue on, the river will glimpse in and out of sight until finally, you'll reach the first waterfall at Lower Falls Park, which delivers spectacular views and helpful signage. Continue south to cross the Middle Falls via an active hydroelectric dam, placing you on the eastern side of the river, or stay on the western side and follow the former rail trail as it passes through industrial parts of the city before coming onto the charming High Falls District, one of Rochester's oldest neighborhoods. From there, bikers can stop for a filling meal or a cold beer in downtown Rochester before having to decide which side of the river to stick to: the eastern route passes through the University of Rochester and eventually deposits on the Erie Canalway Trail, while the western side continues a short distance to the trail's end at the Genesee Valley Greenway near Greater Rochester International Airport.
Explore the Genesee Riverway Trail here.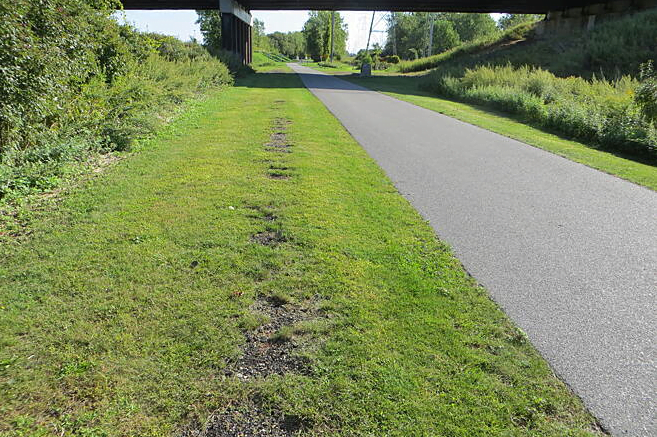 Cheektowaga Historic Rails to Trails
Distance from Buffalo-Depew Station: 2.2 miles
Length: 2.3 miles
County: Erie
Trail end points: Union Rd. and Hurd St. & Medina St.
Further east is the notable Cheektowaga Historic Rails to Trails pathway, located just a short bike ride away from Buffalo-Depew Station. This short, flat asphalt ride allows bikers to explore the Western New York town's interesting railroad history, as 1.5 miles of the trail runs next to an active rail line on the site of the former Lehigh Valley Railroad, which once hauled coal from Pennsylvania up to Buffalo and Lake Erie.
The Cheektowaga Historic Rails to Trails begins along Union Road and runs east across a pedestrian bridge to cross the road, parallel to the active railroad bridge. The trail heads west through a tree-lined corridor behind residential neighborhoods before emerging to pass under the interstate, eventually returning to more shady and pleasant terrain. Bikers can use the surrounding neighborhood's short access paths to check out the area's sites, including nearby Raymond Park, home to a soccer field, playground and other recreational amenities. After the break, get back on the main trail to get a great view of the Norfolk Southern yard before continuing alongside the old rail corridor and on past Wrazen Park. Overall, an ideal trek for history buffs and those looking for an easy, leisurely ride.
Niagara River Recreational Trail
Distance from Niagara Falls Station: 12.7 miles
Length: 35 miles
County: Niagara
Trail end points: Old Fort Erie parking lot in Fort Erie to Nelson Street parking lot in Niagara-on-the-Lake
Any cyclist looking for a leisurely ride through idyllic country scenery should spend at least a day on the Niagara Riverfront Trail. This trail is a flat-paved multi-use trail that follows the Niagara River from Fort Erie and Lake Erie north to Niagara-on-the-Lake and Lake Ontario, passing Niagara Falls in between. As part of the Greater Niagara Circle Route, the Niagara River Recreational Trail allows bikers to access and explore various loops and routes. The trail divides into four equally scenic sections, each of which takes approximately 1-2 hours at an easy pace: Niagara-on-the-Lake to Queenston; Queenston to the Whirlpool Aero Car; Chippawa to Black Creek; and Black Creek to Fort Erie. To diverge from the main path, follow the southern end's Friendship Trail, a 17-mile trek that runs east-west along the former Grand Trunk Railway between Fort Erie and Port Colborne. Another option is to keep north until connecting to the Waterfront Trail. Both the Friendship and Waterfront Trails are connected via the Welland Canal Trail, which is another easy, flat-paved path that spans 29 miles and follows the Welland Canal. This canal is an amazing man-made wonder that connects Lake Erie with Lake Ontario.
Currently, Amtrak travel across the Canadian border has been halted due to COVID-19. To stay up to date regarding the border's reopening and learn more about the Niagara River Recreational Trail visit the Niagara Fall's tourism website.
More outdoor activities near Amtrak