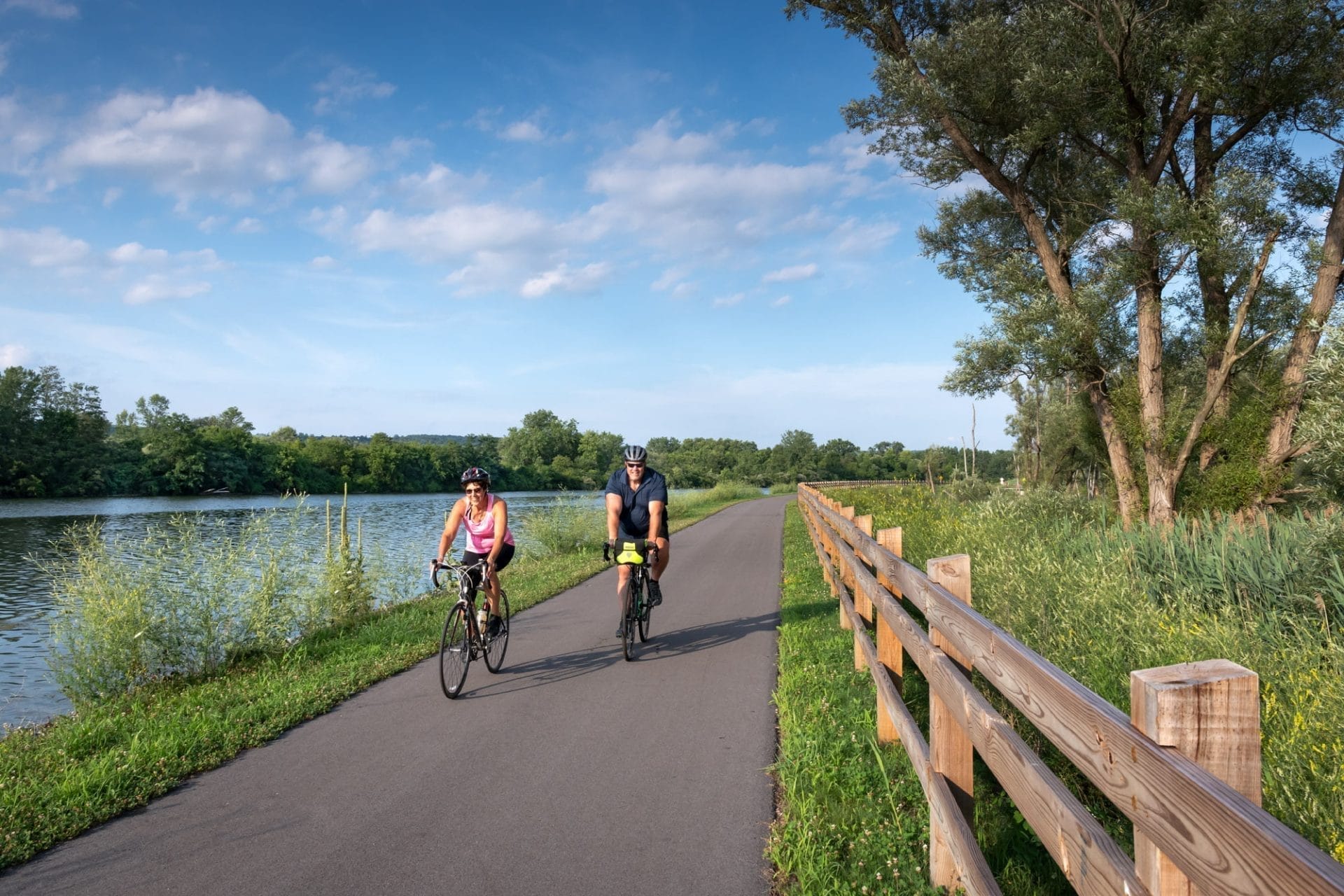 Amtrak recently announced in late September 2020 "Carry-On Bicycle Service" is now available on all Empire Service and Maple Leaf trains traversing New York State. All Amtrak trains traveling from New York City to Niagara Falls, NY have a bicycle rack in each passenger coach. The bicyclist can now embark and alight at any station along this route. These bicycle racks are the result of more than three decades of advocating for bicycle carriage infrastructure on Amtrak's New York State trains by the New York Bicycling Coalition's representative to the Amtrak/Adventure Cycling Association Bicycle Task.
It is much easier for bicyclists traveling with their bicycles to use Amtrak's New York City to Niagara Falls New York State trains. The new bicycle racks in the Empire Service & Maple Leaf passenger coaches allow the bicyclist to roll/carry their bicycle into the passenger coach and hang their bike on the bike rack. No box or bag required. Bicyclists and their bicycles will be traveling together. These new bicycle racks are now in all northeastern route passenger coaches (except Acela) as well as on the Empire Service & Maple Leaf trains. When the north/south bound Adirondack & Ethan Allen trains return to service they will have a bicycle rack in each passenger coach.
Daily, there are two trains traveling in both directions between Niagara Falls and New York City. These trains stop at Niagara Falls, Downtown Buffalo (Exchange St.), Buffalo-Depew, Rochester, Syracuse, Rome, Utica, Amsterdam, Schenectady, Albany, Hudson, Rhinecliff, Poughkeepsie, Croton-Harmon, & Yonkers. There are Luggage Tower without a Bike eight (8) additional Empire Service trains (with Carry-On Bicycle Service bicycle racks) going no further west than Albany-Rensselaer Station. Due to the pandemic no trains travel north from Albany to Plattsburgh NY/Montreal QC/Rutland VT.
Both unboxed & boxed bicycles are carried in the baggage car of Amtrak's long distance Lake Shore Limited (New York City to Chicago) train. Bicyclists using the Lake Shore Limited's checked bicycle service are limited to departing/alighting only from NYS Amtrak stations with checked baggage service. Like most of Amtrak's long distance trains, the Lake Shore Limited is a thrice weekly train. Plus, the Limited stops neither in downtown Buffalo (Exchange St.) nor in Niagara Falls, New York.
To reserve your seat and bicycle rack go to: https://www.amtrak.com/home.html
1. Place your departing & destination stations, date departing/returning, and number of passengers in the boxes on the 1st screen of the Amtrak web site. Click "Find Trains."
2. A second screen pops up and gives you a choice of trains. You choose the time you want to depart (Train number/name) AND the price you want to pay for your coach or business class seat. Click 1st "Add to Cart." AND 2nd "Continue." The Bike Hook
3. The "Traveler" information screen appears asking for your name, email address, & telephone number; Amtrak Guest Rewards number, & other information. Fill in the boxes. Click "Continue."
4. Finally, the "Customize Your Trip" screen pops up! This screen is where you reserve a bicycle rack. This screen tells you how many racks are still available on the train you have chosen to ride and the total fee.
a. If have chosen a round trip reservation, Amtrak's booking program assumes you will need a bicycle rack for traveling in both directions of your trip. If you need a bicycle rack on only one segment of your round trip then you will have to change the number of bike racks to "1" otherwise the program will automatically add the fee for two bicycle racks.
b. The Carry-On Bicycle Service bicycle rack reservation fee (for Empire Service, Maple Leaf, and Lake Shore Limited trains) is $20.00 each separate time you travel by train and reserve a bicycle rack. If you need a rack on a different train you will have to pay another bicycle rack fee.
c. The Carry-On Bicycle Service/Checked Trainside Bicycle Service carriage fee is not refundable.
Bicycle Touring Idea
With "Carry-On Bicycle Service" you can depart from and alight with your bicycle, at any station along the Empire State & Maple Leaf train routes. Don't forget to reserve a bike rack when booking your ticket.
You board Empire Service Train 284 (7:25 AM) with your bicycle at Buffalo-Exchange Street Station and alight at 10:36 AM at Rome NY's Historic Station. After taking photographs of the interior and exterior of the Station you bicycle 1.5 mi./2.4 km. to Fort Stanwix State Historic Site. You tour the Fort, bicycle around town, eat at a local restaurant, and return to Martin Street near the Rome Station.
Now you turn east on Martin Street and travel .8 mi./1.2 km. and turn east Lamphear St./NY 69. Bicycle another .2 mi./.4 km. and you'll see the entrance to the Erie Canalway Trail/Empire State Trail. You bicycle through a beautiful wooded section of the Trail for 14 mi./22.5 km. to Genesee Street, Utica. Along the way you passed Erie Canal Lock E20 with its camping area.
Among Utica's attractions is the Munson Williams Proctor Art Institute; the Children's Museum, restaurants, and simply looking at the City's architecture. If you're a hardy bicyclist you'll climb up North Genesee street and then travel a bit east along Cosby Manor Rd./CR 243 while viewing the Mohawk River Valley. You descend and after having a delicious lunch you return to the Utica Amtrak Station.
Instead of returning to Buffalo you decide to board the Maple Leaf Train 64 and travel to Albany-Rensselaer Station. The Maple Leaf/No. 64 train leaves Utica at 4:19 PM. You can reserve your seat & bicycle rack at the staffed Amtrak Utica Station or you can reserve it online. You must pay for both a passenger seat AND pay another $20.00 fee for a Carry-On Bicycle Service rack.
After spending the night at one of Albany's many motels then bicycle touring Albany, seeing the "egg," visiting the New York State Museum, New York State Capital, Governor's mansion, and Albany Art Institute; eating at one of the many local restaurants you cross the Hudson River to Albany-Rensselaer Amtrak Station.
It is only 1.2 mi./1.9 km. from the base of State Street in front of the dynamic State University Administration Building to the Station. Leave enough time since you must climb high above the Hudson River on the Dun Memorial Bridge ("what a view") above the Hudson River to reach the Albany-Rensselaer Station. It is a 167 feet/51 m. climb in .1 mi./.16 km. (with switchbacks). The last Empire Service train to Buffalo-Exchange St. leaves at 4:00 PM. The Lake Shore Limited to Buffalo-Depew leaves at 7:05 PM. Both trains have bicycle carriage service. Don't forget to reserve your bicycle rack when booking your coach seat.
You've had a wonderful two day bicycle tour adventure of two fascinating New York State cities without getting tired driving ~5 hours/350 mi./565 km. each way.
For more Amtrak bicycle carriage information: https://www.amtrak.com/onboard/bring-your-bicycle-onboard.html
For tourism information from tourism bureaus mentioned in this article. Specifically ask for bicycle maps and bicycle trail information from tourism bureaus. Let tourism officials know there are bicyclists wanting to visit their area.
If you are looking for trails near several Amtrak stations, read our "Bike Trails To Explore Near the Amtrak Line" blog here.
This was written by Harvey Botzman, who is a New York Bicycling Coalition (NYBC) Director Emeritus & NYBC Representative to the Amtrak/Adventure Cycling Assn. Bicycle Task Force. He has written seven bicycle tour guide books.