Autumn is in full swing in New York State! 
If breathtaking fall foliage, crisp autumn air and fun outdoor trips are what you're looking for, then New York is the place for you! In New York, you're just a train ride away from exciting, fall-inspired activities and Instagram-worthy attractions.  
From zip-lining through a zombie-infested forest to exploring the scenic Hudson Valley, traveling with Amtrak is the best way to witness the fall season in action.  
Here are eight unforgettable destinations in NYS to visit with Amtrak that are guaranteed to satisfy all your spooky, sweater-weather and pumpkin-spiced needs!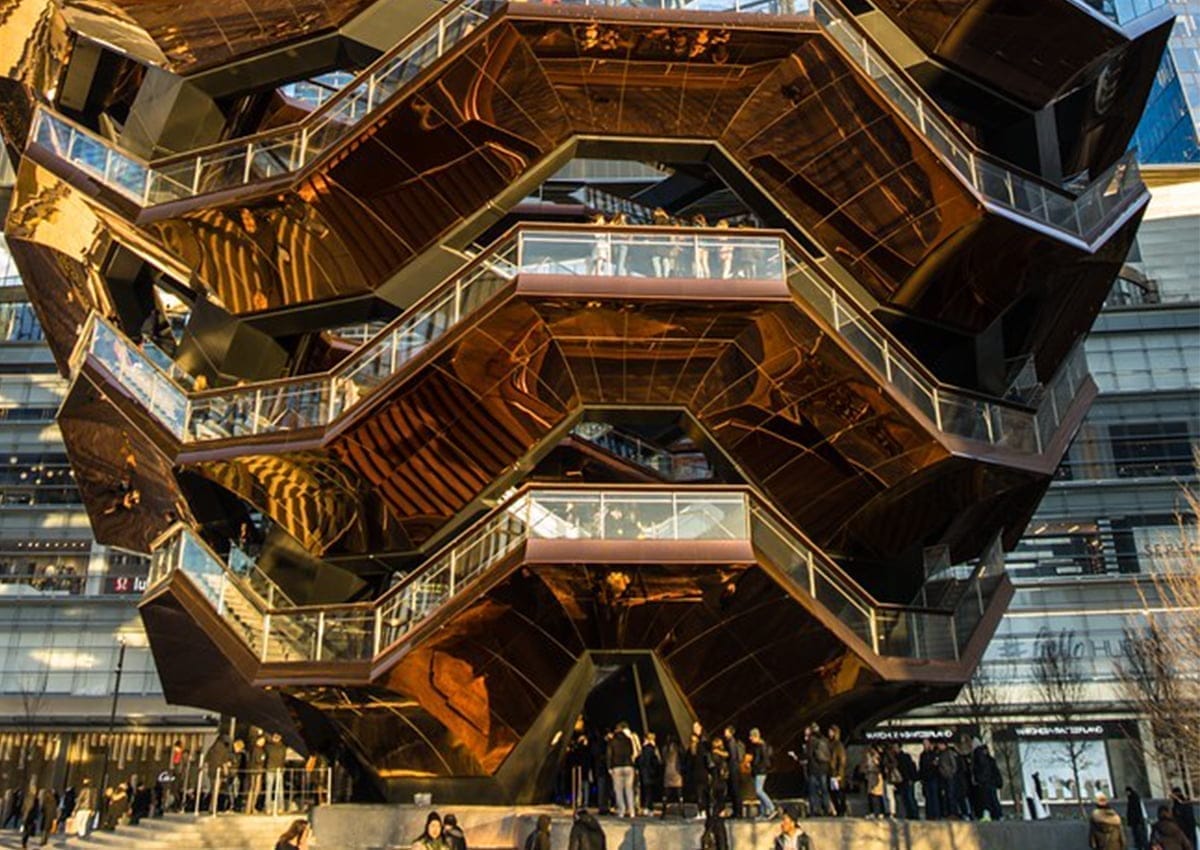 New York City: The Vessel at Hudson Yards   
First on the list of amazing fall attractions is The Vessel at Hudson Yards in New York City. With trendy shops, outdoor dining options and an amazing waterfront view, this interactive landmark is the perfect spot for a cool, fall day outdoors- but expect to get in some steps. The Vessel, just 0.5 miles from Penn Station, contains 154 interconnecting flights of stairs and has approximately 2,500 steps. The intricately designed exterior, serving as a spiral staircase, offers a unique perspective of the city from various heights-so make sure to bring your camera, a scarf and some suitable walking shoes on your climb! From September to the end of November, Hudson Yards is also offering to make their backyard yours! Stop by the Public Square and Gardens and for some socially-distanced outdoor fun and family-friendly activities that will make the vertical trek worth every step. Sip on a warm seasonal drink, watch a football game with friends on the Backyard Big Screen and visit The Vessel today!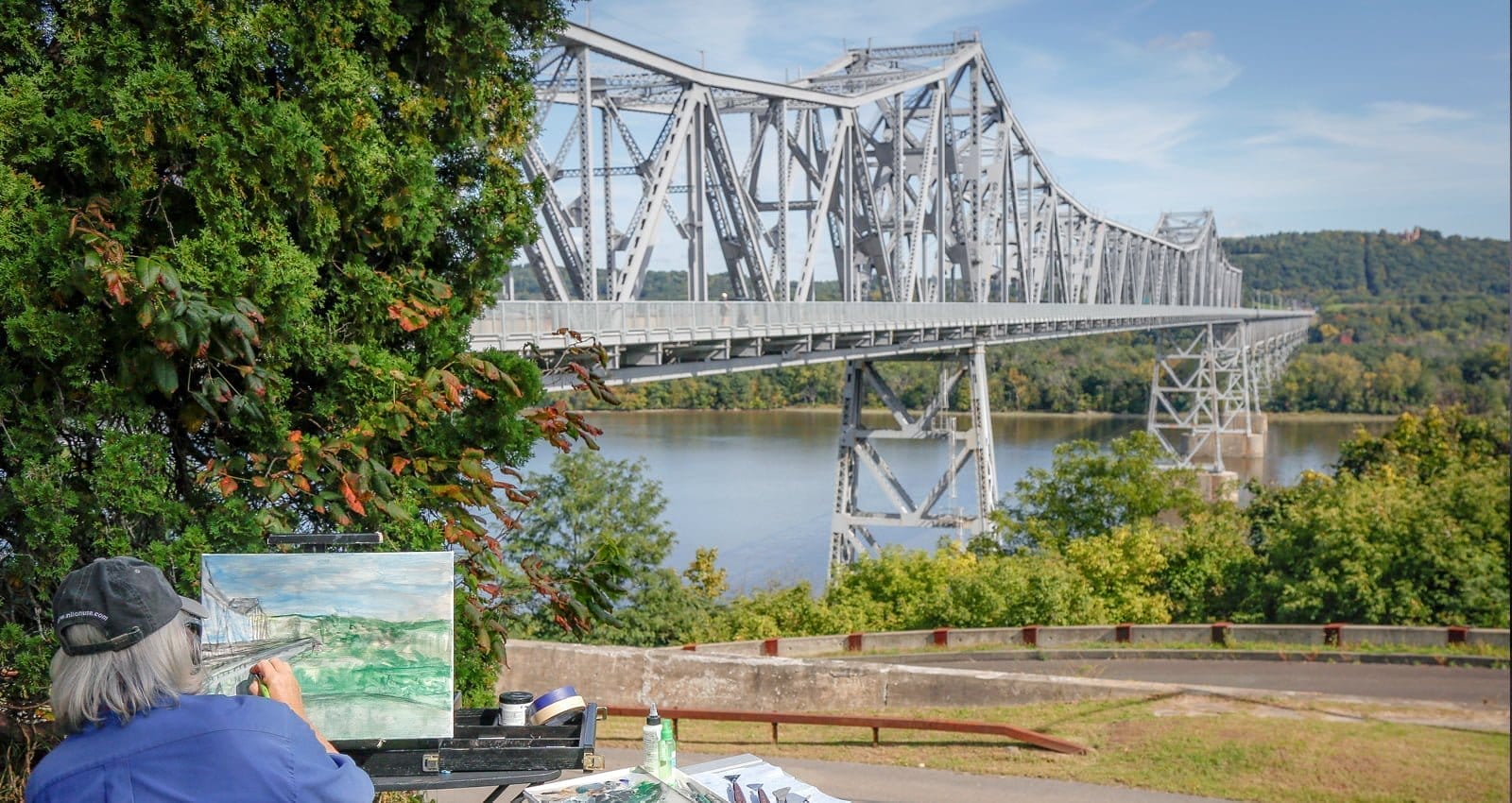 Hudson Valley: Hudson River Skywalk 
We can't talk about unforgettable fall destinations without mentioning the picturesque Hudson Valley, home to the scenic Hudson River Skywalk. This breathtaking, one-mile-long sidewalk and scenic pedestrian trail of the Rip Van Winkle Bridge links two historical sites across the Hudson River. Located 4.2 miles from Hudson Station, the Skywalk connects the historic homes of Hudson River School painters, Thomas Cole and Frederic Church. The beautiful view of the Hudson Valley's fall foliage seen from this walkway inspired American landscape painting and will definitely get you some likes on Instagram. For the past four years, the Hudson River Skywalk has also hosted the Skywalk Arts Festival, an outdoor, socially-distanced event promoting local art, live music and a full view of the orange and red Hudson River Valley. Be a part of America's first canvas and experience the autumn season in action here along this one-of-a-kind skywalk.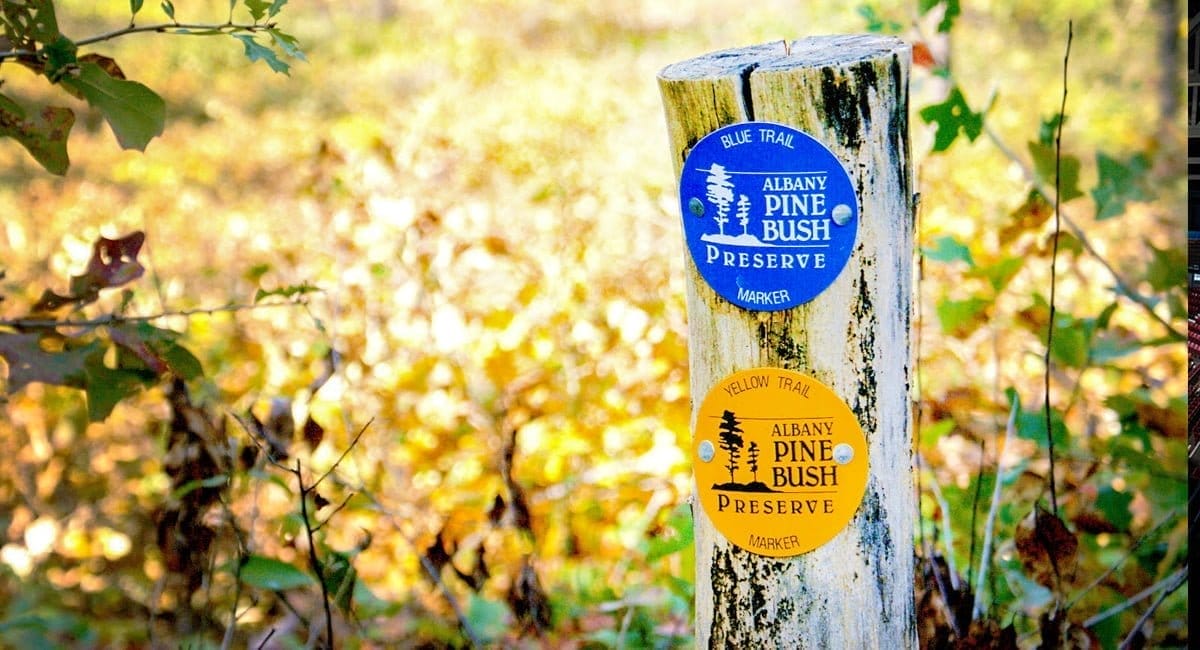 Albany-Rensselaer: Albany Pine Bush Preserve Commission  
The fall season is not complete without a hike and a bit of gritty, outdoor exploration. Moving up from the Hudson Valley to Albany, New York's Capital Region is no stranger to fun, autumn activities-one being a visit to the Albany Pine Bush Preserve Commission. The Albany Pine Bush Preserve Commission, located 12.3 miles from the Albany-Rensselaer station, is a historical and educational nature preserve found between the picturesque Catskill and Adirondack Mountains. This 3,350-acre preserve is home to more than 1,500 plants and animal species, as well as some impressive fall foliage. Here, you can really embrace the outdoors and participate in a range of fall-inspired recreational activities including: birdwatching, mountain biking, canoeing or hiking one of the many trails. Nature is calling, and the Pine Bush Preserve has the answer for all your fall outdoor needs!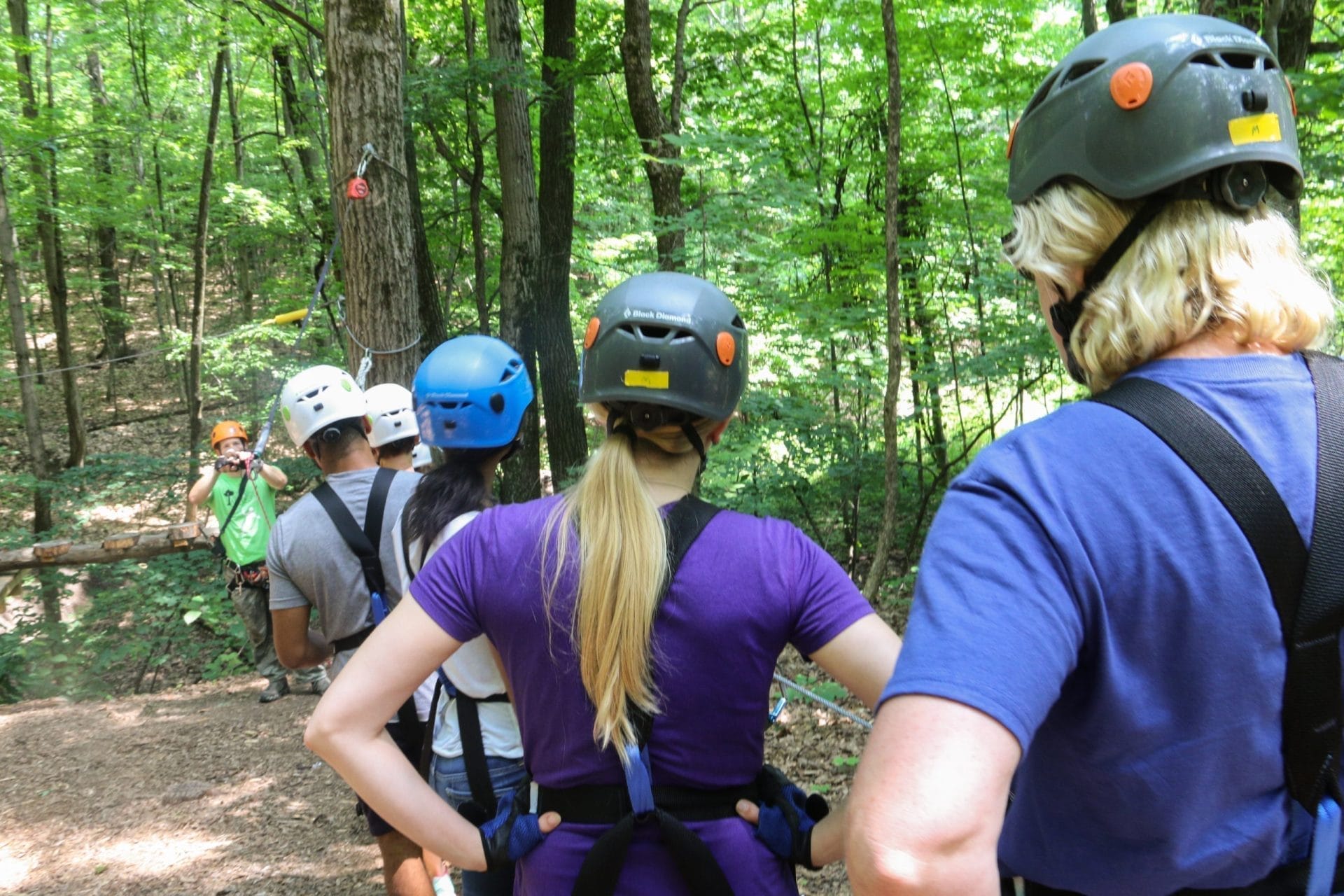 Schenectady: Moutain Ridge Adventure 
What is fall in New York without a little Halloween spirit? At Mountain Ridge Adventure in Schenectady, join in on some fall outdoor fun with a spooky nighttime twist! Just 30 minutes from Albany and Saratoga and 11 miles from Schenectady Station, Mountain Ridge Adventure is the prime location for a thrilling trip full of great views and a good scare. During the day, experience the thrilling adventure and scenic fall foliage as your soar through the trees 70 feet in the air. At night, zoom through the serial-killer infested woods with Zombie Zips! Every Friday and Saturday night in the month of October, this premier treetop challenge course and zip line park offers the Zombie Zip Line, where participants zipline in complete darkness through an "evil" forest full of terror and madness! Come visit Mountain Ridge Adventure and see if you have what it takes to make it out of the haunted forest alive.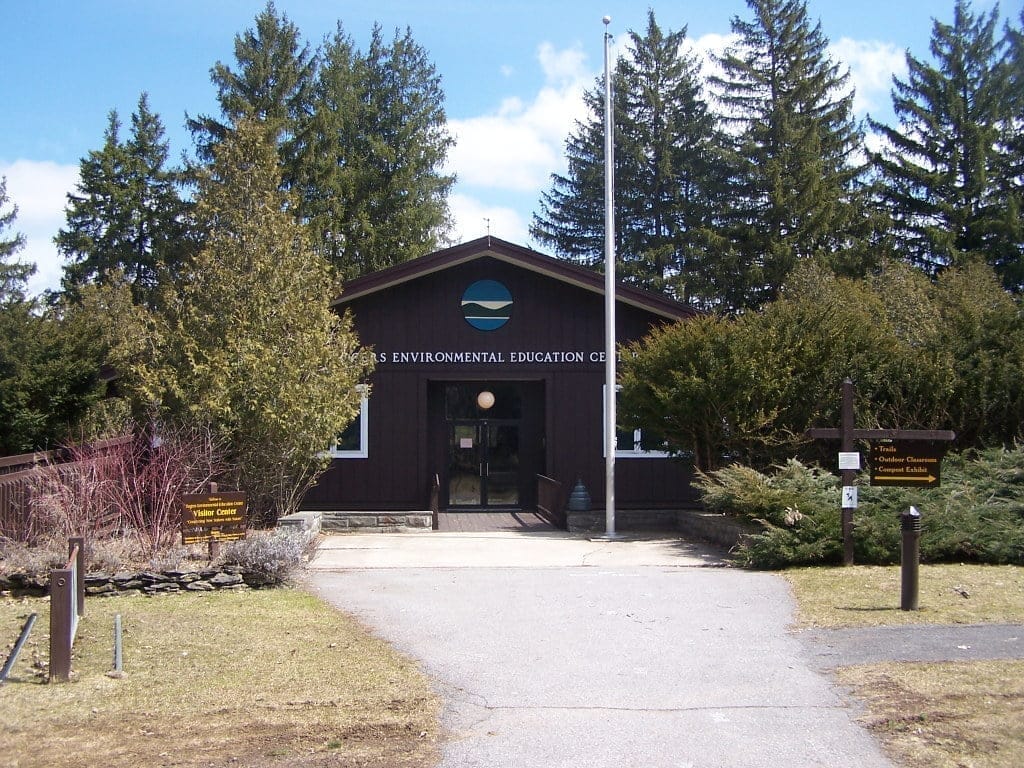 Central NY: Rogers Environmental Education Center  
Heading Northwest to Central New York, the weather may be a bit colder, but fall is still in full swing! Head outdoors and discover 600 acres of forests, fields and meadows at Rogers Environmental Education Center, while taking in amazing views of the Chenango Valley. Located 38.7 miles from Utica Station, at Rogers Center, you can witness the seasonal wildlife in their natural habitats, explore the many hiking trails and fishing spots and enjoy a hearty picnic with friends as the leaves fall. That's not all, though. Rogers Center is also offering their second annual Pure Maple Syrup Sale on Black Friday, for all your Hallmark-movie-inspired needs. From 10 a.m. to 4 p.m., come to the Visitor Center and find your favorite flavor of maple syrup-making the perfect gift, while supporting local businesses, too!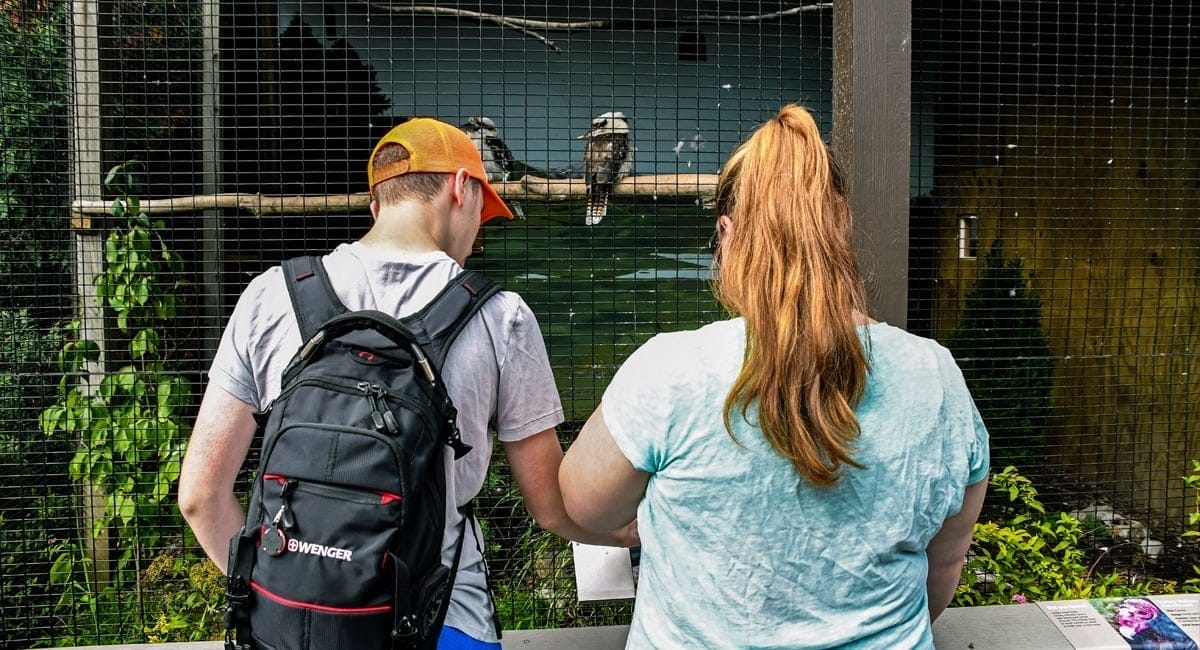 Syracuse: Rosamond Gifford Zoo 
What better way to spend a memorable autumn day outdoors than with a bunch of exotic animals at the Rosamond Gifford Zoo! Located 3.8 miles from Syracuse Station and home to more than 700 animals, this zoo offers a variety of exciting and informative outdoor exhibits year-round, no matter the weather. With 40 percent of its exhibits outside, like the Domestic Animal Barn and Wildlife Trails, the Rosamond Gifford Zoo is perfectly equipped for some socially-distanced fun this fall season! Wave to the penguins waddling around Penguin Coast, stomp over to the Asian Elephant Preserve or walk along the Wildlife Trails to spot any animals you may have missed! During the month of October, the zoo also offers a Halloween Scavenger Hunt and the chance to win a prize for anyone dressed in costume! Embrace the wild animal in you and visit the Rosamond Gifford Zoo, today!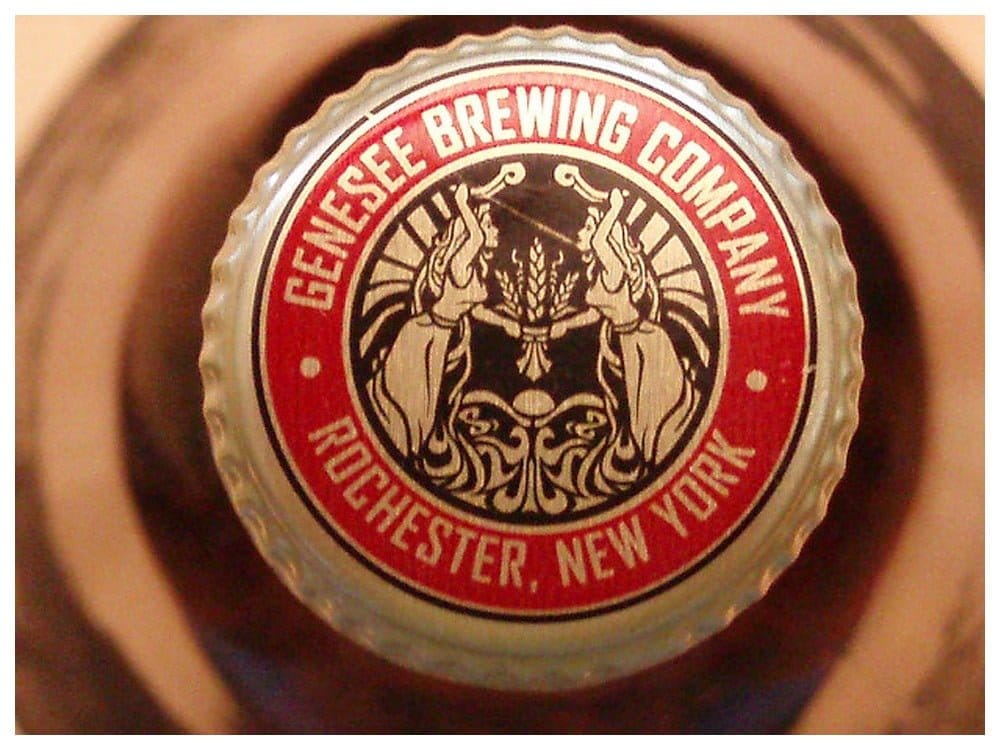 Rochester: Genesee Brewery 
Fall in New York is nothing without some classic comfort food and seasonal drinks. Rochester's Genesee Brewery, located only 0.5 miles from Rochester Station, has it all-especially beer! With 16 taps at the ready, Rochester's oldest brewing company provides a variety of beverage options, ranging from house favorites to specialty craft beers and cozy cream ales. With the opportunity for outdoor dining, grab a cold one under the warm fall sun and enjoy pub staples and appetizers like hamburgers, chicken wings, salads and specialty meats. If you're 21-and-over, make sure to take a trip up to Genesee Brewery and experience all the history, beauty and culture of Rochester this autumn season with a buzz.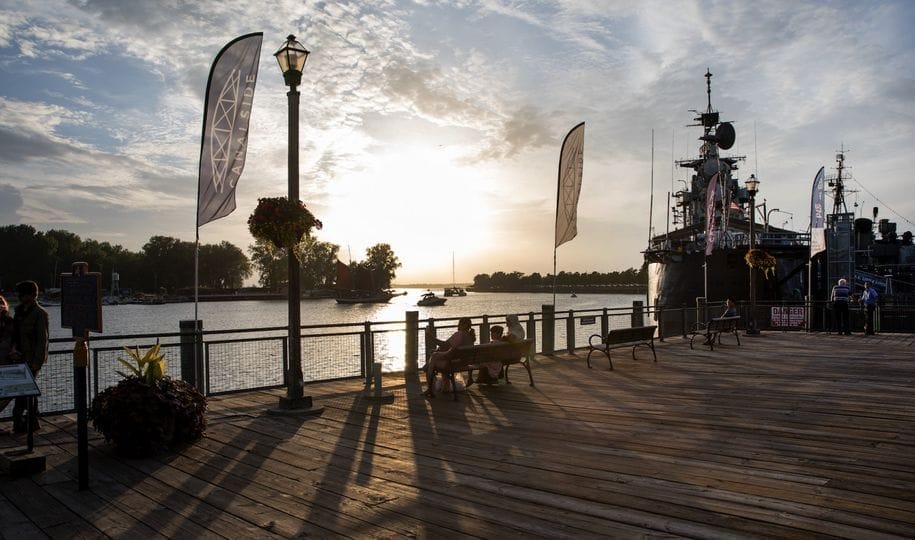 Buffalo: Canalside  
One of the greatest things about New York, especially during the autumn season, is that beautiful, outdoor attractions can often be found just minutes from a booming downtown area. Canalside, nestled in the heart of downtown Buffalo, is the perfect blend of Buffalo culture, outdoor fun and exquisite city views all found along the Buffalo River. Located 1.3 miles from Buffalo-Exchange Street Station, this waterfront destination is an ideal spot this fall for sightseeing, cycling, dining out or just relaxing by the river. Watch the leaves change from the Great Lawn where you can pack a fall-inspired picnic and escape the hustle and bustle of the city. Take a stroll on the boardwalk, grab a drink and enjoy the crisp, cool air as you look out at the river from the Central Wharf. At Canalside, you're guaranteed to make the most of a fun fall day outdoors!