Thanksgiving is the time of year where families can come together and enjoy each other's company, eat some good food, and catch up on some lost time.  
This year though, Thanksgiving celebrations across America are going to look a bit different than what most are used to. However, Amtrak is ensuring the safety of its passengers with their COVID-19 protocols, making interstate travel a safe option.  
Amtrak requires that all patrons wear face masks that cover your mouth and nose and social distance from other riders. They have increased cleaning of the trains and paperless travel, meaning tickets are on your smartphone. Learn more about Amtrak's coronavirus protocols and increased safety measurements here. 
There are hotels and resorts all over New York offering festivities to celebrate Thanksgiving in a safe manner while providing the ultimate holiday experience to its guests. Instead of going away for Thanksgiving, have a stay-cation in New York and explore upstate! It is the perfect option for those who are looking to escape the crowded city and don't have their own vehicle.  
View this post on Instagram
Distance from RHI: 2.2 miles 
Starting off our list is Mirbeau in Rhinebeck. Located in the historic and beautiful Hudson Valley and within walking distance of the downtown area full of shops, the resort is offering a Thanksgiving dinner with seating at 1:00 p.m., 3:00 p.m. and 5:00 p.m. The menu offers three courses from a traditional turkey for Thanksgiving dinner to steak, salmon or squash there is something for everyone to enjoy, created out of foods that are in season. Additionally, there are sweet desserts to end the meal, ranging from bread pudding to pumpkin pie. The menu is prix-fixe, and is $69 for adults, and $35 for children under twelve.  
View this post on Instagram
Distance from POU: 17.7 miles 
Mohonk Mountain House in New Paltz has a full weekend of Thanksgiving activities for people of all ages. Starting on Wednesday, November 25, the day is packed with a combination of outdoor activities and shows. Older guests can participate in tomahawk throwing, while the younger crowd can build their own stuffed animals. The night ends with a screening of Charlie Brown's Thanksgiving and a magic show.   
On Thanksgiving Day look forward to scavenger hunts, arts and crafts, a turkey trot, ice skating and hiking. Guests can see a comedic juggler and roast some marshmallows for s'mores later in the weekend. On Saturday, there will be screenings of Rocky and live music to watch and the lighting of the Mohonk Christmas tree. To round out the weekend, guests can have a relaxing day doing arts and crafts, and learning about wildlife. 
If you would rather do Thanksgiving your own way, guests can go on hikes on the property of the resort and explore the rich nature in New Paltz. 
View this post on Instagram
Distance from UCA: 40.1 miles 
The Otesaga Hotel is located on the shore of Lake Otsego and within walking distance to downtown Cooperstown, which is rich with New York history. For Thanksgiving this year, the hotel is offering two separate dinners; one for guests and one for non-guests. Guests will be dining in the Glimmerglass dining room and non-guests will be in the Hawkeye Bar and Grill. For guests, the meal at Glimmerglass is $66. In Hawkeye, the menu is prix fixe at $30 a person. You can also order Thanksgiving to-go, and pick it up from the hotel to bring home to their families or back to your hotel room. This option feeds up to ten people.  
Their Thanksgiving package is accommodating for the entire family. There will be a scavenger hunt for children, and breakfast the next day is included. The package is valid from November 25 to the 27.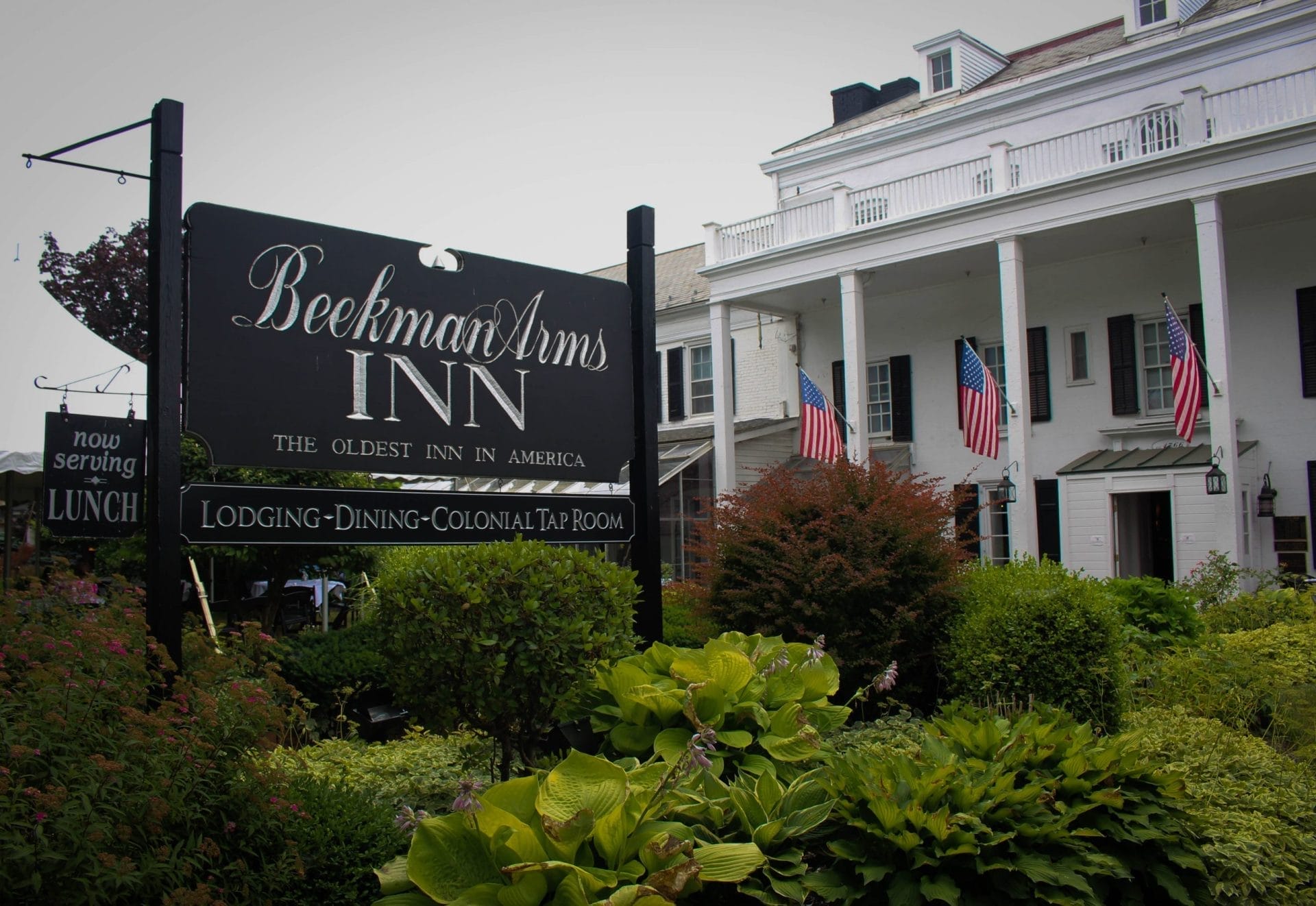 Distance from RHI: 2.3 miles 
Located in Rhinebeck, Beekman Arms has been operating since 1766. They are offering a Thanksgiving dinner loaded with the traditional turkey dinner fare. If you want to switch it up and go for something a bit more unconventional for Thanksgiving dinner, they also have salmon or a pot roast. There is a children's menu for kids twelve and under, which makes it a great option for families of all ages and sizes to come for a delicious dinner.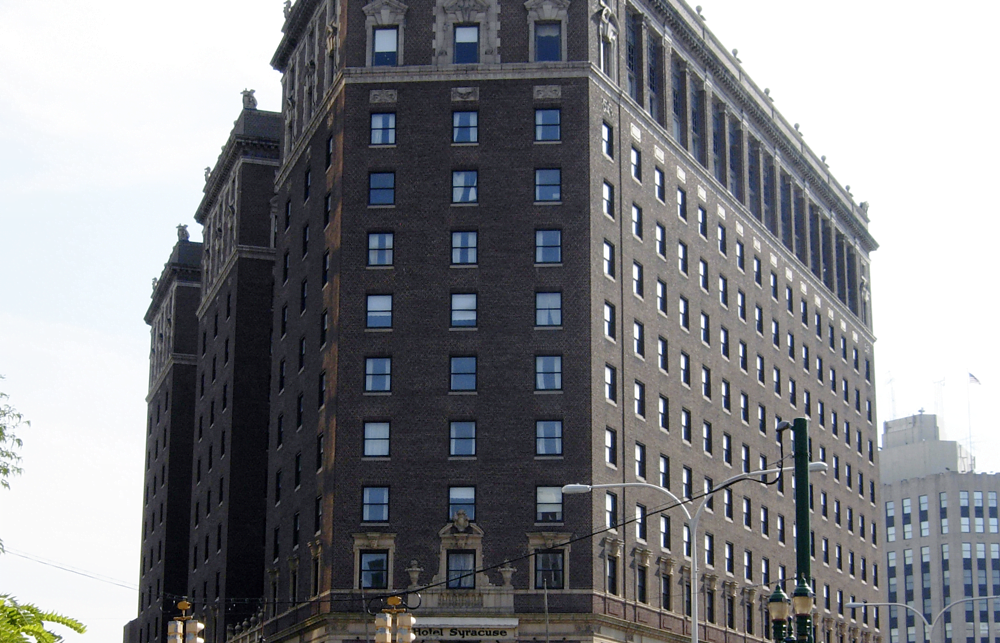 Distance from Syracuse Station: 4.5 miles 
The Marriott Syracuse Downtown hotel is located in the center of Syracuse and within reasonable distance to Syracuse University, Armory Square and The Oncenter. It is a great place to go and take a weekend away for the holidays. The hotel is offering a deal of 25 percent off your stay when you book two or more consecutive nights, including for Thanksgiving. Shaughnessy's Pub will be offering a turkey dinner on Thanksgiving for guests who choose to dine in, in addition to their regular dinner menu.  
Distance from SDY: .8 miles 
The Landing Hotel in Schenectady is part of Rivers Casino. Duke's Chophouse, located in the casino, is offering a meal for guests who dine there. The meal is $59 plus tax, and features a Cornish hen with traditional Thanksgiving sides. There is also take out available catered by Mallozzi's with a "car side to-go" system. The to-go dinner is $259.99 plus tax. It includes a turkey, mashed potatoes, stuffing, green beans, sweet potatoes, gravy, cranberry sauce and a cookie platter. Pre orders for this can be taken up until November 24.  
View this post on Instagram
Distance from POU: 17.3 miles 
LeChambord at Curry Estate in Hopewell Junction offers three different options for Thanksgiving this year. The restaurant's a la carte menu is full of various entrees and delicious desserts made with ingredients of high quality. The prix fixe menu is $44 per person, and has three main meals that cater to people who want a traditional Thanksgiving meal and to those who are vegetarian. Lastly, people can order their meals to-go if they wish. To-go meals are $42 per person, and consist of a soup, salad, turkey dinner with sides, and dessert.  
View this post on Instagram
Distance from RHI: 11.5 miles 
Hotel Tivoli is offering a Thanksgiving dinner to those who choose to dine with them. Their chef offers a classic and traditional Thanksgiving dinner. The menu is set at $65 per adult and $18 per child. Guests must have a reservation to dine. Service for Thanksgiving dinner starts at 2 p.m., and wraps up at 6 p.m. The last seating is at 4 p.m.