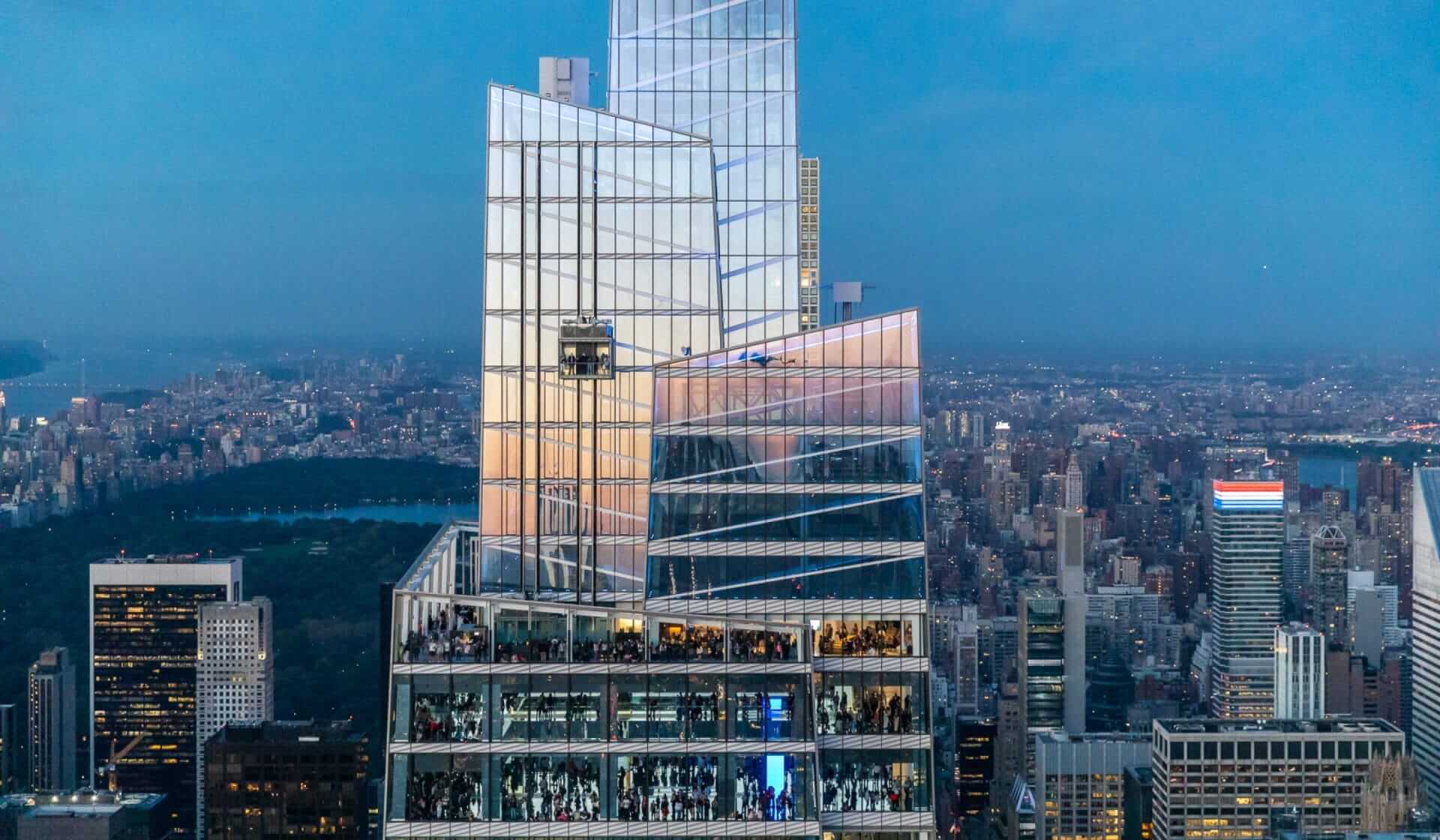 There are many quintessential New York City experiences. Broadway. Times Square. The Statue of Liberty. And traveling to the top of a skyscraper to take in soaring views of the Big Apple and beyond.
The iconic New York City skyline has changed dramatically in recent years; a building boom has produced multiple new skyscrapers. But nothing has changed the experience of viewing the city quite like SUMMIT One Vanderbilt—Manhattan's fifth and newest observation deck. 
Opened in 2021, SUMMIT One Vanderbilt is the tallest commercial skyscraper in midtown Manhattan; a modern masterpiece, easily recognizable by its unique shape that comes to a dramatic "summit" at the top, as well as its tall, white architectural spire. The 93-story building is located at the intersection of 42nd Street and Vanderbilt Avenue, right next to Grand Central Terminal.
But it is what happens on the top three floors that is wowing tourists and native New Yorkers alike. SUMMIT One Vanderbilt is an immersive, multi-sensory experience. You start off in a remarkable room of mirrors and floor-to-ceiling windows, weave through a series of interactive art exhibits, experience a few breathtaking (read: terrifying!) thrills, before taking an outside glass elevator to stunning heights. At every turn, electrifying views await. 
The Transcendence 1 Room on the 91st Floor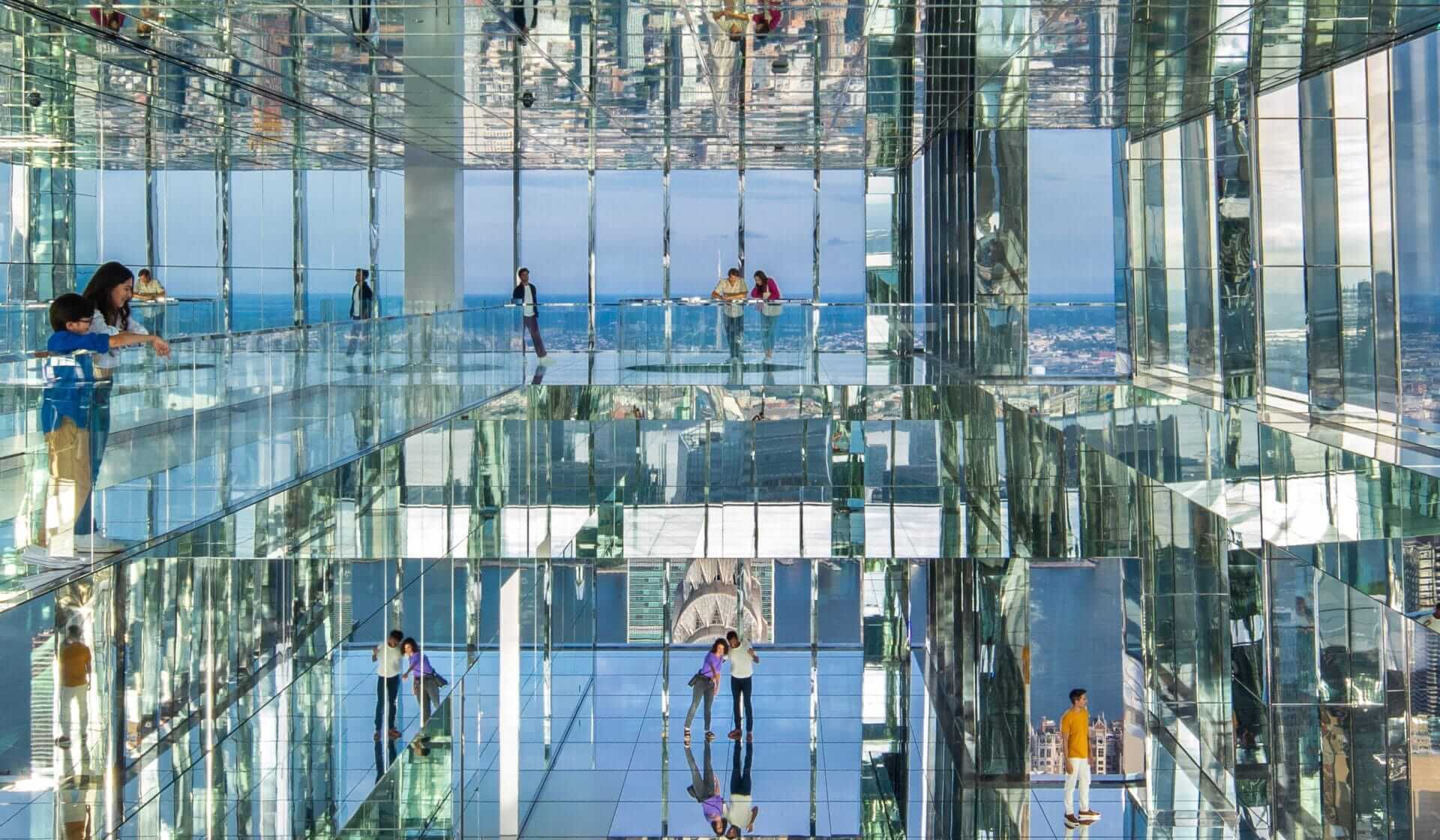 A friend and I recently took Amtrak from the Poughkeepsie Station to visit SUMMIT. During the 1.5-hour ride we enjoyed the Hudson River views and talked about our previous observation deck experiences. I visited the Empire State Building as a child decades ago.  I remember my ears popping on the quiet elevator up. I recall standing outside, the wind whipping my hair in my face and waiting my turn to look through the viewfinder. For years I thought about what I was told: that even a single penny thrown over the edge could likely kill someone walking on the street below.
Before we knew it we had arrived at the new Moynihan Train Hall at Penn Station; we hopped on a subway and arrived at the entrance of the grand building in about 15 minutes. Lining up in the building's basement we felt the excitement building. Timed tickets are required and we arrived five minutes early. After clearing security, viewing a short movie about the making of the skyscraper, and taking a few photos, we were ushered into the Rise elevator—but not before being given shoe coverings. The short ride—officially 42 seconds—featured a light show that set the mood for a festive time.  
Spectacular 360-Degree Views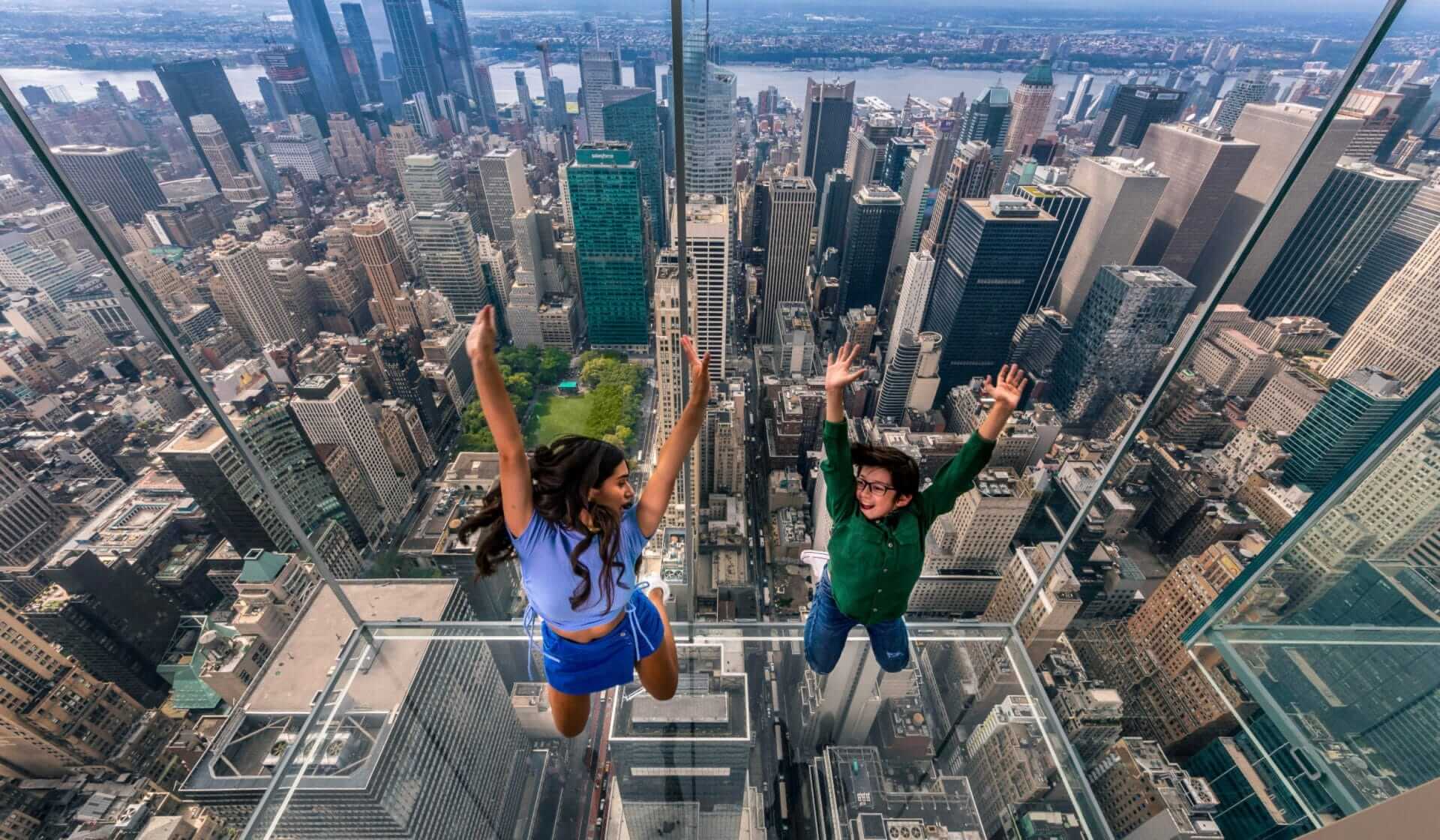 We arrived at the 91st floor—and stepped into a different world. The large room, called Transcendence 1, with floor-to-ceiling windows briefly reminded me of Windows on the World, the iconic restaurant on the 107th floor of the World Trade Center's North Tower—but that is where the similarities ended. The mirrored floors and ceilings created a stunning optical illusion. (The SUMMIT gives out sunglasses if you forget a pair. Trust me, you'll need them. Even on a cloudy day the glare is intense.)  "Wait, is that us?," I asked as we looked up at a balcony level. At times you can almost feel like you are upside down. "It's kind of like Alice in Wonderland," my friend remarked.
We walked to each side of the room. To the south, up-close views of the Empire State Building like I had never seen it before; to the east, the Chrysler Building's gorgeous architecture was on full display.  And naturally, there are unobstructed views out to Queens, to New Jersey and beyond.  This room offers prime people watching. It's fun to watch everyone trying to get the absolute best photo op. 
Brooklyn-based artist Kenzo Digital, who designed the space, told Travel & Leisure:  "We use space in a totally different way… Every time you turn a corner, the story continually evolves … It's a fully transformative experience meant to be very primal and reconnect to your sensorial world." 
Next, we wandered by the art installation, Clouds. The sculpture consists of roughly 100 mirror-finished, stainless-steel blobs that spill across the floor.
But the next exhibit was my favorite. The "Affinity" room is filled with hundreds of reflective silver orbs of different sizes. Imagine a dream birthday party scene for an 8-year-old and that's what you've got. Everybody is laughing, batting the orbs around, grabbing them—posing for pictures. 
We headed to the 92nd floor. Here, visitors can experience a big thrill—stepping out onto one of two glass ledges that jut out 1,100 feet over Madison Avenue. Specially curated music sets the tone and reminds you that you are someplace special. I'm afraid of heights. But I gamely took my place on the ledge and posed for a snapshot with my friend. I did not look down.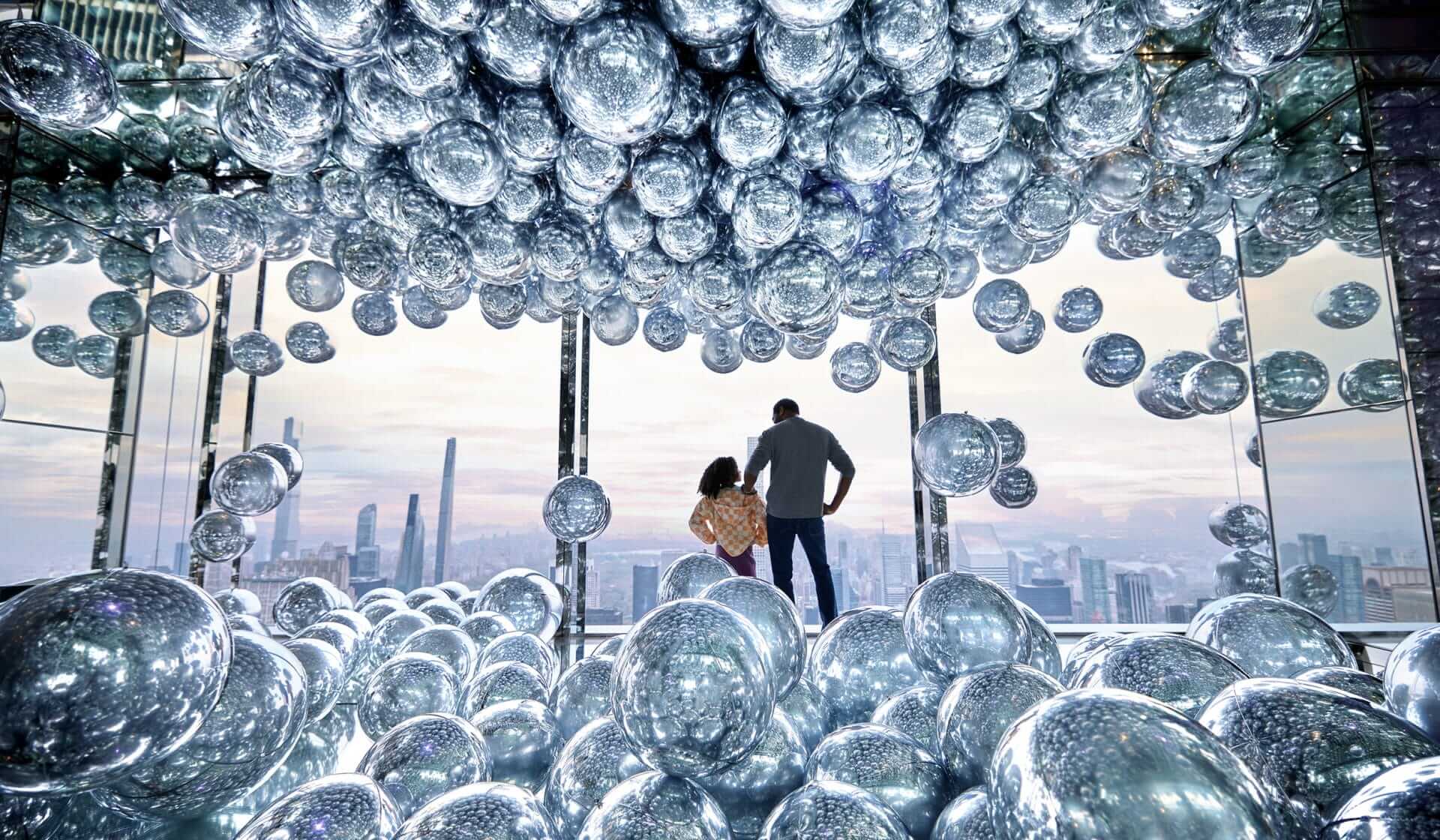 On the 93rd floor you can remove your shoe coverings and settle in for a snack at Apres, a cafe designed by famed restauranteur Danny Meyer. Indoor and outdoor seating is available. My friend and I each opted for a specialty cocktail— one Passion Fruit Cosmo and one Espresso Martini. This was my first alcoholic drink in more than two years. What had started as a sober curious experiment during the COVID-19 pandemic had simply never come to an end. But that's what visiting SUMMIT One Vanderbilt is like—it inspires you to realize that your are someplace special. In my case—special enough to finally have a drink (or at least half of it). We discussed how the entire experience—although only a few hours—made us feel like we were on vacation, somewhere exotic. We also talked about what visiting SUMMIT One Vanderbilt at night must be like. "The glass panels reflect and recast the depth of Manhattan city in a different light," it says on the website. Indeed. It's no surprise that the SUMMIT offers special engagement packages should anyone want to pop the question in this one-of-a-kind spot.
After our drinks, we meandered through the open-air terrace. Then, it is time for Ascent, the giant glass elevator—and yes, the bottom is glass, too—that quickly shoots you up to 1,210 feet above street level—for one-of-a-kind views and thrills. The entire ride takes only a few minutes and is an additional cost to your entry ticket.
As we collapsed into the comfort of our Amtrak train home to Poughkeepsie, my friend and I thought about our special afternoon. We discussed the orbs, the views, the intricate architecture of the Chrysler Building—and our next trip to SUMMIT One Vanderbilt.
Plan Your Visit to SUMMIT One Vanderbilt: 
Summit One Vanderbilt is open throughout the year and welcomes visitors on all days of the week.
The last entry to the observation is at 11 pm.
Entry ticket price is $52 for adults; $46 for youth ages 6-12. Children 5 and under are free. 
A complete tour of Summit One Vanderbilt takes one hour to 90 minutes.
Visitors need to upgrade their ticket in the observation deck to take the Summit One Vanderbilt glass elevator. 
Take AMTRAK to SUMMIT One Vanderbilt: 

Enjoy this remarkable experience via Amtrak to the Moynihan Train Hall in midtown Manhattan. It's about a 15-minute walk to SUMMIT One Vanderbilt; or take a Subway train to Grand Central Terminal. Don't forget to use the See New York and Save 15% Amtrak discount