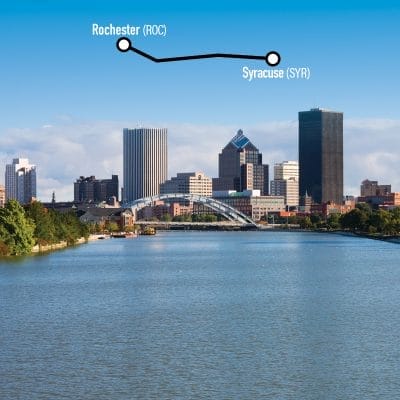 Rochester, NY, situated on the banks of Lake Ontario and known as the "Festival City," is always ready to celebrate with a thriving downtown area rich in history. The fourth most populous city in New York, Rochester is home to some of the country's most famous and iconic companies such as Kodak, Xerox, Western Union, and Bausch & Lomb. Must-visit attractions include the Eastman Theatre, the Strasenburgh Planetarium, and the National Susan B. Anthony Museum & House. The city is also home to Rochester University and Rochester Institute of Technology. In the East End you will find an array of restaurants such as Good Luck, with their famous homemade pasta; Branca and Redd Rochester, along with galleries, museums and more. Dubbed one of the 'best golf cities in the nation by Golf Magazine, Rochester also hosts popular minor league baseball and hockey teams.
Travel to Rochester by Rail with Amtrak
The "Festival City," at the gate to the Finger Lakes region, always offers a celebration. Vibrant downtown, rich with history. Surrounding natural beauty.
Rochester Lilac Festival
The annual Rochester Lilac Festival is coming back to Highland Park this year. From May 6th to 22nd, the largest free festival of its kind in North America will feature 11 days and nights of continuous festivities for guests…..Click for More Information
Craft Brews, Museums and Dining
Rochester, NY, a city that's renowned for being home to George Eastman, the founder of Kodak, and often referred to as "The Flower City." I had never been to Rochester and had spent very little time in Western New York….Click to Read More
A Waterfront Community
Nestled against the shore of Lake Ontario is Rochester, largely undiscovered, though it's the third largest city in New York State….Click to Read More