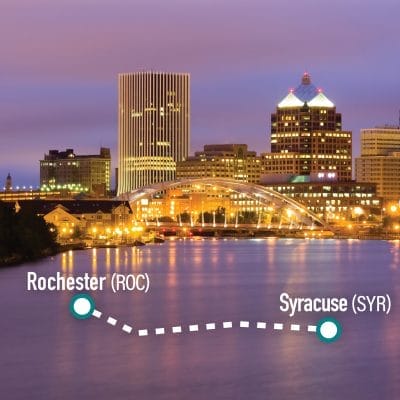 Rochester, New York, often known as the "Festival City," is always ready to celebrate with a thriving downtown area rich in history. Rochester is the seat of Monroe County and the fourth most populous state in New York, according to visitrochester.com. The city, which is located on Lake Ontario, hosts a variety of festivals, shopping, a thriving culinary scene, arts and entertainment. There are festivals almost every weekend in late spring to early fall as well as year-long famous destinations to check out. Rochester is famous for places such as Eastman Theatre, Strasenburgh Planetarium, Memorial Art Gallery and The National Susan B. Anthony Museum & House. Rochester is also known for Rochester University and Rochester Institute of Technology. The city is home to some of the country's most famous and iconic companies such as Kodak, Xerox, Western Union, Wegmans and Bausch & Lomb. In the East End you will find an array of restaurants such as Good Luck, Branca and Redd Rochester, along with galleries, museums and more. If you are looking to go to a sporting event, check out Frontier Field for baseball or Blue Cross Arena in the winter for a hockey game. There is always something going on in Rochester. The city is rich in history and entertainment, and it can be an exciting retreat at any time of year.
By Lauren Kazemekas 
Travel to Rochester by Rail with Amtrak
The "Festival City," at the gate to the Finger Lakes region, always offers a celebration. Vibrant downtown, rich with history. Surrounding natural beauty.
The annual Rochester Lilac Festival is coming back to Highland Park this year. From May 6th to 22nd, the largest free festival of its kind in North America will feature 11 days and nights of continuous festivities for guests. MORE INFORMATION
Check out the Amtrak map to plan your next adventure!
The Finger Lakes region is easily accessible with Amtrak. Train travelers can take Amtrak to Rochester's Louise M. Slaughter Station (ROC).