Editor's Note: This blog has been updated in 2023 to include current information.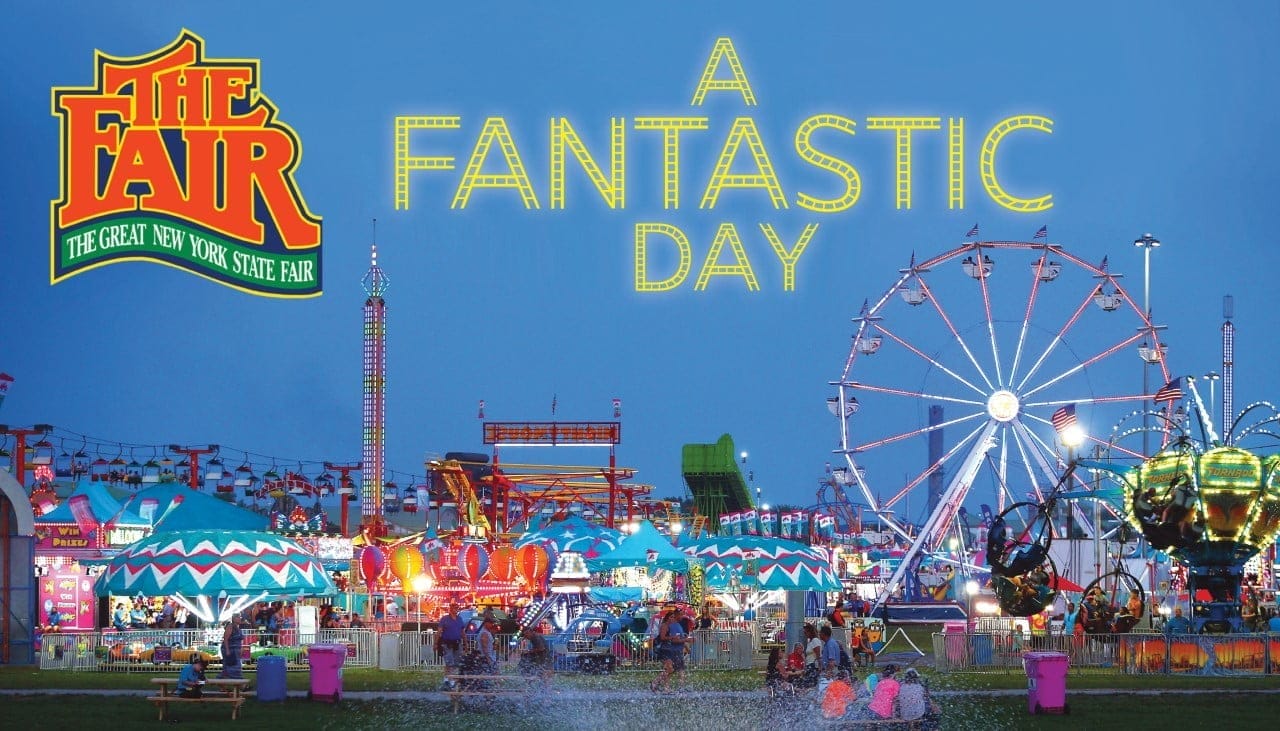 Years ago, when my son decided to attend Syracuse University, I became familiar with the New York State Fair. This 13-day event takes place in late August and overlapped with the annual fall semester drop-off. My son has since graduated from SU and lives outside the area, but I still love the fair. In 2019 my wife and our younger son took Amtrak to the Fair. It was a fabulous experience; not only does Amtrak stop directly at the fairgrounds, but I learned it was an easy, enjoyable—and affordable—way to attend this Empire State tradition.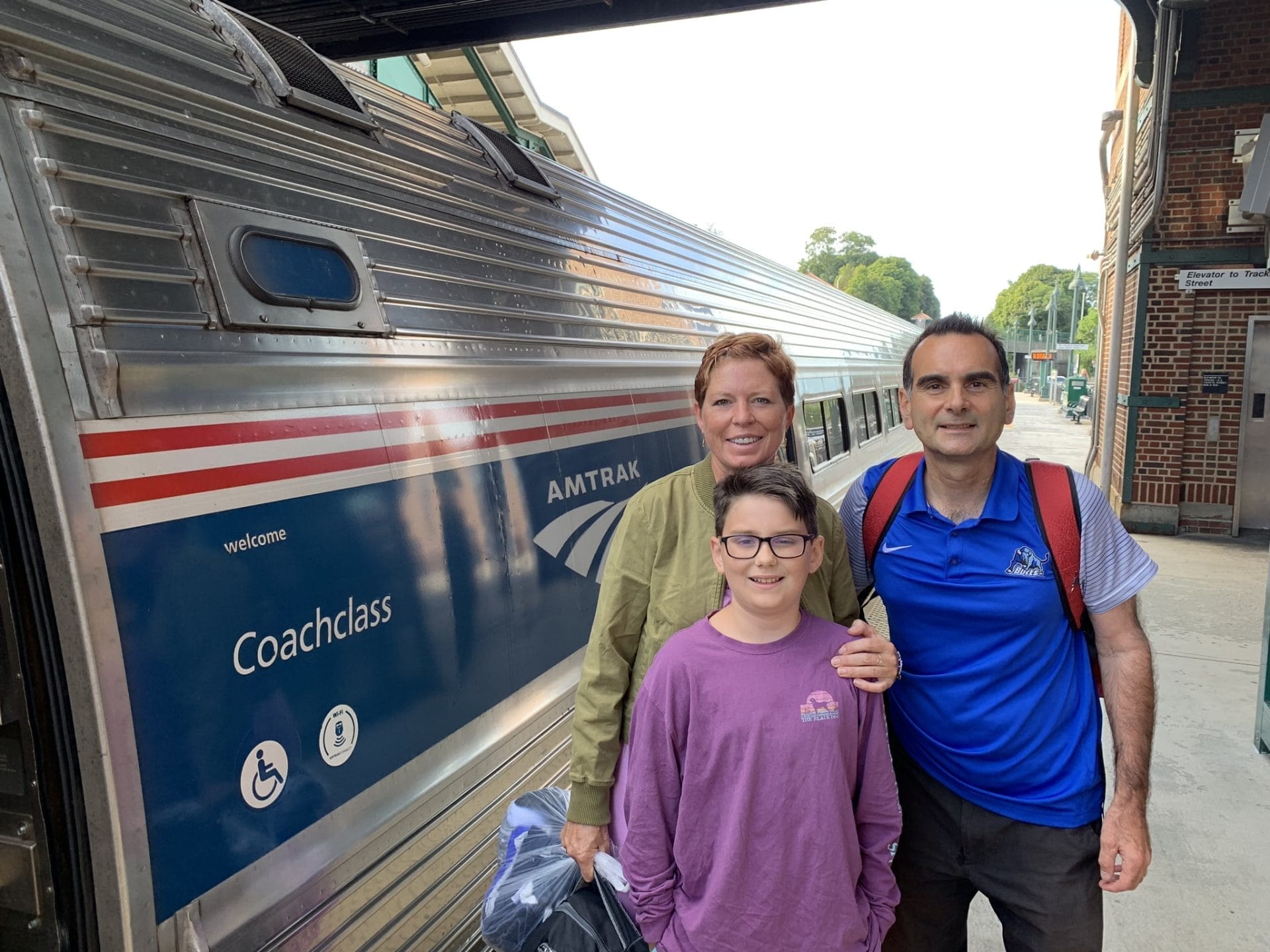 Boarding Amtrak
We boarded early one Saturday morning from the Poughkeepsie Train Station for the roughly four-hour journey. My wife and then 10-year-old son sat across the aisle from me. I struck up a leisurely conversation with a person seated next to me from Italy; he was headed to visit family in Rochester. My son enjoyed the opportunity to roam the train and avail himself of Amtrak's café car refreshments. As always, I enjoyed the spectacular views of the Hudson River and later, the Mohawk River, from the large window by my seat.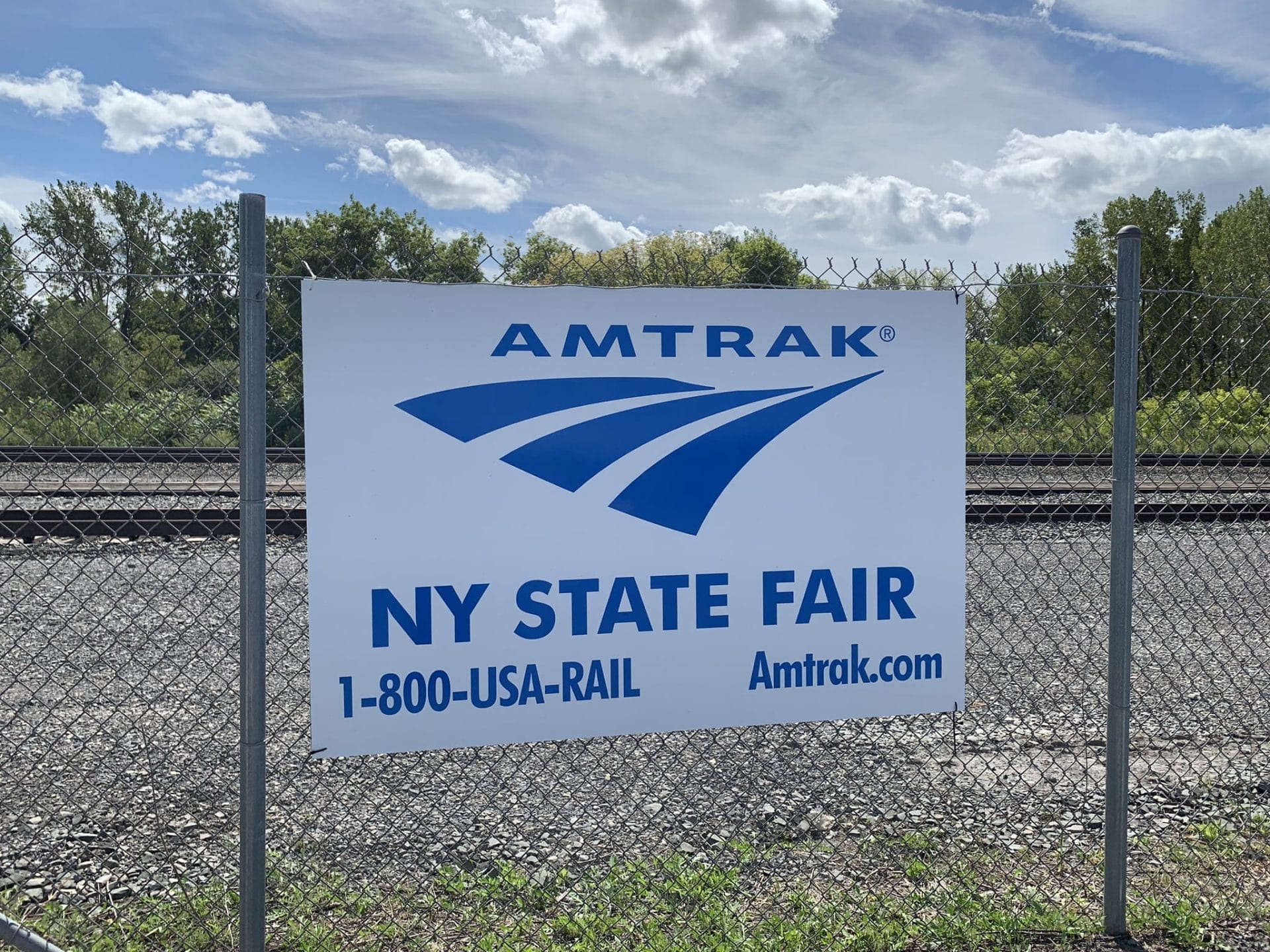 Arriving at the NY State Fair
The time onboard passed by quickly and before I knew it, we arrived at the Fair, with an entrance adjacent to the train tracks. We sure appreciated the convenience of this unique stop! A helpful shuttle stop nearby transported us to the main entrance.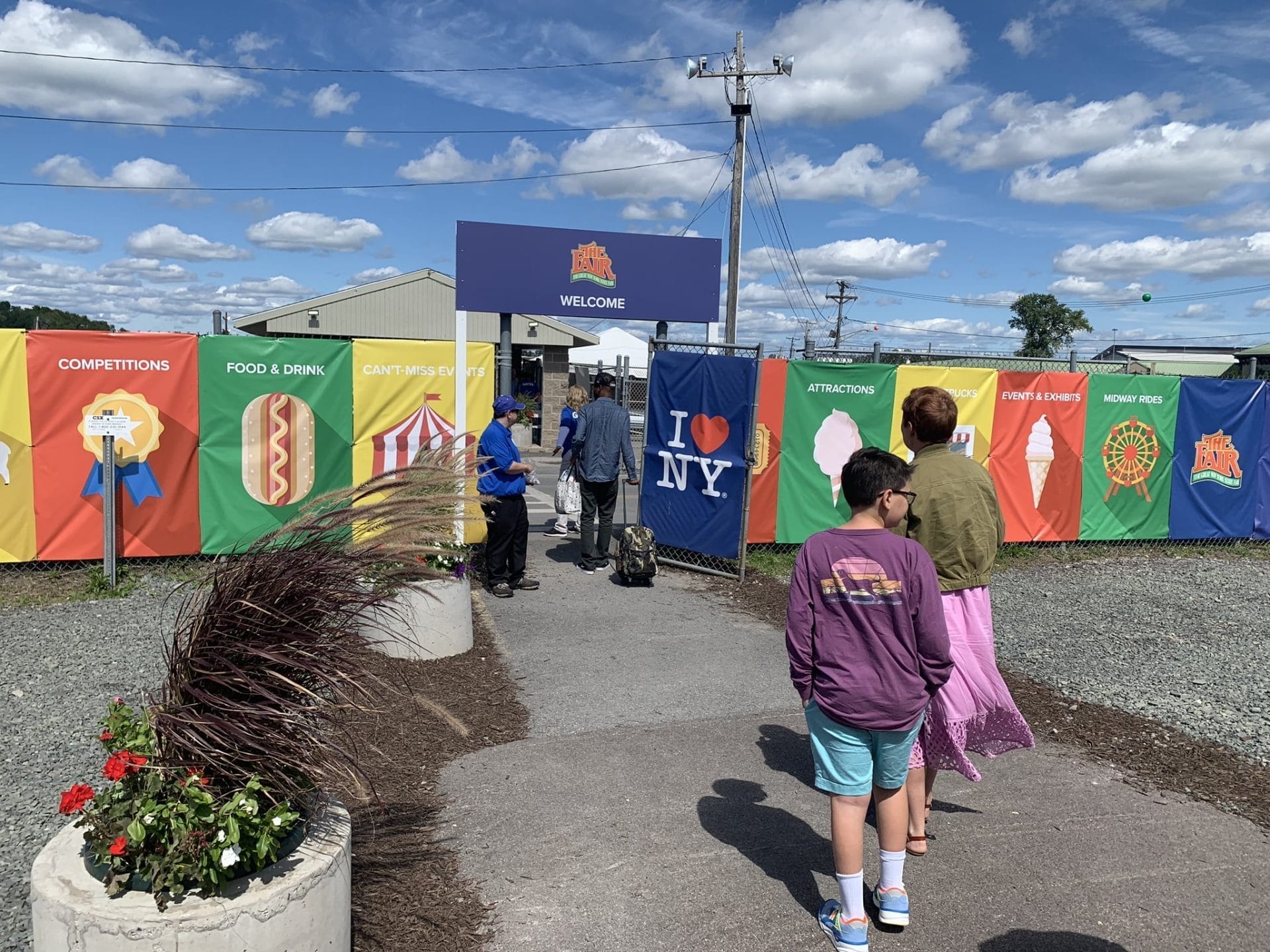 The New York State Fair is the largest annual event in New York, regularly attracting over 1 million people in just 13 days. It has frequently be deemed as one of the the most affordable state fairs in the country. The fair is incredibly accessible for anyone of any age. Admission tickets are set at the low price of just $6 and children 12 and under or over the age of 65 receive free admission.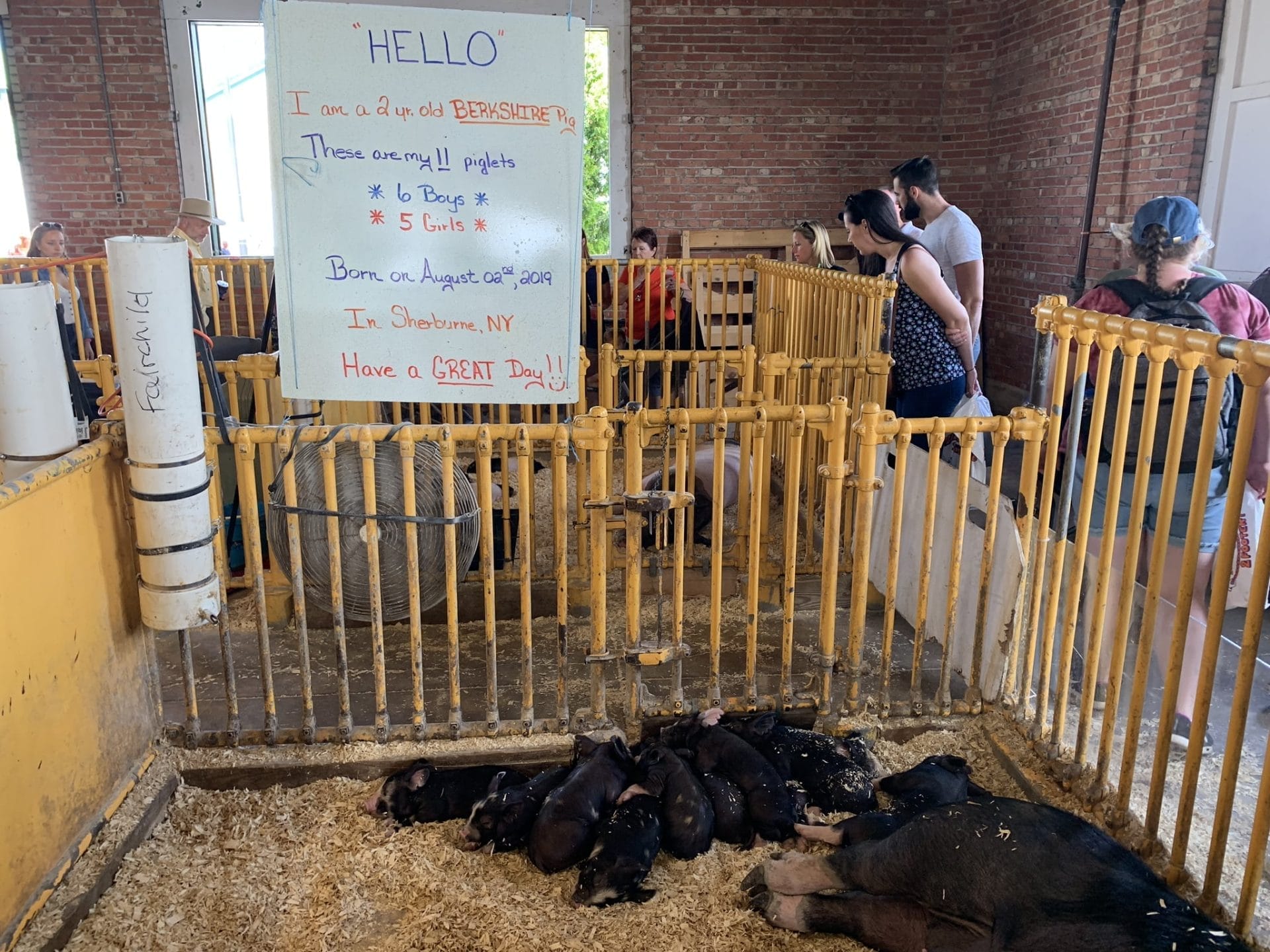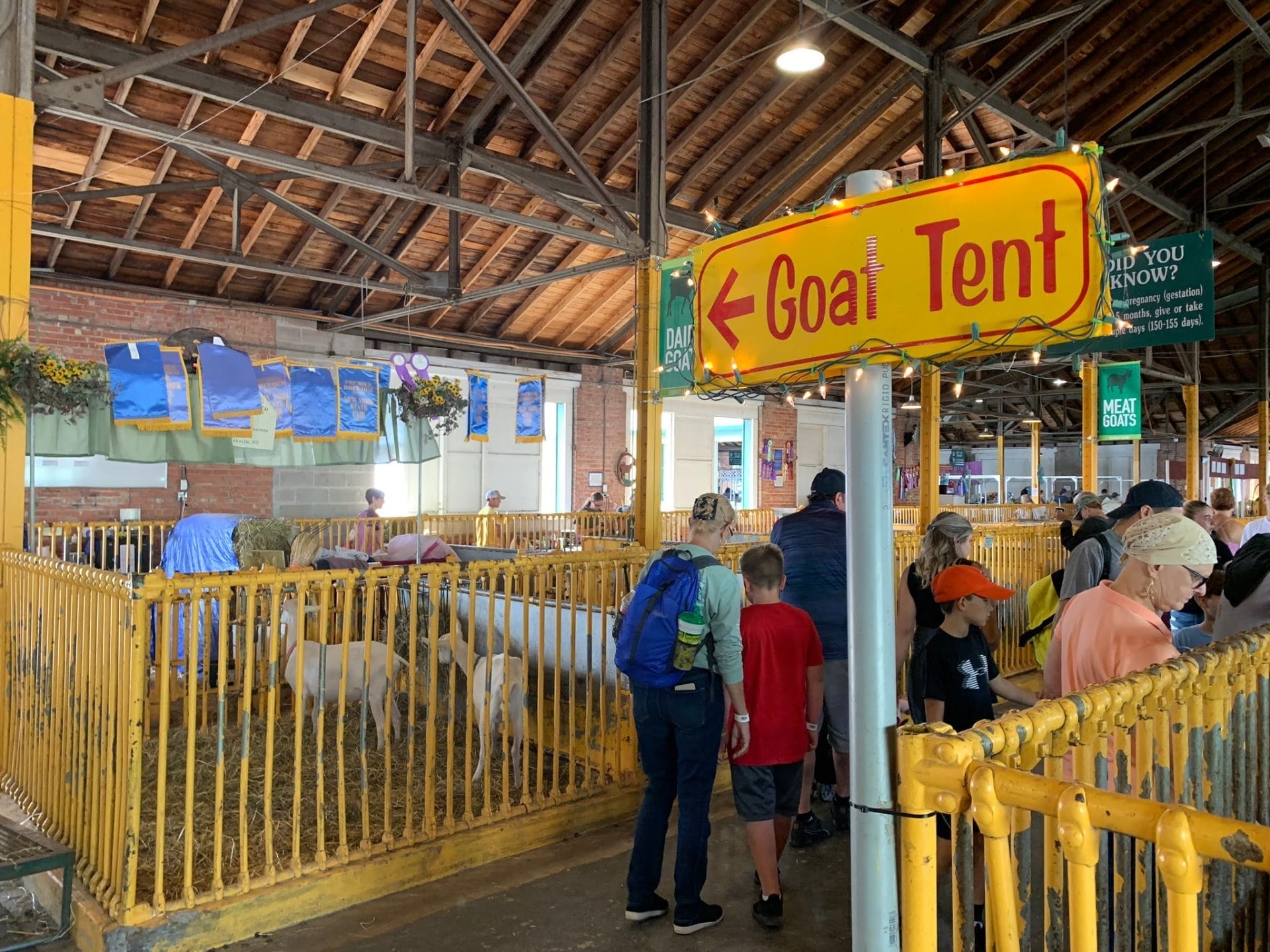 Animals at the NY State Fair
Our first stop was the Dairy Products Building, where we were greeted by a girl handing out free chocolate milk. An incredible sculpture made entirely out of butter awaited us under a temperature-controlled glass dome that slowly circled, round and round.
We wanted to see the animals, too. The 11 piglets, less than a month old, born from a 2-year-old Berkshire pig in nearby Sherburne, NY was especially endearing. We also visited the goat tent and were amused by their goofy expressions. A brand new goat pavilion is debuting at the 2023 fair!
With a big agricultural component, there are plenty of New York State Fair competitions. Some of these include Open Dairy Cattle, Open Horse Show and Open Beef Cattle. Open Show Competitions are dairy products, swine, poultry, meat goats and llamas. Non-animal-related competitions include Art & Home Center which features "bucket of junk," fine arts and photography.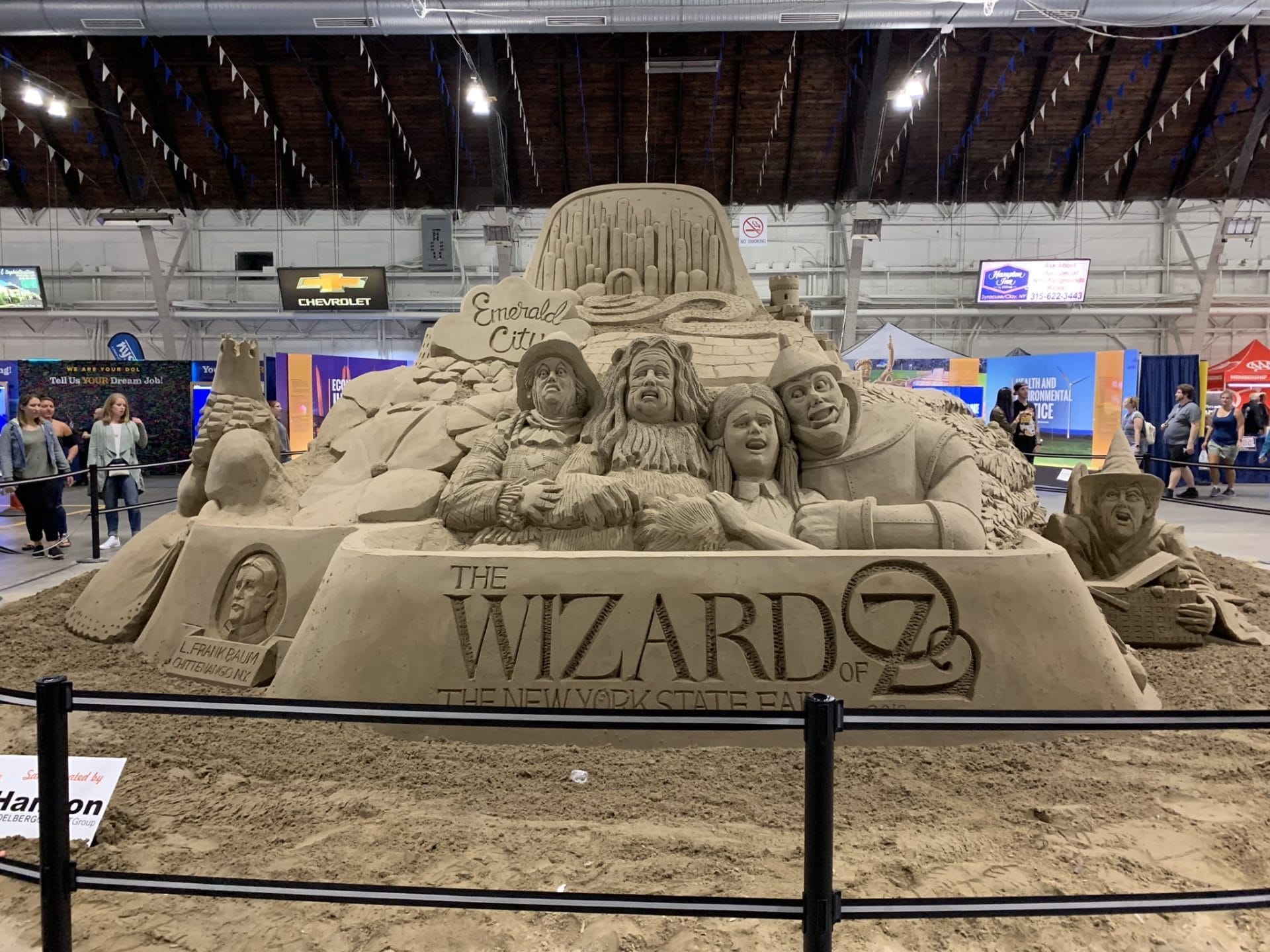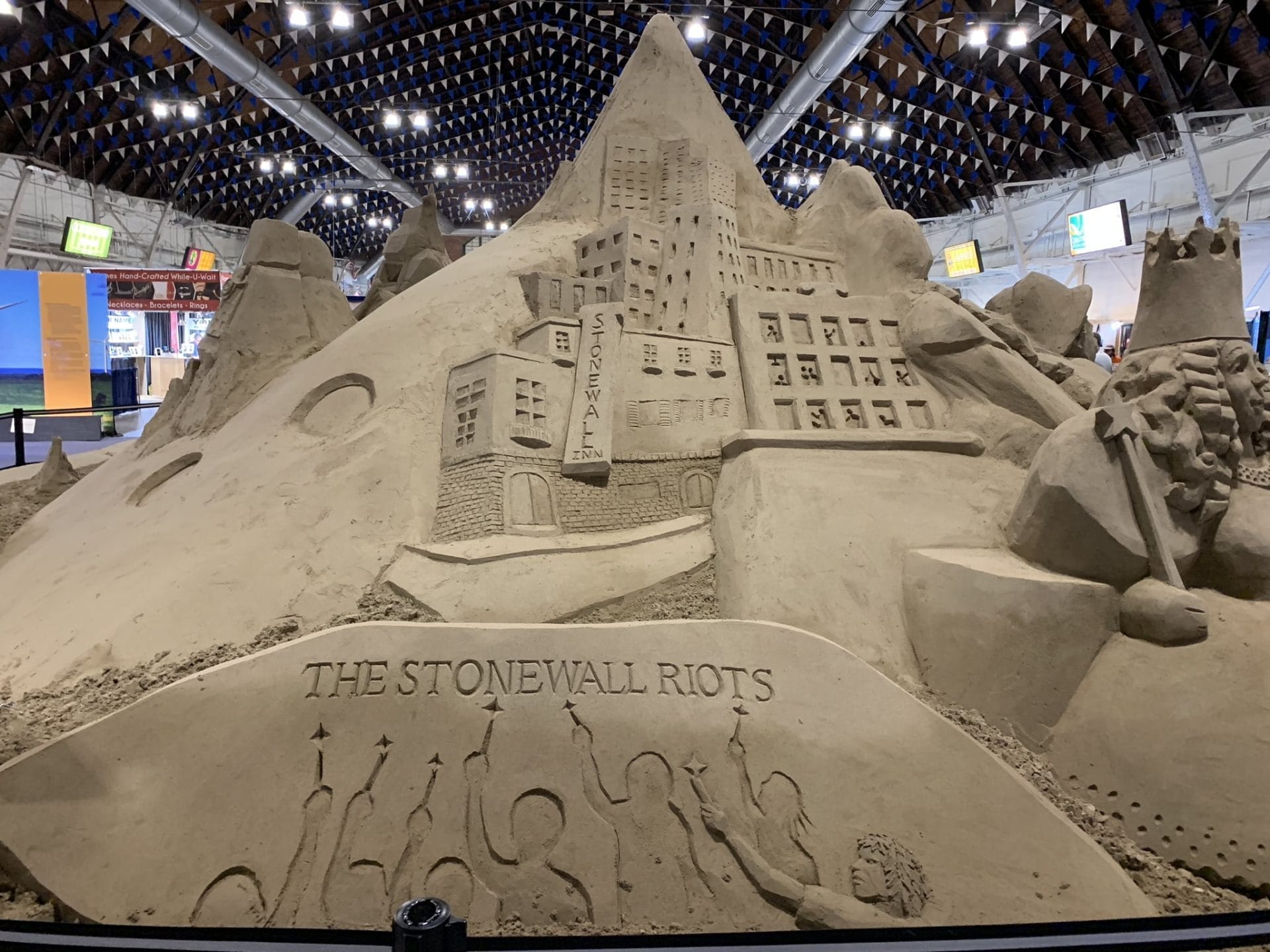 Sand Sculptures
Not to be missed are the sand sculptures in the Center of Progress Building, one of my personal favorites.
Every year there is a different theme and in 2019 it  happened to be The Wizard of Oz. Since we visited near the end of the 13-day fair, we were able to see the finished product. It was also a treat to view a massive sand sculpture in honor of the 50th Anniversary of the Stonewall Inn riots. The 2022 NYS Fair sand sculpture theme focused on the 50th anniversary of Title IX.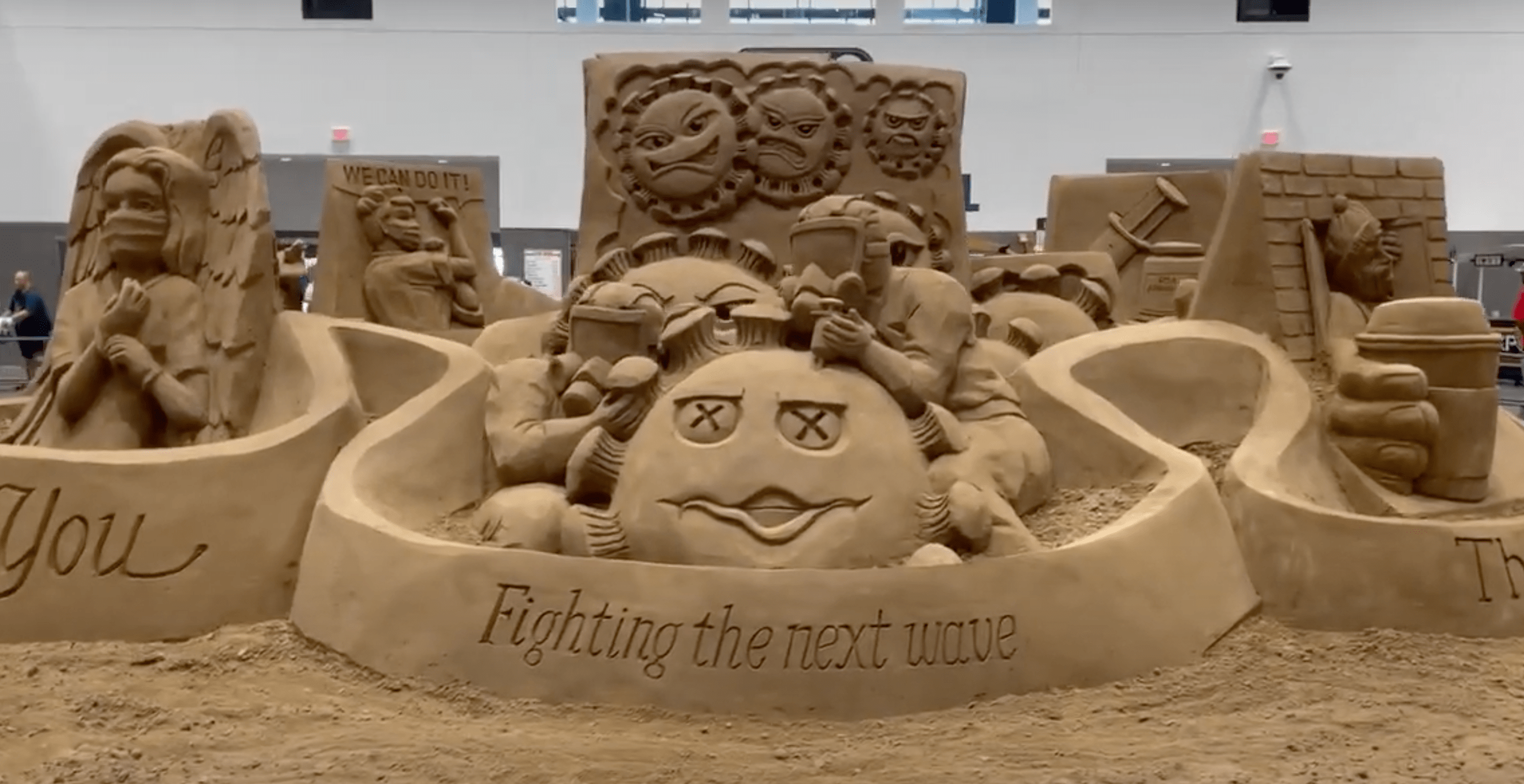 For the 2021 New York State Fair, one of the sand sculptures paid tribute to essential workers during the COVID-19 pandemic.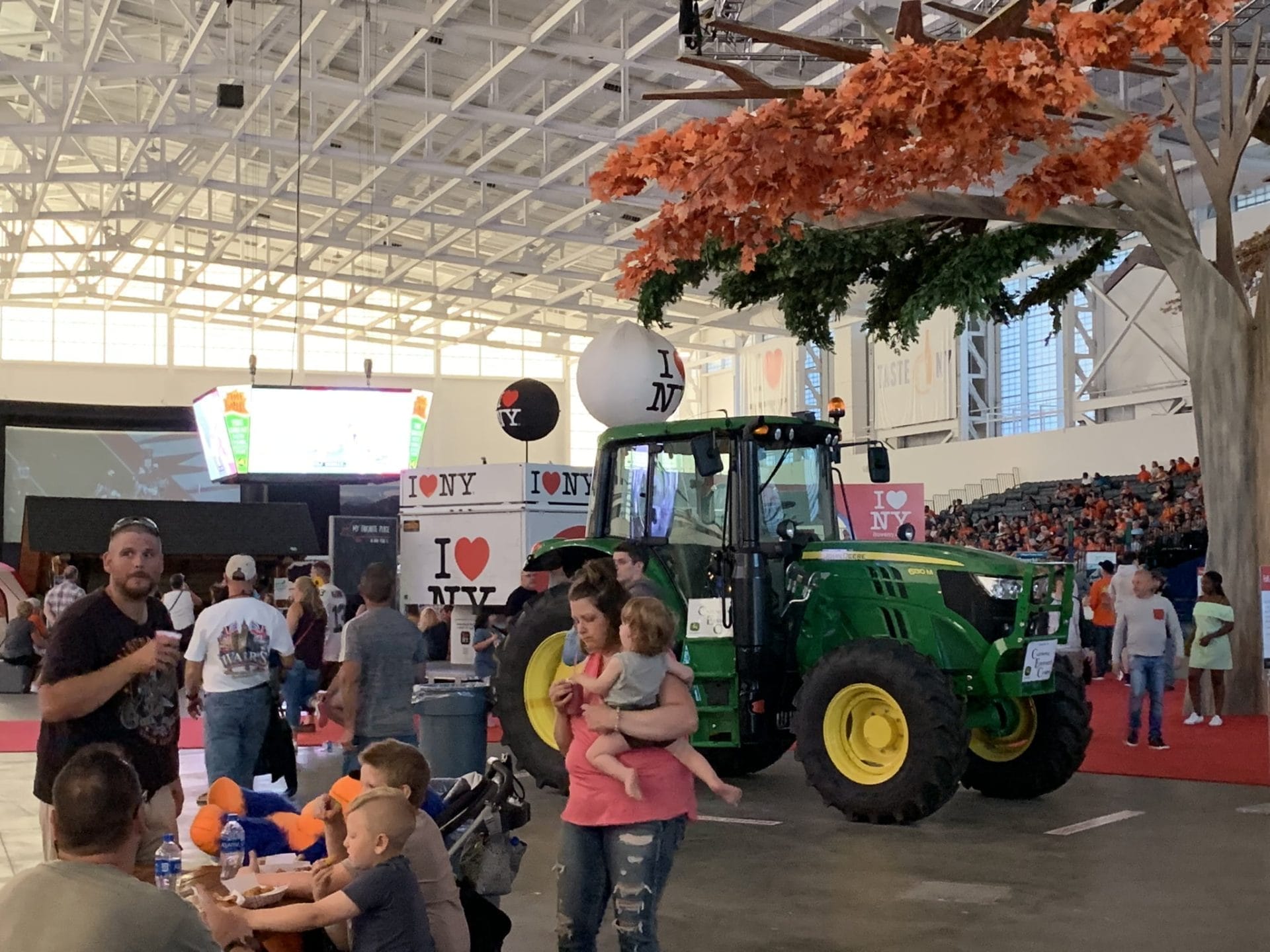 Indian Village and The I Love NY Experience
We meandered over to Indian Village, a section of the fairgrounds dedicated to Six Nations programs for over 90 years. We experienced a live ceremony of traditional music and dance of the Iroquois that takes place three times daily. This is a great way to learn and celebrate the culture and heritage of original New Yorkers.
The I Love NY Experience in the Center of Progress Building provides displays of attractions within different regions of New York State. We especially liked the one of the Lake Placid area with an actual ski chair lift and hockey memorabilia from the "Miracle on Ice".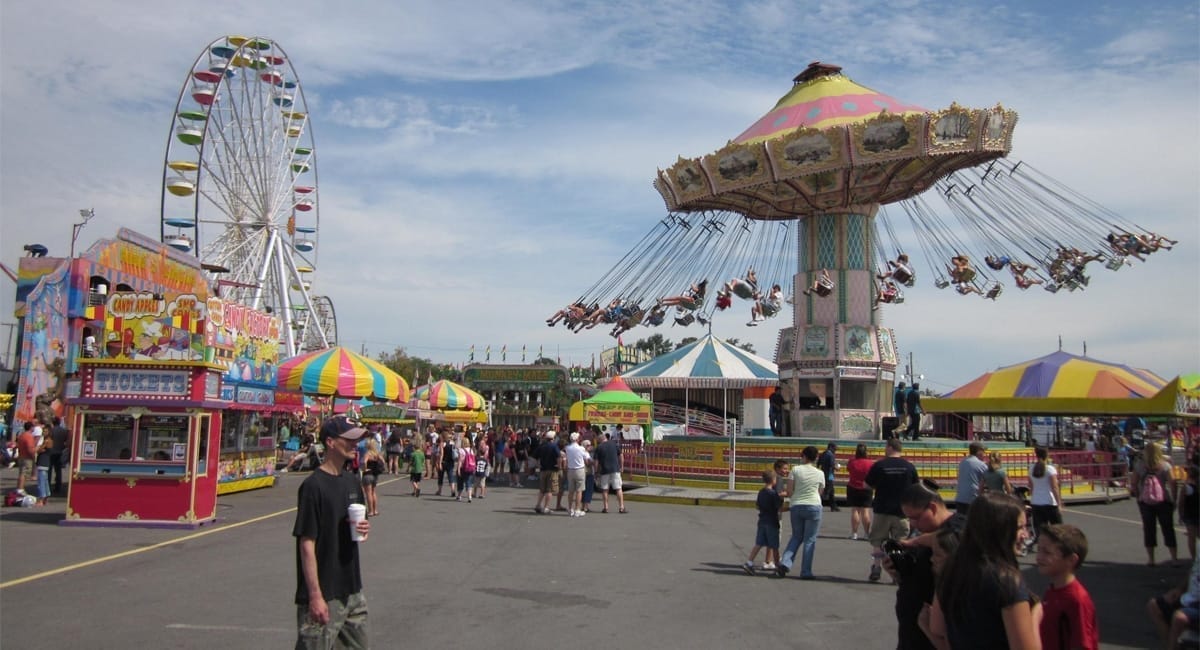 Rides at the Fair
My son had been patient up until now and was pleading to finally go on some rides! We headed towards the Midway and started off by banging into each other on the bumper cars.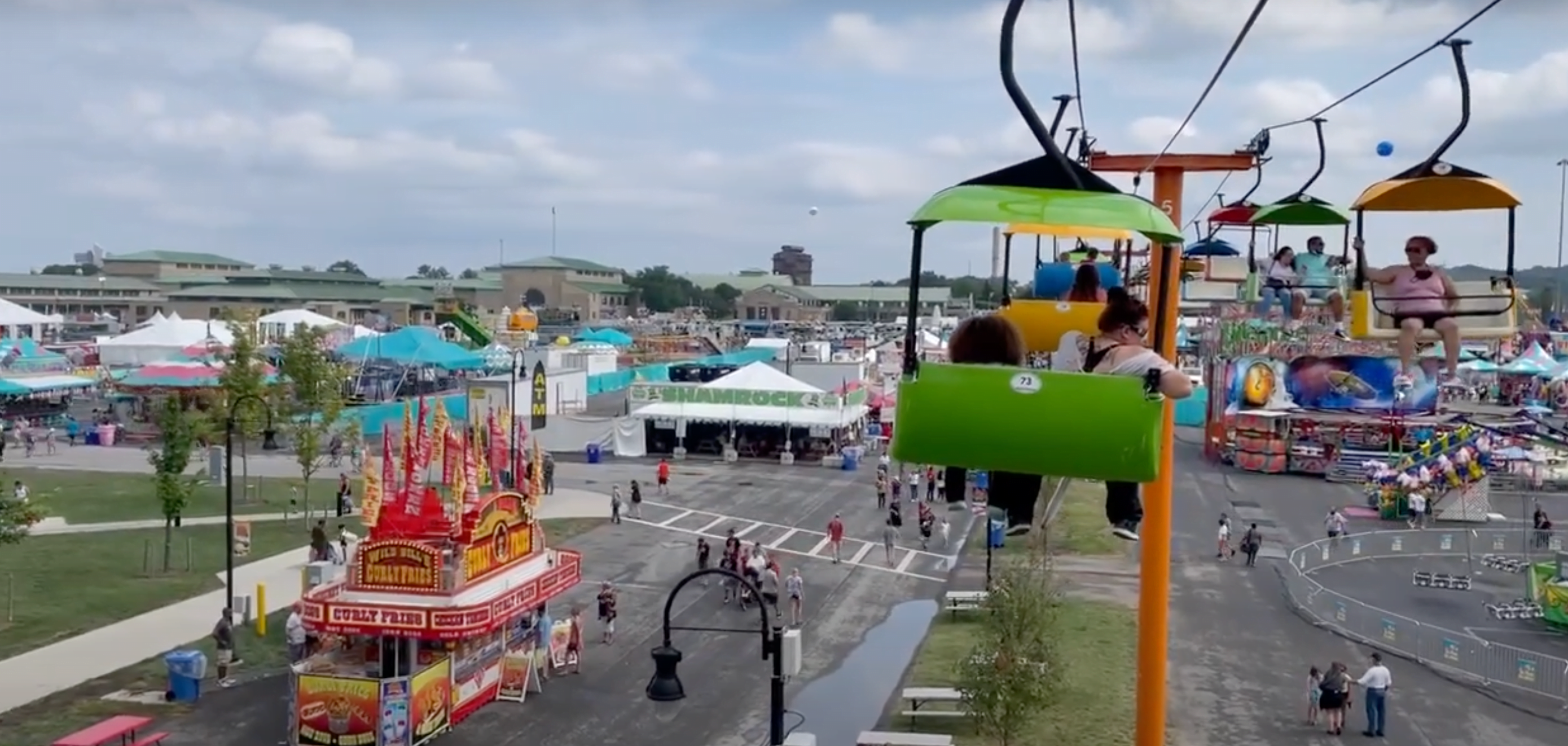 We then found our way to the Sky Ride and relished the bird's-eye view of the midway. Now it was time for real adventure with the Super Cyclone Coaster wild ride along the narrow tracks. The 100-foot high, Giant Wheel, was a perfect family ride finale, offering great views of the whole fair.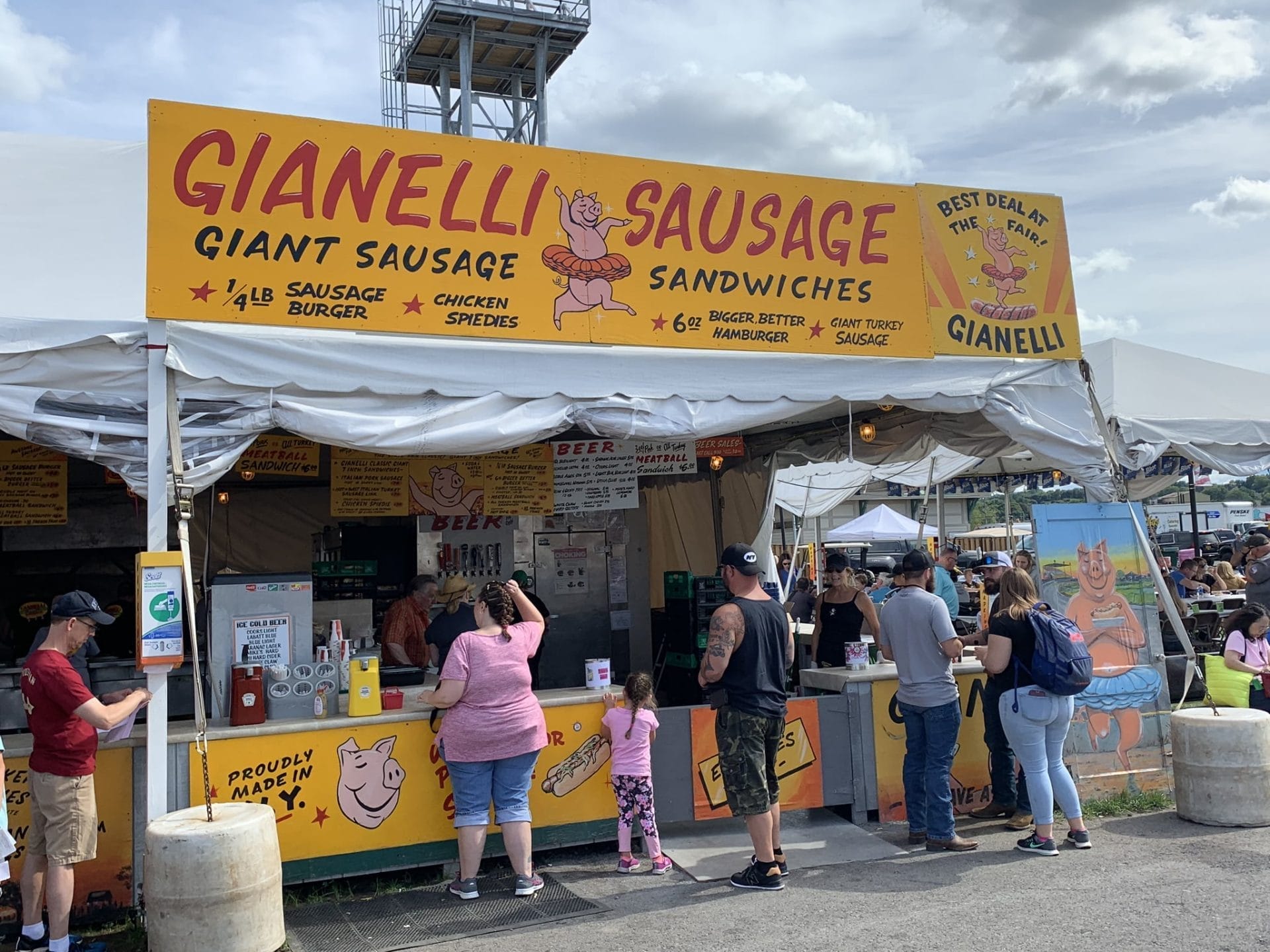 Where to Eat
There's no shortage of food options at the Fair including The Taste NY Marketplace in the Horticulture Building. A vast array of New York State companies offers free samples of artisan foods, jams and jellies, sauces, cookies, craft wine, beer, spirits and products for purchase. Having worked up our dinner appetites, we headed to the Chevy Court for our local Syracuse favorites, Gianelli Sausage and Dinosaur Bar-B-Que, which didn't disappoint.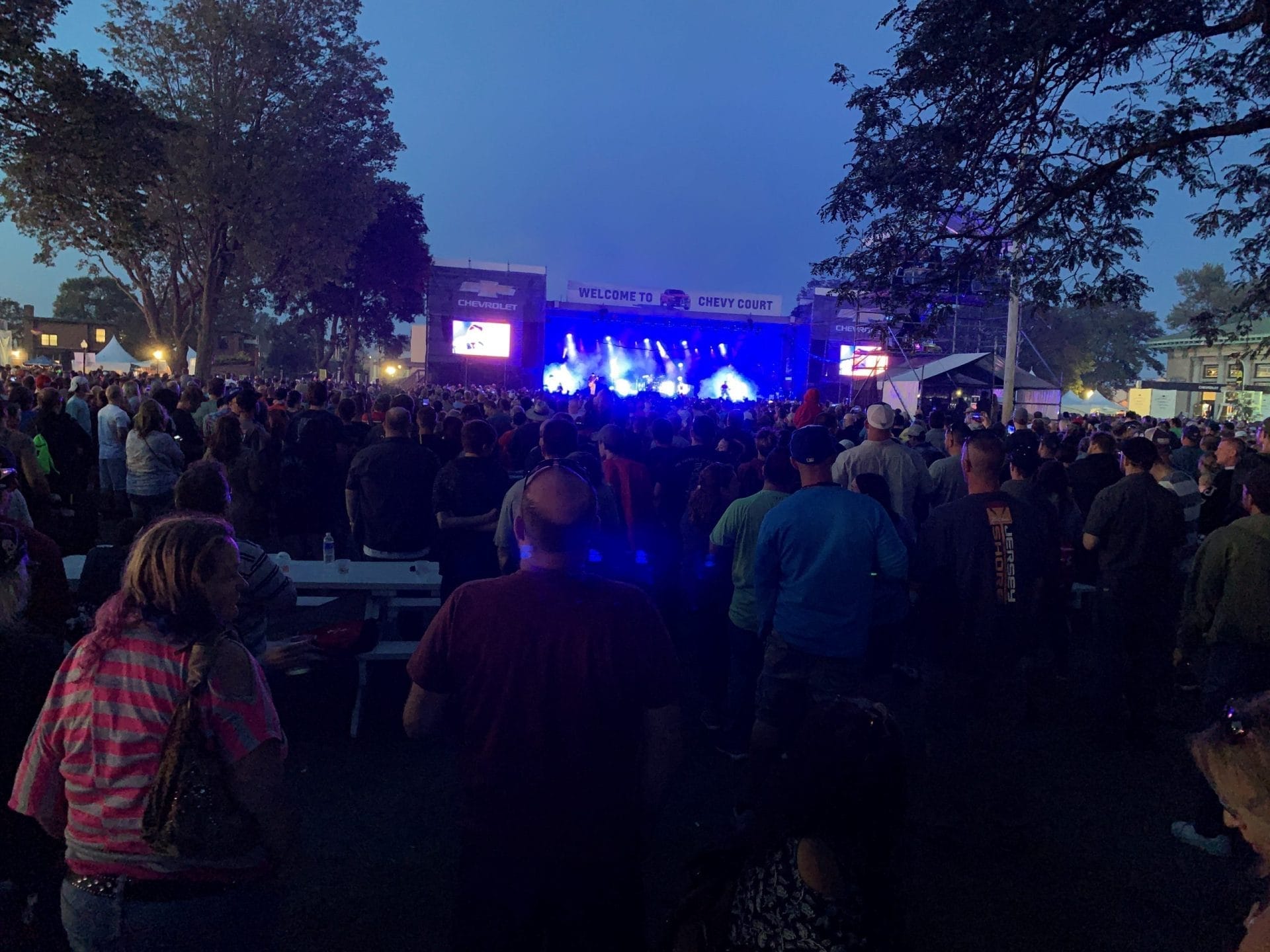 Chevy Court Pavilion Concerts
As we were finishing our meal, the evening concert was beginning at the Chevy Court Pavilion. An alternative and hard rock band, Theory of a Deadman, were performing. While I wasn't familiar with any of their hits, I am a fan of hard rock and enjoyed the live music. The New York State Fair has hosted several big-name entertainers over the years, including Bon Jovi, Rod Stewart and Bruno Mars.
The 2023 NY State Fair concert lineup includes:
Wed. Aug. 23 1 p.m.: Chubby Checker
Wed. Aug. 23  6 p.m.: Salt-N-Pepa
Thurs. Aug 24 6 p.m.: Quiet Riot
Sat. Aug. 26, 6 p.m.: Julio Iglesias Jr.
Mon. Aug. 28 6 p.m.: Anne Wilson
Tues Aug. 29 6 p.m.  Bret Michaels
Fri. Sept 1 6 p.m. The Fray
Mon Sept. 4 12 p.m. The High Kings
Mon Sept. 4 6 p.m. Skid Row
And that's not all! For more of the NY State Fair's 2023 concert lineup, click here.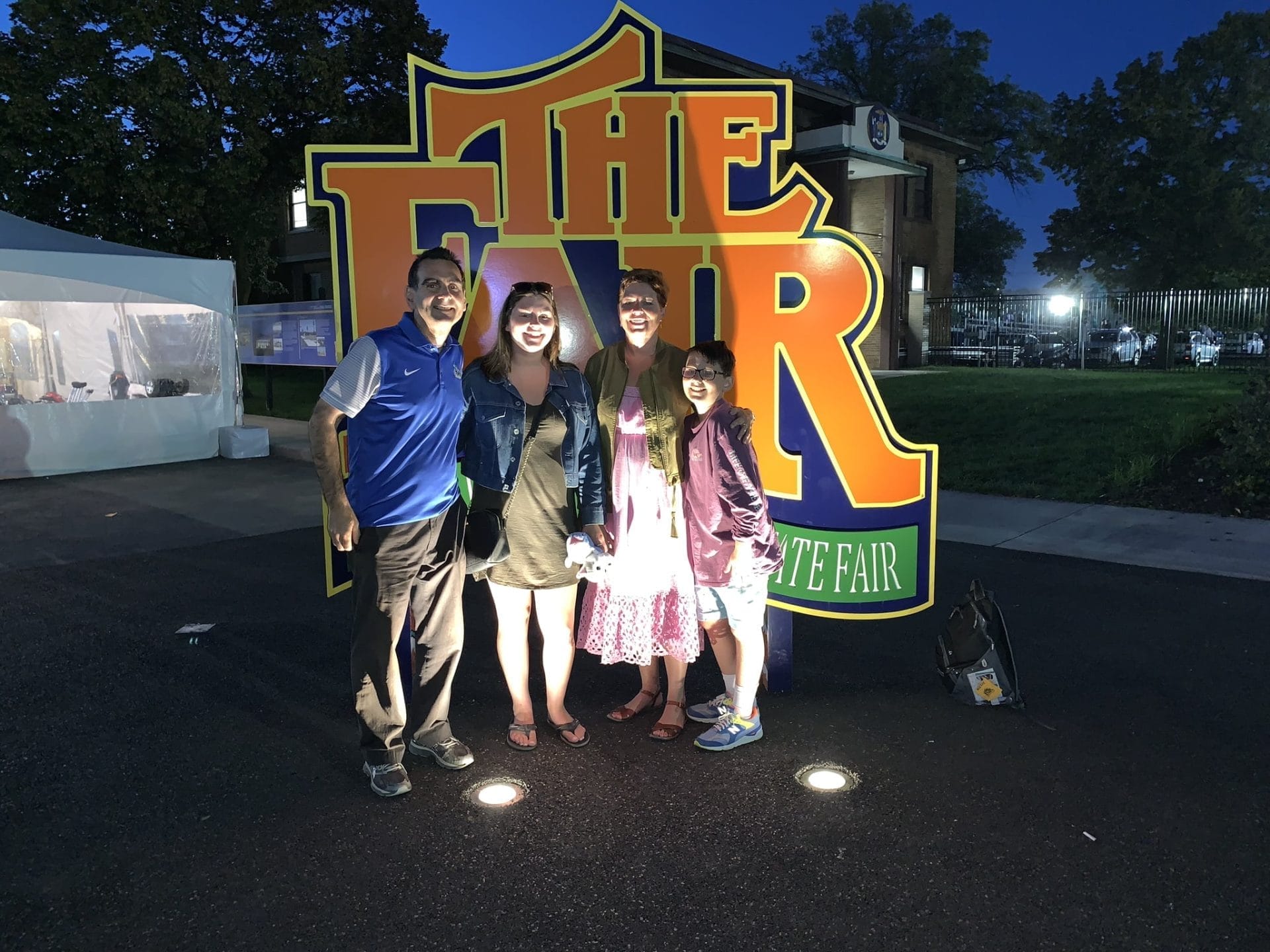 Leaving the NY State Fair
As we departed, we headed for the ride-sharing area and awaited our transportation to our nearby hotel. On our train ride back home the next day we learned that the fair set a single-day attendance record the day we visited. We were happy to be part of a history-making day at the fair. Thanks to Amtrak it was all possible without a car!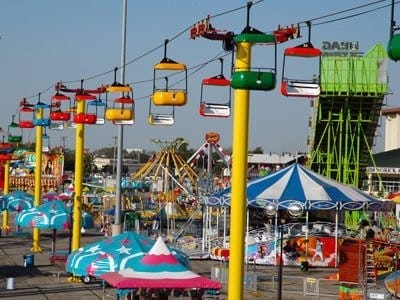 Top 10 Things To Do AT The NY State Fair
In no particular order, here are New York By Rail's must-do's at the fair:
Eat local Syracuse foods like Dinosaur Bar-B-Que and Gianelli Sausage (Opposite Dairy Products Building)
Vist the Dairy Cow Birthing Center (Near Youth Building)
Listen to a free concert (Chevy Court)
Indulge in a $1 baked or sweet potato (Horticulture Building)
Taste unique New York treats (Taste NY Marketplace)
Sidle up to the Milk Bar for a 25-cent milk (Dairy Products Building)
See a mammoth sand sculpture get built (Exposition Building)
Walk through the History of the NYS Fair Exhibit (Grange Building)
Tour the historic trains (behind the Horticulture Building)
Ride the 1,400 foot Broadway Skyline (Midway)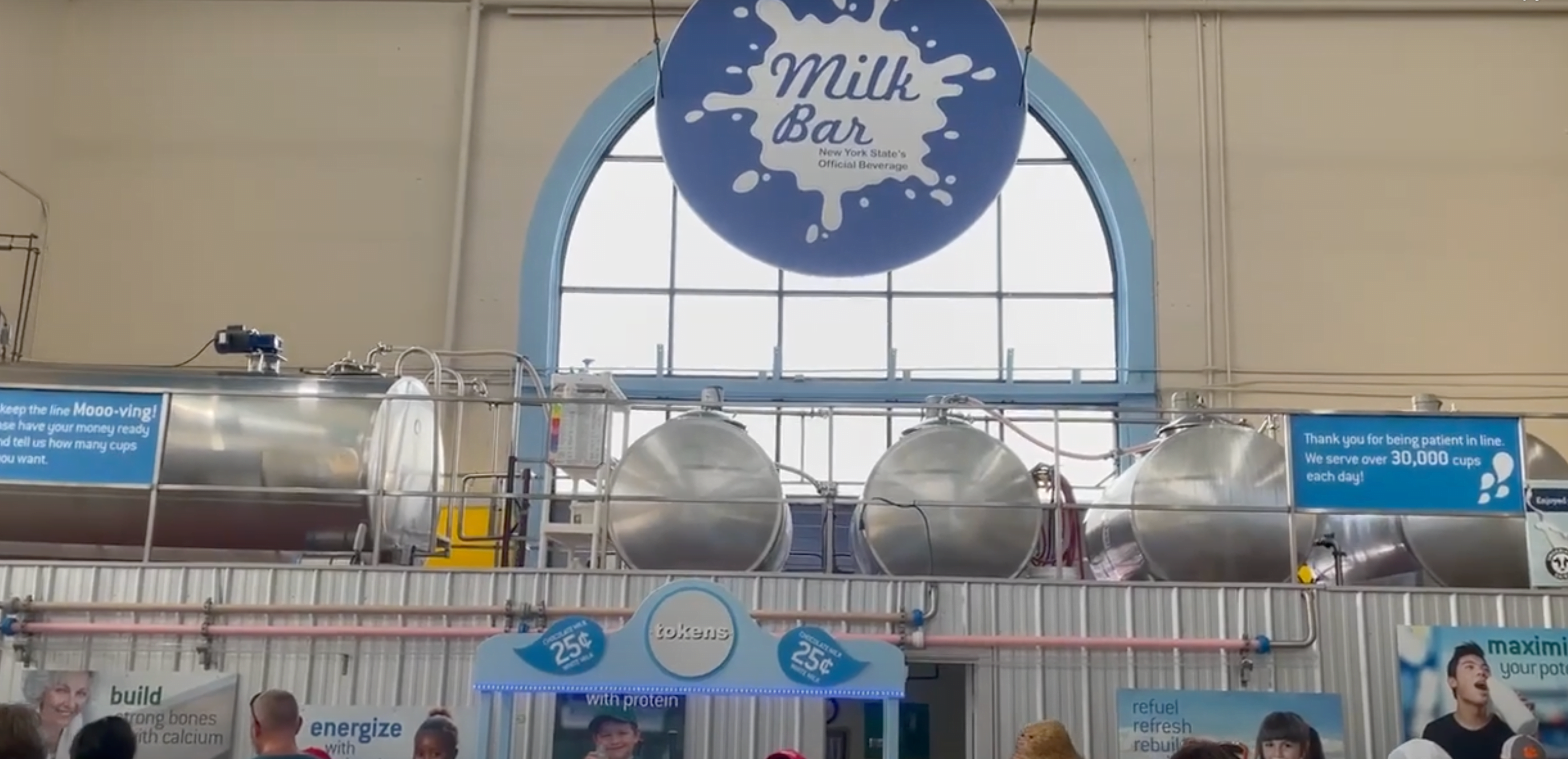 Plan Your Carefree, Car-Free Trip to the Fair
Going to the New York State Fair on Amtrak is easy and relaxing because you don't need to deal with traffic or parking. Here's a sample itinerary:

1.
Take Amtrak to
New York State Fair (NYF)
2.
Eat lunch inside one of the food pavilions or at one of the many concessions.
3.
Enjoy the rides and entertainment.
4.
Watch a parade or a cooking or agricultural demonstration.
5.
Tour the barns to see the blue-ribbon animals.
6.
Eat dinner.
7.
Watch a concert.
8.
Take Centro Bus to the
Embassy Suites Destiny USA hotel.
9.
The next morning, return to the fair, or shop and enjoy the entertainment at Destiny USA.
10.
From the fair (NYF), hop on Amtrak to head home. From Destiny USA, take the free hotel shuttle to Syracuse station (SYR), a block away.
Take Amtrak to the New York State Fair
Amtrak has continued its partnership with the New York State Fair to provide direct train service for customers traveling as a more convenient, cost-effective, family-friendly and comfortable way to travel to and from the Empire State's largest annual event between Wednesday, Aug. 23 through Monday, Sept. 4.
Skip tolls, traffic and parking fees, and arrive steps from the fairgrounds via select Empire Service (Trains 281, 283 and 284) and Maple Leaf (Trains 63 and 64) trains, which will make daily stops at the State Fair (in between stops at Rochester and Syracuse stations), adjacent to the Fairgrounds. The Amtrak station code for the New York State Fair is NYF.
Westbound trains originating in New York City stop at the Fair at 1:09 p.m., 4:17 p.m. and 7:06 p.m. Eastbound trains originating from Niagara Falls stop at the Fair at 9:21 a.m. and 2:26 p.m.
Tickets and Discounts
In addition to the Fair stop, Amtrak also offers a "Kids Ride 50% Off" promotion (one child's ticket is 50% off on the lowest available adult rail for each paying adult on the same itinerary). Or, use the "See New York and Save 15%" discount for 15% off your Amtrak ticket when traveling outside of NYC.
Tickets are available now at Amtrak.com, via the Amtrak mobile app, at station ticket counters or by calling 1-800-USA-RAIL. As always, customers will enjoy plenty of legroom, a generous luggage policy, and scenic routes. Amtrak also offers free Wi-Fi, the freedom to use phones and electronic devices at all times (no "airplane mode").
Amtrak has been offering train service to the New York State Fair since 2002. The New York State Fair, operated by the New York State Department of Agriculture and Markets, attracts more than one million people during the 13-day celebration of delicious food, eye-opening exhibits, captivating entertainment and great fun. The home of the Great New York State Fair is a 375-acre exhibit and entertainment complex that operates all year.