taryn delanie smith, rising
TARYN DELANIE SMITH on TikTok stardom, helping the homeless and touring the Empire State on Amtrak. What a Ride.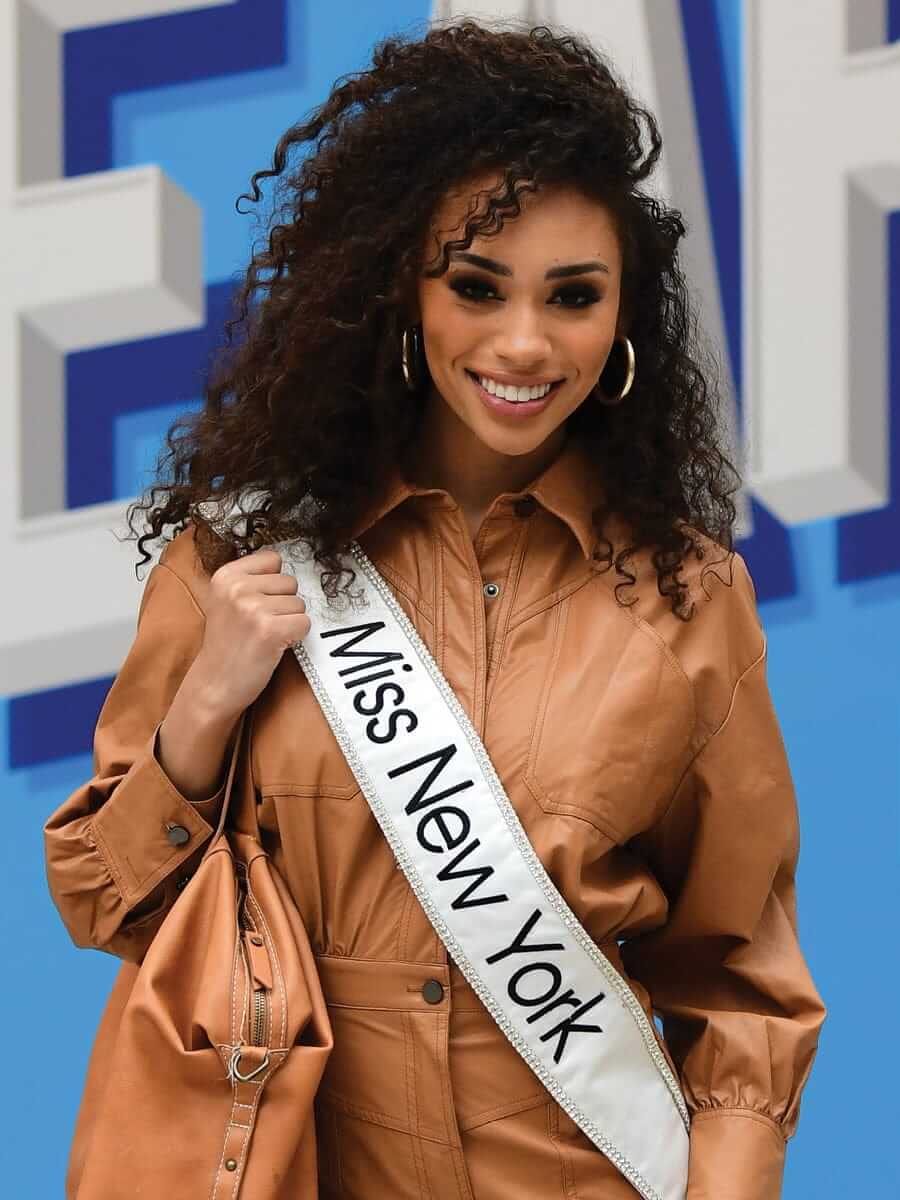 I don't consider myself a beauty queen." That's what Taryn Delanie Smith tells me during a recent phone call. "I actually hate the term." But here she is—the reigning Miss New York 2022, who also nabbed the title of first runner up in the 2023 Miss America pageant last December. Still, Smith—who, for the record, is undisputedly gorgeous—is deeply invested in the Miss America pageant world. "But I'm different. I think women often feel that to be celebrated or desirable, they have to act a certain way. Perfect. I reject that idea. Look at me: I'm a TikTok comedian. I'm silly. Goofy. Real." Her hair is real, too. In fact, she was the first Black Miss New York to be crowned with her natural (read: un-straightened) hair—a move that prompted an appearance on NBC's New York Live and other media outlets.
things have certainly changed in the 100 years since the first Miss America was crowned on an Atlantic City beach in 1921. In the early 1980s I would watch with my family, publicly rooting for our own Miss New York, but sometimes secretly wishing I had the long blond hair of a Miss Oklahoma. Years later as a reporter at People magazine, I was tasked with tracking down every living Miss America to mark the organization's 75th anniversary. I learned how the scholarships and community service are a big part of the organization; how some winners later lived obscure lives, while others used the title to springboard to an acting career, to marry a politician, even to become a TV anchor.
Smith has already ridden the pageant bandwagon to fuel her own rise from a childhood full of financial insecurity to become a TikTok sensation. "I was shocked when my first TikTok video went viral," says Smith, who now has a loyal following of almost one million people on the social media site. Growing up with three older brothers and her single mom in Seattle, Smith was always a "girly girl" who loved to sing and dance. Still, she was surprised when a teacher heard her sing in a talent show and said: 'I think you can be Miss America.' At 17, Smith competed for Miss Seattle—and won.
"That was my introduction to what this job is like," says Smith. "I started volunteering in homeless shelters." She used the scholarship money to attend community college, becoming the first female in her family to go to college. In 2018 she transferred to St. John's University in New York City. "This was a lifelong dream. Growing up, I had pictures of New York on my walls, and when my teachers would ask: 'What do you want to do when you grow up? 'I'd say, 'I wanna live in Manhattan.'"
While waitressing and studying international relations at St. John's, Smith was bit by the pageant bug again. She competed to be Miss New York City and took the crown on her first shot. But a snag soon arose: the Covid-19 pandemic. "Everything got postponed—I was Miss New York City for two years." In 2021 the Miss New York competition resumed; Smith was the first runner up. "But by that point I had aged out of the system and would be too old to compete the following year. I was devastated. I couldn't believe I was never gonna be Miss New York."
But fate intervened again. It was announced that because of the pandemic, they raised the age limit one year so potential contestants could try again. So on May 29, 2022, at the Paramount Theatre in Peekskill, NY, Smith aced her 10-minute political interview and wowed the judges with her white Jovani gown and soulful rendition of the Etta James classic, "Something's Got a Hold on Me." And her glorious curly hair flew free. "I knew this was my last year competing, so I thought: just be yourself. It was the first year that I felt completely at peace. I wasn't worried. I was ready for the job of being Miss New York."
The judges knew she was ready, too. Smith wasn't surprised, although overcome with emotion, when she heard her name called as Miss New York 2022. "I knew this was my destiny."
According to Smith, the Miss New York job starts that very same night. "You're whisked off to a party and you meet the board and all the sponsors," she says. "Within a couple days your life changes. They brought me a wardrobe. They started planning my tour. I met with the folks that publish New York By Rail. And you start your preparation for Miss America as well."
Smith had already been an advocate for children and families experiencing homelessness. As Miss New York City during the pandemic, she continued her regular work in shelters. As Miss New York, she turned the power of her platform to continuing to raise awareness—and funds. "I work with the mayor's office. I not only volunteer with shelters but I speak with the shelter directors to find out how we can support them better. Besides that, a lot of my job is taking calls, answering emails and helping to plan fundraisers."
But one of her favorite parts of the job—"and this is a job, Olivia," she tells me— is fulfilling the Miss New York organization's partnership with New York By Rail. "Touring the state by train has been one of the most unique, incredible experiences of my life," she says. With a companion—a photographer or an official Miss America chaperone—Smith has already departed from Manhattan's Daniel Moynihan Train Hall for three trips that took her to Albany, Schenectady, and Lake Placid—as well as countless small towns along the way. "I've met hundreds of people. I've hugged hundreds of people. I've heard so many stories. I can't express to you how transformative this has been for me," she says. "It's made me more compassionate. There are so many different perspectives and different ways of life all coexisting in
one state."
Smith toured the New York State Capitol Building in Albany—"one of my favorite experiences," she wrote in a blog. The five-story granite building, which resembles a French chateau, is a National Historic Landmark. She also happily walked to check out the other buildings in the Empire State Plaza, including the New York State Museum and the Egg Performing Arts Center.  She was surprised at how much she liked the city. "Exploring the cobbled residential streets downtown felt like I was in a romantic small town from a novel," she wrote. 
Smith took in Lake Placid from the cozy base of the four-star Mirror Lake Inn Resort & Spa.  A self-confessed city gal, she enjoyed the peace of the beautiful snow-capped Adirondack Mountains and was equally impressed by touring the home of abolitionist John Brown. "Every place I go becomes deeply personal. It's not just showing up, taking photos and moving on," she says. "No, It's very intimate. I eat meals with locals and hear their stories. I get to know the community. It's a privilege to get to travel through New York State like this." 
In Schenectady, Smith "was greeted by a town from a Hallmark movie. Victorian-style homes and businesses lined the tidy streets" she wrote in her blog.  She took in a show at the historic 1926 Proctors Theatre and went on a walking tour that outlined the city's interesting history. "How did I not know Thomas Edison founded General Electric here?," she wrote. (Although I confess to not knowing this juicy tidbit either.) Smith went through "Van Gogh, the Immersive Experience," and admitted that she enjoyed the historic Armory building where it was held just as much as the show. But Smith didn't just play tourist—she immersed herself in the community by marching with the local YWCA in the city's annual holiday parade in November. "The way she connected with the folks, she was so authentic. She really seemed to enjoy herself and to enjoy talking with the people she met along the way," says Todd Garofano, Executive Director of Discover Schenectady. "She would kneel down to talk to young girls at their their level—eye to eye, face to face. She'd let the little girls wear her Miss New York sash. She was very engaging."
Actually riding on the train excites Smith, who says she chats with other passengers and works on her computer, editing content or answering emails. She's also become a champion at putting on her makeup while on board. "I just find it so romantic. It's a great way to travel and it's honestly much better for the environment than driving all over the state or flying. It's so freaking cool. I can't wait to tell my kids about this one day."
Another highlight of Smith's year: meeting the most famous Miss New York. "I remember seeing Vanessa Williams doing slapstick comedy on the "Fresh Prince of Bel Air" when I was a kid. It was the first time that I saw this beautiful Black woman who was also funny. I remember thinking, 'That's what I want to do; that's who I want to be.'"
The two women crossed paths on the red carpet at an event at the New York Philharmonic. "She was so cool. Everybody was there to see her, of course, but she insisted we walk together. She kept telling all the media outlets—'Hey, this is Miss New York.' She was pure class."
Best Buddies: Smith hangs out with her dog, Bruce.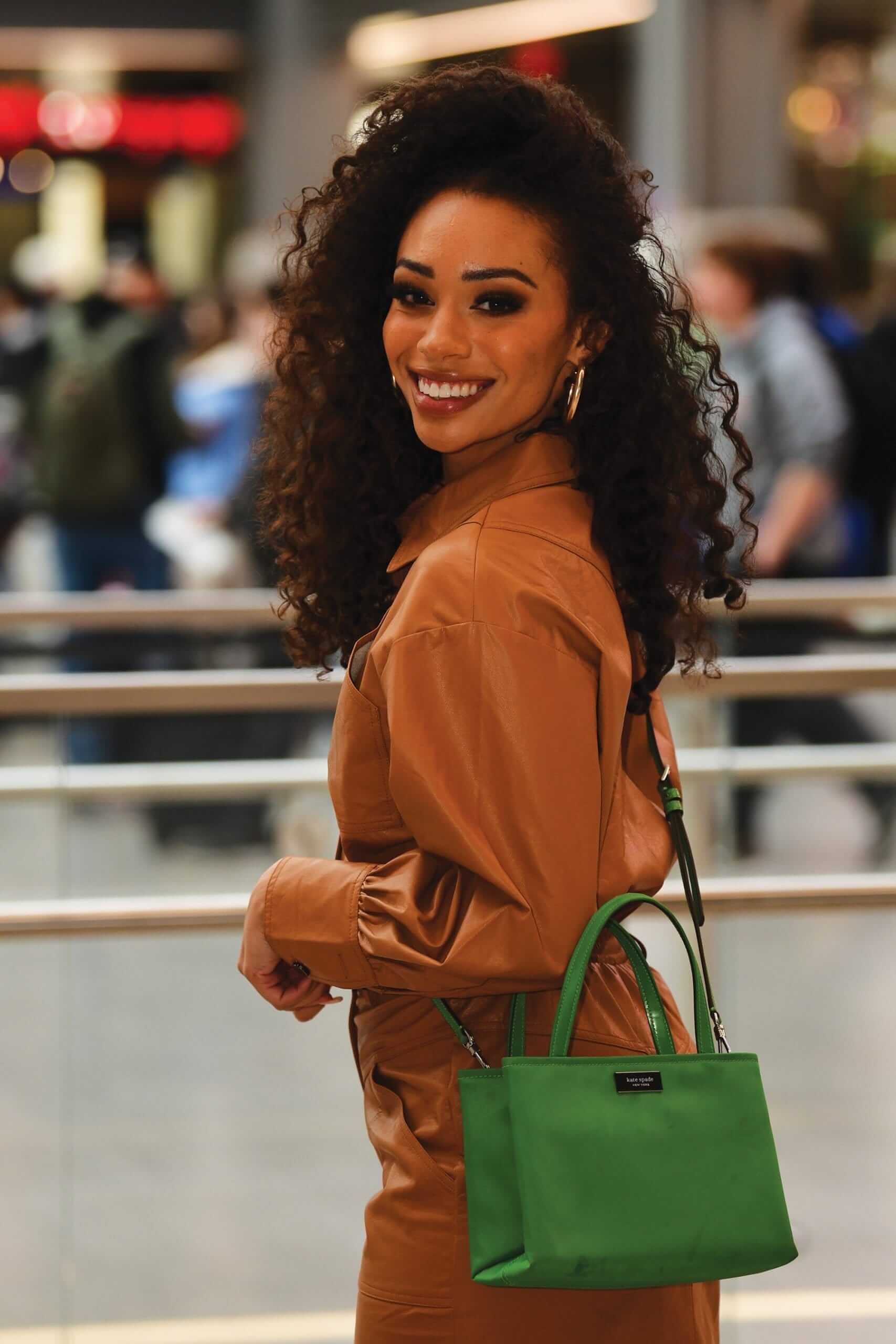 In December, Smith took being number two in the Miss America Pageant in stride. "I was chilling," she says. "And while it would've been this immense honor to be Miss America, I honestly felt more called to being Miss New York." The friendships with the other contestants have been a big perk, too. "You're all locked together for a week; you get really close; it's like a big summer camp. We talk about our lives and our home states. Everyone joked that it was obvious that I'm from New York because I'm really impatient and loud. Miss Mississippi, Miss Tennessee and Miss Arizona are actually coming to New York; I'll host them. It's like I've got 50 new bridesmaids."
When I ask Smith if she is recognized when she is out and about in New York City, she says yes—but attributes much of it to her dog, a blue European Great Dane. "He is the real celebrity. His name is Bruce and he's only a year old—but 165 pounds. He's huge, "she says. "People jump out of their cars to take photos of him. I guess many New Yorkers haven't seen a small pony-sized dog before. I walk him all over Manhattan."
In June, Smith will place the crown on her successor's head. What's next for the rising star? "I'd like to continue creating great content and hopefully host my own show. I'm an an entertainment personality," she says. "But you know, I'd also love to be a chaperone with the next Miss New York as she travels the state on Amtrak. That would be awesome.
Click below to read more about Taryn's New York Adventures