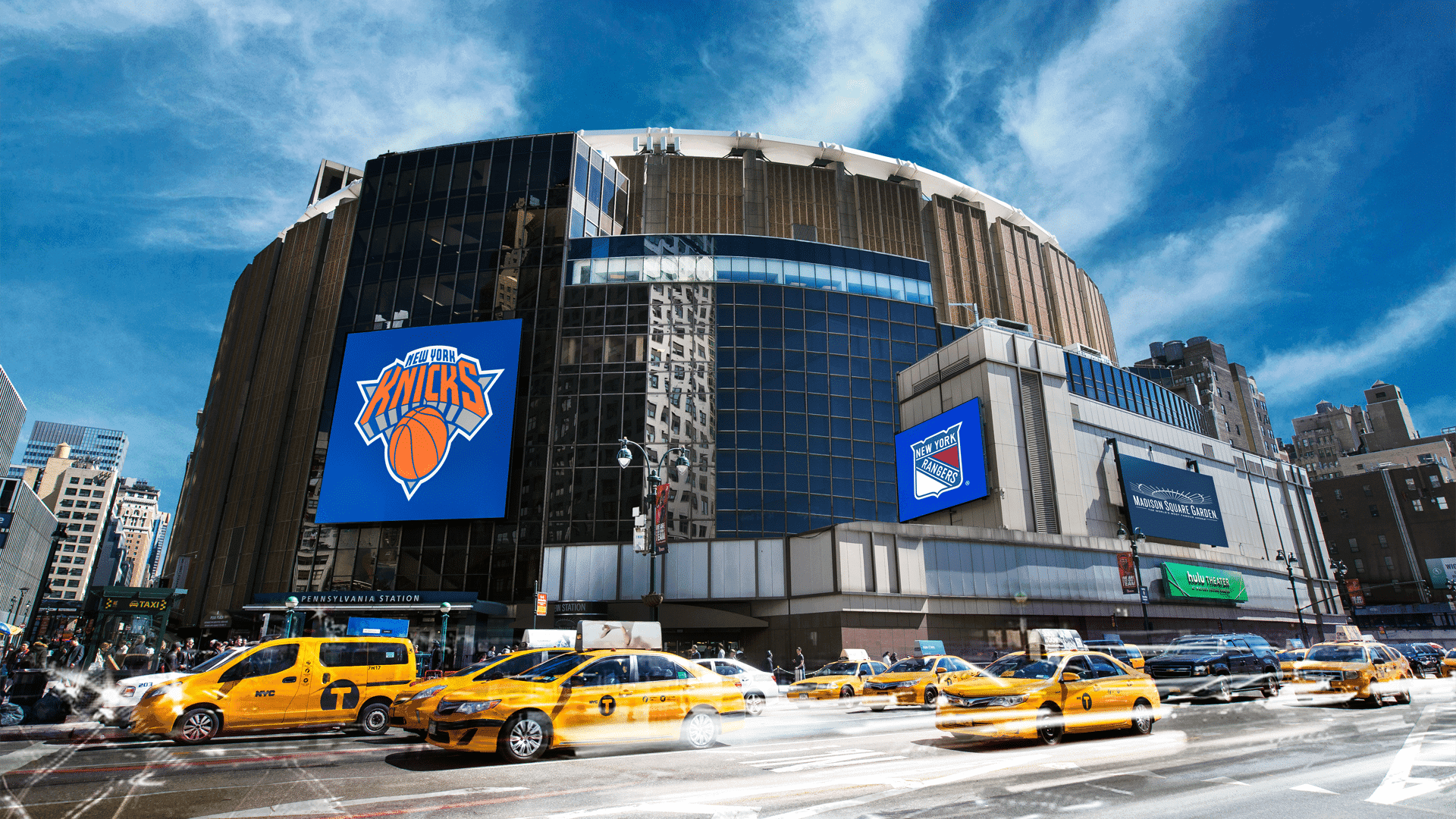 The World's Most Famous Arena, Madison Square Garden in New York City. | Photo Courtesy of Madison Square Garden
Walking through the doors of "the world's most famous arena" imposes an unrelenting feeling of excitement. Even on quieter, off-days when there aren't any games or concerts to be played, the energy remains. A lifelong New York Rangers fan, just a stroll past the Garden elicits memories of walking the concourse with my dad, the roar of the crowd after a goal scored and witnessing hockey greats like Wayne Gretzky, Mark Messier and Mike Richter take to the ice. So, when the opportunity to experience the Madison Square Garden All Access Tour presented itself, to say I leapt at the opportunity would be an understatement.
On the behind-the-scenes tour of Madison Square Garden, you'll visit the home of the New York Rangers and New York Knicks, learning about iconic moments that have made sports and entertainment history. Perusing the main concourse—now a full-fledged exhibition of "Defining Moments" and historic MSG memorabilia, our guide shares notable events throughout the arena's illustrious past, like the "Fight of the Century" between Muhammad Ali and Joe Fraiser, John Stark's famous dunk over Michael Jordan and Wayne Gretzky's final game in the NHL.
Photos border the ceiling throughout the hall. Part of Garden 366, each image chronicles one thrilling moment in Garden history for each day of the year—the oldest dating back to 1879! There's even an interactive display offering more information for each notable event. Naturally, I had to give it a try. Scanning through MSG's vast history, I discover that Black Sabbath had played the arena with Van Halen on my birthday nearly 15 years before I was born.
Above Garden 366 is "Celebrity Row" and the Lexus Level suites. Entering one offers a real feeling of luxury. The intimate space accommodates up to 24 people, offers a premium food menu from signature chefs and sommeliers, a private bathroom and suite attendant, and a guaranteed, incredible view of the event below. We're a bit early, but we catch a glimpse of MSG crew constructing the stage for that night's J. Cole concert.
We're given a moment to recline and take in the view of the empty arena. Our guide points out additions from Madison Square Garden's 3-year, $1 billion renovations between 2011 and 2013.
As we exit the Lexus Level, we take a complimentary video. MSG staff offers us New York Rangers and Knicks gear, hockey sticks, basketballs, boxing gloves and more as we step in front of a large green screen to say "MSG!"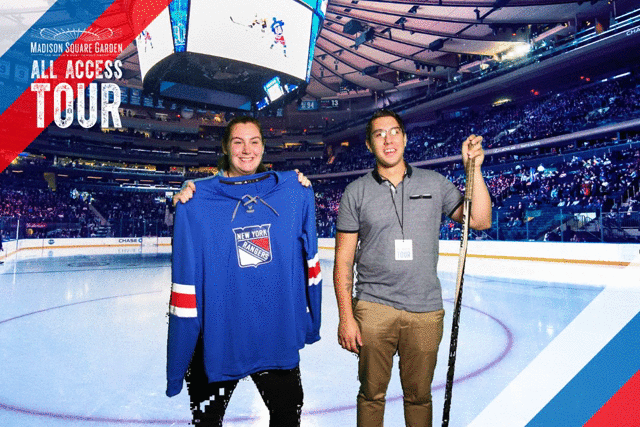 Grab memorabilia from your favorite team and take home a complimentary video! | Video Courtesy of Madison Square Garden
Beyond the suites awaits more MSG collectibles, like Elton John's autographed set list, the liturgy book for the Papal Mass of Pope Francis, Dave Matthews' guitar and so much more. More interactive exhibits are available, too! Put your goalie reflexes to the test and compete against Henrik Lunqvist—let's just say I'm no match for the King, compare your hand size against Knicks legends, assess your boxing strength and answer concert trivia. There's also an incredible, new VR experience that puts you center-stage at one of Billy Joel's 102 performances at the arena—it is surreal.
Heading atop the Chase Bridge, I'm in awe. Looking outward, eye level with New York Rangers and Knicks championship banners, the 233-foot suspended platform offers some of the most distinctive views of any arena in the world.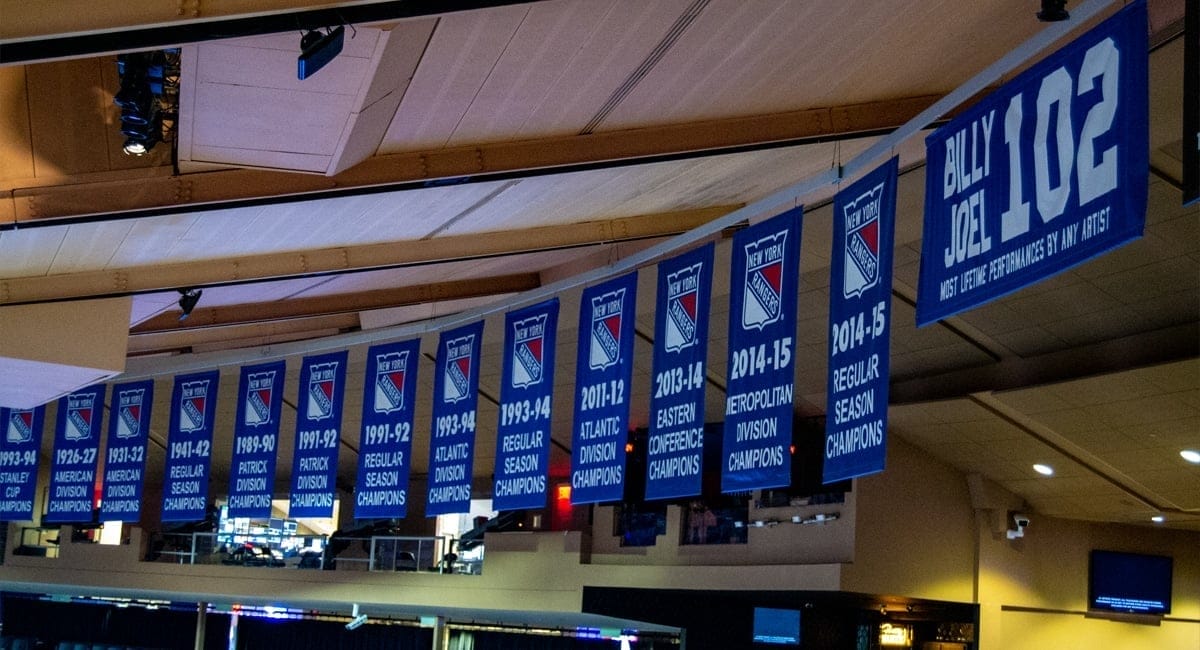 Atop the Chase Bridge, fans are eye-level with team pennants. | Photo Courtesy of Andrew Frey
The finale of the tour is a unique opportunity to see the New York Knicks and New York Rangers locker rooms. This is by far the highlight of the experience. Unfortunately, there aren't any athletes around during our visit.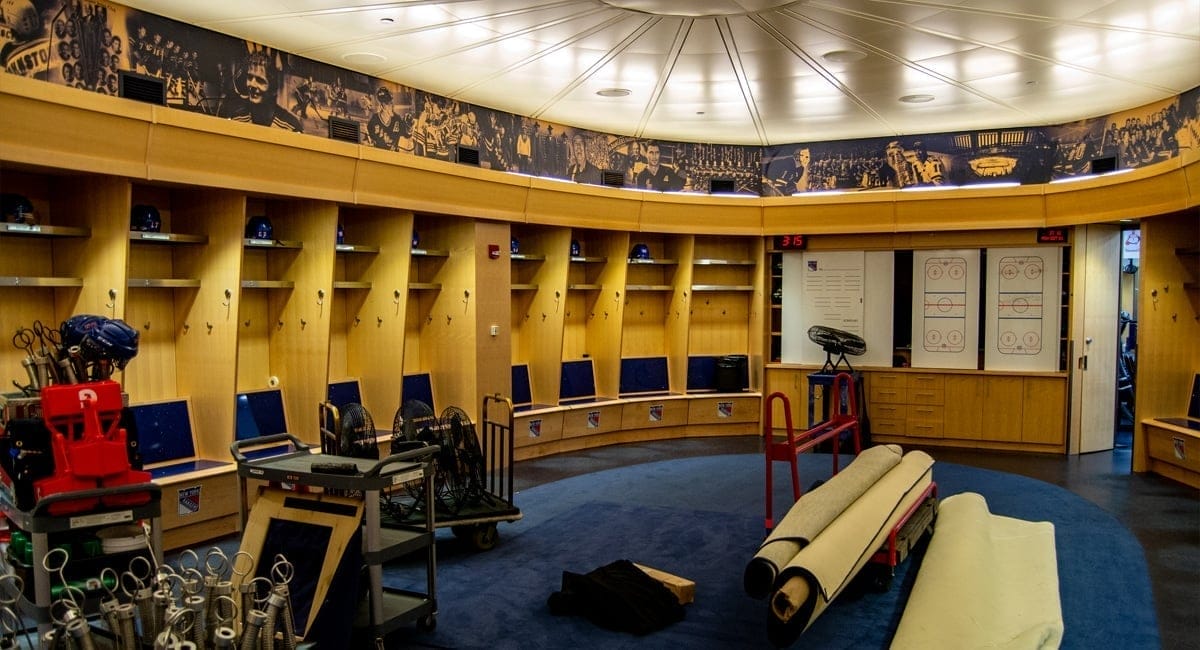 The New York Rangers locker room being prepped for the 2018-19 season. | Photo Courtesy of Andrew Frey
Madison Square Garden All Access Tour Information
The Madison Square Garden All Access Tours run daily from 9:30 a.m. to 3 p.m. and 12:15 p.m. to 3 p.m. on Knicks days.* Tours last approximately 75 minutes. Tour times are subject to change due to venue activity. Please call 212-465-6000 in advance of your tour to confirm hours of operation.
Adults tickets cost $35, children (12 & under), students (with valid ID) and seniors (65 and older) cost $30.
Savings for groups 15+ available! For more information on group tickets, call 212.465.6080 or email Group.Sales@msg.com.
Tours will be closed on:
January 11, 12, 18
February 1-2, 16-17, 29
March 1, 7, 12, 22
April 4-5
June 21
Please note tour hours will be 9:00 a.m. – 1:30 p.m. on Saturday, October 5
*English guided tours depart every half hour. Spanish guided tours depart at 10:15am, 12:15pm and 2:15pm.
Take Amtrak to Madison Square Garden
Experience the legendary Madison Square Garden via Amtrak to Penn Station in New York City—Don't forget to use the Amtrak See New York and Save 15% discount! Madison Square Garden is located right above Penn Station, steps from the Long Island Rail Road entrance between 31st and 33rd Streets on 7th Ave.
Other Madison Square Garden Tours
MSG All Access VIP Tour – A private tour for up to 20 people, the VIP tour is an extended version of the MSG All Access Tour and includes at least one of the following bonus stops: An expanded view of the Garden 366 retrospective, the complete Defining Moments exhibit, memorabilia in the Signature Level and the private media section on the Chase Bridge.
Knicks City Dancer Class | MSG Tour Combo – Madison Square Garden is offering the unique opportunity to train with the world-famous Knicks City Dancers. Private classes, taught by a current Knicks City Dancer, are now being offered. For experienced dancers to first-timers, we will tailor a class specifically designed to meet your needs. Guests will not only work out and train like a Knicks City Dancer but will learn the actual choreography they perform on the court. Whether you're looking for advanced technical training or a fun, new experience, this class is an opportunity that you don't want to miss.
MSG Educational Tour – The Madison Square Garden Educational Tour includes the All Access Tour plus a meet-and-greet with a member of our corporate or production team! The speaker will talk about their background and hold a Q&A session.
Lincoln Center Combo Tour – Tour two of New York City's most iconic venues—Madison Square Garden and Lincoln Center—for the ultimate insider experience.
Sports at Madison Square Garden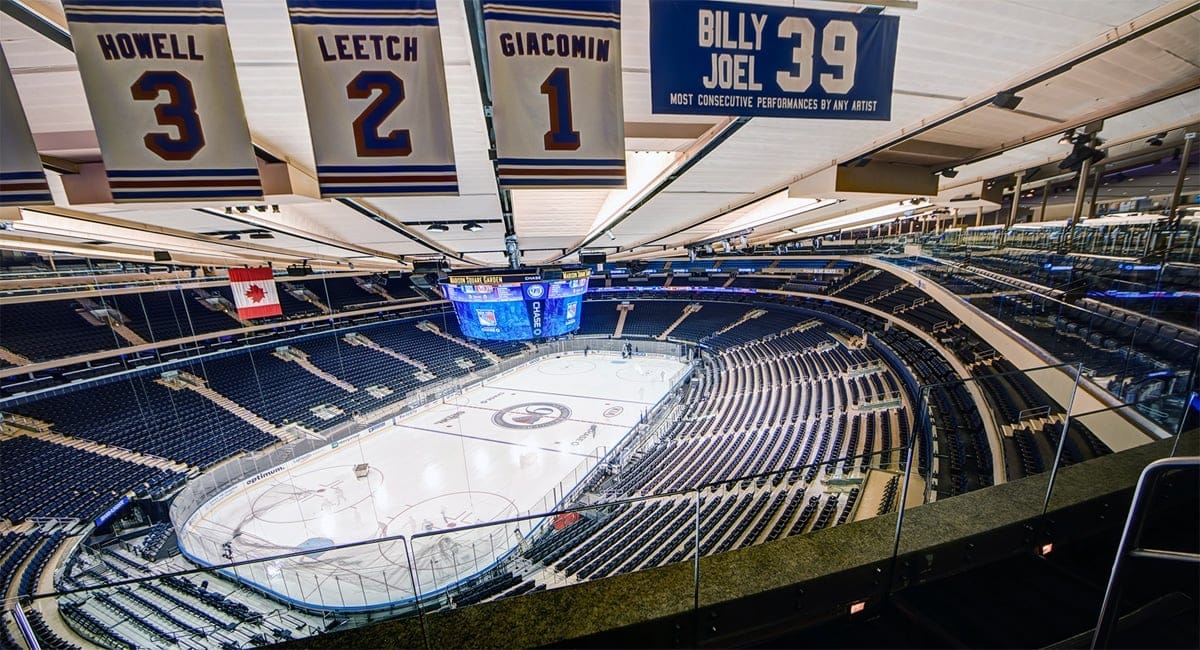 New York Rangers
4 Pennsylvania Plaza, New York, NY 10001
Having joined the NHL in 1926, the New York Rangers are an Original Six hockey team and one of the oldest franchises to compete for the Stanley Cup.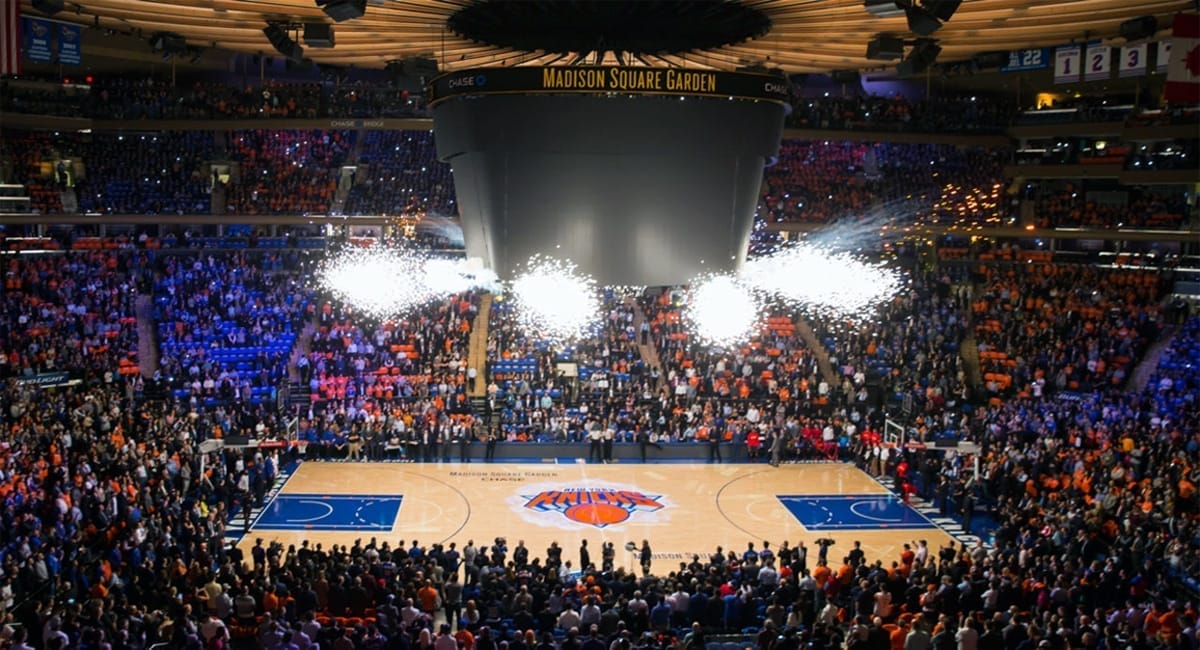 New York Knicks
4 Pennsylvania Plaza, New York, NY 10001
Established in 1946 as part of the Basketball Association of America, later becoming the NBA in 1949, the New York Knicks are one of the oldest teams in the league, active for over 70 years.
Other Madison Square Garden Venues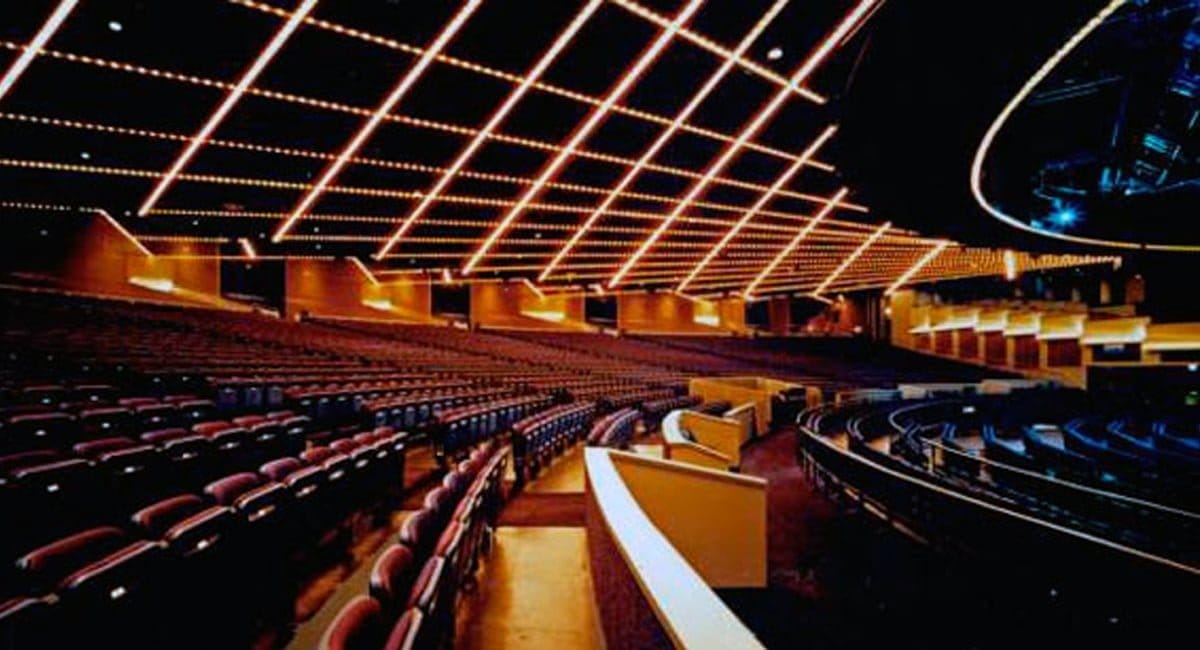 Hulu Theater at Madison Square Garden
4 Pennsylvania Plaza, New York, NY 10001
For more than 40 years the versatile, 5,600-seat Hulu Theater at MSG has hosted major events from The Who, Bob Dylan and Elton John to a variety of sporting events, family shows and special events like boxing, the NBA Draft; ELF The Musical, The Daytime Emmys and more.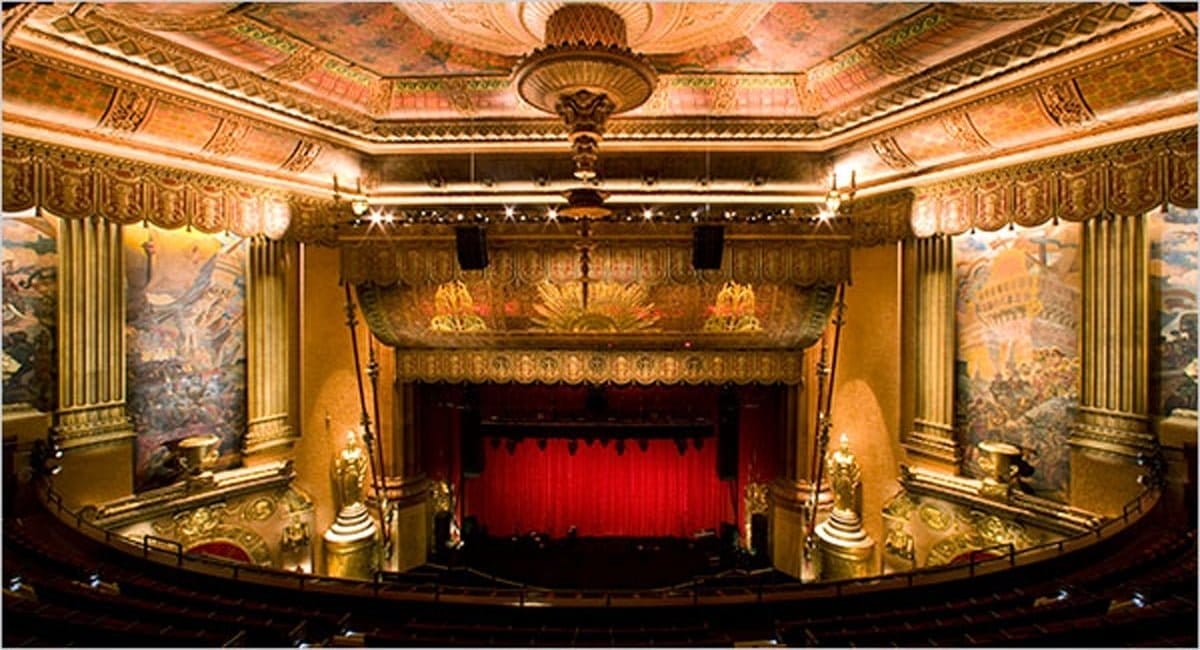 The Beacon Theater
2124 Broadway, New York, NY 10023
This legendary, 2,600-seat venue was built in 1929 and designed in the art deco style of architect Walter Ahlschlager. Many of the greatest names in music have played The Beacon Theater, including the Rolling Stones, Steely Dan, Tom Petty & the Heartbreakers, Coldplay and many more.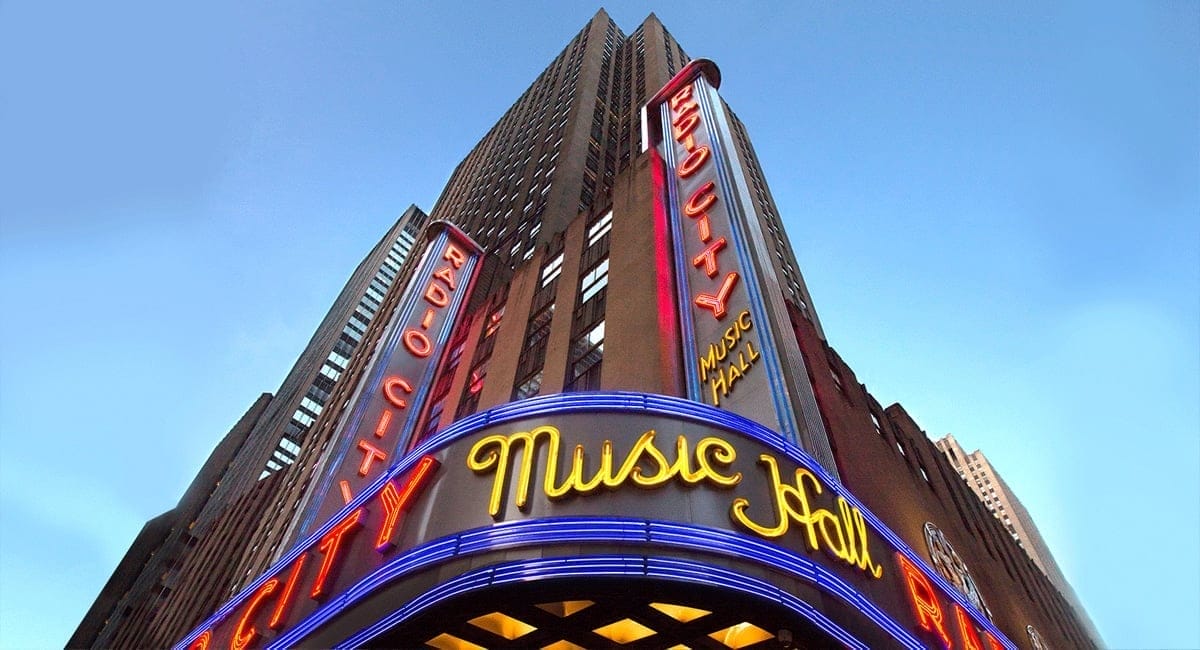 Radio City Music Hall
Not only a national landmark, but an integral part of the heart and soul of New York City, Radio City Music Hall is known as "The Showplace of the Nation" and is the largest indoor theater in the world.