This 1838 Gothic Revival mansion on the banks of the Hudson River in Tarrytown, once a private home, welcomes visitors who can explore the beautiful castle, as well as the 67-acre grounds. The site is also used for weddings, special events and has been features in several movies.
History of the Lyndhurst Mansion
Designed in 1838 by Alexander Jackson Davis, this architecturally-brilliant mansion was shaped by three different families and their staffs: the Pauldings, the Merritts, and the Goulds.  Jay Gould, a renowned railroad tycoon bought the mansion in 1880 as a country home; he lived there until his death in 1892. In 1961, Gould's daughter donated it to the National Trust for Historic Preservation. The house was designated a National Historic Landmark in 1966.
Visiting the Lyndhurst Mansion
The mansion is open through the end of October; there are multiple guided tours to choose from.  First-time guests may opt to choose the  one-hour Classic Mansion tour, which explores the first and second floors and includes entry to occasional special exhibitions. You'll visit 16 rooms, climb one staircase, ooh and aah at the Civil-War-era dining room and impressive Tiffany stained glass windows. The Upstairs/Downstairs tour visits unique mansion spaces such as the observation tower, kitchen, laundry building, and servant spaces.
The Inside/Outside Tour: From Mansion to Bowling Alley. This 90-minute tour takes you through the mansion's two main floors and then outside where you'll see an elaborate treehouse and rare trees and gardens, as well as the restore 19th century bowling alley.
Guests can also opt to explore the Lyndhurst grounds on their own with a Daily Grounds Pass.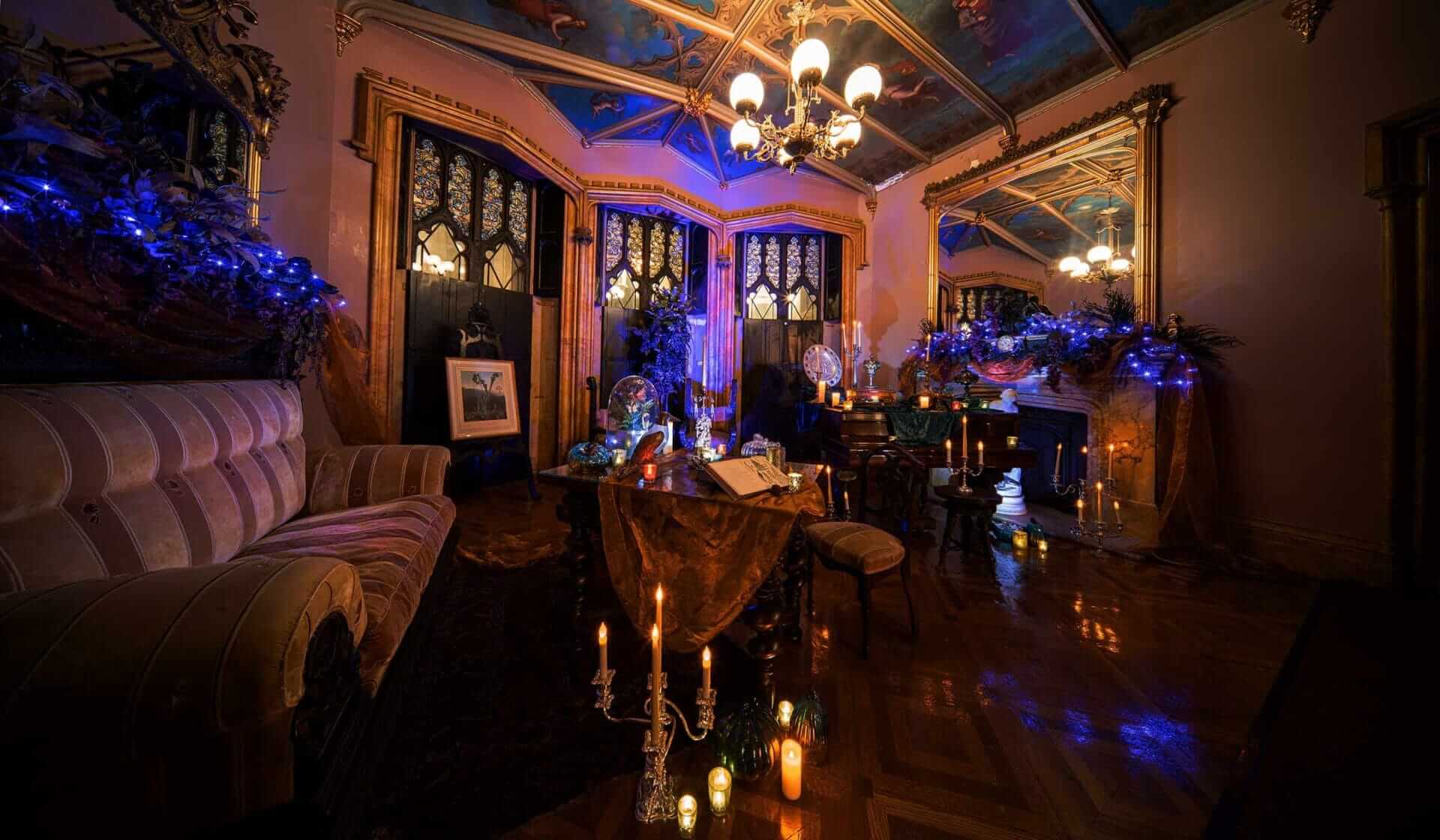 Experience the history of the Mansion and explore Victorian lore in the glow of an October evening. Visitors will get a chance to experience the architecture, decor, and collection items on display while listening to performers regale about the traditions of the past. New in 2023: this tour will now include the mansion kitchen and guests will need to traverse narrow stairwells. This event is not recommended for children under age 10.