18nov5:00 pm2023 Schenectady Holiday Parade5:00 pm Schenectady NY
Event Details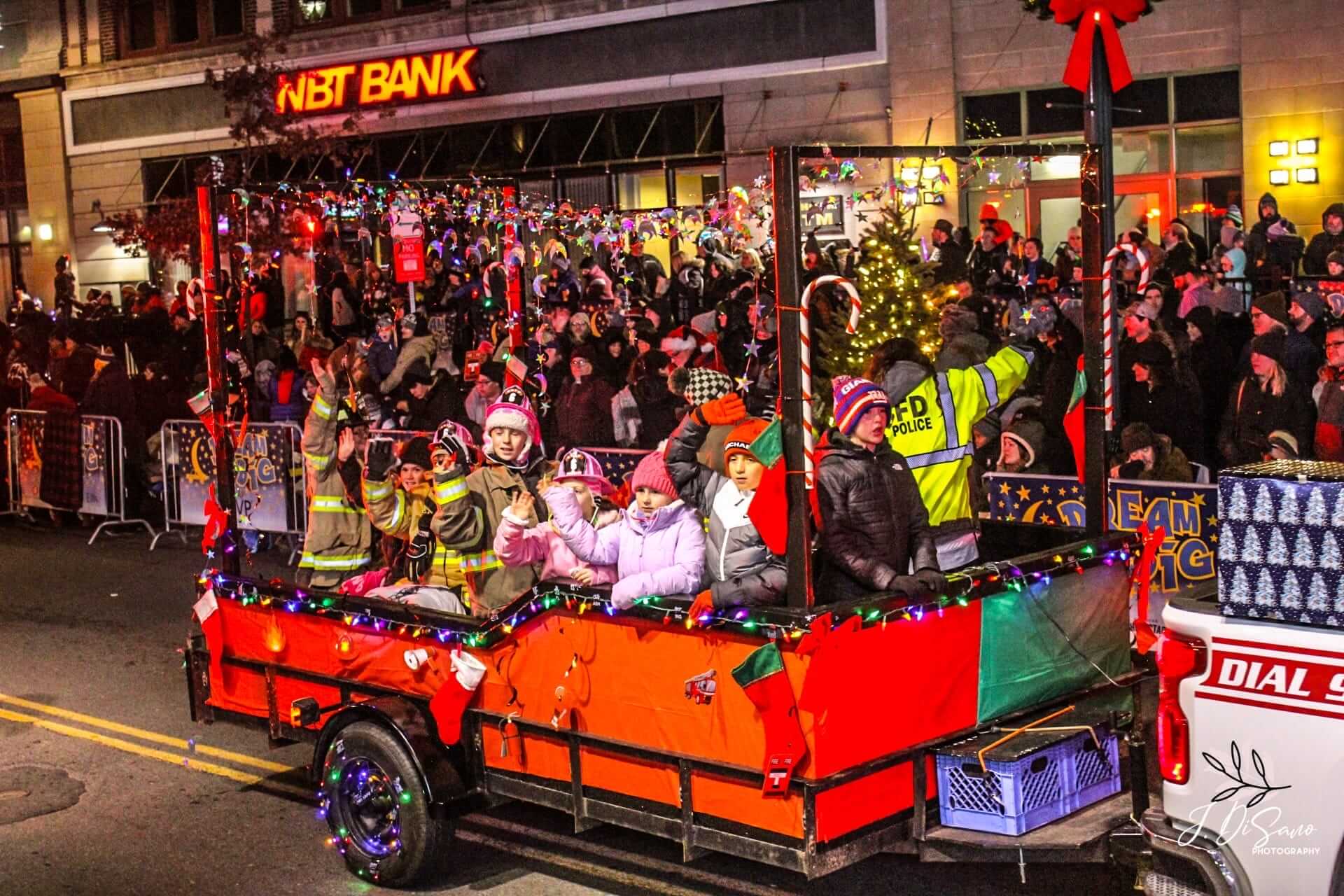 2023 Schenectady Holiday Parade
The largest nighttime holiday parade in the Northeast will take place in downtown Schenectady on Saturday, Nov. 18, 2023. Dozens of sparkling floats, glittering firetrucks, marching bands, dance troupes, and a special visit from Santa Claus will provide fun for the whole family.
2023 Schenectady Holiday Parade Grand Marshal and Theme
This year's Grand Marshal will be the 109 Airlift Wing, a unit of the New York Air National Guard, stationed at Stratton Air National Guard Base in Schenectady. The wing's mission is to provide airlift support to the National Science Foundation's South Pole research program by flying LC-130H Hercules airlifters, modified with wheel-ski gear, in support of Arctic and Antarctic operations. The 109th Airlift Wing is the only unit in the world to fly these aircraft.
This year's parade theme is "a New York State of Mind. "We can't wait to see how the community unleashes their creativity with this," says Anthony Jasenski, Chair of the Schenectady County Legislature.
The Parade is an iconic event that kicks off the Holiday Season
"We are thrilled to announce the return of the 54th Annual Holiday Parade to Downtown Schenectady," Mayor Gary McCarthy said in a press release. "This iconic event has long been an annual highlight in Schenectady, offering our residents and visitors a wonderful opportunity to come together with family, kick off the holiday season, and show their support for our local restaurants and businesses as they take part in this joyous occasion."
Last year, the reigning 2022 Miss New York, Taryn Delanie Smith, marched in the parade with the local YWCA. Read about her experiences here.
So, stroll down State Street, grab a hot cup of cocoa or a bite to eat at your favorite restaurant, start your holiday shopping at the Jay Street Outdoor Marketplace. Or come early and dance in the streets at Schenectady County's Holiday Block Party!
The parade starts at 5:00 pm at SUNY Schenectady.
Take Amtrak to the 2023 Schenectady Holiday Parade
Attend the largest nighttime holiday parade in the Northeast via Amtrak to the Schenectady Station (SDY). Don't forget to use the Amtrak See New York and Save 15% discount! The station is only 0.4 miles from the start of the Parade at SUNY Schenectady.