Here's the plain truth: an overnight is really not enough time to explore Burlington, VT. This funky university town, situated on the shores of Lake Champlain, just two hours south of Montreal, buzzes with fun all year round. From art galleries and unique museums to boat rides and bicycle paths, from an amazing food and brewery scene to a cool pedestrian shopping area, there are endless opportunities for enjoyment in the Queen City. 
On your first full day in Burlington; you can start exploring this pretty city by foot. Or even better—by bicycle. Get out on the 8-mile Greenway bike/walk path; the paved path (with shoulders for runners and walkers) crosses through beaches and parks and offers endless views of the Lake Champlain shoreline. While you can bring your bicycle on Amtrak, there are several bike rental outlets along the way. The northern end of the Greenway features a few miles of packed gravel on a narrow causeway over western Lake Champlain, making for a spectacular view. Take the seasonal Bike Ferry to continue riding into the Champlain Islands.
Once you're done with your ride, stop at the stop at the engaging ECHO Leahy Center for Lake Champlain—which is dedicated to all things science-related regarding Lake Champlain.  There are lots of hands-on activities here, 3D nature films, live demonstrations with animals, etc.  
Head to the Church Street Marketplace, the city's renowned, brick-paved pedestrian shopping area, for lunch, people watching, shopping and oohing and aaahing at the many murals and art installations. We like Leunig's Bistro & Cafe, Church Street Tavern, and Laliguras, an outstanding Indian-Nepali restaurant that opened in 2022. But there are dozens of restaurants to choose from, including the dog-friendly organic cafe, Cosmic Grind. If you are an ice cream fan, you'll want to stop by Ben & Jerry's original store, first opened right here on Church Street in 1978. Shop at national chains as well as small, local boutiques. Outdoor cafes, street vendors and entertainers keep things lively long after sundown.
If you happen to be in town on a Saturday, you'll want to head to the south end of town to stop by the bustling Burlington Farmers Market, held from late spring through the fall season.
Festivals abound year-round. In the summer, the Burlington Wine & Food Festival and Vermont Brewers Festival, are both great ways to experience some of the best food and drink anywhere—all while watching a one-of-a-kind Lake Champlain sunset. 
The ideal way to wrap up a Burlington Day is with a sunset cruise on the Spirit of Ethan Allen. This 2.5-hour casual trip comes with dinner, and of course, tasty cocktails, and allows you to see the Lake from a whole new perspective.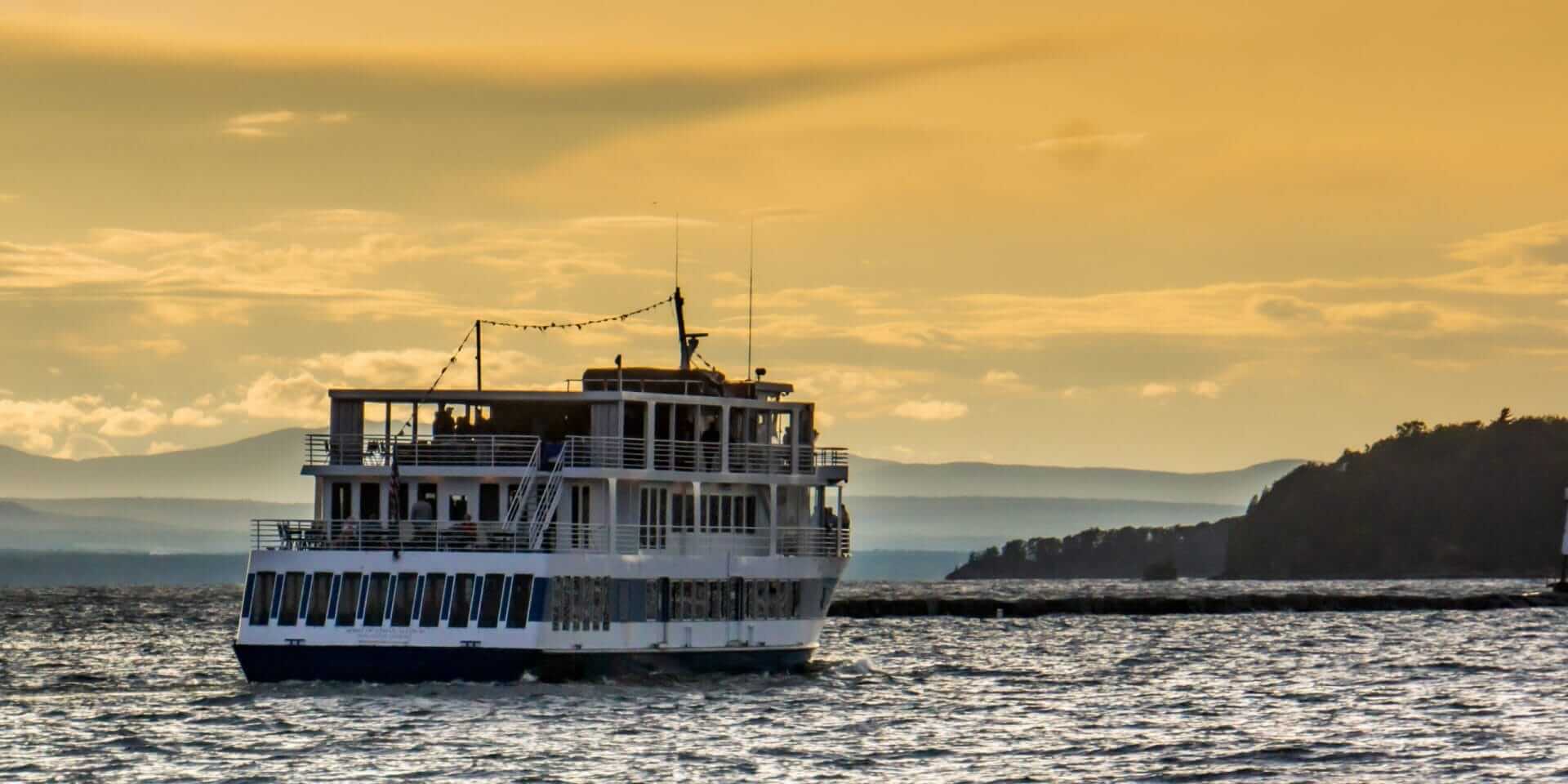 Should an overnight not be quite enough, and you are lucky enough to be able to squeeze in one more day, rent a car and stop at the Ethan Allen Homestead, right on the edge of the city. (Just FYI, you'll hear the name "Ethan Allen" an awful lots while you are here. So, who is he? Ethan Allen was a soldier and leader of the Green Mountain Boys during the American Revolution. After fighting in the French and Indian War, he settled in what is now Vermont.) Here, you can take a tour of the 235-year-old house, check out a wide range of exhibits, explore the gardens and more. 
Next, head seven miles south to the little lakeside town of Shelburne. Allow at least two hours to explore the one-of-a-kind Shelburne Museum, which focuses on folk art, history and design. Ramble around the different building scattered across 40 acres discovering little treasures and unique bits of Americana for yourself.
Fuel up at Rustic Roots, a simple but outstanding eatery featuring all fresh food and home-cured meats. (Don't miss the popovers.) At Shelburne Farms you can check out the store, walk on 10 miles of trails and learn more about cheesemaking and sustainable farming. End your getaway with oohs and aahs: take a tour at the world-renowned Vermont Teddy Bear Factory.