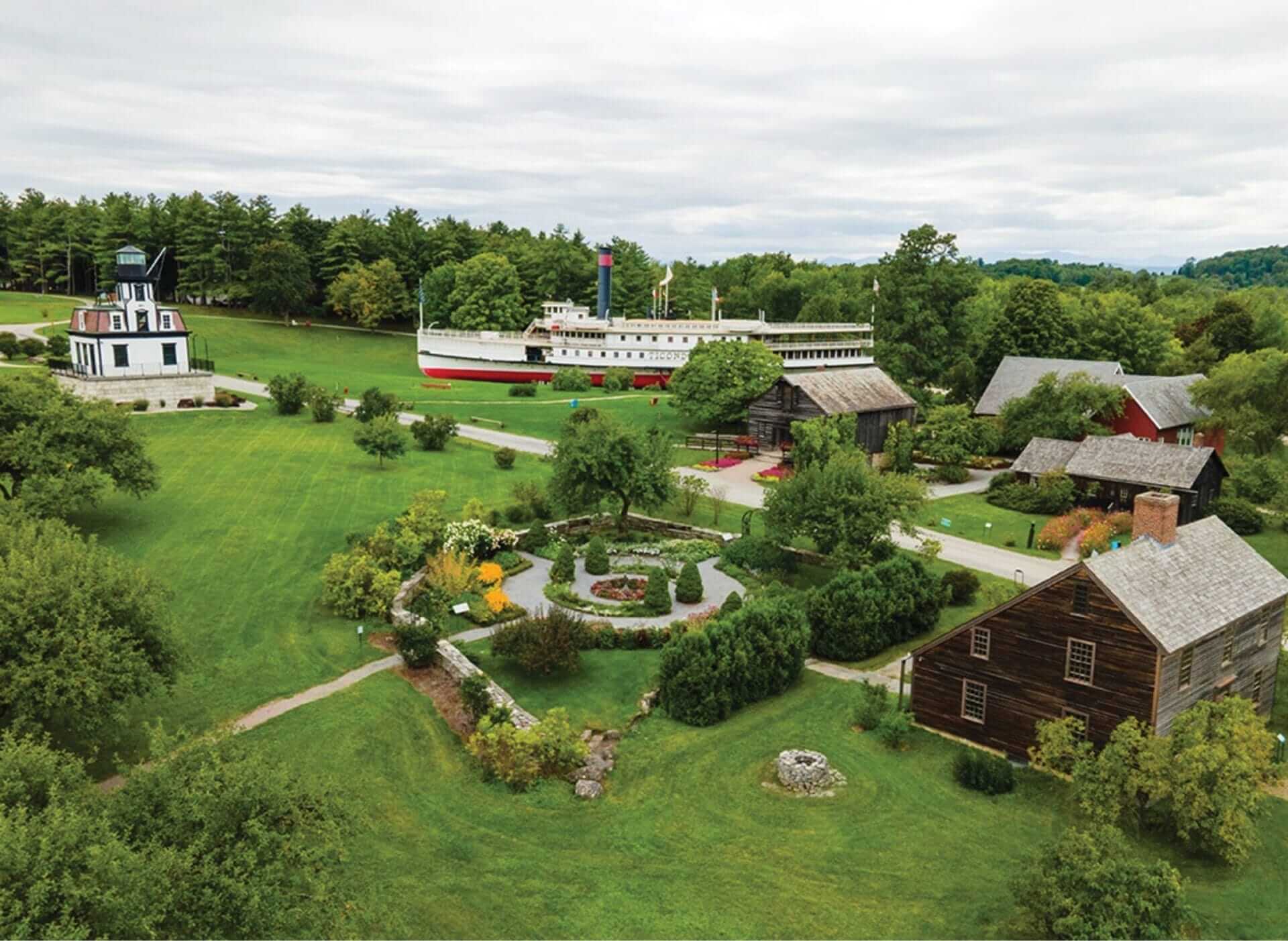 About the Shelburne Museum
The largest art and history museum in northern New England, the Shelburne Museum is an unparalleled and unique experience of American history, art, and design. It is a foremost public resource for visual art and material culture. At the heart of all Shelburne Museum's offerings are its endlessly compelling and extensive collections, which have continued to grow thanks to the combined efforts of dedicated curators, donors, artists, and artisans. Shelburne Museum is a place to envision the past and understand the present while looking to the future. 
Visiting the Museum
The Museum's 45-acre campus is comprised of 39 buildings. The most beloved attractions include the Shaker design Round Barn, a General Store, a carousel, and the 220-foot sidewheel steamboat Ticonderoga. Stroll around the beautifully landscaped grounds with 22 gardens. The Pizzagalli Center for Art and Education features changing exhibitions and Webb Gallery features important American paintings by Andrew Wyeth, Winslow Homer, Grandma Moses, John Singleton Copley and many more.
Exhibitions
With new exhibitions opening throughout the year, Shelburne Museum is lively and ever-changing. The Pizzagalli Center for Art and Education provides a fresh, modern setting for special exhibitions that connect and consider four centuries of American art and design.
There are four exhibitions opening this spring from May 13-Oct 22, 2023. Object/s of Play: The Work of Cas Holman and Karen Hewitt, which explores the creative processes of two award-winning American toy designers—a generation apart—who interpret the concept of open-ended play in their own unique ways. Pop Up: Inflated Sculpture, which features the work by three exciting contemporary artists, Claire Ashley, Tamar Ettun, and Pneuhaus. Throughout the duration of this exhibition, additional multimedia artwork by each artist will be juxtaposed with the historic collections in various Museum buildings. Pet Friendly celebrates the diverse multimedia work of Stephen Huneck. The exhibition features a selection of hand carved and painted furniture, sculptures, relief paintings, bronze sculptures, and more on loan from the Estate of Stephen Huneck, Friends of Dog Mountain. Right Under Your Nose includes selections from the Museum's extensive permanent collection of textiles including quilts, hooked rugs, and a special exhibition featuring children's printed textiles exploring a range of themes and technologies. On June 24th, a fifth exhibition will join the others. Built from the Earth will feature highlights of historic Pueblo pottery from the Perry Collection of Native American Art and introduce viewers to the artists and cultures who craft these stunning works of art with materials rooted in the land of the American Southwest.
In addition to exhibitions, the Shelburne Museum also houses world-renowned collections of art and Americana that span four centuries. Its holdings number more than 100,000 items. From French Impressionism to American ingenuity, Shelburne Museum has something for everyone. The Museum's collections are housed in thirty-nine buildings spread out over forty-five beautifully landscaped acres. The collections include American Paintings, Horse-Drawn Vehicles, Circus, and Decorative Arts, among many others.
Admission
The Museum opens for the 2023 season on May 13th! It is open daily from 10 a.m. to 5 p.m. through October 22, 2023. Ticket prices vary:
Adult: $25

Senior (65+): $23

Child (5-12): $12

Child (13-17): $14

Children Under 5: Free

Family Pass: $65 (2 adults & 2 children)

College Student: $15 with student ID

Active Military: Free
Take Amtrak to the Shelburne Museum

Get to the museum via Amtrak to Union Station in Burlington, VT. The museum is only 7 miles away from the train station. —Don't forget to use the See New York and Save 15% discount!