Excursion Railroads—offering dinner trains, fall foliage events, the Polar Express, rail bikes and more—bring the magic of train travel to tourists everywhere.
when the Adirondack Railroad took its inaugural trip north to Tupper Lake in September 2022, "people were just flat out excited," says Frank Kobliski, the railroad's general manager and president of the board of directors. The expansion project had been years in the works.
Previously, the popular tourist railroad had run from Utica 63 miles north to Big Moose, with a stop in Thendara. But by extending the tracks 45 miles to Tupper Lake—with more than 90,000 new cross ties—the 108-mile route becomes the longest excursion railroad east of the Mississippi River. 
The September VIP excursion was followed by another train in October that was open to the public. "These were the first trains to go to Tupper Lake since 1980," says Kobliski. "Overall, about 400 people took the roundtrip ride. There was lots of laughing, oohing and aaahing and even applause. It was wonderful."
Tupper Lake, a small village located in the Adirondack Park west of Lake Placid, caters to outdoor enthusiasts. The Wild Center, the Natural History Museum of the Adirondacks, has a 54,000-square-foot indoor space, full of live and interactive exhibits, including a popular otter show. It's also home to the Adirondack Sky Center and Observatory, as well as several restaurants and retro cabins and motels. 
Tracks were originally laid to Tupper Lake in the late 1800s so that Adirondack forest products and ice could be shipped south to New York City. Passenger train service started in 1892, bringing tourists to the mountains. But decades later, the increase in cars and a decrease in logging put a halt to both passenger and freight trains by 1972. The rail line was brought back to life for the 1980 Winter Olympics. But after that, according to Kobliski, "The tracks went back to nature." 
But in 1992, a local group formed and opened up a line from Old Forge to a small town called Minnehaha. "It caught on and each year they'd open up a little more track and run a few more trains," says Kobliski. "Eventually, the line was opened all the way from Utica to Big Moose."
Coming out of COVID-19, the Railroad continues to run their most popular excursions. The Dinner Train Rides travel from Utica's Union Station to the Remsen Station and back—a three-hour roundtrip. Passengers enjoy a hand-crafted, catered meal. The weekend fall foliage trips "always sell out," says Kobliski. "The Adirondacks have legendary foliage and the best way to see it is from a train."  
The Easter Bunny Express and the Polar Express are also popular. "Tickets for the Polar Express go on sale in April and many trains sell out in a day or two," says Kobliski. "We'll have 600 people on a train; it is flat out magical. We had people flying from Colorado last year to ride our Polar Express."
Whichever train you are on, a huge part of the appeal is being able to access remote areas of the Adirondack Park. "We're opening up new vistas for people," says Kobliski. "The Adirondack Mountains are one of the most beautiful—but most remote—pieces of scenery anywhere in the U.S. These are vistas that cannot be experienced by car, or in many cases, even by foot. The train is the best way to view this raw beauty." 
The railroad uses vintage cars, including a 1948 dining car donated by Amtrak, and a 1955 Union Pacific Railroad dome car. "We also have an open air car where there are no windows. People can sit and feel the breeze on their face," Kobliski says. 
The Railroad also runs "rail bike" excursions from the Thendara station. These custom-made, four-wheel vehicles use pedals and disc brakes to move along the tracks. "The rail bikes have been wildly popular," says Kobliski. "Maybe some people are not interested in taking a three- or four-hour train ride, but they want to get out and pedal with the family." There will be a kickoff event for the rail bikes at the Thendara Station on Mother's Day weekend; rail bike service begins in Tupper Lake on Memorial Day weekend. 
Kobliski marvels at how far the railroad has come in the last three decades. Regular trains to Tupper Lake begin in July and he knows that new rail experiences will continue to develop. "We have so much variety here," he says. "It's all about giving people an experience from which they can make memories."
OTHER EXCURSION RAILROADS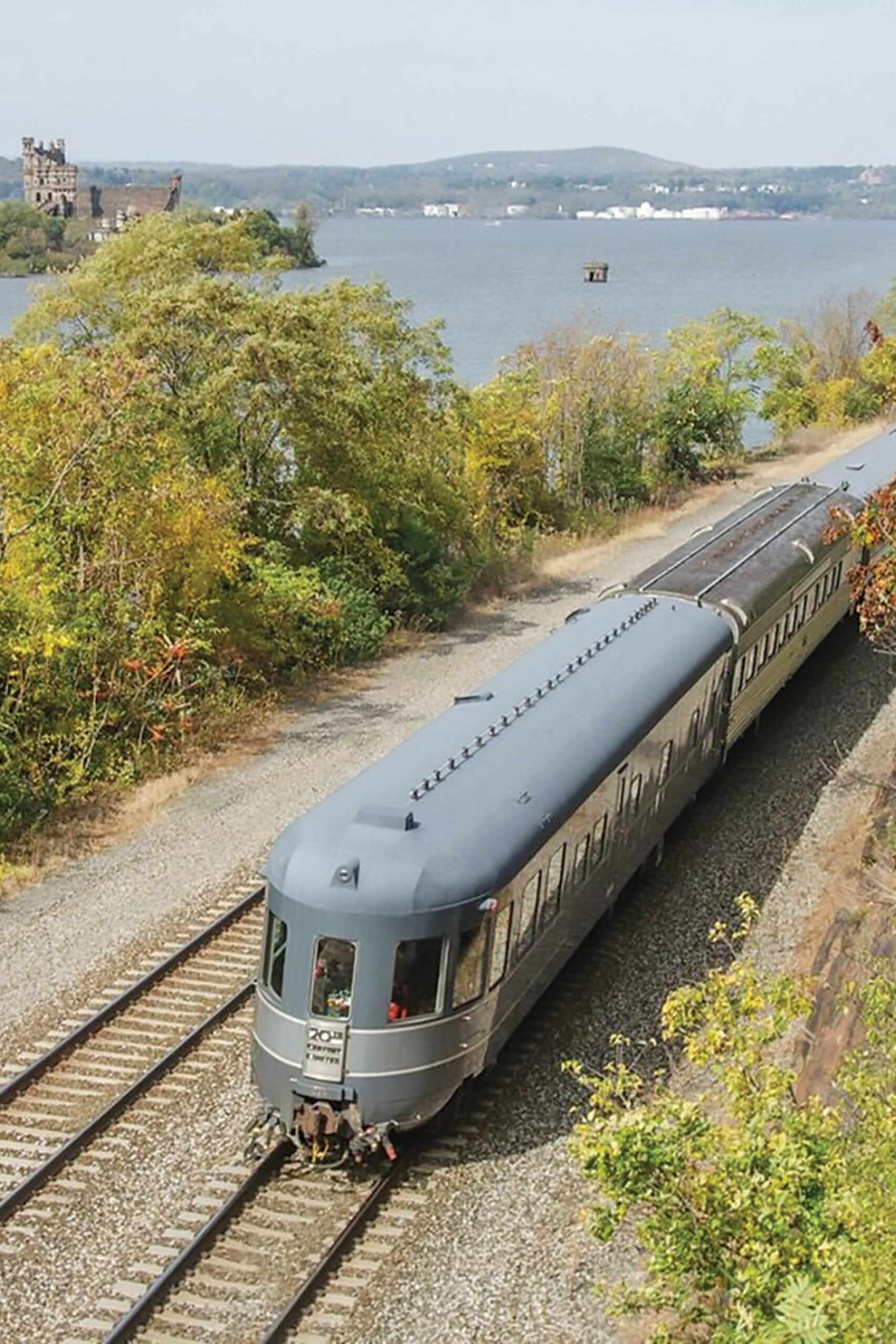 Hudson River Rail Excursions
New York City
hudsonriverrail.com
Favored by celebrities like Walt Disney and Marilyn Monroe, the 20th Century Limited—which ran from New York City to Chicago— was the train to ride in the mid-1900s. Today, you can travel back in time and experience what was called "The Most Famous Train in the World'' for yourself. Running regularly from September through November, these day-long vintage excursions take visitors on a round-trip journey on Amtrak rail lines, from New York City to Albany. For $149 on weekdays and $179 on weekends, passengers can ride in the Tavern Lounge No. 43, complete with buffet-style food options. For a more exclusive option, starting at $349, the luxury Hickory Creek car offers a four-course meal and oversized windows to take in the surrounding views of the Hudson River Valley.  *All 2023 train rides are sold out, but you can put yourself on a waiting list. 
The Rochester & Genesee Valley Railroad Museum
Rush, NY 
rgvrrm.org
Over the last 50 years, this group has preserved more than 40 pieces of historic railroad equipment and turned an abandoned depot into a museum. They operate train rides every month from April through December, including: Mother's Day and Father's Day, Real Steam rides, Rails & Ales; Pumpkin Patch, and Santa trains. 
Cooperstown & Charlotte Valley Railroad
Milford, NY 
lrhs.com
Rides on the 19th-century vintage train cars depart from a restored depot in Milford, NY, just south of Cooperstown. Special trains include the Easter Bunny Express, Dinosaur Express, Train Robbery, Fall Foliage, and Santa Claus Express. The railroad also offers a guest engineer program.
Arcade & Attica Railroad
Arcade, NY
aarailroad.com 
Ride a vintage World War ll-era diesel train on an authentic short line railroad. You'll embark on a scenic journey on open-air cars through the countryside that has remained virtually unchanged since the line was originally laid in the 1880s. Make a stop at Curriers Depot to explore, look at the engine and talk with the crew. Special train rides include: Mother's Day and Father's Day, a WWII Weekend, a Toy Train Show, Whiskey on Wheels, Fall Foliage, and Santa's Wonderland Express. 
Medina Railroad Museum
Medina, NY 
medinarailroadmuseum.org
The Museum's vintage locomotive and train cars from 1947 to 1957 features five passenger cars and two first class cars that ride out on the tracks to Lockport and back several times a year for events, including the Easter Express, A Day Out with Thomas (the Tank Engine!), and autumn adventures.
The Champlain Valley Dinner Train
Burlington, VT
rails-vt.com
Leaving from Burlington for a three-hour ride, the Champlain Valley Dinner Train starts at $99 per person, from
July 2 to October 23.
The Catskill Mountain Railroad
Kingston, NY 
catskillmountainrailroad.com
Since 1982, this heritage railroad has run tourist trains from Kingston, New York, to Hurley Mountain in Highmount. Special train rides include the Easter Bunny Express, Ice Cream Sundays, Twilight Limited, Fall Foliage, and
Polar Express