Publisher's Note: Kemi from Musings and Adventures, is a travel & lifestyle content creator #WFH in NYC who safely explores the city's attractions and the Hudson Valley Region during weekends and holidays.
New York, New York! The city that never sleeps is napping after the sucker punch dealt with COVID-19 lock downs and shuttered businesses. Nevertheless, now is the best time to visit New York City as there is less foot traffic and once crowded attractions are eager for the pitter patter of tourist feet.
As a NYC resident, I have witnessed hotels, restaurants and attractions implement strict COVID-19 guidelines via mask-wearing, social distancing, sanitizing spaces and performing temperature checks. If you have reservations about visiting the Big Apple, dispel them immediately. New York City is more than Manhattan, and when you see an empty Times Square or Grand Central Station on TV, remember that regular people work here. Since we're mostly working from home, these worker bee areas are empty, giving the impression that NYC is a "ghost town." Fake news. The boroughs are popping and I implore you take Amtrak to Williamsburg or Long Island City for craft beer and pizza; subway to Crown Heights or Harlem for fish fry and soul food, or check out Astoria for Greek and Middle Eastern delicacies.
Furthermore, NYC hotels are affordable with coveted luxury brands slashing rates to "normal people prices," as I call it. Thus, take advantage of these Uber cheap rates and pop down for a family weekend. You can even begin the hunt for Valentine's Day packages before everyone else has the same idea. Hey, if you're solo, NYC is a great city for you too!
Since New York City has re-opened, we have eagerly jumped to experience our favorite museums, restaurants and attractions to sate our stifled wanderlust and help struggling businesses restart. It will take time for NYC to recover, but when it does, it will be resilient. Until then, you too can safely experience free and affordable off-beat NYC attractions on a day trip or long weekend. Take Amtrak to Penn Station to easily access any of these locations. Enjoy!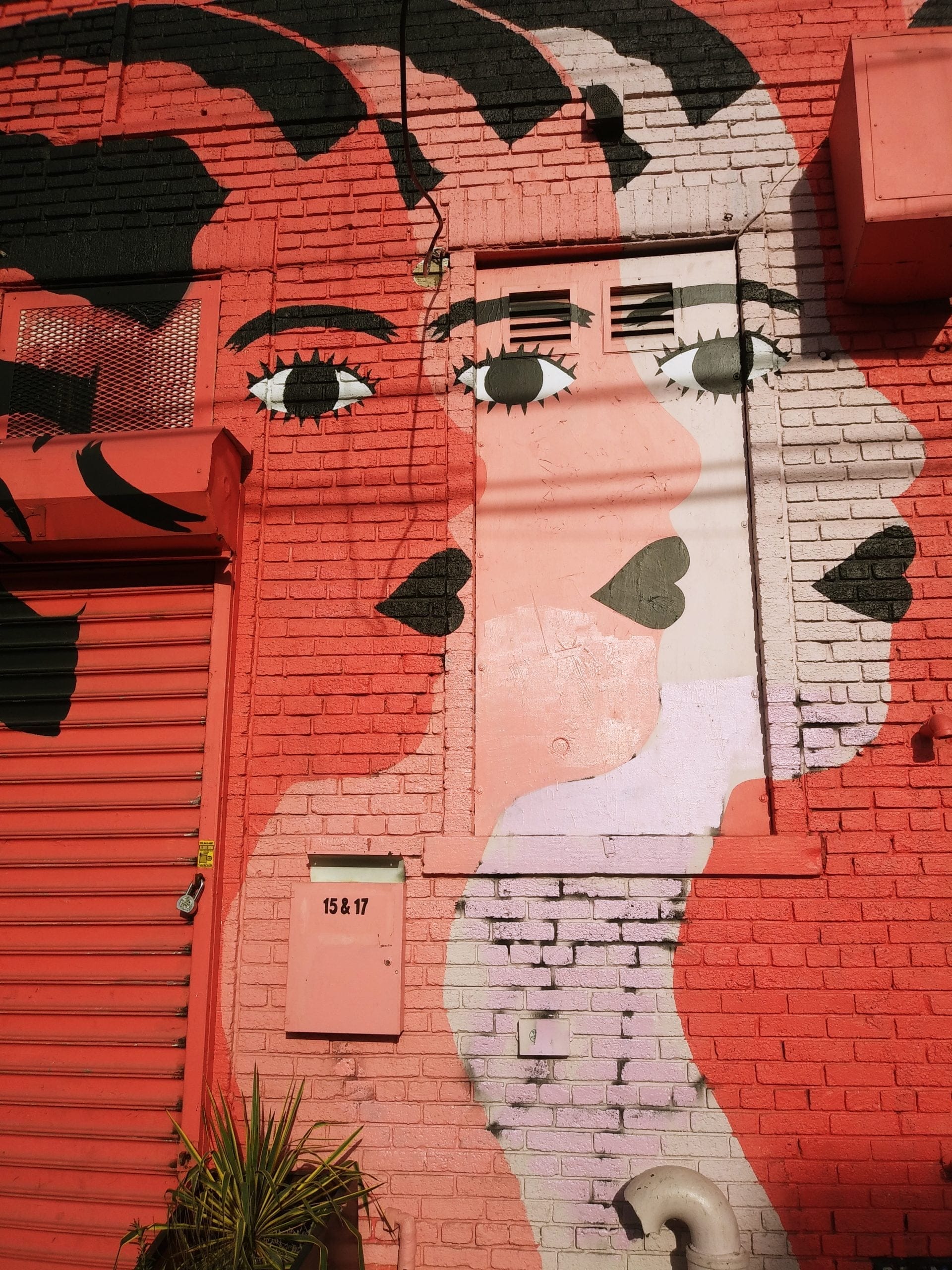 Street Art
New York City is renowned for abstract art and social justice murals where city life and global stories are depicted in bright colors on facades, bridges, abandoned walls and the like. If you're lucky, you might spot a prized Kobra! Street art is city-wide and you'll get a thrill discovering vibrant murals as you walk the streets, but the best spots to find a collection of them are:
Bushwick Collective
5.9 miles from NYP to 427 Troutman Street, Bushwick
Bowery Wall, LES – (incl. streets and alleys off and around Houston)
2.0 miles from NYP to 76 E Houston Street
Underneath Brooklyn Bridge, DUMBO
3.2 miles from NYP to Brooklyn Bridge
Oculus/World Trade Centre, downtown Manhattan
2.9 miles from NYP to World Trade Center
North Williamsburg – Kent through Berry Streets and adjoining streets
3.2 miles from NYP to Kent Street, Brooklyn
Shops at Hudson Yards Off the Wall
0.4 miles from NYP to Hudson Yards Shops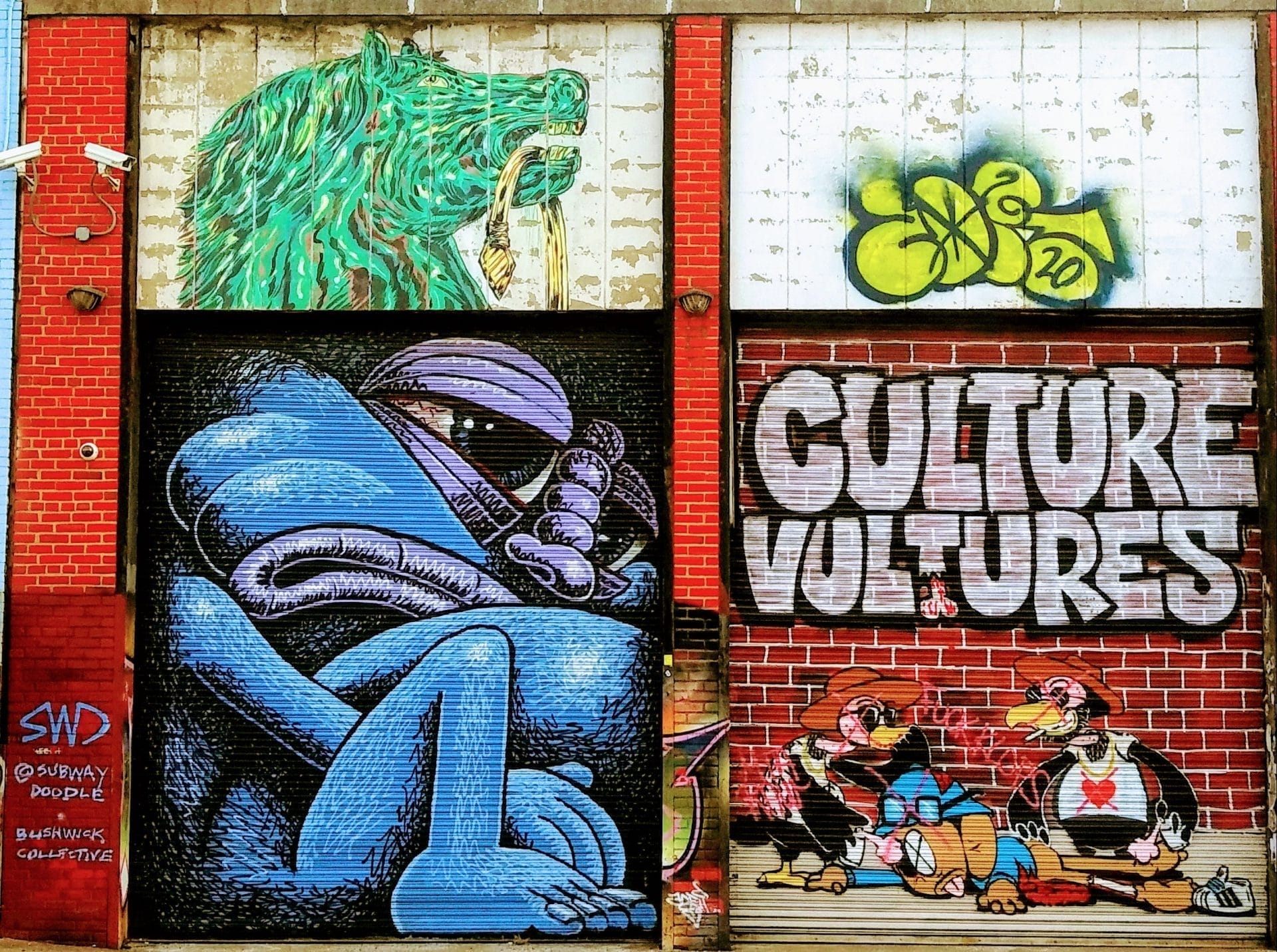 Sculptures and Exhibits
Manhattan is home to seasonal sculptures and the thrill is to catch them while you can. These displays are large and usually have unique stories behind them.
King Nyani Mountain Gorilla
0.5 miles from NYP to Hudson Yards
The King Nyani Mountain Gorilla is located at Hudson Yards. The story behind this particular piece revolves around endangered gorillas and conservation efforts in Uganda. The sculpture is on display till May 2021.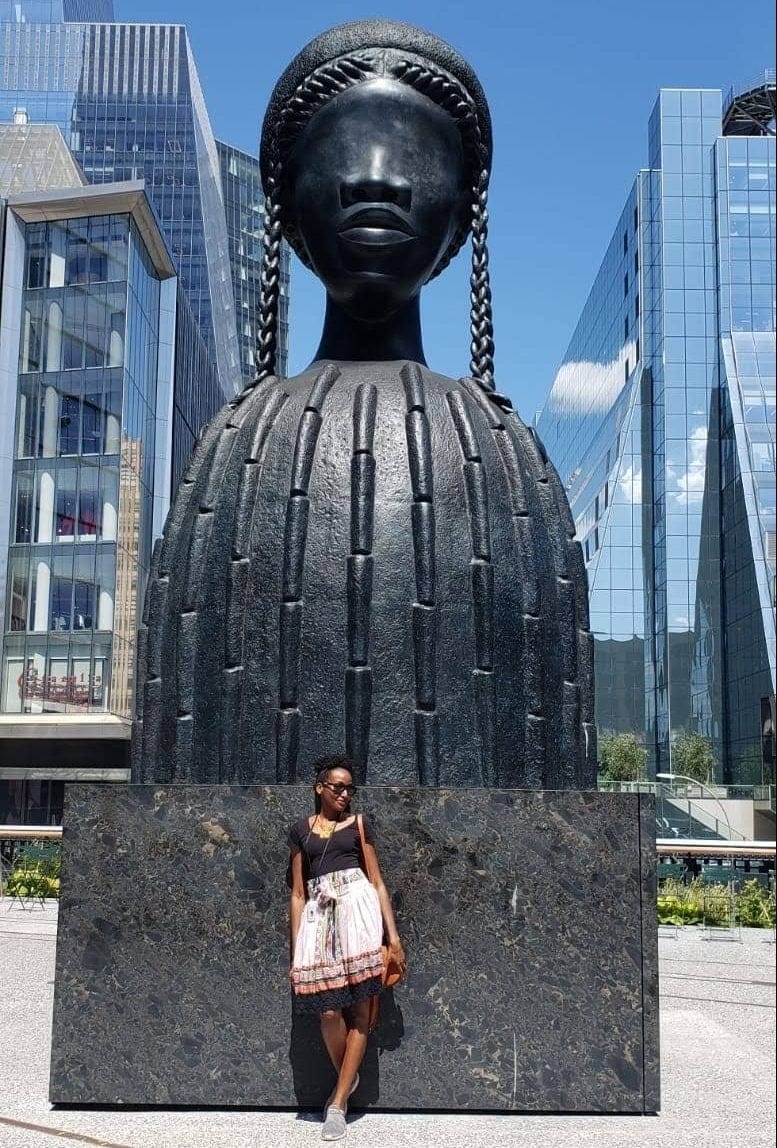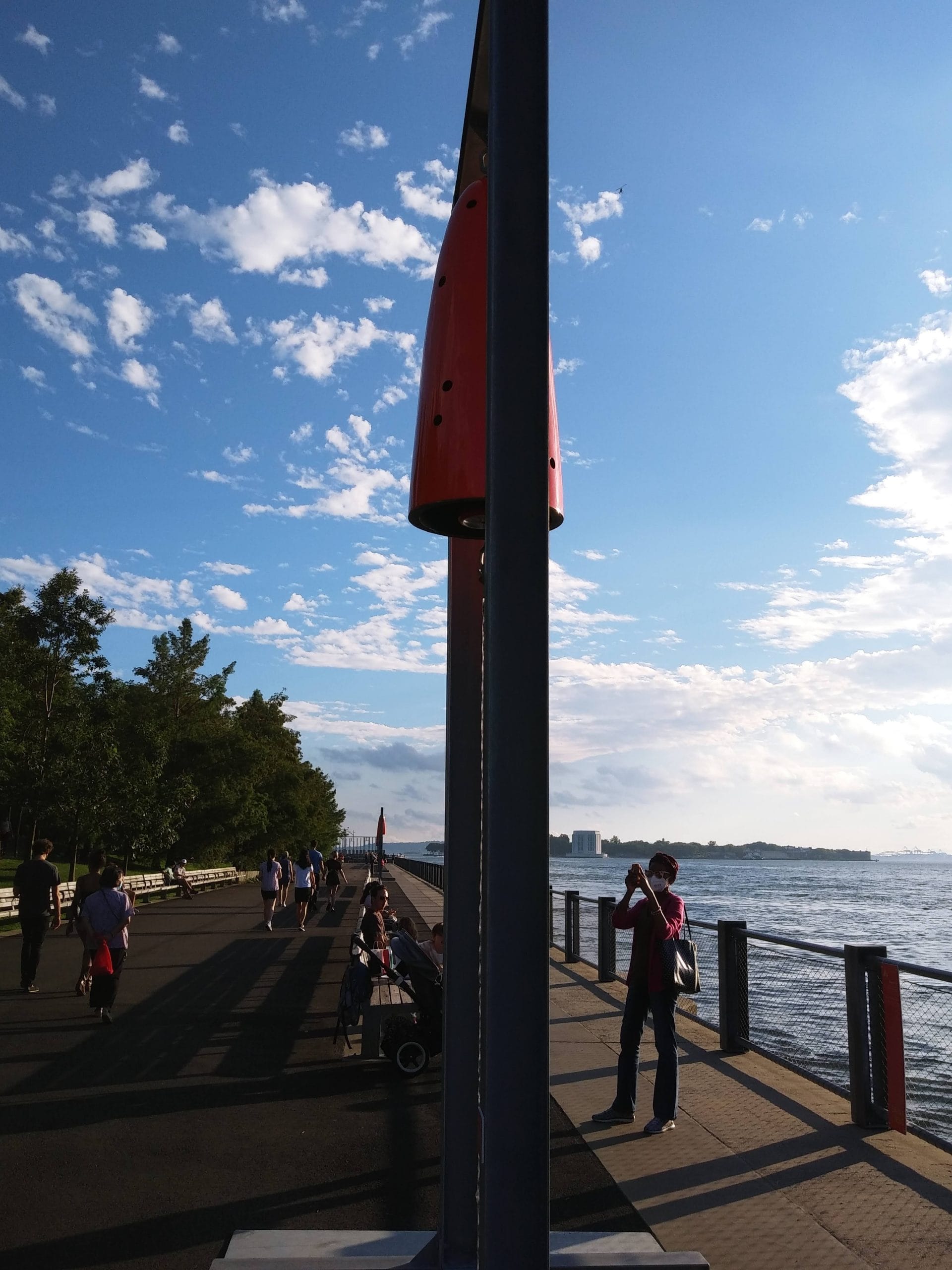 Reverberation
4.3 miles from NYP to Brooklyn Bridge Park, Pier 1
The Reverberation sculpture is located at Brooklyn Bridge Park, Pier 1. The story behind Reverberation is communication and community action, as it features orange bronze bells. These 4 ft bronze bells are on display till April 2021.
Ziggy Downtown on Water Street, Seaport District
3.4 miles from NYP to Seaport District, NYC.
The Ziggy Downtown on Water Street is another public art exhibit that differs from the aforementioned sculptures. This exhibit is best viewed in the evening when its colors shine.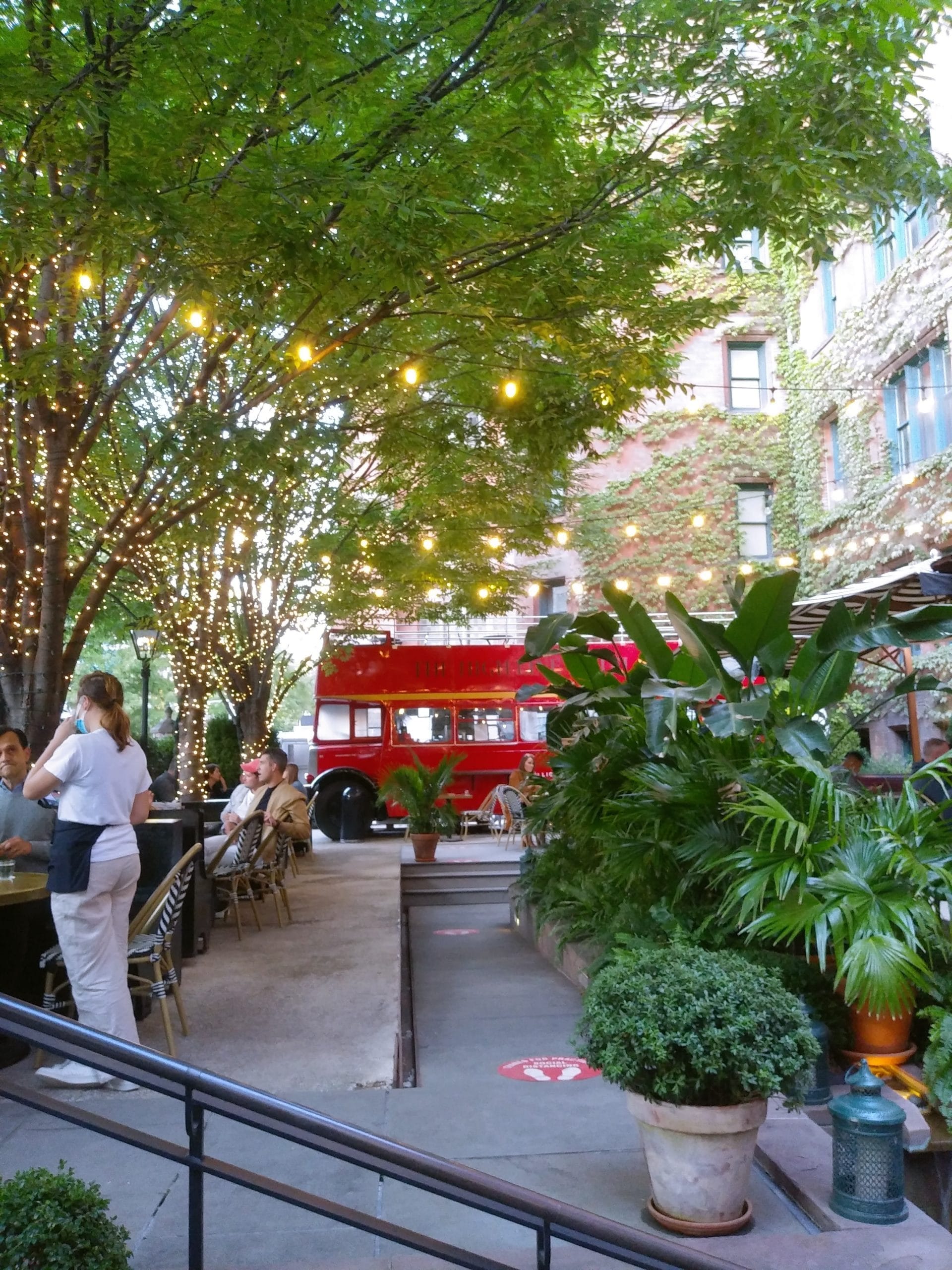 London Double-Decker Bus
0.9 miles from NYP to the High Line Hotel
If you prefer your exhibits on the "everyday people" side, pop onto the grounds of the High Line Hotel in Chelsea for a decommissioned London double-decker bus. This bus is not an art display, but we NYC residents love to get our prized Instagram shots with it, so it might as well be. Whilst there, order some cocktails, a hot toddy and a bite. Contribute to our flailing restaurant economy. Please and thanks. The bus is located at the High Line Hotel on 21st Street and 10th Avenue.
Museums and Experiential Exhibitions
If you are into immersive experiences, you will be spoilt for choice with the options currently open. Per social distancing guidelines, RSVP in advance for time slots and make it a pleasurable solo, couple or unique family experience.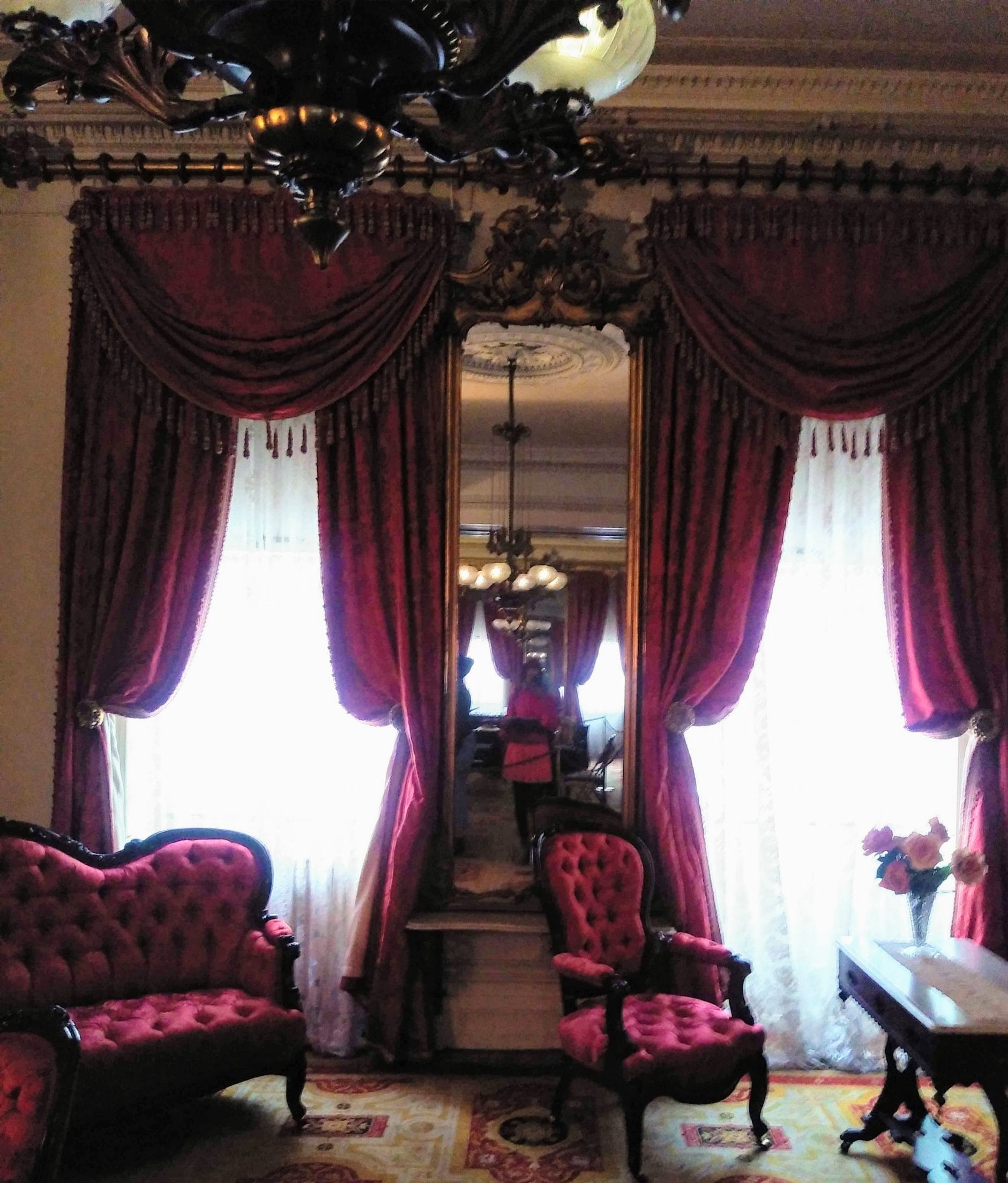 Merchant's House Museum
1.8 miles from NYP to 29 E 4th Street
The Merchant's House Museum is the oldest and architecturally intact property of the 1830's still standing in NoHo, NYC. The mansion was built by Seabury Tredwell, a wealthy merchant from Long Island, NY. Peep original lavish Italian furnishing, gilt mirrors, sparkling chandeliers and see/read the daily lives of the wealthy of the day. Make sure to try the hoop skirt on the top floor! The Merchant Museum is also rumored to be haunted by Tredwell's last daughter. The museum is located on 29 E 4th Street in Manhattan. Tickets are priced at $10-$15 and are available Saturdays and Sundays from 12:30-4:30 p.m.
ARTECHOUSE
1.1 miles from NYP to 439 W 15th Street
Located on 439 W 15th Street in Manhattan, the ARTECHOUSE is a must-see exhibition. The exhibition showcases large scale immersive reality installations. Ticket prices for adults are set at $24, first responders at $20 and children under 4 years old are free. The ARTECHOUSE is open Mon-Sun from 10 a.m. to 10 p.m.
Museum of Ice Cream
2.1 miles from NYP to 585 Broadway
"You scream, I scream…" Top off your NYC adventure with colorful, multi-sensory and immersive sweet experiences at the Museum of Ice Cream. The museum is located at 558 Broadway in Manhattan. There is even an in-person workshop to create your own ice cream – sweet tooths unite! Per new normal, reserve tickets to the museum online. Tickets for children under 2 years old are free, while tickets for adults are set at $39. MOIC is open Thurs-Sun from 11 a.m. – 6:15 p.m.
Social Distancing
Thankfully, NYC is not under lock down, but indoor dining is banned until further notice. To aid struggling restaurants and recreate dining out, there are outdoor and rooftop restaurants, cafes and lounges that tick the boxes of no crowding, fresh air and decorative surroundings.
Reserve a faux fur seat at our alpine igloos, huts and yurts. Imagine that you went through a magical wardrobe and found yourself in a different country. How's that to quell your wanderlust, eh? These outdoor dwellings seat large groups, so if you're a family of 4+, you're in luck! Reserve dwellings in advance as they go like hot cakes. Book one for a couple's night out or a family day. Each enclosed dwelling is sanitized after each reservation ends.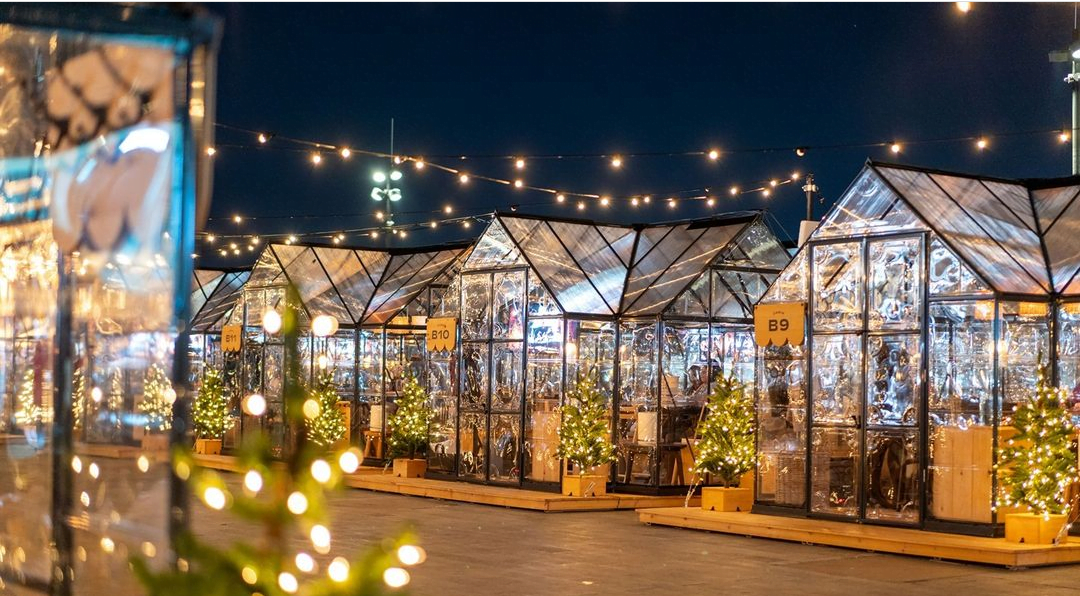 The Standard Winter Garden Yurts, East Village
1.8 miles from NYP to 25 Cooper Square
Fri 4 p.m. – 9 p.m.; Sat-Sun 12 p.m. – 9 p.m.
230 5th Rooftop Bar Igloo
0.5 miles from NYP to 230 5th Avenue
Reservations and walk-ins encouraged.
The Greens Alpine Cabins
3.6 miles from NYP to Pier 17 South Street
Reserve a 90-minute slot one week in advance
Nature
Lastly, what better way to finish a day or weekend in NYC than in its public spaces?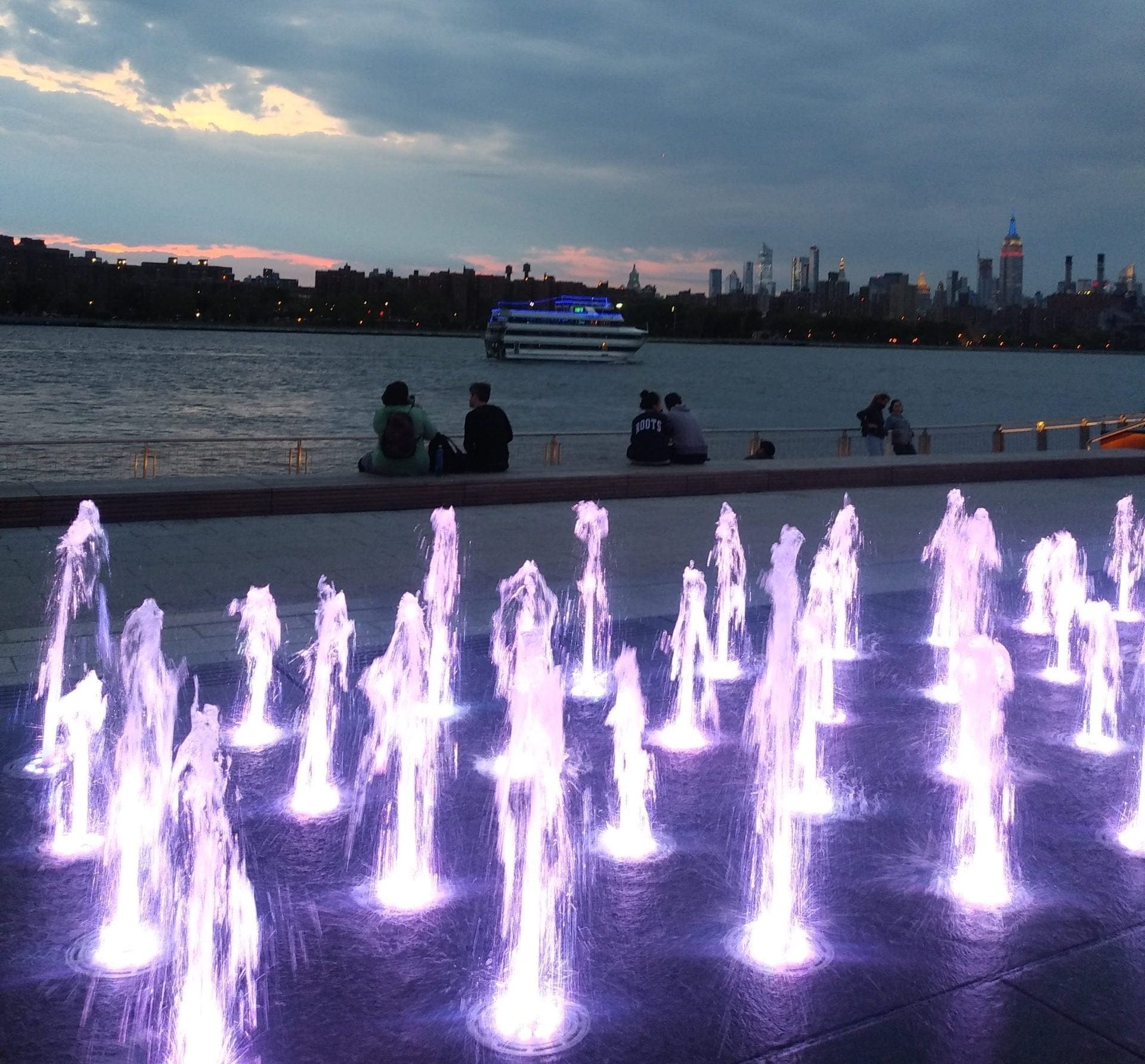 Domino Park
4.4 miles from NYP to 300 Kent Avenue, Brooklyn
This park is the renovated Domino Sugar factory with decommissioned equipment present at the location. Domino Park is located in Williamsburg, Brooklyn.
Brooklyn Bridge Park Piers 1-3
4.3 miles from NYP to 2 Furman Street, Brooklyn
The Brooklyn Bridge Park has reverberation bells, iconic shots of downtown Manhattan, Brooklyn Bridge, quiet green spaces, hidden rock pools and the Brooklyn Heights view and walkway. The park is located in DUMBO, Brooklyn.
Pier 26 Hudson River Park
2.4 miles from NYP to Pier 26
Too chilly to picnic on the lawns? Catch beautiful sunsets of Lower Manhattan, learn about river ecosystems, dog walk and have a socially distant bite or beverage in a winter dome! How cool is that? The Pier 26 Hudson River Park is located at Hudson River Parkway from N. Moore Street to Canal Street.
Kemi is a travel & lifestyle content creator on Musings and Adventures writing on solo travel, NYC adventures, zero waste, and travel in general. She is a global citizen having lived in West Africa and Europe before returning to New York City and her favourite things to do in NYC are taking the ferry in summer to waterfront neighborhoods, people-watching by Pebble Beach in DUMBO, wandering the cobble streets and attractions of historic Seaport District, and visiting quirky, off-beat museums. Musings and Adventures encourages people with full-time careers (and miserly PTO) to maximize travel via day trips, weekenders, exploring your city, and microcations. Kemi is a Millennial currently living in Brooklyn with a full-time career in corporate America and a wanderlust soul.