As the weather starts to get colder and winter settles in, people are gearing up for their annual ski trips. 
New York is home to a multitude of mountains across the state – some are historic places for the sport, such as Whiteface Mountain. Others pride themselves on being friendly to skiers of all talents, like Gore Mountain. Wherever you decide to go this winter, each mountain is doing all they can to protect their guests from COVID-19. 
Each mountain has specific guidelines catered directly to their space, but all mountains across New York are requiring the use of face masks when guests cannot physically distance from one another. People who are not in the same party cannot ride on ski lifts together, and all lift tickets and other items must be purchased in advance. Resorts are also limiting capacity to make sure there is enough space to social distance.  
Below is a list of six of the most popular mountains in New York and a list of their individual protocols dedicated to providing a safe and enjoyable ski experience for you or your family.  
To read more of the rules about what ski resorts must do as a whole to keep guests protected, you can read Governor Cuomo's guidelines that were announced in October, and follow Amtrak's coronavirus page for updates on their policies and procedures.  
Gore Mountain
93 mi from Albany-Rensselaer Station (ALB)
Gore Mountain is home to the largest ski resort in New York. Given the distance from the Albany-Rensselaer station, Enterprise Car Rental offers car rental right at this Amtrak station and it will take about 1.5 hours to drive from the station. 
In order to protect their guests, Gore Mountain has a detailed webpage outlining their COVID-19 protocols. They encourage visitors who do not feel good or have been in contact with someone who tested positive for COVID-19 to not come to the mountain. The staff, who is committed to the safety of guests, are undergoing health screenings before every shift, closely following Governor Cuomo's guidelines, limiting capacity of guests, and cleaning more regularly. 
Lift tickets, rentals, and lessons must all be purchased in advance of your time on the mountain, as you cannot ski unless you have bought your tickets ahead of time.  
Masks must be worn in all indoor spaces, and all indoor restroom occupancy has been reduced to 50 percent. Hand sanitizer stations have been set up all over the mountain, and guests are encouraged to use them if they cannot wash their hands.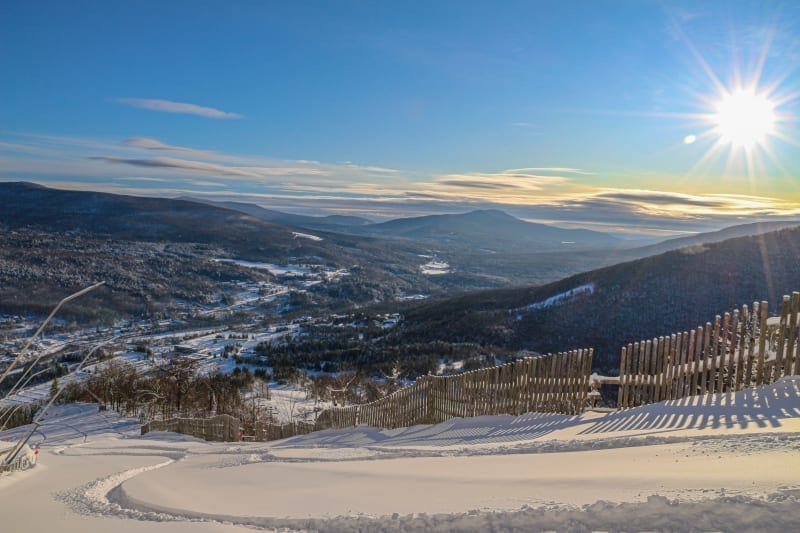 Hunter Mountain
26.2 mi from Hudson Station (HUD)
Hunter Mountain is a family friendly mountain full of various trails for different abilities, and are the most convenient mountain to get to by train. With their opening day around the corner, they have been perfecting their safety precautions for the upcoming season.  
In addition to requiring face masks and social distancing, Hunter Mountain requires guests to purchase their lift tickets ahead of time. They also encourage getting a season pass, as they prioritize those members when they want to ski. Pass holders can secure up to seven priority admission days in a row to use throughout the entire season.  
For safety, Hunter Mountain also requires cashless transaction methods to pay for things. That includes anything in the hotel, the restaurants, ski school and any other things you might purchase there. Again, the recommend doing a lot of this stuff ahead of time.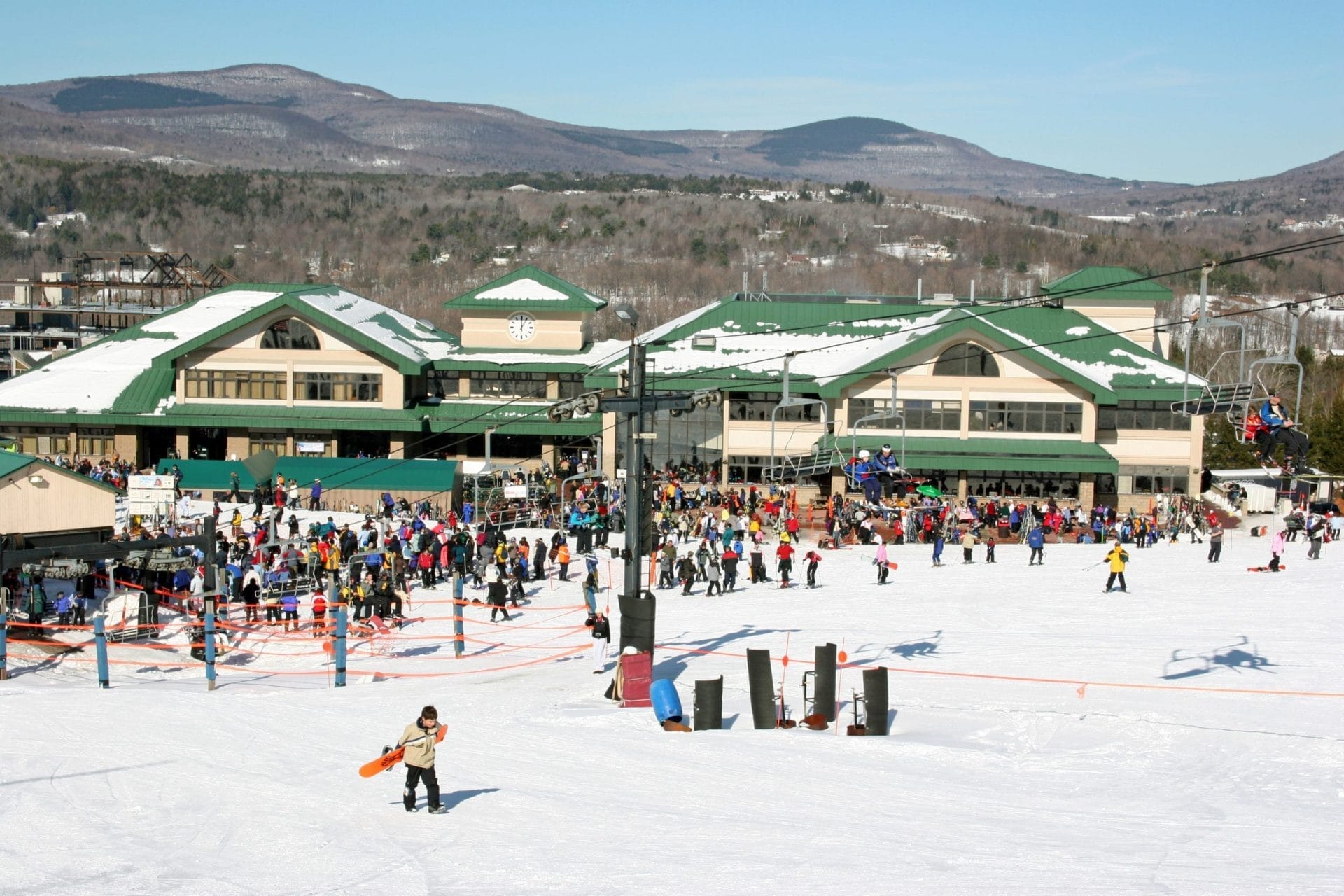 Windham Mountain
30.4 mi from Hudson Station (HUD)
Windham Mountain is one of the more popular destination on this list, as their usually meet capacity multiple times throughout the season. In a season that will be limiting capacity to 50 percent, they recommend purchasing tickets as early as possible and planning your visit sooner, rather than later. It is best to make reservations for hotels and places of lodging through their website, as not many third-party locations will have the lift tickets included. 
There is the option to reserve rentals ahead of time online. This will speed up the rental process and make sure that the lines flow smoothly. Reservations are also required for skiing and snowboarding lessons, and face masks must be worn throughout your time on the mountain unless actively skiing.  
There will be no access to changing spaces at the mountain, so they recommend showing up ready to go, or getting dressed by your car. They also recommend leaving anything that isn't necessary, such as bags and other items in your vehicle because there will be no access to cubbies or lockers.  
The mountain has also made the decision to suspend sunset skiing for the season, but they will still hold races, as the meeting area has been reconfigured to ensure social distancing.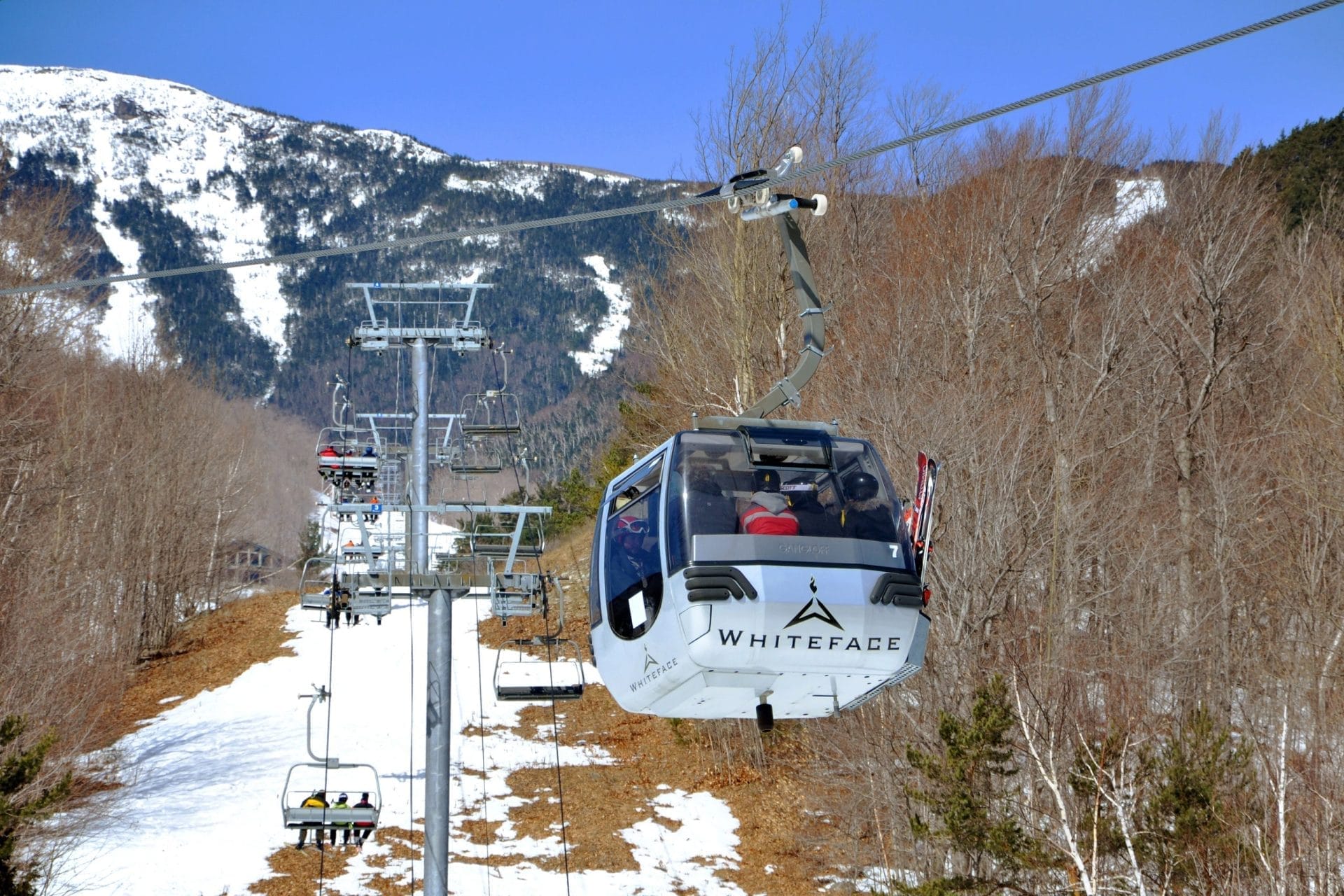 Whiteface Mountain
142 miles from Albany-Rensselaer Station (ALB)
Whiteface Mountain is the fifth tallest mountain in New York, and was once the home of the alpine skiing portion of the 1980 Winter Olympics. It is only 13 miles from Lake Placid, so if you want a break from skiing, you can go visit the Winter Olympics Museum or other sites from those historic Olympic games. The distance from the Albany-Rensselaer station might seem a little daunting, but the station offers an Enterprise Car Rental right at the station and takes slightly less than 3 hours to get there from the station. 
On their website they detail an extensive list of protocols to ensure guests safety. They require face masks, social distancing, and advanced purchase of lift tickets. Lessons can all be purchased in advance and require a notice of a health screening 24 hours before your lesson starts.  
They have expanded their drop off and pick-up area to accommodate for social distancing but they recommend limiting the use of their shuttle services, and arriving as ready to go as possible in order to limit the use of indoor spaces. The mountain will also not be offering indoor childcare this season.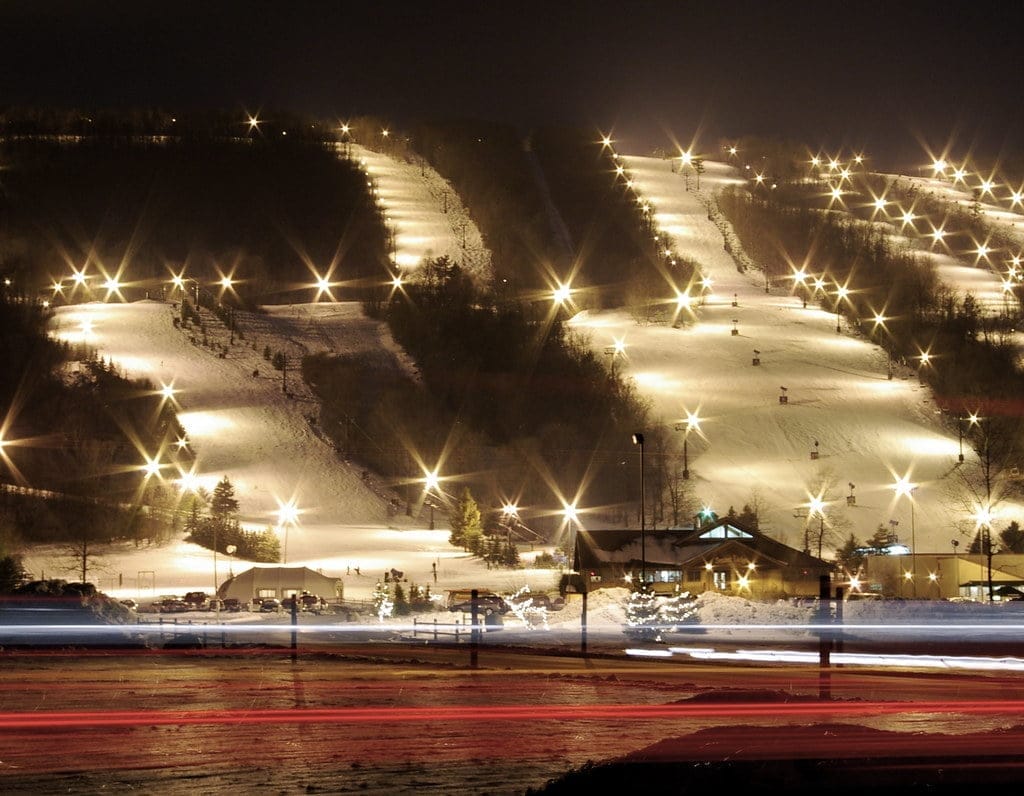 Bristol Mountain
37.1 mi from Rochester Station (ROC)
Bristol Mountain is one of the greatest attractions in the Finger Lakes. During the season, guests have access to 38 different trails, all of which have lights so skiers and snowboarders can continue to experience the attraction after the sun goes down. 
This year they are requiring guest to fill out a daily health survey of seven questions on their website. If any guest or employee answers "yes" to any questions, they cannot come to the mountain. Masks are required for all guests unless they are actively skiing or eating and drinking in an indoor space. The lodges are all operating at 50 percent, and guests should only spend 15-30 minutes in there if they need to. 
Reservations must be made in advance in order to ride on the mountain. Capacity is limited on busy days and on days where there is limited terrain.  
Like many other places on this list, people who arrived to the mountain together can ride the lift together. If not, you either ride solo or sit in a bigger lift (designed for four people) with you and a stranger at opposite ends.  
Greek Peak Mountain
44.2 mi from Syracuse Station (SYR) 
Greek Peak Mountain offers a full resort getaway complete with skiing, places to stay, restaurants, a spa and many other activities to enjoy while you are spending your time there. They have also just purchased brand new snow making machines to make your skiing experience better than before.  
In a letter from the president of the mountain and resort, it lays out some of their plans going forward. Reservations are required for skiing and using the amenities at the resort. They also require that masks be worn at all times unless directly skiing or eating or drinking, and ensure that extra cleaning measures have been taken to ensure the safety of all guests. 
In order to reduce traffic at the rental area, they might transform a gift shop into a second rental station, but there is no word yet on if that possibility has come to fruition, as it is still early in the season. You don't have to reserve your rental online, but they recommend it to make the process faster and limit your time in there.  
There will be limited group sizes in lessons and they recommend getting a private one. They will also limit occupancy when there are days that are popular, as well as in the early and late seasons due to not having all the trails open.