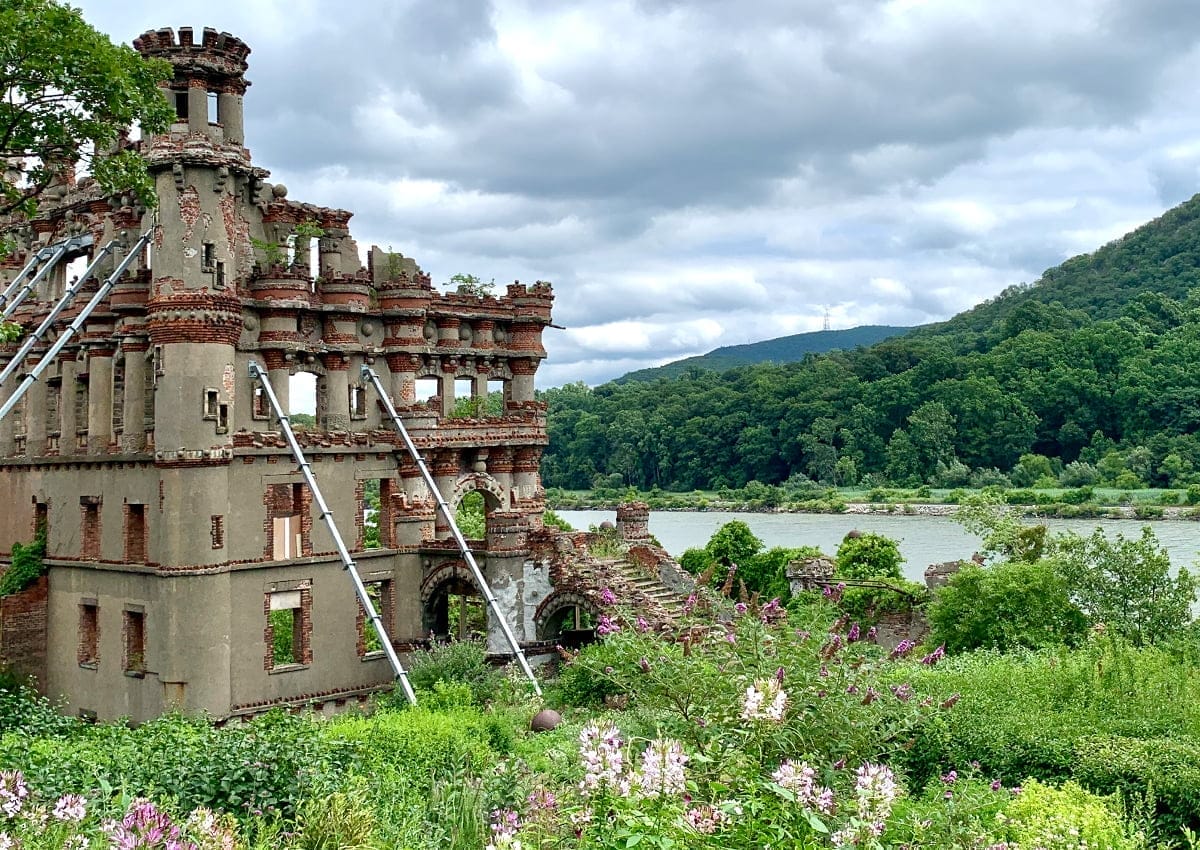 There are many sights from an Amtrak window seat. Whether passing by the Palisades or West Point, the eye-catching views constantly remind passengers how amazing train travel can be. For example, riding Amtrak, between Croton-Harmon (CRT) and Poughkeepsie (POU), the train passes the famous Bannerman Castle, located on Pollepel Island, a small island in the middle of the Hudson River with structures dating back to the early 1900s. Rich in history and lovely scenery, it's worth hopping off the train to tour to the island for a closer look. 
History
The castle is named after Francis (Frank) Bannerman VI who was originally born in Dundee, Scotland in 1851 and came to the United States to live in Brooklyn at the age of three. Bannerman collected scrap from the harbor and began acquiring other materials, which he soon transformed into a business known as "Bannerman's."  
"By chance while canoeing on the Hudson, David Bannerman noted the island," says Jane Bannerman, granddaughter-in-law of Frank Bannerman VI. "The Bannerman's purchased it from the Taft family in 1900 as a safe storage site. Mr. Bannerman began construction on a simulated Scottish castle and simple residence in 1901." 
The business was located on the front of the island, where visitors can see the ruins today. The castle provided safe storage for Bannerman's goods, including equipment and ammunition. Frank and Helen Bannerman resided there with their family during the summer, in a more simple home toward the back of the island. Mrs. Bannerman was an avid gardener. Some of the garden areas still exist today.
Updates for 2020
In past years, Bannerman Castle held tours, events and event movie nights, all enjoyed by visitors. However, like most other businesses, COVID-19 interrupted tours, events and other programs on the island. The Bannerman Castle Trust took advantage of this break and has worked tirelessly to update Bannerman Castle with several preservation projects. Recently, they received a grant from the Jane W. Nuhn Charitable Trust to complete more stabilization work for the interior of the tower structure's walls that collapsed in 2010. Additionally, the 2019 West Point Cadet engineering class redid the restrooms. Other improvements consist of a new concrete trail, cleaning and painting of the Bannerman Tour Boat and replacement of life vests on the boat.  
Getting to Pollepel Island
In mid-July, Bannerman Castle officially welcomed back guests with extensive health-related protocols in place.  
New this year, guests can arrive in private kayaks or small motor crafts. Kayakers should have paddling experience to navigate the surrounding waters. Small motor vessels must be under 28 feet. Both options require reservations in advance to dock.  
If you are not an experienced kayaker, consider visiting the island with Storm King Adventure Tours. These tours include kayak equipment, instruction and a tour of the island.
The boat, Estuary Steward, from Beacon or Newburgh also transports visitors to and from the island. It is a 30-minute boat ride from either location.  
2020 Summer Schedule
Despite these challenging times, Bannerman Castle offers exciting outdoor entertainment options for this summer and fall. 
On the third Sunday in August, September and October, visitors can enjoy special music tours. Mark your calendar and make reservations for Tony Depaolo on September 20 and Thom Joyce on October 18.  
September 17-19, 2020, world-renowned violinist Daisy Jopling will be on the island for a series of special benefit concerts to raise funds for the Bannerman Castle Trust. Enjoy rock arrangements of classical pieces with a unique twist. 
On September 5, 2020, from 1:00 p.m. to 7:30 p.m., Bannerman Castle hosts a Chef's Picnic Dinner, open to the public and that includes Parisian-inspired food, an art sale and a raffle.  
All events are outside and follow the state's guidelines for COVID-19. 
COVID-19 Protocols
Upon arriving on the island, expect social distancing during the short overview of Bannerman Castle. After that, visitors can explore the island on a self-guided tour. Additionally, all paths are one-way, with stones marked in blue to label six-feet of separation. 
"This has been a challenging year for everyone," says Neil Caplan, Executive Director of the Bannerman Castle Trust. "We are extremely thankful to New York State for allowing us to open with the protocols in place." 
Bannerman Castle follows New York State's COVID procedures. Masks are required. Hand sanitizers are located along the paths on the island. Crew members thoroughly clean the Estuary Steward after each boat ride. A maximum of 22 people may ride on the boat at one time, half of its capacity. 
Enjoying a Day at Bannerman Castle
The lovely views of Bannerman Castle on Pollepel Island and the surrounding areas are hard to beat. The ride over to the island is quick, but gives you enough time to enjoy sightseeing from the middle of the Hudson. During my visit, everyone popped up ready to take photos when we were approaching the island. It is a perfect shot, especially if you catch the Amtrak train passing by at the same time. From afar, the castle looked small. However, as soon as we began docking, I realized it was much larger up close, and I was excited to get an even better look at it.
Once off the boat, we prepared to walk up 72 steps for the closer view. I was glad to be wearing comfortable shoes! 
The tour gave me a perfect escape from the mainland and allowed me to dive into a part of history. It was exciting to view the remains of the castle while learning about another life that was once there. I tried to fully depict what it was like with my imagination. If you decide to visit, you might find yourself conjuring up your own thoughts of what was once there.
More than a Castle Tour
I packed a lunch to make a day out of the trip. (Note: Anything brought onto the island must leave with you as well.) To dive even deeper into the history of Bannerman Castle, I dropped by Bannerman Island Gallery before heading out of town, at 150 Main Street in Beacon. It has changing art exhibitions throughout the year, plus I could view other archived items from the island. 
When I was on the island, I made sure to take a moment when I reached the highest point to take in the panoramic views and see what kind of birds I could spot flying by. I explored the gardens (my favorite part) and made sure to pick the tour guides' brains about all of it! Exploring Bannerman Island was a wonderful mini-trip, that satisfied me with interesting history and beautiful scenery.
Take Amtrak to Bannerman Castle
Take Amtrak to either the Croton-Harmon Station or Poughkeepsie Station. Don't forget to use the Amtrak See New York and Save 15% discount!
From New York City: Take Amtrak from Penn Station (NYP) to Croton-Harmon (CRT). Transfer at CRT to a Metro North northbound train to Beacon. 

From points north of Poughkeepsie: Take Amtrak to Poughkeepsie (POU). Transfer at the POU to a Metro North southbound train to Beacon. 
The Beacon Institute Floating Dock is a short walk from the Beacon train station.