21febAll Day22Event CancelledSaratoga Beer WeekSaratoga Beer Week(All Day) Saratoga Springs Center, 522 Broadway, Saratoga Springs, NY
Event Details
Saratoga Beer Week
The 9th annual Saratoga Beer Week welcomes beer enthusiasts for two days of craft beer tasting.
Please Note: The 2021 dates for this event have yet to be announced. The dates reflected are from 2020.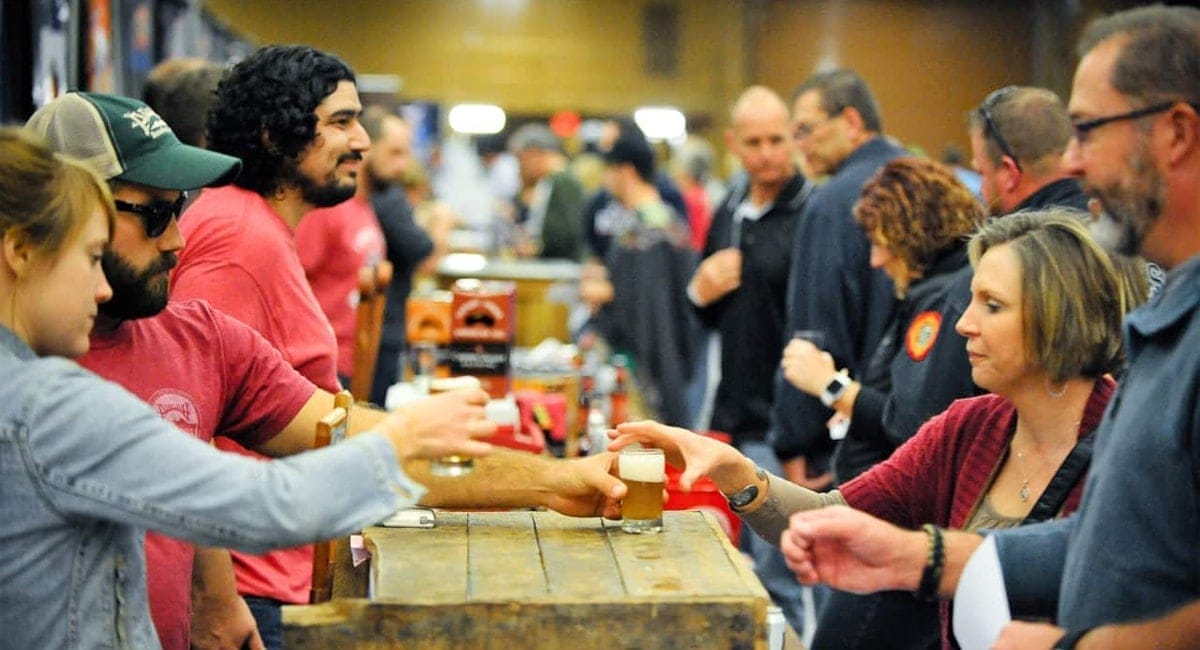 Visitors enjoying hundreds of local and imported craft beers at Saratoga Beer Week. | Photo Courtesy of America-on-Tap
The Capital-Saratoga Region is hosting a two-day celebration of beer! The 9th annual Saratoga Beer Week kicks off Feb. 21 in the town of Saratoga Springs. Different beer-centric events will be held in various locations, encouraging visitors to explore the area.
Cider Night
Saratoga Beer Week will celebrate Cider Night for the fourth year running on Friday, Feb. 21. More than 30 different cideries from around the country will be providing a variety of hard ciders at the Saratoga Springs Center, located on 522 Broadway. Tickets are priced at $30 online. The cider-drinking festivities will commence at 6 p.m. and will end promptly at 9 p.m. Outdoor food will not be allowed, but pretzel necklaces are highly encouraged.
Beer Summit
The crowned jewel of the event is the Beer Summit, a central part of the celebration since its inception. "Spa City's" top breweries along with premier selections from in and out-of-state are supplying the event with their very best on Feb. 23 at the Saratoga Springs Center. The sight of more than 160 styles of craft beer will make any beer enthusiast's mouth water. Three hours of drinking on Feb 22. from either 12 p.m. to 4 p.m. or 5 p.m. to 8 p.m. are included with the $40 general admission ticket. A $55 VIP ticket will get you four hours of drinking, a food voucher, and a commemorative Saratoga Beer Week Beer Summit hat.
Event Information for Saratoga Beer Week
Free parking is available throughout Downtown Saratoga.
Designated Driver tickets are $10 and are available at the door only.
If the event sells out in advance, DD tickets will still be available at the door.
Group Tickets will NOT be available for purchase on the day of the event (in-person or online).
Must be 21 years or older, no children can attend.
Last POUR will be 10 minutes prior to each sessions' end. This means no samples will be poured after this time.
No outside food or beverage – BUT, pretzel necklaces are encouraged.
ID check will begin approximately 30 minutes prior to doors opening.
There will be a line upon entering but it will move quickly.
Everyone who has their ticket, can proceed to the same entry line.
Attendees may not leave with any beer, no exceptions will be made.
Event is rain or shine.
Time

february 21 (Friday) - 22 (Saturday)