28nov(nov 28)12:00 pm29(nov 29)6:00 pmBasilica Farm and Flea12:00 pm - 6:00 pm (29) Basilica Hudson, 110 S. Front St.
Event Details
Basilica Farm and Flea
The "anti-Black Friday big-sister goddess," Basilica Farm and Flea showcases Hudson Valley artisans at the gorgeous Basilica Hudson in Hudson, NY.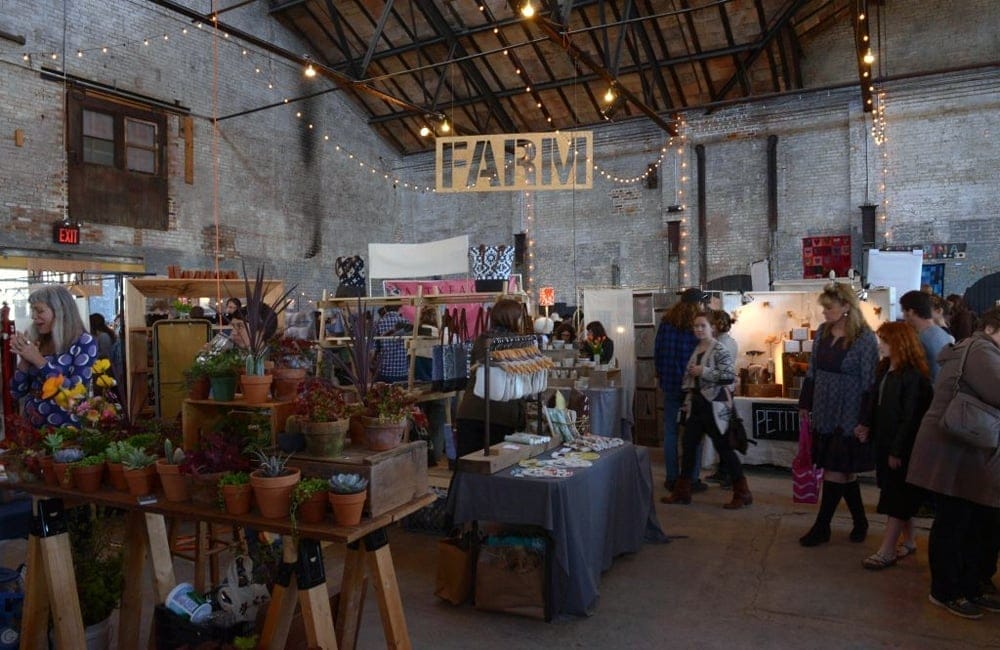 The Basilica Farm and Flea in Hudson, NY. | Photo Courtesy of Basilica Hudson
The fifth annual Basilica Farm and Flea Holiday Market will showcase the variety of talent the Hudson Valley region has to offer, with 90% of vendors coming from the local area.
With 100+ vendors filling over 9,000 square feet, Basilica Farm & Flea Holiday Market is the largest market of its kind in the region. Visitors can shop handmade and vintage goods, purchase locally-made added value food products and eat farm-fresh food.
Buy local. Buy vintage. Buy handmade. No barcodes. No plastic wrap.
Basilica Farm and Flea Vendors
1857 Spirits – Barber's Farm Distillery
Acorn Hill Farm LLC
Afghan Photo Booth
Alimentary Kitchen
Anarchy Apiaries
Aoko Su
Art by Mary Shelley
Artemesia
Aubry
The Binderie
Breezy Hill Orchard
Camphill Village Shop
Catskill Glassworks
Chapeaux de Lulu
Chaseholm Farm Creamery
Chef D's Spice Blends
Corona D'oro
Dancing Bare Soap
Davistudio
East Camp Goods
ENKYU
Fahari Bazaar
The Fitzgerald's Locust Hills Farm
FN Furniture
Fruition Chocolate
Going Gnome
Good Fight Herb Co
Grant House Press
Harvest Spirits Distillery
Hedonic Tonic
The Highlands Foundry
Hillrock Estate Distillery
Honey's
Hosta Hill
Hudson Area Library Tween Advisory Council
Hudson Naturals
The Hudson Standard
Hudson Valley Seed Co
Hudson Vintage Pulp & Rocket Works
Huntress Home
ImmuneSchein Ginger Elixirs
Inner Flame
Italian Market
Jacuterie
JK Custom Furniture
Judi Powers Jewelry
Kapari
L&M Studio
Lail Design
Liamolly
Lumpland
Maple Leaf Sugaring
Maria Manhattan Ceramics
Mater Soap
Maya's Jams
Melissa Easton Jewelry
Mexica Crafts
Mill River Farm
Nahual
Nina Z LLC
Noni Bee
North Country Classics Vintage
No Six Depot Roastery
NYWoodworX
Of Note Stationers
Olde York Farm: Distillery & Cooperage
Olivia Clementine
Oyster Party
Papa's Best Batch
Perfect Ten
Petals & Moss
Petit Pilou
P.M. Reed Carry Goods
Pura Vida Kettle Corn
Raven & Boar
Reggie Madison
Rockerbox Spice Co
Roosevelt Grooming Company
Russell Jones Jewelry
Shana Lee
Silke Jacobs
Smugtown Mushrooms
So Handmade
Some Things Take Time
Strudel House
StudioSophiaSophia
Suga Pottery
Sundust
Sweet Deliverance
Tidy Thyme
Tiny Anvil
Two Sticks Knitting
V Smiley Preserves
Village Common
Vilma Marė Baltic style
Weathertop Farm
Westwind Orchard
White Whale Limited
Whole Harmony
Yankee Distillers
YokoSnoopy / Dead Beuys
History of Basilica Farm and Flea
Born Thanksgiving Weekend 2013 as the antithesis of big-box Black Friday, Basilica Farm & Flea is part timeless flea and farmer's market and part 21st century craft and design fair, showcasing the wealth and splendor of the Hudson Valley's artisanal talents. Basilica Farm & Flea is inspired by the abundance of passionate and talented farmers, collectors and artisans in the Hudson Valley.
Each market features a diverse group of regional vendors selling their wares alongside locally-sourced, farm-fresh foods. The markets embody love of vintage and recycled, locally-sourced agriculture and the beautifully handmade. With over 10,000 square feet of raw space, Basilica Farm & Flea is the only market of this scale in the region, an integral part of Basilica Hudson's arts and cultural programs.
Two markets are presented each year: Spring Market in May and Holiday Market during Thanksgiving weekend, in addition to a Mini Farm & Flea on the Sunday of the annual Basilica SoundScape weekend each September.
2020s Basilica Farm and Flea Virtual Holiday Market
Due to the COVID-19 pandemic, the the market will be held virtually. Guests who usually attend in person will have the opportunity to shop the event online will be able to peruse the shops and items available.
Time

28 (Saturday) 12:00 pm - 29 (Sunday) 6:00 pm
Location

Basilica Hudson

110 S. Front St.