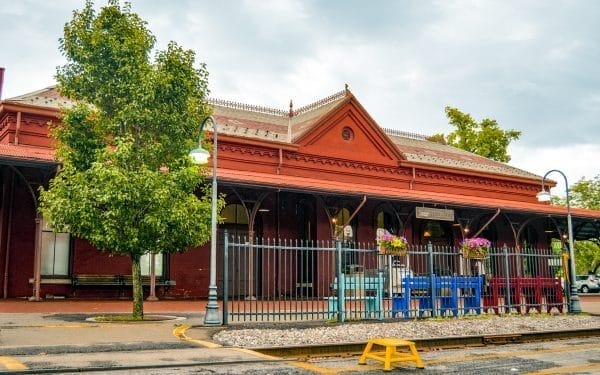 Yes, you can travel with Amtrak to Hudson, NY! Amtrak stops at Hudson, NY in Columbia County via the Empire Service, Maple Leaf, Adirondack and Ethan Allen Express lines; a two-hour ride from Penn Station, and a 25-minute ride from Albany-Rensselaer Station. The cost is $38 for a one-way, off-peak ticket from Penn Station, and $18 from Albany-Rensselaer with sufficient advance purchase, but price can vary. The earliest trains to Hudson leave Penn Station at 7:15 a.m. and Albany-Rensselaer at 5:05 a.m, arriving at 9:20 a.m and 5:30 a.m. respectively. Don't forget to use the See New York and Save 15% Discount when purchasing tickets!
Looking for things to do in Hudson, NY? Get picked up at the Hudson Station by Enterprise Rent-a-Car and taken to your reserved rental car! Use code NYTRAIN for a discount when making your reservation. Reach the Hudson office at 518-828-5492.
Once on the road, visit great attractions like Olana State Historic Site, Art OMI, Mac-Haydn Theatre and more. To learn more about these great spots and more click here.