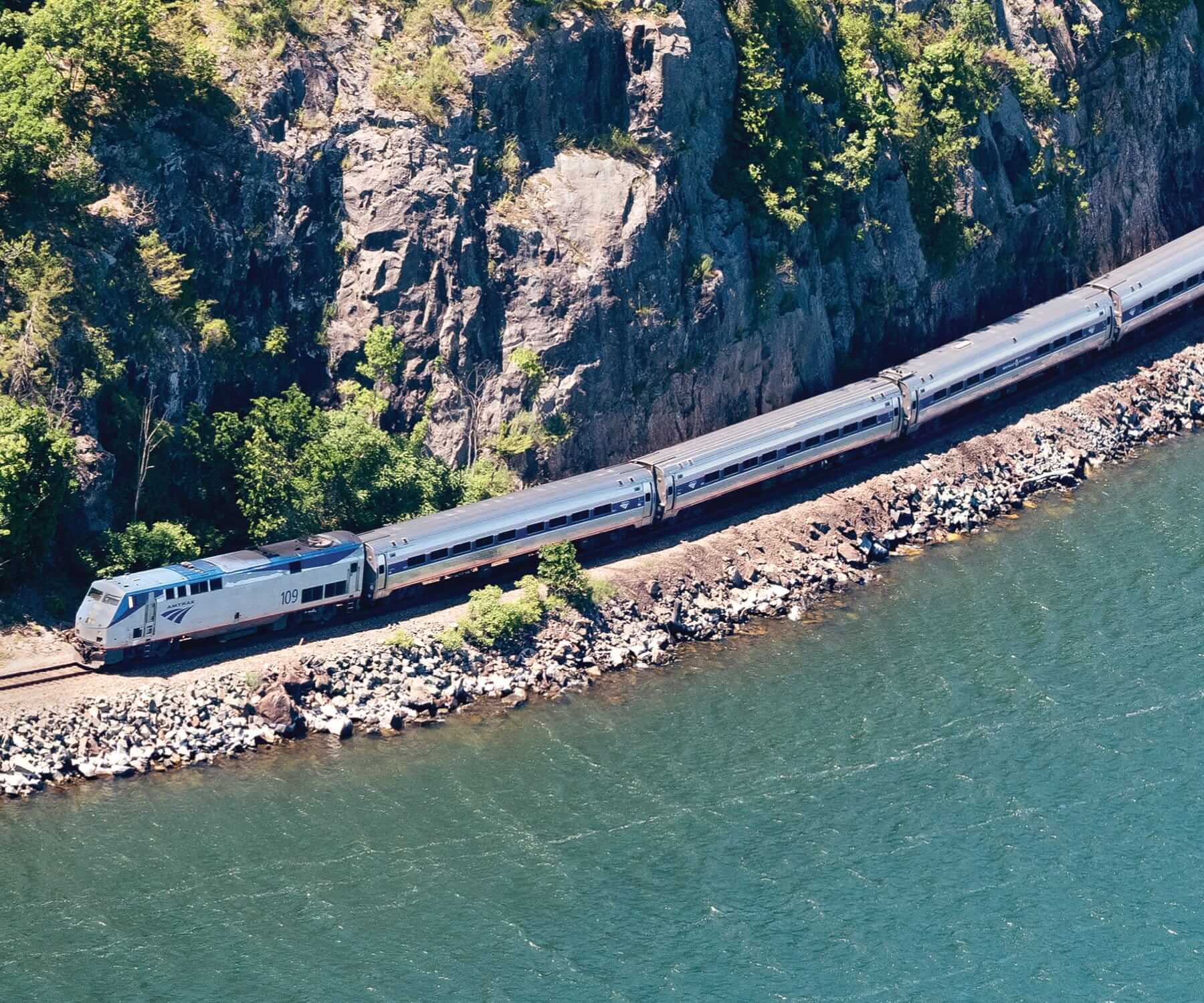 There is so much to be excited about in the springtime; the world seems to open up again. Flowers bloom, baseball is back and outdoor dining and drinks resume. But one of the most exciting things happening in Spring 2023 is the long-awaited announcement that—finally!—Amtrak's Adirondack Service from New York City to Montreal will be resuming full service on April 3. Since the COVID-19 pandemic halted service in March 2020, all stops north of Albany have been shuttered. The resumption of the Adirondack rail service will reestablish a crucial train link between the U.S. & Canada and restore Amtrak service to several North Country communities.
Named one of the "Top 10 Most Scenic Train Rides in the World" by National Geographic, the popular Adirondack train line leaves from Manhattan's Daniel Moynihan Train Hall, travels  through the lush wine country of the Hudson Valley, along the eastern border of the Adirondack Mountains, across the Canada border (bring your passport!) into the ever-chic, French-speaking city of Montreal. The cultural riches and natural beauty along the route make it an unforgettable experience. Some can't-miss sights along the route include the Palisades, the Bannerman's Castle ruins, the Catskill foothills, the Adirondack Mountains, and the Lake Champlain Valley. The Adirondack line has been favored by Montrealers and New Yorkers as a travel option to reach either end of the route or to access the Adirondacks. It is also popular with college students who live in the New York metropolitan region.
Amtrak President Roger Harris said in a statement, "Whether you're experiencing the greatness of New York City, the culture of Montreal or the beauty of the Hudson Valley and Lake Champlain region, the return of the Adirondack provides customers with a reliable, relaxing and sustainable way to travel."
Service on the Ethan Allen line returned to these first three stations in 2021, but there has been no Amtrak service to the rest. Before you make your next Adirondack journey with Amtrak, check out some of our favorite things to do along the northern portion of the route.
Schenectady, NY (SDY): Visit the Via Aquarium: Experience the wonders of the ocean in your backyard! The Via Aquarium is the capital region's only full-scale aquarium. Explore over 25,000 square feet of oceanic treasure as you and your family embark on an exciting self-guided tour visiting over 2,000 creatures of the sea.
Saratoga Springs, NY (SAR): Shop, relax and hang out at Caffe Lena
There is so much to do in Saratoga you may want to hop off the train and stay overnight before resuming your journey. The Saratoga Racetrack is alive in August, spas, museums, shopping and more. Relax at Caffe Lena, the oldest continually running coffee house in the nation. Check out an acoustic concert or cultural event. (Rumor has it that Bob Dillon played his first out of town show there after arriving in New York City.)
Fort Edward, NY (FED): If you get off here for some hiking, you may want to Visit the Slickfin Brewing Company when you're done. A Marine Corps Veteran-owned and operated brewery, they make all of their Artisanal Crafts with the highest quality ingredients and care. With great drinks, a comfortable atmosphere, and fun events hosted throughout the year, you won't want to miss out!
Whitehall, NY (WHL): Hike Black Mountain: When you get off at the platform at Whitehall (there is no actual station house) you already feel surrounded by the great outdoors. There are lots of nearby hikes, but we love the relatively easy 2.5 mile hike up  Black Mountain. There are a few challenging spots, but the summit offers breathtaking views of the whole northern portion of Lake George. After working up a sweat, you can cool off in crystal-clear waters at the Washington County Beach in Huletts Landing or watch the sun set behind Tongue Mountain's massive Deer Leap cliff.
Ticonderoga, NY (FTC): Explore Fort Ticonderoga
This historic site museum—it's a large, 18th-century fort built by the French near the south end of Lake Champlain—is a popular family destination in one of America's most historic landscapes. Take a tour, explore the beautiful gardens, discover epic history, find adventure in signature events, march with the Fifes and Drums, and learn about a historic trade. There's something for everyone to enjoy!
Port Henry, NY (POH): Tour Port Henry's "Village of Public Art" Local citizens have worked individually and in teams to create over a dozen large works of permanent murals, signs, and quilts. Attractions include large new murals depicting historic street scenes, a tropical jungle, and more. Enjoy incredible art in this historic town while taking in views Lake Champlain.
Westport, NY (WSP): Take an outdoor tour with Elizabeth Lee. This town—best-known as the birthplace of the Adirondack Chair—offers endless opportunities to explore the great outdoors. Elizabeth Lee offers an outdoor guide service with hiking, paddling, and winter ski/snowshoe trips. With destinations throughout the Eastern Adirondacks and Champlain Valley, enjoy great views and local food while learning about biodiversity.
Port Kent, NY (PRK): Visit Ausable Chasm, known as the Grand Canyon of the Adirondacks, Ausable Chasm is a sandstone gorge that offers incredible views, hiking trails, and multiple waterfalls. There are five miles of hiking trails for you to explore. In the summer, go rafting or tubing along the river. You can also rock climb, rappel, and go on an obstacle course. Before you leave, stop by the Visitor Center to learn more about Ausable Chasm's fascinating geological history.
Plattsburgh, NY (PLB): Downtown
Plattsburgh, NY (PLB): Stay and play at Bluff Point Golf Resort. This college town, located directly on Lake Champlain, is home to the historic Bluff Point Golf Resort features six fully equipped cottages and twelve suites all located between two of the holes. The course is in a Parkland style with a length of 6309 yards and sloped, well-bunkered greens. With views of the Green Mountains of Vermont, New York's Adirondacks, and Valcour Island, Bluff Point is the area's most scenic golf course. Great golf, a 600′ private beach, hammocks, and relaxation await you.
Rouses Point, NY (RSP): Travel the "Rum Trail" Travel Rouses Point's "Rum Trail," where rumrunners once crossed into Canada with contraband. Stop in any of the local restaurants and bars to enjoy your favorite prohibition-era libation. On the way, you can sit and relax in recreational parks or Rouses Point's new Montgomery Pier, which offers a magnificent view of Lake Champlain and the Green Mountains of Vermont.
St-Lambert, QC (SLQ): Visit Le Balcon d'ArtFor over thirty years, Le Balcon d'Art has stood as a beacon for great art and good taste in Saint-Lambert, Québec. Born from a dream in October of 1985, it showcases the best work from some of Canada's top artists, as well as art created by all-time Masters from Canada and all over the world. You won't want to miss this impressive display of talent and artistry.
Montreal, QC - Gare Centrale/Central Station (MTR): Rue Saint Denis
Tour the Notre-Dame Basilica Oooh la la, there are so many things to explore in this cultural mecca. And so many things to eat—have you tried poutine yet?? But one of our favorite can't-miss Montreal attractions is the city's oldest Catholic church. The Notre-Dame, known for its intricately designed interior, features breathtaking stained glass that chronicles the history of the city. Book a sight-seeing tour or the AURA experience and prepare to be dazzled by the basilica's architectural splendor. Afterward, wander around Old Montreal's cobblestone streets, admire the stunning architecture, and enjoy unique shopping.