Craft beers, cider and spirits return to New York State.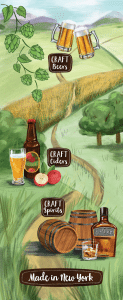 Think of American alcoholic beverages, and chances are your mind wanders West, to Colorado's mountains, Kentucky's pot stills and St. Louis's breweries—toward endless Midwestern fields of grain. But it wasn't always that way. In the early 1900s, New York State was a leader in brewing cider and beer and distilling spirits. Then Prohibition halted those industries. Now, the Empire State is getting back to its roots.
Early Colonists brought cider from Europe, and since New York is America's second-largest apple-producing state (after Washington), the cider industry thrived here. Grain growing was plentiful too. In the early 1900s, New York was the nation's leading grower of hops, boasting 450 breweries (45 of which were in Brooklyn). But a flush of mildew devastated the state's hops crops just as Pacific Northwest- ern brewers figured out how easily the crop adapted to their climate. Warehousing and distribution were cheaper in the Midwest, giving breweries and distilleries there a distinct economic advantage.
When Prohibition rolled around in the 1920s, suddenly the only people making money on spirits in New York were rum runners and speakeasy owners. During Prohibition, only the Brotherhood Winery in Hudson Valley's Washingtonville kept making wine with the understanding that it would only be used for "religious purposes," leading a disproportionate number of clergy to live nearby, but all other spirits-making died out.
A New Wave for the Craft Beverage Industry
But just as it took a series of interlocking events to bring down New York's alcoholic beverage industry, a new wave of laws, innovative farmers and brewers, and an adventurous public are coinciding to make the state the focus of craft brewing once again. The first step was in 2002 when Ralph Erenzo, after years of lobbying, convinced New York State's government to lower the cost of a distillery license from $65,000 to $1,500 over three years.
That allowed him to turn a 220-year-old gristmill in Gardiner into Tuthilltown Distillery, making it the first New York distillery to open since Prohibition. Tuthilltown quickly attracted worldwide attention for its whiskeys, gins and vodkas, made with apples and wheat grown in New York.
Tuthilltown's success helped spur further laws easing restrictions on craft brewers while requiring them to use a percentage of New York State ingredients. Distillers, brewers and cider makers in three key regions—Central New York, Albany Capital and Hudson Valley—have grown in lockstep with local farmers who are taking on the challenge of growing hops and barley or increasing their apple and fruit production, as well as agricultural scientists researching and developing hardier strains of hops and barley. Meanwhile, consumers are eager to discover what the "terroir" of New York would be in, say, a farmhouse ale, pear cider or orchard gin. Even barrel makers have gotten in on the act: Adirondack Barrel Cooperage, which opened in 2014, builds American White Oak barrels in the village of Remsen, near Utica.
"It's rare when the visions of politicians and the visions of small business owners align," says Alejandro del Peral, founder of Nine Pin Cider in Albany, New York's first cider maker to obtain a Farm Cidery license in 2013. "But the farm-class licenses that Governor Cuomo helped develop have been amazing for businesses that depend on New York State agriculture." A provision allowing licensed crafters to sell beverages directly to consumers at onsite tasting rooms has not only boosted these fledgling businesses, but has helped create discerning consumers who develop an under- standing of the intricacies of the brewing process.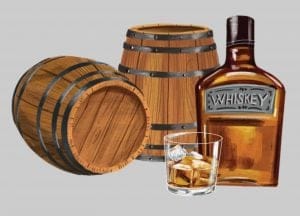 Craft brewers are eagerly responding to the challenge. "The creativity of the new wave of brewers that have shown up in the past five to 10 years is amazing," says Bill Woodring of Tap NY, America's oldest and largest one-day beer and food festival. "The rest of the beer world may be doing similar things on a grander scale, but here in New York these folks are a step ahead of everyone else, because it's handmade and homemade."
The Growth of the Craft Beverage Industry
The industry is growing at a dizzying pace. New York State now has 51 cideries, over 200 breweries, and 130 distilleries (21 of which are in Brooklyn).
Eventually, the craft beverage industry will have to solve warehousing problems in order to continue its growth. Many in the industry would like to see centralized depots and silos for storing grain and other products so small-scale farmers and crafters won't have to keep driving across the state to do business together. But if the craft beverage industry keeps growing, many other boats will rise on that tide—perhaps including the state's green energy industry. "A lot of the waste from the distilling process needs to be treated before it can be disposed of," says Erenzo. "But there's technology that can convert that waste into fuel, so someday it could do double duty."